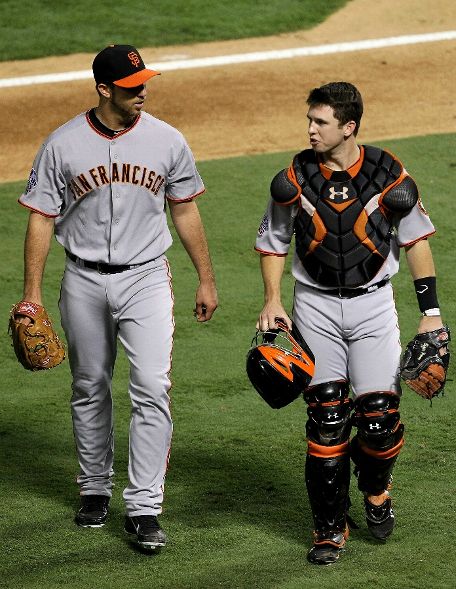 Photo by Ronald Martinez/Getty Images
Giants P Madison Bumgarner Shuts Down Rangers in Game 4 of World Series
The San Francisco Giants are one win away from their first World Series title since 1954. The Giants blanked the Texas Rangers 4-0 Sunday night to gain a 3-1 series lead. Madison Bumgarner pitched a three-hit gem over eight innings, while Aubrey Huff and Buster Posey each added home runs during the win. Game 5 is Monday night (7:57 ET, FOX, ESPN Radio).
Drew Brees Rallies Saints Over Steelers With Two 2nd-Half TDs
In a game between the last two Super Bowl champions, the Saints prevailed. New Orleans defeated the Steelers 20-10 Sunday night, avenging last week's home loss to the Browns. Drew Brees rebounded from a 4-Int game to complete 34 of 44 passes for 305 yards, 2 TDs and 1 Int in the win. Steelers QB Ben Roethlisberger went 17 of 28 for 195 yards and 1 Int in defeat.
Oregon is New No. 1 in BCS Standings
The Oregon Ducks are now No. 1. Oregon and Auburn swapped spots in the new BCS standings. TCU, Boise State and Utah rounded out the top five respectively. At No. 6, Alabama is the highest-ranked one-loss team. Nebraska moved to No. 7 after beating Missouri on Saturday. Oklahoma, Wisconsin and LSU rounded out the top 10.
Brett Favre Starts, Leaves in 4th
Brett Favre started Sunday's game against the Patriots with an injured left ankle, and left early with a gashed chin. Favre was carted off the field in the fourth quarter Sunday with a cut on his chin that required 10 stitches. Tom Brady and the Patriots won, 28-18. Favre said he should be ready to play next week against the Arizona Cardinals.
The Dallas Cowboys are 1-6 following Sunday's loss to the Jaguars. Cowboys owner Jerry Jones is taking responsibility and apologizing for a disappointing season. "I'm very, very, very sorry to our fans. You should have better than this", Jones said.
Packers Emerge as Sloppy Jets Fall Victim to Mistakes, Turnovers
A defensive battle was won by the Packers Sunday over the Jets. Green Bay's Mason Crosby kicked three field goals for the 9-0 win. Despite the loss, Jets RB LaDainian Tomlinson joined Hall of Famer Walter Payton as the only players in NFL history to gain 13,000 yards rushing and 4,000 yards receiving.
LeBron: I Would Do 'Decision' Differently Now
LeBron James said, although having no regrets about being in Miami, he would handle his decision differently if given another chance. James has been heavily criticized for the way he announced his free agency choice. "If I had to go back on it, I probably would do it a little bit different," James said.
Iowa To NCAA: Hoops Recruits Met Movie Stars
The University of Iowa told the NCAA that the school allowed two basketball recruits to meet celebrity Hawkeye fans Ashton Kutcher and Demi Moore. Such a meeting would be a recruiting violation. The recruits met the married movie stars along with two former Iowa basketball players at an Iowa-Iowa State football game in September, according toThe Des Moines Register.
Westwood Passes Tiger For World Golf No. 1
No. 1 no more. For the first time in more than five years, Tiger Woods is no longer golf's No. 1 player. Lee Westwood claimed the top ranking after PGA champion Martin Kaymer failed to finish among the top two Sunday at the Andalucia Masters in Spain. Westwood is the first European since Nick Faldo in 1994 to be No. 1.
Clint Bowyer Has Cup Win After Crazy Talladega Finish
Clint Bowyer edged Richard Childress Racing teammate Kevin Harvick to win at Talladega Superspeedway on Sunday. The race ended under caution because of a multi-car accident far behind the leaders. Bowyer and Harvick kept racing until the yellow flag was displayed, and neither had any idea who won.
Note: The Elias Sports Bureau, ESPN Stats and Information group and The Associated Press contributed to this report.