THE TRUTH HURTS
The Bucks went to Boston and took the Celtics to overtime, and then Paul Pierce went off and took them out. He scored 12 of his 28 points in overtime, and the 7th of those 12 was the 20,000th of his career. Only Larry Bird (see: 21,791) and John Havlicek (see: 26,395) ever scored more for the C's. Meanwhile, the Twitterverse has yet to alert the universe whether or not Kevin Garnett accused any Bucks of suffering from any incurable diseases, but if he needs any ideas, he can check out #KGTrashTalk.
Recap | Box Score | Celtics All-Time Leaders
After the jump, get right to the point.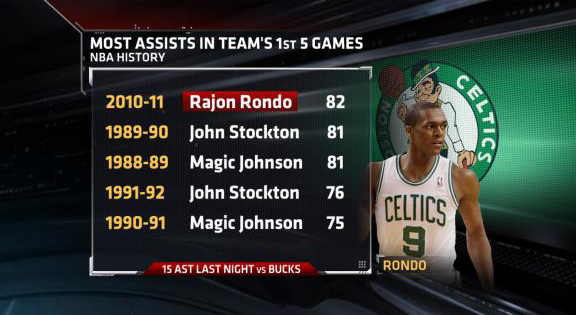 Meanwhile, Rajon Rondo keeps on keeping on. He dropped 15 more dimes last night, which adds up 82 dimes (or $8.20) through his first five games of the season. He can afford it, since he's making around $9 million this season. But in terms of assists, that's still more than anyone ever, because John Stockton and Magic Johnson only ever managed 81 through five games. Next up for Rondo is a matchup at home against Derrick Rose and the Chicago Bulls tomorrow night in Boston.