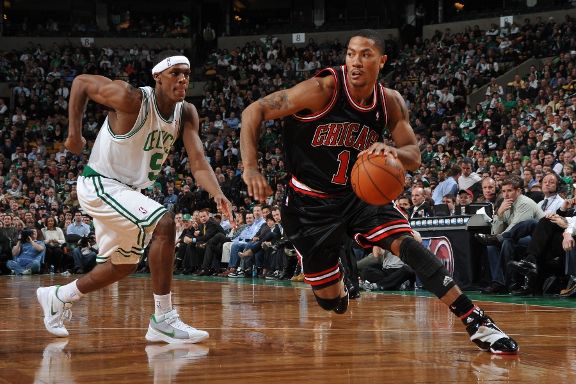 Getty Images
Chicago Bulls (2-2) at Boston Celtics (4-1)
8:00 PM ET -- TD Garden, Boston, MA -- ESPN
*Tom Thibodeau, the former Celtics defensive guru, is back in Boston as head coach of the Chicago Bulls. Thibodeau spent three seasons in Boston before accepting the offer to coach the Bulls.
*There are four current Boston Celtics players with at least 20,000 career points. In NBA history, this is the first team ever with four players who have each scored 20,000 points in their careers (Shaq, KG, Ray Allen and Paul Pierce).
*Rajon Rondo needs 17 assists tonight to keep pace with the NBA record for most assists through a player's first six games of a season. John Stockton holds that mark with 99 (in 1989-90).
*Derrick Rose is averaging 26.8 points per game this season. He is also averaging 10 assists per game. Only four players in NBA history have ever averaged at least 27 points and 8 assists per game for an entire season (Oscar Robertson (8 times), Tiny Archibald (2 times), Michael Jordan and LeBron James).
*Joakim Noah leads the NBA with an average of 14.8 rebounds per game. No Bulls player has finished a season as the league's leading rebounder since Dennis Rodman in 1997-98.
Game Preview: CHI vs BOS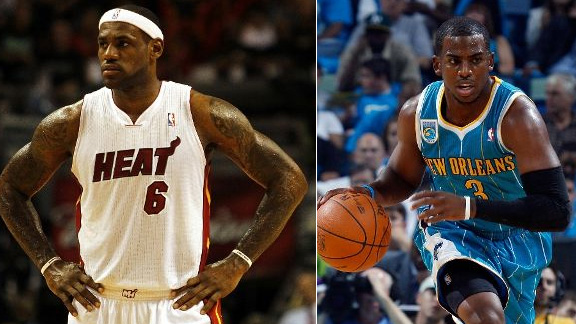 Getty Images
Miami Heat at New Orleans Hornets
8:00 PM ET, November 5, 2010 -- New Orleans Arena, New Orleans, LA
The Miami Heat have won each of their last three games by more than 20 points. They had previously done this only twice in franchise history. Miami won three straight by 20-plus in March 1998 and had a similar three-game streak in February 1994. Chris Paul is averaging 21.3 ppg, with 9 assists. He'll look to help the New Orleans Hornets stop Miami's win streak tonight at home.
*The Heat have lost 5 of last 6 games vs Hornets (lost last)
*The Heat have lost 5 straight road games vs Hornets
*LeBron James: has won 3 straight games vs Hornets
*LeBron James: has lost 3 of last 4 road games vs Hornets (won last)
Game Preview: MIA vs NO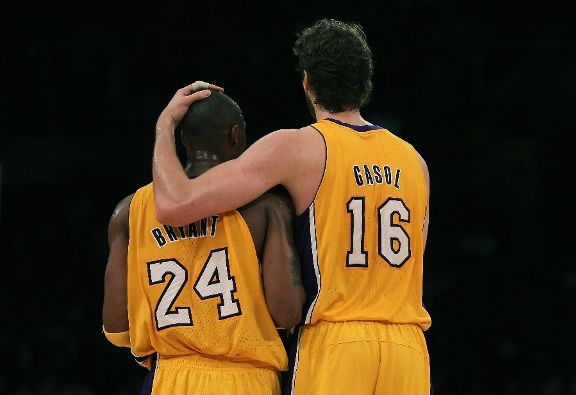 Getty Images
Toronto Raptors at Los Angeles Lakers
10:30 PM ET -- STAPLES Center, Los Angeles, CA
The Toronto Raptors hope to become the first NBA team this season to defeat the defending champion Los Angeles Lakers. This season marks the 4th time in his record-setting career that Phil Jackson will be going for his 3rd straight NBA title. Neither of his 3-peat Chicago Bulls teams managed to win even their first 2 games. Kobe Bryant and Pau Gasol are the first pair of NBA teammates to each score at least 20 points in each of their team's first five games of a season since Steve Francis and Cuttino Mobley for the 2002–03 Rockets (also a five-game streak). Bryant and Gasol are the first pair of Lakers to do that since Wilt Chamberlain and Jerry West scored 20 or more points each in their first six games of the season in October 1970.
Phil Jackson's Teams Looking to 3-Peat - 1st 5 Games
Season............Team......W-L.........PPG
2010-11..........Lakers......5-0........113.8
2001-02..........Lakers......5-0........106.0
1997-98...........Bulls........3-2........87.6
1992-93...........Bulls........4-1......100.2
Game Preview: TOR vs LAL
Note: The Elias Sports Bureau and ESPN Stats and Information group contributed to this report.