GREAT WALL, OOF CHINA
On Veteran's Day Eve, rookie John Wall danced his way to his first career triple-double in a Wizards win over the Rockets. In fact, a quick look at the box score will tell you that he finished just 4 steals shy of a quadruple-double (see: 19 points, 13 assists, 10 rebounds, 6 steals). And he did all of that while turning the ball over only once while playing the whole 42 minutes (right, Zach Randolph?). And he did all of that before Magic Johnson (who was in the crowd) and before Magic Johnson (who was exactly 20 years and 75 days old when he got his first NBA triple double). Wall was exactly 20 years and 65 days old last night, which means the only guys in NBA history to get their first triple-double at a younger age were (are?) Lamar Odom (20 years and 54 days) and LeBron James (20 years and 20 days, and then another one just three days later).
More about that game, including the Hambone, and Yao's ow, after the jump.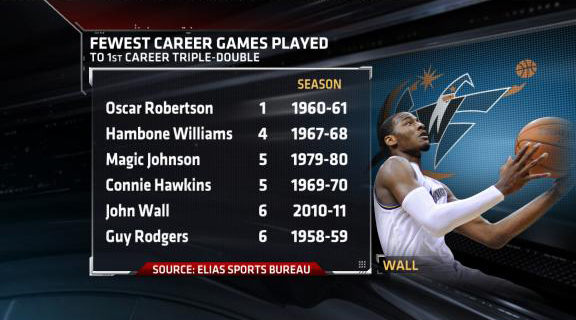 Meanwhile, John Wall did all of that in just his sixth career NBA game. Only four players did it faster, and three of those four are in the basketball hall of fame (Call them Oscar, Magic, and Connie. Don't call them Hambone.)
And meanwhile, seven minutes into the game, Yao Ming went down with a leg injury, left the court, and never came back. The Houston Chronicle is calling it a strained tendon and not calling it serious. Still, at this point, it's hard to believe that Yao was a virtual iron man over his first three NBA seasons. He played 193 consecutive games to start his career, and 266 of a possible 268 regular-season games through December of 2005. But since then, he's played only 56% of Houston's games (220 of 395). And over that span, Houston has won 10% more games with him on the floor (137-83, 62.3%) than with him off of it (91-84, 52.0%).