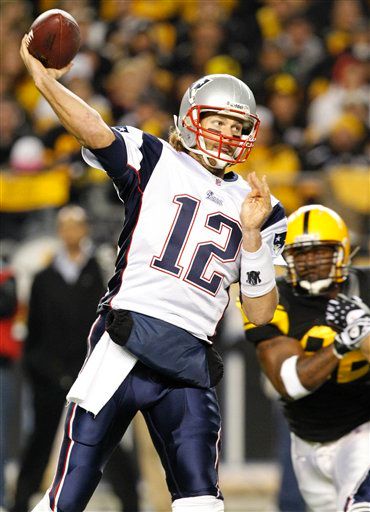 AP Photo/Gene J. PuskarSteelers Top Patriots
Tom Brady Masters Steelers as Pats Rebound From Browns Loss
The "Patriot Way" prevailed Sunday night in Pittsburgh. The New England Patriots defeated the Pittsburgh Steelers 39-26. Tom Brady was spectacular, completing 30 of 43 passes for 350 yards and 3 TDs in the win. Steelers QB Ben Roethlisberger went 30 of 49 for 387 yards, with 3 TDs and 1 INT in defeat.
Jon Kitna Tosses 3 TDs as Cowboys Stop Giants Flat in Jason Garrett's Debut
Change is good. The Cowboys proved so by defeating the NFC East-leading Giants 33-20 on Sunday. Jon Kitna passed for 327 yards and 3 TDs, giving Jason Garrett a win in his first week as the team's interim head coach. Giants QB Eli Manning was 33 of 48 for 373 yards with 2 TDs and 2 INTs in defeat.
Oregon, Auburn Are 1-2 in BCS Again
The four unbeatens stayed put atop the new BCS standings, released Sunday. Oregon remains king of the hill, with Auburn close behind at number two. TCU stayed at No. 3, but fourth-ranked Boise State inched closer in points to the Horned Frogs. LSU stayed at No. 5, while Stanford, Wisconsin, Nebraska, Ohio State and Oklahoma State round out the top 10.
Vikings Owner Says He Won't Consider Firing Childress
Vikings owner Zygi Wilf said he will not consider firing Brad Childress after a 27-13 loss to the Bears. This according to ESPN's Ed Werder, who is also reporting that Brett Favre says he has pain in his right shoulder. Favre said the pain might be related to the surgery he had to repair a partially-torn biceps tendon following the 2008 season with the Jets.
Santonio Holmes Scores OT Winner as Jets Fend Off Browns
The battle of the Ryan brothers goes to Rex.The Jets topped the Browns 26-20 in overtime when WR Santonio Holmes scored on a 37-yard touchdown pass from Mark Sanchez with 16 seconds left. The win is New York's second straight overtime win.
Dolphins Lose Pennington, Henne, Still Best Titans After Collins
Randy Moss' Titans debut ended in defeat on Sunday. The Miami Dolphins needed three quarterbacks to defeat Tennessee 29-17. Miami QBs Chad Pennington (shoulder) and Chad Henne (knee) departed with injuries, before third-stringer Tyler Thigpen led an 85-yard drive in the fourth quarter to seal the bizarre victory. Moss ended the day with one catch.
Tipped Hail Mary Allows Jaguars To Escape With Win Over Texans
Knock it down. The Jacksonville Jaguars shocked the Houston Texans Sunday with a Hail Mary game-winning TD. The game looked as if it was going to overtime, but Jags QB David Garrard heaved a pass toward the end zone with no time on the clock and when Texans DB Glover Quin tried to bat the ball to the ground, he knocked it right to Jags WR Mike Thomas for the win.
Antonio Margarito to Have Surgery
Antonio Margarito was battered and beaten Saturday night by Manny Pacquiao, who won the WBC junior middleweight belt unanimously. Margarito's eye may have suffered the most damage, as the Mexican super welterweight, suffered a fractured orbital bone and was to have surgery Tuesday in Texas, Top Rank promoter Bob Arum told The Associated Press on Sunday.
Carl Edwards Takes First in Phoenix
Carl Edwards drove to victory Sunday at Phoenix International Raceway, returning to victory lane for the first time in 71 starts. Poor-fuel mileage caused Denny Hamlin, who led for a race-high 190 laps, to finish 12th. His finish gives Hamlin a current 15-point lead over Jimmie Johnson heading into next week's season finale at Homestead-Miami Speedway.
Note: The Elias Sports Bureau, ESPN Stats and Information group and The Associated Press contributed to this report.