November 17, 2010 4:00 PM ET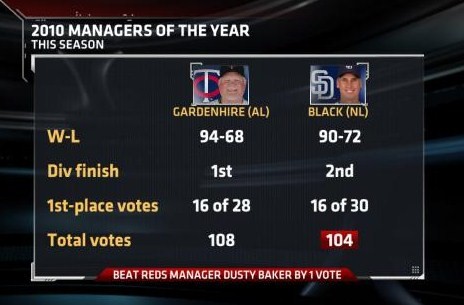 San Diego's Bud Black barely beat out Cincinnati's Dusty Baker as the NL Manager of the Year, while Minnesota's Ron Gardenhire won the AL award. Black topped Baker by one point. Gardenhire won the award for the first time after finishing second on five occasions.
Gardenhire steered the Twins to their sixth AL Central title in the nine seasons since he took over as manager, and garnered 16 of 28 1st-place votes to top the Rangers' Ron Washington. Black edged Dusty Baker by the narrowest of margins; after taking 16 of 30 1st-place votes, Black topped Baker by a 104-to-103 count.
Tags: Cincinnati Reds, Ron Gardenhire, San Diego Padres, Bud Black, Ron Washington, Dusty Baker, manager of the year