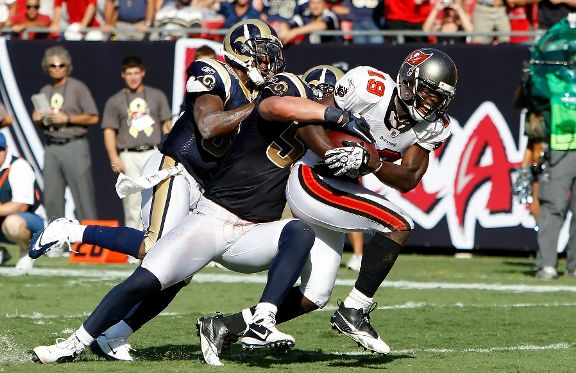 Getty Images
Bucs WR Mike Williams Arrested
Playing status unknown. Bucs rookie WR Mike Williams was going 12 mph over the speed limit and was issued a speeding ticket this morning, a team official told ESPN NFL Insider Adam Schefter. Williams submitted a urine test to prove nothing was wrong and his blood-alcohol level was below Florida's legal limit. That aside, authorities can make an arrest and conduct a DUI investigation if they see signs of impairment. ESPN NFL Insider John Clayton reports the Bucs receiver will make the trip to San Francisco to face the 49ers, but his playing status is still being determined. If he doesn't start, Michael Spurlock would get the chance.
One End Zone for Offense at Wrigley
Safety first. The Illinois-Northwestern game will have a unique twist this weekend. Only one end zone will be used for offense during Saturday's game at Wrigley Field because of safety concerns, the Big Ten announced Friday. The east end zone is just feet away from the right-field wall, and although there is padding, there were concerns that players could be injured in that end of the field.
Yao Ming Out at Least 2 More Weeks
Hurry up and wait. Houston Rockets center Yao Ming is expected to miss at least two more weeks because of a bone bruise in his left ankle. The 7-foot-6 Yao injured his ankle during Houston's 98-91 loss to the Washington Wizards on November 10. Team doctor Tom Clanton said in a statement from the Rockets on Friday that Yao's left foot is "completely healed and the structural integrity of the foot is intact."
The Associated Press contributed to this report.