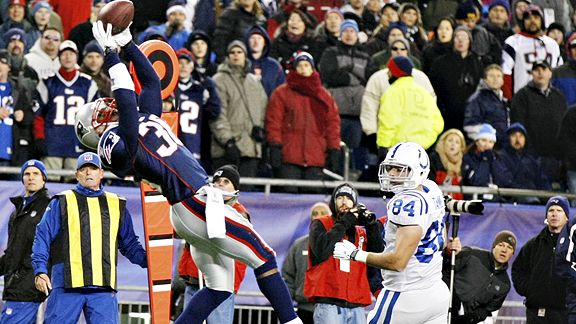 US Presswire
Tom Brady And Pats Get By Colts
Tom Brady was brilliant for the second straight week, outdueling Peyton Manning in their annual meeting, a 31-28 New England victory over Indianapolis. Coming off a 350-yard, three-touchdown performance against Pittsburgh, Brady had only six incompletions in 25 passes and threw for two TDs.
Titans' Vince Young Loses Job After Injury, Tantrum
Tennessee coach Jeff Fisher said after Sunday's overtime loss to the Redskins that quarterback Vince Young has lost his hold on the starting job. Fisher's comments follow an emotional day for Young in which the fifth-year signal-caller was booed, injured his thumb, threw his shoulder pads into the stands and stormed out of LP Field without talking to the media. Fisher said Young tore the flexor tendon in his right thumb and when asked if Young had lost his job as starter, Fisher told The Tennessean, "Yes, right now he has. There are some things that need to change."
Top Three Teams In BCS Stay In Place
Oregon and Auburn are still holding strong at the top of the new BCS standings, but no. 4 Boise State is closing the gap on no. 3 TCU, cutting the Horned Frogs lead over the Broncos in more than half. Nebraska drops from 8th to 15th after losing to Texas A&M, with Ohio State taking the Huskers spot. Michigan State jumps Alabama to get back in the top 10.
Jimmie Johnson Wins Record 5th Straight Sprint Cup Title
Smooth and steady, five years running, Jimmie Johnson kept his NASCAR reign rolling. Johnson stretched his record run of championships to five straight by making the fewest mistakes in Sunday's season finale. Johnson trailed Denny Hamlin by 15 points heading into Homestead-Miami Speedway, but captured another title by running the cleanest race of the three championship contenders. He finished second to race winner Carl Edwards and claimed the championship by 39 points over Hamlin. Kevin Harvick finished third in the race, and third in the final standings, 41 points behind Johnson.
Aaron Rodgers, Greg Jennings Too Much For Vikes
Brett Favre looked ready for retirement, with six likely meaningless games now left for Minnesota in the epilogue of his 20-year career. Aaron Rodgers and Green Bay's swarming defense sure made it clear who's in charge of this Packers-Vikings rivalry right now. Rodgers went 22 for 31 for 301 yards, with three of his four touchdown passes going to Greg Jennings. He beat Favre for the second time this season and sent Green Bay to a 31-3 victory over melting-down Minnesota on Sunday.
Source: Mets Select Terry Collins As Next Manager
Eleven years after he last served as a major league manager, Terry Collins again holds that title. The New York Mets have selected the 61-year-old Collins as the 20th manager in franchise history, according to sources. Collins served as the organization's minor league field coordinator this past season. He previously managed the Houston Astros from 1994 to 1996 and the then-Anaheim Angels from 1997 to 1999, compiling a 444-434 record.
Richard Seymour Slaps Ben Roethlisberger
Raiders defensive end Richard Seymour was ejected for an open-handed punch to Ben Roethlisberger's face as the Steelers quarterback was celebrating a touchdown pass. After completing the 22-yard throw to Emmanuel Sanders, Roethlisberger jumped into the arms of tackle Flozell Adams. Roethlisberger then began walking forward and appeared to say something to Seymour, who turned and struck the quarterback in the jaw with his open right hand. The Steelers beat the Raiders 35-3.
Source: NFL Favre-Sterger Probe Goes High Tech
In an effort to determine what Brett Favre did or did not text Jenn Sterger, the NFL is conducting high-tech forensic work to trace the electronic pathways and transmission of any photos or messages that might have been sent during communication between them, according to a source. The NFL's investigation, which is ongoing, is trying to determine whether the Vikings quarterback's denial is valid or whether more questions and issues need to be raised.
The Associated Press contributed to this report.