December 2, 2010 3:55 PM ET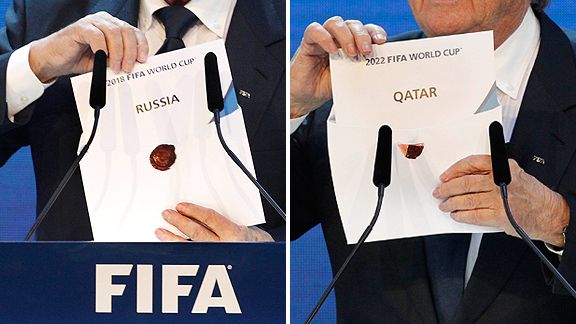 AP Photo/Anja Niedringhaus
Russia, Qatar To Host World Cups
The tiny desert nation of Qatar beat out the United States as the 2022 World Cup host, with FIFA brushing aside doubts about blistering heat to bring soccer's showcase event for the first time to the Middle East. The 22 voters on FIFA's executive committee, some accused of corruption in the weeks leading up to their meeting, picked Russia to stage the 2018 tournament, another first-time host.
Source: Yanks Willing To Better Initial Jeter Offer
The New York Yankees informed Derek Jeter's agent, Casey Close, on Thursday that the team was willing to improve its original three-year, $45-million offer, according to a baseball official who was told of the exchange. It wasn't known if the Yankees made a new offer. However, there have been several reports in recent days that the team was open to slightly increasing the number of dollars in its offer, though not necessarily guaranteeing more than three years.
Lesson Learned: Ohio St. Head Shuts Up On BCS
Ohio State president E. Gordon Gee says in the future, he will stick to running the university and leave comments about college football to the experts. "What do I know about college football? I look like Orville Redenbacher. I have no business talking about college football," he said Wednesday, according to The Columbus Dispatch. More than a week ago, Gee said teams in the major conferences such as the Big Ten and SEC are more deserving to play for the BCS national championship because they play tougher competition every week. "We do not play the Little Sisters of the Poor," he said.
The Associated Press contributed to this report.
Tags: At This Hour, New York Yankees, FIFA, World Cup, Derek Jeter, Ohio State Football, 2018 World Cup, 2022 World Cup, Russia, Casey Close, Gordon Gee, E. Gordon Gee, Qatar, Orville Redenbacaher