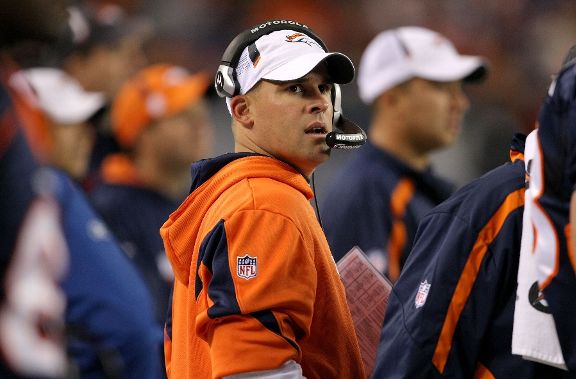 Getty Images
Source: Broncos Blanketed 49ers With Apologies
Before the Denver Broncos' videotaping incident became public Saturday, owner Pat Bowlen had personally called San Francisco 49ers owner John York to apologize for his team's actions, according to Adam Schefter. And it didn't stop there. Each of the top layers of the Broncos organization called his matching 49ers colleague to apologize. Broncos COO Joe Ellis personally phoned 49ers team president Jed York to express his apologies. Broncos coach Josh McDaniels called 49ers coach Mike Singletary to express the same sentiment. The initial call Friday went from Ellis to York, with NFL executive VP Jeff Pash also on the line, listening in. The two men spoke for close to 15 minutes, spelling out the situation. It marked the first time the 49ers became aware of the incident.
Burress On Radar For 2 Teams, Rosenhaus Says
Philadelphia Eagles quarterback Michael Vick just might be the first person to go from prison to Pro Bowl-caliber play. Former Giants receiver Plaxico Burress intends to do the same. Two teams have stayed in contact with Burress' agent, Drew Rosenhaus, about the availability of his client while the receiver finishes his prison sentence. Burress' release date still is pending, but Rosenhaus expects him to be available for the start of training camp.
Miami athletic director Kirby Hocutt says "better days are ahead" for the Hurricanes, and that his decision to fire Randy Shannon was far from easy. Hocutt spoke Sunday with players about the decision, and was emotional in a 20-minute news conference to discuss what happens next for the Hurricanes. He fired Shannon after Miami finished a 7-5 regular season with an overtime loss to South Florida on Saturday night, but that wasn't necessarily the final straw. Hocutt says the decision "was not made on 60 minutes of football." Shannon went 28-22 in his four years. Offensive line coach Jeff Stoutland is the interim head coach.
The Associated Press contributed to this report.