Spring Training:

Baltimore Orioles
February, 26, 2014
Feb 26
10:31
AM ET
SARASOTA, Fla. -- So here we go. Spring training games begin any minute now. And you know what that means: The Replay Age is upon us.
Well, actually, not upon
us
. Upon 30 managers who are about to hold the power of replay challenges in their hands. Lucky them.
Just what every manager needs, right? One more decision they can get second-guessed about.
But we've noticed something this week, in our spring travels: These managers aren't sweating this. Not yet anyway. Not after being briefed by baseball officials in recent days about how the new replay system is going to change their worlds.
"Let me tell you," said the Orioles' ever-meticulous Buck Showalter. "Everybody's talking about how we're going to get second-guessed. But I don't think that's going to be the case."
"

I have confidence that the umpires want to get the play right, because if they choose not to review that, and then everybody at home and in the ballpark sees that they were incorrect in doing that, then the heat's on them a little bit. So I would say the umpires want the right call.

"

--Phillies manager Ryne Sandberg
And the reason, he said, is simple.
"If you know you're right before you go out there," Showalter said, "where's the strategy?"
Hmmm. If you know you're right? Is that what he said? So how, you wonder, can he – or any manager – possibly know he's right before he starts challenging away?
Easy. Because all these teams are in the process of making one of the most important hiring decisions in recent baseball history -- The Video Guy.
The Video Guy will be the trusted team employee with a big flat screen in front of him and a hotline to the dugout. It will be The Video Guy's responsibility to alert the manager about which calls to challenge and which calls to leave alone.
Some teams are hiring Video Guys who are ex-players. Some are hiring ex-umpires. Some are hiring people with experience working in baseball video departments.
But whoever they are and wherever they come from, let's just say The Video Guy had better be right. Or he's going to find himself in a headline, or 12.
For instance, we asked Tigers manager Brad Ausmus the other day if he was worried about the vast new opportunities for the know-it-alls to second-guess him over his challenges (or lack thereof). Turned out he had this all figured out.
"Yeah, I guess if you use your challenge in the second inning and get it wrong, and then there's a big play in the sixth, you could get second-guessed," Ausmus said. "But I'll just blame my video guy."
Cue the rim shot.
But this is no jokefest for these managers. You'd think, with the first experimental use of baseball's extensive new replay system only a few days away (with the first spring tests scheduled for next week, in both Arizona and Florida), that they'd be nervous about having another critical responsibility added to their job descriptions. But we're not sensing that.
After being briefed in the last week by Joe Torre and Tony La Russa about what to expect, they're showing very little fear -- even of having just one challenge to play with per game if they get it wrong, or two at the most, even if they hit on the first one.
"I just think, if you get the information right [from The Video Guy], where's the strategy?" Showalter asked.
Even, we wondered, if it was the early innings and you were risking losing your challenge in case another big moment came along later?
"But if you know you're right, why are you worried?" he replied. "If you've got the right guy feeding it to you, [you say to the umpires], `You missed it. Go get it.'"
So there is so much confidence among managers that they're not going to get burned that we've discovered something fascinating -- something we didn't expect, to be honest:
If you thought these guys were going to overlook that botched call in the first inning just because they want to hoard challenges for later … it appears you're dead wrong.
"For me," said the Phillies' Ryne Sandberg, "my idea is being aggressive with my challenges early in the game."
Sandberg said he can easily envision challenging "that call in the first inning, where a run comes in or two runs come in … or that [missed] third out with men on base early on in the first three or four innings."
The reason, he said, is that he expects far fewer missed calls than most of us might expect. And if that's true, what is he saving those challenges for -- a moment that's likely never to come?
[+] Enlarge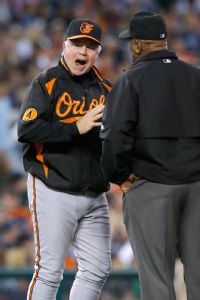 Duane Burleson/Getty ImagesOrioles manager Buck Showalter won't hesitate to challenge a questionable call, even if it happens in the first inning.
What baseball officials told managers and general managers in their replay briefings this spring was startling. According to MLB's research, only one reviewable play comes along every 6.5 games where there's enough definitive video evidence to overturn a call.
Yep, you read that right. Once every 6.5 games.
"So really," Sandberg said, "we're only talking about once a week."
And if that's the case, he said, not only does he not plan to save his challenges. He's strongly considering rolling those dice occasionally even when his Video Guy isn't sure whether a call was missed or not.
"That would be one," he said, "where you'd say, 'Well, wait. This was a ball down the line. It's inconclusive, but three runs came in, or two runs came in.' Inconclusive? I still might have to give that a shot."
And Showalter is right there with him.
"I'm going to tell you what. If there's a chance to overturn something in the first inning, I'm going," he said. "You don't know, in the second inning, what that brings. And then in the third inning, if I got the first one right, if it happens two outs later, I'm going again, because I don't know what's going to happen. They're telling us there's only one missed call every so many games. So why wouldn't I go in the first inning?
"You're telling me that outs are more important in the seventh, eighth, ninth innings than in the first or second?" Showalter wondered. "Why?"
Excellent question. But the seventh, eighth and ninth innings
must
be different, because the whole replay system changes when the seventh, eighth and ninth roll around.
It will be at that point -- but not before -- that umpires magically acquire the authority to initiate challenges on their own. But just to clear up never-ending confusion on this, they can only do that if the manager is out of challenges.
So if there's any portion of this system that creates the potential for trouble, it's those late innings. Here's exactly where that trouble could arise:
Let's say it's the top of the eighth. … The manager is out of challenges. … A close play at the plate doesn't go his way. … He trots onto the field and tells the umpire: "I'm out of challenges, but are you sure you got that right? Why don't you guys confer?" … And the crew chief tells him: "We're sure. Sorry. Now get the heck off the field."
Meanwhile, fans across America have just watched 87 replays and
know
the umpires got this wrong. You know exactly what they'll be asking:
"What's the point of having replay if you're not fixing a play like that?"
That's precisely what they
should
ask, too, of course. And it's precisely what baseball should be fearing most about these new rules. But again, the managers themselves don't seem to share those fears.
"I have confidence that the umpires want to get the play right," said Sandberg, "because if they choose not to review that, and then everybody at home and in the ballpark sees that they were incorrect in doing that, then the heat's on them a little bit. So I would say the umpires want the right call. … The technology's there. Everybody wants to get the play right. And I have confidence in the umpires being on that same page.
"Otherwise," Sandberg laughed, "
They'll
be doing the press conference after the game and not me."
February, 24, 2014
Feb 24
4:45
PM ET
SARASOTA, Fla. -- He was steamrolled at the plate by
Sean Rodriguez
in 2012. He was flattened by
Ryan Kalish
at Fenway in 2011. So to
Matt Wieters
, the issue of "protecting" catchers is more than just a fascinating talk-show debate.
"I've been fortunate," the Orioles' catcher said Monday, on the day Major League Baseball and the players' union announced the sport's new rules governing collisions at home plate. "I've gotten lucky a few times, really, that I never got hurt worse than I did."
[+] Enlarge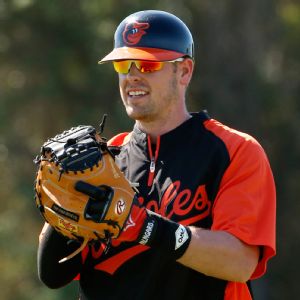 AP Photo/Gene J. PuskarMatt Wieters has been on the wrong end of a couple of home plate collisions over the past few seasons.
But Wieters has thought a lot about what might have been. So while some catchers remain skeptical, or even downright opposed to the new rules, you can count Wieters as one of its biggest supporters.
"There are always going to be catchers who want to leave it on the field," he said. "You want to be strong for your team. And stopping runs is the most important part of this game. It's whoever scores the most runs. So you want to be able to stop those runs at any cost.
"But the bigger thing, that I think really comes into play here, is you look at the NFL and the effect that concussions have. You know, we're not just talking about a career. You're not just talking about missing a season with an injury. You're talking about a couple of head-to-head collisions, and you could have quite a bit of memory loss, and quite a difficult time functioning later in life. And for me, I think that's the one issue I'm glad is hopefully going to be straightened out."
Nevertheless, Wieters has questions. And he hasn't hesitated to voice them to the union in the past few weeks, as officials on both sides struggled with how to word these rules.
So let's start with this: The collision rules say a catcher "in possession of the ball" can still block the plate. But Wieters, like a lot of catchers, would like to know exactly what that means -- and, in fact,
needs
to know what that means.
"That's part of a big concern for me," he said. "If a ball beats the runner and I'm not allowed to even block the plate then, a good sliding runner could still be safe, even if he would have been 'out' by 10 feet. So that's one thing I want to [ask]: What
is
blocking the plate? How much of the plate do you have to give? Hopefully, we'll go through that in spring training and get a real substantial feel for what's legitimate and what isn't, going into the season.
"But I think the one thing for me is, if the guy is out and the ball beats him, you want the guy to be called out. And if the guy's safe, you don't want a guy to be called out who would have been safe."
Another topic that Wieters said he's voiced a lot of concerns about is what happens when throws inadvertently take catchers into the path of the runner. That's an issue jam-packed with gray areas.
"You don't want a runner being called safe because a catcher had to back up to field the throw to get a better hop," he said, "or to have the throw coming into the line. And that's one thing that we've had to work through -- to make sure the catcher had the liberty to play the ball."
But Wieters also knows there are going to be times when these plays aren't going to be clear-cut, where it's difficult to tell whether it was the throw that took the catcher into the path of the runner or whether the catcher intended to block that path all along.
And when that happens, no one is too certain how anyone is supposed to react -- not the catcher, not the runner, not even the umpire. Yet.
"That's the hard part," Wieters said. "Part of it is obviously going to be a judgment call that the umpires have. And I think that's one of the things going through it. You don't want the umpire to have to make six or seven different judgments on where he's standing and where he's going. You want him to be able to make one judgment of: Was it a violent collision? Could it have been avoided? And I think that's the biggest thing in this rule: Is it contact that could have been avoided at the plate?"
Wieters' manager, Buck Showalter, attended a briefing on the new rule by baseball officials Sunday. And as a manager who still cringes when he thinks of some of the hits his catcher has taken, Showalter is grateful for a rule that aspires to all but eliminate "the cheap-shot collision."
"We're talking about where the [catcher] is completely exposed, doesn't have the ball and some guy hunts him," Showalter said. "We've had it happen with Matt a couple of times. And as you remember, we were real unhappy about it. I can still remember the players who did it. With no intent to score. Had the plate given to him. Could have slid. And just [hit him] very maliciously. We're going to get that out of the game."
But Wieters wanted to make one thing clear: This isn't just a rule designed to protect catchers.
"You know, catchers don't want to see runners getting hurt, either," he said. "So you want to be able to protect the runner, too. And I think that's part of the issue of why it's taken so long to put something together. You've got to be able to protect both parties. You can't just say: The catcher can do whatever he wants, so now you're going to have a bunch of runners getting hurt. It's a fine line of trying to keep the game the same, but at the same time, coming up with a rule that also eliminates some injuries."
And he and Showalter both believe baseball accomplished that Monday.
"You're probably not going to see, with the naked eye, a lot of the changes," Showalter said. "Just hopefully, we won't be showing on 'Baseball Tonight' these violent collisions that shouldn't have happened."
February, 24, 2014
Feb 24
11:00
AM ET
SARASOTA, Fla. -- As best we can tell, the Orioles haven't signed any former or future All-Stars in the past 15 minutes. But here's a name to keep in mind, in case they get the urge to spend any more of Peter Angelos' money:
J.J. Hardy
.
[+] Enlarge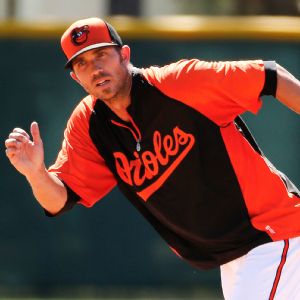 AP Photo/Gene J. PuskarJ.J. Hardy is entering what could be his fourth and final season as the Orioles' shortstop.
This will be Hardy's fourth season as the Orioles' shortstop. It also could be his last.
He's on the final season of a three-year, $22.5 million contract. The Baltimore Sun reported this week that the Orioles have contacted his agent, Craig Landis, to let them know they're interested in talking about an extension. And Hardy told ESPN.com on Monday morning that he planned to meet with his agent in the next 24 hours to discuss where they go from here.
"I don't know how that will all play out," Hardy said. "We'll see. I'm actually going to meet with my agent. And we're going to talk a little bit about what could happen. And he'll kind of fill me in … because I don't really know much.
"We've talked about all the different options, about what could happen -- other possible teams that might be looking for shortstops. There's so much that goes into it. And I'm not all caught up to speed."
Those teams could include the Dodgers (depending on their contract talks with
Hanley Ramirez
and on just-signed Cuban shortstop Erisbel Arruebarruena), the Phillies (depending on whether
Jimmy Rollins
vests his 2015 option) and the Indians (depending on the progress of top prospect Francisco Lindor). And, of course, there are the Yankees -- of whom Hardy quipped: "I heard their shortstop's retiring or something."
But Hardy, who turns 32 in August, has made it clear that if the stars and dollar signs line up right, he'd prefer to stay right where he is -- in Baltimore.
"I'll say, and I've said it a lot, that I've really enjoyed my time here," he said. "I like playing here. I like the guys. I like the manager. I like the coaches. There are a lot of things that make me happy. So I definitely like it here. But we'll see what happens."
Hardy and outfielder
Nick Markakis
are the two most prominent members of the Orioles' position-player core who could be free agents next winter. And two Scott Boras clients, catcher
Matt Wieters
and first baseman
Chris Davis
, are two years away. So Hardy understands why people keep saying and writing why the Orioles' window to win is now.
"When you look at it like that, you can see it how you want," Hardy said. "But they've got
Manny [Machado]
for another five, six years. The pitchers are young, so they'll be around. … So I guess you could think that window with these guys in this clubhouse right now could be closing. But it doesn't necessarily mean the window is closing for the whole organization."
Whether it's closing or opening, though, the Orioles have had themselves about as action-packed a first week of spring training as any team in history -- agreeing to terms with
Ubaldo Jimenez
, Korean ace Suk-min Yoon and now
Nelson Cruz
.
After a winter so quiet that it won them our not-so-coveted
Most Unimproved Team in the American League award
, they've sure picked up the pace since they arrived in Sarasota. And you could argue that by doing it this way, they've energized their clubhouse even more than if they'd signed all these guys two months ago.
"Maybe that was their strategy," Hardy deadpanned. "If it was, they definitely added excitement. Whether that was what they had in mind, or that was their plan, it's worked. I'll say that. They're playing it out brilliantly."
February, 20, 2014
Feb 20
4:41
PM ET
SARASOTA, Fla. -- Odds and ends from Orioles camp:
• So which
Ubaldo Jimenez
did the Orioles just sign?
Was it that guy who ripped off a 1.82 ERA in his 13 starts after the All-Star break last year -- the second-best ERA in baseball behind only
Clayton Kershaw
?
Or was it that other guy -- the Ubaldo Jimenez who had a 5.10 ERA in his first 61 starts with the Indians, with 175 walks in 340.2 innings?
The Orioles are well aware that this is a pitcher who has a complicated delivery and a history of losing that delivery. But they've just bet $50 million that they can fix those issues.
"I have a lot of confidence in the kid," said the Orioles' executive vice president of baseball operations, Dan Duquette. "But I also have a lot of confidence in the leadership of our team, in Buck [Showalter] and [new pitching coach] Dave Wallace.
"Dave Wallace is a pro. You go back and look at his record in L.A., New York and Boston. He gets the most out of his pitching staffs. He's very good with starting pitchers. So I think we have a reasonable chance to get good performance from Ubaldo."
• Another potentially important Dave Wallace connection is his history in Los Angeles with the Martinez brothers -- Pedro and Ramon. Wallace was their pitching coach with the Dodgers. Duquette was Pedro Martinez's general manager in Montreal and Boston. And Jimenez has the same agent (Fernando Cuza) as the Martinez brothers.
So Duquette made a point Thursday of pointing out that Cuza "saw how Dave Wallace worked very efficiently with Ramon and
Pedro Martinez
, and particularly Ramon, who's built very similarly to Ubaldo and has a similar type delivery and an excellent changeup. I think Fernando saw the obvious possibilities of Ubaldo working with Dave, and making the same kind of adjustments that Ramon made and having the same type of success."
Cuza confirmed that, saying, "The Dave Wallace connection was important. … And Dave speaks perfect Spanish. He knows the culture. He's worked with some of the best Dominican pitchers in the history of baseball. So I think, in this environment, Ubaldo is going to be able to really thrive."
• Duquette made repeated references to the fact that Jimenez has started at least 30 games in each of the past six seasons. For the record, he's one of 10 right-handers in baseball who have done that. The others:
Justin Verlander
,
Felix Hernandez
,
James Shields
,
Matt Cain
,
Tim Lincecum
,
Bronson Arroyo
,
A.J. Burnett
,
Dan Haren
and
Edwin Jackson
.
• Yes, Jimenez really said he's looking forward to facing all those tough lineups in the AL East. Which is interesting, considering that he has a 5.86 career ERA against the rest of the division -- and that he's 2-5, 8.78 lifetime against the Red Sox and Yankees.
Here's what he said, for the record: "It's a big challenge every five days. It's not easy. It's the toughest division in baseball. So you have to try to bring your A-game every time you pitch. But I like challenges."
Showalter's response after listening to that answer: "I don't want to see that on the bulletin boards now tomorrow, that he's looking forward to pitching against the AL East. He's looking forward to the CHALLENGE."
•
Adam Jones
, on whether the Orioles' window to win is right now, with
Nick Markakis
and
J.J. Hardy
a year away from free agency and
Matt Wieters
and
Chris Davis
two years away: "That's the economic part of baseball. And I didn't major in economics, so I have no idea how it's going to work. In a perfect world, we're going to lock everybody up for five or six years. In reality, it's not going to be like that. … But the important part is that right now, we've got guys here who want to be here. And hopefully, they're here for a long time. But I don't know if they will, because it's a business."
February, 20, 2014
Feb 20
3:36
PM ET
SARASOTA, Fla. -- As he writhed in pain near the first-base bag in Tampa Bay last Sept. 23, there was no voice in Manny Machado's head telling him everything was going to be fine.
"Oh, no. I thought I was done," the best 21-year-old third baseman in baseball admitted Thursday. "My first thought was, 'There goes my career. There goes my knee. It's going to be tough to come back from this.'"
But luckily for Machado, and luckily for the
Baltimore Orioles
, this wasn't The End for one of baseball's brightest stars. Miraculously, his left ACL wasn't torn. Miraculously, this was "just" a tear of the medial patellofemoral ligament, which could be repaired arthroscopically instead of with major reconstructive surgery.
And even more miraculously, five months later, Machado is trotting around the Orioles' spring training complex, taking batting practice and fielding ground balls. And he never would have thought that would be possible, either, he said.
Oh, he isn't running full speed yet. He isn't running the bases yet. There are still drills that either his medical staff or his manager won't allow him to do.
[+] Enlarge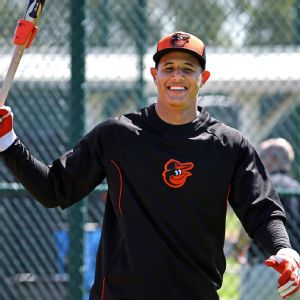 AP Photo/Gene J. PuskarHe's getting there, but Manny Machado isn't ready for fullspeed action just yet.
But if you thought you heard a big whooshing sound in the south this week, that was just the folks who run the Orioles exhaling, now that they know that almost none of all the dark scenarios they feared last September is likely to happen.
One of these weeks, one of these months,
Manny Machado
will be back on his road to stardom. Just don't mention that ever-popular expression, "Opening Day," around the Orioles. Any of them.
Asked Thursday where starting on Opening Day ranks on his list of spring goals, Machado had a telling answer:
"Last," he said. "That's at the bottom of my list. It's not even on my list, to be honest."
And not surprisingly, that's exactly what his manager wanted to hear.
"He's certainly heard it enough from me, and from the doctors, I'm sure -- that when we get it, we want to get it right the first time," Buck Showalter said. "My biggest goal with him this year is not to have any setbacks. I don't want to have any setbacks this spring.
"And believe me, our infield coaches, our strength-and-conditioning guys and everybody, they've heard that a lot. I don't want to hear about setbacks. And I don't want to hear about him being ahead or behind schedule. You'll never hear somebody say, 'This guy's on schedule.' There is none. The schedule is what it is. When he's there, he's there. And he's worth waiting on, to be right, because I don't want him to have any doubt in his mind that he's ready."
So Machado's most important date next month isn't March 31. It's March 15, the day he's scheduled to visit his surgeon, Dr. Neal ElAttrache, in California. And it won't be until at least that point that he can resume full baseball activities.
It's still possible, said Dan Duquette, the Orioles' executive vice president of baseball operations, that Machado could be cleared to play Opening Day. But until then, they're all taking this day by day.
"When I'm ready, I'm going to be ready," Machado said. "And everybody's going to know it. And that's when I'm going to be out there with the team, whether it's Opening Day or sometime in April."
In the meantime, Machado says he's erased the "freak" play on which he got hurt, while simply turning first base, from the DVR in his mind.
"It's gone," he laughed. "I've got some new memories in there. Now I'm just trying to get back out there. That's the most important one."
February, 20, 2014
Feb 20
12:38
PM ET
SARASOTA, Fla. -- Those poor Baltimore Orioles. They took a beating all winter. Imagine that.
From their ever-skeptical fan base. From the always-wary members of the local and national media. Even from the occupants of front offices throughout the land, who kept asking, What the heck are the Orioles doing?
Well now we have our answer, don't we? Now we know, says the Orioles' executive vice president of baseball operations, Dan Duquette.
They were just biding their time. That's all.
You knew that all along, right?
The Plan was always to sign someone like
Ubaldo Jimenez
, for something like four years and 50 million Angelos family dollars.
[+] Enlarge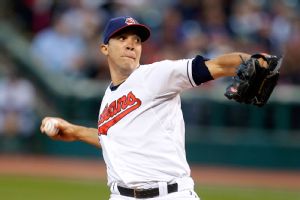 AP Photo/Tony DejakThe O's are banking big money that Ubaldo Jimenez's strong finish in Cleveland leads to a strong start in Baltimore.
The Plan was always to add another arm, along the lines of this week's other big Orioles addition, Korean star
Suk-Min Yoon
.
It just took awhile. Like a really, really, really long while.
So that was their story Thursday, the day they announced the signing of Jimenez amid major live-TV-back-to-Baltimore hoopla. And they were sticking to it. But why not?
It might have taken nearly a week into spring training for the Orioles' key offseason acquisitions to start rolling in; but in a way, Duquette said, it actually works out better that way.
"If we went out and we signed these players in October or November," Duquette said, "people would be saying: 'The Orioles are addressing their needs. They're being aggressive. They're adding good starting pitching. They're ramping up their team for a run at the title.' OK?
"Well, we didn't sign them in October. But by waiting, we got contracts with these players that are good for the market, that are good for the team. And people understand that we are building our team and ramping it up to be a contending team this year."
Well, whether people actually understand it or not, he's still right about that. The Orioles are better and deeper today than they were a week ago. They needed to add pitching if they were going to survive another journey through the AL East minefield. And at least they've done that.
They were even willing to give up their first-round draft pick, and the slot money that goes with it, to do it. And their willingness to do that, Duquette said, tells us something about their priorities that we didn't know for sure a week ago.
Losing that pick "is always a consideration," he said. "But getting dependable starting pitching is very important."
So, Duquette added, "do we want to be giving up all our draft picks every year? No. That's not something we want to be doing long term. But we've made a conscious choice to do that this year, to put the resources into our pitching staff [because of] the core players we have. We thought that was the right choice to make."
That, of course, would be a reference to another of our famous media storylines about the Orioles these days -- their dwindling window to win right now, before they can no longer afford "core players" like
Matt Wieters
and
Chris Davis
, who can be free agents in two years and have Scott Boras as their agent.
Suddenly, with their payroll blowing past $100 million after the Jimenez signing, keeping all of these players would seem to be getting more challenging by the minute. But Duquette said simply: "I would say we want to have a competitive team, year-in, year-out. And we're going to do what we have to do to accomplish that. ... But we have to do it within the resources of this team and this market."
So there you go. They're going to do what they have to do. It would be safe to say that for most of this winter, the citizens of Baltimore weren't so sure of that. But two significant free-agent signings later -- with the possibility of another down the road (
hello, Kendrys Morales?
) – it turns out they always did have a Plan.
And so, a wry smile formed on Duquette's face when one of his media admirers asked him Thursday how difficult a winter he'd just been through.
"You mean the snow?" Duquette quipped. "Oh. You mean the cold."
February, 14, 2014
Feb 14
10:00
AM ET
As there are every spring, there are great baseball stories everywhere -- from Tampa to Tempe, from Jupiter to Space Coast Stadium, from Goodyear to Surprise.
Which teams will have a good year? Which teams will surprise? The questions are what make spring training so great, so fascinating. They are what define this time of year, along with warm weather, hope and the belief that March 29 will be the last useless evening that we'll have to spend.
[+] Enlarge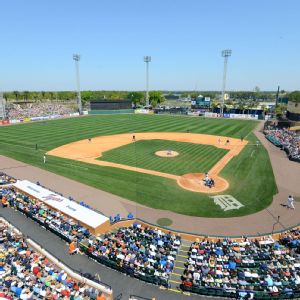 Mark Cunningham/MLB Photos via Getty ImagesNothing beats the look and feel of spring training.
It all begins, as so many spring trainings have before, with the Yankees in Tampa. We will get our first look at
Masahiro Tanaka
, who the Yankees made the fifth-highest paid pitcher in major league history before he ever threw a pitch in the big leagues. Is his splitter as good as everyone says? We will see
Jacoby Ellsbury
,
Brian McCann
and
Carlos Beltran
in Yankee uniforms, and we will see
Derek Jeter
in the final year of his career play shortstop at age 39; only five players in the game's history -- Honus Wagner, Rabbit Maranville, Luke Appling, Luis Aparicio and
Omar Vizquel
-- have played 100 games in a season at shortstop at Jeter's age. He'll turn 40 three weeks before the All-Star break.
The world champion Red Sox mostly will be without their beards this spring, but they will have a new catcher (
A.J. Pierzynski
), a new shortstop (
Xander Bogaerts
) and several candidates to be their new center fielder, including
Grady Sizemore
, who hasn't taken an at-bat in the big leagues since 2011. The Rays will have
David Price
, who hasn't been traded and now, it appears, might not be traded this season. The Orioles might start the season without
Manny Machado
, who is coming back from a serious knee injury. The Blue Jays will open spring training without the hype of last spring, which is good for them.
The Tigers, under new manager Brad Ausmus, will open the spring with a different infield from the one that took the field last spring, including
Ian Kinsler
at second base and rookie
Nick Castellanos
at third. Even more important, they have a real closer this spring in
Joe Nathan
. The Indians have a new closer,
John Axford
, as well. The Royals have a new leadoff batter (
Norichika Aoki
) and second baseman (
Omar Infante
). Meanwhile, the White Sox have a new first baseman (Cuban
Jose Abreu
) and the Twins' new first baseman is their old catcher,
Joe Mauer
.
The A's added to their bullpen, acquiring closer
Jim Johnson
,
Luke Gregerson
and
Eric O'Flaherty
, and welcomed
Scott Kazmir
to their rotation. The Rangers gave
Prince Fielder
a fresh start at first base, found a position (second base) for
Jurickson Profar
and showed
Shin-Soo Choo
what a great country this is, especially when you reach free agency. Great country? The Mariners gave
Robinson Cano
$240 million, but is there protection around him in that lineup? The Angels made significant changes, none of which will really matter if
Albert Pujols
isn't healthy enough to play first base and produce something close to the Pujols of St. Louis. And if the Astros lose 128 games (they are not nearly that bad), they'll tie the Mets (1962-65) for the most losses ever during any four-year period in history.
The Braves have a new catcher in
Evan Gattis
, and they'll have to figure out how to get the batting averages of
B.J. Upton
and
Dan Uggla
back over .200. The Nationals, under rookie manager Matt Williams, need a healthy
Bryce Harper
(knee) if they're going to win the NL East; in mid-January, he sprinted for the first time without pain. We know the Phillies are in Clearwater, but nothing else about them is clear. The Mets have
Curtis Granderson
and
Bartolo Colon
, but not having
Matt Harvey
for perhaps the entire season will be a bummer. The Marlins still have
Giancarlo Stanton
. How long before that situation changes?
The Cardinals have almost an entirely new infield, a new center fielder (
Peter Bourjos
) and maybe a new right fielder if rookie
Oscar Taveras
is healthy and productive. The Pirates have hope again following a playoff appearance in 2013, and with
Gerrit Cole
for a full season. The Reds have a new manager in Bryan Price; now they need to find a center fielder to replace Shin-Soo Choo: Is this the spring that
Billy Hamilton
steals a job? The Brewers have a new right fielder in
Ryan Braun
; no questions about Biogeneis will be taken, however. The Cubs have a new spring training facility and a new manager, Rick Renteria.
[+] Enlarge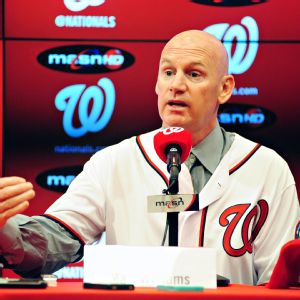 Evan Habeeb/USA TODAY SportsExpectations are once again high for the Nationals, who have a new manager in Matt Williams.
The Dodgers have four outfielders for three spots; one of them,
Matt Kemp
, is coming back from shoulder and ankle injuries -- his health and production will be one of the big stories of the spring. The Diamondbacks have a new left fielder,
Mark Trumbo
, who might hit 40 homers in their ballpark. The Dodgers and Diamondbacks will open the season March 22 in Australia; let's hope there isn't a major brawl Down Under. The Giants added
Tim Hudson
, and
Pablo Sandoval
subtracted 42 pounds. The Padres signed
Josh Johnson
to pitch in a rotation headed by
Ian Kennedy
-- here's hoping they play a doubleheader this year, and go with the Kennedy-Johnson ticket. The Rockies will open camp with
Troy Tulowitzki
, but, for the first time since 1988, they'll begin a season without
Todd Helton
.
There will be lots of stories, questions and sunshine this spring. It is the best time of year. It is a time for optimism: No one has lost a game, the rookies all have promise and the veterans believe it will be their best year. It is baseball in its purest form, a time for wind sprints, fundamentals, split-squad games on a back field where only the scouts are watching. Millionaire players are humanized and humbled in spring training. They are not receiving enormous paychecks every two weeks, and they're getting the same meal money as the rookie in his first big league camp. No one is exempt from the three-hour bus rides, playing on fields that aren't manicured to major league standards, and facing anonymous Class A pitchers who throw really hard, but have no idea where the ball is going. It is the one time of year that
Justin Verlander
and a 20-year-old kid are on equal ground. It is the one time of year that a player gets on the bus in uniform, just like in high school.
Eleven years ago, Indians pitcher
Brian Anderson
boarded the team bus at 8 a.m. for the two-hour drive to Vero Beach, Fla., for a spring training game. Thirty minutes into the trip, Anderson realized he had forgotten his hat, his spikes and his glove back in Winter Haven.
"I was running late that morning because I knew I was going to get to hit in the game, so I was looking for the really important things: batting gloves and a bat," Anderson said. "When we got to Vero, I was in full panic mode. I borrowed a car and went to a mall, but there wasn't one glove in the whole mall, but I found some adidas spikes. On the way back to the ballpark, I saw a WalMart. I thought, 'Hey, WalMart has everything ... tires ... produce ... it must have a baseball glove.' I found one: $29.95, already broken in. It was a softball glove. A Wilson. It was awful. I borrowed someone's hat and pitched in the game. Of course, I got three comebackers to the mound, and I caught them all because my new glove was as big as a butterfly net, it made
[Greg] Maddux
's glove look small. That day reminded me of when I was 17 playing Legion ball. That is spring training to me."
Only in spring training could this story happen. The Twins signed infielder
Tsuyoshi Nishioka
in the spring of 2011. He didn't speak much English, and didn't know anyone on the team. Several teammates convinced Twins outfielder
Denard Span
to introduce himself to Nishioka, to make him feel more a part of the team. Only they tricked Span -- they told him that Ray Chang, another infielder, was Nishioka. So Span, ever respectful, approached Chang, bowed gracefully, introduced himself, and asked him if he spoke English.
"Sure I do," Chang said. "I'm from Kansas City!"
The whole team howled.
[+] Enlarge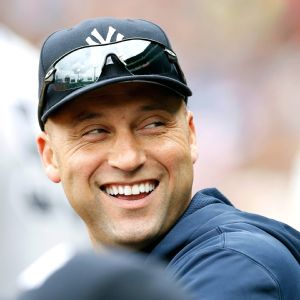 Greg M. Cooper/USA TODAY SportsDerek Jeter, who played only 17 games last season, enters the final year of his career hoping to stay healthy.
Only in spring training could then-Rays first baseman
Carlos Pena
make a mistake in a baserunning drill, then justify it by quoting Dr. Martin Luther King's "I Have A Dream" speech. "My first baseman is quoting Dr. King," said Rays manager Joe Maddon. "I love it."
Only in spring training would pitcher
Jeremy Guthrie
, now with the Royals, ride his bike to work. "It was only five miles," he said of his daily ride two springs ago to the Rockies' facility. Then-teammate
Michael Cuddyer
said of Guthrie, laughing, "He once pitched in a game in Scottsdale, then got on his bike -- still in full uniform, with his glove on the handlebars -- and rode back to our facility. It was like a scene from 'The Sandlot.'"
Only in spring training would then-Padres pitcher
Chris Young
and
Will Venable
pick teams for a free throw shooting tournament because both guys played basketball at Princeton. "That's as nervous as I've ever been for an athletic competition," Young said with a smile, "because I'm not a great free throw shooter, and my team was depending on me to be good." Only in spring training would the Twins hold a bowling tournament behind the KFC in Fort Myers and, said Twins manager Ron Gardenhire, "Joe Mauer would be high-fiving his teammates, guys he's never met in his life, after they rolled a strike." Only in spring training could Jeff Stone get thrown out at all four bases in one game, and only one of them was a forceout (think about that). Only in spring training could Rockies pitcher David Lee, in an emergency, drive the team bus on a night trip, then earn the nickname "Diesel" when he stopped the bus and announced, "We've got to get some diesel!"
Only in spring training is time taken to get in baseball shape. "We're always inventing drills and conditioning programs in spring training," said Rich Donnelly, now the manager of the Mariners' Triple-A team. "Years ago, we'd do 10 jumping jacks, touch our toes twice, then play. Today, these strength and conditioning coaches are always coming up with new stuff: rubber bands, parachutes, cones. I just can't imagine Ted Williams going to spring training and running with a parachute on his back, or Babe Ruth jumping over a bunch of cones."
It is a time for the fans, especially kids. Families take vacations to spring training. Getting a player's autograph is easier because everything and everyone is more relaxed than during the regular season. Well, except for when the Red Sox and Yankees played for the first time in spring training 2004, their first meeting since
Aaron Boone
's home run had sent the Yankees to the World Series, and sent the Red Sox home. Tickets were scalped for $500 for an exhibition game! Before the game, there was a fight in the parking lot at City of Palms Park in Fort Myers between a Yankees fan and a Red Sox fan ... both fans were women!
It's spring training. Finally. We can't wait.