Spring Training:

Boston Red Sox
March, 11, 2014
Mar 11
5:24
PM ET
SARASOTA, Fla. -- Who knew
Will Middlebrooks
had a little Ozzie Smith in him? Not to mention a little Steve Nash.
But in the second inning of the Red Sox's 6-5 split-squad win over the Orioles on Tuesday, Middlebrooks pulled off a Web Gem glove-flip trick even his teammates didn't know he had in him.
With no outs,
J.J. Hardy
on first,
Matt Wieters
up, the Red Sox in a shift, and Middlebrooks playing just to the left of second base, Middlebrooks charged a Wieters chopper up the middle and forced out Hardy at second, with a blind, no-look flip to shortstop Deven Marrero.
Cue the video machines.
"Goes back to my high school days, playing a little shortstop," the Red Sox third baseman said nonchalantly afterward.
So does that mean he was a noted glove-flipper back then?
"No, no, no, no, no," he laughed. "My dad, he's here right now. He's probably going to get on me for trying to be a pretty boy. But that was my only play. And it was fun. It was fun to go out there and do that."
If Middlebrooks has been storing away this latent glove-flipping talent, it seems almost tragic to have wasted it over at third base these last few years. But if he's depressed about not being able to showcase that act, he isn't stressing over it.
"It's going to be a long glove-flip over there," he quipped. "So I tend to just throw it."
Yeah, well, that works, too. And whatever works for Middlebrooks out at third base these days, the Red Sox are all for. He's put in long hours already this spring, working with legendary infield instructor Brian Butterfield, after a 2013 season in which only 17 of 59 big league third basemen (with at least 80 games at third) cost their team more runs in the field than he did, according to FanGraphs.
And that glove-flip play reflects some of the self-assurance that Middlebrooks has built back with all that work this spring, he said.
"I thought about it afterwards," Middlebrooks said, on a day when he also hit his second home run of the spring. "I didn't even think about that play. I just did it. That just goes back to [Butterfield] and these coaches, who have got that confidence in my defense back."
And let's just say his manager noticed.
"He's not taken his defense to the plate or vice versa," said manager John Farrell. "He's responded favorably. His work ethic has been outstanding since we've come to Florida. He's putting in the required time and energy on all phases of the game."
Farrell was critical of Middlebrooks last week after a game in which he made two misplays at third. But unless
Stephen Drew
comes marching into Fort Myers in the next 20 minutes -- and that isn't likely -- Will Middlebrooks pretty much has this job locked up. Now the Red Sox just need him to restore the promise of his eye-opening rookie season in 2012.
"He's our third baseman," Farrell said. "He's got a profile of skills that you're not going to find many places. He profiles the position well, and it's our job to continue to have that confidence grow and address any deficiencies that might exist."
March, 11, 2014
Mar 11
4:55
PM ET
SARASOTA, Fla. -- Leave it to the Red Sox to search for a cure for the hangover.
No, not that kind of hangover.
We're talking about the dreaded World Series hangover, the kind that afflicts teams that play deep into October and pitchers who obliterate their career highs in innings pitched in a quest to ride on a parade float. Or in this case, a duck boat.
Anyone who doesn't think those October hangovers are real can give the 2012-13 Giants rotation a call. Then again, it doesn't matter if the rest of the planet thinks those hangovers are real because the Red Sox think they're real. So they have taken steps to let their starting pitchers ease into the spring instead of roaring right into Fort Myers as if October had never happened.
[+] Enlarge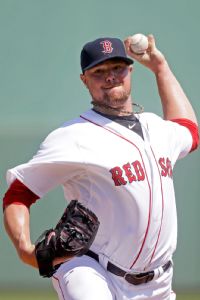 AP Photo/Gerald HerbertJon Lester tossed three scoreless innings in Monday's spring debut.
Jon Lester
just made his first start of the spring on Monday, in his team's 12th game of the spring.
Clay Buchholz
debuted the day before. On Tuesday, it was
John Lackey
's turn to finally get into a game.
Jake Peavy
will etch his name into Grapefruit League annals Thursday, although he had some fishhook complications to account for some of this delay.
And the plan is for all of these men to make just four spring starts instead of the usual five, or even six.
None of this is a coincidence. None of this just worked out this way. It's merely the Red Sox doing what they can to allow men who bore a heavy workload last fall to recover as best they can before the marathon begins again in a few weeks.
"It's only one [missed] start," said manager John Farrell on Tuesday, before his team's split-squad game against the Orioles in Sarasota. "There's been a lot made of it. But we're not shortcutting their foundation. We're just taking a different approach of a little bit less intensity early rather than jumping a guy right into the early part of the game schedule."
Instead of a two-inning start on Feb. 26 or in the first week of March, the Red Sox tried to create opportunities for their starters to build up their arms and their pitch counts without the intensity of actual games, allowing them to throw simulated games instead, in more controlled environments.
"Inevitably, a pitcher goes out there [in spring training] and his reference point is last year's midseason form," Farrell said. "So this way it's a chance for those guys to go out there and get their deliveries right and build pitch counts in a more controlled setting. And that's why we've seen Buchholz come out and throw his three innings the other day [in his first start], and Lester yesterday, because they've been able to do enough work to get themselves physically in good shape, but to build that up in a less pressurized setting."
But this approach didn't just begin when those four pitchers arrived in spring training. It actually goes back to last winter, when the Red Sox mapped out offseason throwing programs and pushed everyone's start date back three weeks.
"I view pitchers just like thoroughbred race horses," the manager said. "You know, after a racing season, they turn them out on the farm and just let them naturally rebuild. Whether it's right, wrong or indifferent, that's my thought and opinion. You have to give them time to naturally recover.
"So if that pushes the calendar back a little bit, you adjust at the outset and then just gradually build up. The volume of throws isn't going to change. Maybe just gradually a little bit of increase in intensity."
All pitchers, of course, are creatures of habit and routine. Doing it this way means new habits and new routines. So "sure," Farrell said, "they all have questions."
"But they all recognize, too, that they [logged a heavy workload]," he said. "Lester threw the most innings of his career last year [248, counting the postseason]. John Lackey, after a year missed with Tommy John [surgery], he's up over 200 innings [to 215 1/3], and that's a year-to-year big jump. So we just felt like [the best way to do this was to] include them in the process, explain what our situation is and, yeah, it's a little bit of an adjustment on their part. But ultimately, they see the reasons for it and buy in."
This may not seem like revolutionary stuff, but it's important stuff, because no one on the outside, Farrell said, can appreciate the grind October has become, now that it's four grueling weeks long.
"I don't know if you can," the manager said, "until you actually go through it."
February, 14, 2014
Feb 14
10:00
AM ET
As there are every spring, there are great baseball stories everywhere -- from Tampa to Tempe, from Jupiter to Space Coast Stadium, from Goodyear to Surprise.
Which teams will have a good year? Which teams will surprise? The questions are what make spring training so great, so fascinating. They are what define this time of year, along with warm weather, hope and the belief that March 29 will be the last useless evening that we'll have to spend.
[+] Enlarge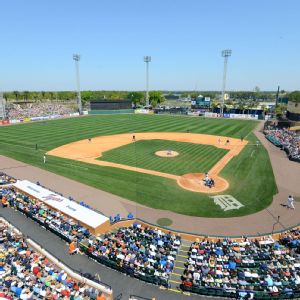 Mark Cunningham/MLB Photos via Getty ImagesNothing beats the look and feel of spring training.
It all begins, as so many spring trainings have before, with the Yankees in Tampa. We will get our first look at
Masahiro Tanaka
, who the Yankees made the fifth-highest paid pitcher in major league history before he ever threw a pitch in the big leagues. Is his splitter as good as everyone says? We will see
Jacoby Ellsbury
,
Brian McCann
and
Carlos Beltran
in Yankee uniforms, and we will see
Derek Jeter
in the final year of his career play shortstop at age 39; only five players in the game's history -- Honus Wagner, Rabbit Maranville, Luke Appling, Luis Aparicio and
Omar Vizquel
-- have played 100 games in a season at shortstop at Jeter's age. He'll turn 40 three weeks before the All-Star break.
The world champion Red Sox mostly will be without their beards this spring, but they will have a new catcher (
A.J. Pierzynski
), a new shortstop (
Xander Bogaerts
) and several candidates to be their new center fielder, including
Grady Sizemore
, who hasn't taken an at-bat in the big leagues since 2011. The Rays will have
David Price
, who hasn't been traded and now, it appears, might not be traded this season. The Orioles might start the season without
Manny Machado
, who is coming back from a serious knee injury. The Blue Jays will open spring training without the hype of last spring, which is good for them.
The Tigers, under new manager Brad Ausmus, will open the spring with a different infield from the one that took the field last spring, including
Ian Kinsler
at second base and rookie
Nick Castellanos
at third. Even more important, they have a real closer this spring in
Joe Nathan
. The Indians have a new closer,
John Axford
, as well. The Royals have a new leadoff batter (
Norichika Aoki
) and second baseman (
Omar Infante
). Meanwhile, the White Sox have a new first baseman (Cuban
Jose Abreu
) and the Twins' new first baseman is their old catcher,
Joe Mauer
.
The A's added to their bullpen, acquiring closer
Jim Johnson
,
Luke Gregerson
and
Eric O'Flaherty
, and welcomed
Scott Kazmir
to their rotation. The Rangers gave
Prince Fielder
a fresh start at first base, found a position (second base) for
Jurickson Profar
and showed
Shin-Soo Choo
what a great country this is, especially when you reach free agency. Great country? The Mariners gave
Robinson Cano
$240 million, but is there protection around him in that lineup? The Angels made significant changes, none of which will really matter if
Albert Pujols
isn't healthy enough to play first base and produce something close to the Pujols of St. Louis. And if the Astros lose 128 games (they are not nearly that bad), they'll tie the Mets (1962-65) for the most losses ever during any four-year period in history.
The Braves have a new catcher in
Evan Gattis
, and they'll have to figure out how to get the batting averages of
B.J. Upton
and
Dan Uggla
back over .200. The Nationals, under rookie manager Matt Williams, need a healthy
Bryce Harper
(knee) if they're going to win the NL East; in mid-January, he sprinted for the first time without pain. We know the Phillies are in Clearwater, but nothing else about them is clear. The Mets have
Curtis Granderson
and
Bartolo Colon
, but not having
Matt Harvey
for perhaps the entire season will be a bummer. The Marlins still have
Giancarlo Stanton
. How long before that situation changes?
The Cardinals have almost an entirely new infield, a new center fielder (
Peter Bourjos
) and maybe a new right fielder if rookie
Oscar Taveras
is healthy and productive. The Pirates have hope again following a playoff appearance in 2013, and with
Gerrit Cole
for a full season. The Reds have a new manager in Bryan Price; now they need to find a center fielder to replace Shin-Soo Choo: Is this the spring that
Billy Hamilton
steals a job? The Brewers have a new right fielder in
Ryan Braun
; no questions about Biogeneis will be taken, however. The Cubs have a new spring training facility and a new manager, Rick Renteria.
[+] Enlarge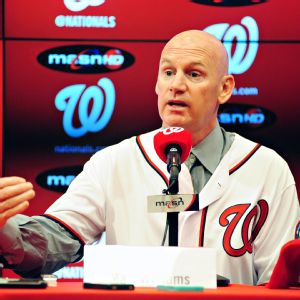 Evan Habeeb/USA TODAY SportsExpectations are once again high for the Nationals, who have a new manager in Matt Williams.
The Dodgers have four outfielders for three spots; one of them,
Matt Kemp
, is coming back from shoulder and ankle injuries -- his health and production will be one of the big stories of the spring. The Diamondbacks have a new left fielder,
Mark Trumbo
, who might hit 40 homers in their ballpark. The Dodgers and Diamondbacks will open the season March 22 in Australia; let's hope there isn't a major brawl Down Under. The Giants added
Tim Hudson
, and
Pablo Sandoval
subtracted 42 pounds. The Padres signed
Josh Johnson
to pitch in a rotation headed by
Ian Kennedy
-- here's hoping they play a doubleheader this year, and go with the Kennedy-Johnson ticket. The Rockies will open camp with
Troy Tulowitzki
, but, for the first time since 1988, they'll begin a season without
Todd Helton
.
There will be lots of stories, questions and sunshine this spring. It is the best time of year. It is a time for optimism: No one has lost a game, the rookies all have promise and the veterans believe it will be their best year. It is baseball in its purest form, a time for wind sprints, fundamentals, split-squad games on a back field where only the scouts are watching. Millionaire players are humanized and humbled in spring training. They are not receiving enormous paychecks every two weeks, and they're getting the same meal money as the rookie in his first big league camp. No one is exempt from the three-hour bus rides, playing on fields that aren't manicured to major league standards, and facing anonymous Class A pitchers who throw really hard, but have no idea where the ball is going. It is the one time of year that
Justin Verlander
and a 20-year-old kid are on equal ground. It is the one time of year that a player gets on the bus in uniform, just like in high school.
Eleven years ago, Indians pitcher
Brian Anderson
boarded the team bus at 8 a.m. for the two-hour drive to Vero Beach, Fla., for a spring training game. Thirty minutes into the trip, Anderson realized he had forgotten his hat, his spikes and his glove back in Winter Haven.
"I was running late that morning because I knew I was going to get to hit in the game, so I was looking for the really important things: batting gloves and a bat," Anderson said. "When we got to Vero, I was in full panic mode. I borrowed a car and went to a mall, but there wasn't one glove in the whole mall, but I found some adidas spikes. On the way back to the ballpark, I saw a WalMart. I thought, 'Hey, WalMart has everything ... tires ... produce ... it must have a baseball glove.' I found one: $29.95, already broken in. It was a softball glove. A Wilson. It was awful. I borrowed someone's hat and pitched in the game. Of course, I got three comebackers to the mound, and I caught them all because my new glove was as big as a butterfly net, it made
[Greg] Maddux
's glove look small. That day reminded me of when I was 17 playing Legion ball. That is spring training to me."
Only in spring training could this story happen. The Twins signed infielder
Tsuyoshi Nishioka
in the spring of 2011. He didn't speak much English, and didn't know anyone on the team. Several teammates convinced Twins outfielder
Denard Span
to introduce himself to Nishioka, to make him feel more a part of the team. Only they tricked Span -- they told him that Ray Chang, another infielder, was Nishioka. So Span, ever respectful, approached Chang, bowed gracefully, introduced himself, and asked him if he spoke English.
"Sure I do," Chang said. "I'm from Kansas City!"
The whole team howled.
[+] Enlarge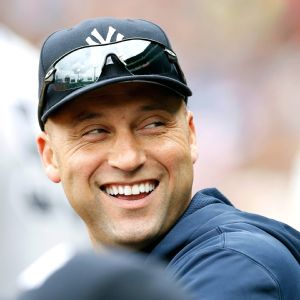 Greg M. Cooper/USA TODAY SportsDerek Jeter, who played only 17 games last season, enters the final year of his career hoping to stay healthy.
Only in spring training could then-Rays first baseman
Carlos Pena
make a mistake in a baserunning drill, then justify it by quoting Dr. Martin Luther King's "I Have A Dream" speech. "My first baseman is quoting Dr. King," said Rays manager Joe Maddon. "I love it."
Only in spring training would pitcher
Jeremy Guthrie
, now with the Royals, ride his bike to work. "It was only five miles," he said of his daily ride two springs ago to the Rockies' facility. Then-teammate
Michael Cuddyer
said of Guthrie, laughing, "He once pitched in a game in Scottsdale, then got on his bike -- still in full uniform, with his glove on the handlebars -- and rode back to our facility. It was like a scene from 'The Sandlot.'"
Only in spring training would then-Padres pitcher
Chris Young
and
Will Venable
pick teams for a free throw shooting tournament because both guys played basketball at Princeton. "That's as nervous as I've ever been for an athletic competition," Young said with a smile, "because I'm not a great free throw shooter, and my team was depending on me to be good." Only in spring training would the Twins hold a bowling tournament behind the KFC in Fort Myers and, said Twins manager Ron Gardenhire, "Joe Mauer would be high-fiving his teammates, guys he's never met in his life, after they rolled a strike." Only in spring training could Jeff Stone get thrown out at all four bases in one game, and only one of them was a forceout (think about that). Only in spring training could Rockies pitcher David Lee, in an emergency, drive the team bus on a night trip, then earn the nickname "Diesel" when he stopped the bus and announced, "We've got to get some diesel!"
Only in spring training is time taken to get in baseball shape. "We're always inventing drills and conditioning programs in spring training," said Rich Donnelly, now the manager of the Mariners' Triple-A team. "Years ago, we'd do 10 jumping jacks, touch our toes twice, then play. Today, these strength and conditioning coaches are always coming up with new stuff: rubber bands, parachutes, cones. I just can't imagine Ted Williams going to spring training and running with a parachute on his back, or Babe Ruth jumping over a bunch of cones."
It is a time for the fans, especially kids. Families take vacations to spring training. Getting a player's autograph is easier because everything and everyone is more relaxed than during the regular season. Well, except for when the Red Sox and Yankees played for the first time in spring training 2004, their first meeting since
Aaron Boone
's home run had sent the Yankees to the World Series, and sent the Red Sox home. Tickets were scalped for $500 for an exhibition game! Before the game, there was a fight in the parking lot at City of Palms Park in Fort Myers between a Yankees fan and a Red Sox fan ... both fans were women!
It's spring training. Finally. We can't wait.
March, 18, 2013
3/18/13
6:54
PM ET
BRADENTON, Fla. -- Every time a
Boston Red Sox
starting pitcher went to the mound last season, it was history in the making.
But if you think that's a good thing, you obviously aren't a Red Sox fan.
This, we regret to announce, wasn't
Pedro Martinez
/
Roger Clemens
/Lefty Grove kind of history.
This was the kind of history that got a manager fired, got a coaching staff overturned, got
Josh Beckett
shipped 3,000 miles west and got people wondering about life-altering questions like, "Why did
Tim Wakefield
retire again?"
To be slightly more precise, this was the sort of history that revolved around the following magic number: 5.19.
And no, that wasn't the area code of John Henry's cottage in Boca. It was the combined ERA by the starters for the 2012 Red Sox.
And here's the big news: It just happened to be the highest ERA by any rotation in franchise history.
[+] Enlarge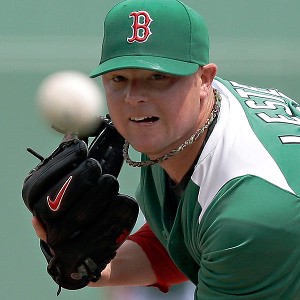 AP Photo/Elise AmendolaJon Lester has looked like the 2011 version of himself this spring.
The previous record had held up for a mere 80 years, ever since a 5.16 mark by Hod Lisenbee's 1932 Red Sox rotation led that team to a fun-filled 43-111 season. But that group is off the hook now, amazingly enough. And not surprisingly, the 2013 Red Sox rotation is on a mission to turn last year into ancient history ASAP.
Well, so far, so good.
Ready for a number that looks a lot more attractive than 5.19? How 'bout this one:
1.99.
That would be the ERA of the five prospective Red Sox starters --
Jon Lester
,
Clay Buchholz
,
Ryan Dempster
,
John Lackey
and
Felix Doubront
-- this spring, if you count Lackey's three shutout innings in an exhibition against Puerto Rico's World Baseball Classic team.
And if that doesn't catch your attention, how about this number:
One.
That would be the number of hits that Lester and Buchholz allowed
combined
to the 36 hitters they faced over back-to-back starts Sunday and Monday.
And neither of those numbers, says manager John Farrell, would be particularly misleading, even though he also makes sure to use that expression, "It's spring training," every few sentences, just to remind us that none of this brilliance actually counts.
"I've always felt that, because of their track records there's no reason that these guys shouldn't be successful," Farrell said of his rotation, on a day that Buchholz spun five drizzly, one-hit innings against the Pirates. "They're talented. They're healthy. And those are ingredients to have successful seasons."
What happened last year, Buchholz said Monday, was still tough to comprehend for a group of pitchers who had become accustomed to bigger and better things.
"It's crazy," the 28-year-old right-hander said, after finally allowing his first run in four starts this spring. "I think when that's happening, every guy goes out there wanting to stop the bleeding, and it snowballs on you. I know it snowballed on me for the first half of the season. Every time I went out there, I wanted to do better. But it kept going, over and over and over again.
"But this spring, it looks like everybody's throwing the ball well," he said. "[That season] left, not necessarily a bad taste in your mouth, but a sense of knowing we've got work to do. And if this team goes anywhere, it's going to start with our pitching."
Well, he's got that right. The AL East used to be Thunder Road. Now it's a veritable arms race. So there's that.
And there's also this: Over the past nine seasons, the Red Sox have never won a postseason series in a year in which their rotation finished worse than third in the league in starting-pitching ERA. And that's where Farrell and new pitching coach Juan Nieves come in.
Once upon a time, in another life, Farrell was the pitching coach of four Red Sox teams (2007-10) that won a World Series, made three trips to the postseason and led the American League in strikeouts and opponent average over that span. Then he spent the past two years watching them from across the field, while he was managing the Blue Jays.
Lester, Buchholz and Doubront were members of his staff back in the good old days. So "I kind of got a 'before' and 'after' view," Farrell chuckled Monday. And he has returned with a strong sense of "this is what we need to get back to" in the cases of Lester and Buchholz in particular.
So what do Farrell, Nieves and Buchholz see when they look at these five starters? They see a group with good things happening. Here's their view:
Jon Lester
The numbers:
As our amigo from ESPN Boston, Gordon Edes, wrote Sunday, from Opening Day 2008 to Sept. 6, 2011, Lester went 65-29, the second-best winning percentage (.691) in baseball, trailing only
CC Sabathia
(.704) among pitchers who worked 600-plus innings. But in his last 37 starts, from that date through the end of last season, Lester went just 9-17, 5.12 -- the worst winning percentage (.346) and third-highest ERA (5.12) among pitchers with 200 innings or more. And his strikeout rate dropped from 8.72 per nine innings to 7.24. But thanks to some adjustments with his arm angle and a de-emphasis on the cutter, he has had a fabulous spring (20 IP, 6 H, 2 ER, 16 K).
The manager's view:
Asked if Lester has been as good as his spring numbers, Farrell replied: "Yeah. He has. And he's been consistent with his location at the bottom of the zone more regularly. I think if you look back to the issues he dealt with last year, it wasn't a matter of stuff. It was a matter of the flight of the baseball through the zone. And he's back to repeating a delivery that allows him to throw the ball downhill."
The pitching coach's view:
Nieves on Lester's biggest focus this year: "Creating more angle [with his delivery]. Rhythm and tempo are very important. And he's been doing that."
Buchholz's view:
After watching Lester spin six perfect innings Sunday, Buchholz pronounced: "That's the Johnny that everybody knows. It's been fun watching him work. The guy's a horse. Throws 85-pitch bullpens. It's like the old Josh Beckett. It's fun to see him work."
Ryan Dempster
The numbers:
Signed a two-year, $26.5-million contract with the Red Sox over the winter. Has allowed just three earned runs and nine hits in 12 2/3 innings this spring. But here's the big question: Can he win in the AL East? Since moving into the Cubs' rotation in 2008, Dempster went 53-41, with a 3.64 ERA, in five seasons as a starter in the NL. But after getting traded to Texas last July, he went 7-3, with a 5.09 ERA, in 12 starts.
The manager's view:
Asked if he had any concerns about Dempster's ability to pitch successfully in the American League, Farrell uttered a quick: "No. And I think his last seven or eight starts in Texas prove it. There were obviously some adjustments that he went through, whether it was just the lineups or seeing guys he'd never seen before. But as long as you execute, pitch location doesn't have 'National League' or 'American League' written on it."
The pitching coach's view:
All Nieves asks of Dempster is: "Pitch down in the zone. Be able to throw all his pitches for strikes. And command, command, command."
Buchholz's view:
What Dempster's fellow starters see is a guy whose off-the-field presence is just as meaningful as his on-the-field presence: "I'd never met him before he got here," Buchholz said. "The guy's a character. He's awesome. He's definitely not shy. You can joke around with him. There's a reason he's been around the game as long as he has and still as good as he is. So bringing him in here, that was definitely a plus."
John Lackey
The numbers:
Missed all of last season after Tommy John Surgery. So three seasons into a five-year, $82.5-million contract, Lackey has gone a messy 26-23, 5.26 in 61 starts for the Red Sox after going 128-94, 3.81 in eight seasons with the Angels. He got off to a rough start this spring, but has a 2.70 ERA in his past two starts.
The manager's view:
Lackey has lost between 17 and 40 pounds, depending on whose estimate you're listening to. And Farrell says he's "much more comfortable. He has more body control. And I think that's what's allowed him to command the baseball in this early going as well as he has."
Asked if people in Boston had ever seen the "real" John Lackey, Farrell said: "Well, the second half of his first year in Boston, he pitched well. But after that, he was competing against his body as much as he was against the competition. And that's not an easy thing to do."
The pitching coach's view:
What Nieves wants from Lackey is: "Stay healthy. Give us five strong in the beginning. Go all out from the beginning and don't worry about the rest, so we can build up from that. But my biggest thing is to keep him healthy."
Buchholz's view:
Much as they do with Dempster, Lackey's teammates feed off his renewed energy: "Man, I'm telling you I think the big thing is John Lackey, really," Buchholz said. "You don't see him cringing when he lets go of a ball now. And I think with him being his old self out there, you see him laughing, going through the drills, being healthy and knowing in his mind that he's healthy, is a big plus for us, because obviously the Red Sox wouldn't have signed him to the contract they signed him to if he wasn't as good as he is."
Felix Doubront
The numbers:
The good news from Doubront's first full season as a starter: He struck out 167 in 161 innings, the fourth-best strikeout ratio (9.34 per 9 IPs) in baseball. The bad news: Thanks to 71 walks, he had a 1.45 WHIP. But this spring, he has shown more flashes of greatness, with 11 whiffs and just two earned runs allowed in 8 2/3 innings.
The manager's view:
In terms of pure stuff, "he may possess an overall package that's the best on our staff," Farrell said. "When you get a left-hander that's 93 to 95 with four pitches, that's a pretty good mix." Farrell actually compares Doubront's development to that of "Lester when he first came up. He was strong to his glove side of the plate but he would push balls off the plate to his arm side. And when major league hitters can eliminate one side of the plate, you're making it a little bit more difficult on yourself."
The pitching coach's view:
Asked about Doubront, Nieves gets passionate: "I want more from you. I want seven innings. I want you to pound the strike zone. … Any time I look up, I want to see 1-2. I'm challenging him with that. Hopefully, this guy will be able to adapt to that. Cutting down the walks. Making the first pitch and second pitch of every at-bat very important. Getting the first hitter. So we can maximize pitches per inning and maximize innings per game."
Buchholz's view:
It's easy to see that Doubront's fellow pitchers think he's a star waiting to happen. Buchholz's succinct review: "Special. He's got some of the best left-handed stuff in the game, I think." Buchholz said he has played catch with Doubront a couple of times this spring, "but I try to stay away from that," he laughed. "I don't think it's good for my confidence. It comes out of his hand so well."
Clay Buchholz
The numbers:
From 2009-11, before he was shut down with a stress fracture in his back, Buchholz was as good as any young pitcher in baseball (30-14, 3.10 ERA), but wasn't the same, by his own admission, last year (11-8, 4.56). His numbers this spring: 13 1/3 innings, 8 hits, 1 run.
The manager's view:
Farrell is convinced many of Buchholz's issues last season were a result of being afraid to cut loose because of his back: "Last year, even watching highlights, there were a lot of pitches that were elevated in the strike zone," the manager said. "Whether subconsciously he was protecting or not able to get full extension and drive the ball downhill, I mean you could see it. But after about the seventh or eighth start of the year, he ran off a good number of starts where he was his old self. And that's what we're seeing now."
The pitching coach's view:
Nieves has preached a faster pace and more two-seamers this spring. He summed up Buchholz this way: "Incredible contact pitcher with the ability to strike people out. Working quick without jeopardizing balance."
Buchholz's view:
Buchholz admits he's in a much better place physically this spring than last spring. And it shows. "That [happens to] anybody who has an injury in the back of their mind," he said. "It might be fully healed, but you don't want to go out there and mess something up … And that's why I got off to a bad start [in 2012]. I didn't want to push myself to get to the point where I was throwing 100 percent every pitch. Now I can go out there and I can hump up on a pitch where I feel like I need to and not have to worry about anything. So I definitely have a more clear head every time I've been out there so far."
So will any of this mean anything once they escape the palm trees? You never know, of course. But scouts we've surveyed are remarkably upbeat about what they've seen. They also know, though, that this team's season is hinging on its ability to take this act north.
"Their pitching ought to be much better," said one NL scout Monday. "But then again, in this division, it pretty much has to be. Or they're in trouble."
March, 15, 2013
3/15/13
5:45
PM ET
SARASOTA, Fla. -- If you're looking to get noticed in your first big league spring training, here's a helpful suggestion:
Hit .517. With a .611 on-base percentage.
That'll do it. Guaranteed.
Those were the numbers next to Red Sox rock star/phenom Jackie Bradley Jr.'s name on the old stat sheet Friday morning, before an 0-for-2, one-walk afternoon against the Orioles tweaked them slightly (to .484 and .590 respectively). And to say his teammates were slightly aware of those numbers would be kind of like saying the local mahimahi are slightly aware the sea is wet.
In fact, Bradley's teammates are so on top of his ridiculous stats, they suspect there might even be a misprint.
"I'm pretty sure," said catcher
David Ross
, "he's hitting 7.000 this spring."
Meanwhile, Bradley's manager and coaches also appear to have detected that this guy keeps forgetting to make a whole lot of outs.
"Did I ever hit .517? Probably in Little League," joked bench coach Torey Lovullo. "Of course, I was 19 when I was in Little League."
Want some other Jackie Bradley Jr. numbers that jump off the stat sheet at you? How about these:
[+] Enlarge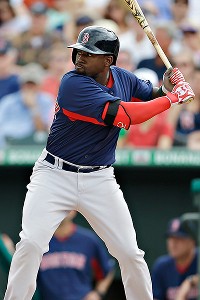 AP Photo/Jeff RobersonJackie Bradley Jr. leads the Red Sox in hits this spring with 15.
He has piled up 15 hits, six walks and two hit-by-pitches this spring in 39 plate appearances -- but only four strikeouts.
"Those," said manager John Farrell, "don't lie."
"I mean, it's not like he's out on his front foot, hitting the ball with one hand over the shortstop," Farrell said. "He's been very good."
So not a day goes by anymore when the manager isn't asked about the chances of this 22-year-old hit machine, with one full season of professional baseball under his belt, making his team's outfield. On Opening Day.
"That started," Farrell laughed, "about the beginning of Week 2 of games."
But the answer is one the manager isn't prepared to deliver just yet. Naturally.
"Oh, he fits with the Red Sox. In our system. In our organization," Farrell said. "Whether or not that start date is in the major leagues, I guess the best way to sum that up is: To be determined."
Now obviously, you don't need to be a descendant of Carl Yastrzemski to understand that the odds of the Red Sox starting Bradley in the big leagues -- when (A) he has never played a game in Triple-A, (B) he has appeared in just 61 games above A ball and (C) he's a Scott Boras client -- are smaller than
Dustin Pedroia
.
Starting this guy's free-agent clock has to be an issue that even the Red Sox need to factor in. But then again, so are the decreasing odds that
David Ortiz
(lingering heel issues) will be ready by Opening Day.
So while the Red Sox are mostly evaluating Bradley's skill set on its own merits, Ortiz's health "might affect the 'when'" part of this equation, Farrell admitted Friday.
"Everything points to David's [health] situation not being long term," Farrell said of Ortiz. "While we don't have a date [for his return], there's a time in the near future when he'll be back with us. He's improving right now with the downtime and the anti-inflammatory. He's responding favorably to that.
"But how that relates to Jackie," the manager went on, "that's part of the ongoing conversation we're going to have in the last 2½ weeks down here."
Well, if the last 2½ weeks go anything like the first 4½ weeks, this could get interesting.
Bradley -- a dynamic, multitool package in a 5-foot-10, 195-pound tailback's body -- has been on the fast track since the Red Sox took him with the 40th overall pick in the 2011 draft. He's clearly slotted, if all goes according to plan, to slide in next season as the center fielder in the post-
Jacoby Ellsbury
era. And he's coming off a dazzling season in which he hit .315/.430/.482 between Class A Salem and Double-A Portland last year.
"

Oh, he fits with the Red Sox. In our system. In our organization. Whether or not that start date is in the major leagues, I guess the best way to sum that up is: To be determined.

"

-- Boston manager John Farrell
For all the talk about Bradley's numbers, though, his insane spring numbers are only a small slice of the story of one of the most impressive young players in any team's camp.
"The .517, that's what everybody sees," Lovullo said. "And of course we love it. But I'd like him the same if he was hitting .117. And I'd say the same things I'm telling you if he was hitting .117."
And that's because what has really opened the eyes of his teammates and coaching staff is that Bradley didn't saunter into his first big league camp intent on filling up the stat sheet with picturesque numbers, or spinning lots of look-at-me quotes.
"He's here," Lovullo said, "to work and to get better."
Now here's a Jackie Bradley Jr. story that proves that point:
Since the beginning of spring training, Lovullo has led optional early-morning bunting drills. Bradley has shown up for every one of them.
"So I asked him, 'What are your objectives?'" Lovullo said. "And he says, 'I feel like I can get four to six base-hit bunts a year, but I don't have confidence doing it. And if I get to the big leagues, I feel like John may ask me to sacrifice bunt.' So here's a young player who's never been to the big leagues, a player who's done nothing but hit through his entire minor league career. But he already has an understanding of what he might be asked to do at the big league level. It's impressive."
But equally impressive is the second part of that tale.
To kick off the first of those bunting sessions, Lovullo asked the best bunter in the group,
Brock Holt
, to run through his "entire arsenal" of bunting tips.
"And ever since that time, every day, Jackie Bradley has tried to duplicate Brock Holt," Lovullo reported. "And he's become a very, very good bunter. That's an example of what I've had a chance to see. He's almost duplicated a really good bunter's technique, in four weeks."
So now that we've laid out those stories, it should be no surprise to hear that when Bradley was asked Friday what it's meant to him to find himself in his first big league camp, his reply was: "It's meant a lot to me, just being able to learn."
"I wouldn't necessarily say I've picked a lot of brains," Bradley said. "I've just paid close attention, with my eyes and my ears. I ask questions if questions are warranted. But I've been mostly listening. And if things come up, then I ask questions.
"When you're a rookie, you don't want to go in there with your mouth wide open. You're going to shut up and pay attention. That's what most rookies are expected to do. It's kind of frowned upon if you come in here and you think you're hot stuff. Just be quiet. Listen. Act professional. But don't just act professional. Be professional."
And if that's been his goal, it's safe to say he has met it.
Farrell talks about his "quiet calm and quiet confidence." Lovullo raves about his "mental strength" and his "attention to great detail." And those are not descriptions you hear about many players in their first major league camp.
So while nothing gets your attention quite like a .517 batting average -- in any league, Grapefruit or otherwise -- what the Red Sox have really learned this spring is that Jackie Bradley Jr. is going places. Even if one of those places isn't Fenway Park in April.
March, 3, 2013
3/03/13
8:01
AM ET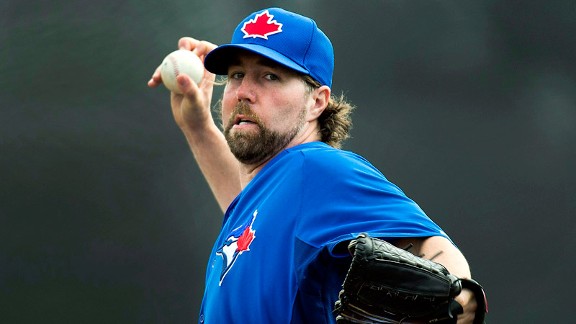 AP Photo/The Canadian Press/Nathan DenetteCan R.A. Dickey replicate last year's NL Cy Young-winning season? Don't bet against him.
The question is being asked far too often for a pitcher who last season had as many quality starts (27) as the Rockies. And yet you hear it, with skepticism, wherever you go: How well will
R.A. Dickey
do this season? It is asked in part because he is 38 years old, he has moved from the National League to the American League, he is pitching for the first time under the pressure of his first big contract and the pressure of being the reigning NL Cy Young winner, the ace of a pennant contender, of which he has never been a part. But the main reason the question is asked is because Dickey throws a knuckleball.
Baseball history has never fully accepted knuckleball pitchers for what they are: great competitors who work endlessly to refine a pitch that is impossibly difficult to throw effectively. Instead, from Pop Haines to Hoyt Wilhelm to Phil Niekro to Wilbur Wood to Charlie Hough to Tim Wakefield to R.A. Dickey, and everyone in between, knuckleball pitchers have been viewed as circus sideshows, freaks who weren't good enough to get hitters out with normal stuff, so they had to resort to a pitch that is often thrown at the speed limit of a not-so-super highway. They are not considered reliable, not from one start to another, and the fear is they might lose the touch for the pitch for good at any time. Hough was the best, most durable pitcher the Rangers had for most of the 1980s. But because he looked old and unathletic and threw a knuckleball, former Rangers manager Doug Rader, who had tremendous admiration for Hough, once said, only half-kiddingly, "Every time Charlie starts a game, we're afraid he might calcify right there on the mound."
Knuckleballer Tom Candiotti shook his head -- he knows the feeling.
[+] Enlarge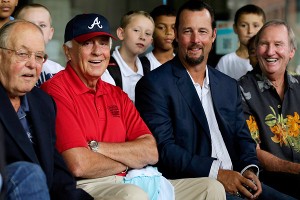 AP Photo/Charles KrupaThe Mount Rushmore of knuckleballers, minus R.A. Dickey: From the left, Wilbur Wood, Phil Niekro, Tim Wakefield and Charlie Hough.
"In 1991, I had a 2.65 ERA, I think I lost the ERA title to Roger Clemens by a few points," said Candiotti, who won 151 games in his major league career. "I had a good year. I was a free agent after the season. Every team we talked to, we talked about my numbers, and they said, 'Well, you're a knuckleballer. Well, you're a knuckleballer. Well, you're a knuckleballer.' It was disrespectful. People think it's a freak pitch. I've heard people say that we should outlaw the knuckleball; they say it should be illegal. That's ridiculous. If you put R.A.'s numbers next to four great pitchers last year, [Justin] Verlander, Felix [Hernandez] and others, and didn't tell anyone whose numbers were whose, you might take R.A.'s numbers until you match the numbers with the pitcher. Then you'd say, 'Nope, I'm going with Felix, or whoever' because R.A. is a knuckleballer."
Wakefield nodded his head in agreement.
"Same thing happened to me, that's what stinks about it. It's a pitch that no one trusts because so few people throw it," he said. "To me, a knuckleball pitcher is a pitcher and a half because we can start, pitch in relief, pitch any time, but when it came time for arbitration, that didn't do me any good. A knuckleballer is such a valuable asset, but no one wants to take a chance on one. Charlie [Hough] told me a story from 1981 where the starting pitcher on his team got hurt, and the opposing GM told him he was starting that night. Charlie said, 'Really?' He threw a three-hit shutout, then later that week, the Rangers called up someone to replace him in the rotation. Charlie said, 'What do I have to do?'"
The Mets traded Dickey to the Blue Jays in the offseason because they needed a young catcher (Travis d'Arnaud, who one scout said reminds him of Buster Posey) and because they knew they weren't going to a win for a couple of years, so it didn't make sense to pay a 38-year-old pitcher. Each argument was legitimate, but the Mets offered Dickey $25 million for two years, roughly $57 million less than what the Tigers gave
Anibal Sanchez
.
But it's not just Dickey; it's basically all knuckleballers in baseball history. Wilhelm won 143 games, saved 227 games, had a 2.52 ERA and made eight All-Star teams, but it took him eight tries before he was elected to the Hall of Fame. For a five-year period, 1964 to 1968, Wilhelm had an ERA under 2.00 each year, and allowed only 340 hits in 539 innings. "At his best," said Paul Richards, a former major league catcher and executive, "I'm not sure I ever saw a pitcher that was harder to hit than Hoyt Wilhelm. No one could hit that man."
It took Niekro six tries to get to Cooperstown even though he won 318 games, the 11th most since 1900. He won his 300th game on the final day of the 1985 season, throwing only one knuckleball in an 8-0 shutout of the Blue Jays. Had he retired after that game, he would have had an ERA of 3.23. But the lasting impression of Phil Niekro for some is him pitching poorly at age 48, looking like an old man throwing a trick pitch as his ERA grew to 3.35. The more accurate impression is Niekro at age 34 in 1975 for Atlanta, winning 20 games, posting a 2.38 ERA in 302 innings -- a pitcher no one could really hit.
Wood is known for starting both games of a doubleheader, as would a slow-pitch softball pitcher, instead of a guy who won 90 games in a four-year period, and won 22 games with a 1.91 ERA in 1971, only to lose the Cy Young that year to a rookie comet named Vida Blue.
Hough won 216 games, had 107 complete games, 13 shutouts and 61 saves -- since saves were made official in 1969, Dennis Eckersley and
John Smoltz
are the only other pitchers to record at least 13 shutouts and 61 saves. Hough was one of the best and funniest guys I ever covered. When the Rangers hired Tom House as their pitching coach, and he had them strengthen their shoulders by throwing footballs, I asked Hough whether it was working. He said, "I don't know, but we lead the league in third-down conversions." Hough got mad at me only once, when, in 1982, I asked, "Why don't more pitchers throw a knuckleball?"
"Why don't more pitchers throw 95 mph?!" he yelled. "Because it's really hard to do."
Wakefield won 200 games, 186 with Boston. He started more games than any pitcher in the history of the Red Sox, and in that rich tradition, only Roger Clemens and Cy Young won more games. And yet, Wakefield was often the odd guy out, the guy who had to go to the bullpen, the guy who had to make the spot start when the starter got hurt warming up. "Wake saved us in Game 3 [of the LCS] against the Yankees in 2004," former Red Sox manager Terry Francona said. "We were getting killed. I couldn't use any of my other pitchers because I might need them for Game 4 and beyond. Wake came to me in the third inning and volunteered to pitch when he shouldn't have. He saved the 'pen. We won the series."
Wakefield was a subpar minor league first baseman when he took up the knuckleball. Most knuckleballers have a similar story. Hough was signed as a third baseman, got hurt, and developed a knuckleball. Daniel Boone, a direct descendant of the famous Daniel Boone, weighed 140 pounds. He pitched in 1981-82, then made a brief comeback as a knuckleballer in 1990 with the Orioles. "I suggested on nights that he pitched, we should have Coonskin Cap Night," said Brewers GM Doug Melvin, then an executive in Baltimore. "I was told to stay out of marketing." Boone was once asked about the great and courageous Daniel Boone, and what it was like to be related to him. Young Daniel Boone said, "I bet he didn't have the courage to throw a knuckleball on 3-2 with the bases loaded."
"

I wish I could have thrown it 80 [mph] like him. He is doing great things for knuckleball pitchers. He has added validity to it with his Cy Young. He'll be great in the AL East.

"

-- Tim Wakefield on R.A. Dickey
Josh Booty, 37, a former quarterback at LSU, flamed out as a third baseman after being drafted by Marlins. He recently won "The Next Knuckler" contest that earned him a spot as a non-roster knuckleball pitcher for the Diamondbacks. He has worked with Candiotti. "He threw some bullpens for me, and he'd say, 'I can throw some good ones, but I just can't get it right every time,'" Candiotti said. "I had to tell him, 'Josh, it's
not
that easy. Guys have taken decades to try to throw that pitch. You can't just pick it up and go.'"
Wakefield worked with Booty and other contestants, including Doug Flutie. "R.A. told those guys, 'I don't envy you guys, you are trying to do something in about two weeks that it took me five years to figure out,'" Wakefield said. "That's how hard that pitch is."
No one worked harder at it than Dickey. And now it seems he has found a way to throw it harder -- nearly 80 mph -- than almost any knuckleballer maybe ever has. "I wish I could have thrown it as hard as he does, but I wasn't blessed with that velocity," Wakefield said. "I wish I could have thrown it 80 [mph] like him. He is doing great things for knuckleball pitchers. He has added validity to it with his Cy Young. He'll be great in the AL East."
Dickey also has found a way to throw it at times exactly where he wants instead of just letting it fly and hoping it moves. "I love what R.A. is doing now," Candiotti said. "He is his own guy. He's good. He's different. How can you not root for a guy like that? Plus, he can throw it for a long, long time. I pitched until 41. Phil was 48. Wakefield was 45. Hoyt was 49. Charlie was 46. Most pitchers lose velocity on their fastball as they get older. They lost a little depth on their curveball, a little snap on their slider. It doesn't work that way with a knuckleball pitcher. They can still be effective pitching in their 40s."
Dickey started Monday against the Red Sox, his first appearance as a member of the Blue Jays.
Steven Wright
, a young knuckleball pitcher, started for the Red Sox. It was quite a day: two knuckleballers randomly starting against each other, with another knuckleballer, Wakefield, watching from the side. But Dickey gave up two runs and three hits, plus a wild pitch, in the first inning. It was just a tuneup, a day to get in some work, but you know that somewhere, if not in many places, there were skeptics saying, "You see, I told you so."
Such is the unfair life of a knuckleball pitcher.