Spring Training:

Chicago Cubs
March, 27, 2014
Mar 27
9:30
AM ET
By
Christina Kahrl
| ESPN.com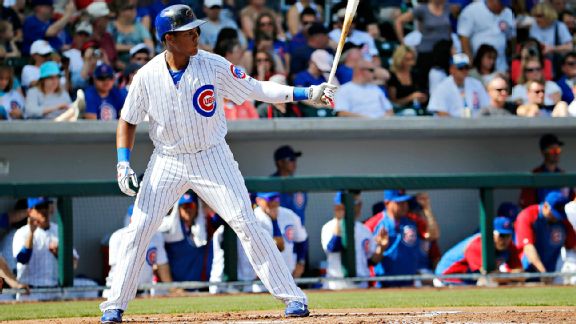 AP Photo/Matt YorkStarlin Castro is working his way back from a right hamstring strain.
MESA, Ariz. -- The single biggest question the Cubs confront isn't where they're going. Expectations have already been set appropriately low at the same time that anticipation grows as their bumper crop of blue-chip talent down on the farm nears readiness. But until that harvest comes in, the question for them is who among the current Cubs is someone they'll be able to build around. And that question is more important to ask about shortstop
Starlin Castro
than anyone else.
That's because the Cubs are fully invested in Castro. Sometimes the algorithm-and-formula set can get a bit formulaic. Take the Cubs locking in Castro for $60 million through 2019 (with a 2020 option for $16 million) back in August 2012. You want to lock in your young star talent long-term. Castro is young, he's talented, he was a two-time All-Star and he was nearing arbitration. Of course you sign him to a multiyear deal, using the same relentless, reductionist logic that informed
the underpants gnomes of "South Park"
: Use the leverage of club control to sign talent to below-market prices … which equals profit.
Profit,
if
the guy keeps his value or gets better up through the age of 29, the way that young players do. And that's where last year comes in, because Castro didn't get better, and his value didn't go up. He tumbled, from a .761 OPS in his first three seasons down to .631 in 2013. It was the sort of epic collapse that might recall those of other touted shortstop prospects, such as
Angel Berroa
with the Royals a decade ago (falling from a .789 OPS as AL Rookie of the Year in 2003 to out of a job in 2007). Tom Tresh of the '60s Yankees and
Wil Cordero
of the '90s Expos rank high among the guys Baseball Prospectus' PECOTA projection system identifies as similar talents to Castro, which is a bit ominous. Both were considered can't-miss young stars, and like Berroa they didn't live up to the billing. Is Castro the latest model, a shortstop prospect who peaks in his early 20s and turns into something less than advertised?
A big part of the problem was that the Cubs tried very directly to make Castro into something he is not and
consciously mold him into a more patient hitter
. In the abstract, it's easy to understand why:
Sure, Castro's great as-is, but imagine how much better he would be if he drew 60 walks instead of 30!
It's classic and aspirational, a case of not accepting who the player is, but wish-casting who you want him to be.
Castro tried to comply in 2013. He watched a lot more first pitches go by, and he reached a career-high 3.9 pitches per plate appearance. The problem is that he became a much more passive hitter. As the heat map from Stats & Info's Mark Simon reflects, this increased focus on waiting for his pitch made him
less
effective hitting balls in the zone last year.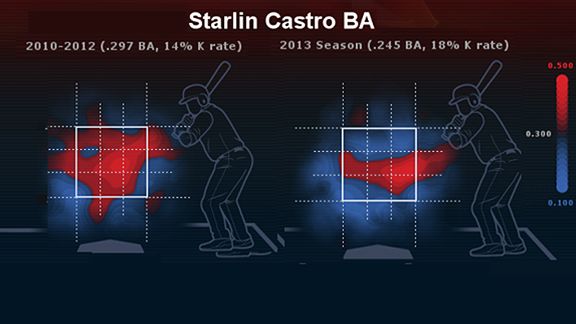 Mark Simon, ESPN Stats & InfoWith a more patient approach, Castro's ability to do damage got worse inside the zone as well as out.
This attempt to make him that much more zone-conscious also cost him his ability to cream the occasional bad ball, one of the side benefits of his ability to make good contact as an all-fields spray hitter. Castro wasn't George Bell or
Vladimir Guerrero
, but if you look at
his previous-season PitchF/X data over at Baseball Prospectus
, you had a guy who could cover the outside of the plate effectively; in 2013,
he lost that
. And getting into deeper counts just meant he wound up striking out swinging a career-high 110 times.
That isn't who Castro was supposed to be. It isn't the player the Cubs handed $60 million to. And it wasn't who he wanted to be, either.
"That's what I try to be -- be me," Castro said. "The kind of player that I was when I made the big leagues the first time, that's the thing I don't want to change. That's the kind of player that I am."
So this year, the Cubs have pointedly decided to accentuate the positive and start with a clean slate, easier to do with new manager Rick Renteria, new batting coach Bill Mueller, and seemingly a new willingness to let Starlin Castro be Starlin Castro. As Renteria observed last week, "I'm not too worried about Starlin, to be honest with you. His demeanor is pretty positive, pretty upbeat."
Castro adds, "It's completely positive. The only thing that we talk about in here is how we're going to prepare, and how we're going to compete."
Getting Castro back on track figures to be one of Mueller's most important responsibilities in 2014, something he took on aggressively with his new charge. "We've rehashed the past," he said, "but [Starlin] is just a gifted guy who can make some really good contact and do a lot of things well. We just want to make sure we can get consistency across a full major league season."
But what's been critical in achieving that consistency has been putting in time in the cage with Mueller, and keeping it personal instead of diagnostic. "We're working a lot. In the very beginning, he came out the first day, he worked me out pretty good," Castro said.
<!—poll1-->Mueller observed, "It's about establishing a relationship [with Castro] in the cage. He's more about feel in the cage than anything videowise. That could change as we get into the season. Sometimes, we might have to pinpoint something in a still photo or stop-motion video, just so that he can see it, but that all evolves. But right now, it's about the cage and the relationship. Hopefully some of the things we're talking about with him with his hitting setup, that could help him too with seeing and reading pitches, evolving in that way so that he's not getting out of his zone as much. And just cleaning up minor little things with him, because he is so talented."
Which suits Castro just fine: "I'm more natural. Working and thinking, I know when I'm good, and I know when I'm not good. The only thing that I think is to try to keep my mind clean. I don't want to try and put pressure on myself -- I know that I can be a good hitter, and I don't want to mess up an at-bat, I don't want to get frustrated with myself or something like that, that can happen to anybody. I just want to keep my mind, my approach clean, and get it consistent."
Will the power of positive thinking get Castro back into that consistency, and make him so solid a part of the Cubs' future that top prospect Javier Baez has to get used to this spring's
experimental move to second base
? If the Cubs can accept Castro for what he was, you can still see the possibility for what he'll be, the same possibility that made him a $60 million man. If a positive approach is what it takes, then, yes, profit.
Christina Kahrl writes about MLB for ESPN. You can follow her on Twitter.
March, 17, 2014
Mar 17
12:41
PM ET
MESA, Ariz. -- The significance of
Chicago Cubs
top prospect Javier Baez playing second base on Monday against the Oakland A's extends beyond just one game. When he takes the field it will be the first time he has played second since his freshman year of high school, but it probably won't be the last.
"If somebody gets hurt ... I can come up and play another position if I have to," Baez said Monday morning.
Baez has played shortstop his entire pro career and will do so again once he's sent to Triple-A Iowa to start this season. But the Cubs have deemed him near ready for the major leagues, so with
Starlin Castro
already locked in at short with a long-term contract, Baez will have to find playing time elsewhere.
[+] Enlarge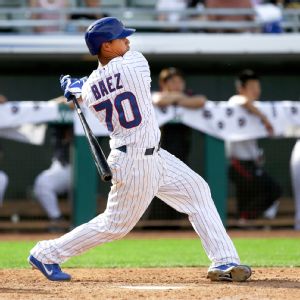 AP Photo/Chris CarlsonCubs top prospect Javier Baez has three home runs this spring.
"It makes sense for us to move him around," manager Rick Renteria said. "He's been working on pivots and things of that nature. The biggest concern is the pivot. Making sure you're in and out of there on the turns. ... It's not an easier position by any means, it has its own nuances."
There's some irony in Baez playing second base on Monday as his double play partner is the Cubs' incumbent Gold Glove second baseman,
Darwin Barney
, who is one of the Cubs' leaders on the field. He'll be implicitly asked to groom his possible replacement.
"I'm pretty sure he's going to help me and tell me how to play it," Baez said.
Barney won a Gold Glove in 2012 but Baez has the bat that everyone in baseball is waiting to see in the big leagues. He's matured over the last year both on and off the field. It's one reason the Cubs believe he is ready for a potential position change.
"We'll give him a couple days, back-to-back at second base, some starts and we'll go from there," Renteria said.
Baez will also get a chance at third base, according to Renteria. That way, when he comes up from the minors -- potentially later this season -- he'll have some experience at several positions.
They will seemingly do anything to get his bat in the lineup.
Baez is hitting .276 with three home runs this spring after a huge minor league season in 2013 in which he hit 37 home runs and drove in 111 runs. Scouts salivate at his bat speed, often compared to
Gary Sheffield
.
He loves shortstop but like any prospect he'll do whatever it takes to play.
"I'm just trying to get there [to the big leagues] and be in the lineup," Baez said.
And he's gotten even better this spring. Two of his home runs have been to right field, and his pitch selection has improved as much as could be expected of a free swinger. Then there was his first hit to left field, a bomb last Wednesday off
Seattle Mariners
starter
Randy Wolf
that went well over 400 feet.
"Fast to the zone and long through it," is how one veteran scout described his swing recently.
Every so often there is a sign that the Cubs' rebuilding plan is moving forward. When Baez takes the field at second base -- even in a spring game -- it's another sign.
They're preparing for his arrival at Wrigley Field.
March, 6, 2014
Mar 6
10:19
AM ET
MESA, Ariz. --
Jeff Samardzija
's second Cactus League outing began rather eventfully. He gave up a triple to Colorado's
Charlie Blackmon
to open the game, then took a
Michael Cuddyer
comebacker off the foot before chasing down the ball and making the play at first base to temporarily prevent a run from scoring.
"I'm pretty used to those comebacker, get-drilled kind of things,'' Samardzija said. "It happened a few times last year. It's part of pitching, I guess. Protect the vital organs, and hopefully (the ball) stops close to you so you can get the guy out, right?''
Samardzija, who is basically a lock to be Chicago's Opening Day starter, has concentrated on functionality over results this spring. According to FanGraphs, he threw his split-finger fastball 17.5 percent of the time in 2013. In Arizona, he's focused exclusively on his fastball, cutter and slider and has yet to throw the split.
Samardzija showed some good late movement with his sinking fastball against Cuddyer and
Troy Tulowitzki
. He said he felt strongest in the third inning, but began elevating some pitches and allowed two runs to the Rockies. He also smoked Cuddyer in the upper back with a fastball that got away from him.
"That was just a weird thing,'' Samardzija said. "All my pitches down and in to righties were so good all day. Hopefully he's OK. He's a tough dude, so I'm sure he'll be fine.''
March, 5, 2014
Mar 5
6:06
PM ET
MESA, Ariz. -- As
Ryan Howard
,
Adam Dunn
and numerous other big leaguers can attest, nothing presents a bigger challenge for a left-handed hitter than trying to hang in the box against lefty pitching.
[+] Enlarge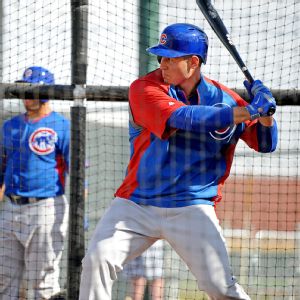 Joe Camporeale/USA TODAY SportsAnthony Rizzo played 160 games for the Cubs in his first full season in the majors last year, but he batted just .233.
Some guys, like Baltimore's
Chris Davis
, seem to improve with repetition and time. Others, like Howard, find it never really gets better. The Big Piece is making $25 million this year, and his substandard production against lefties has fueled speculation about a possible platoon situation at first base in Philadelphia.
In
Anthony Rizzo
's first two seasons in Chicago, the Cubs haven't been shy about throwing him out there against the Francisco Lirianos, Madison Bumgarners and Wade Mileys of the world. The numbers were rugged in 2012, when Rizzo hit .208 with a .599 OPS against lefties. His problems continued last season, with a .189 batting average and a .625 OPS.
So it was a positive -- albeit small -- early sign when Rizzo doubled and singled off lefty
Tommy Milone
in a 6-4 victory over Oakland Tuesday. But he still has a lot of work to do in spring training and beyond with new hitting coach Bill Mueller, who replaced James Rowson in November.
Rizzo made 158 starts at first base last year, and barring a change of plans, the Cubs have no plans to sit him against lefties to protect his numbers or his self-esteem this season. His education on the fly will continue in 2014.
"There's a fine balance in allowing an individual to face the pieces that give him the most trouble," said Cubs manager Rick Renteria. "We think Anthony's opposite-field approach in general should allow him to transition against lefties a little better. He just needs to trust it."
February, 14, 2014
Feb 14
10:00
AM ET
As there are every spring, there are great baseball stories everywhere -- from Tampa to Tempe, from Jupiter to Space Coast Stadium, from Goodyear to Surprise.
Which teams will have a good year? Which teams will surprise? The questions are what make spring training so great, so fascinating. They are what define this time of year, along with warm weather, hope and the belief that March 29 will be the last useless evening that we'll have to spend.
[+] Enlarge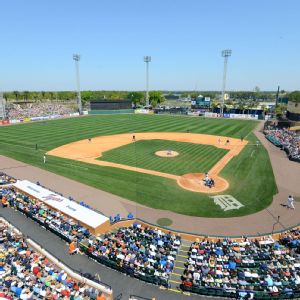 Mark Cunningham/MLB Photos via Getty ImagesNothing beats the look and feel of spring training.
It all begins, as so many spring trainings have before, with the Yankees in Tampa. We will get our first look at
Masahiro Tanaka
, who the Yankees made the fifth-highest paid pitcher in major league history before he ever threw a pitch in the big leagues. Is his splitter as good as everyone says? We will see
Jacoby Ellsbury
,
Brian McCann
and
Carlos Beltran
in Yankee uniforms, and we will see
Derek Jeter
in the final year of his career play shortstop at age 39; only five players in the game's history -- Honus Wagner, Rabbit Maranville, Luke Appling, Luis Aparicio and
Omar Vizquel
-- have played 100 games in a season at shortstop at Jeter's age. He'll turn 40 three weeks before the All-Star break.
The world champion Red Sox mostly will be without their beards this spring, but they will have a new catcher (
A.J. Pierzynski
), a new shortstop (
Xander Bogaerts
) and several candidates to be their new center fielder, including
Grady Sizemore
, who hasn't taken an at-bat in the big leagues since 2011. The Rays will have
David Price
, who hasn't been traded and now, it appears, might not be traded this season. The Orioles might start the season without
Manny Machado
, who is coming back from a serious knee injury. The Blue Jays will open spring training without the hype of last spring, which is good for them.
The Tigers, under new manager Brad Ausmus, will open the spring with a different infield from the one that took the field last spring, including
Ian Kinsler
at second base and rookie
Nick Castellanos
at third. Even more important, they have a real closer this spring in
Joe Nathan
. The Indians have a new closer,
John Axford
, as well. The Royals have a new leadoff batter (
Norichika Aoki
) and second baseman (
Omar Infante
). Meanwhile, the White Sox have a new first baseman (Cuban
Jose Abreu
) and the Twins' new first baseman is their old catcher,
Joe Mauer
.
The A's added to their bullpen, acquiring closer
Jim Johnson
,
Luke Gregerson
and
Eric O'Flaherty
, and welcomed
Scott Kazmir
to their rotation. The Rangers gave
Prince Fielder
a fresh start at first base, found a position (second base) for
Jurickson Profar
and showed
Shin-Soo Choo
what a great country this is, especially when you reach free agency. Great country? The Mariners gave
Robinson Cano
$240 million, but is there protection around him in that lineup? The Angels made significant changes, none of which will really matter if
Albert Pujols
isn't healthy enough to play first base and produce something close to the Pujols of St. Louis. And if the Astros lose 128 games (they are not nearly that bad), they'll tie the Mets (1962-65) for the most losses ever during any four-year period in history.
The Braves have a new catcher in
Evan Gattis
, and they'll have to figure out how to get the batting averages of
B.J. Upton
and
Dan Uggla
back over .200. The Nationals, under rookie manager Matt Williams, need a healthy
Bryce Harper
(knee) if they're going to win the NL East; in mid-January, he sprinted for the first time without pain. We know the Phillies are in Clearwater, but nothing else about them is clear. The Mets have
Curtis Granderson
and
Bartolo Colon
, but not having
Matt Harvey
for perhaps the entire season will be a bummer. The Marlins still have
Giancarlo Stanton
. How long before that situation changes?
The Cardinals have almost an entirely new infield, a new center fielder (
Peter Bourjos
) and maybe a new right fielder if rookie
Oscar Taveras
is healthy and productive. The Pirates have hope again following a playoff appearance in 2013, and with
Gerrit Cole
for a full season. The Reds have a new manager in Bryan Price; now they need to find a center fielder to replace Shin-Soo Choo: Is this the spring that
Billy Hamilton
steals a job? The Brewers have a new right fielder in
Ryan Braun
; no questions about Biogeneis will be taken, however. The Cubs have a new spring training facility and a new manager, Rick Renteria.
[+] Enlarge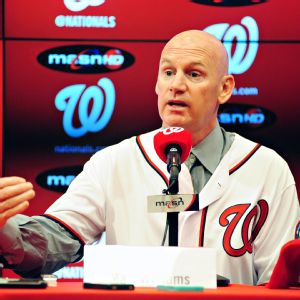 Evan Habeeb/USA TODAY SportsExpectations are once again high for the Nationals, who have a new manager in Matt Williams.
The Dodgers have four outfielders for three spots; one of them,
Matt Kemp
, is coming back from shoulder and ankle injuries -- his health and production will be one of the big stories of the spring. The Diamondbacks have a new left fielder,
Mark Trumbo
, who might hit 40 homers in their ballpark. The Dodgers and Diamondbacks will open the season March 22 in Australia; let's hope there isn't a major brawl Down Under. The Giants added
Tim Hudson
, and
Pablo Sandoval
subtracted 42 pounds. The Padres signed
Josh Johnson
to pitch in a rotation headed by
Ian Kennedy
-- here's hoping they play a doubleheader this year, and go with the Kennedy-Johnson ticket. The Rockies will open camp with
Troy Tulowitzki
, but, for the first time since 1988, they'll begin a season without
Todd Helton
.
There will be lots of stories, questions and sunshine this spring. It is the best time of year. It is a time for optimism: No one has lost a game, the rookies all have promise and the veterans believe it will be their best year. It is baseball in its purest form, a time for wind sprints, fundamentals, split-squad games on a back field where only the scouts are watching. Millionaire players are humanized and humbled in spring training. They are not receiving enormous paychecks every two weeks, and they're getting the same meal money as the rookie in his first big league camp. No one is exempt from the three-hour bus rides, playing on fields that aren't manicured to major league standards, and facing anonymous Class A pitchers who throw really hard, but have no idea where the ball is going. It is the one time of year that
Justin Verlander
and a 20-year-old kid are on equal ground. It is the one time of year that a player gets on the bus in uniform, just like in high school.
Eleven years ago, Indians pitcher
Brian Anderson
boarded the team bus at 8 a.m. for the two-hour drive to Vero Beach, Fla., for a spring training game. Thirty minutes into the trip, Anderson realized he had forgotten his hat, his spikes and his glove back in Winter Haven.
"I was running late that morning because I knew I was going to get to hit in the game, so I was looking for the really important things: batting gloves and a bat," Anderson said. "When we got to Vero, I was in full panic mode. I borrowed a car and went to a mall, but there wasn't one glove in the whole mall, but I found some adidas spikes. On the way back to the ballpark, I saw a WalMart. I thought, 'Hey, WalMart has everything ... tires ... produce ... it must have a baseball glove.' I found one: $29.95, already broken in. It was a softball glove. A Wilson. It was awful. I borrowed someone's hat and pitched in the game. Of course, I got three comebackers to the mound, and I caught them all because my new glove was as big as a butterfly net, it made
[Greg] Maddux
's glove look small. That day reminded me of when I was 17 playing Legion ball. That is spring training to me."
Only in spring training could this story happen. The Twins signed infielder
Tsuyoshi Nishioka
in the spring of 2011. He didn't speak much English, and didn't know anyone on the team. Several teammates convinced Twins outfielder
Denard Span
to introduce himself to Nishioka, to make him feel more a part of the team. Only they tricked Span -- they told him that Ray Chang, another infielder, was Nishioka. So Span, ever respectful, approached Chang, bowed gracefully, introduced himself, and asked him if he spoke English.
"Sure I do," Chang said. "I'm from Kansas City!"
The whole team howled.
[+] Enlarge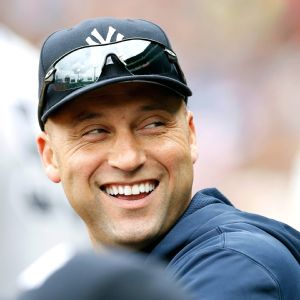 Greg M. Cooper/USA TODAY SportsDerek Jeter, who played only 17 games last season, enters the final year of his career hoping to stay healthy.
Only in spring training could then-Rays first baseman
Carlos Pena
make a mistake in a baserunning drill, then justify it by quoting Dr. Martin Luther King's "I Have A Dream" speech. "My first baseman is quoting Dr. King," said Rays manager Joe Maddon. "I love it."
Only in spring training would pitcher
Jeremy Guthrie
, now with the Royals, ride his bike to work. "It was only five miles," he said of his daily ride two springs ago to the Rockies' facility. Then-teammate
Michael Cuddyer
said of Guthrie, laughing, "He once pitched in a game in Scottsdale, then got on his bike -- still in full uniform, with his glove on the handlebars -- and rode back to our facility. It was like a scene from 'The Sandlot.'"
Only in spring training would then-Padres pitcher
Chris Young
and
Will Venable
pick teams for a free throw shooting tournament because both guys played basketball at Princeton. "That's as nervous as I've ever been for an athletic competition," Young said with a smile, "because I'm not a great free throw shooter, and my team was depending on me to be good." Only in spring training would the Twins hold a bowling tournament behind the KFC in Fort Myers and, said Twins manager Ron Gardenhire, "Joe Mauer would be high-fiving his teammates, guys he's never met in his life, after they rolled a strike." Only in spring training could Jeff Stone get thrown out at all four bases in one game, and only one of them was a forceout (think about that). Only in spring training could Rockies pitcher David Lee, in an emergency, drive the team bus on a night trip, then earn the nickname "Diesel" when he stopped the bus and announced, "We've got to get some diesel!"
Only in spring training is time taken to get in baseball shape. "We're always inventing drills and conditioning programs in spring training," said Rich Donnelly, now the manager of the Mariners' Triple-A team. "Years ago, we'd do 10 jumping jacks, touch our toes twice, then play. Today, these strength and conditioning coaches are always coming up with new stuff: rubber bands, parachutes, cones. I just can't imagine Ted Williams going to spring training and running with a parachute on his back, or Babe Ruth jumping over a bunch of cones."
It is a time for the fans, especially kids. Families take vacations to spring training. Getting a player's autograph is easier because everything and everyone is more relaxed than during the regular season. Well, except for when the Red Sox and Yankees played for the first time in spring training 2004, their first meeting since
Aaron Boone
's home run had sent the Yankees to the World Series, and sent the Red Sox home. Tickets were scalped for $500 for an exhibition game! Before the game, there was a fight in the parking lot at City of Palms Park in Fort Myers between a Yankees fan and a Red Sox fan ... both fans were women!
It's spring training. Finally. We can't wait.
February, 12, 2014
Feb 12
10:30
AM ET
Every year at spring training there is a lot of focus on the star players who switched teams, with
Robinson Cano
being a prime example this year. However, what I am most excited about for this spring is the chance to scout some of the game's top rookies.
It's fun to watch young players develop in real time, and to see if they can do enough to convince their managers and GMs to take them up north. It's a time when the game's best evaluators get a taste of just how good some young players can be.
So here are 10 rookies I am looking forward to scouting during spring training. And trust me, just getting the list down to 10 was not easy.