Spring Training:

Chicago White Sox
March, 12, 2014
Mar 12
11:49
AM ET
GLENDALE, Ariz. -- The
Chicago White Sox
signed Cuban first baseman
Jose Abreu
to a six-year, $68 million contract with some expectation that he'd be in their lineup this season, the sooner the better given the size of the investment. Given what I saw from him on Tuesday afternoon at Camelback Ranch, I think they had good cause for such optimism, as Abreu looks like he can really hit.
Abreu's swing is very clean and pretty -- he has no load, but explodes to the ball as if he'd cocked his hands much further back, so while his path to the ball is extremely short, he has the hand and wrist strength to hit for power.
February, 25, 2014
Feb 25
11:16
AM ET
GLENDALE, Ariz. -- White Sox general manager Rick Hahn has channeled his energies over the past year into revamping the roster and making the team younger and more dynamic on the field. Those efforts haven't gone unnoticed by some of his peers.
"I thought he did a great job," Dodgers general manager Ned Colletti said. "As I was watching it take place in July, you could see there was a lot of thought and deliberation put into it. They haven't gotten a lot of headlines, but the way they've gone about it is smart. I think it will pay off."
Jose Dariel Abreu
, who will join
Paul Konerko
and
Adam Dunn
in a three-pronged first base-DH mix this season, is a big part of that effort. The Sox also added a high-energy center fielder and leadoff hitter in
Adam Eaton
and a power-hitting third-base prospect in
Matt Davidson
, and acquired right fielder
Avisail Garcia
from Detroit as part of the three-way
Jake Peavy
-
Jose Iglesias
trade in July.
[+] Enlarge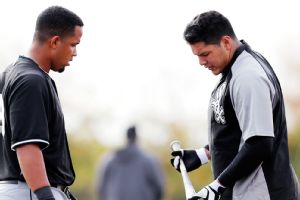 AP Photo/Paul SancyaThe White Sox are eager to get a look at Jose Abreu, left, and Avisail Garcia this spring.
While Abreu is plenty big at 6-foot-3, 260 pounds, Garcia might even more physically imposing at 6-4, 240.
"We had Abreu in here first, and then Garcia showed up," White Sox manager Robin Ventura said. "I said, 'I thought Abreu was really big until Avi got here.'"
Garcia, 22, was 16 years old when he signed with Detroit out of his native Venezuela in 2007. His best season came in 2012, when he hit .299 with 14 homers and 23 stolen bases between Class A Lakeland and Double-A Erie. The Tigers brought him up for the 2012 postseason, and Garcia hit .283 in 72 games between Detroit and Chicago last year. He struck out 59 times and drew only nine walks, so he clearly needs work on his plate discipline.
Between his size and some of his mannerisms at the plate, Garcia shows flashes of his hero,
Miguel Cabrera
. "He has little things he does that you've seen before and you say, 'That's from Cabrera,'" Ventura said. "I don't blame him. I would do the same stuff."
Ventura is admittedly growing tired of trying to project what kind of numbers Abreu and Garcia will put up this season. The White Sox play their first Cactus League game Friday against the Dodgers, and it can't come soon enough.
"I keep hearing, 'They could possibly do this, or that,'" Ventura said. "I don't need to be Nostradamus to prove I knew already. Just let them play. They have a lot of positives. That's why they're here in the big leagues. We're gonna give them a whole year to find out."
February, 25, 2014
Feb 25
11:01
AM ET
GLENDALE, Ariz. -- The news of
Jose Abreu
's six-year, $68 million contract with the
Chicago White Sox
sparked the inevitable comparisons from baseball writers and scouts looking for insights on the type of player he is and ultimately can be in the major leagues.
Latin American talent evaluators observed that Abreu has more raw power and significantly less athleticism and speed than fellow Cubans
Yoenis Cespedes
and
Yasiel Puig
. Some scouts and journalists brought up
Ryan Howard
,
Mike Piazza
,
Kendrys Morales
or White Sox outfielder (and fellow Cuban)
Dayan Viciedo
as players with similar attributes, while Cespedes created a stir when he mentioned Abreu in the same breath with
Miguel Cabrera
.
[+] Enlarge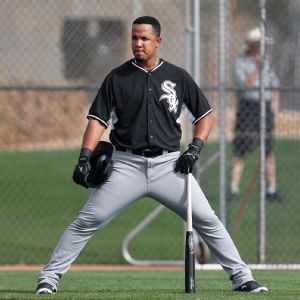 AP Photo/Paul SancyaThe White Sox signed Cuban slugger Jose Abreu to a six-year, $68 million contract this past offseason.
No one really knows where Abreu will fall in that talent spectrum. But if you judge a man by his handiwork before the game begins,
Miami Marlins
outfielder
Giancarlo Stanton
might be the most telling comparable.
Abreu, 27, possesses what one scout calls "monster power," so it stands to reason that his batting practice sessions should be replete with tales of smashed car windows and disrupted cloud formations. It would be understandable if he wanted to make a big first impression with his new coaches and teammates and fell victim to the temptation to grip it, rip it and send baseballs to regions where they're tiny specks.
Yet a different picture is emerging early in White Sox camp. When his fellow White Sox watch Abreu in action, they see a diligent, focused, incredibly disciplined hitter. He's similar in that respect to Stanton, who concentrates more on hitting the ball to the opposite field than unleashing his inner
Jose Canseco
in batting practice and feeding the "wow" factor.
"For me, it's just a professional batting practice," White Sox manager Robin Ventura said. "He's not trying to overwhelm you with hitting homers on every pitch. He moves it around. He's always hitting it on the barrel. He's just very consistent about what he does and understanding what it takes. He's not out there to showcase anything. He's just preparing to be as good as he can be."
Mixed opinions
Although countrymen Puig and Cespedes helped pave the way for Abreu's big payday with their splashy debuts, Abreu brought some big-time credentials from Cuba. He flirted with two Triple Crowns while posting cartoonish numbers in Cuba's Serie Nacional, and hit .360 with three homers and nine RBIs in six games during the World Baseball Classic last March. When Abreu scheduled a workout for teams in the Dominican Republic in September, it was considered must-see viewing in MLB front offices.
Nevertheless, some scouts who watched Abreu in international tournaments slotted him in as more of a .260, 25-30 homer type than a world-beating slugger. The skeptical take: He's a "slider speed bat" guy who will wear out back-of-the-rotation starters, but will have trouble against the Max Scherzers and Justin Verlanders of the world.
Those assessments elicit a chuckle from Ventura, for obvious reasons. Who
doesn't
have trouble with
Max Scherzer
and
Justin Verlander
?
"You hear stuff like, 'You can jam him,'" Ventura said. "Well, I hope so. Usually the really good hitters get jammed, because they're staying through the ball and not flying open."
If Abreu struggles with the adjustment to the big leagues, it won't be for lack of preparation. The consensus in camp is that he has spent more time in the cage than any hitter on the Chicago roster this spring. Abreu arrives early in the morning, and lingers after everyone is gone to either reinforce good habits or iron out the kinks when his swing doesn't feel right. Amid the sweat and the calluses, he finds comfort in his routine.
"I'm sure there's some new, fun stuff going on for him right now," Chicago second baseman
Gordon Beckham
said. "But from the outside looking in, it looks like he has the weight of world on his shoulders because of the contract. You've got to like what you're seeing just with the way he's working. It earns him immediate respect with people who've been around, and kind of validates what the White Sox saw in him when they signed him."
A comfortable fit
Humble is good. On the opposite side of the Glendale complex the Dodgers have a major lightning rod in Puig, who has attracted attention for hitting long home runs, making spectacular catches, collecting speeding tickets, overthrowing cutoff men, showing up overweight and generally creating the impression that he's on his own program.
Abreu, in contrast, is blending seamlessly into the White Sox clubhouse dynamic. It helps that Viciedo, shortstop
Alexei Ramirez
and Rule 5 pick
Adrian Nieto
are all Cuba natives and able to hold his hand through the transition process. But even the Chicago players who will be slower to get to know Abreu because of the language barrier see a constant smile and a dedication that bridges backgrounds and cultures.
Before a recent workout in Glendale, Abreu sat in a conference room and shared some thoughts on the transition from Cuba with the help of White Sox coach and interpreter Lino Diaz.
His biggest goal, other than producing on the field and helping the White Sox win games, is learning to speak English. When prompted to share a few words in his repertoire, Abreu mentions "money" and "I got it." While that leaves him in great shape for popups, he's intent on expanding his vocabulary very quickly.
"

From the outside looking in, it looks like he has the weight of world on his shoulders because of the contract. You've got to like what you're seeing just with the way he's working. It earns him immediate respect with people who've been around, and kind of validates what the White Sox saw in him when they signed him.

"

-- Gordon Beckham, White Sox
second baseman, on Abreu
"It's got to come little by little," Abreu said, "but my goal is to be able to speak the language and communicate as soon as possible."
During his brief time in the U.S., Abreu has developed a fondness for steak and lemonade. He has been so immersed in baseball, he has yet to sample the local restaurant scene in the Phoenix suburbs. But from the time he has spent in Chicago, he has staked out Las Brazas, a Brazilian steakhouse, as his personal favorite.
His new teammates already have witnessed his genuineness between the lines. When the White Sox held their first full-squad workout Sunday,
Adam Dunn
noticed Abreu getting frustrated during infield practice. Much of the routine was new to him, and he simply wasn't prepared for what to do or where to be around the first-base bag. That clearly bothered him.
"That's the kind of kid he is," Dunn said. "He wants everything to be perfect."
The White Sox recently saw that same sincerity on display on a personal scale. In Cuba, Abreu befriended a disabled youth who attended the Cienfuegos team's games. History repeated itself during the White Sox's fan-fest in January, when a developmentally challenged boy sat in the front row watching Abreu and some of the team's Latin players speak. When the event finished, Abreu came down from the podium and spoke softly to the boy while gently stroking his hand. It was a poignant gesture that gave fans a window into what makes Abreu tick.
Abreu's wife, Yusmary, made the trip to America with him, and other family members are on their way. His mother, father, sister and brother-in-law all have left Cuba and are currently in Haiti awaiting final clearance to come to the States.
Abreu speaks of his mother, Daisy Correa Diaz, with a sense of love and reverence. He wore No. 14 and 23 as a professional in Cuba before she told him he needed to switch to something more novel to give him an identity. So when he slips on a White Sox jersey with No. 79 on the back, he thinks of her. Soon enough, the rest of his family will arrive in Chicago and have a chance to take part in his journey. He'll have a lot of interesting stories to share.
Although Abreu has been anointed to replace
Paul Konerko
and Dunn as Chicago's designated middle-of-the-order presence, he's respectful of what they have achieved in the majors and appreciative of the opportunity to be their teammate.
"It is a dream to be able to spend some time next to these players who have been able to accomplish so much in baseball," Abreu said. "I'm so thankful they've put those guys next to me. The reality hasn't started yet. The reality comes once we start playing."
If time, sweat and long hours in the batting cage can lay the groundwork for success, Jose Abreu will be more than ready.
February, 14, 2014
Feb 14
10:00
AM ET
As there are every spring, there are great baseball stories everywhere -- from Tampa to Tempe, from Jupiter to Space Coast Stadium, from Goodyear to Surprise.
Which teams will have a good year? Which teams will surprise? The questions are what make spring training so great, so fascinating. They are what define this time of year, along with warm weather, hope and the belief that March 29 will be the last useless evening that we'll have to spend.
[+] Enlarge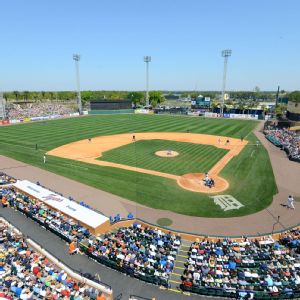 Mark Cunningham/MLB Photos via Getty ImagesNothing beats the look and feel of spring training.
It all begins, as so many spring trainings have before, with the Yankees in Tampa. We will get our first look at
Masahiro Tanaka
, who the Yankees made the fifth-highest paid pitcher in major league history before he ever threw a pitch in the big leagues. Is his splitter as good as everyone says? We will see
Jacoby Ellsbury
,
Brian McCann
and
Carlos Beltran
in Yankee uniforms, and we will see
Derek Jeter
in the final year of his career play shortstop at age 39; only five players in the game's history -- Honus Wagner, Rabbit Maranville, Luke Appling, Luis Aparicio and
Omar Vizquel
-- have played 100 games in a season at shortstop at Jeter's age. He'll turn 40 three weeks before the All-Star break.
The world champion Red Sox mostly will be without their beards this spring, but they will have a new catcher (
A.J. Pierzynski
), a new shortstop (
Xander Bogaerts
) and several candidates to be their new center fielder, including
Grady Sizemore
, who hasn't taken an at-bat in the big leagues since 2011. The Rays will have
David Price
, who hasn't been traded and now, it appears, might not be traded this season. The Orioles might start the season without
Manny Machado
, who is coming back from a serious knee injury. The Blue Jays will open spring training without the hype of last spring, which is good for them.
The Tigers, under new manager Brad Ausmus, will open the spring with a different infield from the one that took the field last spring, including
Ian Kinsler
at second base and rookie
Nick Castellanos
at third. Even more important, they have a real closer this spring in
Joe Nathan
. The Indians have a new closer,
John Axford
, as well. The Royals have a new leadoff batter (
Norichika Aoki
) and second baseman (
Omar Infante
). Meanwhile, the White Sox have a new first baseman (Cuban
Jose Abreu
) and the Twins' new first baseman is their old catcher,
Joe Mauer
.
The A's added to their bullpen, acquiring closer
Jim Johnson
,
Luke Gregerson
and
Eric O'Flaherty
, and welcomed
Scott Kazmir
to their rotation. The Rangers gave
Prince Fielder
a fresh start at first base, found a position (second base) for
Jurickson Profar
and showed
Shin-Soo Choo
what a great country this is, especially when you reach free agency. Great country? The Mariners gave
Robinson Cano
$240 million, but is there protection around him in that lineup? The Angels made significant changes, none of which will really matter if
Albert Pujols
isn't healthy enough to play first base and produce something close to the Pujols of St. Louis. And if the Astros lose 128 games (they are not nearly that bad), they'll tie the Mets (1962-65) for the most losses ever during any four-year period in history.
The Braves have a new catcher in
Evan Gattis
, and they'll have to figure out how to get the batting averages of
B.J. Upton
and
Dan Uggla
back over .200. The Nationals, under rookie manager Matt Williams, need a healthy
Bryce Harper
(knee) if they're going to win the NL East; in mid-January, he sprinted for the first time without pain. We know the Phillies are in Clearwater, but nothing else about them is clear. The Mets have
Curtis Granderson
and
Bartolo Colon
, but not having
Matt Harvey
for perhaps the entire season will be a bummer. The Marlins still have
Giancarlo Stanton
. How long before that situation changes?
The Cardinals have almost an entirely new infield, a new center fielder (
Peter Bourjos
) and maybe a new right fielder if rookie
Oscar Taveras
is healthy and productive. The Pirates have hope again following a playoff appearance in 2013, and with
Gerrit Cole
for a full season. The Reds have a new manager in Bryan Price; now they need to find a center fielder to replace Shin-Soo Choo: Is this the spring that
Billy Hamilton
steals a job? The Brewers have a new right fielder in
Ryan Braun
; no questions about Biogeneis will be taken, however. The Cubs have a new spring training facility and a new manager, Rick Renteria.
[+] Enlarge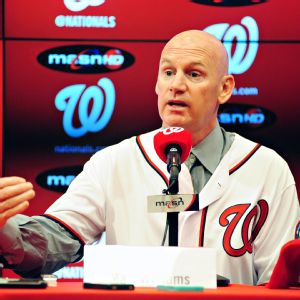 Evan Habeeb/USA TODAY SportsExpectations are once again high for the Nationals, who have a new manager in Matt Williams.
The Dodgers have four outfielders for three spots; one of them,
Matt Kemp
, is coming back from shoulder and ankle injuries -- his health and production will be one of the big stories of the spring. The Diamondbacks have a new left fielder,
Mark Trumbo
, who might hit 40 homers in their ballpark. The Dodgers and Diamondbacks will open the season March 22 in Australia; let's hope there isn't a major brawl Down Under. The Giants added
Tim Hudson
, and
Pablo Sandoval
subtracted 42 pounds. The Padres signed
Josh Johnson
to pitch in a rotation headed by
Ian Kennedy
-- here's hoping they play a doubleheader this year, and go with the Kennedy-Johnson ticket. The Rockies will open camp with
Troy Tulowitzki
, but, for the first time since 1988, they'll begin a season without
Todd Helton
.
There will be lots of stories, questions and sunshine this spring. It is the best time of year. It is a time for optimism: No one has lost a game, the rookies all have promise and the veterans believe it will be their best year. It is baseball in its purest form, a time for wind sprints, fundamentals, split-squad games on a back field where only the scouts are watching. Millionaire players are humanized and humbled in spring training. They are not receiving enormous paychecks every two weeks, and they're getting the same meal money as the rookie in his first big league camp. No one is exempt from the three-hour bus rides, playing on fields that aren't manicured to major league standards, and facing anonymous Class A pitchers who throw really hard, but have no idea where the ball is going. It is the one time of year that
Justin Verlander
and a 20-year-old kid are on equal ground. It is the one time of year that a player gets on the bus in uniform, just like in high school.
Eleven years ago, Indians pitcher
Brian Anderson
boarded the team bus at 8 a.m. for the two-hour drive to Vero Beach, Fla., for a spring training game. Thirty minutes into the trip, Anderson realized he had forgotten his hat, his spikes and his glove back in Winter Haven.
"I was running late that morning because I knew I was going to get to hit in the game, so I was looking for the really important things: batting gloves and a bat," Anderson said. "When we got to Vero, I was in full panic mode. I borrowed a car and went to a mall, but there wasn't one glove in the whole mall, but I found some adidas spikes. On the way back to the ballpark, I saw a WalMart. I thought, 'Hey, WalMart has everything ... tires ... produce ... it must have a baseball glove.' I found one: $29.95, already broken in. It was a softball glove. A Wilson. It was awful. I borrowed someone's hat and pitched in the game. Of course, I got three comebackers to the mound, and I caught them all because my new glove was as big as a butterfly net, it made
[Greg] Maddux
's glove look small. That day reminded me of when I was 17 playing Legion ball. That is spring training to me."
Only in spring training could this story happen. The Twins signed infielder
Tsuyoshi Nishioka
in the spring of 2011. He didn't speak much English, and didn't know anyone on the team. Several teammates convinced Twins outfielder
Denard Span
to introduce himself to Nishioka, to make him feel more a part of the team. Only they tricked Span -- they told him that Ray Chang, another infielder, was Nishioka. So Span, ever respectful, approached Chang, bowed gracefully, introduced himself, and asked him if he spoke English.
"Sure I do," Chang said. "I'm from Kansas City!"
The whole team howled.
[+] Enlarge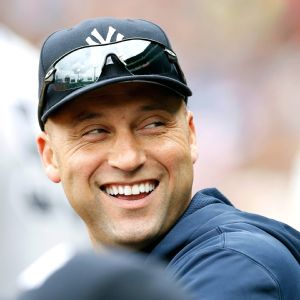 Greg M. Cooper/USA TODAY SportsDerek Jeter, who played only 17 games last season, enters the final year of his career hoping to stay healthy.
Only in spring training could then-Rays first baseman
Carlos Pena
make a mistake in a baserunning drill, then justify it by quoting Dr. Martin Luther King's "I Have A Dream" speech. "My first baseman is quoting Dr. King," said Rays manager Joe Maddon. "I love it."
Only in spring training would pitcher
Jeremy Guthrie
, now with the Royals, ride his bike to work. "It was only five miles," he said of his daily ride two springs ago to the Rockies' facility. Then-teammate
Michael Cuddyer
said of Guthrie, laughing, "He once pitched in a game in Scottsdale, then got on his bike -- still in full uniform, with his glove on the handlebars -- and rode back to our facility. It was like a scene from 'The Sandlot.'"
Only in spring training would then-Padres pitcher
Chris Young
and
Will Venable
pick teams for a free throw shooting tournament because both guys played basketball at Princeton. "That's as nervous as I've ever been for an athletic competition," Young said with a smile, "because I'm not a great free throw shooter, and my team was depending on me to be good." Only in spring training would the Twins hold a bowling tournament behind the KFC in Fort Myers and, said Twins manager Ron Gardenhire, "Joe Mauer would be high-fiving his teammates, guys he's never met in his life, after they rolled a strike." Only in spring training could Jeff Stone get thrown out at all four bases in one game, and only one of them was a forceout (think about that). Only in spring training could Rockies pitcher David Lee, in an emergency, drive the team bus on a night trip, then earn the nickname "Diesel" when he stopped the bus and announced, "We've got to get some diesel!"
Only in spring training is time taken to get in baseball shape. "We're always inventing drills and conditioning programs in spring training," said Rich Donnelly, now the manager of the Mariners' Triple-A team. "Years ago, we'd do 10 jumping jacks, touch our toes twice, then play. Today, these strength and conditioning coaches are always coming up with new stuff: rubber bands, parachutes, cones. I just can't imagine Ted Williams going to spring training and running with a parachute on his back, or Babe Ruth jumping over a bunch of cones."
It is a time for the fans, especially kids. Families take vacations to spring training. Getting a player's autograph is easier because everything and everyone is more relaxed than during the regular season. Well, except for when the Red Sox and Yankees played for the first time in spring training 2004, their first meeting since
Aaron Boone
's home run had sent the Yankees to the World Series, and sent the Red Sox home. Tickets were scalped for $500 for an exhibition game! Before the game, there was a fight in the parking lot at City of Palms Park in Fort Myers between a Yankees fan and a Red Sox fan ... both fans were women!
It's spring training. Finally. We can't wait.
February, 14, 2014
Feb 14
9:00
AM ET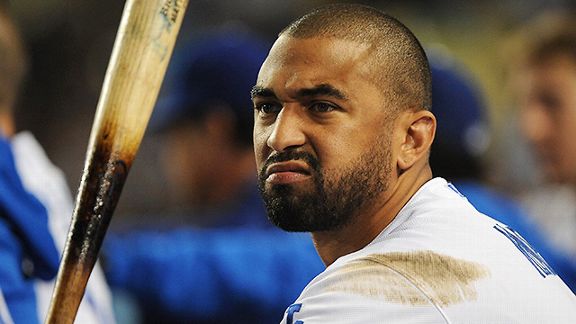 Lisa Blumenfeld/Getty ImagesIs it possible Matt Kemp might miss all of spring training? Could be.
It was in March 2013
that I predicted
that some time during the season,
Yasiel Puig
would become a star on the level of past star rookies such as Fernando Valenzuela and
Hideo Nomo
and create his own mania -- "Puigmania."
Well, it's time for more bold predictions, and I'm beginning with spring training. Let's take a look at my 10 bold predictions for 2014 spring training. (Don't worry, I'll make more bold predictions for the regular season.)
1. Matt Kemp doesn't play in a single major league spring training game.

Kemp is still recovering from microfracture surgery on his left talus bone (a major weight-bearing bone in his ankle), and I think he will begin the season on the disabled list.
To continue reading this article you must be an Insider
March, 17, 2013
3/17/13
6:10
PM ET
By
Christina Kahrl
| ESPN.com
GLENDALE, Ariz. -- Two weeks away from the start of the season, most teams have a handle on what they expect to happen. At this point, most clubs are making the obvious decisions for the obvious reasons, and a month and a half hasn't changed anything. Take Saturday's A's-White Sox game:
Jarrod Parker
versus
Chris Sale
will be a marquee matchup in a few short weeks once the games start to count. So, even after the White Sox's 11-5 win over the Athletics in a sloppy slugfest, an ugly outing from his ace did not stop Sox manager Robin Ventura from making the non-controversial announcement that Sale was his Opening Day starter.
[+] Enlarge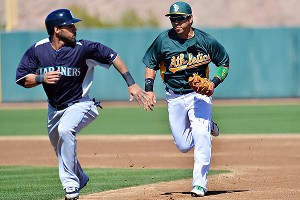 Atsushi Tomura/Getty ImagesThe A's signed Hiroyuki Nakajima, right, to a two-year deal in the offseason to be their shortstop. To this point, he's struggled to impress.
"We feel very confident with him going forward and giving him the ball for the first start. … It's something for him to be motivated [during] the last two weeks and get out there and go. He's ready to do that," Ventura said.
Well, of course Sale is going to start on Opening Day. That's what you do when a guy just won 17 games for you, a year good enough to finish sixth in the American League Cy Young voting. That isn't a decision, that's belatedly announcing the obvious.
A's manager Bob Melvin was similarly sanguine about Parker after his young hurler got knocked around for seven runs in three-plus innings.
"It certainly was as bad as the numbers would have indicated," Melvin said. "I think that we had some defensive issues that added to that. That's the difficult thing about spring; for some guys numbers do play out, for some they don't. Based on what he accomplished last year, he's not going to be evaluated on numbers."
Generally, performance in spring training isn't usually going to determine who wins a job, a new role, or the honor of an Opening Day start. But performance is going to wind up influencing those rare instances where there
are
decisions left to make, decisions that weren't already made in December or January as a function of who a team has signed and why. Welcome to the A's world, where with just two weeks left, they don't know for sure who will be getting playing time at second, short and third.
As Melvin observed about sorting out his muddled infield picture, "There's a good chance it won't play out until the very end," he said. Now
that's
a decision.
The A's came into camp with no established answer for who would be their starter at second or third, and with a question mark at shortstop. They got little in terms of offensive performance from those slots last year: a .671 OPS from their third basemen, .620 from their second basemen and .585 from their shortstops. Winning the AL West last year,
incredible as it was
, was done despite their infield's production, not because of it.
Getting
Jed Lowrie
from the Astros in a trade was the big step to address some part of the problem, and signing Japanese league veteran
Hiroyuki Nakajima
was supposed to give them a shortstop. At second base, the hope was that getting
Scott Sizemore
back from missing all of 2012 with an injury might give
Jemile Weeks
some competition at second.
Then Weeks missed almost two weeks with a bone bruise on his shoulder, while Sizemore injured his hand and has struggled with that over almost the exact same stretch. With two weeks to go, it's still an open question whether the A's have an answer at second base, or perhaps any of the three positions.
Because of Lowrie's positional flexibility, you could see this as a case where several players are in direct competition for playing time and roster spots, albeit not for the exact same job. It isn't like Melvin has any slam-dunk obvious choices. It's a situation where a dark-horse candidate can enter the race, expanding rather than narrowing his options. Focusing on Sunday's game, Melvin said, "
Eric Sogard
will start at second today, and some other guys are doing well, making it tougher to actually narrow it down. Sogard has sneaky pop at times, depending on the ballpark. We've seen him hit a few home runs in the last couple of years, but he's more a gap-to-gap guy, and does get the head of the bat out a little down the line for some doubles."
So things are already getting interesting. Unfortunately, Lowrie can't play everywhere at once simultaneously -- he can only plug one hole at a time (assuming he's healthy). And that could be an even bigger problem because on defense Nakajima is far from a sure thing at shortstop, which might force Lowrie into some time there.
The nicest thing you could say for Nakajima on Saturday is that he followed up a first-inning error with doing a good job on an inning-ending double play, taking the feed from Sizemore with the bases loaded to get Parker out of the inning. Nakajima also blew the tag on a sacrifice bunt in the second, although a sailing throw from catcher
Derek Norris
didn't help (Norris got the error).
Melvin came to his likely starting shortstop's defense, but he has to -- it's his job. Melvin observed, "It's been a tough time for him. Whether it's the culture shock, being with a new team, playing in a new league, all these things play into it. Each guy takes that at his own speed. There's something to be said about getting acclimated, and maybe he's not all the way there yet, getting comfortable out on the field."
Questions about Nakajima's defense are unavoidable considering that
all of the other, more highly regarded defenders at short who have come over from Japan have failed
. Add in that Nakajima hasn't looked good at the plate in Cactus League action, and the assumption that he was going to be their regular shortstop might be revisited by the end of the month.
Melvin focused on the positives about Nakajima's resilience as he tries to adapt, saying "He's very personable, he's always in a good mood. He works very hard, but I think to an extent, he still has to kind of find his way and get comfortable, both offensively and defensively."
Keeping things upbeat makes sense, but there again, that's Melvin's job. But in another couple weeks, he'll have to make a series of tough overlapping decisions. While obvious calls like Sale getting tabbed for an Opening Day assignment get headlines. Two weeks of performance might seem an irrational basis to make a decision when teams know everything there is to know about their players' histories, but that's what the A's have left to work with.
Christina Kahrl covers baseball for ESPN.com. You can follow her on Twitter.
March, 1, 2013
3/01/13
6:48
PM ET
GOODYEAR, Ariz. -- Chicago pitcher
Chris Sale
claims to have added 10-15 pounds to his notoriously skinny frame since last season. He even says his jeans fit better now. But White Sox teammate
Adam Dunn
is skeptical of the reports.
"If he did, it must have been in his earlobes," Dunn said.
That hummingbird metabolism notwithstanding, Sale emerged as a pitching heavyweight last season. He went 17-8 with a 3.05 ERA, made the American League All-Star team and stayed reasonably effective to the end. He posted a 7-6 record with a 4.03 ERA and 94 strikeouts in 89 1/3 innings after the break -- not bad considering he had pitched exclusively out of the bullpen and thrown a total of 71 innings the previous season.
[+] Enlarge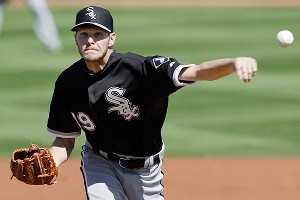 AP Photo/Mark DuncanWhite Sox lefty Chris Sale claims to have added 10-plus pounds to his 6-6 frame.
Now the consensus in White Sox camp is that Sale deserves the Opening Day starting assignment.
Jake Peavy
has endorsed him. Dunn thinks he's the guy. And even though manager Robin Ventura has refrained from making a formal announcement, it will be a surprise if anyone other than Sale gets the nod against
James Shields
and Kansas City on April 1.
By all accounts, Sale is ready to be the front man for a Chicago rotation that includes Peavy,
John Danks
,
Gavin Floyd
and
Jose Quintana
.
Sale did just fine in his Cactus League debut Friday, with 2 1/3 scoreless innings and 48 pitches against Cleveland. He expects to "tweak" a few things over the next month in Arizona, but plans to stick with the fastball-slider-changeup repertoire that's made him such a handful against major league hitters. If his 2012 breakthrough taught him anything, it's the importance of grinding it out during the inevitable fatigue and dead-arm phases that a 162-game season brings.
The expectations are higher this year, so Sale understands the need to keep his priorities in order. That helps explain his decision to turn down an opportunity to pitch for Team USA in the World Baseball Classic.
"I would have loved to do it," Sale said. "It's an honor to put those colors on and play for your country. At the same time, after the workload I went through last year, I didn't think it was going to benefit myself or my team.
"I want to put everything I have into this right here. A few years down the road, when I get asked again, it might be a different story. It was a great opportunity, just the wrong timing for me."
There is also something to be said for spring training camaraderie. Sale drove from White Sox camp in Glendale, Ariz., to the game in Goodyear with Dunn. Naturally, the subject of fast food came up in conversation.
Dunn, who is listed at 6-6, 285, is both galled and mystified that Sale has had to work so hard to pack 180 pounds on his 6-6 frame.
"He rode me over here and he was like, 'Are we going to stop at McDonald's or Burger King or something?'" Dunn said. "I was like, 'Dude, no. All you have to do is talk about it and I gain seven pounds.'"