Spring Training:

Cincinnati Reds
March, 18, 2014
Mar 18
11:13
AM ET
Corky Miller
. It is the perfect name for who he is and what he is, a backup catcher. This spring, Miller is with the Reds. Most baseball reference books list his first name as Abraham. Some teammates have called him that, but his real first name is actually Corky. His parents named him after a relative named Clark, who went by Corky.
"My mom used to tell me if I ever became the president of the United States, I would go by C. Abraham Phillip Miller," Miller said with a laugh. "But I haven't come close to becoming the president."
[+] Enlarge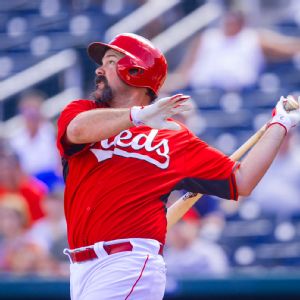 Rob Tringali/Getty ImagesCorky Miller, 38, is hoping to make the Reds' Opening Day roster as their backup catcher.
If there were such a thing, he would be the president of the Backup Catchers Club. It's a unique fraternity of guys who have been backup catchers their whole careers. They bounce from team to team, from bullpen to bullpen, warming up pitchers, giving the starting catcher a rest, then warm up a few more pitchers. They are catching lifers, they play for a different team virtually every year, they just don't play very much:
Henry Blanco
,
Chris Stewart
,
Chris Snyder
,
Koyie Hill
,
Brett Hayes
,
Yorvit Torrealba
,
Gerald Laird
, to name a few.
"I saw
Matt Treanor
[now with the Indians] the other day," Miller said. "When you see one of us, you just kind of nod and smile at them. I looked at Matt, nodded, smiled and said, 'Still grinding it out, huh?' He smiled back at me with that look of, 'Here we go again.'"
Some of the backup catchers have played every day for brief stretches in their careers, such as Laird and
John Baker
, now with the Cubs.
David Ross
, one of the best backups in the game, not only got a World Series ring last year with the Red Sox, but he started a few games in the 2013 postseason. Miller is 37 years old, he made his major league debut in 2001, and he has played 216 games for the Reds, Twins, Red Sox, Braves and White Sox. And yet, despite all those years, he has never played as much as 40 games in a season. He is the only non-pitcher in history to play that many games without playing 40 in any season.
"My job is to make sure the starting pitcher is prepared and ready to go, I take care of the pitchers, even if I play once a week," Miller said. "One year in Atlanta [2008], backing up
Brian McCann
, I played once every 16 days. When you haven't caught in two weeks, it can get a little crazy. But when you do play, you have to hide your emotions. You are there to give the starter catcher a breather. You can't get p---ed off, and get kicked out of a game."
Miller, 38, has had 100 at-bats in a season once in his career (114 in 2002), his season high for hits is 29, for home runs is three, for RBIs is 15.
"That year in Atlanta, I had 60 at-bats in 51/2 months," he said. "That was tough for me, but it was so much fun backing up Brian, who was a young guy learning the game. That was the most fun I've ever had. I have always wondered, 'What would happen if I ever got a chance to play?' But I also wonder if I'd gotten one year to play, then I might have been done playing after that one season."
"There are a lot of guys that I've played with over the years, and a lot of them aren't playing any more, and I still am," he said. "I have been wondering since all the way back to 2005-06, 'How much longer am I going to play?' And here it is, seven years later, and here I still am. I go back and forth on this: 'Do I start coaching or managing now, and start to build that career, or do I keep playing?' I've been a third catcher or a backup or an emergency catcher for Reds since 2009. When I didn't get called up to the big leagues in 2011 and '12, I thought that might be it. But here I am again."
Miller is, at best, a third catcher for the Reds this spring. He might or might not make the team.
"I still get up at 6 a.m. every day, get in the hot tub and get ready to catch every day," Miller said. "It's something that I still want to do. And it's something that they want me to do."
His name is Corky, he has been called Abraham, but with all he has done, he is Mr. President.
March, 13, 2014
Mar 13
11:20
AM ET
GOODYEAR, Ariz. -- Bryan Price is a very intelligent, engaging man with a great sense of humor and tremendous communication skills. In a quarter century of covering sports, I've come across few people who can match him when it comes to explaining something.
So when the
Cincinnati Reds
promoted him from pitching coach to replace Dusty Baker as manager last fall, my only question regarding the decision was why more teams don't hire former pitchers and pitching coaches to be managers. Price is one of only three former pitching coaches (or former pitchers) currently managing a major league team, and the other two have been very successful. San Diego's Bud Black was named manager of the year in 2010 while Boston's John Farrell took the Red Sox from last place to a World Series championship in his first season there last year.
[+] Enlarge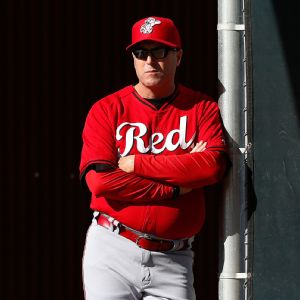 AP Photo/Paul SancyaBryan Price was a pitching coach for three teams (Mariners, Diamondbacks and Reds) before being named the Reds' manager last October.
"I don't have any major league credentials as a player," Price said. "The job John Farrell and Bud Black have done have really created opportunities for me, I really believe that."
I get why catchers are popular managerial choices but with such a track record, why not hire more ex-pitchers?
"I think there has been some thinking that pitchers might not have total understanding of the complete game," Black said. "That might have deterred some executives to say, 'Let's go with a position player as a manager and we'll have the pitching coach handle all our pitchers -- basically half the roster -- and that's how we'll comprise our staff.'"
"That said, I do think there are a lot of pitchers who have the leadership ability, the intangibles, all the qualities of a leader to manage. Pitchers have those qualities, too. They aren't just inherent to position players. … I think leadership is all about what that particular person has and his ability to lead. And that comes from anywhere. A second baseman, a left fielder, a pitcher, a catcher -- it doesn't matter."
Black and Farrell aren't the only pitchers who have been highly successful managers. Tommy Lasorda managed the
Los Angeles Dodgers
to four World Series appearances, winning two of them (along with two manager of the year awards). Dallas Green managed the
Philadelphia Phillies
to their first World Series championship in 1980. Bob Lemon managed the
New York Yankees
to a World Series championship in 1978. Roger Craig took the
San Francisco Giants
to their first World Series in 27 years in 1989.
Sure, there have been former pitching coaches who failed as managers. Former Tampa Bay manager Larry Rothschild lost 90-plus games each season before the Rays fired him early in the 2001 season. But he also was managing an expansion team and the Rays averaged even more losses (98) the next four seasons under his successors, Hal McRae and Lou Piniella.
"We don't know if Larry was a great manager or not because he didn't have any [good] players," Price said. "He didn't have any pitching, I know that. They couldn't pitch. What are the expectations when you're with a new franchise?"
The point is, there are good pitchers-turned-managers and bad ones. But there have been enough good ones to provide plenty of incentive to hire more. After all, you often hear that pitching is anywhere from 60 to 90 percent of the game. So why not have someone in charge who really understands that? As Price says, "When you get a knock on a manager, a lot of times the knock is that he doesn't know how to run a pitching staff."
Of course, success as a pitching coach can also be an obstacle toward becoming a manager. Black says that if a team has a good pitching coach, it might be reluctant to move him out of that position.
Reds general manager Walt Jocketty said he didn't look at it that way when he hired Price.
"Pitching is so important and Bryan is such a great pitching coach and a good leader -- I saw he had the attributes to be a good leader and communicator -- but he's still going to have an eye on the pitching.
"It just puts more emphasis on the importance of pitching because we have a manager who understands pitching and was great at it as a coach and hired a coach [Jeff Pico] to carry on his philosophies."
Not that all pitching coaches want to be managers. "We always thought Dave Duncan would be a great manager, but he just never wanted to get involved in that," said Jocketty, who was the St. Louis general manager for 13 years. "He was happy just as a pitching coach."
Although he interviewed for the job of Seattle manager at the Mariners' request in 2004, Price said he wasn't interested in becoming a manager until fairly recently. As much as he enjoyed being a pitching coach, he says he needed a new challenge. The opportunity came last October when the Reds fired Baker.
Jocketty said he and Reds CEO Bob Castellini had an informal talk with Price last fall. Afterward, Jocketty told Castellini that he didn't see any reason to interview anyone else. Price was the man he wanted to manage the Reds.
"I could see working with him the last four years that he not only had the respect and relationship with the pitchers, but also with some position players," Jocketty said. "That was evident right away after the decision -- the position players jumped on board and said this guy is a great communicator and great leader.
"

I could see working with [Bryan] the last four years that he not only had the respect and relationship with the pitchers, but also with some position players. That was evident right away after the decision [to hire him as manager] -- the position players jumped on board and said this guy is a great communicator and great leader.

"

-- Walt Jocketty, Reds GM
"I think they all saw what he did with the pitching staff and felt he could continue that through to the rest of the club."
Price readily admits that he doesn't know that side of the game as well as former position players do. Just like position players don't know pitching as well as he does. The key for each is surrounding themselves with smart, capable coaches who do know the other facets of the game.
"The manager has to delegate to his staff," San Diego general manager Josh Byrnes said. "So if his expertise isn't in an area, he can look to his staff. So I wouldn't think it's an issue going forward. I do think that a catching background is big because you're covering both halves of the inning. But to the extent that you're not a catcher, I don't think whether you're a pitcher or an infielder is really an issue at this point."
"Look, I don't have any credibility as a hitting coach or an outfielder or a base stealer," Price said. "So that's why these guys in the room next to me are so important. I can talk with them about pitching and situational baseball and how to best use our personnel. But I'm not going to go into the cage and work with a hitter or go out in the outfield and talk about footwork on a base hit to center. Those are things I'm just never going to do. But I want to be around and see it. And be a part of it and understand what guys are doing.
"You guys will have questions about what's going on with a guy who is struggling and that's something I should know. I should know what we're doing to help. But it won't be me going into the cage and saying 'Line up your knuckles' or 'Get your elbow up.'"
Price never reached the major leagues as a pitcher, but he says that never posed a problem for him as a major league pitching coach.
"I thought about that when I got hired in Seattle [in 2000]," he said. "That I would have guys challenge me because I didn't play in the majors. And it was never an issue. There was never a single time that someone said, 'What do you know? You never pitched in the major leagues. You don't know what it's like to be in my situation.'
"So I don't anticipate that will be a problem [as a manager]. I really don't think that's where the concern should be."
The key is not having big league experience as a player, but providing leadership and building relationships with players that will bring out the best in them.
"It's interesting. The last three years I've had pretty new managers," Reds infielder
Skip Schumaker
said. "Mike Matheny in St. Louis, Don Mattingly was fairly new when I went over to Los Angeles, and now Bryan Price. What strikes me about them all is they're born leaders. Leadership is something that can't be taught. You either have it or you don't.
"And you need that to control ego and talent, and everything else in major league baseball. And Mike Matheny 100 percent has it. Don Mattingly has it. And Bryan Price 100 percent has it."
We will see how Price does as a manager but I expect he'll be excellent. There certainly is no question that his years as a great pitching coach gave him the necessary credentials and skills.
"Hopefully," Price said, "10 years from now the Reds will have won a lot of World Series and people will say I was a great choice."
March, 9, 2014
Mar 9
5:50
PM ET
GOODYEAR, Ariz. --
Cincinnati Reds
outfielder
Donald Lutz
may not be a big name yet in this country, but he did something over the winter that might never have been done by a major leaguer. He appeared on German national late-night TV.
That is because although Lutz was born in New York, he moved to Germany with his family when he was just a year old. Last summer, he became the first player who grew up in Germany to reach the major leagues. He also became the first German-raised player to hit a home run, and that historic shot was shown nationally when Lutz was a guest on a late-night show hosted by Stefan Raab.
[+] Enlarge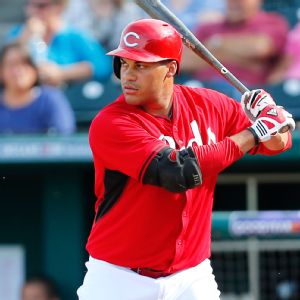 AP Photo/Paul SancyaDonald Lutz hit one home run and had eight RBIs while playing in 34 games for the Reds last season.
Asked whether Raab was the German equivalent of Jimmy Kimmel, Lutz couldn't be sure because he hasn't watched enough American TV to know who our big stars are.
"Raab's probably our biggest TV guy over there. It was pretty exciting," Lutz said. "They had me in for a little sit-in and show my home run and talk baseball a little bit. I think it was the first time baseball was screened on national TV. That was pretty good to get it out to the people."
Despite his American background, Lutz didn't start playing baseball until he was 15, but he has had a worldwide career nonetheless. In addition to playing in Germany -- where he says some of the fields were better than at Class A Bakersfield -- he also played professionally in the Australian League. He also played briefly this winter in the Mexican Pacific League.
He says his making the major leagues was a plus for the development of baseball in Germany.
"It's been big. There is pay-TV for sports where they mostly show soccer, but when I was up last year, they actually streamed some baseball games," he said. "That was big. Guys back home were like, 'We turned on TV and saw you, that was awesome.' A lot of kids follow it and see they can actually get somewhere [in baseball]. I hope they start playing a little more and realize they have a chance to come over here and play professionally."
Lutz hit .241 in 58 at-bats last year with the Reds before returning to Double-A Pensacola. He doesn't have a great chance of making the team out of spring training because the Reds would like to see him get more at-bats than he would while coming off the bench in the majors.
"We definitely need to get him some more at-bats," Reds general manager Walt Jocketty said. "The big thing is to keep him healthy for a year and on the field. He missed a good part of last year [due to finger and wrist injuries]. We're not sure whether to start him at Double-A or Triple-A, but the thing is to get him off to a good start. He just needs to get more at-bats, more consistency and good health because he has the chance to be a very good player.
"He's a versatile player. He can play the outfield, left or right, and he can play first base. He hits with power and for a big guy [6-foot-3, 250 pounds], he runs well."
Cincinnati has a strong German heritage and though Lutz said the bratwursts there don't quite match up to the ones in his homeland, he did see German flags in the stands last summer and heard fans shouting to him in German. "It was pretty cool," he said.
February, 23, 2014
Feb 23
5:02
PM ET
GOODYEAR, Ariz. --
Cincinnati Reds
right fielder
Jay Bruce
has put up some impressive numbers without an abundance of national publicity. He's the only National League player to hit at least 25 home runs every year since 2010, and he's collected more homers and doubles (201) over the past three seasons than any big league hitter not named
Miguel Cabrera
.
[+] Enlarge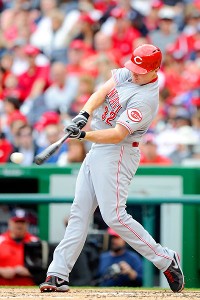 G Fiume/Getty ImagesJay Bruce finished third in the National League in home runs (30) and second in RBIs (109) last year.
The Reds expect Bruce to continue to be an offensive force this season as he turns 27. But he'll be taking his hacks from a slightly different vantage point.
Former Reds manager Dusty Baker had reservations about batting
Joey Votto
and Bruce back-to-back, because they're both left-handed and Baker thought the Reds would be at a disadvantage late in games when opposing managers started running out lefty relief specialists.
New Reds manager Bryan Price is going to take a different slant. The plan calls for
Brandon Phillips
to move up from fourth to second in the order. Bruce will bat cleanup behind Votto versus righty starters, while
Ryan Ludwick
will slide in at No. 4 against lefties.
"My theory is, if we're thinking a lot about innings 7-8, maybe we're not focusing enough on 1-6," Price said. "If we deliver the knockout blow early, we don't have to worry too much about the matchup lefty [reliever] being in the ballgame. I'd like to be more aggressive in the front end of the game and see if we can get the starter out of there and get into the bullpen. That sets a great tone for the series."
Bruce's platoon splits aren't all that pronounced by standards of a lefty power hitter. He has a career .842 OPS against left-handed pitchers compared to .744 versus righties. Since the start of the 2010 season, he leads all big league hitters with 44 homers against lefties -- four more than
Albert Pujols
's total of 40.
Bruce's output includes a two-home run game against NL Cy Young winner and $215 million man
Clayton Kershaw
in a nationally televised Reds win over the Dodgers at Great American Ball Park in September. As ESPN.com's Jayson Stark has pointed out, that was two more homers than the other 165 lefty hitters who faced Kershaw hit off him during the 2013 season.
February, 23, 2014
Feb 23
4:06
PM ET
GOODYEAR, Ariz. -- The
Cincinnati Reds
have challenged rookie outfielder
Billy Hamilton
to embrace a role at the top of the batting order and help lead the team to its fourth postseason appearance in five years. But this much is certain: No one in camp is going to challenge him to a foot race.
"I would need a motorcycle," said right fielder
Jay Bruce
, "and I would still need a head start."
[+] Enlarge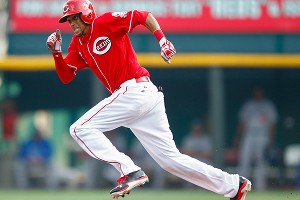 Michael Hickey/Getty ImagesBilly Hamilton stole 13 bases in 13 games after being called up from the minor leagues by the Reds in September last season.
It's yet to be determined if Hamilton will hit with enough authority to take advantage of his blazing speed and captivate the baseball world the way he did in 2012, when he blew past Donell Nixon and Vince Coleman and set a minor-league record with 155 stolen bases. In his quest to build off that achievement and become more than a one-trick (albeit very fast) pony, Hamilton doesn't lack for mentors.
On his way through the Reds' farm system, Hamilton worked extensively with Delino DeShields and Ken Griffey Sr., who passed along the collected wisdom of 32 combined seasons in the majors. This spring in Arizona, he's spending a lot of time with Reds special assistant Eric Davis -- another guy who knows a lot about the burdens of excessive hype.
All Hamilton has to do is play a solid defensive center field and bring a dose of fuel-injection to the batting order while replacing
Shin-Soo Choo
, who parlayed a .389 career on-base percentage into a $130 million contract with the
Texas Rangers
in December. When Davis joined the Reds in the spring of 1984,
he
was labeled the second coming of Willie Mays.
"I try not to put labels on people," Davis said. "When I came to the big leagues, I weighed 165 pounds. I was lucky that I had people in my corner who wouldn't let other people do certain things to my game. When you try to turn somebody into what you want them to be, it's very difficult.
"The most important thing for Billy right now is to just let him play, and not put emphasis on him seeing 13 pitches per at-bat, or whatever. The whole league knows he can run. When you steal 155 bases, you can't sneak up on nobody."
All-around athlete
Hamilton has the athletic gifts to learn on the fly. As a high schooler in tiny Taylorsville, Miss., he threw 92 mph off the pitcher's mound and clocked a sub-3.8-second time down the first-base line. He also showed enough skill as a wide receiver and punt returner to receive a football scholarship from Mississippi State, but turned it down to sign with the Reds for a $623,000 bonus as a second-round pick in the 2009 draft.
At 23, Hamilton possesses the type of work ethic and coachable demeanor that scouts and personnel people love to see. He's a sincere, energetic kid who soaks in instruction and quickly files it away for future reference.
"He's one of the few guys we have that we don't have to tell something three, four or five times," Davis said. "He just gets it."
After spending four years in the minors at shortstop, Hamilton shifted to center field last season with Triple-A Louisville. Davis, who also made the shortstop-to-center-field transition, is drilling him on the importance of studying hitters and polishing his reads and routes in the outfield rather than simply relying on his speed as a crutch. Like most new center fielders, Hamilton is more comfortable coming in on the ball than going back on it.
His bat is the big question, and doubts will persist until (or if) Hamilton gets over the hump.
Hamilton, a switch-hitter, was a mixed bag offensively in the minors. He logged an .852 OPS with Class A Bakerfield, but it dipped to .789 with Double-A Pensacola and .651 with Triple-A Louisville before he arrived in Cincinnati and stole 13 bases in a 13-game September audition.
Then Hamilton posted a .284 OBP in the Puerto Rican winter league, and Peter Gammons quoted a scout who said he looked "a little overmatched." That substantiated the notion among some scouts and front office people that the Reds are heaping too much on his plate.
As one big-league executive points out, the Reds fired manager Dusty Baker last winter after he led the team to the playoffs three times in four years. It's not as if Hamilton is playing for the
Houston Astros
and can take his lumps from 30 games out of first place.
"I think he's a lot closer to
Dee Gordon
than he is
Kenny Lofton
or any other type of catalyst leadoff type," the executive said. "In fact, I think they are really doing him a disservice trying to hit him leadoff. It's hard enough for rookies to adjust to life at the major-league level, but this is a guy who just recently changed positions, and now he is on a team expected to be in playoff contention and hit leadoff? I think he has a better chance of being in Louisville by June than he does of posting an OBP better than .320."
Gap-to-gap guy
In his batting cage work with Reds hitting coach Don Long, Hamilton is making a major effort to keep his head from flying out when he swings; that was an occasional problem for him in the minors. He's also focused on hitting the ball on a line or on the ground. Hamilton's speed will be worthless on fly balls to shallow center field, while he has a chance to make even routine choppers to second base a thrill ride when he's flying down the line.
That said, the Reds think Hamilton has enough strength to be more than a singles hitter, provided he learns how to manage the strike zone and make pitchers put the ball in a place where he can drive it. Yankees outfielder
Brett Gardner
didn't scare too many people as a rookie, and he just signed a four-year, $52 million contract extension.
"Billy's stronger than you think," Long said. "He has the ability to hit the ball hard on a line. If he mis-hits it and gets a little bit on top of the ball, it will be on the ground but it won't be a rollover ground ball."
Can Hamilton draw enough walks to raise his OBP to a level where he can steal 80-100 bases? That's usually a challenge for hitters with minimal power, because opposing pitchers can fill up the strike zone with no fear of the long ball. Hamlton might be in a different category because his reputation as a base stealer precedes him. Pitchers know that a walk to Hamilton is basically the equivalent of a double or a triple, so they might be inclined to squeeze the ball a little more tightly.
While Hamilton has spent hours and hours working on his bunting with the help of DeShields, Davis wants to see the bunt be a complement to his offensive game rather than a focal point.
"I don't care how fast you are, you can't just hit the ball on the ground," Davis said. "There's nobody in the big leagues who's going to stay in the big leagues bunting. Anybody who thinks that is tricking themselves. He has to learn to control his barrel. He has to be a hitter first, and the speed is an extra thing for him. If he has the ability to hit .260 or .270, he'll bunt .295 or .300. But he can't bunt .260."
Hamilton's professional role model is Toronto shortstop
Jose Reyes
, a player with 425 steals and a .439 career slugging percentage. "I don't want to be known as a slap hitter," he said. "I want to be more of a gap-to-gap, line drive guy."
As Hamilton pursues that objective, everyone involved concedes that setbacks are inevitable. What happens if it's May and he looks lost and Cincinnati is falling behind St. Louis and Pittsburgh in the National League Central? Will the Reds stick by him even as fans go into full-fledged panic mode?
When Long talked to Hamilton's minor-league managers and coaches over the winter, one theme kept repeating itself: The kid might start out slowly, but he's mentally tough enough not to succumb to bad days, and smart enough to learn quickly and play better as the season progresses.
"We have to have the patience and understanding of where is he today and what can he become, and create a vision for him and understand that it's going to be a process," Long said. "There are always going to be expectations. He's really competing with himself to get a little better every day."
Hamilton has the speed, desire, athleticism and support system to be an impact leadoff hitter on a winning team. The only commodity he lacks is time.
February, 22, 2014
Feb 22
5:55
PM ET
GOODYEAR, Ariz. -- The
Cincinnati Reds
finished tied for 11th in the National League with 67 stolen bases last season. That was the franchise's lowest total since 1971, when the Reds stole 59 bases as a team and Pete Rose led the way with 13.
Joe Morgan arrived and Bobby Tolan returned from injury the following year and combined for 100 steals as a tandem, and a whole new mindset took root in Cincinnati.
Bryan Price, Cincinnati's new manager, isn't necessarily looking for a return to the go-go days at Riverfront Stadium. But he does expect the Reds to take more chances on the bases this season. And dynamic young center fielder
Billy Hamilton
is only part of the reason.
[+] Enlarge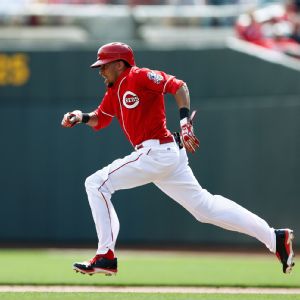 Joe Robbins/Getty ImagesSpeedy outfielder Billy Hamilton could give the Reds a big boost in stolen bases.
Price plans to open things up in the Cactus League and encourage his players to run when they have the opportunity. He understands the potential downside of running into too many outs during the regular season -- particularly at Great America Ball Park, where home runs abound. But he thinks the Reds have the personnel on the roster to strike a better balance. At the very least, the new approach could help the Reds manufacture a few more runs on the road.
"I know that we need to be able to create scoring opportunities, especially in that bottom third of our lineup," Price said. "Being station to station didn't give us as many opportunities to score as I would have liked. We have to be somewhat creative."
Two candidates to run more often in 2014: Shortstop
Zack Cozart
and third baseman
Todd Frazier
.
Cozart stole 30 bases in 34 attempts with Triple-A Louisville in 2010, but has only four steals in 300 major league games. Last year he logged a .284 OBP, so he needs to do a better job at the plate before becoming more of a factor on the basepaths.
Although Frazier is no burner at 6-3, 220 pounds, he's a capable baserunner with above-average instincts. He stole 58 bases over six minor league seasons, and the Reds think he has the ability to steal 10-15 bags.
"We're not going to do anything blindly," Price said. "When we talk about being aggressive on the bases, it means working hard on your secondary leads, understanding where the fielders are, and knowing the game situation and score in the inning. We want guys to be aggressive, instinctive and smart. We might run into some outs over the course of the spring. That being said, we're going to learn more about what these guys can do."
February, 19, 2014
Feb 19
5:52
PM ET
PHOENIX, Ariz. --
Homer Bailey
's six-year, $105 million contract extension with the
Cincinnati Reds
is testament to supply and demand. Durable, consistent starting pitching is awfully hard to come by, and teams will go to exceptional lengths to hang onto it before it hits the open market.
Clayton Kershaw
,
Felix Hernandez
,
Justin Verlander
,
Cole Hamels
,
Matt Cain
,
Adam Wainwright
and
Jered Weaver
are Exhibits A through G that the phenomenon is alive and well -- in increments of $215 million (Kershaw) all the way down to $85 million (Weaver).
Most media members or casual baseball observers probably wouldn't place Bailey in the conversation with the pitchers mentioned above. He's a career 49-45 with a 4.25 ERA, and has yet to make an All-Star team. Even while pitching two no-hitters in Cincinnati, he generally maintained a lower profile than his rotation-mates
Johnny Cueto
,
Mat Latos
and
Bronson Arroyo
.
But the Reds see a pitcher who's trending in the right direction and has all the makings of a staff horse. Bailey's strikeout-to-walk ratio has increased every year since 2008. He posted the 11th best swing-and-miss ratio among MLB starters in 2013. And his 417 innings the past two seasons place him 12th among big-league starters.
[+] Enlarge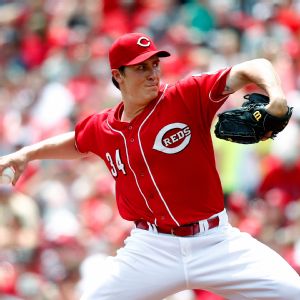 Joe Robbins/Getty ImagesHomer Bailey pitched 209 innings last season and finished with a 3.49 ERA.
"You look at it all," said Reds manager Bryan Price. "The size. The work ethic. The attention to detail in preparation. The desire to be in the game after the sixth inning, and the ability to be healthy and throw over 200 innings. I'm a firm believer that this is a guy who can perform through a long-term contract and help carry a pitching staff towards the top of a rotation."
It wasn't always that way. From the time the Reds selected him as the seventh overall pick in the 2004 draft, Bailey went through phases when he was perceived as a perennial work in progress (or worse). Cincinnati Enquirer columnist Paul Daugherty once described him as a "stubborn, cantankerous Texan." Although Bailey didn't necessarily agree with that characterization, some people in the Reds organization wouldn't have disputed it.
They'll tell you Bailey is a different kind of cat. When Dusty Baker was managing the Reds, he and Bailey routinely exchanged book recommendations. No one ever questioned Bailey's ability or intelligence, but his willingness to listen to people with contrasting ideas was not a strong suit.
"There wasn't a lot of trust when I got here," said Price, who took over as Cincinnati's pitching coach in 2010. "I don't know if Homer felt there weren't a lot of people in his corner who had his back, but it took me a couple of years to build a relationship with him.
"Homer doesn't like to be stroked. He doesn't need to be stroked. All he wants is for you to tell him the truth. Just be honest. He's a pretty black-and-white guy. He's very opinionated, and there are certain things he likes and doesn't like."
Despite the Reds' status as a small-market team, they've made big long-term investments in
Joey Votto
,
Jay Bruce
,
Brandon Phillips
and now Bailey, who'll be counted on to continue churning out 200-inning seasons in one of baseball's least forgiving pitchers' parks through age 33.
Notwithstanding the on-field ramifications and economic considerations, Bailey's contract says something about teams knowing what they have on hand, and having a hard time saying good bye. The Reds invested a lot of time and effort into Bailey's professional growth. Faced with the possibility of losing him through free agency in November, they decided to take the plunge and make a pre-emptive strike.
Maybe Bailey will prove to be a prudent investment, a drastic overpay or, if history is any indication, something in between. But this much is certain: The Reds won't have to sit back and watch all the hard work they did in developing Bailey come to fruition with another team in a different market. In the final analysis, they weren't prepared to take that risk.
"Homer has become a guy where everybody on the team looks forward to the day he pitches," Price said. "He got off on an island a little bit because of relationships and disappointments, but I think he's made himself a better teammate and a better person in the clubhouse. He's really learned to be a professional. He's a guy that wants to be great."
Bailey will get that opportunity in Cincinnati, where it all began for him out of LaGrange High School in Texas in the 2004 draft. Given the numerous scenarios that could play between now and 2019, the Reds will be content if he's merely very good.
February, 14, 2014
Feb 14
10:00
AM ET
As there are every spring, there are great baseball stories everywhere -- from Tampa to Tempe, from Jupiter to Space Coast Stadium, from Goodyear to Surprise.
Which teams will have a good year? Which teams will surprise? The questions are what make spring training so great, so fascinating. They are what define this time of year, along with warm weather, hope and the belief that March 29 will be the last useless evening that we'll have to spend.
[+] Enlarge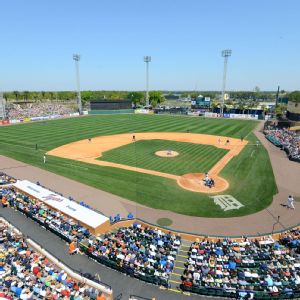 Mark Cunningham/MLB Photos via Getty ImagesNothing beats the look and feel of spring training.
It all begins, as so many spring trainings have before, with the Yankees in Tampa. We will get our first look at
Masahiro Tanaka
, who the Yankees made the fifth-highest paid pitcher in major league history before he ever threw a pitch in the big leagues. Is his splitter as good as everyone says? We will see
Jacoby Ellsbury
,
Brian McCann
and
Carlos Beltran
in Yankee uniforms, and we will see
Derek Jeter
in the final year of his career play shortstop at age 39; only five players in the game's history -- Honus Wagner, Rabbit Maranville, Luke Appling, Luis Aparicio and
Omar Vizquel
-- have played 100 games in a season at shortstop at Jeter's age. He'll turn 40 three weeks before the All-Star break.
The world champion Red Sox mostly will be without their beards this spring, but they will have a new catcher (
A.J. Pierzynski
), a new shortstop (
Xander Bogaerts
) and several candidates to be their new center fielder, including
Grady Sizemore
, who hasn't taken an at-bat in the big leagues since 2011. The Rays will have
David Price
, who hasn't been traded and now, it appears, might not be traded this season. The Orioles might start the season without
Manny Machado
, who is coming back from a serious knee injury. The Blue Jays will open spring training without the hype of last spring, which is good for them.
The Tigers, under new manager Brad Ausmus, will open the spring with a different infield from the one that took the field last spring, including
Ian Kinsler
at second base and rookie
Nick Castellanos
at third. Even more important, they have a real closer this spring in
Joe Nathan
. The Indians have a new closer,
John Axford
, as well. The Royals have a new leadoff batter (
Norichika Aoki
) and second baseman (
Omar Infante
). Meanwhile, the White Sox have a new first baseman (Cuban
Jose Abreu
) and the Twins' new first baseman is their old catcher,
Joe Mauer
.
The A's added to their bullpen, acquiring closer
Jim Johnson
,
Luke Gregerson
and
Eric O'Flaherty
, and welcomed
Scott Kazmir
to their rotation. The Rangers gave
Prince Fielder
a fresh start at first base, found a position (second base) for
Jurickson Profar
and showed
Shin-Soo Choo
what a great country this is, especially when you reach free agency. Great country? The Mariners gave
Robinson Cano
$240 million, but is there protection around him in that lineup? The Angels made significant changes, none of which will really matter if
Albert Pujols
isn't healthy enough to play first base and produce something close to the Pujols of St. Louis. And if the Astros lose 128 games (they are not nearly that bad), they'll tie the Mets (1962-65) for the most losses ever during any four-year period in history.
The Braves have a new catcher in
Evan Gattis
, and they'll have to figure out how to get the batting averages of
B.J. Upton
and
Dan Uggla
back over .200. The Nationals, under rookie manager Matt Williams, need a healthy
Bryce Harper
(knee) if they're going to win the NL East; in mid-January, he sprinted for the first time without pain. We know the Phillies are in Clearwater, but nothing else about them is clear. The Mets have
Curtis Granderson
and
Bartolo Colon
, but not having
Matt Harvey
for perhaps the entire season will be a bummer. The Marlins still have
Giancarlo Stanton
. How long before that situation changes?
The Cardinals have almost an entirely new infield, a new center fielder (
Peter Bourjos
) and maybe a new right fielder if rookie
Oscar Taveras
is healthy and productive. The Pirates have hope again following a playoff appearance in 2013, and with
Gerrit Cole
for a full season. The Reds have a new manager in Bryan Price; now they need to find a center fielder to replace Shin-Soo Choo: Is this the spring that
Billy Hamilton
steals a job? The Brewers have a new right fielder in
Ryan Braun
; no questions about Biogeneis will be taken, however. The Cubs have a new spring training facility and a new manager, Rick Renteria.
[+] Enlarge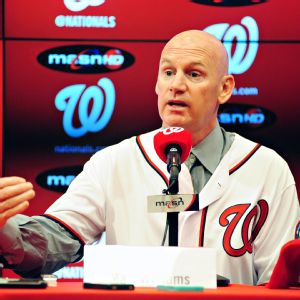 Evan Habeeb/USA TODAY SportsExpectations are once again high for the Nationals, who have a new manager in Matt Williams.
The Dodgers have four outfielders for three spots; one of them,
Matt Kemp
, is coming back from shoulder and ankle injuries -- his health and production will be one of the big stories of the spring. The Diamondbacks have a new left fielder,
Mark Trumbo
, who might hit 40 homers in their ballpark. The Dodgers and Diamondbacks will open the season March 22 in Australia; let's hope there isn't a major brawl Down Under. The Giants added
Tim Hudson
, and
Pablo Sandoval
subtracted 42 pounds. The Padres signed
Josh Johnson
to pitch in a rotation headed by
Ian Kennedy
-- here's hoping they play a doubleheader this year, and go with the Kennedy-Johnson ticket. The Rockies will open camp with
Troy Tulowitzki
, but, for the first time since 1988, they'll begin a season without
Todd Helton
.
There will be lots of stories, questions and sunshine this spring. It is the best time of year. It is a time for optimism: No one has lost a game, the rookies all have promise and the veterans believe it will be their best year. It is baseball in its purest form, a time for wind sprints, fundamentals, split-squad games on a back field where only the scouts are watching. Millionaire players are humanized and humbled in spring training. They are not receiving enormous paychecks every two weeks, and they're getting the same meal money as the rookie in his first big league camp. No one is exempt from the three-hour bus rides, playing on fields that aren't manicured to major league standards, and facing anonymous Class A pitchers who throw really hard, but have no idea where the ball is going. It is the one time of year that
Justin Verlander
and a 20-year-old kid are on equal ground. It is the one time of year that a player gets on the bus in uniform, just like in high school.
Eleven years ago, Indians pitcher
Brian Anderson
boarded the team bus at 8 a.m. for the two-hour drive to Vero Beach, Fla., for a spring training game. Thirty minutes into the trip, Anderson realized he had forgotten his hat, his spikes and his glove back in Winter Haven.
"I was running late that morning because I knew I was going to get to hit in the game, so I was looking for the really important things: batting gloves and a bat," Anderson said. "When we got to Vero, I was in full panic mode. I borrowed a car and went to a mall, but there wasn't one glove in the whole mall, but I found some adidas spikes. On the way back to the ballpark, I saw a WalMart. I thought, 'Hey, WalMart has everything ... tires ... produce ... it must have a baseball glove.' I found one: $29.95, already broken in. It was a softball glove. A Wilson. It was awful. I borrowed someone's hat and pitched in the game. Of course, I got three comebackers to the mound, and I caught them all because my new glove was as big as a butterfly net, it made
[Greg] Maddux
's glove look small. That day reminded me of when I was 17 playing Legion ball. That is spring training to me."
Only in spring training could this story happen. The Twins signed infielder
Tsuyoshi Nishioka
in the spring of 2011. He didn't speak much English, and didn't know anyone on the team. Several teammates convinced Twins outfielder
Denard Span
to introduce himself to Nishioka, to make him feel more a part of the team. Only they tricked Span -- they told him that Ray Chang, another infielder, was Nishioka. So Span, ever respectful, approached Chang, bowed gracefully, introduced himself, and asked him if he spoke English.
"Sure I do," Chang said. "I'm from Kansas City!"
The whole team howled.
[+] Enlarge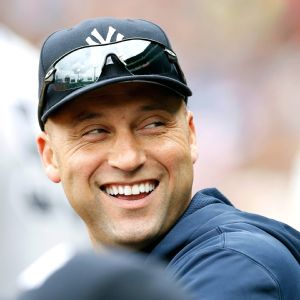 Greg M. Cooper/USA TODAY SportsDerek Jeter, who played only 17 games last season, enters the final year of his career hoping to stay healthy.
Only in spring training could then-Rays first baseman
Carlos Pena
make a mistake in a baserunning drill, then justify it by quoting Dr. Martin Luther King's "I Have A Dream" speech. "My first baseman is quoting Dr. King," said Rays manager Joe Maddon. "I love it."
Only in spring training would pitcher
Jeremy Guthrie
, now with the Royals, ride his bike to work. "It was only five miles," he said of his daily ride two springs ago to the Rockies' facility. Then-teammate
Michael Cuddyer
said of Guthrie, laughing, "He once pitched in a game in Scottsdale, then got on his bike -- still in full uniform, with his glove on the handlebars -- and rode back to our facility. It was like a scene from 'The Sandlot.'"
Only in spring training would then-Padres pitcher
Chris Young
and
Will Venable
pick teams for a free throw shooting tournament because both guys played basketball at Princeton. "That's as nervous as I've ever been for an athletic competition," Young said with a smile, "because I'm not a great free throw shooter, and my team was depending on me to be good." Only in spring training would the Twins hold a bowling tournament behind the KFC in Fort Myers and, said Twins manager Ron Gardenhire, "Joe Mauer would be high-fiving his teammates, guys he's never met in his life, after they rolled a strike." Only in spring training could Jeff Stone get thrown out at all four bases in one game, and only one of them was a forceout (think about that). Only in spring training could Rockies pitcher David Lee, in an emergency, drive the team bus on a night trip, then earn the nickname "Diesel" when he stopped the bus and announced, "We've got to get some diesel!"
Only in spring training is time taken to get in baseball shape. "We're always inventing drills and conditioning programs in spring training," said Rich Donnelly, now the manager of the Mariners' Triple-A team. "Years ago, we'd do 10 jumping jacks, touch our toes twice, then play. Today, these strength and conditioning coaches are always coming up with new stuff: rubber bands, parachutes, cones. I just can't imagine Ted Williams going to spring training and running with a parachute on his back, or Babe Ruth jumping over a bunch of cones."
It is a time for the fans, especially kids. Families take vacations to spring training. Getting a player's autograph is easier because everything and everyone is more relaxed than during the regular season. Well, except for when the Red Sox and Yankees played for the first time in spring training 2004, their first meeting since
Aaron Boone
's home run had sent the Yankees to the World Series, and sent the Red Sox home. Tickets were scalped for $500 for an exhibition game! Before the game, there was a fight in the parking lot at City of Palms Park in Fort Myers between a Yankees fan and a Red Sox fan ... both fans were women!
It's spring training. Finally. We can't wait.
March, 4, 2013
3/04/13
7:54
PM ET

NORTH SCOTTSDALE -- Spring training games are generally low-key affairs. They aren't supposed to lead to bad relations. But there were some upset managers at Monday afternoon's Diamondbacks-Red game. And that was before the game even started.

The issue? The designated hitter. Cincinnati manager Dusty Baker wanted to use the DH in the game. Arizona manager Kirk Gibson did not. Whether the DH is used during a spring training game is up to the home team to decide and Gibson decided he didn't want to use it. One reason is that Arizona's starting pitcher, Brandon McCarthy, hasn't had a major league at-bat in four years and needs to get some experience in the box, especially given that he was hit by a line drive last season.

The Diamondbacks informed the Reds of that decision before the game so Gibson was surprised -- and irritated -- when the Reds lineup card had a DH that Cincinnati would not be allowed to use. Thus, when the two managers exchanged lineup cards at home plate before the game, they also exchanged some heated words.

"It's up to the home team what they want to do but usually here we let teams DH early (in spring training)," Baker said. "That's the way it is. We didn't have a very pleasant encounter at home plate. That's how it goes. It's over."

"It was good locker room talk," Gibson told reporters. "They knew we were going to do it that way. I wanted to play a National League game They just wanted to do it their way. We play by the rules here."
February, 16, 2013
2/16/13
7:34
PM ET
GOODYEAR, Ariz. --
Aroldis Chapman
burst through the doors of the Cincinnati Reds' clubhouse into a bright sunny Saturday afternoon. He had an ice pack on his left shoulder and his interpreter, Reds assistant athletic trainer Tomas Vera, by his side.
Chapman was squinting ever so slightly, but that might have been the product of a hazy future rather than a high desert sky.
The 24-year-old is the focus of one of the most intriguing stories of spring training (non-Biogenesis Clinic division). The Reds are planning to move him to the starting rotation from the back end of the bullpen, where he was virtually unhittable last season, and the decision is generating lots of reaction in the baseball world in a very
Joba Chamberlain
-
Neftali Feliz
-
Daniel Bard
way.
General manager Walt Jocketty and pitching coach Bryan Price have endorsed the transition, under the thinking that Chapman has considerable upside as a pitcher and will ultimately be more valuable throwing 200-plus innings a year as a starter rather than 70 in the bullpen. They're convinced that's true even if 140-150 innings might be the best they can hope for this season.
Cincinnati's marketing folks also seem cool with the arrangement, judging from the Chapman Pick 6 ticket plan that the team is pushing and the inclusion of Aroldis Chapman Bobblehead Night on the schedule May 11 versus Milwaukee.
Reds manager Dusty Baker … not so much. Conventional wisdom is that Baker preferred the old system because it was so comforting to hand the ball to Chapman in the ninth inning, watch him flirt with triple digits or surpass it and know that within a matter of minutes, he was almost certain to be shaking hands with catcher
Ryan Hanigan
or
Devin Mesoraco
.
The Reds won 97 games and a division title under the old format, and the if-it-ain't-broke-don't-fix-it crowd wonders if they're courting bad karma by doing something overly drastic.
[+] Enlarge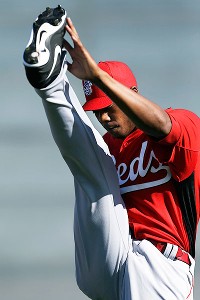 AP Photo/Paul SancyaThe Reds believe it isn't a stretch to think Aroldis Chapman can thrive as a starter.
Chapman saved 38 games, averaged 15.3 strikeouts per nine innings and logged a 1.51 ERA, so he didn't experience a lot of off days as a closer.
Jonathan Broxton
, his successor, made back-to-back All-Star teams with the
Los Angeles Dodgers
in 2009 and 2010 but hasn't performed at nearly the same level since.
Baker's demeanor in a morning bull session with reporters Saturday confirmed that Chapman's shift to the rotation is not his favorite topic of conversation. He made it clear that: A) he's already tired of the topic; and B) it wasn't his call.
"This is an organizational decision," Baker told reporters. "I'm not the whole organization. I'm the one that has to speak about it."
While others in the organization have Chapman's best long-term interests in mind, Baker is more inclined to focus on winning today's game. He is like most managers in that regard, so it's no surprise that there is some division within the Reds hierarchy over whether this is the right thing to do. If this doesn't exactly qualify as a rift, it certainly makes for spirited debate.
One scout told ESPN.com that Chapman is a "thrower, not a pitcher," but Price and Jocketty beg to differ. They point out that Chapman was the Reds' best starter in spring training of 2012, before a run of injuries prompted them to move him to the bullpen out of desperation.
Chapman threw his fastball 88 percent of the time as a closer, according to FanGraphs. He won't have the luxury of blowing fastballs past hitters for five, six or seven innings, so it's imperative that he works on his slider and splitter in spring training and incorporates them into the mix by Opening Day.
He has yet to swing a bat in the big leagues, and Chapman said he's more concerned with his bunting than his offensive contributions at this point. He will also have to spend more time working on his fielding and his pickoff move, which didn't come into play often when he was closing games as hardly anyone reached base. But Jocketty thinks he has the physical gifts to handle the complementary demands of starting.
"He's a great athlete," Jocketty said.
If Chapman has any misgivings or second thoughts about the move, he's in no mood to share them. But when asked which role he would prefer if given a choice -- closer or starter -- he provided some telling insight into his frame of mind.
"If you have to choose, you choose what you've been successful with," he said through his interpreter. "I haven't started in the big leagues. As a closer, it was great. If you have to choose, you choose where you've been great."
Lest someone think that Chapman is quietly resistant to changing job descriptions, Vera quickly set the record straight.
"You have to understand Chapman," Vera said. "He's going to do what they tell him to do. If they tell him tomorrow to go out and take fly balls in center field, he's going to do it. He doesn't question. He's a soldier. He just works. He doesn't create controversy, because he doesn't think that's going to take him anywhere."
In this case, Chapman might wind up in the middle of controversy regardless of his best intentions. The success of Cincinnati's grand experiment will ultimately hinge on his performance, Broxton's performance and the Reds' win total.
That's the great thing about baseball debates: They always play out on the field.
February, 16, 2013
2/16/13
5:10
PM ET
GOODYEAR, Ariz. -- The
Cincinnati Reds
expect to compete for a National League pennant this year despite a roster that's young in several places. It got even younger this week when veteran third baseman
Scott Rolen
declined an invitation to come to spring training camp.
"He brought our average age down," said general manager Walt Jocketty. "I thanked him for that."
Rolen, 37, is the only third baseman in history with at least 2,000 hits, 500 doubles, 300 homers, 1,200 RBIs and six Gold Glove awards. But he's been slowed by back and shoulder injuries in recent years. In a statement this week, Rolen said he wants to leave his options open, "without closing any doors."
The Reds are set up nicely without him.
Todd Frazier
, who finished third in NL Rookie of the Year balloting, slides in at third base, and former MVP
Joey Votto
is hoping to rediscover his old MVP form at first base after having the winter to recover from a knee injury.
The general consensus is that Rolen wants to slide into retirement with a minimum of hoopla or emotion. But Jocketty wouldn't rule out the possibility that Rolen would get the itch and decide he wants to play again.
"He told me he's at a place right now where he's really enjoying the time with his family and he wasn't ready to make the commitment to come in," Jocketty said. "He apologized for dragging it out so long. I told him, 'We're prepared either way. If you come in, great. If you don't, we'll make adjustments.' We'll just have to see where we are at that point.'
"He's had such a great career. I told him no matter what happens, at some point he needs to be recognized. He's not the type of guy who's going to want to go out and tour the country like some guys do. But he ought to be recognized in Cincinnati."
The last time Jocketty spoke to Rolen, about a week ago, he got the impression that Rolen is still in excellent shape. The Reds confirmed that's the case recently when the team's strength and conditioning coach, Matt Krause, conferred by phone with Rolen's personal trainer.
Rolen achieved the bulk of his career success in Philadelphia and St. Louis, and he collected only 36 of his 316 home runs and 304 of his 2,077 hits in Cincinnati. But the Reds remember him warmly for his competitiveness and his wry sense of humor.
According to Baseball-reference.com, Rolen earned about $117 million over 17 seasons. It was Jocketty, then St. Louis' general manager, who signed Rolen to an eight-year, $90 million contract extension after the Cardinals acquired him from Philadelphia by trade in July 2002.
"He's thanked me several times for making him a millionaire," Jocketty said with a laugh.