Spring Training:

Cleveland Indians
March, 11, 2014
3/11/14
10:45
AM ET
GOODYEAR, Ariz. --
Carlos Santana
's spirit is certainly willing. In his attempt to become a serviceable big league third baseman, he has done everything but change his first name to Cletis and read "Pie Traynor: A Baseball Biography" from cover to cover.
During the offseason, Santana played third base back home in the Dominican winter league and received lots of pointers from countryman and former big leaguer
Fernando Tatis
. He has spent hours on the back fields this spring embracing the nuances of third-base play with the help of
Cleveland Indians
coach Mike Sarbaugh. And when asked whether he has a hot corner role model, he quickly mentions
Adrian Beltre
, so he clearly has been paying attention.
The only thing Santana lacks right now is time for a learning curve. Sometime in the next couple of weeks, the Indians brass will have a better idea whether his shift from catcher to third base was an inspired idea, a noble experiment gone awry or something in the middle. At the moment, the team is keeping its options open and hoping for the best while preparing for every possible scenario. Stay ready,
Lonnie Chisenhall
.
"Early in camp, you have to remember that he was a catcher and he hasn't played third very much," Indians manager Terry Francona said. "But when the season starts, that's history."
[+] Enlarge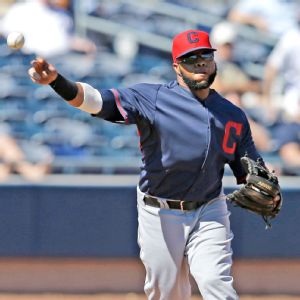 AP Photo/Darron CummingsRather than be just an every-day DH for the Indians in 2014, Carlos Santana, 27, is learning to play third base this spring.
Santana, 27, has been a focal point of Cleveland's lineup since becoming an every-day player three years ago. Since 2011, he ranks first among major league catchers in runs scored (231) and walks (281). He's second to Baltimore's
Matt Wieters
in homers (65) and RBIs (229), second to St. Louis'
Yadier Molina
in hits (405) and doubles (101), and fifth overall in OPS at .808.
But the development of
Yan Gomes
, the first native Brazilian to play in the majors, has changed the equation at Progressive Field. After Gomes hit .294 with an .826 OPS and a 4.0 WAR and threw out 41 percent of would-be base stealers last season, the Indians decided he had earned the right to play 120 to 130 games behind the plate. That meant Santana was destined to be the designated hitter, a scenario that didn't appeal to him, so the two sides had a heart-to-heart late in the season.
The Indians were candid with Santana about where things stood, and rather than pout, Santana proposed the idea of a move to third base. The time and effort he has invested in the transition has earned him a wave of respect and admiration in the Cleveland clubhouse.
"It says a lot about him," Gomes said. "When I started catching more last year, our relationship didn't change. It didn't make it awkward between us or anything. He's a team-first guy. Anywhere he plays, he's going to be a huge part of this team."
Workout warrior
Santana is not a complete novice at third base. He played 58 games at the position in the low minors with the
Los Angeles Dodgers
before moving behind the plate in the Class A Midwest League in 2007. He advanced through the minors and got a chance to blossom when the Indians acquired him in a July 2008 trade for
Casey Blake
.
In Goodyear, Santana compensates for his lack of experience at third with diligence and punctuality. When the schedule permits, he'll hit the back fields with Sarbaugh at 8:20 a.m. for a 25-minute tutorial on the art of third-base play.
Santana begins on his knees, working on reactions and glove positioning while Sarbaugh hits him grounders from a distance of 30 to 40 feet. Then the coach rolls him a series of balls, and he concentrates on footwork. Santana focuses on staying through his throws while Sarbaugh hits him fungoes, practices fielding balls backhanded, and sees a wide range of worm burners, choppers and balls hit with topspin to conclude the day's festivities. The Indians were barely three weeks into spring training, and player and coach had been through the routine 15 times.
"He's very motivated, and that's half the battle right there," Sarbaugh said. "I expect him to make some mistakes, but he'll learn from those mistakes."
The problem is, no amount of solitary work on a back field can match the challenge of doing things at game speed, and Santana has had some hiccups in Arizona. Ominously, he made an error on the first ball hit to him in the Cactus League. In a recent game against the Cubs, he dropped a line drive before making an awkward, cringe-inducing lollipop throw to second base for a force play. One scout in Arizona said reviews on Santana's ability to play third have been "mixed."
Third base presents some unique challenges because of the wide range of skills required. A third baseman might go an entire game without fielding a ball, then encounter a slow roller that requires him to charge hard, grab the ball barehanded and throw across his body while airborne. The play after that, he might get a bad-hop laser that puts his dental work at risk.
Santana also needs to shed some of his old catching habits. Catchers are accustomed to springing from a crouch and firing the ball to second or third base in an attempt to cut down aspiring base stealers. Third basemen, in contrast, need to stay low to the ground and generate forward momentum when they throw. Much of the transition involves being mentally and physically engaged before the pitcher even delivers the ball to home plate.
"The big thing is his pre-pitch setup, how to be ready as that ball is crossing the hitting zone," Sarbaugh said. "We're really emphasizing that. That ball is gonna come at you pretty quick at the corners. We talk about the initial steps, going to his left and right, and the footwork and how to approach a ground ball. Then it's about getting in a good, square position and finishing the play. We're trying to keep it simple and not give him too much information."
Some players never warm to the position, no matter how glitzy their résumés. The
Boston Red Sox
tried Carl Yastrzemski at third base in 1973, and he made 12 errors in a month.
Ryan Braun
insists he could be a capable big league shortstop if given time to prepare but concedes he has no desire to play another inning at third. The list of players who found they simply weren't meant to play the corner ranges from
Derek Bell
to Butch Huskey to
Mark Trumbo
to
Chase Utley
.
No fear factor
In one respect, Santana's experience behind the plate helps ease his transition. Some players have a hard time adapting to third base because of the natural human inclination for self-preservation. But if anyone is going to roll with the possibility of taking a ball off the chops, it's a catcher.
"

He's very motivated, and that's half the battle right there. I expect him to make some mistakes, but he'll learn from those mistakes.

"

-- Mike Sarbaugh, Indians
coach, on Santana
"I think you take that fear away after being behind the plate," said Indians DH
Jason Giambi
, who broke into pro ball as a third baseman with Oakland in 1992. "He's probably thinking, 'Thank God I don't have to block balls in the dirt anymore.'"
If Santana has any misgivings about his decision a month into camp, he's not interested in sharing them for public consumption.
"It's a big transition from behind the plate to third base, but I'm preparing," he said. "It's not hard for me right now. Maybe later. You never know."
When
Joe Mauer
switched to first base because of his concussion problems, he put away his catcher's mitt for good. Santana's transition will not be so abrupt. If the Indians determine he's not an every-day third baseman, they'll cobble together 600-plus plate appearances for him at third base, catcher and DH. Santana has averaged 151 games per season since 2011, and the Tribe will find a way to get his bat in the lineup somehow.
Regardless of how things shake out, Santana isn't the only player affected. His status is sure to have an effect on Chisenhall, a third-base prospect who is still trying to fulfill the expectations he carried as a first-round pick in 2008. Chisenhall has 23 homers and 74 RBIs in 643 big-league at-bats -- and a .194 batting average and .225 on-base percentage against left-handed pitching.
So how will things play out over the next two to three weeks?
"The only fair way to do it is to evaluate Carlos as a third baseman," Francona said, "because our goal is to have the best third baseman, not the best converted guy who's a third baseman. What's our best ballclub? How do we get situated the best where we can win the most games?"
The storyline isn't quite up there with LeBron James' "Decision" as a seminal event in Cleveland sports history, but Santana's path could have significant ramifications for an Indians franchise with playoff aspirations. The closer Opening Day comes into view, the higher the stakes get.
February, 21, 2014
2/21/14
3:22
PM ET
GOODYEAR, Ariz. -- The
Cleveland Indians
spent Friday morning doing drills and taking batting practice before knocking off early for a charity golf tournament in the afternoon. But for a few anxious moments in between, new closer
John Axford
's mind was strictly on ice hockey.
Axford and catcher
Luke Carlin
, both native Canadians, stood in front of the clubhouse TV and sweated out the final moments of Team Canada's 1-0 victory over the U.S. men in the Olympic semifinals in Sochi, Russia. They exchanged high-fives and Axford joked, "Sorry, America" to his fellow teammates on his way back to his locker.
Axford, from Ontario, isn't shy about expressing his nationalistic rooting interests, and that's made for some lively banter and trash talk in the Cleveland clubhouse. Outfielder
Jeff Francoeur
mercilessly ribbed Axford when the U.S. women were up 2-0 and on the verge of winning a gold medal Thursday. After Canada rallied to win 3-2 in overtime, Francoeur went out of his way to avoid Axford.
On Thursday, Axford wore a maple leaf T-shirt to the park. On Friday, he hung a black "Team Canada" jersey from his locker stall and wore red-and-white sneakers. As Team Canada prepares to take on Sweden in the final Sunday, he plans to stick with the program.
"You've got to be proud of your country," Axford said. "I've been wearing Canadian gear, so I might just have to bust out this jersey again for Sunday. You don't want to repeat wardrobes too many times, but for the Olympics, it's OK."
February, 21, 2014
2/21/14
1:49
PM ET
GOODYEAR, Ariz. --
David Murphy
attracted lots of attention in November with one of the cutest news leaks in memory. Word of his pending free-agent deal with the
Cleveland Indians
made the rounds after his 5-year-old daughter let it slip at her day-care center. The next thing Murphy knew, his two-year, $12 million agreement with the Indians was splashed all over the Internet.
Three months later, Murphy has recovered from the initial embarrassment and is able to have a good laugh about it. It helps that the disappointment of the 2013 season fades just a little bit more each day.
Murphy, by his own admission, never got on track last season in Texas. After hitting .304 with an .859 OPS in 2012, he dipped to .220 and .656 in 2013. He batted .198 on the road, slugged .291 versus lefties and never got into a consistent rhythm at the plate.
[+] Enlarge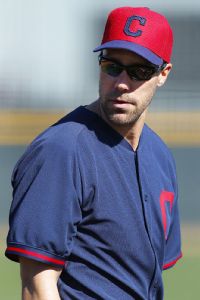 AP Photo/Paul SancyaFirst order of business for David Murphy in Cleveland: put 2013 behind him.
Murphy is one of the more insightful and analytical players you'll find, and he spent the offseason trying to pinpoint the source of his problems. In hindsight, he determined that his travails had little to do with the pressure of playing for a new contract in his free-agent "walk" year.
"I really try to look in the mirror and be truthful when it comes to that," Murphy said. "You can see it being a pressure and a stress on top of just going out there and trying to perform for your team, but I don't feel like it was that big of a deal for me. I know I'm not a high-profile guy. Yes, if I would have had a good year, I probably could have gotten a better payday, but at the end of the day, I still got a nice contract. And I've still made plenty of money in this game to take care of my family, so it's not like it was a make-or-break, life-and-death situation."
Murphy thinks his problems stemmed more from changing his approach to compensate for the loss of
Josh Hamilton
,
Michael Young
and
Mike Napoli
from the Texas lineup.
"I tried to step outside of the player I had been in the past," he said. "I was motivated to play a bigger role in the offense, but I kind of went about it the wrong way. I tried to be a different player and hit for more power. I think I tried to pull the ball a little too much, and my swing got a little bit long. It was a good learning experience. It wasn't fun to experience, but I've seen a lot of great players who have had way better careers than me have some tough years."
Murphy will probably bat sixth in the order for manager Terry Francona in Cleveland. The Indians tied for fourth in the American League with 745 runs scored and ranked seventh in OPS at .737, and there appears to be room for improvement. Other than
Yan Gomes
and
Ryan Raburn
, no Cleveland hitter posted numbers in 2013 that were appreciably better than his career norms.
The plan calls for
Michael Brantley
to play left field,
Michael Bourn
to return to center and Murphy to shift from left field to right. He's made 142 career starts in right field (compared to 483 in left and 40 in center) and anticipates a relatively smooth transition.
"I went from having a pretty good left-field arm to having one of the worst right-field arms," Murphy said with a laugh. "But I'll try to be accurate."
February, 14, 2014
2/14/14
10:00
AM ET
As there are every spring, there are great baseball stories everywhere -- from Tampa to Tempe, from Jupiter to Space Coast Stadium, from Goodyear to Surprise.
Which teams will have a good year? Which teams will surprise? The questions are what make spring training so great, so fascinating. They are what define this time of year, along with warm weather, hope and the belief that March 29 will be the last useless evening that we'll have to spend.
[+] Enlarge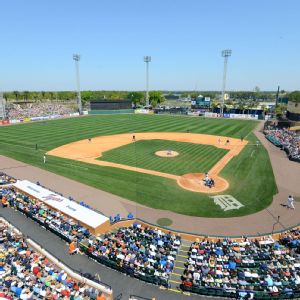 Mark Cunningham/MLB Photos via Getty ImagesNothing beats the look and feel of spring training.
It all begins, as so many spring trainings have before, with the Yankees in Tampa. We will get our first look at
Masahiro Tanaka
, who the Yankees made the fifth-highest paid pitcher in major league history before he ever threw a pitch in the big leagues. Is his splitter as good as everyone says? We will see
Jacoby Ellsbury
,
Brian McCann
and
Carlos Beltran
in Yankee uniforms, and we will see
Derek Jeter
in the final year of his career play shortstop at age 39; only five players in the game's history -- Honus Wagner, Rabbit Maranville, Luke Appling, Luis Aparicio and
Omar Vizquel
-- have played 100 games in a season at shortstop at Jeter's age. He'll turn 40 three weeks before the All-Star break.
The world champion Red Sox mostly will be without their beards this spring, but they will have a new catcher (
A.J. Pierzynski
), a new shortstop (
Xander Bogaerts
) and several candidates to be their new center fielder, including
Grady Sizemore
, who hasn't taken an at-bat in the big leagues since 2011. The Rays will have
David Price
, who hasn't been traded and now, it appears, might not be traded this season. The Orioles might start the season without
Manny Machado
, who is coming back from a serious knee injury. The Blue Jays will open spring training without the hype of last spring, which is good for them.
The Tigers, under new manager Brad Ausmus, will open the spring with a different infield from the one that took the field last spring, including
Ian Kinsler
at second base and rookie
Nick Castellanos
at third. Even more important, they have a real closer this spring in
Joe Nathan
. The Indians have a new closer,
John Axford
, as well. The Royals have a new leadoff batter (
Norichika Aoki
) and second baseman (
Omar Infante
). Meanwhile, the White Sox have a new first baseman (Cuban
Jose Abreu
) and the Twins' new first baseman is their old catcher,
Joe Mauer
.
The A's added to their bullpen, acquiring closer
Jim Johnson
,
Luke Gregerson
and
Eric O'Flaherty
, and welcomed
Scott Kazmir
to their rotation. The Rangers gave
Prince Fielder
a fresh start at first base, found a position (second base) for
Jurickson Profar
and showed
Shin-Soo Choo
what a great country this is, especially when you reach free agency. Great country? The Mariners gave
Robinson Cano
$240 million, but is there protection around him in that lineup? The Angels made significant changes, none of which will really matter if
Albert Pujols
isn't healthy enough to play first base and produce something close to the Pujols of St. Louis. And if the Astros lose 128 games (they are not nearly that bad), they'll tie the Mets (1962-65) for the most losses ever during any four-year period in history.
The Braves have a new catcher in
Evan Gattis
, and they'll have to figure out how to get the batting averages of
B.J. Upton
and
Dan Uggla
back over .200. The Nationals, under rookie manager Matt Williams, need a healthy
Bryce Harper
(knee) if they're going to win the NL East; in mid-January, he sprinted for the first time without pain. We know the Phillies are in Clearwater, but nothing else about them is clear. The Mets have
Curtis Granderson
and
Bartolo Colon
, but not having
Matt Harvey
for perhaps the entire season will be a bummer. The Marlins still have
Giancarlo Stanton
. How long before that situation changes?
The Cardinals have almost an entirely new infield, a new center fielder (
Peter Bourjos
) and maybe a new right fielder if rookie
Oscar Taveras
is healthy and productive. The Pirates have hope again following a playoff appearance in 2013, and with
Gerrit Cole
for a full season. The Reds have a new manager in Bryan Price; now they need to find a center fielder to replace Shin-Soo Choo: Is this the spring that
Billy Hamilton
steals a job? The Brewers have a new right fielder in
Ryan Braun
; no questions about Biogeneis will be taken, however. The Cubs have a new spring training facility and a new manager, Rick Renteria.
[+] Enlarge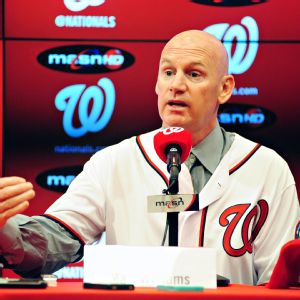 Evan Habeeb/USA TODAY SportsExpectations are once again high for the Nationals, who have a new manager in Matt Williams.
The Dodgers have four outfielders for three spots; one of them,
Matt Kemp
, is coming back from shoulder and ankle injuries -- his health and production will be one of the big stories of the spring. The Diamondbacks have a new left fielder,
Mark Trumbo
, who might hit 40 homers in their ballpark. The Dodgers and Diamondbacks will open the season March 22 in Australia; let's hope there isn't a major brawl Down Under. The Giants added
Tim Hudson
, and
Pablo Sandoval
subtracted 42 pounds. The Padres signed
Josh Johnson
to pitch in a rotation headed by
Ian Kennedy
-- here's hoping they play a doubleheader this year, and go with the Kennedy-Johnson ticket. The Rockies will open camp with
Troy Tulowitzki
, but, for the first time since 1988, they'll begin a season without
Todd Helton
.
There will be lots of stories, questions and sunshine this spring. It is the best time of year. It is a time for optimism: No one has lost a game, the rookies all have promise and the veterans believe it will be their best year. It is baseball in its purest form, a time for wind sprints, fundamentals, split-squad games on a back field where only the scouts are watching. Millionaire players are humanized and humbled in spring training. They are not receiving enormous paychecks every two weeks, and they're getting the same meal money as the rookie in his first big league camp. No one is exempt from the three-hour bus rides, playing on fields that aren't manicured to major league standards, and facing anonymous Class A pitchers who throw really hard, but have no idea where the ball is going. It is the one time of year that
Justin Verlander
and a 20-year-old kid are on equal ground. It is the one time of year that a player gets on the bus in uniform, just like in high school.
Eleven years ago, Indians pitcher
Brian Anderson
boarded the team bus at 8 a.m. for the two-hour drive to Vero Beach, Fla., for a spring training game. Thirty minutes into the trip, Anderson realized he had forgotten his hat, his spikes and his glove back in Winter Haven.
"I was running late that morning because I knew I was going to get to hit in the game, so I was looking for the really important things: batting gloves and a bat," Anderson said. "When we got to Vero, I was in full panic mode. I borrowed a car and went to a mall, but there wasn't one glove in the whole mall, but I found some adidas spikes. On the way back to the ballpark, I saw a WalMart. I thought, 'Hey, WalMart has everything ... tires ... produce ... it must have a baseball glove.' I found one: $29.95, already broken in. It was a softball glove. A Wilson. It was awful. I borrowed someone's hat and pitched in the game. Of course, I got three comebackers to the mound, and I caught them all because my new glove was as big as a butterfly net, it made
[Greg] Maddux
's glove look small. That day reminded me of when I was 17 playing Legion ball. That is spring training to me."
Only in spring training could this story happen. The Twins signed infielder
Tsuyoshi Nishioka
in the spring of 2011. He didn't speak much English, and didn't know anyone on the team. Several teammates convinced Twins outfielder
Denard Span
to introduce himself to Nishioka, to make him feel more a part of the team. Only they tricked Span -- they told him that Ray Chang, another infielder, was Nishioka. So Span, ever respectful, approached Chang, bowed gracefully, introduced himself, and asked him if he spoke English.
"Sure I do," Chang said. "I'm from Kansas City!"
The whole team howled.
[+] Enlarge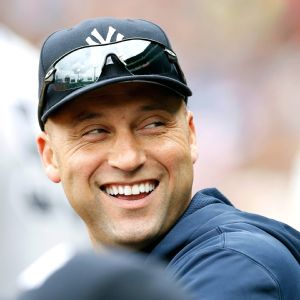 Greg M. Cooper/USA TODAY SportsDerek Jeter, who played only 17 games last season, enters the final year of his career hoping to stay healthy.
Only in spring training could then-Rays first baseman
Carlos Pena
make a mistake in a baserunning drill, then justify it by quoting Dr. Martin Luther King's "I Have A Dream" speech. "My first baseman is quoting Dr. King," said Rays manager Joe Maddon. "I love it."
Only in spring training would pitcher
Jeremy Guthrie
, now with the Royals, ride his bike to work. "It was only five miles," he said of his daily ride two springs ago to the Rockies' facility. Then-teammate
Michael Cuddyer
said of Guthrie, laughing, "He once pitched in a game in Scottsdale, then got on his bike -- still in full uniform, with his glove on the handlebars -- and rode back to our facility. It was like a scene from 'The Sandlot.'"
Only in spring training would then-Padres pitcher
Chris Young
and
Will Venable
pick teams for a free throw shooting tournament because both guys played basketball at Princeton. "That's as nervous as I've ever been for an athletic competition," Young said with a smile, "because I'm not a great free throw shooter, and my team was depending on me to be good." Only in spring training would the Twins hold a bowling tournament behind the KFC in Fort Myers and, said Twins manager Ron Gardenhire, "Joe Mauer would be high-fiving his teammates, guys he's never met in his life, after they rolled a strike." Only in spring training could Jeff Stone get thrown out at all four bases in one game, and only one of them was a forceout (think about that). Only in spring training could Rockies pitcher David Lee, in an emergency, drive the team bus on a night trip, then earn the nickname "Diesel" when he stopped the bus and announced, "We've got to get some diesel!"
Only in spring training is time taken to get in baseball shape. "We're always inventing drills and conditioning programs in spring training," said Rich Donnelly, now the manager of the Mariners' Triple-A team. "Years ago, we'd do 10 jumping jacks, touch our toes twice, then play. Today, these strength and conditioning coaches are always coming up with new stuff: rubber bands, parachutes, cones. I just can't imagine Ted Williams going to spring training and running with a parachute on his back, or Babe Ruth jumping over a bunch of cones."
It is a time for the fans, especially kids. Families take vacations to spring training. Getting a player's autograph is easier because everything and everyone is more relaxed than during the regular season. Well, except for when the Red Sox and Yankees played for the first time in spring training 2004, their first meeting since
Aaron Boone
's home run had sent the Yankees to the World Series, and sent the Red Sox home. Tickets were scalped for $500 for an exhibition game! Before the game, there was a fight in the parking lot at City of Palms Park in Fort Myers between a Yankees fan and a Red Sox fan ... both fans were women!
It's spring training. Finally. We can't wait.
February, 14, 2014
2/14/14
9:00
AM ET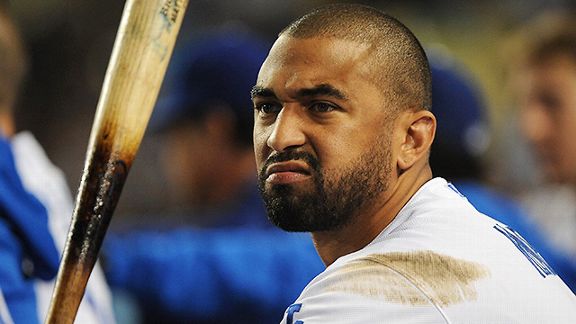 Lisa Blumenfeld/Getty ImagesIs it possible Matt Kemp might miss all of spring training? Could be.
It was in March 2013
that I predicted
that some time during the season,
Yasiel Puig
would become a star on the level of past star rookies such as Fernando Valenzuela and
Hideo Nomo
and create his own mania -- "Puigmania."
Well, it's time for more bold predictions, and I'm beginning with spring training. Let's take a look at my 10 bold predictions for 2014 spring training. (Don't worry, I'll make more bold predictions for the regular season.)
1. Matt Kemp doesn't play in a single major league spring training game.

Kemp is still recovering from microfracture surgery on his left talus bone (a major weight-bearing bone in his ankle), and I think he will begin the season on the disabled list.
February, 13, 2013
2/13/13
5:15
PM ET
GOODYEAR, Ariz. -- The
Cleveland Indians
haven't even held their first full-squad workout yet, and
Nick Swisher
is already having an impact on the proceedings at spring training camp.
Earlier this week, Swisher ventured out behind the clubhouse to thank the groundskeepers for doing such a great job getting the fields in shape. When he determined things were too quiet, he bought portable sound systems for the clubhouse and indoor batting cage. And anyone who walks past Swisher's locker in the morning risks having a football whiz past his head.
His new teammates -- even those who weren't favorably inclined toward Swisher during his tenure with the
New York Yankees
-- are quickly warming to his personality. Closer
Chris Perez
, who lives in the same neighborhood as Swisher in Tampa, Fla., during the offseason and has played golf with him once or twice, always disliked Swisher as a Yankee because "it took him forever to get back in the box" between pitches. Now he's a hard-core Swisher fan.
"I'm not going to lie: He was my least favorite player in the league when we faced him," Perez said. "You'd see some of his antics from across the field and you'd be like, 'Really? Is this a show?' I remember we played them once and he had a great game. He made three or four great catches, and every time he'd turn around [and look at] the fans. You'd be like, 'Come on.'
"But when you get to know him on a personal level, he's genuine. He's true. That's him. He brings that energy every single day. We didn't have that in the second half last year. It's well-documented how bad we were, and it was kind of a dead atmosphere in the locker room. You don't have to worry about that with him."
Swisher, who signed a four-year, $56 million contract in January, is a central piece in an offseason makeover that is generating some spring training buzz around the Indians.
Michael Bourn
is scheduled to take his physical exam Thursday and make his new four-year, $48 million deal complete. The Indians have also added outfielder
Drew Stubbs
, infielders
Mark Reynolds
and
Mike Aviles
and pitchers
Brett Myers
and
Trevor Bauer
to the mix in an active offseason for general manager Chris Antonetti.
Reynolds, Stubbs and Swisher, a switch-hitter, bring some right-handed balance to a lineup that has been predominantly left-handed in recent years. Swisher, who has averaged 26 homers and 83 RBIs a season since his rookie year with Oakland in 2005, also provides some valuable plate discipline in the middle of the order. He has a career .361 on-base percentage and is among the best in the game at working a count. Last year he ranked ninth among MLB hitters with 4.26 pitches per plate appearance.
Swisher said his first career free-agent experience, while overwhelming at times, was made easier by the knowledge that he wasn't returning to New York. It didn't help that he batted .162 (21-for-130) with seven RBIs in 36 postseason games as a Yankee.
"All roads kind of led to here," Swisher said. "I knew at an early stage that my days in New York were over and there wasn't a chance of me coming back, and it was easier going about the free-agent thing knowing that wasn't an option. I just tried to enjoy it. It's a crazy, crazy time. It really is."
Now that the business aspect has given way to baseball, life is settling into a state of normalcy. Swisher and his wife, actress JoAnna Garcia, are expecting their first child in May, and Swisher said the Indians have treated him "like a king" since he came on board six weeks ago.
He has already shown a willingness to roll with the changes. Swisher expected to play right field when he signed with Cleveland, but Bourn's arrival means he will be moving to first base barring a spring training trade. Swisher made 27 starts at first base with the Yankees last season, so he has a head start on the transition.
Swisher sat down with manager Terry Francona on Tuesday and told him it doesn't matter what position he plays, as long as his name appears on the lineup card somewhere. In this, his 10th big league season, he's not concerned about being the resident "energy guy" or veteran sounding board for the younger Cleveland players. He just wants to be a part of something positive that can last a while.
"I don't need to be a rah-rah guy," Swisher said. "Just be yourself. I didn't come over here to try to do too much. I came over here to have a blast and win some ballgames."