Spring Training:

Kansas City Royals
March, 11, 2014
Mar 11
5:32
PM ET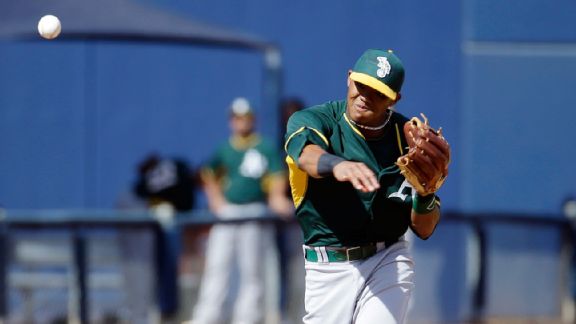 AP Photo/Morry GashAddison Russell, one of the game's best prospects, will be in Oakland sooner than you think.
PHOENIX -- When bouncing around the Cactus League you pick up a lot of good gossip.
It's a very relaxed atmosphere, and after talking to managers and coaches, players, and team executives and general managers here's some of the buzz I've collected while visiting three AL spring training camps: The
Oakland Athletics
,
Texas Rangers
and
Kansas City Royals
.
Tomorrow we'll touch on two NL West camps: The
Los Angeles Dodgers
and
San Francisco Giants
.
---
Oakland Athletics

• The A's are not going to let
Super Two
status stand in the way of promoting shortstop Addison Russell. Whenever he's ready, they'll do it. Though it won't be Opening Day, don't be surprised if he's promoted shortly after if he tears up Double-A. He is really standing out in spring training and as manager Bob Melvin told me, instead of looking like a 20-year-old kid, he got the poise of a 25-year-old veteran.
• Billy Beane made a lot of lopsided trades in his favor this offseason, but the one that scouts are talking about the most is the one that sent
Jerry Blevins
to the
Washington Nationals
for outfielder Billy Burns.
February, 27, 2014
Feb 27
10:59
AM ET
SURPRISE, Ariz. -- Dayton Moore is entering his ninth season as the
Kansas City Royals
' general manager, and he has his share of hits, misses, triumphs and head-scratchers like most executives. When a man's portfolio includes long-term deals for
Jose Guillen
and
Gil Meche
, a Rule 5 grand slam in
Joakim Soria
, big draft investments in
Eric Hosmer
,
Mike Moustakas
and Bubba Starling and trades that sent
Zack Greinke
and
Wil Myers
elsewhere and brought
James Shields
to town, there's plenty to assess.
Yes, it has been a while. Buddy Bell was Kansas City's manager in 2006, and he gave way to Trey Hillman, who moved on for Ned Yost. Through six straight losing seasons, Moore kept issuing calm assurances that fans needed to trust in the "process" and have faith in the power of scouting and player development.
[+] Enlarge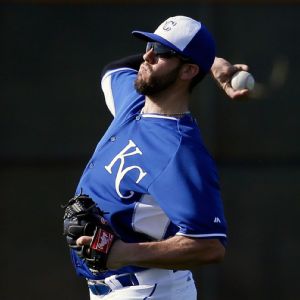 AP Photo/Tony GutierrezJames Shields led the American League in innings pitched (228 2/3) last season and finished the year with a 3.15 ERA.
At long last, diligence and long-range planning have taken the Royals to the precipice that separates promising from chic. At the complex they share with the
Texas Rangers
, the Royals are displaying a palpable sense of confidence that their time has come.
Make the rounds at Kansas City's camp in Surprise, and you'll hear two words ad nauseam. One is "athletic," and the other is "fun." The Royals run on and off the field and play with an enthusiasm that's apparent from every corner of Kauffman Stadium. When Moore and Yost describe the style of play they see each night, it sounds like something out of a season-ticket brochure.
"It's a fun team," Yost said. "When young teams grow into their confidence and they're athletic and have a lot of energy on the field, fans gravitate to that. It almost allows them to participate in the game."
Said Moore: "The good thing about young players is, they grow up someday. These guys are baseball players. They love to play, and they take a lot of pride in playing for one another as homegrown kids. I keep going back to the same thing: At 7 o'clock every night, I'm excited to watch these guys play."
A giant step
According to Baseball-reference.com, Kansas City had the third-youngest assemblage of position players in baseball with an average age of 27.0 last year. Only Houston and Atlanta were younger. So the Royals overcame a bit of a mental hurdle when they went 86-76 and contended for a playoff berth until the waning days of the season. They could have unraveled after an 8-20 May, but found their footing, kept plugging away and put some heat on the Tigers and Indians down the stretch. Their 64-46 record after June 1 was second best in the majors to the
Los Angeles Dodgers
, who posted a 69-40 mark during that span.
In hindsight, two people helped keep the team on an even keel. The first was Yost, who radiated tension at times during his first managerial incarnation in Milwaukee, but to his credit appears to have learned from the experience. The second was George Brett, who came down from his perch as the team's vice president of baseball operations and spent two months as interim hitting coach. Although Brett wasn't much for breaking down hitters' swing mechanics, he was adept at getting inside their heads.
One of Brett's favorite motivational tactics was to approach each player with a little exercise in self-awareness.
"I would ask Mike Moustakas, 'What's your name?'" Brett said. "He would say Mike Moustakas. And I would say, 'Then
be
Mike Moustakas. You're not
Barry Bonds
or
Mark McGwire
.' Then I'd do the same thing with Eric Hosmer and
Billy Butler
and the other guys. In the end, I think they learned a little bit last year that they can only do what they're capable of doing. Once you try to do more than that, you're not going to succeed."
So what makes the Royals a hot commodity this year for reasons other than togetherness and maturity?
• The lineup is set at every position and should be stronger from top to bottom with the addition of right fielder
Norichika Aoki
, who came over from Milwaukee in a trade, and second baseman
Omar Infante
, who signed a four-year, $30.25 million deal and should be a nice complement to dynamic shortstop
Alcides Escobar
.
The Royals have a grand total of five career 20-homer seasons from their eight starting position players and DH (two from Butler, two from
Alex Gordon
and one from Moustakas), and ranked 12th in the AL with a .379 slugging percentage. But Aoki gives the team a significant OBP bump at leadoff and allows Yost to drop Gordon down to a run-producing spot where he feels more comfortable. If Escobar, Hosmer, Moustakas and catcher
Salvador Perez
show even a modicum of growth, the Royals should be able to improve upon last year's total of 648 runs scored.
• The bullpen is downright demoralizing to opposing lineups, with
Aaron Crow
,
Luke Hochevar
,
Kelvin Herrera
and friends bridging the gap from the starters to closer
Greg Holland
, the American League's answer to
Craig Kimbrel
. All Holland did last year was strike out 103 batters in 67 innings and hold righties to a .205 on-base percentage.
• The starting rotation is not overpowering with
Jeremy Guthrie
,
Jason Vargas
and
Bruce Chen
behind Shields, but it's pretty good at getting the ball to the pen. Last year Shields challenged his fellow rotation-mates to join him in the quest for 200 innings, and Kansas City's starters finished second to Detroit with 986 2/3 innings pitched. The Royals might not suffer all that much from the loss of
Ervin Santana
and the addition of Vargas, who averaged 203 innings a season from 2010-2012. "You have to pry the ball from that guy's hand with a crowbar," said a scout.
Yost would be very happy if his starters crossed the 1,000-inning barrier that barely eluded them last season.
"When you have experienced veteran pitchers, you want to milk as many innings as you can get out of them," he said. "The score dictates that. When you're winning 2-1 or 1-0 or 3-2 going into the seventh or eighth inning, you're more apt to go to the bullpen. When you have a two- or three-run lead you're more apt to give your starters more leeway, so at the end of the year that fantastic bullpen isn't overworked and it's ready to go in August, September and October."
Yes, take note that he's factoring October into the equation.
At some point soon, the Royals expect their kids to make big pushes.
Yordano Ventura
stands 5-foot-11, 180 pounds and tops out at 102 mph. Power lefty
Danny Duffy
, who was supposed to make an impact two years ago, is now 21 months removed from Tommy John surgery. And Kyle Zimmer, Kansas City's first pick in the 2012 draft, has the stuff, command, poise and mound presence of an elite prospect. The Royals privately gush over Zimmer, and think he has a chance to arrive after the All-Star break and provide the kind of lift that
Sonny Gray
gave Oakland or
Michael Wacha
brought to St. Louis last season.
Defense reigns
Few if any teams were more proficient at catching the ball than the Royals in 2013. According to FanGraphs, the Royals led the majors with 93 defensive runs saved. In the 11 years of data available, the only team with a higher number was the 2005 Phillies, who finished with 95 defensive runs saved.
"

The emphasis they put on defense here is exactly where it needs to be. This is one of the most exciting teams I've ever seen. Our defense made some phenomenal plays last year, and the routine plays are definitely overlooked. We take pride in that every single day.

"

-- James Shields
Gordon, Hosmer and Perez all won Gold Gloves, and center fielder
Lorenzo Cain
might have pocketed one if he had appeared in more than 115 games. Even though Gold Gloves don't have the cachet they once did, these guys are legit.
Assessing defense makes for a spirited debate, with old-school execs trusting their scouts and the "eye test" and analytically inclined executives poring over reams of data from services who employ video scouts to judge how catchable batted balls really are. The Royals monitor the data, but Moore makes it clear to the team's scouts that he wants players with the discipline to stay focused for nine innings in the field, and the makeup to care about defense even when they're 1-for-their-last-25 at the plate. "Dayton's whole focus was on getting nine athletes on the field from the moment I got here," Yost said.
Shields, who came to Kansas City from a pitching-and-defense oriented environment in Tampa Bay, declined to make comparisons between the Rays and Royals. But there's no question where the priorities lie in Kansas City.
"The emphasis they put on defense here is exactly where it needs to be," Shields said. "This is one of the most exciting teams I've ever seen. Our defense made some phenomenal plays last year, and the routine plays are definitely overlooked. We take pride in that every single day."
Yes, questions remain. Can a pitch-to-contact rotation lead the Royals to a division title when
Justin Verlander
and
Max Scherzer
are orchestrating a season-long whiff-a-thon in Detroit? Will the Glass family give Moore the latitude to go out and make an impact deal at the trade deadline to get the Royals over the top? And when it comes down to the big series in September, can the Royals make the jump from an 86-game feel-good story to a 90- or 92-win postseason club? "Those last four to six wins can be the toughest ones to get," said a scout in Arizona.
A certain amount of skepticism is unavoidable for a franchise that hasn't made the playoffs since 1985, but the Royals say they learned a lot about themselves last season. We'll find out soon enough how well the lessons took.
February, 27, 2014
Feb 27
10:32
AM ET
SURPRISE, Ariz. -- Kansas City infielders
Eric Hosmer
and
Mike Moustakas
are routinely mentioned as a tandem, but their careers went in opposite directions last season. Hosmer, coming off a disappointing 2012 season, regained the confidence in his swing and once again began hitting the ball with authority. He raised his OPS from .663 to .801 and looked like the uber-prospect who finished second in the AL Rookie of the Year balloting in 2011.
Moustakas? Not so much.
Kansas City's third baseman hit .183 (28-for-153) with sporadic power in April and May, and no amount of tinkering or extra batting practice could salvage his season. Although Moustakas played exceptional defense, his .655 OPS was the lowest among the 15 third basemen who qualified for the batting title.
To his credit, Moustakas committed himself to getting better over the winter. If the buzz in Kansas City's camp and the endorsement of a certain Hall of Famer mean anything, the Royals might have a fantasy sleeper in their lineup.
"I think 'Moose' is going to have a year like 'Hoz' did last year -- a breakout season," said George Brett, the Royals' vice president of baseball operations.
It was an eventful winter for Moustakas. He got married, lost some weight (or at the very least, redistributed the weight he had) and played winter ball for the Cardenales de Lara in Venezuela under the guidance of Royals hitting coach Pedro Grifol. He returned home with a whole new mindset: After being way too pull-happy in 2013, he's intent on going with the pitch more this season.
The numbers reflect Moustakas' single-minded approach in 2013. He pulled 49 percent of his hits to right field, compared with 44.6 percent the previous season. And left-handed pitchers were quick to take advantage of his inability to adjust. He hit .196 with a .290 slugging percentage vs. lefties.
"Last year, he was reluctant to hit the ball the opposite way, so we said, 'Don't. We want you to be happy. If you feel you're going to be a better hitter pulling everything, go ahead,'" said Brett, who spent almost two months as the team's interim hitting coach. "I watched him in batting practice yesterday and he hit about five home runs to left field. He was hitting line drives to left-center that looked like they were coming off a right-handed hitter's bat."
The early spring optimism notwithstanding, Brett thinks it's imperative for Moustakas to build momentum in the Cactus League and carry it into the regular season.
"He has to get off to a fast start," Brett said. "If he gets off to a slow start, doubt is gonna creep back into his mind. That's what happened last year. In order to play catch-up when you're hitting .172 a month and a half into the season, you have to have patience. He had no patience. But I think he's learned a lot about patience and change. He's a completely different guy."
February, 14, 2014
Feb 14
10:00
AM ET
As there are every spring, there are great baseball stories everywhere -- from Tampa to Tempe, from Jupiter to Space Coast Stadium, from Goodyear to Surprise.
Which teams will have a good year? Which teams will surprise? The questions are what make spring training so great, so fascinating. They are what define this time of year, along with warm weather, hope and the belief that March 29 will be the last useless evening that we'll have to spend.
[+] Enlarge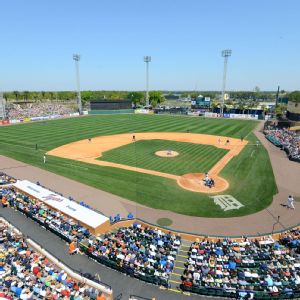 Mark Cunningham/MLB Photos via Getty ImagesNothing beats the look and feel of spring training.
It all begins, as so many spring trainings have before, with the Yankees in Tampa. We will get our first look at
Masahiro Tanaka
, who the Yankees made the fifth-highest paid pitcher in major league history before he ever threw a pitch in the big leagues. Is his splitter as good as everyone says? We will see
Jacoby Ellsbury
,
Brian McCann
and
Carlos Beltran
in Yankee uniforms, and we will see
Derek Jeter
in the final year of his career play shortstop at age 39; only five players in the game's history -- Honus Wagner, Rabbit Maranville, Luke Appling, Luis Aparicio and
Omar Vizquel
-- have played 100 games in a season at shortstop at Jeter's age. He'll turn 40 three weeks before the All-Star break.
The world champion Red Sox mostly will be without their beards this spring, but they will have a new catcher (
A.J. Pierzynski
), a new shortstop (
Xander Bogaerts
) and several candidates to be their new center fielder, including
Grady Sizemore
, who hasn't taken an at-bat in the big leagues since 2011. The Rays will have
David Price
, who hasn't been traded and now, it appears, might not be traded this season. The Orioles might start the season without
Manny Machado
, who is coming back from a serious knee injury. The Blue Jays will open spring training without the hype of last spring, which is good for them.
The Tigers, under new manager Brad Ausmus, will open the spring with a different infield from the one that took the field last spring, including
Ian Kinsler
at second base and rookie
Nick Castellanos
at third. Even more important, they have a real closer this spring in
Joe Nathan
. The Indians have a new closer,
John Axford
, as well. The Royals have a new leadoff batter (
Norichika Aoki
) and second baseman (
Omar Infante
). Meanwhile, the White Sox have a new first baseman (Cuban
Jose Abreu
) and the Twins' new first baseman is their old catcher,
Joe Mauer
.
The A's added to their bullpen, acquiring closer
Jim Johnson
,
Luke Gregerson
and
Eric O'Flaherty
, and welcomed
Scott Kazmir
to their rotation. The Rangers gave
Prince Fielder
a fresh start at first base, found a position (second base) for
Jurickson Profar
and showed
Shin-Soo Choo
what a great country this is, especially when you reach free agency. Great country? The Mariners gave
Robinson Cano
$240 million, but is there protection around him in that lineup? The Angels made significant changes, none of which will really matter if
Albert Pujols
isn't healthy enough to play first base and produce something close to the Pujols of St. Louis. And if the Astros lose 128 games (they are not nearly that bad), they'll tie the Mets (1962-65) for the most losses ever during any four-year period in history.
The Braves have a new catcher in
Evan Gattis
, and they'll have to figure out how to get the batting averages of
B.J. Upton
and
Dan Uggla
back over .200. The Nationals, under rookie manager Matt Williams, need a healthy
Bryce Harper
(knee) if they're going to win the NL East; in mid-January, he sprinted for the first time without pain. We know the Phillies are in Clearwater, but nothing else about them is clear. The Mets have
Curtis Granderson
and
Bartolo Colon
, but not having
Matt Harvey
for perhaps the entire season will be a bummer. The Marlins still have
Giancarlo Stanton
. How long before that situation changes?
The Cardinals have almost an entirely new infield, a new center fielder (
Peter Bourjos
) and maybe a new right fielder if rookie
Oscar Taveras
is healthy and productive. The Pirates have hope again following a playoff appearance in 2013, and with
Gerrit Cole
for a full season. The Reds have a new manager in Bryan Price; now they need to find a center fielder to replace Shin-Soo Choo: Is this the spring that
Billy Hamilton
steals a job? The Brewers have a new right fielder in
Ryan Braun
; no questions about Biogeneis will be taken, however. The Cubs have a new spring training facility and a new manager, Rick Renteria.
[+] Enlarge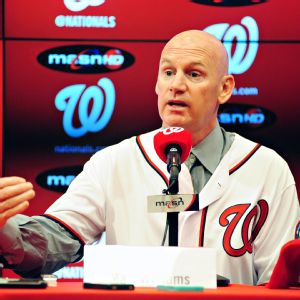 Evan Habeeb/USA TODAY SportsExpectations are once again high for the Nationals, who have a new manager in Matt Williams.
The Dodgers have four outfielders for three spots; one of them,
Matt Kemp
, is coming back from shoulder and ankle injuries -- his health and production will be one of the big stories of the spring. The Diamondbacks have a new left fielder,
Mark Trumbo
, who might hit 40 homers in their ballpark. The Dodgers and Diamondbacks will open the season March 22 in Australia; let's hope there isn't a major brawl Down Under. The Giants added
Tim Hudson
, and
Pablo Sandoval
subtracted 42 pounds. The Padres signed
Josh Johnson
to pitch in a rotation headed by
Ian Kennedy
-- here's hoping they play a doubleheader this year, and go with the Kennedy-Johnson ticket. The Rockies will open camp with
Troy Tulowitzki
, but, for the first time since 1988, they'll begin a season without
Todd Helton
.
There will be lots of stories, questions and sunshine this spring. It is the best time of year. It is a time for optimism: No one has lost a game, the rookies all have promise and the veterans believe it will be their best year. It is baseball in its purest form, a time for wind sprints, fundamentals, split-squad games on a back field where only the scouts are watching. Millionaire players are humanized and humbled in spring training. They are not receiving enormous paychecks every two weeks, and they're getting the same meal money as the rookie in his first big league camp. No one is exempt from the three-hour bus rides, playing on fields that aren't manicured to major league standards, and facing anonymous Class A pitchers who throw really hard, but have no idea where the ball is going. It is the one time of year that
Justin Verlander
and a 20-year-old kid are on equal ground. It is the one time of year that a player gets on the bus in uniform, just like in high school.
Eleven years ago, Indians pitcher
Brian Anderson
boarded the team bus at 8 a.m. for the two-hour drive to Vero Beach, Fla., for a spring training game. Thirty minutes into the trip, Anderson realized he had forgotten his hat, his spikes and his glove back in Winter Haven.
"I was running late that morning because I knew I was going to get to hit in the game, so I was looking for the really important things: batting gloves and a bat," Anderson said. "When we got to Vero, I was in full panic mode. I borrowed a car and went to a mall, but there wasn't one glove in the whole mall, but I found some adidas spikes. On the way back to the ballpark, I saw a WalMart. I thought, 'Hey, WalMart has everything ... tires ... produce ... it must have a baseball glove.' I found one: $29.95, already broken in. It was a softball glove. A Wilson. It was awful. I borrowed someone's hat and pitched in the game. Of course, I got three comebackers to the mound, and I caught them all because my new glove was as big as a butterfly net, it made
[Greg] Maddux
's glove look small. That day reminded me of when I was 17 playing Legion ball. That is spring training to me."
Only in spring training could this story happen. The Twins signed infielder
Tsuyoshi Nishioka
in the spring of 2011. He didn't speak much English, and didn't know anyone on the team. Several teammates convinced Twins outfielder
Denard Span
to introduce himself to Nishioka, to make him feel more a part of the team. Only they tricked Span -- they told him that Ray Chang, another infielder, was Nishioka. So Span, ever respectful, approached Chang, bowed gracefully, introduced himself, and asked him if he spoke English.
"Sure I do," Chang said. "I'm from Kansas City!"
The whole team howled.
[+] Enlarge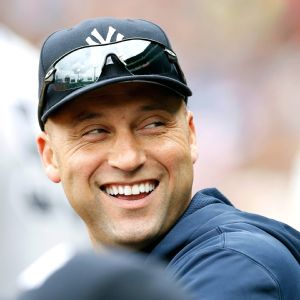 Greg M. Cooper/USA TODAY SportsDerek Jeter, who played only 17 games last season, enters the final year of his career hoping to stay healthy.
Only in spring training could then-Rays first baseman
Carlos Pena
make a mistake in a baserunning drill, then justify it by quoting Dr. Martin Luther King's "I Have A Dream" speech. "My first baseman is quoting Dr. King," said Rays manager Joe Maddon. "I love it."
Only in spring training would pitcher
Jeremy Guthrie
, now with the Royals, ride his bike to work. "It was only five miles," he said of his daily ride two springs ago to the Rockies' facility. Then-teammate
Michael Cuddyer
said of Guthrie, laughing, "He once pitched in a game in Scottsdale, then got on his bike -- still in full uniform, with his glove on the handlebars -- and rode back to our facility. It was like a scene from 'The Sandlot.'"
Only in spring training would then-Padres pitcher
Chris Young
and
Will Venable
pick teams for a free throw shooting tournament because both guys played basketball at Princeton. "That's as nervous as I've ever been for an athletic competition," Young said with a smile, "because I'm not a great free throw shooter, and my team was depending on me to be good." Only in spring training would the Twins hold a bowling tournament behind the KFC in Fort Myers and, said Twins manager Ron Gardenhire, "Joe Mauer would be high-fiving his teammates, guys he's never met in his life, after they rolled a strike." Only in spring training could Jeff Stone get thrown out at all four bases in one game, and only one of them was a forceout (think about that). Only in spring training could Rockies pitcher David Lee, in an emergency, drive the team bus on a night trip, then earn the nickname "Diesel" when he stopped the bus and announced, "We've got to get some diesel!"
Only in spring training is time taken to get in baseball shape. "We're always inventing drills and conditioning programs in spring training," said Rich Donnelly, now the manager of the Mariners' Triple-A team. "Years ago, we'd do 10 jumping jacks, touch our toes twice, then play. Today, these strength and conditioning coaches are always coming up with new stuff: rubber bands, parachutes, cones. I just can't imagine Ted Williams going to spring training and running with a parachute on his back, or Babe Ruth jumping over a bunch of cones."
It is a time for the fans, especially kids. Families take vacations to spring training. Getting a player's autograph is easier because everything and everyone is more relaxed than during the regular season. Well, except for when the Red Sox and Yankees played for the first time in spring training 2004, their first meeting since
Aaron Boone
's home run had sent the Yankees to the World Series, and sent the Red Sox home. Tickets were scalped for $500 for an exhibition game! Before the game, there was a fight in the parking lot at City of Palms Park in Fort Myers between a Yankees fan and a Red Sox fan ... both fans were women!
It's spring training. Finally. We can't wait.
February, 26, 2013
2/26/13
11:00
AM ET
SURPRISE, Ariz. --
James Shields
arrives in Kansas City with a well-deserved reputation as a leader, a dedicated teammate and a player who'll do whatever is necessary to earn his day's pay. As the
Royals
are discovering, that means more than just pitching well with 30,000 people in the stands. Sometimes it means showing commitment when the grass is wet with dew and hardly anyone is watching.
Manager Ned Yost took notice early in spring training when Shields and fellow starters
Jeremy Guthrie
,
Wade Davis
and
Ervin Santana
gathered one morning for live batting practice. If any of the Kansas City players or coaches in attendance were bleary-eyed, they quickly awoke to the sound of pitchers grunting and catchers' mitts popping.
"Their stuff was very electric and they were banging strikes with it,'' Yost said. "But it was more the intensity and focus that they brought out to a 9 o'clock workout when everybody else was in the clubhouse. It was phenomenal.
"Nine times out of 10 guys are like, 'It's a 9 o'clock workout -- I'll just get through it.' But that wasn't part of their agenda. We had nine shaggers out there and we had eight too many. That's how good they were throwing. We couldn't even get a ball out of the cage.''
[+] Enlarge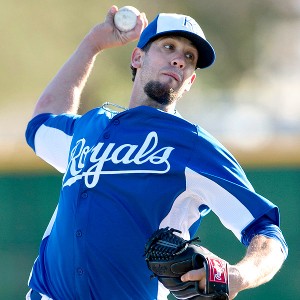 John Sleezer/Getty ImagesAfter spending the first seven years of his career with the Rays, James Shields takes over as the ace of the Royals' staff this season.
The Royals took one of the big risks of the winter when they acquired Shields and Davis from
Tampa Bay
as part of a seven-player trade in December. Kansas City general manager Dayton Moore, forsaking long-term potential in an effort to add instant respectability to the team's rotation, sent Triple-A slugger Wil Myers, pitching prospect
Jake Odorizzi
and two other minor leaguers to the Rays in the deal.
Lord knows, the Royals were in need of help. Kansas City's starters ranked 12th in the American League in ERA (5.01) and batting average against (.283) and logged a mere 890 innings last season. Among the 14 AL teams, only
Minnesota
's rotation threw fewer innings.
Shields is the quintessential modern-day horse. He has surpassed 200 innings for six straight seasons, and his 1,330 innings since 2007 rank fifth in the game behind
CC Sabathia
,
Justin Verlander
,
Roy Halladay
and
Felix Hernandez
. Two years ago, Shields logged 11 complete games for the Rays. He became the first pitcher to collect at least 11 since
Randy Johnson
recorded 12 for
Seattle
in 1999.
"I feel like I have an old-school soul,'' Shields said. "I pride myself on going deep in games. I don't care if I give up four runs or no runs. I like saving the bullpen. I think it's very important. I don't want the manager to come take the ball from me. I'm very competitive when it comes to that.''
In many ways, Shields approaches the game with the same underdog mentality he embraced upon being chosen in the 16th round with the 466th pick in the 2000 draft. Three years ago, Shields allowed the most hits (246), earned runs (117) and homers (34) in the American League, so he changed his training regimen, tightened up his motion and got his career back on track. Just like that, he made the All-Star team and finished third in the Cy Young race in 2011.
Shields got tagged with the "Big Game James'' nickname in the minor leagues by teammate Chris Flinn, a diehard fan of North Carolina hoops and Los Angeles Lakers star James Worthy. The handle eventually morphed into "Complete Game James'' when Shields began going nine innings with regularity. As long as his managers continue to hand him the ball and keep the mound visits to a minimum, he doesn't care what people call him.
"He's going to bring some intensity that we need from a pitcher's side,'' said Royals outfielder
Jeff Francoeur
. "I always remember
John Smoltz
telling me that you can't have the leader of the team be a pitcher, because they're not playing every day. But from the pitching staff's standpoint, you need a leader, and I think he can be that guy. When you come in here having done what he's done, guys respect him.''
Shields is the cousin of former big league outfielder
Aaron Rowand
, a hardcore team guy who made a habit of planning club bonding rituals during his 11-year career with the
White Sox
,
Phillies
and
Giants
. Rowand's bowling tournaments were an annual rite of spring during his time in San Francisco.
Shields borrowed a page from cousin Aaron's playbook this spring when he scheduled a team golf outing with Francoeur at the Raven Golf Course in Phoenix. A total of 40 Royals showed up for the event. For sake of levity, Shields and Francoeur brought along a generous supply of exploding golf balls. They surprised infielder
Miguel Tejada
, reliever Kelvim Herrera, catcher
Salvador Perez
and several others with the gag.
"It's a way of breaking that barrier, of breaking that shell,'' Shields said. "We're going to be with each other for 181 days during the season. That's a long time when you're with the same people 24 hours a day. I feel like this is our home away from home and we have to treat it like that.''
Shields will expound at length on the value of team chemistry and the importance of developing it in spring training, when the schedule is less oppressive and the intensity doesn't burn as brightly. If that sentiment sounds corny or old-fashioned, so be it. Andrew Friedman, Tampa Bay's executive vice president of baseball operations, has a reputation as a guy who likes his analytics. But when Friedman talked about how difficult it was for the Rays to trade Shields, he wasn't thinking about Shields' component ERA, his xFIP or his power-finesse ratio.
"

He's going to bring some intensity that we need from a pitcher's side.

"

-- Royals outfielder Jeff
Francoeur on Shields
How much did the Rays respect Shields? During their time in Tampa Bay, Shields and his wife, Ryane, started the "Big Game James Club'' and invited foster children to games at Tropicana Field. Even though Shields is now in Kansas City, the Rays plan to continue the initiative in his name. The news came as a relief to Shields, who said several foster children in the program were adopted during his tenure with the Rays.
Shields plans to do his share of community service for the Royals as well, but at the moment he'll have to settle for the role of assistant social director to Francoeur. During the inevitable down time in the clubhouse, Shields will stake out a seat at the big table near his locker and engage his teammates in baseball talk.
"He's already beating the drum,'' Yost said. "He's like, 'Yeah, I'm a 200-inning guy. But so are you and you and you and you.' As a starting staff, we're going to amass 1,000 innings. That's our goal as a group. That's what we're shooting for.''
Said Guthrie, "When you watch him pitch, you can see he takes it as his game. He's gonna be aggressive. He's in it to finish it. He has that mentality of a front-of-the-rotation guy. He plans on throwing eight or nine innings every time out. If he doesn't, he's disappointed and shocked in himself to some extent.''
As a fly ball pitcher, Shields will have to deal with the adjustment of leaving a pitcher's park in Tampa for a more neutral yard at Kauffman Stadium in Kansas City. But he'll also have more starts against American League Central competition and fewer outings against stronger AL East lineups. He's signed for $9 million this year with a $12 million club option in 2014, so he has two years to make it work.
The Royals can rest assured that whatever bumps Shields encounters in this new chapter of his career, he'll find a way to work through them. There's no telling what a man can achieve with a blue-collar work ethic and an old-school soul.
February, 23, 2013
2/23/13
7:38
PM ET
MARYVALE, Ariz. -- With a .232 batting average and .657 OPS several months behind him, Royals first baseman
Eric Hosmer
is officially ready to wake up from the "bad dream" phase of his career.
Hosmer's 2012 season was a grind from the outset. He hit .188 in April and never truly got on track. Even though the anecdotal evidence and his .255 batting average on balls in play suggest that a lot of balls he hit with authority failed to find holes, it didn't ease the sting of knowing his personal travails played a significant role in the Royals' disappointing 72-90 finish. Among 21 major league first basemen with at least 400 plate appearances last season, only
James Loney
and
Casey Kotchman
posted
a lower OPS
than Hosmer.
[+] Enlarge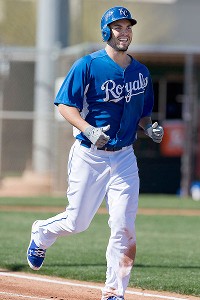 John Sleezer/Kansas City Star/Getty ImagesAfter a terrific rookie season in 2011, Eric Hosmer posted a .663 OPS in 152 games last season.
Hosmer spent the offseason trying to ensure that it doesn't happen again. He built a house in his native Florida, near the Everglades, replete with an outdoor batting cage. He worked extensively with his older brother, Mike, and dutifully sent video of the sessions to new Royals hitting coach Jack Maloof for his personal inspection.
The 23-year-old also paid closer attention to getting ready for the 162-game grind in its entirety. He went home with a detailed nutrition and workout plan devised by strength and conditioning coordinator Ryan Stoneberg and gained about 10 pounds while focusing on eating at regular three-hour intervals rather than two or three times a day.
Before traveling to Arizona for the Cactus League, Hosmer stopped off in Southern California to spend some time at the Scott Boras Sports Training Institute and apply the finishing touches to his offseason fitness regimen.
"I'm going to try [to keep the weight on]," Hosmer said. "It's a little easier in the offseason because you work out and hit, and then you're done and you're sitting on your butt the rest of the day. Out here, you do your baserunning and your early work and you're constantly sweating. You really have to eat well and eat right to keep the weight on. That's why I wanted to come in 5-10 pounds heavier."
Hosmer told the Kansas City Star writer Bob Dutton that many of his problems at the plate last year stemmed from a lack of stability with his back leg. He was slow to catch up to good fastballs and began starting the bat earlier to compensate. The more he "cheated," the more susceptible he became to off-speed pitches.
"I was happy in the offseason to get home and just forget about everything," Hosmer said. "I can take the positives and learn from it. This year, I'll know how to break out of a slump better and do the little things like that. It all comes with experience.
"Last year is going to be a big help for me mentally, because it was almost a season-long slump I went through. Now an 0-for-10 or 0-for-15 is going to seem like nothing."