Spring Training:

Los Angeles Dodgers
February, 25, 2015
Feb 25
12:47
PM ET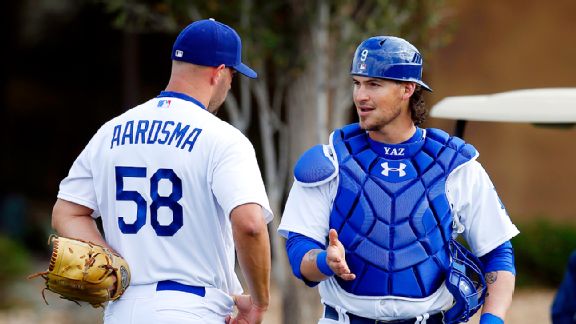 Rick Scuteri/USA TODAY SportsYasmani Grandal knows the importance of having a relationship not only with pitchers, but with umps.
GLENDALE, Ariz. -- Before every nuance of baseball came to be dissected, isolated and quantified, hitters used to assume that the best, most experienced catchers got the most calls from umpires.
"When you had Carlton Fisk or Bob Boone back there, you knew those guys were good at getting pitches,"
Los Angeles Dodgers
manager Don Mattingly said.
Now that the Information Age has pulled baseball into its orbit, a catcher's ability to frame pitches so that they appear to be strikes has become one of the hottest areas of study. New Dodgers president of baseball operations Andrew Friedman has long been a proponent of the skill, which is why he lived with sub-par hitting from guys like
Jose Molina
in Tampa Bay.
[+] Enlarge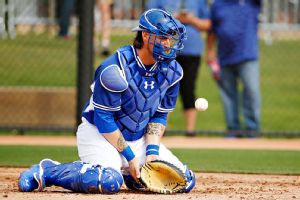 AP Photo/John LocherYasmani Grandal is one of the best in the game at framing pitches.
And it's also one of the reasons
Matt Kemp
is getting ready for the season five miles from here, with the
San Diego Padres
, instead of alongside longtime teammates
Clayton Kershaw
and
Andre Ethier
in Dodgers camp.
The Dodgers traded Kemp, a former MVP runner-up who led the majors in slugging after the All-Star break last year, for
Yasmani Grandal
, a catcher with a lifetime .245 batting average who is just a year-and-a-half removed from major knee surgery. On paper, it doesn't jump out as one-sided in the Dodgers' favor.
But there were motives for the trade beyond the players' production in the batter's box. The Dodgers were able to shed $75 million of Kemp's $107 remaining salary and they got a catcher who, if things work out, could make the Dodgers' pitching even better.
Grandal, who is not otherwise known as a premium defensive catcher, is by all accounts one of the best pitch framers in baseball. The Dodgers' incumbent starting catcher,
A.J. Ellis
, doesn't rate highly and has vowed to work on the skill this spring.
"With Andrew and [GM] Farhan [Zaidi], you do hear a lot of it," Mattingly said. "Now that's part of the analytics, how he's catching the ball and getting pitches. We do know Yasmani scores high on all of that."
According to Baseball Prospectus, Grandal got 120 "extra" strikes called last season, an extraordinary number considering he caught just 76 games. Among other things, Grandal's pitch framing in San Diego helped revive the career of former Dodgers left-hander
Eric Stults
, a finesse pitcher who makes a living at the fringes of the strike zone.
Pitch framing might be a valuable skill, but it's not necessarily one that people like talking about at length. After all, it commodifies the fallibility of umpires. In a perfect world, how a catcher receives the baseball shouldn't impact balls and strikes, but it has become an area where the most analytical minds in the game seek to exploit its most human element.
Grandal said he used to play a game with himself when he was behind the plate, counting how many pitches he considered balls he could get called strikes. He would be happy if he could get a half-dozen a game to go his pitchers' way. On some days, getting that many borderline calls could be the difference between a win and a loss.
Then, a couple of years ago, people finally started noticing.
"Once somebody brought to my attention that it was a stat, it was kind of funny, because I was like, 'I've kind of been playing this game for a while,' " Grandal said.
Grandal paused for a moment and added, "I never liked the idea of stealing strikes, because that's making the umpire look bad. That's the one thing I don't want to do is make them look bad."
Grandal said he learned his receiving skills from University of Miami assistant coach Joe Mercadante and then refined them over the years in pro ball working with veterans such as
Ramon Hernandez
, Pat Kelly,
Brad Ausmus
and A.J. Hinch. He doesn't view pitch framing as fooling the umpire, but as making it easier for him to see the ball.
"I'm trying to make the umpire's job easier. The better lane I give them to see the ball, the better relationship I'm going to have with them, the more they're going to trust me," Grandal said. "I'm always talking to them, trying to see, 'Hey, do you have a good lane to see? Am I cutting you off? Are you seeing this pitch?' The relationship between the catcher and pitcher is pretty important, but you also have to have a relationship with the umpire."
The Dodgers should have a better catching situation in 2015 than last season, in part because Grandal and Ellis have skill sets that complement each another. Grandal's best hitting typically comes from the left side. Ellis is a right-handed hitter. Grandal excels at pitch framing. Ellis is a master of game planning and calling pitches. If they put in the work and share information this spring, there's no telling what kind of impact they could have on a Dodgers staff that finished fourth in the National League in ERA.
They also could have acquired Grandal, 26, at the right time in his career. A torn knee ligament cost him half of the 2013 season and limited him much of last year, he said.
"It kind of affected everything," Grandal said. "Now, it's good."
February, 20, 2015
Feb 20
1:47
PM ET
GLENDALE, Ariz. --
Clayton Kershaw
is notoriously tough on himself, even in spring training, so take the following self-assessment with a grain of salt.
After getting on a dirt mound for the first time since last October -- the high-school field where Kershaw works out in Dallas has an artificial surface -- and throwing his first bullpen session of the spring, Kershaw declared it a disappointment.
"I feel good, but it was a pretty bad bullpen," Kershaw said. "I was just kind of all over the place."
The
Los Angeles Dodgers
have said they want to get the reigning Cy Young and MVP winner comfortable working with both catchers A.J. Ellis and
Yasmani Grandal
, but so far they haven't messed with what works. Ellis caught Kershaw's first bullpen session. Kershaw threw about 30 pitches. He had thrown five bullpens before arriving in Arizona.
"It was good to get out there throwing to a big-league catcher," Kershaw said.
Unlike in the previous five winters, Kershaw spent almost all his time back home over the winter. Because he and his wife, Ellen, were expecting their first baby, they didn't travel to Zambia to check on the orphanage they built there. Kershaw made a goodwill trip representing the Dodgers to the Dominican Republic and visited New York to accept his trophies, but otherwise stayed put.
February, 19, 2015
Feb 19
12:24
PM ET
GLENDALE, Ariz. --
Zack Greinke
hinted several weeks ago that he might soon have more to say about an opt-out clause in his contract that could make him a free agent this November. But after reporting to spring training on Thursday, he was as tight-lipped as before.
For perfectly obvious reasons.

"I've thought about it some, but maybe it's just a question you guys ask me because I answer some questions I shouldn't. It seems to be a pretty obvious thing that it's something you don't really talk about," Greinke said. "I mean, the teams have options all the time. They don't comment before the season if they're going to accept or decline a player's contract. You wait until you have to. You're always weighing things as they go."
After this season, Greinke, 31, will have three years and $71 million left on the six-year deal he signed two Decembers ago. But recent deals for
Jon Lester
and
Max Scherzer
would indicate Greinke's most lucrative play might be to opt out. Lester, 31, signed a six-year, $155 million deal with the
Chicago Cubs
and Scherzer, 30, signed a seven-year, $210 million deal with the
Washington Nationals
.
Greinke could be one of a handful of ace-level starters available next fall, a group that could include
David Price
,
Johnny Cueto
and Jordan Zimmerman, if none of them signs an extension with his current team. Of course, the Dodgers also could negotiate a longer-team deal with Greinke before the opt-out becomes an issue, but that seems unlikely.
"I'm open to it, but I'm sure they're open to me taking a cheap deal also," Greinke said. "You're always open to listening and seeing what works for everyone."
February, 19, 2015
Feb 19
12:09
PM ET
GLENDALE, Ariz. -- A starting pitcher got through the seventh inning 18 times in the 32 postseason games that were played last October.
Madison Bumgarner
did it six times.
Clayton Kershaw
was 0-for-2.

So, while Kershaw was able to enjoy his winter after an MVP 2014 season and having welcomed a baby daughter into the world, the
Los Angeles Dodgers
ace calibrates his goals a little differently now. He won't be able to achieve all of them until the weather begins to turn cool again, and that won't be for half a year, at least.
"I think for me, you want to make up for everything that didn't go well in October, but you can't do that in April," Kershaw said after reporting to Camelback Ranch on Thursday morning. "So, you've got to wait for it first."
Kershaw is coming off four straight major-league ERA titles and the first MVP season by a pitcher in the National League in 36 years, but two straight rough playoff series against the
St. Louis Cardinals
continue to gnaw at him, of course. When he accepted his MVP award at the New York baseball writers' dinner, he thanked the Cardinals for reminding him, "You're never as good as you think you are."
It will be hard for Kershaw to improve upon a season in which he went 21-3 with a 1.77 ERA and struck out 239 batters in fewer than 200 innings -- despite missing more than a month with an injury. It's fair to say the Dodgers aren't dwelling on his postseason failings, which, last season, were isolated to the seventh inning in both games.
"It's really hard to even talk about because we've turned the page to 2015, but he dominated them for 12 innings in that series. I mean, absolutely dominated," catcher A.J. Ellis said. "You guys have seen the numbers yourself. He just ran into two innings against one of the best grinding teams in all of baseball. I don't think he has anything to prove. It's hard to prove anything more than being the best pitcher of our generation."
Kershaw looked fit and surprisingly well-rested for having a four-week-old baby at home. He said, half-jokingly, that he was in the best shape of his life. Cali Ann Kershaw was born Jan. 23. Kershaw called the birth of his and his wife Ellen's first child a "game-changer."
"I feel like I'm a decent dad at this point. It was tough to leave them, obviously, but Ellen's a champ. She can handle it," Kershaw said. "I've definitely changed some diapers and I've gotten up. I mean, there's only so much you can do, but I've offered some moral support."
Another long-term relationship is to be determined. Kershaw is the Dodgers' presumptive Opening Day starter, but the question is whether Ellis will be the Opening Day catcher. The Dodgers' biggest winter trade landed them
Yasmani Grandal
from the
San Diego Padres
, which means the majority of Ellis' starts might come when Kershaw is pitching. Dodgers manager Don Mattingly has said he's not a big fan of pitchers having a personal catcher, but Kershaw didn't sound keen on breaking up his working relationship with Ellis, who is also a close friend.
"That's Donnie's call," Kershaw said. "I love throwing to A.J., obviously, and I've had some success doing that, but I can't answer that."
March, 15, 2014
3/15/14
9:30
AM ET
GLENDALE, Ariz. -- The game changes in small, incremental directions, actions and movements and strategies slowly evolving. Go back to the 1930s and 1940s and into the '50s and most pitchers used that old two-handed windmill wind-up, the pitcher's arms swinging behind him and then back forward above his head, often accompanied by the front leg kicking madly out to the side. Compare
Bob Feller's motion
to the smooth, compact deliveries you mostly see today; they're efficient and seemingly effortless. Who decided the windmill motion didn't actually generate more power or arm speed? That a big leg kick made it more difficult for a pitcher to repeat his delivery? Who was the last guy to pitch like that?
Things are changing even now. They were about 5,000 more defensive shifts in 2013 than in 2011 and we'll see even more this year. Catchers like
A.J. Ellis
are not only aware of the value of pitch framing but will study video and data to learn where their strengths and weaknesses are in that skill. Managers bunt less often than they used to.
The game changes, but some traditions still hold out. They've become truths. For example, the batting order: fast guy hits first, bat-control artist or "professional" hitter type bats second, high-average guy hits third and power dude in the cleanup spot. There are always exceptions, of course, but that's still a general rule that's been followed since the days of John McGraw and Joe McCarthy.
That's why the Dodgers' decision to try power-hitting
Yasiel Puig
in the leadoff spot is so intriguing. It flies against the notion of batting a fast guy who may lack power in that spot. Puig is fast, but his type of power is usually seen lower in the order.
"The thought process was the number of guys you want getting the extra at-bat," Dodgers manager Don Mattingly said. "He's a guy who hasn't really showed us yet that he's going to drive in runs and we have a number of guys who do that, so get him that extra at-bat and a chance to pop a ball when the lineup turns over."
It's an argument statistical analysts have made for decades -- there's run-producing value in simply getting your best hitters more plate appearances, even if it means hitting them in non-conventional spots in the order. Fred Haney, when he managed the Milwaukee Braves, always toyed with the idea of batting Henry Aaron leadoff to get him more at-bats, but never followed through with it. Giants manager Bill Rigney started Willie Mays 45 times in the No. 2 hole in 1959 but Mays eventually returned to his usual No. 3 spot.
Considering the Dodgers don't have an obvious leadoff candidate --
Dee Gordon
is one of the fastest players in the majors but hasn't shown he'll hit and
Carl Crawford
's on-base percentage has been a mediocre .308 over the past three seasons -- putting Puig there could prove a wise move. Hey, a solo home run is still a run scored, and the Dodgers still have big bats like Hanley Ramirez,
Adrian Gonzalez
and
Matt Kemp
lower in the order. Hitting Puig leadoff also presents righty-lefty balance if the Dodgers go Puig, Crawford, Ramirez, Gonzalez and Kemp.
Puig hit 19 home runs in 104 games in 2013; prorate that to 150 games and you get 27 home runs. Factor in the potential for even more power and you're looking at a leadoff hitter who could hit 30 home runs. That's been done just 14 times -- including four times by Alfonso Soriano, who holds the single-season record with 39 home runs from the leadoff spot in 2006. Only five leadoff hitters have reached 25 home runs more than once: Soriano five times, Bobby Bonds three, and
Rickey Henderson
, Jimmy Rollins and Grady Sizemore twice each.
Chone Figgins
, battling to make the Dodgers' roster as a utility player, was once one of the top leadoff hitters in the game. He fit the more conventional mode of the little guy with speed who battles the pitcher, takes pitches and draws walks. He doesn't think every leadoff hitter has to fit that stereotype. That fact that Puig may be a more aggressive hitter (although Puig's walk rate did improve throughout his rookie season) isn't necessarily something teammates would frown upon, he says.
"The teammates behind you don't really care. They're watching the pitcher anyway," Figgins said. "It's more of an organizational thing on what kind of hitter they're looking for. Some teams may like a guy like Grady Sizemore when he was with Cleveland, a guy with more power who is going to steal 20 bases. Then you had Seattle with Ichi [Ichiro Suzuki], and he swings, where I'm going to take a lot of pitches. Juan Pierre was sort of in-between Ichi and myself. It comes down to what kind of team it is and whatever players are behind the leadoff hitter."

Figgins pointed out that he had a strong lineup behind him with the Angels, so getting on base was paramount. But working the count was always his game as a hitter; he wasn't going to hit home runs anyway. He hasn't given any advice to Puig -- "I'm not even on the team," he said -- but he believes a hitter shouldn't change his own style of hitting based on where he hits.
While it may be viewed as an easy decision by Mattingly to hit Puig leadoff considering his options, few managers look for big power from the leadoff spot. Only the A's (27), Mariners (21) and Reds (21) received 20 home runs from the leadoff spot in 2013 and eight teams had fewer than 10. Only three teams had 20-plus home runs from the leadoff spot in 2012. There were eight teams that reached 20-plus in 2011, including the Red Sox with
Jacoby Ellsbury
, the Rangers with Ian Kinsler and the Brewers with
Rickie Weeks
all topping 30, but that season was the recent exception.
The major league average has been 13 home runs from the leadoff spot the past two seasons, 14 in 2011, 12 in 2010. Even back in 2001, in the heyday of the steroid era, when seemingly everyone was hitting home runs, the major league average from the leadoff spot was still 13.
As for Puig, Mattingly has liked what he's seen this spring, even if Puig is hitting just .152 in the early going. "He continues to grow up, and I don't mean that in a bad way," Mattingly said. "He's more mature. His outfield play has been really good as far as keeping the ball down and throwing the ball to the right place. His at-bats have been OK this spring."
Of course, just because the initial plans are for Puig to hit leadoff that doesn't mean he'll remain there. As much as managers and fans obsess over lineups and who bats where, injuries and slumps force managers to be flexible. Most teams use well over 100 different lineups in a season and multiple leadoff hitters. And maybe Puig hits his way back down the lineup or Crawford hits his way back into the leadoff spot (although he was always most comfortable batting second in his Tampa Bay days).
Or maybe Puig hits 30 home runs, scores 120 runs, the Dodgers win the World Series and he becomes that evolutionary figure and 10 years from now every team will be wanting more power from the leadoff position. After all, it's always nice to jump out to a 1-0 lead.
March, 7, 2014
3/07/14
10:35
AM ET
GLENDALE, Ariz. --
Carl Crawford
's first objective is to do a better job staying on the field in 2014. Toward that end, he's taken a shift away from his old routine of lifting mass quantities of weight and focused more on workouts that emphasize quickness and core stability.
In preparation for his second full season with the Dodgers, Crawford moved to Arizona and spent the offseason working out under the guidance of the Los Angeles training staff. At 32, he figured it was time for a little experimentation.
[+] Enlarge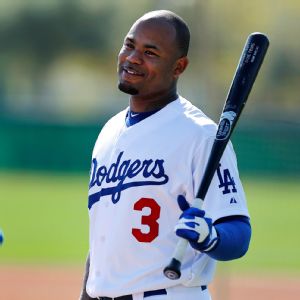 AP Photo/Paul SancyaIn his first season with the Dodgers, Carl Crawford had 15 stolen bases in 116 games.
"Father time catches up with you," Crawford said. "That's just the way it is. I made a few adjustments that should help me stay healthy longer throughout the season. We'll see if it works. If it doesn't, we'll have to tinker with it until we find something that works."
It's been an eventful couple of years for Crawford -- both good and bad. His seven-year, $142 million contract with Boston got off to a disastrous start, prompting the Red Sox to trade him,
Adrian Gonzalez
and
Josh Beckett
to Los Angeles in August 2012 in the mother of all salary dumps. Crawford enjoyed a reasonably nice comeback season with the Dodgers in 2013, hitting .283 in 116 games. But he stole only 15 bases while dealing with ongoing hamstring issues, and he thinks he's capable of more if he can keep his legs in good working order.
Crawford has 447 career stolen bases and surpassed 50 steals five times in Tampa Bay. Although those days are long behind him, he should have the latitude to steal 20-30 bags if he remains reasonably healthy. In his winter workouts, Crawford said he focused on having better running form, "not getting sloppy and keeping everything tight."
Said Dodgers manager Don Mattingly: "I think he wants to run, and we want him to run. But he's got to be healthy enough to run."
Certain questions remain to be answered. Will Crawford bat leadoff for the Dodgers, hit second behind
Yasiel Puig
or do some of each? And if Crawford, Puig,
Matt Kemp
and
Andre Ethier
somehow manage to stay healthy at the same time, how is Mattingly going to divvy up the at-bats to keep everybody in a positive frame of mind?
Crawford, who rankled lots of people in Boston with his comments about how much he loathed playing in the city, is prepared for anything that comes his way in L.A.
"I still want to play better than I did last year," he said, "but that black cloud that I felt like I had over my head has gone away a little bit. Now it feels like the sun is out again."
March, 7, 2014
3/07/14
10:30
AM ET
GLENDALE, Ariz. -- With the possible exception of
Clayton Kershaw
,
Hanley Ramirez
is the most indispensable player on the
Los Angeles Dodgers
' 25-man roster. He's a shortstop who hits like his namesake,
Manny Ramirez
, and that's an impossible combination to replace when he's absent from the lineup.
Two other complementary attributes -- his team-oriented approach and willingness to play through injuries -- have made Ramirez an even bigger part of the equation in Los Angeles. Although Ramirez will never completely shake his reputation as a player who performs according to his whim, time and maturity have lent some texture to his personality profile.
Hardcore Dodgers watchers noticed a change in Ramirez last season after he returned from the World Baseball Classic, in which he helped lead the Dominican Republic to a championship. Ramirez missed most of the first two months with thumb and hamstring injuries, but the communal experience and the thrill of winning in the WBC seemed to elicit a change in him. He's different from what the other Dodgers players expected when he arrived from the
Marlins
by trade in July 2012.
"The thing I love the most about him -- and it's the antithesis of what was said when he came over -- is what a leader he is up the middle of the infield," Dodgers catcher
A.J. Ellis
said. "This guy takes control of our infield. When we have mound meetings, he comes in and he's part of the conversation on how we're going to pitch these guys. There are times when he comes in and he'll back me up and say, 'Listen to A.J.' I appreciate that. His desire to lead and be a part of a winning team is totally opposite of what we heard when the trade was made a couple of years ago."
[+] Enlarge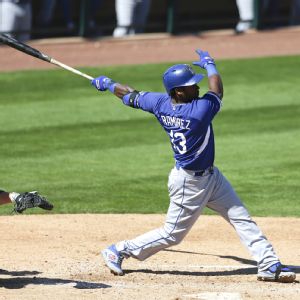 AP Photo/Gregory BullHanley Ramirez, who will make $16 million in 2014, is in the final season of a six-year, $70M contract.
A subtle-yet-telling moment earlier this spring substantiated the notion that Ramirez is taking this whole "leadership" responsibility to heart. When Dodgers starter
Zack Greinke
suffered a calf injury in his Cactus League debut, Ramirez was the first teammate to the mound to check on his well-being. The gesture showed a level of engagement that has never been considered part of the Hanley Ramirez five-tool package.
Ramirez is in a good place this spring. Before a recent game against the
San Diego Padres
, he spent the morning flitting from the batting cage to the food room to the clubhouse, where he alternately bantered with
Juan Uribe
, signed some baseballs for Ellis and mixed in a game of ping-pong. As the Dodgers prepare to wing it to Australia on March 16 for their season opener against the
Arizona Diamondbacks
, he's clearly among friends.
"Everybody has shown me a lot of support and respect, and I try to do the same thing back," Ramirez said. "They've made me feel comfortable here, and that's what you need. If you're comfortable and happy and you know that everybody has got your back, you're gonna do better and play harder."
The long-term picture
In a brief interview with ESPN.com, Ramirez talked about his desire to stay healthy, his fondness for Los Angeles and the amazing stretch of offensive prowess that catapulted him to an eighth-place finish in the National League MVP race even though he logged a total of 86 games and 304 at-bats between visits to the disabled list.
Then, the subject of his unsettled contract situation was raised, and he flashed a broad smile and headed for the showers.
While the Dodgers have invested huge money in Kershaw ($215 million),
Matt Kemp
($160 million), Greinke ($147 million) and
Andre Ethier
($85 million), Ramirez remains in limbo. He's eligible for free agency in November, and, given his oft-stated man crush on
Derek Jeter
, he has been mentioned as a candidate to succeed the Captain as a potential long-term fit at shortstop in the Bronx.
One unavoidable question: Can a team sign Ramirez for six or seven years with full confidence that the "new and improved" Hanley is the real deal, or wonder if he'll simply revert to his old high-maintenance ways once he gets paid? It's been four years since Ramirez notoriously jogged after a ball to earn a benching from then-Marlins manager Fredi Gonzalez, and that's a tough image for some front-office executives to shake.
Another question, which has been making the rounds for a while now, is how long Ramirez can handle the defensive responsibilities of shortstop. Last season he ranked eighth at the position on the Fielding Bible's plus-minus leaderboard (directly between
Troy Tulowitzki
and
Brendan Ryan
), with plus-eight runs saved. That's surprisingly good.
But the metrics tell only part of the story. Scouts and execs see a big man at 6-foot-2, 225 pounds, and they wonder if he's going to get heavier now that he's passed age 30. How much longer will Ramirez have the agility to move side to side in quick bursts, dodge incoming baserunners on double-play pivots and range into the outfield after popups and relay throws?
"I wrote him up as a third baseman
last year
," a scout in the Cactus League said.
For all the Jeter talk, the more relevant question might be whether Ramirez is a candidate to replace
Alex Rodriguez
at third base in the Bronx.
"It's getting harder to find a third baseman that profiles like he does," another scout said. "He's gonna be a power guy. He's got a great arm. He's got some first-step quickness. I think he'd play longer and be more productive as a third baseman."
Main cog
Assuming Ramirez can stay on the field, the bat will suffice no matter where the Dodgers, or any other team, play him. His Los Angeles teammates look back with respect bordering on reverence over what he achieved in 2013, when he returned from the DL and combined with
Yasiel Puig
to spark a run from last place in the NL West to a 92-70 record and a division title. The Dodgers were 51-26 when Ramirez was in the starting lineup and 41-44 when he wasn't.
"I always tell everyone, 'Puig might have been the one to start our engine, but Hanley is the one who ran it [last season],'" first baseman
Adrian Gonzalez
said. "He was our best player. He was our best hitter, and he was the one who was leading the charge, for sure."
"

I always tell everyone, '[Yasiel] Puig might have been the one to start our engine, but Hanley is the one who ran it [last season].' He was our best player. He was our best hitter, and he was the one who was leading the charge, for sure.

"

-- Adrian Gonzalez,
Dodgers first baseman
Los Angeles players who've been around a while compare Ramirez's extended run of excellence with the string that Manny Ramirez put together during a two-month span in 2008, when he hit .396 with a 1.232 OPS after joining the Dodgers from Boston at the trade deadline.
ManRam and HanRam share more than just rhythmic nicknames. Manny had a knack -- and Hanley still does -- for hitting the ball hard even if an at-bat played out in unexpected ways.
"Manny would sit on a slider the whole at-bat," Kershaw said. "Some other guys do that, but if the pitcher throws anything else, they look terrible. Manny was still able to foul off pitches until he got a slider, and he wouldn't miss it. Hanley is the same way. He definitely looks for certain pitches when he's up there, but if he's fooled or doesn't expect a pitch, that's what separates him. He can still spoil that pitch."
Hanley Ramirez has a pronounced leg kick but rarely, if ever, seems to get caught off balance. He's able to stay inside the baseball and drive it to all fields and has the self-confidence and quick hands to let the ball travel deep in the zone before he commits.
"He's got such a violent, aggressive swing, but it's always under control, if that makes sense," Ellis said. "His body stays calm while his swing is violent."
Ramirez's offensive impact seems even more profound when measured against the Dodgers' alternatives.
Dee Gordon
, Los Angeles' Plan B at shortstop, has a .614 OPS and 26 extra-base hits in 621 major league at-bats, so it's imperative for manager Don Mattingly to find a way to keep Ramirez in the lineup. The Dodgers think they have a better handle on the reasons behind Ramirez's bouts of hamstring tightness now, and Mattingly expects to give him regular, preemptive rests to keep him operational.
The Dodgers saw Ramirez's impact last postseason in the National League Division Series, in which he went 8-for-16, and they beat the
Atlanta Braves
to advance. Then, Ramirez suffered a broken rib on a
Joe Kelly
fastball in Game 1 of the NLCS. He went 2-for-15 against the
St. Louis Cardinals
, and the Dodgers were done for the season.
"We know how important Hanley is to our lineup," Gonzalez said. "I think we lost that series because of that."
The gang is back together at Dodgers camp this spring, with a big payroll, even bigger expectations and looking forward to a deeper postseason run. Ramirez loves L.A., and L.A. appears to love him back. Short term or long term, they're going to enjoy the relationship while it lasts.
February, 14, 2014
2/14/14
10:00
AM ET
As there are every spring, there are great baseball stories everywhere -- from Tampa to Tempe, from Jupiter to Space Coast Stadium, from Goodyear to Surprise.
Which teams will have a good year? Which teams will surprise? The questions are what make spring training so great, so fascinating. They are what define this time of year, along with warm weather, hope and the belief that March 29 will be the last useless evening that we'll have to spend.
[+] Enlarge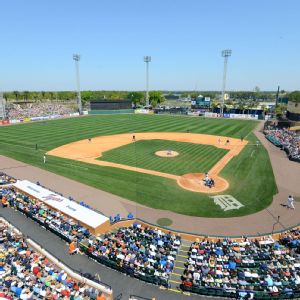 Mark Cunningham/MLB Photos via Getty ImagesNothing beats the look and feel of spring training.
It all begins, as so many spring trainings have before, with the Yankees in Tampa. We will get our first look at
Masahiro Tanaka
, who the Yankees made the fifth-highest paid pitcher in major league history before he ever threw a pitch in the big leagues. Is his splitter as good as everyone says? We will see
Jacoby Ellsbury
,
Brian McCann
and
Carlos Beltran
in Yankee uniforms, and we will see
Derek Jeter
in the final year of his career play shortstop at age 39; only five players in the game's history -- Honus Wagner, Rabbit Maranville, Luke Appling, Luis Aparicio and
Omar Vizquel
-- have played 100 games in a season at shortstop at Jeter's age. He'll turn 40 three weeks before the All-Star break.
The world champion Red Sox mostly will be without their beards this spring, but they will have a new catcher (
A.J. Pierzynski
), a new shortstop (
Xander Bogaerts
) and several candidates to be their new center fielder, including
Grady Sizemore
, who hasn't taken an at-bat in the big leagues since 2011. The Rays will have
David Price
, who hasn't been traded and now, it appears, might not be traded this season. The Orioles might start the season without
Manny Machado
, who is coming back from a serious knee injury. The Blue Jays will open spring training without the hype of last spring, which is good for them.
The Tigers, under new manager Brad Ausmus, will open the spring with a different infield from the one that took the field last spring, including
Ian Kinsler
at second base and rookie
Nick Castellanos
at third. Even more important, they have a real closer this spring in
Joe Nathan
. The Indians have a new closer,
John Axford
, as well. The Royals have a new leadoff batter (
Norichika Aoki
) and second baseman (
Omar Infante
). Meanwhile, the White Sox have a new first baseman (Cuban
Jose Abreu
) and the Twins' new first baseman is their old catcher,
Joe Mauer
.
The A's added to their bullpen, acquiring closer
Jim Johnson
,
Luke Gregerson
and
Eric O'Flaherty
, and welcomed
Scott Kazmir
to their rotation. The Rangers gave
Prince Fielder
a fresh start at first base, found a position (second base) for
Jurickson Profar
and showed
Shin-Soo Choo
what a great country this is, especially when you reach free agency. Great country? The Mariners gave
Robinson Cano
$240 million, but is there protection around him in that lineup? The Angels made significant changes, none of which will really matter if
Albert Pujols
isn't healthy enough to play first base and produce something close to the Pujols of St. Louis. And if the Astros lose 128 games (they are not nearly that bad), they'll tie the Mets (1962-65) for the most losses ever during any four-year period in history.
The Braves have a new catcher in
Evan Gattis
, and they'll have to figure out how to get the batting averages of
B.J. Upton
and
Dan Uggla
back over .200. The Nationals, under rookie manager Matt Williams, need a healthy
Bryce Harper
(knee) if they're going to win the NL East; in mid-January, he sprinted for the first time without pain. We know the Phillies are in Clearwater, but nothing else about them is clear. The Mets have
Curtis Granderson
and
Bartolo Colon
, but not having
Matt Harvey
for perhaps the entire season will be a bummer. The Marlins still have
Giancarlo Stanton
. How long before that situation changes?
The Cardinals have almost an entirely new infield, a new center fielder (
Peter Bourjos
) and maybe a new right fielder if rookie
Oscar Taveras
is healthy and productive. The Pirates have hope again following a playoff appearance in 2013, and with
Gerrit Cole
for a full season. The Reds have a new manager in Bryan Price; now they need to find a center fielder to replace Shin-Soo Choo: Is this the spring that
Billy Hamilton
steals a job? The Brewers have a new right fielder in
Ryan Braun
; no questions about Biogeneis will be taken, however. The Cubs have a new spring training facility and a new manager, Rick Renteria.
[+] Enlarge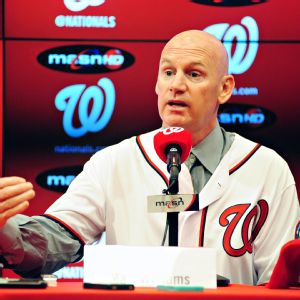 Evan Habeeb/USA TODAY SportsExpectations are once again high for the Nationals, who have a new manager in Matt Williams.
The Dodgers have four outfielders for three spots; one of them,
Matt Kemp
, is coming back from shoulder and ankle injuries -- his health and production will be one of the big stories of the spring. The Diamondbacks have a new left fielder,
Mark Trumbo
, who might hit 40 homers in their ballpark. The Dodgers and Diamondbacks will open the season March 22 in Australia; let's hope there isn't a major brawl Down Under. The Giants added
Tim Hudson
, and
Pablo Sandoval
subtracted 42 pounds. The Padres signed
Josh Johnson
to pitch in a rotation headed by
Ian Kennedy
-- here's hoping they play a doubleheader this year, and go with the Kennedy-Johnson ticket. The Rockies will open camp with
Troy Tulowitzki
, but, for the first time since 1988, they'll begin a season without
Todd Helton
.
There will be lots of stories, questions and sunshine this spring. It is the best time of year. It is a time for optimism: No one has lost a game, the rookies all have promise and the veterans believe it will be their best year. It is baseball in its purest form, a time for wind sprints, fundamentals, split-squad games on a back field where only the scouts are watching. Millionaire players are humanized and humbled in spring training. They are not receiving enormous paychecks every two weeks, and they're getting the same meal money as the rookie in his first big league camp. No one is exempt from the three-hour bus rides, playing on fields that aren't manicured to major league standards, and facing anonymous Class A pitchers who throw really hard, but have no idea where the ball is going. It is the one time of year that
Justin Verlander
and a 20-year-old kid are on equal ground. It is the one time of year that a player gets on the bus in uniform, just like in high school.
Eleven years ago, Indians pitcher
Brian Anderson
boarded the team bus at 8 a.m. for the two-hour drive to Vero Beach, Fla., for a spring training game. Thirty minutes into the trip, Anderson realized he had forgotten his hat, his spikes and his glove back in Winter Haven.
"I was running late that morning because I knew I was going to get to hit in the game, so I was looking for the really important things: batting gloves and a bat," Anderson said. "When we got to Vero, I was in full panic mode. I borrowed a car and went to a mall, but there wasn't one glove in the whole mall, but I found some adidas spikes. On the way back to the ballpark, I saw a WalMart. I thought, 'Hey, WalMart has everything ... tires ... produce ... it must have a baseball glove.' I found one: $29.95, already broken in. It was a softball glove. A Wilson. It was awful. I borrowed someone's hat and pitched in the game. Of course, I got three comebackers to the mound, and I caught them all because my new glove was as big as a butterfly net, it made
[Greg] Maddux
's glove look small. That day reminded me of when I was 17 playing Legion ball. That is spring training to me."
Only in spring training could this story happen. The Twins signed infielder
Tsuyoshi Nishioka
in the spring of 2011. He didn't speak much English, and didn't know anyone on the team. Several teammates convinced Twins outfielder
Denard Span
to introduce himself to Nishioka, to make him feel more a part of the team. Only they tricked Span -- they told him that Ray Chang, another infielder, was Nishioka. So Span, ever respectful, approached Chang, bowed gracefully, introduced himself, and asked him if he spoke English.
"Sure I do," Chang said. "I'm from Kansas City!"
The whole team howled.
[+] Enlarge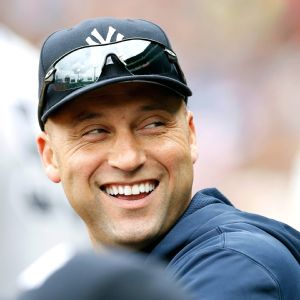 Greg M. Cooper/USA TODAY SportsDerek Jeter, who played only 17 games last season, enters the final year of his career hoping to stay healthy.
Only in spring training could then-Rays first baseman
Carlos Pena
make a mistake in a baserunning drill, then justify it by quoting Dr. Martin Luther King's "I Have A Dream" speech. "My first baseman is quoting Dr. King," said Rays manager Joe Maddon. "I love it."
Only in spring training would pitcher
Jeremy Guthrie
, now with the Royals, ride his bike to work. "It was only five miles," he said of his daily ride two springs ago to the Rockies' facility. Then-teammate
Michael Cuddyer
said of Guthrie, laughing, "He once pitched in a game in Scottsdale, then got on his bike -- still in full uniform, with his glove on the handlebars -- and rode back to our facility. It was like a scene from 'The Sandlot.'"
Only in spring training would then-Padres pitcher
Chris Young
and
Will Venable
pick teams for a free throw shooting tournament because both guys played basketball at Princeton. "That's as nervous as I've ever been for an athletic competition," Young said with a smile, "because I'm not a great free throw shooter, and my team was depending on me to be good." Only in spring training would the Twins hold a bowling tournament behind the KFC in Fort Myers and, said Twins manager Ron Gardenhire, "Joe Mauer would be high-fiving his teammates, guys he's never met in his life, after they rolled a strike." Only in spring training could Jeff Stone get thrown out at all four bases in one game, and only one of them was a forceout (think about that). Only in spring training could Rockies pitcher David Lee, in an emergency, drive the team bus on a night trip, then earn the nickname "Diesel" when he stopped the bus and announced, "We've got to get some diesel!"
Only in spring training is time taken to get in baseball shape. "We're always inventing drills and conditioning programs in spring training," said Rich Donnelly, now the manager of the Mariners' Triple-A team. "Years ago, we'd do 10 jumping jacks, touch our toes twice, then play. Today, these strength and conditioning coaches are always coming up with new stuff: rubber bands, parachutes, cones. I just can't imagine Ted Williams going to spring training and running with a parachute on his back, or Babe Ruth jumping over a bunch of cones."
It is a time for the fans, especially kids. Families take vacations to spring training. Getting a player's autograph is easier because everything and everyone is more relaxed than during the regular season. Well, except for when the Red Sox and Yankees played for the first time in spring training 2004, their first meeting since
Aaron Boone
's home run had sent the Yankees to the World Series, and sent the Red Sox home. Tickets were scalped for $500 for an exhibition game! Before the game, there was a fight in the parking lot at City of Palms Park in Fort Myers between a Yankees fan and a Red Sox fan ... both fans were women!
It's spring training. Finally. We can't wait.
February, 14, 2014
2/14/14
9:00
AM ET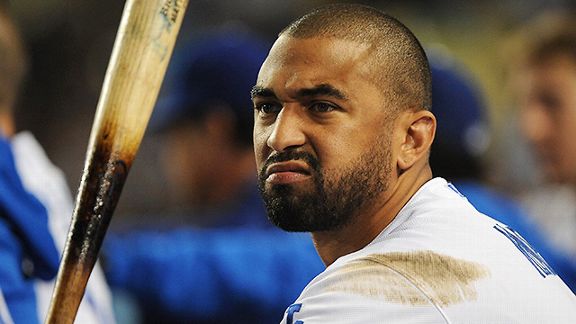 Lisa Blumenfeld/Getty ImagesIs it possible Matt Kemp might miss all of spring training? Could be.
It was in March 2013
that I predicted
that some time during the season,
Yasiel Puig
would become a star on the level of past star rookies such as Fernando Valenzuela and
Hideo Nomo
and create his own mania -- "Puigmania."
Well, it's time for more bold predictions, and I'm beginning with spring training. Let's take a look at my 10 bold predictions for 2014 spring training. (Don't worry, I'll make more bold predictions for the regular season.)
1. Matt Kemp doesn't play in a single major league spring training game.

Kemp is still recovering from microfracture surgery on his left talus bone (a major weight-bearing bone in his ankle), and I think he will begin the season on the disabled list.
March, 12, 2013
3/12/13
11:32
AM ET
MARYVALE, Ariz. -- We have yet to see how pitcher Hyun-Jin Ryu will fare on the mound this season, but here's one scouting report on his batting skills: Pitch him low.
Hitting for the first time since he was in high school eight years ago, Ryu kept the bat on his shoulder Monday and looked at three pitches, all strikes, then walked back to the dugout. Speaking through an interpreter after the spring training game against the Brewers, Ryu said he didn't swing because he thought the pitches were too low.
"It was an honor to face major league pitchers," said Ryu, who laid down a sacrifice bunt in his second plate appearance. "I will adjust myself to put the bat on the balls."
Dodgers manager Don Mattingly had a one-word assessment of Ryu's batting skills ... if you can call it a word: "Ehh."
Then he elaborated.
"I think he's going to be OK," Mattingly added. "His swing looks decent. It's just a matter of getting a little time in on it."
Of more concern to Mattingly and the Dodgers, of course, is how Ryu fares on the mound. He signed a six-year, $36 million contract with Los Angeles over the winter and is the first pitcher to go directly to the majors from the Korean Baseball Organization. Monday was his third start and fourth game of the spring, and it was of enough interest back home that the game was televised in Korea.
[+] Enlarge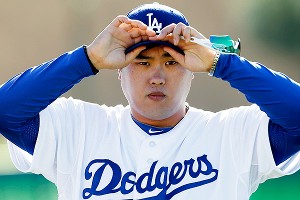 AP Photo/Paul SancyaHyun-Jin Ryu's latest spring outing was impressive.
Ryu held the Brewers scoreless through the first three innings, then allowed three runs in the fourth. In 4 2/3 innings, he gave up five hits and two walks, struck out three, and allowed no dents to his confidence.
"I gave up one legitimate hit," he said. "I regret giving it up."
Unlike other pitchers, Ryu does not throw bullpen sessions between starts because he didn't do so in Korea and was successful with that routine.
"It's different because you don't see the bullpens so you have to wait five days every time," Mattingly said. "He looked crisp. I see the change of speeds and the way the guys react and I listen to [catcher A.J. Ellis]. I'm asking A.J. when he gives up a hit or a walk if he's losing his stuff and he says, 'Nah, he's still good.'"
Monday's outing left Ryu with a 5.71 ERA this spring. He's allowed 13 hits while striking out 13 in 10 2/3 innings. He said he thinks he's getting a better feel for his breaking balls, better command overall and his fastball is getting stronger. He says the Dodgers staff has given him confidence, telling him he is "the king of the mound" and to do what he thinks is best when pitching.
Ryu evidently isn't letting South Korea's recent tensions with North Korea -- earlier this week, the North Korean army declared invalid the 1953 armistice that ended the Korean war -- bother him, either, saying he didn't think North Korea would be aggressive enough to start a war despite the recent threats.
Meanwhile, 22-year-old Cuban outfielder Yasiel Puig, whom the Dodgers signed to a seven-year, $43 million contract last summer, had two hits Monday to raise his average to .452.
"I took him out today and he said, 'Why?'" Mattingly said, then joked, "Trying to protect his average."
Mattingly said Puig's play has surprised him, though he declined to speculate on his chances of making the team.
"He needs to play," Mattingly said. "The more games he plays, the more experience he's going to have. He's rough. He's a wild horse. He just plays wild, but it's fun to watch.
"The thing I like about Puig is he doesn't really swing and miss. For a big power guy, you don't see him swing and miss when it's in the strike zone. He usually gets a piece of it or fouls it back. He doesn't swing and miss in the strike zone."
Mattingly said there are no negatives to Puig's game, joking that the only thing he can't seem to do is "hit the cutoff man."