Spring Training:

Milwaukee Brewers
March, 12, 2014
Mar 12
11:00
AM ET
PHOENIX -- While Hank the Dog prepares for his next photo shoot,
Ryan Braun
learns the ins-and-outs of right field play and
Carlos Gomez
and
Jean Segura
try to build on breakout seasons, the
Milwaukee Brewers
are well aware that their fate in 2014 will rest on a baseball platitude: Everything comes down to pitching in the end.
It's been three spring trainings since the Brewers were flush with optimism behind a rotation that included
Zack Greinke
,
Shaun Marcum
,
Randy Wolf
,
Chris Narveson
and
Yovani Gallardo
. That group combined with
Prince Fielder
and Braun, the National League MVP, to help Milwaukee win 96 games and fall two victories short of a World Series appearance in 2011.
A lot has changed in a relatively short time in Milwaukee. Fielder and
Corey Hart
are both in the American League.
Rickie Weeks
is trying to fend off
Scooter Gennett
in the competition for the Brewers' starting second base job. Former Milwaukee closer
John Axford
is posting his Oscar picks on Twitter from the Indians' clubhouse these days, and
Nyjer Morgan
, aka "Tony Plush," has joined him in Cleveland after a foray to Japan.
The Brewers dipped from 96 wins to 83 to 74 last year, when they finished a distant fourth in the National League Central, and the rotation has undergone an 80 percent turnover since the good times. Only Gallardo remains, and he's coming off the worst season of his career.
St. Louis is stacked, Cincinnati has made the playoffs three times in four years, and the Pirates are trending in the right direction after their first winning season and playoff appearance since 1992.
[+] Enlarge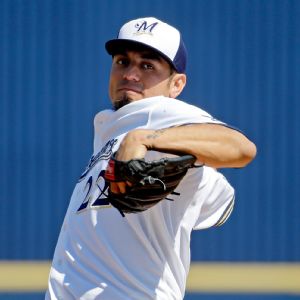 AP Photo/Morry GashWill Matt Garza pitch like an ace for the Brewers this season? They sure hope so after signing him to a four-year, $50 million deal in the offseason.
And the Brewers? One big-league scout, who has seen a lot of Milwaukee this spring and spoke on the condition of anonymity, characterized the rotation as "ordinary" and thinks it's filled with too many mid-rotation, six-inning starters to take the heat off the bullpen. Although full seasons from Braun and
Aramis Ramirez
will help the Brewers improve upon their total of 640 runs scored a year ago, Milwaukee's offense still doesn't stack up with what the Cardinals and Reds run out every night.
"If this team were an ice cream flavor, it would be vanilla," the scout said.
People in the Milwaukee clubhouse would strenuously disagree. The Brewers placed a big bet on former Twin/Ray/Cub/Ranger
Matt Garza
in January, signing him to a four-year, $50 million deal, and he's helped foster a sense of optimism that this team has enough pitching to hang with the big boys.
"I think it's the best staff we've had since '11," said catcher
Jonathan Lucroy
. "I fully believe that."
Garza was knocked around early in Cactus League play, allowing 10 hits in four innings and posting a 13.50 ERA in his first two spring training starts. But his abundant self-confidence and brashness have set an aggressive tone in camp and made an instant impression with his new teammates.
Starter
Marco Estrada
was pitching before a crowd of about 4,000 in a recent game at Maryvale Baseball Park when one voice rose above all the rest: It was Garza yelling encouragement from the dugout after Estrada threw a couple of borderline pitches that were called balls by the home plate umpire.
"I could hear him, and that kind of pumps you up," Estrada said. "It's good to have that swag. Guys are gonna build off it. I think we needed that in this clubhouse. We don't have too many vocal guys, and he's one of them."
Said Lucroy: "There's a lot of personality. He's loud. He's animated. He's aggressive. He's chirping in the dugout. As a player, that's kind of refreshing."
Ultimately, Garza and rotation-mates
Kyle Lohse
, Gallardo,
Wily Peralta
and Estrada will do their talking with their WHIPs rather than their lips, and they'll do it against a backdrop of skepticism.
As Brewers general manager Doug Melvin is quick to point out, the NL Central presents some interesting challenges in assembling a staff. Milwaukee's Miller Park, Cincinnati's Great American Ball Park and Chicago's Wrigley Field (when the wind is blowing out) are three of the most hitter-friendly venues in the majors, and they can be unforgiving for pitchers with questionable command and less than put-away stuff.
The Brewers ranked 14 among the 15 NL clubs with 918 innings from their rotation in 2013. Only Colorado received fewer innings from its starters. Milwaukee's starters also allowed the second most homers (175) in the NL, and ranked 14th among 15 teams with 675 strikeouts. They were a pitch-to-contact group last season, and that's not likely to change significantly with the addition of Garza.
One way to help the staff is by improving the defense. Although the Brewers ranked third in the National League behind Arizona and Pittsburgh with 58 defensive runs saved in 2013, that number was skewed by the contribution of Gomez, who posted a whopping plus-44 runs saved in center field.
Melvin expects one of the most noticeable upgrades to be at first base, where the Brewers are likely to open the season with a combination of
Mark Reynolds
and either
Lyle Overbay
or
Juan Francisco
. Last year manager Ron Roenicke used nine players at first base (including
Alex Gonzalez
and
Yuniesky Betancourt
), and they combined to make 21 errors. That helped contribute to Milwaukee's National League-high 72 unearned runs allowed.
Still, in the end, the following pitching-related questions will have the biggest impact on the Brewers rekindling the feel-good atmosphere of 2011 or slogging their way through another nondescript summer at Miller Park:
• Was last year just a blip for Gallardo or the beginning of a downward slide? After averaging at least a strikeout an inning in his first four full seasons in the rotation, Gallardo dipped to 7.2 per nine in 2013. According to FanGraphs, his fastball velocity and swing-and-miss rate also have declined noticeably over the past two seasons. Gallardo has been in the Milwaukee organization since 2004, but he just turned 28 and is entering a potentially pivotal phase of his career.
"

If this team were an ice cream flavor, it would be vanilla.

"

-- A scout on the Brewers
Won-loss records only mean so much, but Gallardo has a career record of 81-53.
Homer Bailey
, who was selected by Cincinnati in the same 2004 draft and just signed a $105 million extension with the Reds, is a career 49-45.
"You've got to look at the whole body of work," Melvin said of Gallardo. "He doesn't throw 96-97 mph, and people go goo-goo over that. Some people think his trend is going the other way, but he's been durable for us and he's a very solid pitcher."
• Peralta posted the fourth highest fastball velocity in the majors last year at 94.8 mph, but he ran up some big pitch counts and averaged only 6.3 strikeouts per nine. The Brewers think his strikeout numbers will increase once he develops a better feel for his breaking stuff, but he's more a sinker-groundball pitcher than the swing-and-miss type. The question is, will Peralta be the guy who posted a combined 5.58 ERA in April, May and June, or a combined 3.15 ERA in July, August and September?
•
Jimmy Nelson
, Milwaukee's top prospect, looks the part of a workhorse at 6-foot-6, 245 pounds, but there's some debate over whether he'll wind up in the rotation or the bullpen.
Johnny Hellweg
, who came over from the Angels in the Greinke trade in 2012, is getting a look in camp. And
Tyler Thornburg
, who pitched well in Milwaukee after going 0-9 with a 5.79 ERA for Triple-A Nashville last season, is in the mix after the Brewers declined to discuss him in a deal for Mets first baseman
Ike Davis
over the winter.
• Most important, what will Garza bring to the party? After averaging 202 innings from 2009-11, he's thrown 103 and 155 innings the past two years. Garza was a disappointment in Texas after the Rangers acquired him in a July deadline deal last season, and some suitors were reportedly concerned about his medical reports. That didn't prevent the Brewers from taking the plunge two weeks before camp began.
"He's not the innings eater you would like at the top," said a scout. "His delivery and arm are all right, but he doesn't appear to be a bat-misser right now. When you're paying that kind of money and you're only getting 150-160 innings, somebody else has to throw them, and that somebody else is going to be a lesser guy. He ain't getting younger, so I think what he's been the last couple of years is a pretty good indication of what he's going to be."
No prototypical staff "ace" on the roster? As Melvin contends, Milwaukee is hardly alone in that regard. No 220-inning workhorse? Hey, maybe someone will emerge. Amid the warmth of the Cactus League, it's pretty much illegal to be anything
but
upbeat. Spring is here, Matt Garza is chirping, and the Brewers have nowhere to go but up.
March, 3, 2014
Mar 3
6:58
PM ET
PHOENIX -- It's been 10 days since
Ryan Braun
arrived at the
Milwaukee Brewers
' spring training camp, pronounced himself remorseful for his past transgressions and vowed to move forward with the business of playing baseball at an elite level.
Consider him immersed in the task at hand.
[+] Enlarge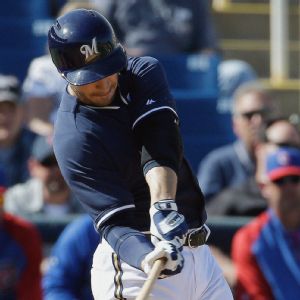 AP Photo/Morry GashHits have been plentiful so far for Ryan Braun this spring.
With a walk, a gap double and a line single up the middle against the
Chicago Cubs
on Monday, Braun has reached base six times in seven Cactus League plate appearances and is hitting .800 in three games.
Of greater importance to the Brewers, he's also making positive strides at his new position. Braun is moving from left field to right field this season to make room for
Khris Davis
, who hit .288 during the 65 games that Braun sat out in 2013 after being suspended in MLB's Biogenesis investigation.
"I'm trying to squeeze a whole semester's worth of work into one month," Braun said.
Braun grew up playing shortstop in California and was drafted as a third baseman out of Miami before moving to left field in his second big league season, so he's accustomed to seeing the ball come off the bat from the left side of the field. That's only one of the challenges the shift to right presents.
Among the other items on Braun's agenda: being prepared to back up on bunt plays and pickoffs from the pitcher and catcher; learning to read the slice of the ball off the bat from a new vantage point; getting acquainted with the various sun fields around the majors; and honing his instincts on when to eat the ball and when to come up throwing. Braun is working with coaches John Shelby and Ed Sedar in camp and seeks out his fellow outfielders for tips on the fine art of right-field play.
As most people who've interacted with Braun will attest, lack of confidence has never been a problem. He occasionally lobbies Milwaukee manager Ron Roenicke to play shortstop and is convinced he could do a serviceable job at the position if he ever committed to it full time.
Right now, Braun is busy enough learning right field, and the Brewers think he can handle the load. Braun caught three fly balls in the same inning in a 6-5 win over the
Los Angeles Dodgers
on Saturday -- "I tied a major legue record," he said -- and looked at ease ranging into the gap to make a catch against the
Chicago Cubs
on Monday.
"I'm heading in the right direction," Braun said. "Wherever I was last week, I'm better this week. And the more balls I see off the bat, the more comfortable I'll be."
February, 22, 2014
Feb 22
8:42
AM ET
PHOENIX -- Milwaukee's
Jean Segura
was a revelation in 2013, when he ranked fifth among big league shortstops with a 3.9 WAR and fourth in OPS at the position at .752. The numbers were even more impressive before Segura faded at the plate in August and September.
But Brewers manager Ron Roenicke reserves his most effusive comments for Segura's work in the field. Although Segura finished the season with a plus-4 runs saved total in the Fielding Bible rankings -- a tick above average -- Roenicke regards him as a whole lot better than that.
"He's fabulous," Roenicke said. "In the second half, he didn't play as well, whether it was because of injuries or he got worn down or whatever the reason. But defensively this guy can really play. I expect him to be a really good major league defensive shortstop for a long time."
Segura, a native of the Dominican Republic, signed his first professional contract with the
Los Angeles Angels
at age 16. He spent six years working his way through the minors before the Angels sent him to Milwaukee in a package deal for
Zack Greinke
at the July 2012 trade deadline. The Angels were set in the middle infield with
Erick Aybar
at shortstop and
Howie Kendrick
at second base, and they were willing to part with Segura and pitcher
Johnny Hellweg
for what turned out to be a total of 13 starts from Greinke.
At 5-10, 204 pounds in the media guide, Segura is shorter and less wiry than the prototypical shortstop, and some scouts thought he would inevitably land at second base. But he takes pride in knowing he's helping to debunk a stereotype.
"Maybe they'll change their minds and sign some short guys to play shortstop." Segura said. "It doesn't matter how tall you are. If you're a good baseball player and you do the right things, you're going to be playing for a long time."
This could be an interesting spring for Segura. He's a candidate to move up from the second spot in the order to leadoff in place of outfielder
Norichika Aoki
, who was traded to Kansas City in December. The Brewers also plan to have
Rickie Weeks
and
Scooter Gennett
compete for the second-base job, so Segura will be working with a couple of double-play partners in the Cactus League.
February, 14, 2014
Feb 14
10:00
AM ET
As there are every spring, there are great baseball stories everywhere -- from Tampa to Tempe, from Jupiter to Space Coast Stadium, from Goodyear to Surprise.
Which teams will have a good year? Which teams will surprise? The questions are what make spring training so great, so fascinating. They are what define this time of year, along with warm weather, hope and the belief that March 29 will be the last useless evening that we'll have to spend.
[+] Enlarge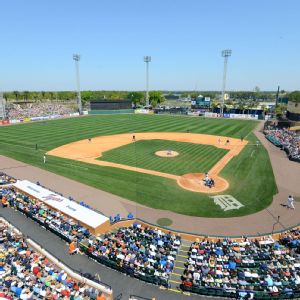 Mark Cunningham/MLB Photos via Getty ImagesNothing beats the look and feel of spring training.
It all begins, as so many spring trainings have before, with the Yankees in Tampa. We will get our first look at
Masahiro Tanaka
, who the Yankees made the fifth-highest paid pitcher in major league history before he ever threw a pitch in the big leagues. Is his splitter as good as everyone says? We will see
Jacoby Ellsbury
,
Brian McCann
and
Carlos Beltran
in Yankee uniforms, and we will see
Derek Jeter
in the final year of his career play shortstop at age 39; only five players in the game's history -- Honus Wagner, Rabbit Maranville, Luke Appling, Luis Aparicio and
Omar Vizquel
-- have played 100 games in a season at shortstop at Jeter's age. He'll turn 40 three weeks before the All-Star break.
The world champion Red Sox mostly will be without their beards this spring, but they will have a new catcher (
A.J. Pierzynski
), a new shortstop (
Xander Bogaerts
) and several candidates to be their new center fielder, including
Grady Sizemore
, who hasn't taken an at-bat in the big leagues since 2011. The Rays will have
David Price
, who hasn't been traded and now, it appears, might not be traded this season. The Orioles might start the season without
Manny Machado
, who is coming back from a serious knee injury. The Blue Jays will open spring training without the hype of last spring, which is good for them.
The Tigers, under new manager Brad Ausmus, will open the spring with a different infield from the one that took the field last spring, including
Ian Kinsler
at second base and rookie
Nick Castellanos
at third. Even more important, they have a real closer this spring in
Joe Nathan
. The Indians have a new closer,
John Axford
, as well. The Royals have a new leadoff batter (
Norichika Aoki
) and second baseman (
Omar Infante
). Meanwhile, the White Sox have a new first baseman (Cuban
Jose Abreu
) and the Twins' new first baseman is their old catcher,
Joe Mauer
.
The A's added to their bullpen, acquiring closer
Jim Johnson
,
Luke Gregerson
and
Eric O'Flaherty
, and welcomed
Scott Kazmir
to their rotation. The Rangers gave
Prince Fielder
a fresh start at first base, found a position (second base) for
Jurickson Profar
and showed
Shin-Soo Choo
what a great country this is, especially when you reach free agency. Great country? The Mariners gave
Robinson Cano
$240 million, but is there protection around him in that lineup? The Angels made significant changes, none of which will really matter if
Albert Pujols
isn't healthy enough to play first base and produce something close to the Pujols of St. Louis. And if the Astros lose 128 games (they are not nearly that bad), they'll tie the Mets (1962-65) for the most losses ever during any four-year period in history.
The Braves have a new catcher in
Evan Gattis
, and they'll have to figure out how to get the batting averages of
B.J. Upton
and
Dan Uggla
back over .200. The Nationals, under rookie manager Matt Williams, need a healthy
Bryce Harper
(knee) if they're going to win the NL East; in mid-January, he sprinted for the first time without pain. We know the Phillies are in Clearwater, but nothing else about them is clear. The Mets have
Curtis Granderson
and
Bartolo Colon
, but not having
Matt Harvey
for perhaps the entire season will be a bummer. The Marlins still have
Giancarlo Stanton
. How long before that situation changes?
The Cardinals have almost an entirely new infield, a new center fielder (
Peter Bourjos
) and maybe a new right fielder if rookie
Oscar Taveras
is healthy and productive. The Pirates have hope again following a playoff appearance in 2013, and with
Gerrit Cole
for a full season. The Reds have a new manager in Bryan Price; now they need to find a center fielder to replace Shin-Soo Choo: Is this the spring that
Billy Hamilton
steals a job? The Brewers have a new right fielder in
Ryan Braun
; no questions about Biogeneis will be taken, however. The Cubs have a new spring training facility and a new manager, Rick Renteria.
[+] Enlarge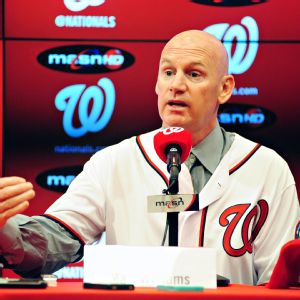 Evan Habeeb/USA TODAY SportsExpectations are once again high for the Nationals, who have a new manager in Matt Williams.
The Dodgers have four outfielders for three spots; one of them,
Matt Kemp
, is coming back from shoulder and ankle injuries -- his health and production will be one of the big stories of the spring. The Diamondbacks have a new left fielder,
Mark Trumbo
, who might hit 40 homers in their ballpark. The Dodgers and Diamondbacks will open the season March 22 in Australia; let's hope there isn't a major brawl Down Under. The Giants added
Tim Hudson
, and
Pablo Sandoval
subtracted 42 pounds. The Padres signed
Josh Johnson
to pitch in a rotation headed by
Ian Kennedy
-- here's hoping they play a doubleheader this year, and go with the Kennedy-Johnson ticket. The Rockies will open camp with
Troy Tulowitzki
, but, for the first time since 1988, they'll begin a season without
Todd Helton
.
There will be lots of stories, questions and sunshine this spring. It is the best time of year. It is a time for optimism: No one has lost a game, the rookies all have promise and the veterans believe it will be their best year. It is baseball in its purest form, a time for wind sprints, fundamentals, split-squad games on a back field where only the scouts are watching. Millionaire players are humanized and humbled in spring training. They are not receiving enormous paychecks every two weeks, and they're getting the same meal money as the rookie in his first big league camp. No one is exempt from the three-hour bus rides, playing on fields that aren't manicured to major league standards, and facing anonymous Class A pitchers who throw really hard, but have no idea where the ball is going. It is the one time of year that
Justin Verlander
and a 20-year-old kid are on equal ground. It is the one time of year that a player gets on the bus in uniform, just like in high school.
Eleven years ago, Indians pitcher
Brian Anderson
boarded the team bus at 8 a.m. for the two-hour drive to Vero Beach, Fla., for a spring training game. Thirty minutes into the trip, Anderson realized he had forgotten his hat, his spikes and his glove back in Winter Haven.
"I was running late that morning because I knew I was going to get to hit in the game, so I was looking for the really important things: batting gloves and a bat," Anderson said. "When we got to Vero, I was in full panic mode. I borrowed a car and went to a mall, but there wasn't one glove in the whole mall, but I found some adidas spikes. On the way back to the ballpark, I saw a WalMart. I thought, 'Hey, WalMart has everything ... tires ... produce ... it must have a baseball glove.' I found one: $29.95, already broken in. It was a softball glove. A Wilson. It was awful. I borrowed someone's hat and pitched in the game. Of course, I got three comebackers to the mound, and I caught them all because my new glove was as big as a butterfly net, it made
[Greg] Maddux
's glove look small. That day reminded me of when I was 17 playing Legion ball. That is spring training to me."
Only in spring training could this story happen. The Twins signed infielder
Tsuyoshi Nishioka
in the spring of 2011. He didn't speak much English, and didn't know anyone on the team. Several teammates convinced Twins outfielder
Denard Span
to introduce himself to Nishioka, to make him feel more a part of the team. Only they tricked Span -- they told him that Ray Chang, another infielder, was Nishioka. So Span, ever respectful, approached Chang, bowed gracefully, introduced himself, and asked him if he spoke English.
"Sure I do," Chang said. "I'm from Kansas City!"
The whole team howled.
[+] Enlarge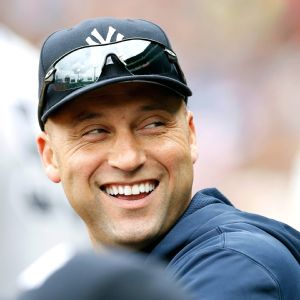 Greg M. Cooper/USA TODAY SportsDerek Jeter, who played only 17 games last season, enters the final year of his career hoping to stay healthy.
Only in spring training could then-Rays first baseman
Carlos Pena
make a mistake in a baserunning drill, then justify it by quoting Dr. Martin Luther King's "I Have A Dream" speech. "My first baseman is quoting Dr. King," said Rays manager Joe Maddon. "I love it."
Only in spring training would pitcher
Jeremy Guthrie
, now with the Royals, ride his bike to work. "It was only five miles," he said of his daily ride two springs ago to the Rockies' facility. Then-teammate
Michael Cuddyer
said of Guthrie, laughing, "He once pitched in a game in Scottsdale, then got on his bike -- still in full uniform, with his glove on the handlebars -- and rode back to our facility. It was like a scene from 'The Sandlot.'"
Only in spring training would then-Padres pitcher
Chris Young
and
Will Venable
pick teams for a free throw shooting tournament because both guys played basketball at Princeton. "That's as nervous as I've ever been for an athletic competition," Young said with a smile, "because I'm not a great free throw shooter, and my team was depending on me to be good." Only in spring training would the Twins hold a bowling tournament behind the KFC in Fort Myers and, said Twins manager Ron Gardenhire, "Joe Mauer would be high-fiving his teammates, guys he's never met in his life, after they rolled a strike." Only in spring training could Jeff Stone get thrown out at all four bases in one game, and only one of them was a forceout (think about that). Only in spring training could Rockies pitcher David Lee, in an emergency, drive the team bus on a night trip, then earn the nickname "Diesel" when he stopped the bus and announced, "We've got to get some diesel!"
Only in spring training is time taken to get in baseball shape. "We're always inventing drills and conditioning programs in spring training," said Rich Donnelly, now the manager of the Mariners' Triple-A team. "Years ago, we'd do 10 jumping jacks, touch our toes twice, then play. Today, these strength and conditioning coaches are always coming up with new stuff: rubber bands, parachutes, cones. I just can't imagine Ted Williams going to spring training and running with a parachute on his back, or Babe Ruth jumping over a bunch of cones."
It is a time for the fans, especially kids. Families take vacations to spring training. Getting a player's autograph is easier because everything and everyone is more relaxed than during the regular season. Well, except for when the Red Sox and Yankees played for the first time in spring training 2004, their first meeting since
Aaron Boone
's home run had sent the Yankees to the World Series, and sent the Red Sox home. Tickets were scalped for $500 for an exhibition game! Before the game, there was a fight in the parking lot at City of Palms Park in Fort Myers between a Yankees fan and a Red Sox fan ... both fans were women!
It's spring training. Finally. We can't wait.
March, 21, 2013
3/21/13
9:30
AM ET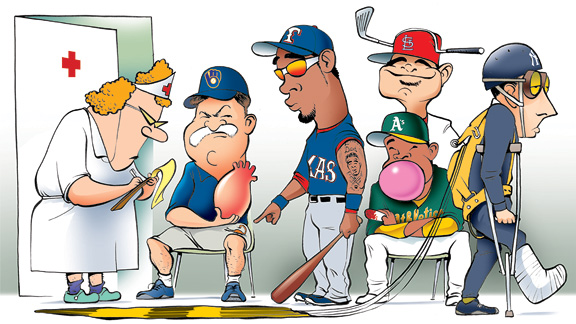 CAMORRIS.comScorpion sting. Painful tattoo. Skydiving accident. Yeah, we've had some strange injuries this spring.
Every spring, it's alwaaaaaays something.
A pitcher twists his neck toweling off between innings. … Or hurts his elbow tossing out the trash. … Or strains his shoulder turning off his alarm clock.
It's alwaaaaaays something. Something that definitely never happened to Cal Ripken, anyway.
But then came this spring, and holy schmoly. You don't need to be related to the surgeon general to know that in the annals of modern spring training medical mishaps, this has been an all-timer. Just to give you an idea:
A general manager (guess who?) jumped out of an airplane and did bad stuff to his fibula. And that wasn't even close to being the craziest injury of this nutty spring. Heck, it didn't even involve a tattoo or a scorpion.
So what
was
the most bizarre injury of them all (uh, so far)? Read on, as we present the Nine Strangest Injuries (or Mishaps) of Spring Training 2013:
EIGHTH RUNNER-UP
: A funny thing happened to
Casey Kotchman
during the Marlins' first pop-up drill of the spring: He was chasing a pop fly and crashed into the pop-up machine. He survived the collision OK. But this little calamity was far from over.
He also knocked over the pop-up gizmo, tried to grab it before it hit the ground and wound up gashing two fingers on his right hand. Four stitches later, according to the Palm Beach Post, he had to sit at his locker and listen to his teammate,
Greg Dobbs
, ask him, jokingly:
"Why did you grab it? What was going through your brain? Dude, if the machine falls and breaks, the drill is over."
Kotchman's classic reply: "I was trying to be a gentleman to the machine and try not to throw it down on the ground."
Moral of the story: Gentlemen prefer fungo bats.
SEVENTH RUNNER-UP
: Tigers shortstop
Jhonny Peralta
missed a game this spring due to, well, lunch. He gulped down a bowl of clam chowder, had an allergic reaction and was a late scratch.
In more ways than one.
SIXTH RUNNER-UP
: Sleep is a big enough challenge in spring training. But every spring, somebody finds a way to take that to a whole new level. And this year's winner is Yankees reliever
David Robertson
. He went a week and a half between appearances this spring because of a sore shoulder.
Robertson
And how'd he hurt that shoulder? Not by throwing a baseball 96 miles an hour. By sleeping on it wrong. How else?
Last spring, you'll recall, Robertson sprained his foot -- by carrying boxes down the stairs. So we believe he's set a franchise record for most spring injuries without setting foot in the ballpark. But we'll check that with the Elias Sports Bureau and get back to you.
FIFTH RUNNER-UP
: This one actually wasn't funny. Two weeks ago, Cardinals reliever
Marc Rzepczynski
went out to play golf with three of his fellow pitchers and got himself into way more trouble than he ever could have imagined by driving into the rough on the first hole. So right after he unfurled his second swing of the day, a piece of dirt or debris apparently flew out of the rough and landed in his eye.
How messy a development was that? Yikes. It caused so much irritation in that eye that not only couldn't he pitch for a week and a half, he had to sleep
standing up
, on doctor's orders, to help the eye heal. But now that we know Rzepczynski will be all right, we'd like to offer four words of helpful advice for the next time he finds his Titleist in the rough:
Free drop. For life.
[+] Enlarge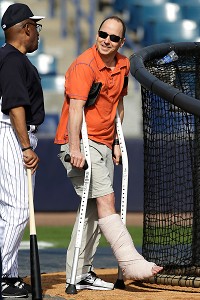 AP Photo/Kathy WillensIs there a more fearless general manager than Brian Cashman?
FOURTH RUNNER-UP
: You can bet that back in the good old days of Bronx Bomber-hood, you never would have caught Gabe Paul, Lee MacPhail or Dan Topping Jr. jumping out of any airplanes. Not for charity. Not for fun. Not even for a very special presentation of Celebrity Yankee GM Apprentice.
But here's to Brian Cashman, whose fearlessness is a refreshing change of pace -- about 99.99999999999999 percent of the time. Except for that one rare, unfortunate occasion this month when a skydiving adventure to benefit the Wounded Warriors Project landed him in a Florida operating room with a broken fibula and dislocated ankle.
We asked Cashman last week whether he'd ever jump out of a plane again. His reply: "Would I? Sure. I don't know if I will, but I would."
Whoah. Hold on. He'd really do that again after what happened to him this time?
"It's like Mariano [Rivera]," he quipped. "Don't want to go out
that
way."
THIRD RUNNER-UP
: It's been a tough spring to be a general manager, even for the guys who managed to stay firmly planted on the ground. Ask Brewers GM Doug Melvin. He was finishing up dinner one night when his wife spotted a "bug" crawling across the floor. So Melvin volunteered to leap to the rescue. Big mistake.
He grabbed a tissue, attempted to apprehend that little bugger and, just as he was about to finish off this heroic deed, got stung in the finger by a creature known as an Arizona bark scorpion. Or, as they say around the scorpion batting cage, a Centruroides sculpturatus.
Almost immediately, Melvin realized numbness was spreading up his arm. So he did what any GM does when times get tough: He turned to Google. And once he read the word "lethal" in the description of the varmint that stung him, he headed straight for the emergency room. Where he spent the next several hours.
Asked by brewers.com's Adam McCalvy what he'd do the next time his wife sees a bug crawling along their floor, Melvin replied: "I'm going to have her kill it with her shoe."
SECOND RUNNER-UP
: For four years, Texas shortstop
Elvis Andrus
had been looking into getting what the Dallas Morning News' Gerry Fraley described as an "elaborate tattoo" to honor his late father, Emilio.
Andrus
Everything about this is both beautiful and touching. Except for one minor detail:
In retrospect, flying in a tattoo artist -- from Dallas -- to apply this thing
during spring training
, which is not held in Dallas, might not have been Elvis' best idea of the millennium.
After spending nine hours, over two days, getting this tattoo etched on his arm, Andrus arrived at Rangers camp the next day reporting that his arm was basically "on fire." So he had to be shut down for a couple of days until the smoldering subsided.
Turned out this wasn't just Andrus' first career tattoo injury but also his first tattoo, period. Much to the chagrin of tattoo-injury historians, it's looking like there won't be a second.
"I'm done with this," he told his local tattoo-beat correspondents. "Too much pain."
FIRST RUNNER-UP
: Bad things seem to be happening this spring when players named Peralta think to themselves: "Hmmm, I believe it's time for lunch."
We've already chronicled Jhonny Peralta's unfortunate encounter with those darned chowder demons. But he can't top the fate that befell Rays reliever
Joel Peralta
last month when he made the mistake of going out for Cuban sandwiches after a workout.
So he hopped in his flashy orange Camaro, arrived at the Cuban Taste restaurant in Port Charlotte, went to wriggle out of the car and … uh-oh … hurt his neck.
By the next day, he had what was described as an "extremely stiff neck." And the upshot was he couldn't throw for four days, had to withdraw from the World Baseball Classic and is still hearing about it from knuckleheads like us.
If you're wondering, though, Peralta fought through the pain, ate the sandwiches and gave this thumbs-up review to the Tampa Bay Times' Marc Topkin: "They were good." Be sure to look for that one on Yelp next time you're in Port Charlotte.
One final astute author's observation: When this injury first happened, who among us would have thought it wouldn't even rank as the top calamity of the spring a month and a half later? Still amazed by that. But you're about to find out why:
AND OUR WINNER IS …
It was an injury only Dave Gumpert, Bubbles Hargrave and John "Chewing Gum" O'Brien could love. It was also an injury so made to order for this high-brow piece of literature that the San Francisco Chronicle's trusty A's beat writer, Susan Slusser, tweeted it at us somewhere in the neighborhood of 11 seconds after she learned about it.
Taylor
A's outfielder
Michael Taylor
probably wasn't going to make the team anyway this spring. But he, um, chewed up whatever chance he had when he sliced up the little finger on his right hand by -- we kid you not -- tossing out his gum. During a game.
So how'd that happen? It was easier than you might think. Taylor grabbed the gum, went to throw it away and -- oops! -- hit his hand on the dugout ceiling light. Which resulted in an injury whose bad taste lingered a lot longer than a piece of Juicy Fruit.
He was out for 11 days, then came back to log a mere eight at-bats, whereupon the A's officially burst his bubble -- by sending him to Sacramento.
Where, as his dentist undoubtedly warned him as a kid, he'll definitely have a lot to chew on.