Spring Training:

New York Yankees
March, 1, 2014
Mar 1
6:17
PM ET
TAMPA, Fla. -- He headed for the mound at exactly 2:13 p.m. in Tampa, not to mention 4:13 a.m. in Tokyo. And the
Masahiro Tanaka
era was off and running. Or at least off and jogging.
Photographers from two continents lurched into action. Fifty players hopped to the top step of the Yankees' dugout.
About half of the 10,934 occupants of Steinbrenner Field rose to applaud. Three TV channels beamed the action back to Japan -- yeah, even at 4 in the morning.
So whatever this was or wasn't, it sure wasn't Just Another Day in the Life of Spring Training. After all, it isn't every day, even in the universe of the Yankees, that a $175 million man whom pretty much none of us have ever laid eyes on takes the mound. So what followed Saturday afternoon, for the next two innings, was as entertaining as the fourth game of spring training can possibly get.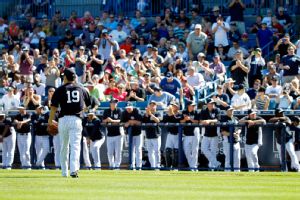 Kim Klement/USA TODAY SportsMasahiro Tanaka received a rousing ovation after throwing two scoreless innings in his spring debut Saturday.
It was just two innings, 32 pitches and two zeroes on the scoreboard, on March 1. So on your list of Greatest Moments in Yankees history, this one will rank slightly below Don Larsen's perfect game.
But we definitely saw enough in Tanaka's two shutout innings -- three swinging strikeouts, no walks, a plummeting splitter, a 94 mph fastball with life, four or five other pitches that spun in all directions -- to get the feeling the fun was only beginning.
Just not for the hitters. We know because we asked them.
"I knew he had to be good," said the Phillies'
Domonic Brown
, whose first confrontation with Tanaka ended up in a sixth-inning strikeout. "He didn't get all that money for no reason."
Excellent assumption. But Brown wound up in the midst of a first-hand research project on the reasons Tanaka got all that cash. And it didn't go well. He was pretty excited, he said, to jump ahead in the count, 1 and 0. He knew all about Tanaka's fabled splitter. He even "geared up" for that splitter, he said. And then whaddya know, here it came.
"I recognized the split," he said. "It seemed like it would be a strike. Then the bottom fell out."
Oops. Brown took a mighty swing at what he thought he saw. The baseball, though, plummeted a foot below his bat. And if that's what happens when a hitter is actually LOOKING for that splitter, and RECOGNIZING that splitter, we'd hate to see the hilarity that's going to ensue when Tanaka throws that pitch to a man who has just made the mistake of looking fastball.
Then later, in the same at-bat, when Tanaka got to two strikes, Brown looked for the splitter again. Seemed like a good idea. Instead, he got an 89 mph cutter, up and in.
"That's a pitch," Brown said, "that nine times out of 10, I'm probably swinging at, especially with my style of hitting."
[+] Enlarge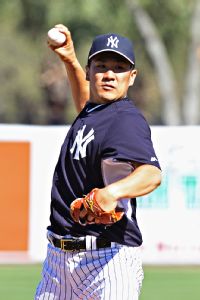 Scott Iskowitz/ Getty ImagesAfter initial exposure, nobody relishes being on the business end of Tanaka's pitches.
But he couldn't hit that one, either. And down he went.
Then there was Phillies catcher
Cameron Rupp
. We'll give him the Ugliest Hack of the Day award, for a funky first-pitch wave at a delivery he still hasn't identified -- or picked up on his radar screen.
"I have no idea what that first pitch he threw me was," Rupp said afterward. "I didn't even see it. My head was looking in left field.
"I thought he'd come at me with a heater," Rupp went on. "So I geared up for it -- and realized too late it wasn't [a heater]."
The good news for Rupp was that he did get a fastball one pitch later. The bad news was, he didn't square up that one, either, flying it softly to left. It may have been an 0-for-1 on the scorecard, but at least, he chuckled, "I got a little TV time in Japan."
Then there was Phillies leadoff hitter
Ben Revere
. Tanaka threw him three pitches. He swung at all three of them. And missed all three of them. He eventually punched out on an 0-2 splitter that disappeared on him somewhere between the mound and home plate.
Asked later what pitches he thought Tanaka had thrown him, Revere replied: "All of them."
When told that Tanaka said afterward he'd thrown seven different pitches, Revere laughed, "It seemed like I saw every single one of them" -- which was quite a feat in a three-pitch at-bat.
But let the record show that the first hitter Tanaka ever faced in the big leagues actually got a hit off him. That was Phillies first baseman
Darin Ruf
, who got down 0-2 in about three seconds, but then lined a down-and-away fastball to center for a soft single.
Asked what he'd tell his grandchildren about this historic moment, Ruf shook his head in mock sadness.
"I didn't realize it was that historic," he said. "Heck, I didn't even get the ball. ... If I need to tell my grandkids, I need the ball."
All right, so it wasn't that historic. But it WAS memorable -- even for the hitters who were supposed to be just getting their at-bats in, in the first week of spring training.
"It was a good experience," Ruf said. "It was a big-league at-bat in spring training, with all the hype coming in, and I knew the whole world would be watching. I had an entire half-inning to think about it. So it was good.
"I was excited for the at-bat," Ruf admitted. "Not that I'm not excited for every at-bat in spring training. But to know it was his first live at-bat in American professional baseball, I got a little bit more hyped than I would for a normal at-bat."
And that sums up this event perfectly. Had Masahiro Tanaka not walked to the mound on Saturday, this could have been any other day in the mellow world of spring training. Instead, it was more. Much more.
"Everyone in baseball pretty much knew about him before today," said Domonic Brown. "You couldn't help but hear about him all winter."
And on Saturday, the legend of Masahiro Tanaka came to life. Which was great news -- for everyone except the men who are going to have to spend the next seven months staring at him with a bat in their hands.
February, 14, 2014
Feb 14
2:07
PM ET
TAMPA, Fla. -- There has been some Internet chatter that in light of the
Derek Jeter
retirement news, the
Yankees
might go after
Stephen Drew
.
The idea is that Drew could play second and third base this season and then become Jeter's replacement in 2015. As a hypothesis goes, it is not terrible.
However, a source told ESPN New York the Yankees still aren't interested in Drew. It didn't sound as if they are going to change their minds, either.
The Yankees could hope that hitting coach Kevin Long can turn the slick-fielding
Brendan Ryan
into a better hitter. If that doesn't work, they could always go into free agency (
J.J. Hardy
after this season) or make a trade for
maybe someone like
Troy Tulowitzki
or
Jose Reyes
.
Maybe Drew signs a one-year deal and the Yankees go after him after the upcoming season.
Numbers never lie
:
Robinson Cano
's No. 24 will be worn by nonroster invitee Scott Sizemore.
I'm no Mo
:
David Robertson
made it clear he is not trying to live up to any legendary expectations. He might be the next Yankees closer after
Mariano Rivera
, but he is not replacing the all-time saves leader.
As Robertson praised Jeter, he drew the comparison to the to-be-determined 2015 Yankees shortstop and his position now.
"Obviously, they are not going to be Derek Jeter," Robertson said. "Whoever takes over, they'll have big shoes to fill. It is kind of like my situation with Mo. I don't expect to step in and be Mariano Rivera. I'm not. Everyone knows that."
Robertson played down the idea that there is much of a difference between pitching the eighth and the ninth. While on a technical level each require three outs, many baseball people -- including Yankees GM Brian Cashman -- believe the final ones come with a different set of mental hurdles.
"If you make mistakes in the ninth, it costs you the game. If you make mistakes in the eighth, it costs you the game," Robertson said. "It is nice to know sometimes you can get away with making a mistake in the eighth and Mo can come in and close it."
As for Jeter, Robertson echoed the universal praise.
"Right now, I'm thinking about the first time I saw him do his jump throw," Robertson said. "We were playing the Florida Marlins, and I come in the dugout and I'm like, 'I can't believe he got to that ball, jumped and threw it.' And I got to see it in person and I'm on the field with him. It [is] memories like that that I'm going to hold on to and cherish."
Robertson added Jeter said hi to him as a rookie, which made him feel a little more at ease in the clubhouse.
Impressions
:
Michael Pineda
looks as if he is in great shape -- a huge contrast from two years ago. He will compete for the No. 5 spot in the rotation. …
Alex Rodriguez
's
locker is vacant
.
Tanakapalooza
:
Masahiro Tanaka
was given the honor of taking Rivera's old locker. Tanaka said he didn't know if he were worthy. Tanaka also said he will try to adapt to the American way of doing things. That will be part of his transition to the majors. Tanaka said that
Hiroki Kuroda
just advised him to be himself.
McCann can't
:
Brian McCann
was cordial in his first spring training meeting with the media, but he didn't say much. He did express that he doesn't think he will be the next face of the Yankees after Jeter.
My best prediction for that honor is Tanaka because of his youth and the fact he has not played for any other major league teams. Plus, if you look at the next five seasons of the Yankees, he might be the most important player -- well, until they spend their next half billion or so.
February, 14, 2014
Feb 14
10:00
AM ET
As there are every spring, there are great baseball stories everywhere -- from Tampa to Tempe, from Jupiter to Space Coast Stadium, from Goodyear to Surprise.
Which teams will have a good year? Which teams will surprise? The questions are what make spring training so great, so fascinating. They are what define this time of year, along with warm weather, hope and the belief that March 29 will be the last useless evening that we'll have to spend.
[+] Enlarge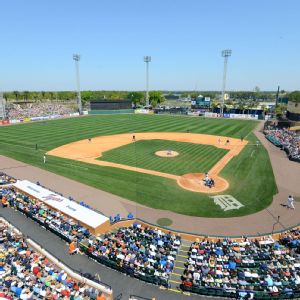 Mark Cunningham/MLB Photos via Getty ImagesNothing beats the look and feel of spring training.
It all begins, as so many spring trainings have before, with the Yankees in Tampa. We will get our first look at
Masahiro Tanaka
, who the Yankees made the fifth-highest paid pitcher in major league history before he ever threw a pitch in the big leagues. Is his splitter as good as everyone says? We will see
Jacoby Ellsbury
,
Brian McCann
and
Carlos Beltran
in Yankee uniforms, and we will see
Derek Jeter
in the final year of his career play shortstop at age 39; only five players in the game's history -- Honus Wagner, Rabbit Maranville, Luke Appling, Luis Aparicio and
Omar Vizquel
-- have played 100 games in a season at shortstop at Jeter's age. He'll turn 40 three weeks before the All-Star break.
The world champion Red Sox mostly will be without their beards this spring, but they will have a new catcher (
A.J. Pierzynski
), a new shortstop (
Xander Bogaerts
) and several candidates to be their new center fielder, including
Grady Sizemore
, who hasn't taken an at-bat in the big leagues since 2011. The Rays will have
David Price
, who hasn't been traded and now, it appears, might not be traded this season. The Orioles might start the season without
Manny Machado
, who is coming back from a serious knee injury. The Blue Jays will open spring training without the hype of last spring, which is good for them.
The Tigers, under new manager Brad Ausmus, will open the spring with a different infield from the one that took the field last spring, including
Ian Kinsler
at second base and rookie
Nick Castellanos
at third. Even more important, they have a real closer this spring in
Joe Nathan
. The Indians have a new closer,
John Axford
, as well. The Royals have a new leadoff batter (
Norichika Aoki
) and second baseman (
Omar Infante
). Meanwhile, the White Sox have a new first baseman (Cuban
Jose Abreu
) and the Twins' new first baseman is their old catcher,
Joe Mauer
.
The A's added to their bullpen, acquiring closer
Jim Johnson
,
Luke Gregerson
and
Eric O'Flaherty
, and welcomed
Scott Kazmir
to their rotation. The Rangers gave
Prince Fielder
a fresh start at first base, found a position (second base) for
Jurickson Profar
and showed
Shin-Soo Choo
what a great country this is, especially when you reach free agency. Great country? The Mariners gave
Robinson Cano
$240 million, but is there protection around him in that lineup? The Angels made significant changes, none of which will really matter if
Albert Pujols
isn't healthy enough to play first base and produce something close to the Pujols of St. Louis. And if the Astros lose 128 games (they are not nearly that bad), they'll tie the Mets (1962-65) for the most losses ever during any four-year period in history.
The Braves have a new catcher in
Evan Gattis
, and they'll have to figure out how to get the batting averages of
B.J. Upton
and
Dan Uggla
back over .200. The Nationals, under rookie manager Matt Williams, need a healthy
Bryce Harper
(knee) if they're going to win the NL East; in mid-January, he sprinted for the first time without pain. We know the Phillies are in Clearwater, but nothing else about them is clear. The Mets have
Curtis Granderson
and
Bartolo Colon
, but not having
Matt Harvey
for perhaps the entire season will be a bummer. The Marlins still have
Giancarlo Stanton
. How long before that situation changes?
The Cardinals have almost an entirely new infield, a new center fielder (
Peter Bourjos
) and maybe a new right fielder if rookie
Oscar Taveras
is healthy and productive. The Pirates have hope again following a playoff appearance in 2013, and with
Gerrit Cole
for a full season. The Reds have a new manager in Bryan Price; now they need to find a center fielder to replace Shin-Soo Choo: Is this the spring that
Billy Hamilton
steals a job? The Brewers have a new right fielder in
Ryan Braun
; no questions about Biogeneis will be taken, however. The Cubs have a new spring training facility and a new manager, Rick Renteria.
[+] Enlarge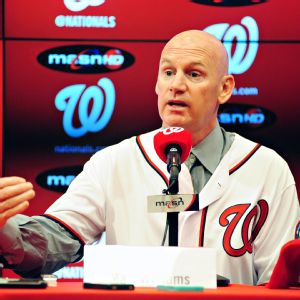 Evan Habeeb/USA TODAY SportsExpectations are once again high for the Nationals, who have a new manager in Matt Williams.
The Dodgers have four outfielders for three spots; one of them,
Matt Kemp
, is coming back from shoulder and ankle injuries -- his health and production will be one of the big stories of the spring. The Diamondbacks have a new left fielder,
Mark Trumbo
, who might hit 40 homers in their ballpark. The Dodgers and Diamondbacks will open the season March 22 in Australia; let's hope there isn't a major brawl Down Under. The Giants added
Tim Hudson
, and
Pablo Sandoval
subtracted 42 pounds. The Padres signed
Josh Johnson
to pitch in a rotation headed by
Ian Kennedy
-- here's hoping they play a doubleheader this year, and go with the Kennedy-Johnson ticket. The Rockies will open camp with
Troy Tulowitzki
, but, for the first time since 1988, they'll begin a season without
Todd Helton
.
There will be lots of stories, questions and sunshine this spring. It is the best time of year. It is a time for optimism: No one has lost a game, the rookies all have promise and the veterans believe it will be their best year. It is baseball in its purest form, a time for wind sprints, fundamentals, split-squad games on a back field where only the scouts are watching. Millionaire players are humanized and humbled in spring training. They are not receiving enormous paychecks every two weeks, and they're getting the same meal money as the rookie in his first big league camp. No one is exempt from the three-hour bus rides, playing on fields that aren't manicured to major league standards, and facing anonymous Class A pitchers who throw really hard, but have no idea where the ball is going. It is the one time of year that
Justin Verlander
and a 20-year-old kid are on equal ground. It is the one time of year that a player gets on the bus in uniform, just like in high school.
Eleven years ago, Indians pitcher
Brian Anderson
boarded the team bus at 8 a.m. for the two-hour drive to Vero Beach, Fla., for a spring training game. Thirty minutes into the trip, Anderson realized he had forgotten his hat, his spikes and his glove back in Winter Haven.
"I was running late that morning because I knew I was going to get to hit in the game, so I was looking for the really important things: batting gloves and a bat," Anderson said. "When we got to Vero, I was in full panic mode. I borrowed a car and went to a mall, but there wasn't one glove in the whole mall, but I found some adidas spikes. On the way back to the ballpark, I saw a WalMart. I thought, 'Hey, WalMart has everything ... tires ... produce ... it must have a baseball glove.' I found one: $29.95, already broken in. It was a softball glove. A Wilson. It was awful. I borrowed someone's hat and pitched in the game. Of course, I got three comebackers to the mound, and I caught them all because my new glove was as big as a butterfly net, it made
[Greg] Maddux
's glove look small. That day reminded me of when I was 17 playing Legion ball. That is spring training to me."
Only in spring training could this story happen. The Twins signed infielder
Tsuyoshi Nishioka
in the spring of 2011. He didn't speak much English, and didn't know anyone on the team. Several teammates convinced Twins outfielder
Denard Span
to introduce himself to Nishioka, to make him feel more a part of the team. Only they tricked Span -- they told him that Ray Chang, another infielder, was Nishioka. So Span, ever respectful, approached Chang, bowed gracefully, introduced himself, and asked him if he spoke English.
"Sure I do," Chang said. "I'm from Kansas City!"
The whole team howled.
[+] Enlarge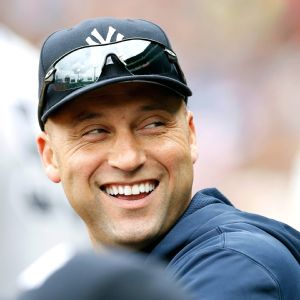 Greg M. Cooper/USA TODAY SportsDerek Jeter, who played only 17 games last season, enters the final year of his career hoping to stay healthy.
Only in spring training could then-Rays first baseman
Carlos Pena
make a mistake in a baserunning drill, then justify it by quoting Dr. Martin Luther King's "I Have A Dream" speech. "My first baseman is quoting Dr. King," said Rays manager Joe Maddon. "I love it."
Only in spring training would pitcher
Jeremy Guthrie
, now with the Royals, ride his bike to work. "It was only five miles," he said of his daily ride two springs ago to the Rockies' facility. Then-teammate
Michael Cuddyer
said of Guthrie, laughing, "He once pitched in a game in Scottsdale, then got on his bike -- still in full uniform, with his glove on the handlebars -- and rode back to our facility. It was like a scene from 'The Sandlot.'"
Only in spring training would then-Padres pitcher
Chris Young
and
Will Venable
pick teams for a free throw shooting tournament because both guys played basketball at Princeton. "That's as nervous as I've ever been for an athletic competition," Young said with a smile, "because I'm not a great free throw shooter, and my team was depending on me to be good." Only in spring training would the Twins hold a bowling tournament behind the KFC in Fort Myers and, said Twins manager Ron Gardenhire, "Joe Mauer would be high-fiving his teammates, guys he's never met in his life, after they rolled a strike." Only in spring training could Jeff Stone get thrown out at all four bases in one game, and only one of them was a forceout (think about that). Only in spring training could Rockies pitcher David Lee, in an emergency, drive the team bus on a night trip, then earn the nickname "Diesel" when he stopped the bus and announced, "We've got to get some diesel!"
Only in spring training is time taken to get in baseball shape. "We're always inventing drills and conditioning programs in spring training," said Rich Donnelly, now the manager of the Mariners' Triple-A team. "Years ago, we'd do 10 jumping jacks, touch our toes twice, then play. Today, these strength and conditioning coaches are always coming up with new stuff: rubber bands, parachutes, cones. I just can't imagine Ted Williams going to spring training and running with a parachute on his back, or Babe Ruth jumping over a bunch of cones."
It is a time for the fans, especially kids. Families take vacations to spring training. Getting a player's autograph is easier because everything and everyone is more relaxed than during the regular season. Well, except for when the Red Sox and Yankees played for the first time in spring training 2004, their first meeting since
Aaron Boone
's home run had sent the Yankees to the World Series, and sent the Red Sox home. Tickets were scalped for $500 for an exhibition game! Before the game, there was a fight in the parking lot at City of Palms Park in Fort Myers between a Yankees fan and a Red Sox fan ... both fans were women!
It's spring training. Finally. We can't wait.
March, 21, 2013
3/21/13
9:30
AM ET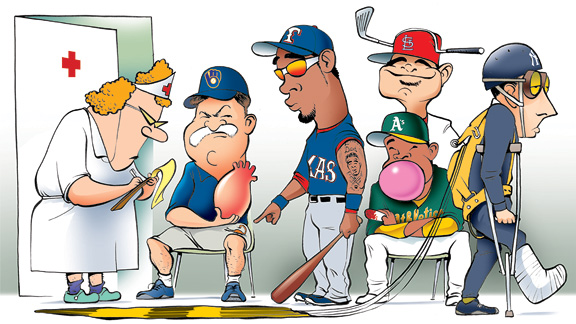 CAMORRIS.comScorpion sting. Painful tattoo. Skydiving accident. Yeah, we've had some strange injuries this spring.
Every spring, it's alwaaaaaays something.
A pitcher twists his neck toweling off between innings. … Or hurts his elbow tossing out the trash. … Or strains his shoulder turning off his alarm clock.
It's alwaaaaaays something. Something that definitely never happened to Cal Ripken, anyway.
But then came this spring, and holy schmoly. You don't need to be related to the surgeon general to know that in the annals of modern spring training medical mishaps, this has been an all-timer. Just to give you an idea:
A general manager (guess who?) jumped out of an airplane and did bad stuff to his fibula. And that wasn't even close to being the craziest injury of this nutty spring. Heck, it didn't even involve a tattoo or a scorpion.
So what
was
the most bizarre injury of them all (uh, so far)? Read on, as we present the Nine Strangest Injuries (or Mishaps) of Spring Training 2013:
EIGHTH RUNNER-UP
: A funny thing happened to
Casey Kotchman
during the Marlins' first pop-up drill of the spring: He was chasing a pop fly and crashed into the pop-up machine. He survived the collision OK. But this little calamity was far from over.
He also knocked over the pop-up gizmo, tried to grab it before it hit the ground and wound up gashing two fingers on his right hand. Four stitches later, according to the Palm Beach Post, he had to sit at his locker and listen to his teammate,
Greg Dobbs
, ask him, jokingly:
"Why did you grab it? What was going through your brain? Dude, if the machine falls and breaks, the drill is over."
Kotchman's classic reply: "I was trying to be a gentleman to the machine and try not to throw it down on the ground."
Moral of the story: Gentlemen prefer fungo bats.
SEVENTH RUNNER-UP
: Tigers shortstop
Jhonny Peralta
missed a game this spring due to, well, lunch. He gulped down a bowl of clam chowder, had an allergic reaction and was a late scratch.
In more ways than one.
SIXTH RUNNER-UP
: Sleep is a big enough challenge in spring training. But every spring, somebody finds a way to take that to a whole new level. And this year's winner is Yankees reliever
David Robertson
. He went a week and a half between appearances this spring because of a sore shoulder.
Robertson
And how'd he hurt that shoulder? Not by throwing a baseball 96 miles an hour. By sleeping on it wrong. How else?
Last spring, you'll recall, Robertson sprained his foot -- by carrying boxes down the stairs. So we believe he's set a franchise record for most spring injuries without setting foot in the ballpark. But we'll check that with the Elias Sports Bureau and get back to you.
FIFTH RUNNER-UP
: This one actually wasn't funny. Two weeks ago, Cardinals reliever
Marc Rzepczynski
went out to play golf with three of his fellow pitchers and got himself into way more trouble than he ever could have imagined by driving into the rough on the first hole. So right after he unfurled his second swing of the day, a piece of dirt or debris apparently flew out of the rough and landed in his eye.
How messy a development was that? Yikes. It caused so much irritation in that eye that not only couldn't he pitch for a week and a half, he had to sleep
standing up
, on doctor's orders, to help the eye heal. But now that we know Rzepczynski will be all right, we'd like to offer four words of helpful advice for the next time he finds his Titleist in the rough:
Free drop. For life.
[+] Enlarge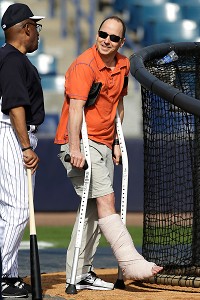 AP Photo/Kathy WillensIs there a more fearless general manager than Brian Cashman?
FOURTH RUNNER-UP
: You can bet that back in the good old days of Bronx Bomber-hood, you never would have caught Gabe Paul, Lee MacPhail or Dan Topping Jr. jumping out of any airplanes. Not for charity. Not for fun. Not even for a very special presentation of Celebrity Yankee GM Apprentice.
But here's to Brian Cashman, whose fearlessness is a refreshing change of pace -- about 99.99999999999999 percent of the time. Except for that one rare, unfortunate occasion this month when a skydiving adventure to benefit the Wounded Warriors Project landed him in a Florida operating room with a broken fibula and dislocated ankle.
We asked Cashman last week whether he'd ever jump out of a plane again. His reply: "Would I? Sure. I don't know if I will, but I would."
Whoah. Hold on. He'd really do that again after what happened to him this time?
"It's like Mariano [Rivera]," he quipped. "Don't want to go out
that
way."
THIRD RUNNER-UP
: It's been a tough spring to be a general manager, even for the guys who managed to stay firmly planted on the ground. Ask Brewers GM Doug Melvin. He was finishing up dinner one night when his wife spotted a "bug" crawling across the floor. So Melvin volunteered to leap to the rescue. Big mistake.
He grabbed a tissue, attempted to apprehend that little bugger and, just as he was about to finish off this heroic deed, got stung in the finger by a creature known as an Arizona bark scorpion. Or, as they say around the scorpion batting cage, a Centruroides sculpturatus.
Almost immediately, Melvin realized numbness was spreading up his arm. So he did what any GM does when times get tough: He turned to Google. And once he read the word "lethal" in the description of the varmint that stung him, he headed straight for the emergency room. Where he spent the next several hours.
Asked by brewers.com's Adam McCalvy what he'd do the next time his wife sees a bug crawling along their floor, Melvin replied: "I'm going to have her kill it with her shoe."
SECOND RUNNER-UP
: For four years, Texas shortstop
Elvis Andrus
had been looking into getting what the Dallas Morning News' Gerry Fraley described as an "elaborate tattoo" to honor his late father, Emilio.
Andrus
Everything about this is both beautiful and touching. Except for one minor detail:
In retrospect, flying in a tattoo artist -- from Dallas -- to apply this thing
during spring training
, which is not held in Dallas, might not have been Elvis' best idea of the millennium.
After spending nine hours, over two days, getting this tattoo etched on his arm, Andrus arrived at Rangers camp the next day reporting that his arm was basically "on fire." So he had to be shut down for a couple of days until the smoldering subsided.
Turned out this wasn't just Andrus' first career tattoo injury but also his first tattoo, period. Much to the chagrin of tattoo-injury historians, it's looking like there won't be a second.
"I'm done with this," he told his local tattoo-beat correspondents. "Too much pain."
FIRST RUNNER-UP
: Bad things seem to be happening this spring when players named Peralta think to themselves: "Hmmm, I believe it's time for lunch."
We've already chronicled Jhonny Peralta's unfortunate encounter with those darned chowder demons. But he can't top the fate that befell Rays reliever
Joel Peralta
last month when he made the mistake of going out for Cuban sandwiches after a workout.
So he hopped in his flashy orange Camaro, arrived at the Cuban Taste restaurant in Port Charlotte, went to wriggle out of the car and … uh-oh … hurt his neck.
By the next day, he had what was described as an "extremely stiff neck." And the upshot was he couldn't throw for four days, had to withdraw from the World Baseball Classic and is still hearing about it from knuckleheads like us.
If you're wondering, though, Peralta fought through the pain, ate the sandwiches and gave this thumbs-up review to the Tampa Bay Times' Marc Topkin: "They were good." Be sure to look for that one on Yelp next time you're in Port Charlotte.
One final astute author's observation: When this injury first happened, who among us would have thought it wouldn't even rank as the top calamity of the spring a month and a half later? Still amazed by that. But you're about to find out why:
AND OUR WINNER IS …
It was an injury only Dave Gumpert, Bubbles Hargrave and John "Chewing Gum" O'Brien could love. It was also an injury so made to order for this high-brow piece of literature that the San Francisco Chronicle's trusty A's beat writer, Susan Slusser, tweeted it at us somewhere in the neighborhood of 11 seconds after she learned about it.
Taylor
A's outfielder
Michael Taylor
probably wasn't going to make the team anyway this spring. But he, um, chewed up whatever chance he had when he sliced up the little finger on his right hand by -- we kid you not -- tossing out his gum. During a game.
So how'd that happen? It was easier than you might think. Taylor grabbed the gum, went to throw it away and -- oops! -- hit his hand on the dugout ceiling light. Which resulted in an injury whose bad taste lingered a lot longer than a piece of Juicy Fruit.
He was out for 11 days, then came back to log a mere eight at-bats, whereupon the A's officially burst his bubble -- by sending him to Sacramento.
Where, as his dentist undoubtedly warned him as a kid, he'll definitely have a lot to chew on.
February, 22, 2013
2/22/13
3:55
PM ET
TAMPA, Fla. -- He jogged to the mound at 9:35 on a sun-splashed spring training morning, a water bottle clutched in his right hand. No. 99 in your program, Rob Segedin, waited at home plate.
For the great
Mariano Rivera
, this was the beginning of his march toward history.
Right. More history.
You wouldn't think he would have much more left to do, much more left to prove, much more stuff he could accomplish to fill up anybody's history book, would you?
He has already saved more games, saved more postseason games and turned more bats into kindling than any relief pitcher who ever lived. But this is different. He is 43 years old, the same age as Steffi Graf, Brett Favre and
Jeff Cirillo
. They're all done playing. Mariano? Ehhhh, not so much.
Nearly 10 months after blowing out his right ACL on a warning track in Kansas City, Mo., he occupied his Friday morning by launching 20 of his fabled cutters past Segedin and Kyle Roller (No. 98 in your program) on a gleaming diamond in Tampa.
It was the first time this man had delivered a pitch to a living, breathing hitter since April 30, when
Nick Markakis
was cooperative enough to bounce into a game-ending double play at Yankee Stadium to finish off career save No. 608. So this was a big day. For him, and for that team that's enjoyed riding on his surfboard all these years.
[+] Enlarge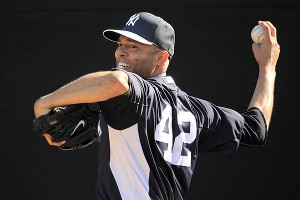 John Munson/USA TODAY SportsMariano Rivera has worked his way back to pitch again at age 43.
So when this little session of live BP was through, and Rivera's golden right arm was still attached to his shoulder, life in the Yankees cosmos was finally back to -- to use Joe Girardi's word of the day -- "normal."
But that's where we need to step in and make a point: This isn't normal.
There's nothing normal about it. Nothing. What exactly is normal about a 43-year-old man, working on a blown-out knee, gearing up for another season of greatness?
Unless that man is Mariano Rivera, that is.
"I think, as everyone else gets older, he gets younger," said his onetime
heir apparent
Joba Chamberlain
. "I don't know how he does it. I need to find his fountain of youth. Wherever it's at, he needs to share the wealth."
But the truth is that no one else has ever done it like The Great Mariano has. And it's hard to believe anyone ever will. There is no map to his fountain that will be available to the rest of us anytime soon. Sorry about that.
If anyone else could possibly learn to throw That Pitch even remotely close to the way he's thrown it, someone would have learned it by now and done it by now. Right?
But apparently, there is nothing about this man that is humanly possible for the rest of the species to duplicate. So why would it ever occur to anyone who has ever been around him that he
wouldn't
come back, at 43, and pick right up where he left off?
On this team, in this clubhouse, that's actually looked at as a preposterous thought.
"He's just one of those ageless guys," said another bullpen amigo,
David Phelps
.
But it's time for us to make another point we should all remind ourselves of: No one is ageless. No one. Not even Cher.
Not even the great Mariano Rivera.
This is where the history part of this saga -- his saga -- comes in. I'd like you to make a list of all the 43-year-olds in baseball history who have achieved any level of greatness. On any team. In any season. At any position. It won't take long, because we can sum up pretty much all of them with just two entries: 1) Knuckleballers. 2) Nolan Ryan.
No reason even to discuss the feats of 43-year-old hitters, because there hasn't been a single position player that old (or older) who was worth even 2.0 Wins Above Replacement. (Carlton Fisk's 1.7 WAR in 1991 tops the chart.)
And when we start talking about the storied achievements of 43-year-old relievers, it's safe to say that won't take much time either. Hoyt Wilhelm knuckleballed his way to 14 saves in 1969. But other than him, since the invention of the modern save rule, you know what the record is for most saves in a season by a non-knuckleballer this old? How about six -- by Don McMahon for the 1973 Giants.
Six saves? That's basically just another week in the life of Mariano Rivera.
So if Rivera simply goes out there and plays himself in this major motion picture this season, he is bound for a place that no relief pitcher in history has ever gone. Again.
[+] Enlarge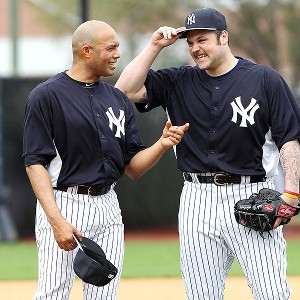 Kim Klement/USA TODAY SportsMariano Rivera is the voice of experience and excellence to Joba Chamberlain.
But suppose he doesn't? Sorry. Had to ask. Suppose he follows the path that pretty much every other earthling his age has followed in the history of his sport? Suppose he discovers that he too is human. Maybe his 43-year-old hamstrings start popping, his 43-year-old elbow starts throbbing, or his 43-year-old bones start aching.
Then what? That's not a development anyone around this $210 million baseball team he plays for prefers to contemplate. I can assure you of that.
I posed that question to the manager on Friday. And at first, Girardi started conjecturing about moving
David Robertson
from the eighth inning to the ninth or doing it by committee. But finally, he said: "I try to not even think about that."
And that's the remarkable part of this remarkable story: No one in a Yankees uniform can even fathom the idea that this man could be anything less than great. Even at age 43. On a reconstructed knee.
Including Mariano Rivera himself. He sat in the dugout Friday, beads of sweat trickling down his face. And never once, for one moment, did he sound like a man with a doubt in the world about what lies ahead for him.
You'd think, for instance, that he might be concerned that he couldn't command his cutter again, with a hitter in the box, after all these months off? Yeah, right.
"That's one thing, thank God, I never worry about -- command," he said. "I know if I do all the things I need to do, it will be there. I took a vacation. It's still there. It hasn't gone nowhere, guys. Still there."
As the laughter died down, he was asked if he was ever nervous that it wouldn't be there. Wait. What? Rivera dismissed that idea with a wave of his arm.
"I don't think like that," he said softly. "I always know that it will be there. Even if it's not, I always believe that it will be there."
And that is part of his secret. Because he believes so strongly and convincingly, everyone else around him believes. With the aura this man exudes, 24/7, how could they do anything but believe?
"The expectation is that he's always going to be Mo," said Girardi. "And I think the reason you're comfortable saying that is that all we've ever seen. Even when he burst on the scene in '96, when he didn't have much of a track record, he was great."
"'Great' -- I don't even think that's the right word for it," said Chamberlain. "I honestly don't think that describes how good he has been. I don't think there's an adjective that can describe him."
So hold on here. There's a level beyond "great" somewhere out there, or up there, where only Mariano Rivera resides? There has to be a word for that, doesn't there?
"I almost want to say 'immortal,'" Chamberlain said. "That's not far off."
Good one. But there's one slight problem with that word. When you're immortal, you can go on forever. When you're a 43-year-old relief pitcher, even the greatest who ever lived, you can go on only so long. And as Rivera keeps hinting, that final cutter, that final save, is creeping ever closer every day.
So that's what made this slice of spring training life something to watch just a little extra closely Friday. There he was, on one more glorious spring morning, back on a mound, firing away -- that inimitable smile frozen on his face.
Asked if the time he missed last season made him appreciate a moment like this, The Great Mariano had to laugh.
"I always appreciate it," he said. "That's why I love the game of baseball. You don't know what will be the last day you play."