Spring Training:

Pittsburgh Pirates
March, 5, 2014
Mar 5
9:04
AM ET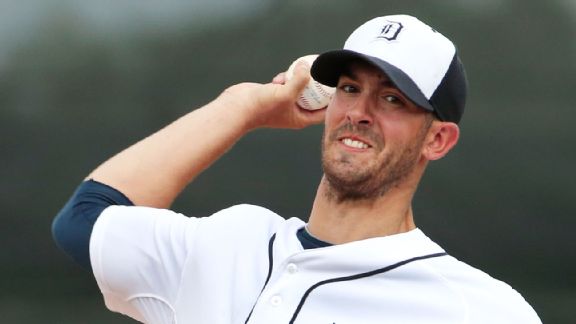 AP Photo/Gene J. PuskarRick Porcello is ready to thrive with a better infield defense behind him.
LAKELAND, Fla. -- I've started a brief run through some Florida spring training games, tied to seeing a couple of potential first-round picks from the high school ranks, before heading to Arizona next week for a longer scouting run. Here are my notes from Tuesday's game in Lakeland between the
Detroit Tigers
and
Pittsburgh Pirates
:
•
Rick Porcello
's superficial numbers the past two years have given a lot of people the impression -- based on my Twitter replies Tuesday, at least -- that he's a disappointment, nothing more than a fifth starter. That's unfair to Porcello, a ground-ball pitcher who played in front of a pretty bad infield defense in 2012 and for most of 2013, at least until
Jose Iglesias
arrived to shore things up a little bit. He'll benefit even more this year from having
Miguel Cabrera
, who looked fully healthy again, at first rather than at third, plus a full year of Iglesias' wizardry behind him.
On Tuesday, Porcello's pure stuff was good -- a sinker at 89-93 mph, an average to slightly above-average curveball at 74-78 with tight rotation and an inconsistent changeup at 83-86 that ranged from below-average to pushing plus.
February, 28, 2014
Feb 28
6:48
PM ET
DUNEDIN, Fla. -- The
Pittsburgh Pirates
didn't win a spring training game Friday. But they got to do something way more enjoyable: They got to take a trip into their future, the very near future.
There's a Parade of Aces in their future, you see. And the Pirates fired up a fun-filled sneak preview of that parade Friday.
They ran their favorite October phenom,
Gerrit Cole
, out there to pitch the first two innings of a 4-2 loss to Toronto. Then they followed up that show by having their next phenom in line, Jameson Taillon, work the third and fourth innings.
"Those two guys," smiled their manager, Clint Hurdle, afterward. "One (Cole) has gotten to the major leagues, and one (Taillon) is closing in on that opportunity. They have the skill sets, the mound presence, and all the things you need to have two stalwarts in your rotation."
[+] Enlarge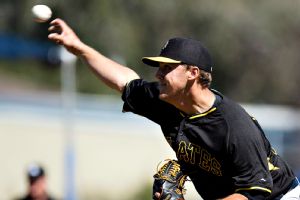 AP Photo/Frank GunnIt won't be long before Pirates fans see Jameson Taillon throwing heat in PNC Park.
In 2010, the Pirates made Taillon the second player picked in the entire draft (after some guy named
Bryce Harper
). In 2011, they chose Cole with the first pick in the country. So they came off the ace-factory assembly line at a young age. And they haven't disappointed.
Cole, a more advanced pick out of UCLA, reached the big leagues last June, got better and better, and was ridiculously dominating down the stretch, running up a 1.70 ERA over his last six starts (counting the postseason), with nearly twice as many strikeouts (44) as hits (24).
He wasn't That Guy on Friday, in his first start of the spring. But after some first-inning mechanical issues, he dialed it in when he got out there for his second inning, and punched out two of the three hitters he faced.
Then it was Taillon's turn. He breezed through his two innings so easily (giving up only one check-swing infield single), he barely needed a shower. And afterward, one scout in attendance actually said: "I like him better than Cole. He's legit."
Taillon's minor-league numbers (16-21, 3.72 ERA, 8.4 strikeouts per nine innings) might be disappointing to people who look more closely at stat sheets than stuff. But the Pirates' game plan, if all goes well, is for Taillon to follow a similar track to the one Cole followed last season -- and make an impact in Pittsburgh at some point this summer.
What was just as much fun as watching them pitch back-to-back Friday was that they got to watch each other do their thing -- and got to weigh in on each other later, at the invitation of the always-helpful media in attendance.
When Cole was asked if he had any advice for Taillon, who is living with him this spring, he replied: "He's just got to take it day by day and just try to get better, and not worry about the distractions, like the media telling him he's coming up in June, or 'Have you learned anything from Gerrit?' every day."
Cole also said he spends less time talking about pitching with Taillon than you'd probably guess.
"Other than the fact that we both throw hard, we're just really different," Cole said. "I think it's pretty easy to see. There's some staples -- getting the ball down, throwing the ball with angle. He's got a much better curve ball than I do, and he's thrown it for much longer. Approach-wise, we can feed off each other in terms of how different hitters react to different types of velocity and with the breaking ball as well. Mechanically, we're too different. It's just kind of, 'Stay down in the zone, move the ball around.' "
Meanwhile, when Taillon was asked his favorite thing about watching Cole pitch, he didn't need an hour to reflect on it.
"I'd probably say his delivery," the 6-foot-6 right-hander said. "It's slow to blow (i.e., sneaky fast). It's easy. Throws cheese. Great stuff. And my other favorite thing, I guess, is how he just goes right at guys. You see a lot of power pitchers who try to paint the corners. ... But he just goes right at you. He's going to go at you with his best stuff. It's his strength on your strength."
Taillon said he vividly remembers watching Cole's epic Game 2 start in the NLDS in St. Louis last October from the Arizona Fall League. That was a game in which Cole gave up only two hits in six innings and topped 100 miles per hour four times.
Asked what he recalled from that game, Taillon chuckled: "Just freaking 98 miles an hour at the knees, down and away. Just hammering them down and away that game. That was awesome."
They're two of the game's brightest lights. They're scripted to spend at least the next six seasons tag-teaming it. And their mutual admiration society extends well beyond the mound.
Asked whether Cole had ascended to president of his fan club, Taillon laughed and said: "I'd probably put my dad as the president. But he'd be on the board for sure. And I hope I'd be on the board (of his fan club) for sure, too. I'd be in the cabinet. I've been watching that show, 'House of Cards.' So I've got some political references."
Well, if that's where this conversation is heading, on Friday, he also won the Florida primary. But the real campaigning is just over his horizon. And the Pirates can't wait till these votes are counted.
February, 18, 2014
Feb 18
4:57
PM ET
BRADENTON, Fla. -- This wouldn't be the first spring training in history in which the
Pittsburgh Pirates
found themselves trying to master the art of Turning the Page.
Just this year, it's a whole different kind of page.
No late-season collapses have to be expunged from their memory banks this year. No more ghosts of Sid Bream, or Derek Bell's Operation Shutdown, or those they-traded-Aramis-Ramirez-for-WHAT? nightmares need to be sifted through. Not anymore.
Here, finally, in the spring of 2014, the Pirates have crossed a threshold many western Pennsylvanians never thought they'd live to see them cross: the Pirates as winners. What a concept.
So for a change, they're not trying to Turn the Page in spring training because they remember that page as a major migraine waiting to happen.
No, this year they're Turning the Page because the good times -- the 94 wins and the beautiful trip to October that finally came last year -- are worth zero wins this year. Or at least that's what they've been told by the proper authorities.
So when their golden-throated poet laureate of a manager, Clint Hurdle, stood before them Tuesday morning, on the day their whole team finally assembled for the first full-squad workout, he had an important word to present to them:
[+] Enlarge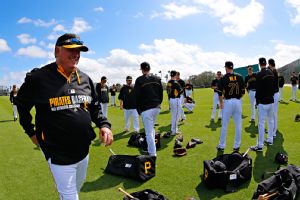 AP Photo/Gene J. PuskarFour months after a 94-win season and a postseason berth, manager Clint Hurdle and his Pirates closed the book on a wonderful 2013 campaign.
Now.
No need for us to try to characterize what Hurdle said, in his momentous First Day of Spring address to the troops. We'll let him describe it, as only he can.
"We brought closure to the 2013 season today," Hurdle said, "collectively, as a group. I wanted to wait for everybody to get here to do that. We revisited some things -- together. And then we closed the book -- together.
"NOW, where are we going to go?" he bellowed, his voice soaring, like a modern-day Winston Churchill in uniform. "NOW, how are we going to get there? The importance of NOW. The next step for us, in all the different facets of the game. We've got to nail NOW. We've got to take care of NOW.
"And the men are on board. They get the fact that, OK, we've had enough positive experience from the hard work that's played out. And there's more there. We've got to go get more. And NOW is the day that we start that next journey. The journey of the 2014 season starts NOW. Today."
Whoah. Anybody else out there ready to charge across the Fort Pitt Bridge and try to win about 150 games? Clint Hurdle can have that effect on any room he's in, as soon as his vocal cords start warbling. And on this memorable Tuesday morning, he sold his message masterfully once again.
"Clint's the ultimate leader and speaker," said his closer,
Jason Grilli
. "And I think the point was definitely made. The book has been closed on what it needs to be closed on. We're all here together, starting a new season. So we're all on the same page.
"He commands the room when he speaks," Grilli went on. "And he's very intelligent. And he drove his point home. He's getting us all focused. We've got meat left on the bone here. We didn't win the World Series last year. And that's what we're out to do."
But before we -- or the Pirates, for that matter -- completely start placing what they did do in 2013 in the same ancient-history file as, say, the fall of the Roman Empire, let's remember something:
What they did last year mattered. And it still matters NOW.
What they went through last year -- all of them, players and fans alike -- was special and magical. And it will reverberate through this spring and this season no matter how hard they work at Turning the Page.
"It was pretty common for people to tell me all winter that us, as a team, kind of revived their liking of baseball," said second baseman
Neil Walker
, who spent most of that winter living right there in Pittsburgh. "I heard that many, many, many times. It seems like everybody's a Pirates fan, whether they want to be or not."
So there you go. Involuntary, mandatory Pirates fandom. Hopefully, there's no cure for that.
GM Neal Huntington told a story Tuesday of walking through a Home Depot over the winter -- "looking for a snow shovel, probably" -- when a man approached him, with a story to tell.
"He came up to me," the GM said, "and expressed to me how grateful he was to be able to share that playoff experience with his father and also with his son. They'd kind of come and gone with their love for the Pirates, because we'd put them through some tough years. But the sheer joy that they had last year, and to share the postseason run with his dad and with his son, that's pretty cool. That hits home. It made me realize this is a lot bigger than wins and losses."
Which it is. And was. So not everything about last year should be forgotten, or needs to be forgotten for this team to take another step this year. When they all think back on last year, said reliever
Mark Melancon
, "I don't want it to be a bad thing."
It shouldn't be, because it was life-changing. It was psyche-changing. It transformed an entire franchise, in a powerful and meaningful way. So there's no reason to Turn the Page on that part of 2013.
But when Hurdle was asked what he doesn't want his team to forget about last season, he had other memories in mind. He wants them to remember "how well they took care of 'today,' each and every day," he said.
"As I shared with them, if you've got one foot in yesterday and you've got one foot in tomorrow, you've got a chance to [make a mess of] today," Hurdle said. "And we got very professional about taking care of today, taking care of playing in the moment, individually and collectively as a club. When they finished a challenge, then they prepared for the next challenge. So I don't want them to take that away.
"And I don't want them to take away the importance of the next man up, how we continue to focus on what we do have, not what we don't have. I want them to hold on to the fact that their attitude and their effort [is something] they can bring every day.
"We create strategies through probabilities, through statistical analysis," he said. "But we create attitudes through possibilities. And whatever we think is possible, IS possible."
What they think is possible, of course, is to go this year where they didn't get to go last year -- to the NLCS, to the World Series, to the parade floats. That won't be easy, following a winter in which they made minimal additions but had several significant subtractions -- in the loss of their ace,
A.J. Burnett
, and their October cleanup hitter,
Justin Morneau
, and a right fielder who hit .364/.391/.591 in the postseason,
Marlon Byrd
.
But there is so much pitching depth here that it's not out of the question that a starter who made the All-Star team last year,
Jeff Locke
, could be challenged to make the rotation this year. And there are big-time prospects with a chance to make a major contribution this season -- especially outfield stud
Gregory Polanco
and former No. 2 overall pick in the 2010 draft, right-hander Jameson Taillon.
So the future remains picturesque, just as the past remains unforgettably euphoric. But none of that matters on the first full day of spring training.
What matters, Clint Hurdle reminds us one more time, is NOW.
"The light is on," said baseball's most eloquent manager. "But we'
ve gotta go play."
February, 18, 2014
Feb 18
3:13
PM ET
BRADENTON, Fla. -- Emptying the notebook after spending a spectacular Tuesday morning and afternoon in Pirates camp:
• Are the Pirates done shopping? Maybe not.
We know they were willing to offer
A.J. Burnett
$12 million, so they clearly still have money to spend. We also know they never could find a left-handed-hitting platoon partner for
Gaby Sanchez
at first base this winter. But clubs that have spoken with them believe they'd still like to acquire one.
[+] Enlarge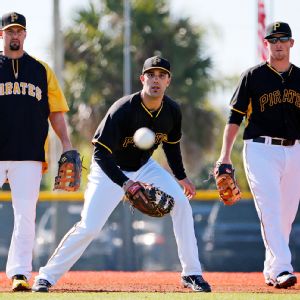 AP Photo/Gene J. PuskarThe Pirates' internal options at first base include Andrew Lambo, center, Gaby Sanchez, left, and Chris McGuiness.
There doesn't seem to be much substance to rumors connecting them with free agent
Kendrys Morales
. But the Pirates continue to monitor
Ike Davis
' status in Mets camp. And when Morales and/or
Nelson Cruz
sign, that could result in players such as
Justin Smoak
or
Mitch Moreland
becoming available.
In the meantime, GM Neal Huntington said Tuesday, the Pirates remain "confident in our internal options" -- which would include converted outfielder
Andrew Lambo
, who hit 32 home runs between Double-A and Triple-A last year, former Rangers prospect
Chris McGuiness
and nonroster invitee
Travis Ishikawa
.
But Huntington also said: "That doesn't stop us from looking elsewhere. It's just that now, our bar has been set a little bit higher, as to 'How do we make the club better?' And 'How do we make the club better at the right situation for us?' … If there's something that makes us better, and makes sense for us, we'll still look to do that."
• A year ago,
Francisco Liriano
was an enigmatic mystery man trying to get healthy. Now, amazingly, he's about to become the Pirates' Opening Day starter.
After seven often-exasperating seasons in Minnesota, Liriano was "fixed" by the Pirates' pitching gurus last year and went 16-8, with a 3.02 ERA, 1.22 WHIP and 163 strikeouts in 161 innings. But the true measure of how far he has come is that his manager, Clint Hurdle, used a word to describe him Tuesday that you never heard in Minnesota -- "dependability."
"The greatest ability you can have, day in and day out, is dependability," Hurdle said. "We have that in Francisco."
[+] Enlarge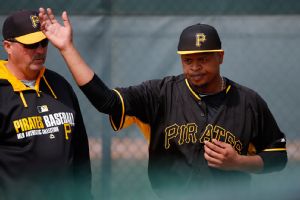 AP Photo/Gene J. PuskarThe Pirates hope to unlock Edinson Volquez's potential.
• So who is this year's Francisco Liriano? The Pirates are betting on
Edinson Volquez
, signed as a free agent to a one-year deal for $5 million.
Volquez had the highest ERA (5.09) and WHIP (1.53) in baseball over the past three seasons, among pitchers who worked as many innings as he did. But the Pirates look at his strikeout rate (8.4 per 9 IP over his career) and ground ball rate (which was once as high as 1.26 ground balls per fly ball in Cincinnati) and think they can make this work.
"The challenge is command," Huntington said. "Staying in the strike zone and attacking the strike zone. But analytically, we saw a guy who can strike people out and get ground balls. It's the walks (4.8 per 9 IP) that are the challenge."
The Pirates already have tweaked Volquez's delivery and believe he's in tremendous physical shape.
• The Pirates also feel they're on track, so far, to get
Wandy Rodriguez
back into their rotation after a season in which they had to shut him down after 12 starts because of forearm tendinitis. Rodriguez has thrown two bullpen sessions and said: "I don't feel nothing. I feel good. A lot different than last year."
• Finally, closer
Jason Grilli
, who also missed time last year because of forearm issues, caused some alarms to sound over the weekend when he skipped what seemed to be a scheduled bullpen session. But Hurdle said Tuesday -- on a day when Grilli threw 15 pitches off the mound and five more on flat ground -- that the blueprint was always for Grilli to take it slowly this spring.
"We have a plan in place for him to get involved at a particular time and then add to that as we move forward," Hurdle said.
February, 14, 2014
Feb 14
10:00
AM ET
As there are every spring, there are great baseball stories everywhere -- from Tampa to Tempe, from Jupiter to Space Coast Stadium, from Goodyear to Surprise.
Which teams will have a good year? Which teams will surprise? The questions are what make spring training so great, so fascinating. They are what define this time of year, along with warm weather, hope and the belief that March 29 will be the last useless evening that we'll have to spend.
[+] Enlarge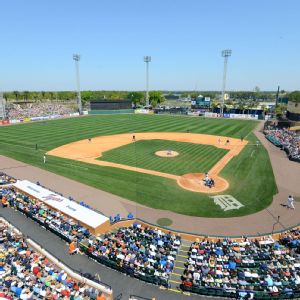 Mark Cunningham/MLB Photos via Getty ImagesNothing beats the look and feel of spring training.
It all begins, as so many spring trainings have before, with the Yankees in Tampa. We will get our first look at
Masahiro Tanaka
, who the Yankees made the fifth-highest paid pitcher in major league history before he ever threw a pitch in the big leagues. Is his splitter as good as everyone says? We will see
Jacoby Ellsbury
,
Brian McCann
and
Carlos Beltran
in Yankee uniforms, and we will see
Derek Jeter
in the final year of his career play shortstop at age 39; only five players in the game's history -- Honus Wagner, Rabbit Maranville, Luke Appling, Luis Aparicio and
Omar Vizquel
-- have played 100 games in a season at shortstop at Jeter's age. He'll turn 40 three weeks before the All-Star break.
The world champion Red Sox mostly will be without their beards this spring, but they will have a new catcher (
A.J. Pierzynski
), a new shortstop (
Xander Bogaerts
) and several candidates to be their new center fielder, including
Grady Sizemore
, who hasn't taken an at-bat in the big leagues since 2011. The Rays will have
David Price
, who hasn't been traded and now, it appears, might not be traded this season. The Orioles might start the season without
Manny Machado
, who is coming back from a serious knee injury. The Blue Jays will open spring training without the hype of last spring, which is good for them.
The Tigers, under new manager Brad Ausmus, will open the spring with a different infield from the one that took the field last spring, including
Ian Kinsler
at second base and rookie
Nick Castellanos
at third. Even more important, they have a real closer this spring in
Joe Nathan
. The Indians have a new closer,
John Axford
, as well. The Royals have a new leadoff batter (
Norichika Aoki
) and second baseman (
Omar Infante
). Meanwhile, the White Sox have a new first baseman (Cuban
Jose Abreu
) and the Twins' new first baseman is their old catcher,
Joe Mauer
.
The A's added to their bullpen, acquiring closer
Jim Johnson
,
Luke Gregerson
and
Eric O'Flaherty
, and welcomed
Scott Kazmir
to their rotation. The Rangers gave
Prince Fielder
a fresh start at first base, found a position (second base) for
Jurickson Profar
and showed
Shin-Soo Choo
what a great country this is, especially when you reach free agency. Great country? The Mariners gave
Robinson Cano
$240 million, but is there protection around him in that lineup? The Angels made significant changes, none of which will really matter if
Albert Pujols
isn't healthy enough to play first base and produce something close to the Pujols of St. Louis. And if the Astros lose 128 games (they are not nearly that bad), they'll tie the Mets (1962-65) for the most losses ever during any four-year period in history.
The Braves have a new catcher in
Evan Gattis
, and they'll have to figure out how to get the batting averages of
B.J. Upton
and
Dan Uggla
back over .200. The Nationals, under rookie manager Matt Williams, need a healthy
Bryce Harper
(knee) if they're going to win the NL East; in mid-January, he sprinted for the first time without pain. We know the Phillies are in Clearwater, but nothing else about them is clear. The Mets have
Curtis Granderson
and
Bartolo Colon
, but not having
Matt Harvey
for perhaps the entire season will be a bummer. The Marlins still have
Giancarlo Stanton
. How long before that situation changes?
The Cardinals have almost an entirely new infield, a new center fielder (
Peter Bourjos
) and maybe a new right fielder if rookie
Oscar Taveras
is healthy and productive. The Pirates have hope again following a playoff appearance in 2013, and with
Gerrit Cole
for a full season. The Reds have a new manager in Bryan Price; now they need to find a center fielder to replace Shin-Soo Choo: Is this the spring that
Billy Hamilton
steals a job? The Brewers have a new right fielder in
Ryan Braun
; no questions about Biogeneis will be taken, however. The Cubs have a new spring training facility and a new manager, Rick Renteria.
[+] Enlarge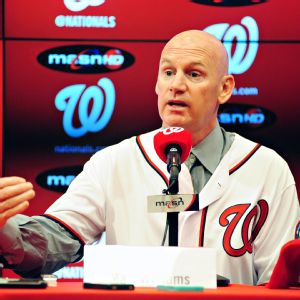 Evan Habeeb/USA TODAY SportsExpectations are once again high for the Nationals, who have a new manager in Matt Williams.
The Dodgers have four outfielders for three spots; one of them,
Matt Kemp
, is coming back from shoulder and ankle injuries -- his health and production will be one of the big stories of the spring. The Diamondbacks have a new left fielder,
Mark Trumbo
, who might hit 40 homers in their ballpark. The Dodgers and Diamondbacks will open the season March 22 in Australia; let's hope there isn't a major brawl Down Under. The Giants added
Tim Hudson
, and
Pablo Sandoval
subtracted 42 pounds. The Padres signed
Josh Johnson
to pitch in a rotation headed by
Ian Kennedy
-- here's hoping they play a doubleheader this year, and go with the Kennedy-Johnson ticket. The Rockies will open camp with
Troy Tulowitzki
, but, for the first time since 1988, they'll begin a season without
Todd Helton
.
There will be lots of stories, questions and sunshine this spring. It is the best time of year. It is a time for optimism: No one has lost a game, the rookies all have promise and the veterans believe it will be their best year. It is baseball in its purest form, a time for wind sprints, fundamentals, split-squad games on a back field where only the scouts are watching. Millionaire players are humanized and humbled in spring training. They are not receiving enormous paychecks every two weeks, and they're getting the same meal money as the rookie in his first big league camp. No one is exempt from the three-hour bus rides, playing on fields that aren't manicured to major league standards, and facing anonymous Class A pitchers who throw really hard, but have no idea where the ball is going. It is the one time of year that
Justin Verlander
and a 20-year-old kid are on equal ground. It is the one time of year that a player gets on the bus in uniform, just like in high school.
Eleven years ago, Indians pitcher
Brian Anderson
boarded the team bus at 8 a.m. for the two-hour drive to Vero Beach, Fla., for a spring training game. Thirty minutes into the trip, Anderson realized he had forgotten his hat, his spikes and his glove back in Winter Haven.
"I was running late that morning because I knew I was going to get to hit in the game, so I was looking for the really important things: batting gloves and a bat," Anderson said. "When we got to Vero, I was in full panic mode. I borrowed a car and went to a mall, but there wasn't one glove in the whole mall, but I found some adidas spikes. On the way back to the ballpark, I saw a WalMart. I thought, 'Hey, WalMart has everything ... tires ... produce ... it must have a baseball glove.' I found one: $29.95, already broken in. It was a softball glove. A Wilson. It was awful. I borrowed someone's hat and pitched in the game. Of course, I got three comebackers to the mound, and I caught them all because my new glove was as big as a butterfly net, it made
[Greg] Maddux
's glove look small. That day reminded me of when I was 17 playing Legion ball. That is spring training to me."
Only in spring training could this story happen. The Twins signed infielder
Tsuyoshi Nishioka
in the spring of 2011. He didn't speak much English, and didn't know anyone on the team. Several teammates convinced Twins outfielder
Denard Span
to introduce himself to Nishioka, to make him feel more a part of the team. Only they tricked Span -- they told him that Ray Chang, another infielder, was Nishioka. So Span, ever respectful, approached Chang, bowed gracefully, introduced himself, and asked him if he spoke English.
"Sure I do," Chang said. "I'm from Kansas City!"
The whole team howled.
[+] Enlarge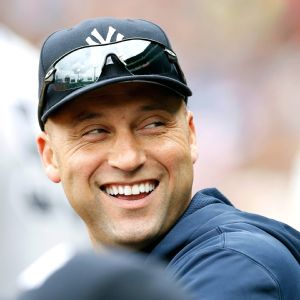 Greg M. Cooper/USA TODAY SportsDerek Jeter, who played only 17 games last season, enters the final year of his career hoping to stay healthy.
Only in spring training could then-Rays first baseman
Carlos Pena
make a mistake in a baserunning drill, then justify it by quoting Dr. Martin Luther King's "I Have A Dream" speech. "My first baseman is quoting Dr. King," said Rays manager Joe Maddon. "I love it."
Only in spring training would pitcher
Jeremy Guthrie
, now with the Royals, ride his bike to work. "It was only five miles," he said of his daily ride two springs ago to the Rockies' facility. Then-teammate
Michael Cuddyer
said of Guthrie, laughing, "He once pitched in a game in Scottsdale, then got on his bike -- still in full uniform, with his glove on the handlebars -- and rode back to our facility. It was like a scene from 'The Sandlot.'"
Only in spring training would then-Padres pitcher
Chris Young
and
Will Venable
pick teams for a free throw shooting tournament because both guys played basketball at Princeton. "That's as nervous as I've ever been for an athletic competition," Young said with a smile, "because I'm not a great free throw shooter, and my team was depending on me to be good." Only in spring training would the Twins hold a bowling tournament behind the KFC in Fort Myers and, said Twins manager Ron Gardenhire, "Joe Mauer would be high-fiving his teammates, guys he's never met in his life, after they rolled a strike." Only in spring training could Jeff Stone get thrown out at all four bases in one game, and only one of them was a forceout (think about that). Only in spring training could Rockies pitcher David Lee, in an emergency, drive the team bus on a night trip, then earn the nickname "Diesel" when he stopped the bus and announced, "We've got to get some diesel!"
Only in spring training is time taken to get in baseball shape. "We're always inventing drills and conditioning programs in spring training," said Rich Donnelly, now the manager of the Mariners' Triple-A team. "Years ago, we'd do 10 jumping jacks, touch our toes twice, then play. Today, these strength and conditioning coaches are always coming up with new stuff: rubber bands, parachutes, cones. I just can't imagine Ted Williams going to spring training and running with a parachute on his back, or Babe Ruth jumping over a bunch of cones."
It is a time for the fans, especially kids. Families take vacations to spring training. Getting a player's autograph is easier because everything and everyone is more relaxed than during the regular season. Well, except for when the Red Sox and Yankees played for the first time in spring training 2004, their first meeting since
Aaron Boone
's home run had sent the Yankees to the World Series, and sent the Red Sox home. Tickets were scalped for $500 for an exhibition game! Before the game, there was a fight in the parking lot at City of Palms Park in Fort Myers between a Yankees fan and a Red Sox fan ... both fans were women!
It's spring training. Finally. We can't wait.
March, 13, 2013
3/13/13
6:03
PM ET
BRADENTON, Fla. -- It might be the greatest spring training drill ever:
The walk-off home run celebration.
It was choreographed by those innovative
Pittsburgh Pirates
this week. And all their manager, Clint Hurdle, would say about it was this: It wasn't his idea.
"Sometimes," Hurdle said Wednesday, "you have to get out of the way and let the players do their thing."
So whose thing was this? We skulked around and located the perpetrator -- a fellow who looked a lot like
Brandon Inge
. And how did this brainstorm come about, you ask? Well, it wasn't quite up there with Edison inventing the light bulb.
"Basically," Inge laughed, "I was pulling the lazy veteran move."
Here's the deal: This great moment in spring training history occurred Monday at the end of a morning baserunning drill. Every position player involved had to run out a single, double and triple, a first-to-third sprint, a mad first-to-home dash and, for the grand finale, an inside-the-parker.
Whew. We're tired just from typing that. And so, it turns out, was Inge, the longtime Detroit Tiger who's in Pirates camp in search of a super-utility role.
He also happened to be the last player in line as this drill unfolded. So he turned to catcher
Russell Martin
and said, "I'm walking this off right here."
Turned out he wasn't kidding.
"There's no chance in hell I'm going to hit an inside-the-park home run, so I didn't see the point of practicing that," Inge said. "I might hit a walkoff, though."
So when his turn to "hit" arrived, he didn't short-change himself. He took a mighty hack -- without a bat. He watched the imaginary baseball disappear. Then he beat his chest and began to trot.
He slapped five with a first-base coach who forgot to exist. He pumped his fist a couple of times as he rounded second. He low-fived a third-base coach who was nowhere to be found. Then he fired his cap into the sky ("I had to flip the hat. I didn't have a helmet.") and jumped into a sea of Pirates humanity. Or something like that.
It was as historic as spring moments ever get at 9:30 on a Monday morning -- a team working on its walk-offs instead of its PFPs.
"Yeah," said second baseman Neil Walker. "You don't see many walk-offs with nobody pitching and nobody on."
To be factual here, you didn't see many walk-offs from the Pirates, period, last season. They hit just three game-ending homers all season -- two of them by players who are no longer anywhere to be found in Bucco Land (
Rod Barajas
and
Drew Sutton
). But hey, it's a new year. And "you want to prepare for everything," Martin quipped.
Inge's assessment, two days after the head-pounding and pogo-sticking had died down, was, basically: It's a good thing this was just a rehearsal.
"Nobody punched me at all," he reported. "I was a little disappointed."
But Martin said he thinks that this team is ready to go, any time the first real walk-off of the year erupts.
"Actually, I hope we don't have any because I hope we lead in the ninth inning every game," he said. "But just in case, be prepared. And I hope the first one comes from Brandon Inge."
March, 13, 2013
3/13/13
5:27
PM ET
BRADENTON, Fla. – Canada's moment in the World Baseball Classic may have come and gone. But
Russell Martin
found out Wednesday that his newfound villain status among Canadians lives on.
The Pirates' catcher, who withdrew from Team Canada's WBC roster at the last minute, was booed lustily by the Canadians in the crowd during his team's 5-4 win Wednesday over the Blue Jays.
So afterward, he found himself defending his decision not to play in the WBC yet one more time.
"When people boo, they're just having fun with it. I don't think they really, truly hate me," said Martin, who was born in East York, Ontario, and did play in the previous WBC. "Maybe they're a little emotional about the fact that I didn't go, but I had my reasons. And I know my reason is a good one because it's a reason that made me feel good inside.
"It's not the reason that everybody expected. But my decision was a good one because I felt happy about it. And it's not about what everybody else expects me to do. That's not the right decision. The right decision is the one that makes you feel good inside. So people can debate all they want. The only person that really needs to know if it was the right or wrong decision was me. And I'm happy, because I've been here. I've been working with the pitchers. And I feel like my preparation is where it needs to be."
Martin's true interest in playing in the WBC had been a topic of much debate north of the border even before his decision to withdraw. After being named to the team, he said he wanted to play shortstop instead of catcher because he wanted to allow his body to ease into the grind of catching.
He finally backed out once and for all after being slowed this spring by an inflamed throwing shoulder. He didn't play in the field for the Pirates, in fact, until after the WBC had already begun. But he was criticized by several members of Team Canada, most prominently
Justin Morneau
. And clearly, Canadian fans haven't forgotten.
"It's part of the game," Martin said Wednesday. "If they boo me forever, so be it. I'll get over it. … I've seen guys be booed, and some take it personally. And some others know that it's just part of the game. It's just the crowd getting involved. I think it's kind of fun. I use it as motivation, to be honest. The more people who don't believe I can do something, that makes me want to do it even more. You find out how strong you are when people say you can't do this or do that."
The loudest boos came before Martin's third at-bat, whereupon he promptly singled and pointed to the crowd.
"I was just like, 'That was for you guys,' " he said.