Spring Training:

San Francisco Giants
March, 10, 2014
Mar 10
4:11
PM ET
SCOTTSDALE, Ariz. -- If
Jhonny Peralta
can sign a $53 million contract with the
St. Louis Cardinals
after being suspended for the use of performance-enhancing drugs, there is no reason
Barry Bonds
should not be able to work with the
San Francisco Giants
this week as a roving instructor.
After all, Matt Williams, named in the Mitchell report, is managing the
Washington Nationals
. Mark McGwire, who admitted to steroid use, is the
Los Angeles Dodgers
' hitting coach.
Jason Giambi
, linked with Bonds to BALCO, is still playing for the
Cleveland Indians
and is a managerial hopeful.
Andy Pettitte
, an acknowledged user of HGH, was also welcomed back as a guest instructor with the Yankees this spring.
So if Bonds wants to work as a coach, he should be able to do so. Whatever PEDs he used were not against the rules during the vast majority of his career, unlike doctoring the baseball, which several Hall of Fame pitchers did even though that has been specifically prohibited for almost a century.
The more pressing question for Giants fans is whether Bonds can be effective as a coach, both this week and whatever follows down the line.
"Not everyone is suited for the job and I may not be either," Bonds said. "I don't know. I have seven days to find out if I am."
While several all-time great players have become successful coaches, many have also struggled in the role as they've had a hard time explaining how they were successful to players who are not as skilled as they were. As Yogi Berra once told a player about hitting, "Just watch me."
Bonds also was never known for being particularly helpful to teammates when he was a player. He says that was due to one simple reason: Players often change teams in baseball and he didn't want opponents to gain any edge.
[+] Enlarge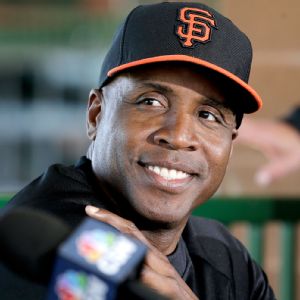 AP Photo/Chris CarlsonBarry Bonds, baseball's all-time home run leader, last played in the majors for the Giants in 2007.
"We don't work together all the time, sir. They can be traded. You're not going to know anything that I do when I'm playing. That's not how it works," Bonds said. "It was never personal. It was, 'Why am I going to tell you something when you might be on the Rockies or someone next year and you'll tell their pitchers?'
"This is a business. And I treated it like a business. That was the only reason. It was never to
not
socialize on that level with my teammates. It's just that it's a business and I saw a lot of players come and go."
Bonds was much more welcoming in his news conference Monday than he often was as a player. He said he's become a calmer person in his six years away from the game. He also said even if players are intimidated by his presence, he would break that barrier through one-on-one conversation. And he welcomed players to ask him anything about baseball (though hopefully not about PEDs).
"You didn't have to ask me to go pick Willie Mays' brain. I did not. I probably didn't get all the answers I wanted, but I did it," he said. "He helped a lot. My dad helped a ton. I have this philosophy: Two eyes are OK, but four eyes are better than two. So, if you have them, utilize them."
Bonds isn't sure where this week will lead, if it will lead to anything. He did say he does not want to become a manager.
"I think it's too hard to be a manager," he said. "What Bruce Bochy does is too hard, to be honest with you. You need a level of patience with that."
Unlike McGwire when he became the Cardinals' hitting coach, Bonds was unwilling to discuss any PED use, saying he addressed that issue in court and no further comment is necessary. It would be good if he came completely clean, but there is still time. Pete Rose didn't admit to betting on baseball until he had strenuously denied it for 15 years. Perhaps Bonds will be more honest and revealing as time passes, as well.
In the meantime, it's good to see Bonds back in the game. He was always viewed as a villain more for his personality than for whatever he did on or off the field. This move probably won't affect his chances of getting voted into the Hall of Fame -- McGwire's return to the game hasn't improved his chances -- but that really isn't the issue.
If Bonds is serious about this role, perhaps he can give back to the game. And that is far better than having the game's all-time home run king sitting at home as a pariah who hurts the game's image.
March, 7, 2014
Mar 7
5:24
PM ET
SURPRISE, Ariz. --
Tim Lincecum
has learned to adjust his expectations since the dawn of the "Freak" era.
When Lincecum arrived in San Francisco in 2007, his unorthodox motion and big velocity were enough to make even his bullpen sessions buzzworthy. Seven years, two Cy Young Awards and a few career setbacks later, he's channeling his energies into keeping the ball down in the zone, being pitch-efficient and inducing what he likes to call "crappy contact."
There's something to be said for an athlete knowing his limitations. Lincecum generally pitched in the 89-91 mph range during a Cactus League start against Kansas City on Friday, but he snapped off some excellent sliders and curves in the light desert air, and threw 26 strikes and only nine balls on his way to three shutout innings against the Royals.
Although Lincecum expects the velocity to rise a tick once he lays his spring training foundation and gains arm strength, he's sounding a lot like a member of the command-and-control fraternity of pitchers.
"I believe I can throw strikes in any count," Lincecum said, "so I'm not really worried about getting into hitters' counts. I feel like I can always come back and make a good pitch. I think that's the difference between today and some of my outings the last few years."
The Giants re-signed Lincecum to a two-year, $35 million deal in October, and they have to like what they're seeing from him and the rest of their rotation this spring. Lincecum,
Matt Cain
,
Madison Bumgarner
,
Ryan Vogelsong
and
Tim Hudson
-- the newest member of the band -- have combined to allow one earned run in 23 innings in Arizona. They have 12 strikeouts and only three walks as a group.
Lincecum, who turns 30 in June, rented a warehouse in Seattle over the winter, laid down a pitcher's mound and spent a lot more time throwing than in past offseasons. He thinks there will be times this year when all those solitary hours of preparation get him out of some jams and take him back where he needs to be.
"I have a foundation under me because I did all the work and put in the time that I needed to this offseason," Lincecum said. "That leaves me in a better mental state when I go out there, not wondering if it's a mechanical issue. And if it is a mechanical issue, I can fix it quickly, because I did the work."
February, 15, 2014
Feb 15
6:43
PM ET
SCOTTSDALE, Ariz. -- When a player changes teams as a free agent, the whole family goes along for the ride.
Tim Hudson
spent nine seasons with the
Atlanta Braves
before toying with the idea of moving his family to the West Coast, so he made sure to run the scenario past the entire crew for feedback. His wife, Kim, daughters Kennedie and Tess and son Kade all got a chance to weigh in and express their feelings on the subject.
In mid-November, the discussions reached a state of finality when Hudson signed a two-year, $23 million deal with the
San Francisco Giants
. Shortly thereafter, apprehension gave way to a family-wide attitude adjustment.
"My son was a huge
Brian McCann
fan, so of course now he's talking about
Buster Posey
," Hudson said Saturday from Scottsdale Stadium. "My oldest daughter, she's 12 and in the seventh grade and she's very analytical. She's studying the roster, and she's very excited about who we have here."
Based on the relative lack of offseason activity in San Francisco, general manager Brian Sabean and the front office apparently concur.
After winning two titles in three years, the Giants landed with a thud in 2013. They finished 76-86 -- the franchise's worst record in five seasons. And when they emptied out their lockers at the start of October, rather than the end, there were a lot of reasons they could pinpoint for the drop-off.
The Giants cleaned up against National League West competition with 44-32 record within the division, but went 11-23 versus the NL Central and 6-14 in interleague play. They never adequately replaced
Melky Cabrera
's bat in left field, where
Gregor Blanco
,
Andres Torres
and friends combined for five homers and a major-league worst .651 OPS at the position.
Pablo Sandoval
had a nondescript season, and
Marco Scutaro
was plagued by back and hip problems and took a big step backward defensively.
Injuries to
Santiago Casilla
and
Jeremy Affeldt
put a crimp in the bullpen's production, and the dominant starting pitching that had been the cornerstone of the San Francisco's championship teams was nowhere in evidence.
Matt Cain
had an off year,
Ryan Vogelsong
struggled badly before getting hurt, and
Barry Zito
was so bad the Giants pulled him from the rotation for
Guillermo Moscoso
in early August. In the end, the Giants finished tied with the Cubs for 12th among National League staffs with a 4.00 team ERA.
That type of comedown typically leads to an overhaul, but the Giants responded by maintaining the status quo, for the most part.
Hunter Pence
agreed to a five-year, $90 million contract in late September, Lincecum re-signed for two years and $35 million a month later, and lefty reliever
Javier Lopez
finalized a three-year, $13 million deal right before Thanksgiving.
The Giants' two biggest offseason additions of note: Hudson arrives to replace his former Oakland teammate, Zito, in the rotation, and
Michael Morse
will provide some pop in left field if he can manage to avoid injuries and stay in the lineup.
At San Francisco's spring camp, the players are on board with the notion that last year was a perfect storm of misfortune and they have the pieces to contend again. Lopez, who wasn't sure he would be back, recalled conversations that he and the team's other pending free agents had with Sabean at the trade deadline in July.
"Brian talked to all of us individually," Lopez said. "He expressed the fact that things weren't going the way we wanted them to go. But he didn't feel we were too far away. There was no reason to blow it up. We were coming off two titles in the last three years, so something was obviously working. It just wasn't working out [last year]. I think that's a big reason a lot of us are back. We wanted to be back."
Hudson, 38, was having a typically solid year when disaster struck. He was covering first base against the Mets in late July when New York's
Eric Young
Jr. stepped on his foot and fractured his right ankle. The recovery period for the injury is 6-7 months, and Hudson knows it will take a couple of weeks of throwing, running and pitchers' fielding practice before he gets an accurate gauge of where he is physically. But he still expects to be ready in time for Opening Day.
Given Hudson's eight career 200-inning seasons, recent lack of arm trouble and willingness to accept a short-term contract, the offseason market for his services was brisk. Oakland, Tampa Bay and Cleveland all jumped into the fray, but Hudson's preference was to remain in the National League, where he knows the hitters and the ballparks and feels a sense of comfort. He was also a pretty fair hitter back in the day as a pitcher-outfielder at Auburn University, and enjoys being able to contribute in any way possible even if his skills at the plate have diminished through the years.
"I'm not going to be putting any balls in McCovey Cove," he said, laughing.
The Giants have plopped Hudson into the far corner of the clubhouse next to Lincecum, who arrived in camp with short hair and a sparse,
Derek Holland
-caliber mustache. As undersized right-handers with the same first name, Hudson and Lincecum already have a couple of potential bonding points.
"They've got the two skinniest guys on the team holding down this side of the locker room," Hudson said. "We have our protein mix and all our supplements right here in the corner."
Chimed in Lincecum: "It's the sub-6-foot corner."
San Francisco's rotation depth consists of
Yusmeiro Petit
,
David Huff
and
Kameron Loe
, who wants to try starting after years in the bullpen, so the Giants are pinning their hopes on a return to form by the mainstays. Although Hudson still has to acclimate to life with a new team, he's quite familiar with the Bay Area from his tenure with the Athletics from 1999-2004.
"Both my daughters were born in Oakland and they've never been back," Hudson said. "Now they're going to get to meet the baby doctor who delivered them, for God's sake. That's pretty cool."
The offseason took some interesting twists and turns for all three members of Oakland's erstwhile "Big Three" -- one of the most celebrated young pitching contingents in baseball history. While Zito spent the winter surfing and apparently contemplating whether he wants to continue playing baseball,
Mark Mulder
left his position as an ESPN analyst and decided to give the game one more shot at age 36. Mulder signed with the Los Angeles Angels in January and was in the process of making a comeback when his plans were derailed Saturday by a ruptured Achilles tendon.
Then there's Tim Hudson, who left Atlanta in his baseball twilight years to travel all the way across country and play for the Giants, with the full blessing of his family. Who could have envisioned that?
"That's funny how life happens," Hudson said. "Sometimes you can't plan for it. You just have to follow what you feel is right, make the best decision you can and hope things work out for the best."
It's early yet, but the clubhouse feels comfortable and the ankle keeps getting better. Now it's in everyone's best interests for Hudson to show he still has something left in the tank.
February, 15, 2014
Feb 15
2:17
PM ET
SCOTTSDALE, Ariz. -- The
San Francisco Giants
always love it when there's less of
Pablo Sandoval
to go around, so they had to be thrilled when he arrived at camp this week looking less the Kung Fu Panda and more like a determined third baseman hoping to reclaim his reputation and squeeze every drop out of his future.
Sandoval, whose weight has been an ongoing issue throughout his tenure with the Giants, arrived in Scottsdale noticeably trimmer after a winter of commitment back home in Venezuela. His routine included workouts with Rafael Alvarez, Bobby Abreu's old trainer, and healthy meals prepared by his brother Luis, who is a professional chef.
In January, reports surfaced out of Venezuela that Sandoval had dropped more than 40 pounds. But they were never confirmed, and Sandoval was coy on the topic when asked for specifics by the San Francisco media during a dugout interview at Scottsdale Stadium on Saturday.
"I haven't even weighed in yet," he said.
When asked if he'll reveal his weight after that formality is dispensed with, Sandoval good-naturedly remarked, "Ask the trainer."
Nevertheless, Sandoval's new look is testament to his desire to set things right with the world. After winning the 2012 World Series MVP award, he seemed poised for a monster 2013. Those hopes vanished when he hit 14 home runs in 525 at-bats and logged a .758 OPS -- the second-worst mark of his five full seasons in San Francisco.
Sandoval's best career year came in 2011, when he slimmed down and posted a .909 OPS with 23 home runs in 117 games. But a combination of hand injuries, a left foot strain in 2013 and an expanding waistline had begun to put a crimp in his production. The Giants started to express concerns about Sandoval's long-term health and effectiveness, and his range in the field had continued to diminish as he packed on the pounds.
Sandoval got a bit of a wakeup call late last season when teammates
Buster Posey
,
Marco Scutaro
,
Hunter Pence
and
Matt Cain
all told him he needed to make a bigger commitment to the job.
"It put it in my mind that I needed to grow up and take my job seriously," Sandoval said. "When they tell me all those things, I have to take that serious. It wasn't just one person telling me. My teammates know the kind of player I am. They want me to be better out there."
While Sandoval is hugely popular in the Bay Area for his every-man physique and good-natured persona, he was admittedly stung by some of the media criticism he has received over his weight. He knows some skeptics will maintain that he's getting in shape entering his free agent "walk" year, and will revert to his old ways once he signs his next contract this winter. But he insists that's not paramount in his thought process.
"I don't care about the contract," he said. "I care about my team. I care about this year, and trying to win a championship. People can say whatever they want. It doesn't matter. I'm here to help my teammates win games."
And if the Giants decide they want approach him about a contract extension in the coming weeks and months? He's ready to listen.
"I'm going to be open about it," Sandoval said. "I don't want to say no."
For now, discussion about his long-term future with the Giants can wait. This spring will be dedicated to showing people that the Pablo Sandoval of 2011 and 2012 still exists. He just took a sabbatical for a while.
February, 14, 2014
Feb 14
10:00
AM ET
As there are every spring, there are great baseball stories everywhere -- from Tampa to Tempe, from Jupiter to Space Coast Stadium, from Goodyear to Surprise.
Which teams will have a good year? Which teams will surprise? The questions are what make spring training so great, so fascinating. They are what define this time of year, along with warm weather, hope and the belief that March 29 will be the last useless evening that we'll have to spend.
[+] Enlarge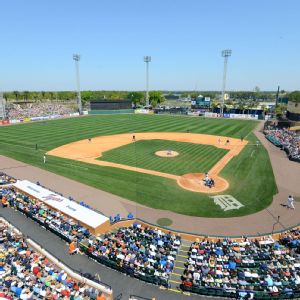 Mark Cunningham/MLB Photos via Getty ImagesNothing beats the look and feel of spring training.
It all begins, as so many spring trainings have before, with the Yankees in Tampa. We will get our first look at
Masahiro Tanaka
, who the Yankees made the fifth-highest paid pitcher in major league history before he ever threw a pitch in the big leagues. Is his splitter as good as everyone says? We will see
Jacoby Ellsbury
,
Brian McCann
and
Carlos Beltran
in Yankee uniforms, and we will see
Derek Jeter
in the final year of his career play shortstop at age 39; only five players in the game's history -- Honus Wagner, Rabbit Maranville, Luke Appling, Luis Aparicio and
Omar Vizquel
-- have played 100 games in a season at shortstop at Jeter's age. He'll turn 40 three weeks before the All-Star break.
The world champion Red Sox mostly will be without their beards this spring, but they will have a new catcher (
A.J. Pierzynski
), a new shortstop (
Xander Bogaerts
) and several candidates to be their new center fielder, including
Grady Sizemore
, who hasn't taken an at-bat in the big leagues since 2011. The Rays will have
David Price
, who hasn't been traded and now, it appears, might not be traded this season. The Orioles might start the season without
Manny Machado
, who is coming back from a serious knee injury. The Blue Jays will open spring training without the hype of last spring, which is good for them.
The Tigers, under new manager Brad Ausmus, will open the spring with a different infield from the one that took the field last spring, including
Ian Kinsler
at second base and rookie
Nick Castellanos
at third. Even more important, they have a real closer this spring in
Joe Nathan
. The Indians have a new closer,
John Axford
, as well. The Royals have a new leadoff batter (
Norichika Aoki
) and second baseman (
Omar Infante
). Meanwhile, the White Sox have a new first baseman (Cuban
Jose Abreu
) and the Twins' new first baseman is their old catcher,
Joe Mauer
.
The A's added to their bullpen, acquiring closer
Jim Johnson
,
Luke Gregerson
and
Eric O'Flaherty
, and welcomed
Scott Kazmir
to their rotation. The Rangers gave
Prince Fielder
a fresh start at first base, found a position (second base) for
Jurickson Profar
and showed
Shin-Soo Choo
what a great country this is, especially when you reach free agency. Great country? The Mariners gave
Robinson Cano
$240 million, but is there protection around him in that lineup? The Angels made significant changes, none of which will really matter if
Albert Pujols
isn't healthy enough to play first base and produce something close to the Pujols of St. Louis. And if the Astros lose 128 games (they are not nearly that bad), they'll tie the Mets (1962-65) for the most losses ever during any four-year period in history.
The Braves have a new catcher in
Evan Gattis
, and they'll have to figure out how to get the batting averages of
B.J. Upton
and
Dan Uggla
back over .200. The Nationals, under rookie manager Matt Williams, need a healthy
Bryce Harper
(knee) if they're going to win the NL East; in mid-January, he sprinted for the first time without pain. We know the Phillies are in Clearwater, but nothing else about them is clear. The Mets have
Curtis Granderson
and
Bartolo Colon
, but not having
Matt Harvey
for perhaps the entire season will be a bummer. The Marlins still have
Giancarlo Stanton
. How long before that situation changes?
The Cardinals have almost an entirely new infield, a new center fielder (
Peter Bourjos
) and maybe a new right fielder if rookie
Oscar Taveras
is healthy and productive. The Pirates have hope again following a playoff appearance in 2013, and with
Gerrit Cole
for a full season. The Reds have a new manager in Bryan Price; now they need to find a center fielder to replace Shin-Soo Choo: Is this the spring that
Billy Hamilton
steals a job? The Brewers have a new right fielder in
Ryan Braun
; no questions about Biogeneis will be taken, however. The Cubs have a new spring training facility and a new manager, Rick Renteria.
[+] Enlarge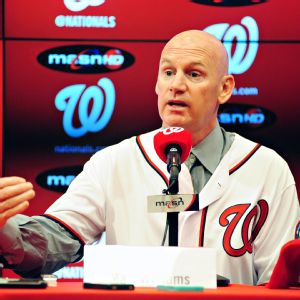 Evan Habeeb/USA TODAY SportsExpectations are once again high for the Nationals, who have a new manager in Matt Williams.
The Dodgers have four outfielders for three spots; one of them,
Matt Kemp
, is coming back from shoulder and ankle injuries -- his health and production will be one of the big stories of the spring. The Diamondbacks have a new left fielder,
Mark Trumbo
, who might hit 40 homers in their ballpark. The Dodgers and Diamondbacks will open the season March 22 in Australia; let's hope there isn't a major brawl Down Under. The Giants added
Tim Hudson
, and
Pablo Sandoval
subtracted 42 pounds. The Padres signed
Josh Johnson
to pitch in a rotation headed by
Ian Kennedy
-- here's hoping they play a doubleheader this year, and go with the Kennedy-Johnson ticket. The Rockies will open camp with
Troy Tulowitzki
, but, for the first time since 1988, they'll begin a season without
Todd Helton
.
There will be lots of stories, questions and sunshine this spring. It is the best time of year. It is a time for optimism: No one has lost a game, the rookies all have promise and the veterans believe it will be their best year. It is baseball in its purest form, a time for wind sprints, fundamentals, split-squad games on a back field where only the scouts are watching. Millionaire players are humanized and humbled in spring training. They are not receiving enormous paychecks every two weeks, and they're getting the same meal money as the rookie in his first big league camp. No one is exempt from the three-hour bus rides, playing on fields that aren't manicured to major league standards, and facing anonymous Class A pitchers who throw really hard, but have no idea where the ball is going. It is the one time of year that
Justin Verlander
and a 20-year-old kid are on equal ground. It is the one time of year that a player gets on the bus in uniform, just like in high school.
Eleven years ago, Indians pitcher
Brian Anderson
boarded the team bus at 8 a.m. for the two-hour drive to Vero Beach, Fla., for a spring training game. Thirty minutes into the trip, Anderson realized he had forgotten his hat, his spikes and his glove back in Winter Haven.
"I was running late that morning because I knew I was going to get to hit in the game, so I was looking for the really important things: batting gloves and a bat," Anderson said. "When we got to Vero, I was in full panic mode. I borrowed a car and went to a mall, but there wasn't one glove in the whole mall, but I found some adidas spikes. On the way back to the ballpark, I saw a WalMart. I thought, 'Hey, WalMart has everything ... tires ... produce ... it must have a baseball glove.' I found one: $29.95, already broken in. It was a softball glove. A Wilson. It was awful. I borrowed someone's hat and pitched in the game. Of course, I got three comebackers to the mound, and I caught them all because my new glove was as big as a butterfly net, it made
[Greg] Maddux
's glove look small. That day reminded me of when I was 17 playing Legion ball. That is spring training to me."
Only in spring training could this story happen. The Twins signed infielder
Tsuyoshi Nishioka
in the spring of 2011. He didn't speak much English, and didn't know anyone on the team. Several teammates convinced Twins outfielder
Denard Span
to introduce himself to Nishioka, to make him feel more a part of the team. Only they tricked Span -- they told him that Ray Chang, another infielder, was Nishioka. So Span, ever respectful, approached Chang, bowed gracefully, introduced himself, and asked him if he spoke English.
"Sure I do," Chang said. "I'm from Kansas City!"
The whole team howled.
[+] Enlarge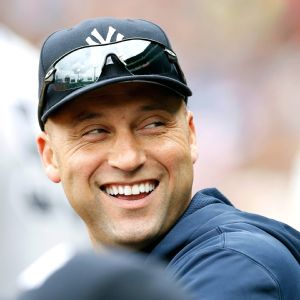 Greg M. Cooper/USA TODAY SportsDerek Jeter, who played only 17 games last season, enters the final year of his career hoping to stay healthy.
Only in spring training could then-Rays first baseman
Carlos Pena
make a mistake in a baserunning drill, then justify it by quoting Dr. Martin Luther King's "I Have A Dream" speech. "My first baseman is quoting Dr. King," said Rays manager Joe Maddon. "I love it."
Only in spring training would pitcher
Jeremy Guthrie
, now with the Royals, ride his bike to work. "It was only five miles," he said of his daily ride two springs ago to the Rockies' facility. Then-teammate
Michael Cuddyer
said of Guthrie, laughing, "He once pitched in a game in Scottsdale, then got on his bike -- still in full uniform, with his glove on the handlebars -- and rode back to our facility. It was like a scene from 'The Sandlot.'"
Only in spring training would then-Padres pitcher
Chris Young
and
Will Venable
pick teams for a free throw shooting tournament because both guys played basketball at Princeton. "That's as nervous as I've ever been for an athletic competition," Young said with a smile, "because I'm not a great free throw shooter, and my team was depending on me to be good." Only in spring training would the Twins hold a bowling tournament behind the KFC in Fort Myers and, said Twins manager Ron Gardenhire, "Joe Mauer would be high-fiving his teammates, guys he's never met in his life, after they rolled a strike." Only in spring training could Jeff Stone get thrown out at all four bases in one game, and only one of them was a forceout (think about that). Only in spring training could Rockies pitcher David Lee, in an emergency, drive the team bus on a night trip, then earn the nickname "Diesel" when he stopped the bus and announced, "We've got to get some diesel!"
Only in spring training is time taken to get in baseball shape. "We're always inventing drills and conditioning programs in spring training," said Rich Donnelly, now the manager of the Mariners' Triple-A team. "Years ago, we'd do 10 jumping jacks, touch our toes twice, then play. Today, these strength and conditioning coaches are always coming up with new stuff: rubber bands, parachutes, cones. I just can't imagine Ted Williams going to spring training and running with a parachute on his back, or Babe Ruth jumping over a bunch of cones."
It is a time for the fans, especially kids. Families take vacations to spring training. Getting a player's autograph is easier because everything and everyone is more relaxed than during the regular season. Well, except for when the Red Sox and Yankees played for the first time in spring training 2004, their first meeting since
Aaron Boone
's home run had sent the Yankees to the World Series, and sent the Red Sox home. Tickets were scalped for $500 for an exhibition game! Before the game, there was a fight in the parking lot at City of Palms Park in Fort Myers between a Yankees fan and a Red Sox fan ... both fans were women!
It's spring training. Finally. We can't wait.
March, 13, 2013
3/13/13
12:05
PM ET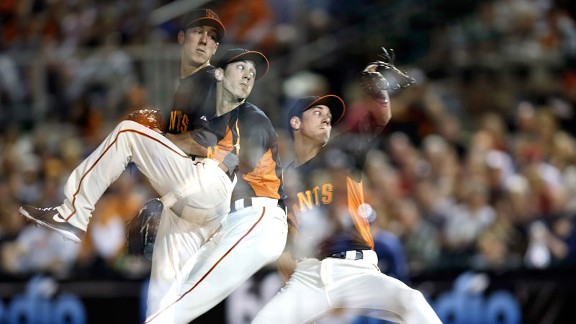 AP Photo/Marcio Jose SanchezTim Lincecum, in multiple exposure, made it through most of three innings on Tuesday night.
After pitching in a Cactus League game for the first time in two weeks on Tuesday night,
Tim Lincecum
said that "juicing" has helped heal the blister on his right middle finger. The pitcher immediately realized how that sounded and corrected himself with a laugh.
"I don't mean 'juicing.' [I mean] LIME-juicing," he stressed, adding that he's been using lime juice and mud on the blister.
Returning to the mound for his second start of the spring, Lincecum struck out two batters and didn't allow a run for the first two innings against the Padres. But he fell behind in the count in the third when he allowed three consecutive hits, and left with two outs. He gave up four hits and three runs, threw 43 pitches in 2 2/3 innings and was credited with the loss in San Diego's 6-2 win.
"Every pitch could have been better all together, but I'm pleased with the results," he said. "Well, not the result, but the way things went besides the results. My blister wasn't an issue and I got my pitch count up and I got to go out there for multiple innings."
"We got him right where we want him as far as his pitch count," Giants manager Bruce Bochy said. "He hasn't been out there very much, which is fine. We have plenty of time. Next time, we'll probably get him up to 55 or 60 pitches, somewhere in there."
Coming off the worst season of his career -- 10-15 with a 5.18 ERA -- Lincecum dedicated himself to an offseason strength and conditioning routine to get back on track. "My body and where it felt last year and where it is now is night and day," he said.
"He's stronger this spring," Bochy said. "He's definitely showing a lot more arm strength. He worked hard this winter. I like where's at right now. He's ahead of where he was at this point last year."
Lincecum figures he will make four more starts before the season opens, and says that will be enough for him to get ready. So does Bochy.
"There's not a doubt in my mind we'll have him where we want him when the season starts," Bochy said, adding, "Knock on wood that the blister doesn't flare up."
March, 9, 2013
3/09/13
11:00
AM ET
SCOTTSDALE, Ariz. -- When Buster Posey's hometown paper in Albany, Ga., took a poll in November asking readers if he's already a "lock" for the Hall of Fame, 89 percent of survey respondents said yes. That's no surprise given the depth of affection for Posey in Lee County, and the sense of pride among the locals in his achievements.
The more salient question is, what could those 11 percent of dissenters possibly have been thinking?
Something about Posey generates universally positive vibes, in the same wholesome, All-American way that
Joe Mauer
did before that $184 million contract raised the scrutiny and complicated matters a bit. In the San Francisco clubhouse, teammates marvel at how Posey takes his fame and success in stride. Maybe it's the way he goes about his daily regimen with country-boy earnestness and no expectations of favors or special treatment. The word "humility" is invoked time and time again.
Heaven knows, it isn't easy.
Posey's days are filled with more demands, attention and perks than ever in the aftermath of his monster 2012 season, when he recovered from a devastating ankle injury to win a National League batting title, collect Comeback Player of the Year and MVP awards and lead the Giants to their second World Series victory in three seasons.
[+] Enlarge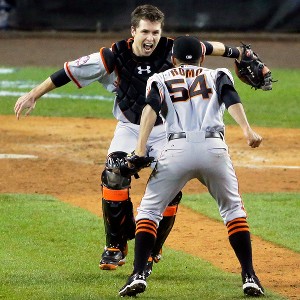 AP Photo/Charlie RiedelAt only 25 years old, Buster Posey has already won rookie of the year and MVP honors -- and a pair of World Series rings.
Posey
filmed a video game commercial over the winter
and experienced another departure from the norm this spring when GQ magazine invited him to a photo shoot in Arizona. If Posey envisioned getting all gussied up in a $3,000 suit with a pocket square, he was quickly disabused of that notion when the crew handed him some tight-fitting sweatpants made of a new-age spandex material. It's not the type of outfit a guy wears when he's grocery shopping in Leesburg, Ga.
"I'm probably going to take some grief for it," Posey says ruefully. "But in 15 or 20 years, my kids can look back on it and it'll be pretty cool for them. Or maybe they'll think I'm a dork."
Posey enjoyed a more meaningful interaction in January. During a trip to New York to collect his MVP award, he visited the Yogi Berra Museum & Learning Center in Little Falls, N.J., with his wife, father and mother. Berra, a living, breathing museum piece in his own right, was gracious enough to give the Poseys a personal tour.
As a former winner of the Johnny Bench Award as college baseball's top catcher, Posey is well-versed in the lineage of great players at his position. He has an enduring respect for the predecessors who incurred arthritic knees and bad backs from all those years of foul tips and endless squatting.
"I think anybody that catches shares a bond," Posey says. "You know what it takes to play the position from a physical and mental standpoint. To me, getting a chance to meet Yogi Berra and knowing how long he played and what he accomplished … I'm a huge fan of it. I'm just as enthralled as anybody else. Maybe a little bit more, because I understand the difficulty of what he accomplished."
A mere three years and 308 games into his big league career, Posey has a legacy of his own to burnish.
Comeback kid
Nearly two years have passed since May 25, 2011, when Posey was writhing in pain after a home plate collision with
Scott Cousins
of the Marlins. He suffered a fractured fibula and three torn ligaments in his left ankle on the play. The damage was so far-reaching and pervasive that it prompted general manager Brian Sabean to rip Cousins and start a dialogue over whether baseball needed to do something to protect defenseless catchers.
Soon after being helped off the field, Posey embarked on his rehab, which is
painstakingly chronicled here
. With help from trainer Dave Groeschner, strength and conditioning coach Carl Kochan and other support people who put in some long hours of their own, he returned to full working order sooner than anyone had a right to expect.
The Giants helped lighten Posey's load by moving him to first base for 29 starts, and he found a different gear down the stretch. Posey led the majors with a .385 batting average and .456 on-base percentage after the All-Star break and hit one of the signature home runs of October, a grand slam off Cincinnati's
Mat Latos
to vault San Francisco over the Reds in the finale of their National League Division Series.
You want precedents? We've got precedents:
• Posey became the first player since Frank Robinson of the 1966 Baltimore Orioles to win a league MVP, batting title and World Series in the same season. The others to complete that rare hat trick: Dick Groat, Mickey Mantle, Willie Mays, Stan Musial and Joe DiMaggio.
• At 25, Posey was the youngest player to win an MVP award since Ryne Sandberg of the 1984 Cubs.
• He joined Bench, Roy Campanella, Ernie Lombardi and Gabby Hartnett as the only catchers to win a National League MVP award.
• As a bonus, Posey joined Jackie Robinson of Cairo as the second Georgia native to win NL MVP.
Run through that list of 12 predecessors and you'll find 11 Hall of Famers (all except Groat). That's 91.6 percent, so maybe the Albany Herald's readers are a little cautious in their projection.
A driven player
In the San Francisco clubhouse, Posey's influence transcends his status as the team's best player. He has an easygoing appeal that resonates across income levels, service time and baseball-reference.com profiles. If he seems too good to be true, he will certainly do until something better comes along.
Posey's "it" factor is readily apparent to former players who work for the Giants in advisory capacities. That group includes
Shawon Dunston
, a spring training instructor and part-time coach with the organization. When Dunston first encountered Posey in spring training of 2009, he was impressed by both the kid's drive and the vehicle he drove.
"He showed up in a little red rent-a-car," Dunston says. "I put myself in that boat. If I came out of college and just signed for $6 million, I'm not driving a rental car. I said, This guy is focused."
[+] Enlarge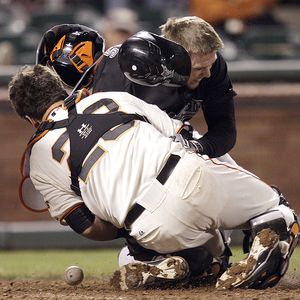 AP Photo/Marcio Jose SanchezYou'd never know that Buster Posey suffered a fractured fibula and three torn ankle ligaments only 22 months ago.
Of all the San Francisco players, Posey and pitcher
Matt Cain
are Dunston's favorites because they're so "boring" and "old school" and oblivious to the concept of self-promotion. Dunston even tells his son, Shawon Jr., an outfielder in the Cubs' minor league system, to watch Posey and Cain and try to emulate the way they play and conduct themselves.
First impressions tend to linger. Pitcher
Jeremy Affeldt
remembers an interview that Posey did shortly after signing out of Florida State as the fifth pick in the 2008 draft. When Posey was asked about the possibility of a September call-up, he said he wanted to join the big club because he had earned the privilege -- not because the Giants were contractually obligated. He displayed no trace of a smidge of an iota of entitlement.
"This is a very humbling game," Affeldt says. "A lot of times people come in with a lot of flash, and the game humbles you and you play a certain way. But Buster came in playing that way. For him, it's not about bat flips or hoopla or loudness or grandstanding. It's about standing in the box and hitting a grand slam in the playoffs and acting like 'that's what I should do with that pitch.'
"When it comes to his accolades, he doesn't live in them. He doesn't get too caught up in it. If he won an award, it's probably because he deserved the award. But then he's on to doing what got him that award in the first place, and that's going out and playing hard and being good at his position.
"Derek Jeter is one of the best at it. He stands out because he plays in a very large market, but you're not going to see him in the media and the tabloids. He just does his thing and goes home. No drama. I think people respect a guy who has quiet confidence, believes in what he can do and goes out and does it. That's what Buster carries and leaders carry, and that's what players look up to."
The players in Posey's peer group certainly view him in that light. Giants shortstop
Brandon Crawford
, a fourth-round pick out of UCLA in 2008, played with Posey in Class A San Jose the following year and says "he hasn't changed at all." Crawford is two months and six days older than Posey, yet smart and attentive enough to regard him as a professional role model.
Along with his offensive contributions, Posey spends a lot of time reading scouting reports and devising game plans to help his pitchers maximize their success. In 2012, Baseball Info Solutions ranked him 12th in defensive runs saved among 20 big league catchers with at least 750 innings played. But the sweat he invests in the process can't be quantified. It's a tribute to his parents, Demp and Traci, and to the folks who taught him to play the game back home in Georgia.
Personal experience plays a role too. That gruesome leg injury forced Posey to confront the possibility that he might return as a lesser player. If he continues to perform at an elite level -- and there's no reason to believe he won't -- the Cousins affair will be a defining moment in his career.
Nearly two years after the collision, Posey uses it as motivational fuel when his bat is dragging or his body is so achy that it's hard for him to roll out of bed in the morning. Posey and his wife, Kristen, have 19-month-old twins, son Lee and daughter Addison, so he rarely has the luxury of dawdling unless the Giants are on the road.
On a quiet morning in Scottsdale, before he hits the field for batting practice, Posey takes a quiet moment to reflect.
"I hate to keep going back to the injury, but it was a blessing in disguise in several different ways," he says. "You see that baseball's not the be-all and end-all. Everybody has a time line on them, no matter how good you are.
"There's no question I want to be able to draw from that experience and remember it. Hopefully I don't have to go through that again. But when it's August and I'm feeling a little bit tired, I know there's probably somebody who's on the shelf with an injury and wants to be out there. That's something I can use to my advantage."
As Posey approaches his 26th birthday later this month, he is grounded in the knowledge that success isn't defined by the clothes he wears, the car he drives, the money he makes or even the circle of friends he keeps. It's about what he represents.
February, 12, 2013
2/12/13
6:35
PM ET
SCOTTSDALE, Ariz. --
San Francisco Giants
pitcher
Tim Lincecum
led the National League in four categories last season -- games started, losses, wild pitches and earned runs allowed. He has been forced to reinvent himself with a garden-variety fastball, and now he'll face the added scrutiny of performing for the defending world champions with the specter of free agency hanging over him in November.
So maybe it's a good thing that everyone is so focused on his coif.
Lincecum, San Francisco's two-time NL Cy Young Award winner, forsook the skater boy look this winter for something more worldly and professional. When he appeared at the Giants' recent fan fest with close-cropped hair and a pair of faux eyeglasses, he was peppered with questions from reporters and fans alike. People seem to be warming to the new, more contemplative Lincecum (one media member observed that he looks like a "poet") after several years of Big Time Timmy Jim.
"It makes him look younger," Giants general manager Brian Sabean said. "I like the hair, but I like the fake glasses better. It takes a lot of [guts] to do that."
Now that pitchers and catchers have reported to Giants camp, Lincecum is about to become a Cactus League focal point. Can he regain his old staff ace form or something remotely close to it? And by doing so, will he price himself out of San Francisco or increase the likelihood that he'll stay with the only professional organization he has ever known?
[+] Enlarge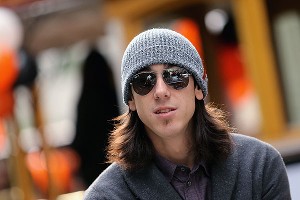 Ezra Shaw/Getty ImagesTim Lincecum enjoyed every minute of last year's Giants World Series victory parade.
Whichever fork in the road he takes, it will have a major impact on the Giants' pursuit of their third NL West title in four years.
The Giants have been fortunate to enjoy an impressive run of rotational continuity in recent years. Last season,
Matt Cain
,
Madison Bumgarner
,
Ryan Vogelsong
, Lincecum and
Barry Zito
combined for 160 of the team's 162 starts. If you guessed that
Eric Hacker
and
Yusmeiro Petit
made the other two starts, feel free to toot your horn on Twitter.
"It's pretty amazing, really, how healthy these guys have stayed and how they're able to go out there every fifth day," said Giants manager Bruce Bochy. "It's a credit to how the pitchers take care of themselves and the conditioning that our training staff puts them through. We've been fortunate. I knock on wood when I think about it."
Even though Lincecum made 33 starts, his season was a grind from the outset. According to FanGraphs, Lincecum's fastball velocity has declined from 94.1 mph in 2008 to 90.4 last season. During that same span, his ratio of walks per nine innings has increased from 3.33 to 4.45. His ratio of first-pitch strikes (55.4 percent) was the second lowest of his career.
"He's got to pitch to contact and throw more strikes," Sabean said. "His fastball is not gonna come back, per se. When that happens, you need to increase your ability to get guys out in three pitches or less. We'll see if he's going to make those kinds of adjustments. Having said that, he can still miss a bat."
An armchair psychologist might speculate that as Lincecum finds it more challenging to dominate hitters with his power repertoire, a little voice in the back of his head steers him away from the heart of the plate. He wouldn't be the first pitcher to be guilty of excessive nibbling in conjunction with diminished velocity.
Lincecum, for his part, attributes his issues to problems with his notoriously unorthodox mechanics. He struggled with both the landing position of his front foot and his follow-through last season.
"It's a timing delivery," Sabean said, "and when the timing is off, you're not going to be able to get your arm in the right place and you're not going to be able to have a consistent release point."
While Lincecum was shedding hair in the offseason, he gained an estimated 8-10 pounds with a greater emphasis on strength training and fewer trips to In-N-Out Burger. He checked into spring training at 170 pounds, and hopes the added muscle will help him better endure the rigors of August and September.
Lincecum also hooked up with some new trainers back home in the state of Washington and concentrated on more dynamic, explosive workouts in an attempt to regain the funk in his delivery. With the exception of a vacation trip to the beaches of Cancun with his girlfriend, his winter was all business.
Just as Bochy expects Zito to build on his success in October, he thinks Lincecum received a major confidence boost from his bravura performance out of the bullpen in the postseason. Lincecum was lights-out in long relief against Cincinnati in the National League Division Series (1-0 with a 1.42 ERA) and contributed 4 2/3 shutout innings with eight strikeouts against Detroit in the World Series.
Now that the postseason urgency has subsided and Lincecum has the freedom to work at his own pace in Arizona, he's ready to chalk up his relief stint as an educational experience. It's time to take a deep breath and embark on a voyage of self-discovery that will carry him back to his rightful place in the rotation.
"When you're put in a situation like I was in the postseason, it's the most selfless situation you can be in when you're in the playoffs and you're just dying to make it to that next game," Lincecum told reporters at the fan fest. "This year's a little different. I'm hoping to get back on that horse and be in the starting rotation again and re-stake my claim as a starting pitcher and a good one."
Even though Lincecum might look like a new man thanks to the contributions of his hairstylist, a few million Giants fans would be considerably happier if he resumes pitching like the same old Freak.