Spring Training:

Tampa Bay Rays
February, 15, 2014
Feb 15
3:39
PM ET
PORT CHARLOTTE, Fla. --
David Price
is back. Or is he?
His locker is right where he left it, in the middle of the
Tampa Bay Rays
' clubhouse. His cap still has a T and a B on it. His uniform still says, "Rays." His trusty dog, Astro, is still basking in the glow of his world-famous 2013 canine bobblehead giveaway.
So clearly, a miracle has occurred here. David Price is back. He isn't getting traded after all. Or is he?
"I won't believe David Price isn't getting traded until Opening Day," said one dubious executive of another club just the other day. "That's the business model of that team, is trading those types of players. They've built their success on getting
Chris Archer
for
Matt Garza
, on getting
Wil Myers
and
Jake Odorizzi
for
James Shields
. That's what they do."
Well, it's what the Rays have
done
anyway. But they didn't do it this winter, although it wasn't for lack of trying.
Price couldn't have been more available if the Rays had posted him on eBay. But this time, unlike what happened in the 2010-11 offseason, when they traded Garza, and 2012-13, when they dealt away Shields, the planets didn't line up the way they'd figured, or the way any of us had figured.
[+] Enlarge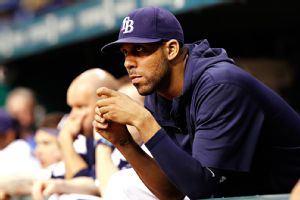 Kim Klement/USA TODAY SportsDavid Price survived the offseason, but will he still be a Ray come Opening Day?
Was there interest in Price? Uh, is the sea blue? Is the sand white? Are piņa coladas wet? What do you think? The hang-up wasn't lack of interest, in a 28-year-old former Cy Young Award winner. The hang-up was a combination of massive price tag, lack of desperation to pay it on the other end and timing that never quite worked.
So when the transaction rubble had settled this winter,
Masahiro Tanaka
was a Yankee,
A.J. Burnett
was a Phillie,
Bronson Arroyo
was a Diamondback and
Bartolo Colon
was a Met. But the trade market for prominent starting pitchers never went anywhere all winter, beyond the
Doug Fister
deal. So David Price, much to even his own shock, was right back where he started -- in Tampa Bay.
"I felt like this offseason, everything just kind of fell in my corner, for me to stay with the Rays," Price said Saturday, on the first day of his seventh spring training as a Ray. "With Tanaka not being able to sign until the 24th [of January] and stuff like that, it seemed like teams waited for that market to fall. You know, if he had signed during the winter meetings or something, it might have been a little bit different. That would have given teams a lot more time to figure out what they wanted to do.
"So I thought that after Tanaka signed, that next seven or eight days were pretty big. After that, I got to breathe a little bit. And today is a big day as well. Once I got to spring training, I felt like I would kind of be here."
Well, it seems like an excellent assumption. But let's just say not everyone is ready to make it.
"You're talking about six weeks of guys getting hurt all over baseball and some teams realizing they're not as good as they thought they were," said the same exec quoted earlier. "So I know that no one there wants to say it, but this has become that team's chief way of acquiring talent. Their drafts haven't been as good lately. Their farm system isn't what it used to be. So they need that constant influx. …
"And remember, when we went into this offseason, there wasn't even a debate. It was a no-brainer. He was getting dealt. So I'll believe it when I see it."
OK, we can understand the logic in that theory from afar. The time for the Rays to get max value for their ace would seem to be now, when he's still two years from free agency. And once they get into the season, they're so deep and talented, they're not going to trade him in July if they start out, say, 60-20.
So if you just want to view this situation coldly and clinically, maybe a Price deal still makes sense. But there's another side to this equation that the astute people who run this team are not crazy enough to ignore:
If they trade Price between now and Opening Day, it would devastate the euphoric vibe of a team that practically launched into Mardi Gras when Price walked back into its clubhouse this spring.
"To trade me now would kind of pour salt into the wounds, not only for myself but for all the guys in this clubhouse and for our fan base," Price said. "Everybody assumes that I'm going to be here this year. So obviously, if I were to get traded in the next month, month and a half, that would leave a bad taste in quite a few people's mouths."
Andrew Friedman, the Rays' executive vice president of baseball operations, wouldn't comment Saturday on whether he had offered Price any assurances this spring that it was safe to ignore all trade rumors for the next six weeks. But when Friedman was asked whether he feels it's important to reassure a player like this about where he stands, Friedman answered this way:
"We have a very, very open dialogue, and I think David has a good sense of the organization's approach to life in general," Friedman said. "And we have a good feel for him. And I think that's something we feel it's important to do in this organization, [to] have a very frank, open line of communication. …
"I respect that there's a human element with guys who are speculated about in trades, the life impact of that, and I don't minimize that," Friedman went on. "Obviously, this is not about David, specifically. Just generally speaking, guys want to ask me questions. And I want to do my best to answer them."
So while Price can't be sure how his front office is thinking, or what overwhelming trade offer some team might decide to make for him on March 18, he sure doesn't talk like a man who thinks he's still in danger of calling Allied Van Lines.
Asked the other day about whether he thought taking his pre-camp physical was a sign he was sticking around, he quipped: "If I give blood, I'm not getting traded to somebody that doesn't have my blood yet, because I'm not doing it twice. That is not happening."
[+] Enlarge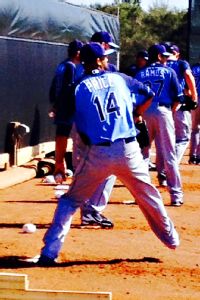 Jayson Stark/ESPNPrice on being dealt this spring: "To trade me now would kind of pour salt into the wounds, not only for myself but for all the guys in this clubhouse and for our fan base."
And while he said Saturday this doesn't quite feel like a reincarnation, since he never actually went anywhere, he realizes that, among all players in the sport who never went anywhere, it's an odd place he finds himself nonetheless.
"It's like people keep welcoming me back, and I say, 'It's great to be back,'" he laughed. "But then they say, 'You were never actually gone.' And I'm like, `You're right.'"
Still, when asked what he thought the chances were last fall, on a scale of 1-to-100, that he'd be standing in this clubhouse this spring, Price replied: "Probably a 5, or below. I really didn't think I'd be back with this organization."
So now that he is, he said, "It's a big sigh of relief for me. My comfort level here is great. This is my seventh year. I know all the parking-lot attendants, all the security guards. I know their kids. I know their wives. My dad has everybody who works at the Trop's cell phone [numbers] in his speed dial. So it's just very easy. To be in a situation like this, it's kind of what you dream about as a kid."
Of course, when you dream about these situations as a kid, you envision finding yourself in heaven and then sticking around forever and ever. In Price's case, on the other hand, he understands his return trip to nirvana isn't a forever kind of deal.
Those trade rumors may be in his rearview mirror now. But just wait seven or eight months. They'll be back.
At this point, no one even pretends that the Rays can afford to give him the Kershaw-esque mega-contract it would take to keep him around long-term. So at some point, he'll be moving on. Maybe next winter. Maybe the winter after that. But sometime. That's just life in Tampa Bay.
"So I completely get that," he said. "I understand that. … That's just the way the organization operates. You really can't be mad about it. The more time you spend in Major League Baseball, the more you understand it's a business."
And business is business. Just not now.
Somehow, against all odds, David Price is still a Ray -- and likely to remain a Ray for all of 2014. So as long as he's sticking around, he said, he'd like to do something just as crazy as the turn of events that have spun his world right back to this same place:
"What I want to do now," he said, "is win a World Series."
And when you look at how good his team is with him still a part of it, that's one wish that might not be out of the question.
February, 14, 2014
Feb 14
10:00
AM ET
As there are every spring, there are great baseball stories everywhere -- from Tampa to Tempe, from Jupiter to Space Coast Stadium, from Goodyear to Surprise.
Which teams will have a good year? Which teams will surprise? The questions are what make spring training so great, so fascinating. They are what define this time of year, along with warm weather, hope and the belief that March 29 will be the last useless evening that we'll have to spend.
[+] Enlarge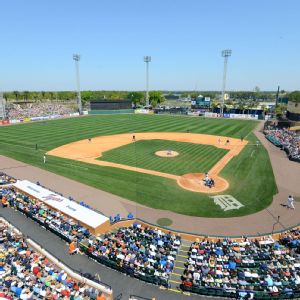 Mark Cunningham/MLB Photos via Getty ImagesNothing beats the look and feel of spring training.
It all begins, as so many spring trainings have before, with the Yankees in Tampa. We will get our first look at
Masahiro Tanaka
, who the Yankees made the fifth-highest paid pitcher in major league history before he ever threw a pitch in the big leagues. Is his splitter as good as everyone says? We will see
Jacoby Ellsbury
,
Brian McCann
and
Carlos Beltran
in Yankee uniforms, and we will see
Derek Jeter
in the final year of his career play shortstop at age 39; only five players in the game's history -- Honus Wagner, Rabbit Maranville, Luke Appling, Luis Aparicio and
Omar Vizquel
-- have played 100 games in a season at shortstop at Jeter's age. He'll turn 40 three weeks before the All-Star break.
The world champion Red Sox mostly will be without their beards this spring, but they will have a new catcher (
A.J. Pierzynski
), a new shortstop (
Xander Bogaerts
) and several candidates to be their new center fielder, including
Grady Sizemore
, who hasn't taken an at-bat in the big leagues since 2011. The Rays will have
David Price
, who hasn't been traded and now, it appears, might not be traded this season. The Orioles might start the season without
Manny Machado
, who is coming back from a serious knee injury. The Blue Jays will open spring training without the hype of last spring, which is good for them.
The Tigers, under new manager Brad Ausmus, will open the spring with a different infield from the one that took the field last spring, including
Ian Kinsler
at second base and rookie
Nick Castellanos
at third. Even more important, they have a real closer this spring in
Joe Nathan
. The Indians have a new closer,
John Axford
, as well. The Royals have a new leadoff batter (
Norichika Aoki
) and second baseman (
Omar Infante
). Meanwhile, the White Sox have a new first baseman (Cuban
Jose Abreu
) and the Twins' new first baseman is their old catcher,
Joe Mauer
.
The A's added to their bullpen, acquiring closer
Jim Johnson
,
Luke Gregerson
and
Eric O'Flaherty
, and welcomed
Scott Kazmir
to their rotation. The Rangers gave
Prince Fielder
a fresh start at first base, found a position (second base) for
Jurickson Profar
and showed
Shin-Soo Choo
what a great country this is, especially when you reach free agency. Great country? The Mariners gave
Robinson Cano
$240 million, but is there protection around him in that lineup? The Angels made significant changes, none of which will really matter if
Albert Pujols
isn't healthy enough to play first base and produce something close to the Pujols of St. Louis. And if the Astros lose 128 games (they are not nearly that bad), they'll tie the Mets (1962-65) for the most losses ever during any four-year period in history.
The Braves have a new catcher in
Evan Gattis
, and they'll have to figure out how to get the batting averages of
B.J. Upton
and
Dan Uggla
back over .200. The Nationals, under rookie manager Matt Williams, need a healthy
Bryce Harper
(knee) if they're going to win the NL East; in mid-January, he sprinted for the first time without pain. We know the Phillies are in Clearwater, but nothing else about them is clear. The Mets have
Curtis Granderson
and
Bartolo Colon
, but not having
Matt Harvey
for perhaps the entire season will be a bummer. The Marlins still have
Giancarlo Stanton
. How long before that situation changes?
The Cardinals have almost an entirely new infield, a new center fielder (
Peter Bourjos
) and maybe a new right fielder if rookie
Oscar Taveras
is healthy and productive. The Pirates have hope again following a playoff appearance in 2013, and with
Gerrit Cole
for a full season. The Reds have a new manager in Bryan Price; now they need to find a center fielder to replace Shin-Soo Choo: Is this the spring that
Billy Hamilton
steals a job? The Brewers have a new right fielder in
Ryan Braun
; no questions about Biogeneis will be taken, however. The Cubs have a new spring training facility and a new manager, Rick Renteria.
[+] Enlarge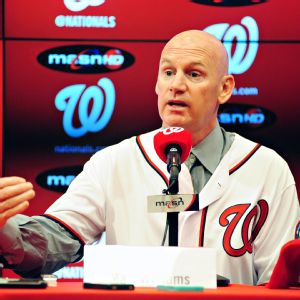 Evan Habeeb/USA TODAY SportsExpectations are once again high for the Nationals, who have a new manager in Matt Williams.
The Dodgers have four outfielders for three spots; one of them,
Matt Kemp
, is coming back from shoulder and ankle injuries -- his health and production will be one of the big stories of the spring. The Diamondbacks have a new left fielder,
Mark Trumbo
, who might hit 40 homers in their ballpark. The Dodgers and Diamondbacks will open the season March 22 in Australia; let's hope there isn't a major brawl Down Under. The Giants added
Tim Hudson
, and
Pablo Sandoval
subtracted 42 pounds. The Padres signed
Josh Johnson
to pitch in a rotation headed by
Ian Kennedy
-- here's hoping they play a doubleheader this year, and go with the Kennedy-Johnson ticket. The Rockies will open camp with
Troy Tulowitzki
, but, for the first time since 1988, they'll begin a season without
Todd Helton
.
There will be lots of stories, questions and sunshine this spring. It is the best time of year. It is a time for optimism: No one has lost a game, the rookies all have promise and the veterans believe it will be their best year. It is baseball in its purest form, a time for wind sprints, fundamentals, split-squad games on a back field where only the scouts are watching. Millionaire players are humanized and humbled in spring training. They are not receiving enormous paychecks every two weeks, and they're getting the same meal money as the rookie in his first big league camp. No one is exempt from the three-hour bus rides, playing on fields that aren't manicured to major league standards, and facing anonymous Class A pitchers who throw really hard, but have no idea where the ball is going. It is the one time of year that
Justin Verlander
and a 20-year-old kid are on equal ground. It is the one time of year that a player gets on the bus in uniform, just like in high school.
Eleven years ago, Indians pitcher
Brian Anderson
boarded the team bus at 8 a.m. for the two-hour drive to Vero Beach, Fla., for a spring training game. Thirty minutes into the trip, Anderson realized he had forgotten his hat, his spikes and his glove back in Winter Haven.
"I was running late that morning because I knew I was going to get to hit in the game, so I was looking for the really important things: batting gloves and a bat," Anderson said. "When we got to Vero, I was in full panic mode. I borrowed a car and went to a mall, but there wasn't one glove in the whole mall, but I found some adidas spikes. On the way back to the ballpark, I saw a WalMart. I thought, 'Hey, WalMart has everything ... tires ... produce ... it must have a baseball glove.' I found one: $29.95, already broken in. It was a softball glove. A Wilson. It was awful. I borrowed someone's hat and pitched in the game. Of course, I got three comebackers to the mound, and I caught them all because my new glove was as big as a butterfly net, it made
[Greg] Maddux
's glove look small. That day reminded me of when I was 17 playing Legion ball. That is spring training to me."
Only in spring training could this story happen. The Twins signed infielder
Tsuyoshi Nishioka
in the spring of 2011. He didn't speak much English, and didn't know anyone on the team. Several teammates convinced Twins outfielder
Denard Span
to introduce himself to Nishioka, to make him feel more a part of the team. Only they tricked Span -- they told him that Ray Chang, another infielder, was Nishioka. So Span, ever respectful, approached Chang, bowed gracefully, introduced himself, and asked him if he spoke English.
"Sure I do," Chang said. "I'm from Kansas City!"
The whole team howled.
[+] Enlarge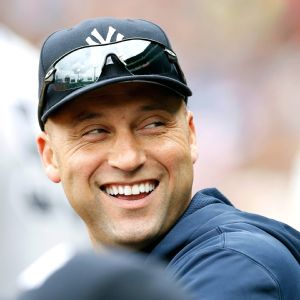 Greg M. Cooper/USA TODAY SportsDerek Jeter, who played only 17 games last season, enters the final year of his career hoping to stay healthy.
Only in spring training could then-Rays first baseman
Carlos Pena
make a mistake in a baserunning drill, then justify it by quoting Dr. Martin Luther King's "I Have A Dream" speech. "My first baseman is quoting Dr. King," said Rays manager Joe Maddon. "I love it."
Only in spring training would pitcher
Jeremy Guthrie
, now with the Royals, ride his bike to work. "It was only five miles," he said of his daily ride two springs ago to the Rockies' facility. Then-teammate
Michael Cuddyer
said of Guthrie, laughing, "He once pitched in a game in Scottsdale, then got on his bike -- still in full uniform, with his glove on the handlebars -- and rode back to our facility. It was like a scene from 'The Sandlot.'"
Only in spring training would then-Padres pitcher
Chris Young
and
Will Venable
pick teams for a free throw shooting tournament because both guys played basketball at Princeton. "That's as nervous as I've ever been for an athletic competition," Young said with a smile, "because I'm not a great free throw shooter, and my team was depending on me to be good." Only in spring training would the Twins hold a bowling tournament behind the KFC in Fort Myers and, said Twins manager Ron Gardenhire, "Joe Mauer would be high-fiving his teammates, guys he's never met in his life, after they rolled a strike." Only in spring training could Jeff Stone get thrown out at all four bases in one game, and only one of them was a forceout (think about that). Only in spring training could Rockies pitcher David Lee, in an emergency, drive the team bus on a night trip, then earn the nickname "Diesel" when he stopped the bus and announced, "We've got to get some diesel!"
Only in spring training is time taken to get in baseball shape. "We're always inventing drills and conditioning programs in spring training," said Rich Donnelly, now the manager of the Mariners' Triple-A team. "Years ago, we'd do 10 jumping jacks, touch our toes twice, then play. Today, these strength and conditioning coaches are always coming up with new stuff: rubber bands, parachutes, cones. I just can't imagine Ted Williams going to spring training and running with a parachute on his back, or Babe Ruth jumping over a bunch of cones."
It is a time for the fans, especially kids. Families take vacations to spring training. Getting a player's autograph is easier because everything and everyone is more relaxed than during the regular season. Well, except for when the Red Sox and Yankees played for the first time in spring training 2004, their first meeting since
Aaron Boone
's home run had sent the Yankees to the World Series, and sent the Red Sox home. Tickets were scalped for $500 for an exhibition game! Before the game, there was a fight in the parking lot at City of Palms Park in Fort Myers between a Yankees fan and a Red Sox fan ... both fans were women!
It's spring training. Finally. We can't wait.
February, 28, 2013
2/28/13
11:29
AM ET
PORT CHARLOTTE, Fla. -- Can a guy win a Cy Young Award one year and get better the next?
David Price
is convinced that's possible. And if he's right, that could mean big trouble for the American League.
"I really figured out in my last four starts last year how I can become a lot better," Price says. "In my last four starts, I really feel like I did that. You have 27, 28 starts at that time, so you're just as tired as everybody else in the big leagues. Being able to push through that and being able to learn new stuff at that point, like I did last year, is a great feeling."
So what could a pitcher, on his way to a Cy Young, learn in mid-September? Well, this Cy Young winner says he learned something he considers to be a major breakthrough.
"I really figured out a lot of stuff with my off-speed pitches, what I'm trying to do with them, how I want to throw them," Price says. "I'd never thrown a changeup with fastball arm speed, with fastball intent, before. At the end of the year, I finally started doing that."
His light-bulb moment, he says, came in a Sept. 25 start in Boston. Early in that game, he remembers, he was executing pitches, throwing his fastball exactly where he wanted to throw it, and those Red Sox hitters were "sitting on certain pitches … and just launching stuff, and it made me mad."
In a span of 10 hitters, Price allowed six hits, was called for a run-scoring balk and headed back to the dugout, fuming. He and catcher
Jose Molina
decided to switch everything around. Pitch selection. Patterns. The execution of his changeup. And he recalls standing on the mound, watching the reactions of a lineup full of hitters who thought they'd found something, thought they'd figured him out.
"The stuff that I felt in that game, it has really made me excited for 2013," he says, "because I know I'm nowhere near the finished product I'm going to be. It might not happen this year, which is fine. It's still a work in progress. And you're never going to be a finished product, really, in anything you do.
"This game is always evolving. I know that. That's why I've tried to pick up new pitches, work with different grips. I switched sides of the rubber last year. I'll do anything to try and gain an advantage. That's what we're trying to do here, gain every advantage that we can."
It's actually easy to forget what a short time Price has been around. But consider this:
He won a Cy Young only 125 appearances into his career. According to research by the Rays, only five AL pitchers had fewer at the time they won their first Cy Young: Vida Blue (57),
Roger Clemens
(69), Ron Guidry (83),
Barry Zito
(84) and Jim Lonborg (116).
"The most impressive thing about David," says Rays executive vice president Andrew Friedman, "is he's gotten better every single year. In 2010, he was better than '09. In '11, he was better than '10. In '12, he was better than '11. You can't ask for much more than that. … And the scary thing is, as good as he was last year, I still think there's more upside there."
More from the 2012 AL Cy Young winner …
• On his dog, Astro, getting his own bobblehead night: "He's handling it well. He's still the same dog he was before all this happened to him. … He's a big fan of the bobblehead. I've put it in front of him a couple of times, and he runs up and licks it, and he takes his paw and plays with it. He did better with this than he did with the action figure that he had two years ago. I put one of those down in front of him, and he used it as a chew toy. So I had to take that away from him."
• On the void left by the trade of
James Shields
: "He's one of my best friends, outside of baseball. So it is a little bit different in here. He's a guy with a very big personality. He can be very loud. So he was very good for this team. That's why his personality void is way bigger than the innings [they have to fill without him]. If every starter can add 10 innings to his total from last year, we can make up for the innings that James Shields provided for us. It's just his personality, his demeanor. … His presence is always felt here. It still is today. We talk about him all the time, the things he taught us to do here and the way he went about showing us how to do them."
• On whether he feels a need to fill that leadership void: "That's stuff I've been doing anyway. Whatever knowledge I have in the baseball world, I'll share that knowledge with these guys, and they all know that. … I've been a leader ever since I've been a little kid. On every team I've been on, I was always the best player and a leader of the group. In everything. It's not something I'm just kind of rolling into. It's something I did on my minor league teams. It's nothing new."
• On the script he'd write for himself for this year: "Win the World Series. That's our goal. Obviously, I'd rather not go 0-and-33, but if I did that and we won the World Series, I'd be fine. I mean, if I had a respectable ERA and did that, that would reek. … But I want to get back there. That's our main goal."
February, 28, 2013
2/28/13
10:50
AM ET
PORT CHARLOTTE, Fla. -- He's a man with a brand-new Cy Young trophy. He's a face of one of baseball's most innovative franchises. He's the proud owner of a French bulldog with both a key to the city and its very own canine bobblehead.
So in many ways,
David Price
is truly a man who has it all.
Except for one thing.
He definitely doesn't have an answer to that increasingly persistent question: How much longer will he be employed by those
Tampa Bay Rays
?
"I do think about it from time to time," Price admits as he basks in the laid-back spring vibe of the only franchise he's ever played for. "But as of right now, I'm a Ray. And I love being a part of this group."
But he's also a perceptive human with a firm grip on reality. His close amigo,
James Shields
, used to occupy the locker next door every spring. And if the banter that emanated from those two lockers didn't make it the most entertaining chunk of clubhouse real estate in America, it was right up there.
[+] Enlarge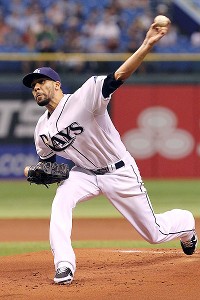 Kim Klement/USA TODAY SportsDavid Price won the American League Cy Young Award last season after going 20-5 with a 2.56 ERA in 31 starts.
These days, though, Shields is hanging out in exotic Surprise, Ariz., where the Royals train, thanks to another one of those roster-churning mega-trades the Rays have become famous for. David Price has astutely noticed that.
So he doesn't need to watch every episode of "Elementary" to deduce that the next ace to call the moving vans just might be him. Heck, of course it could.
The Mariners shoveled $175 million ($25 million a year) at
Felix Hernandez
to make sure he never stops admiring the view of Mount Rainier. The Giants forked over $127.5 million ($21.25 million per year) to keep
Matt Cain
hanging out by McCovey Cove. The Phillies located $144 million ($24 million per year) to fund Cole Hamels' cheesesteak budget for the next six years.
But in Tampa Bay, well, let's just say they graduate a lot of seniors. And while there's no cap and gown hanging in David Price's locker, he knows his graduation day could very well be approaching. And frankly, the whole idea is bumming him out royally.
"In a perfect world, I could be here for the rest of my career," Price says, with total sincerity. "That would be awesome. I've gotten multiple phone calls from ex-teammates, who say, 'Aw, it's not the same. I'd give anything to be back in Port Charlotte.' … So the grass is not always greener on the other side. It doesn't matter how much more you're making if you're not happy where you are."
That's a fascinating statement if you're into taking it literally. It certainly implies that contentment and comfort level will weigh significantly into the momentous contract decision that Price will be confronted with one of these days, weeks, months or years.
And if that's the case, it's hard to imagine, from listening to Price talk, that he could possibly achieve a higher state of bliss anywhere than what he's found here on the euphoric grounds of Joe Maddon Gardens.
"We all enjoy being here," Price says. "We do things differently here. So if that day ever did come where I go somewhere else, I know it's probably going to be night and day, compared to the way we do things over here, and it would definitely take some adjustment period.
"I try not to think about it," Price confesses, with the tone of a guy who's getting increasingly nostalgic the longer he talks, "because I love being here. Honestly, I think that would just put me in a bad mood."
Uh-oh. If David Price were to turn grumpy on us, it would pound a serious dent into the well-being of this inspirational piece of literature. So to cheer him up, we can pass along this important tidbit:
His team loves him, too.
Asked to appraise where this situation might be heading, Price's favorite executive vice president of baseball operations, Andrew Friedman, puts it this way:
"In a vacuum," Friedman says, "the starting point is that we'd like David to be here for a long time, and David would like to be here for a long time. So at least that's a good starting point. And it remains to be seen whether that's feasible."
Oh, it remains to be seen, all right. So let's frame this big picture for you:
Price, 27, can't be a free agent for three more years. He's working on a one-year deal for this season, at about $10.1 million. And that's the most money the Rays have ever paid any pitcher, in any season, in their 15-year history.
It's also the most any second-time arbitration-eligible pitcher has ever earned in one season. The previous record holder,
Jered Weaver
, signed a five-year, $85 million contract with the Angels before the next season. And the fact that Weaver's deal is now viewed as (ahem) a "bargain" tells you where the market for stud starters has gone since.
Now let's look at how the Rays have handled their most marketable starters under Friedman's watch.
They traded
Matt Garza
in January 2011, when he was three years away from free agency. They dealt away Shields this winter when he was two years from reaching free agency.
So now here's Price, three years away, countdown clock ticking. Despite what you may hear, it's incredibly unlikely his team will entertain trading him this July. Too talented a roster. Too carefully built to contend. But next winter? Whole 'nother story.
"Obviously," Friedman says, "at the end of this year, that's a topic that will be debated publicly, but at this point, it's premature to speculate on."
Not that that's stopped half the population of Tampa Bay from speculating away pretty much 24/7. But the fact is, Friedman says, even eight months from now, you never know how either side will feel.
"This season could play itself out in too many different ways," he says. "There are too many things that could play out to have a good feel for how things are going to evolve."
"

In a vacuum, the starting point is that we'd like David to be here for a long time, and David would like to be here for a long time. So at least that's a good starting point. And it remains to be seen whether that's feasible.

"

-- Andrew Friedman, the Rays' executive vice president of baseball operations
Despite the Rays' history with Garza and Shields, remember, this is also a franchise that held on to both
Carl Crawford
and
B.J. Upton
until the end of their deals, in the name of trying to win. So is it poured into the cement mixer that Price
has
to get traded at some point in the next year or so? Not 100 percent, it's not.
We should also remember that the Rays are constructed to contend for years to come -- especially if Price is still fronting the rotation. So they're sending signals they're in no rush to move him unless they're getting back a franchise-altering package.
But then there's the other half of this equation. By which we mean:
$$$$$$$$$$$$$$$$$$$$$$$$$$
No matter how long and hard Price professes his love for life as a Ray, one word he always forgets to include in his love letters is that magic word: "discount." And if the Rays are going to be forced to pay a state-of-the-market Price tag, then it's tough to imagine that, eventually, they won't be forced to do what they have to do.
A mere three months ago, they did find another $100 million to add to
Evan Longoria
's deal, which swelled their commitment to their third baseman to $136.6 million over the next 10 years. But that, Friedman says, was kind of "the perfect storm."
In Longoria's case, they had a 27-year-old position player whose work ethic and makeup made him the kind of player who could be projected, reasonably safely, to hold up physically and serve as the ideal centerpiece player to build a franchise around.
"And he loves being here and wants to be here, and was willing to make some sacrifices that others haven't," Friedman says of Longoria. "Now there's no right or wrong answer. It's a personal decision. For him personally, that's what made the most sense for him, and it also lined up with what made sense for us, so we were able to do a deal. But it's hard for all of those things to line up."
Of course, there are lots of people hanging around the grouper-sandwich emporiums of Tampa Bay who would love to see Longoria convince Price to "make some sacrifices" himself and stick around. But Longoria says that as much as he loves the guy, "that's not my job."
"This is a great place to play," Longoria says. "And we've got a great team and a great manager, and we've got a lot of good things going for us. So if I had my way, of course I would love to have Price here for a long time. But that's not my call. All I can do is enjoy every day with him."
So with all those Stu Sternberg dollars committed to Longoria, could a money-challenged franchise like this possibly afford another nine-figure deal?
"As I said at the time we signed Evan," Friedman says, "we could sign another player to the same contract. The question is: If our resources don't increase, then it's going to be really difficult to compete. And at the end of the day, that's what's most important, is our ability to compete. We could easily afford another [contract] like it. The problem is the other 23 guys and what you have left to spend on them."
But the Ace can't sit around this spring and piece together that jigsaw puzzle. He's too busy trying to win another Cy Young and a World Series. In the meantime, though, while others are all but printing his boarding pass out of town, David Price continues to believe there's "absolutely" a chance they can find a way for him to stay.
"I hear we have a new TV deal coming up," he says. "Hopefully, there's a new stadium in the works. And that all increases revenues. So I know there's a way. There absolutely is a way. So if we can figure that way out, that would be great."
Ah, but if they can't? Well, it's hard not to notice that his dog's bobblehead day is scheduled for April 21 … and not July 31.
February, 26, 2013
2/26/13
5:53
PM ET
The
Houston Astros
and
Tampa Bay Rays
found themselves on the same field Tuesday. That was a fascinating development -- and not just because Rays starter
David Price
happens to own a dog named Astro.
It's fascinating because the 2013 Astros are trying to go where the Rays have already gone, from 100-game losers to a place among the top organizations in baseball. And the Astros would love to get there in a style very similar to the way the Rays diligently built their franchise, through high draft picks, state-of-the-art info and outside-the-box thinking.
Now it wouldn't exactly be accurate to say the Astros want to be the Rays when they grow up. But it would be accurate to say that the Astros are following a Rays-like rebuilding model these days -- right down to their projected $25 million payroll. (The Rays figure to be somewhere around $59-60 million.)
[+] Enlarge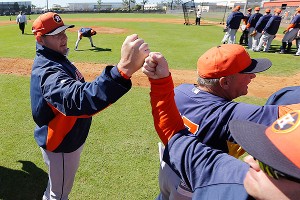 AP Photo/David J. Phillip Roger Clemens, left, was in uniform last week, but he's not scheduled to pitch. At least not yet.
"The Rays have had a tremendous amount of success," Astros assistant GM David Stearns said Tuesday. "Regardless of your market size, regardless of your philosophy, regardless of your payroll, it's natural to look at them as an extremely successful franchise. And I think what they've managed to do, and what Andrew [Friedman] and all those guys have been really good at, is to do things a little bit ahead of the curve. So we're cognizant of that.
"But I think emulating exactly the way they do things isn't really what you want to do. You want to find the next advancement and to be ahead of the curve yourself. But the amount of success they've had is incredibly enviable. And I think any organization would strive to emulate that level of success. But I think it's dangerous for someone who doesn't know exactly how they're doing things to say, 'We need to copy the Rays' strategy.' I think developing your own strategy and developing your own philosophy is really the best way to go about it."
The Astros of new GM Jeff Luhnow and new owner Jim Crane may not be starting life as an expansion team, the way the Rays did 15 years ago. But they are, almost literally, starting over in every way.
They've blown up their roster, restocked their system and prepared themselves to lose a lot of baseball games in the big leagues as they build a foundation they hope can lead them to a Rays-like tomorrow.
But of course, they have one massive advantage the Rays don't have -- and may never have:
Money to spend … when the time is right.
Houston is the fourth most populated city in America. The Astros had the eighth-largest payroll in baseball ($92.5 million) as recently as 2006. And they have a big new TV deal just kicking in that will enable them, if and when they eventually get good, to spend the dollars required to stay good.
"Our payroll this year is more a product of strategy than anything else," Stearns said. "Our goal is to have a very young team of talented players. And if you have a lot of players at the major league minimum, that's obviously going to produce a very low payroll. But we're in a market that has supported a much higher payroll in the past. And we certainly expect it will be able to support a higher payroll in the future."
But that's then, not now, obviously. The Astros have only four players on their roster making $1 million or more and no one earning more than $3 million. The Rays have 17 players who will earn $1 million or more this season -- led by a pitcher with a dog named Astro who will make $10.1 million.
The Astros' entire starting rotation this season won't make $10.1 million. But some day, that -- like a lot of things about this team -- will change.
Rays Stat of the Day
If the Rays' new shortstop,
Yunel Escobar
, thinks his likely double-play partner,
Kelly Johnson
, looks vaguely familiar, there's a reason for that.
This will be the third team they've played for -- together -- in the past six years. They were teammates in Atlanta from 2007 to 2009, in Toronto in 2011-12 and now in Toronto.
So how many double-play combinations have played at least 100 games together for three different teams?
The correct answer, according to the Elias Sports Bureau: None!
In fact, there has been only one recent pair of teammates to play 100 games together, at any positions, for three different teams:
Jeff Kent
and
Jose Vizcaino
(Mets, Giants, Astros).
Kent and Vizcaino actually started at second and short for four different teams (those three, plus the Indians). But not for 100 games. Vizcaino did too much bouncing around the field late in his career.
And no other duo in the expansion era has played together for any significant number of games for this many teams. Kind of amazing, in an era of massive free-agent player movement. Don't you think?