Spring Training:

Texas Rangers
March, 19, 2014
Mar 19
11:50
AM ET
PALM CITY, Fla. -- Nolan Ryan is 23 years removed from his seventh career no-hitter, and it has been 18 years since he pitched his
pain reliever of choice in a television commercial
. But he still has enough cachet to make news in Texas' two most prominent sports markets without setting foot on a mound.
[+] Enlarge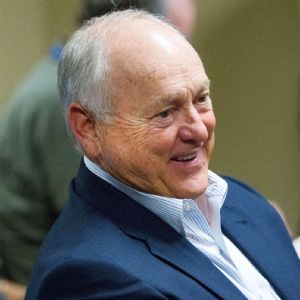 Bob Levey/Getty ImagesNolan Ryan, 67, is currently an executive adviser to Astros owner Jim Crane.
The
Houston Astros
pulled off a coup five weeks ago when Ryan joined the organization as an executive adviser to owner Jim Crane. He's returning to the franchise where he passed Sandy Koufax with his fifth no-hitter, broke Walter Johnson's career strikeout record and worked as a special assistant to former general manager Tim Purpura 10 years ago.
Through no fault of his own, Ryan's recent break from the
Texas Rangers
isn't entirely in the past tense. Two weeks ago, before
Torii Hunter
puckered up to an alligator and
Barry Bonds
rolled into Giants camp, Detroit second baseman
Ian Kinsler
added some spice to spring training with some words he later appeared to regret. In a provocative ESPN The Magazine story, Kinsler called Texas general manager Jon Daniels a disparaging name, expressed hope that the Rangers would go 0-162 and blamed Daniels for running the beloved Ryan out of town.
Ryan, for his part, heard Kinsler's remarks and immediately looked past their harshness into the heart of a fellow ballplayer. He suspects that Kinsler was still smarting from the news that the Rangers had traded him to Detroit for
Prince Fielder
.
"I told my wife, Ruth, 'People are going to miss the point of that article,'" Ryan said. "The real point of the article was that Ian was hurt by the trade. He was mad, and he just vented, but he was truly in his heart a Texas Ranger and he wanted to retire as a Ranger. I understand reactions like that because I played for the Astros and I wanted to retire in Houston and wasn't looking to leave. You say things when you're mad that you regret later."
And what about the highly publicized power struggle with Daniels? Ryan refuses to paint Daniels as a villain in what was clearly an uncomfortable arrangement. Instead, he suggests they were part of a dynamic that was set up to fail.
"I haven't really commented on that," Ryan said. "But when I came into that situation, I was dropped in J.D.'s sandbox. He had his organization and his group of people, and all of a sudden -- boom! -- Nolan Ryan was there. It was a dimension they didn't anticipate. It probably wasn't handled properly with my coming in."
As much as Ryan might prefer to change some things and invent a more gratifying conclusion to his run as Rangers president and CEO, it's all about looking forward to the salvage job that awaits in Houston. The Astros have their share of problems, but sandbox turf wars won't be one of them.
Monumental task
Ryan is in more of a consultant's role now than a prime decision-making spot. When he's not serving as a sounding board for Crane, he'll be dispensing advice to his son Reid, the Astros' president of business operations.
It's an understatement to say the Ryans, general manager Jeff Luhnow and manager Bo Porter have a big challenge in front of them. Last year the Astros became the first team since the 2004-2006
Kansas City Royals
to lose 100 or more games in three straight seasons. They ranked 27th in the majors in attendance with 1.65 million fans (compared to the franchise record of 3.1 million set in 2004), and their efforts to reach a broader audience have been stymied by their TV deal with Comcast, which limits them to about 40 percent of their potential market and is now hung up in the court system. If you're an Astros fan in Louisiana, feel free to enjoy the radio broadcasts.
Nevertheless, this is an exciting time for Houston baseball fans with long-term horizons. The Astros' farm system is the best in baseball according to ESPN.com, and is ranked No. 5 in the game by Baseball America. Six of the organization's minor league affiliates made the playoffs last season, and the Astros have a chance to add another elite prospect in the Mark Appel-Carlos Correa mode with the top pick in the June first-year player draft.
The Ryans, father and son, sat down for a 30-minute interview with ESPN.com on Tuesday at the Floridian, the private golf course that Crane bought from former
Miami Marlins
owner Wayne Huizenga in 2010. They shared their mutual passion for baseball, their distaste for losing and their vision for the franchise with typical down-home candor. Reid Ryan readily concedes the team has work to do to regain the trust of the fan base.
"Sometimes you don't know what you're getting into until you get there," Reid said. "I took the job last May and as I started going around town, I saw there's a pride with the Astros. People are tired of losing. We had a stretch where we swept the Angels last year and you would have thought we won the World Series. As this group of young guys comes up, there will be a lot of folks who come out of the woodwork and bust out the orange and blue and start following the Astros. It can't get here soon enough for the fans."
"

He has such a breadth of knowledge, he asks really good questions and tells us ways he's seen it done in the past. It's not, 'This is the way you should do it.' It's more. 'Have you guys thought about this or that?' It's been very eye-opening and beneficial to us.

"

-- Jeff Luhnow, Astros
GM, on Nolan Ryan
Reid Ryan, 43, pitched for Texas Christian University before running the family's minor league teams in Corpus Christi and Round Rock, Texas. During his 10 months with the Astros, he has won high marks for his attention to detail, lack of ego and communications skills. He has fostered a more inclusive, upbeat environment than his predecessor, George Postolos, who was known more for his business acumen than his people skills.
Nolan Ryan, 67, is a man of fewer words, but approaches baseball with a curiosity and a sharp intellect that allow him to see the big picture. While stories abound about him scaring the bejeezus out of opposing hitters during his playing days, he's about as approachable as a man who received 98.79 percent of the Hall of Fame vote can get.
For those who wonder if Ryan and Luhnow can find a harmony that eluded Ryan and Daniels, the two men talked everything through with Crane before the Astros brought The Express on board. "I was very comfortable with the value added that Nolan could provide and he was very comfortable with the approach that we were taking," Luhnow said. "So far it's been a wonderful fit. I can't see any downside to it, to be honest."
Since Ryan joined the team in spring training, he has sat in on meetings and received primers on the way Luhnow's regime approaches everything from amateur scouting to player development to salary arbitration. "He has such a breadth of knowledge, he asks really good questions and tells us ways he's seen it done in the past," Luhnow said. "It's not, 'This is the way you should do it.' It's more. 'Have you guys thought about this or that?' It's been very eye-opening and beneficial to us."
If Ryan feels ill at ease with some of the more novel ideas expressed by Luhnow, Astros director of decision sciences Sig Mejdal or anyone else in the team's hierarchy, he hasn't shown it. As he points out, he was open-minded enough to embrace the innovative methods of pitching coach Tom House before they came fashionable. It helped him reach the Hall of Fame.
"I'm open to suggestions," Ryan said. ""If something can help us, I'm all for it."
Mentoring the kids
Like a utility infielder, Ryan will fill any number of roles with the Astros. If they want him to have dinner with a potential sponsor or speak to season-ticket holders, he's game. And if they'd like his opinion on a potential No. 1 pick, he'll be happy to provide it.
In Kissimmee, Ryan watches the big league team at Osceola County Stadium and checks out the minor leaguers when the big leaguers are on the road. The Astros expect him to gravitate toward some of the younger pitchers who he thinks he can help. Two of them -- former first-round pick Mike Foltynewicz and 2013 second-round pick Andrew Thurman -- already have caught his eye.
The Astros are making a conscientious effort to stress tradition and continuity these days.
Roger Clemens
and
Craig Biggio
, both special assistants to Luhnow, have spent time in camp this spring. While Clemens is more comfortable speaking to large groups of players, Ryan prefers the more personal, one-on-one approach. For such a tough old cuss, he has a natural human touch that can put a young player at ease almost instantly.
Reliever
Matt Albers
, a Houston native who broke into pro ball with the Astros in 2001, remembers Ryan giving a talk to the minor leaguers 10 years ago and telling them how the addition of a changeup late in his career helped prolong his shelf life. It was a revelation to Albers at the time, and stuck with him in the six years he spent with other organizations before rejoining the Astros as a free agent in December.
"It's really priceless for young guys when he talks to you and watches your bullpen and he cares," said Albers, who adds that Ryan "is pretty much a god in Texas."
A full 15 years after his induction to Cooperstown, Nolan Ryan has reached the point where he'd rather spend time at his ranch or playing with his grandchildren than being involved in every single organizational decision. He'll help give the vehicle a push when it gets stuck, but someone else will be driving.
"As his son, I know he doesn't want to work every day," Reid said. "Having this job now, I have a lot more respect and appreciation for what he did with the Rangers. There's somebody that wants something all the time, and it pulls at your time. I talked to him and said, 'We want you to come here in any capacity you want. You can have fun, enjoy the game of baseball and contribute. That's all any of us want, is to feel valued and feel like we're contributing."
A few more wins would be nice, but it took a while for the Astros to get into this mess, and it will take a while to get out of it. Note to Houston baseball fans: The Ryans don't enjoy losing any more than you do. Rest assured they're working on it.
March, 15, 2014
Mar 15
6:11
PM ET
PHOENIX --
Colby Lewis
last pitched in the majors on July 18, 2012, and his comeback from his rare hip-resurfacing surgery took a turn for the worse in Saturday's pounding against the Athletics.
Making his third spring training start, Lewis didn't fool anyone. Staked to a 2-0 lead,
Coco Crisp
lined a hard single to center, and
John Jaso
walked. After a fly out,
Josh Donaldson
lined out 400 feet to deep center to score a run.
Brandon Moss
then killed a 2-0 pitch to right-center field, a screaming liner that seemed to be still rising as it smashed off the advertising signs above the fence. On the next pitch,
Josh Reddick
hit one onto the practice diamond beyond the right-field fence. Lewis didn't even look.
The second inning wasn't much better. A single, walk, hard double down the right-field line and an intentional walk plated another run and loaded the bases. Lewis then hit Donaldson, drawing a bit of a stare from the A's third baseman, ending Lewis' day.
It's just one start in the thin air of Arizona, but it was about as bad as a pitcher could look and probably means Lewis will eventually be ticketed for time in the minors before getting another shot with the Rangers. It also means the Rangers' season-opening rotation could now include
Joe Saunders
, who had a 5.26 ERA with the Mariners last season (imagine how that will translate to Texas), and
Tommy Hanson
, coming off a bad, injury-plagued season with the Angels. The Rangers are hoping
Matt Harrison
will be ready a few weeks into the season, but for now, the Rangers are scrambling to fill slots behind
Yu Darvish
,
Martin Perez
and
Alexi Ogando
.
As a reader named Jon Dogma tweeted to me, "I wonder if
Derek Holland
's dog knows the damage he's done."
Holland, if you remember, tripped over his dog Wrigley in the offseason, requiring knee surgery that will likely keep him out until at least the All-Star break.
He said
it could have been worse: "He was running up the stairs and clipped me. I hit my knee on the step, and if it wasn't for me grabbing the rail, I might have fallen all the way down the stairs and cracked my head open."
The Rangers aren't the only AL West team with issues in its rotation, however. The A's announced Friday that starters
Jarrod Parker
and
A.J. Griffin
will start the season on the disabled list, Parker with forearm tightness and soreness, Griffin with a muscle strain that will require rest for now, but not surgery.
The A's have
Tommy Milone
, who won 25 games the past two seasons while in the rotation, and
Jesse Chavez
, who had a 3.92 ERA in 35 appearances in relief last year but has pitched well while starting this spring, as the likely replacements.
Donaldson said Saturday he hadn't heard the news when he left the ballpark Friday, but preferred to take an optimistic view for now. "It's one of those things that could end up being a blessing in disguise. Give them a little bit of rest and they'll be ready when we need them the most at the end of the season," he said.
The A's are already minus
Bartolo Colon
, their top winner from 2013, who signed with the Mets as a free agent.
Sonny Gray
, with just 10 career regular-season starts, became the de facto No. 1, followed by
Scott Kazmir
and
Dan Straily
.
The Mariners, meanwhile, have seen
Hisashi Iwakuma
and
Taijuan Walker
go down with a finger injury and shoulder tightness, respectively. Neither has pitched this spring, leaving guys such as
Scott Baker
,
Randy Wolf
(who has allowed four home runs in nine innings) and
Blake Beavan
in the rotation mix behind
Felix Hernandez
,
Erasmo Ramirez
and rookie
James Paxton
.
Then there are the Angels and Astros, who ranked 23rd and 25th, respectively, in starting pitcher WAR last season, per FanGraphs. The Angels' rotation projects as
Jered Weaver
,
C.J. Wilson
,
Garrett Richards
and offseason acquisitions
Hector Santiago
and
Tyler Skaggs
, with veteran
Joe Blanton
(2-14, 6.04 ERA) the No. 6 starter Angels fans would rather not see. The Astros' projected rotation includes free agent
Scott Feldman
alongside some combo of
Jarred Cosart
,
Brett Oberholtzer
,
Brad Peacock
,
Lucas Harrell
,
Dallas Keuchel
and
Jerome Williams
, which could be mildly interesting if the young guys develop -- although hardly reminiscent of Mike Scott, Nolan Ryan and Bob Knepper.
None of the guys injured in spring may miss a lot of time, but they are going to miss
some
time. Rotation depth already looks as though it's going to play a key factor in the AL West race, so pay attention to how those Nos. 6, 7 and 8 starters are performing these final two-plus weeks of spring training.
March, 11, 2014
Mar 11
5:32
PM ET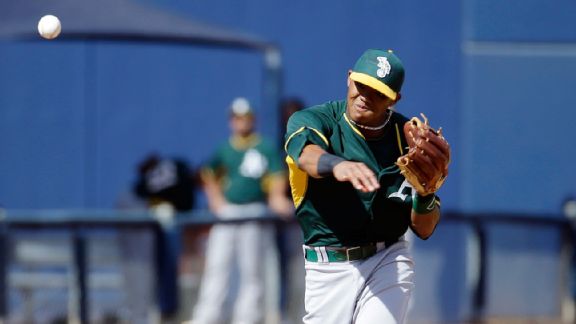 AP Photo/Morry GashAddison Russell, one of the game's best prospects, will be in Oakland sooner than you think.
PHOENIX -- When bouncing around the Cactus League you pick up a lot of good gossip.
It's a very relaxed atmosphere, and after talking to managers and coaches, players, and team executives and general managers here's some of the buzz I've collected while visiting three AL spring training camps: The
Oakland Athletics
,
Texas Rangers
and
Kansas City Royals
.
Tomorrow we'll touch on two NL West camps: The
Los Angeles Dodgers
and
San Francisco Giants
.
---
Oakland Athletics

• The A's are not going to let
Super Two
status stand in the way of promoting shortstop Addison Russell. Whenever he's ready, they'll do it. Though it won't be Opening Day, don't be surprised if he's promoted shortly after if he tears up Double-A. He is really standing out in spring training and as manager Bob Melvin told me, instead of looking like a 20-year-old kid, he got the poise of a 25-year-old veteran.
• Billy Beane made a lot of lopsided trades in his favor this offseason, but the one that scouts are talking about the most is the one that sent
Jerry Blevins
to the
Washington Nationals
for outfielder Billy Burns.
February, 21, 2014
Feb 21
1:49
PM ET
GOODYEAR, Ariz. --
David Murphy
attracted lots of attention in November with one of the cutest news leaks in memory. Word of his pending free-agent deal with the
Cleveland Indians
made the rounds after his 5-year-old daughter let it slip at her day-care center. The next thing Murphy knew, his two-year, $12 million agreement with the Indians was splashed all over the Internet.
Three months later, Murphy has recovered from the initial embarrassment and is able to have a good laugh about it. It helps that the disappointment of the 2013 season fades just a little bit more each day.
Murphy, by his own admission, never got on track last season in Texas. After hitting .304 with an .859 OPS in 2012, he dipped to .220 and .656 in 2013. He batted .198 on the road, slugged .291 versus lefties and never got into a consistent rhythm at the plate.
[+] Enlarge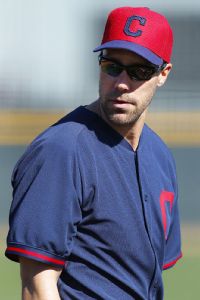 AP Photo/Paul SancyaFirst order of business for David Murphy in Cleveland: put 2013 behind him.
Murphy is one of the more insightful and analytical players you'll find, and he spent the offseason trying to pinpoint the source of his problems. In hindsight, he determined that his travails had little to do with the pressure of playing for a new contract in his free-agent "walk" year.
"I really try to look in the mirror and be truthful when it comes to that," Murphy said. "You can see it being a pressure and a stress on top of just going out there and trying to perform for your team, but I don't feel like it was that big of a deal for me. I know I'm not a high-profile guy. Yes, if I would have had a good year, I probably could have gotten a better payday, but at the end of the day, I still got a nice contract. And I've still made plenty of money in this game to take care of my family, so it's not like it was a make-or-break, life-and-death situation."
Murphy thinks his problems stemmed more from changing his approach to compensate for the loss of
Josh Hamilton
,
Michael Young
and
Mike Napoli
from the Texas lineup.
"I tried to step outside of the player I had been in the past," he said. "I was motivated to play a bigger role in the offense, but I kind of went about it the wrong way. I tried to be a different player and hit for more power. I think I tried to pull the ball a little too much, and my swing got a little bit long. It was a good learning experience. It wasn't fun to experience, but I've seen a lot of great players who have had way better careers than me have some tough years."
Murphy will probably bat sixth in the order for manager Terry Francona in Cleveland. The Indians tied for fourth in the American League with 745 runs scored and ranked seventh in OPS at .737, and there appears to be room for improvement. Other than
Yan Gomes
and
Ryan Raburn
, no Cleveland hitter posted numbers in 2013 that were appreciably better than his career norms.
The plan calls for
Michael Brantley
to play left field,
Michael Bourn
to return to center and Murphy to shift from left field to right. He's made 142 career starts in right field (compared to 483 in left and 40 in center) and anticipates a relatively smooth transition.
"I went from having a pretty good left-field arm to having one of the worst right-field arms," Murphy said with a laugh. "But I'll try to be accurate."
February, 17, 2014
Feb 17
7:15
PM ET
SURPRISE, Ariz. --
Derek Holland
is still walking with the aid of crutches and won't be joining his fellow
Texas Rangers
in spring training for another two weeks. In the meantime, they'll miss him for his energy, good cheer, desperate attempts at facial hair, offbeat life observations, competitiveness, 213 innings and 3.3 wins above replacement last season.
"He's definitely one of a kind," said Rangers rotation-mate
Matt Harrison
.
[+] Enlarge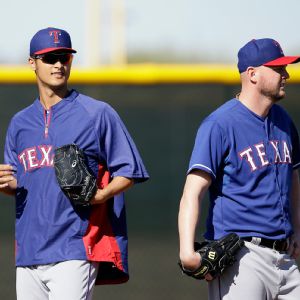 AP Photo/Tony GutierrezBarring any injuries, Yu Darvish and Matt Harrison will make up two-fifths of the Rangers' season-opening rotation.
In the aftermath of some bad news surrounding Holland, the Rangers will try to make do with a positive outlook and strength in numbers.
It's been five weeks since Holland set a standard for bizarre offseason injury high jinks. General manager Jon Daniels was at dinner with new bench coach Tim Bogar and their wives when his phone rang and trainer Kevin Harmon was on the other end with a shocker: Holland had tripped and fallen while running up a flight of stairs with his boxer, Wrigley, and suffered a knee injury that would have to be repaired through surgery.
Daniels gathered the brain trust, and the Rangers briefly considered taking the plunge on
Ubaldo Jimenez
,
Ervin Santana
or one of the other free agents still left on the market. But they'd already spent a ton of money to upgrade the offense this winter, and they decided the internal options were plentiful and strong enough to refrain from making a knee-jerk run at a big name.
"We talked about it, sure," Daniels said Monday from a back field at Surprise Stadium. "You've got to look at those things. But we have a lot of confidence in our staff and the guys who are here now. If we have a need during the season, we can address it then. But we believe in this group. That's really what it came down to."
While the buzz in Surprise is building over
Prince Fielder
and
Shin-Soo Choo
and their impact on the Texas offense, the most intriguing questions surround the rotation, where the Rangers are hoping some pieces fall into place behind American League strikeout champion
Yu Darvish
and they have enough depth in the rotation to be OK until Holland returns in July.
If the season began today, Harrison,
Martin Perez
and
Alexi Ogando
would probably assume the three spots behind Darvish. Perez went 10-6 with a 3.62 ERA as a rookie, but the Rangers want him to approach this spring with the mindset that he needs to earn a job and he shouldn't take anything for granted. Ogando made the All-Star team as a starter in 2011, but faded noticeably after the break and needs to show that he can hold up over 30 starts.
Harrison, an 18-game winner and an All-Star in 2012, made two starts last year before undergoing three different surgical procedures for a back injury and thoracic outlet syndrome. Now he's been medically cleared to go full bore, and can barely contain his enthusiasm. "I was just telling somebody, this is one of the few spring trainings I've actually looked forward to going to," Harrison said.
Beyond that, it's a grab bag of candidates.
Robbie Ross
and
Tanner Scheppers
, both valued members of the bullpen, will get a chance to start in the Cactus League.
Nick Tepesch
and
Michael Kirkman
are in the mix.
Tommy Hanson
, trying to regain the form he showed before shoulder problems did a number on his career outlook, just signed a one-year deal with the Rangers, and
Jose Contreras
is here for another go-round at age 42 (or whatever).
Colby Lewis
, 34, might be poised to craft the most improbable success story of all, after surgery to repair a hip injury that kept him out of the big leagues for all of 2013. "He pitched in World Series games when he couldn't even bend over to tie his shoes," Daniels said. "He's doing full squats and stuff he hasn't been able to do in years."
It'll be a challenging spring for pitching coach Mike Maddux trying to divvy up the innings. But in a way, it's refreshing to see what might transpire. The
Oakland Athletics
have thrived in recent years while giving chances to
Jarrod Parker
,
A.J. Griffin
,
Sonny Gray
and other young pitchers in the pipeline. Nobody was talking much about Scheppers last spring, and he wound up logging a 1.07 WHIP and a 1.88 ERA in 76 appearances out of the bullpen. Who's to say that he or Ross can't be a successful starter?
Rangers manager Ron Washington digested the Holland news with the obligatory stoicism: From bizarre circumstances, he believes, opportunities can emerge.
"When I heard that, the first thing I said was, 'How soon will it take for him to get it taken care of?'" Washington said. "At least he can recover from it. Now someone else has to step up. You can put yourself in the doldrums when catastrophes happen, or you can look at it on the positive side. Someone else will get an opportunity. And when Holland is ready, we have a real good piece coming back."
The Rangers have a prospect-laden rotation headed by Alex Gonzalez and Luke Jackson in Double-A Frisco that could provide a reinforcement arm sometime this summer. And the odds say the surplus of candidates in big league camp this spring is going to produce a pleasant surprise or two.
"You're never comfortable, but someone will emerge," Washington said. "There's no doubt about it. All of those guys can't be horses---."
February, 14, 2014
Feb 14
10:00
AM ET
As there are every spring, there are great baseball stories everywhere -- from Tampa to Tempe, from Jupiter to Space Coast Stadium, from Goodyear to Surprise.
Which teams will have a good year? Which teams will surprise? The questions are what make spring training so great, so fascinating. They are what define this time of year, along with warm weather, hope and the belief that March 29 will be the last useless evening that we'll have to spend.
[+] Enlarge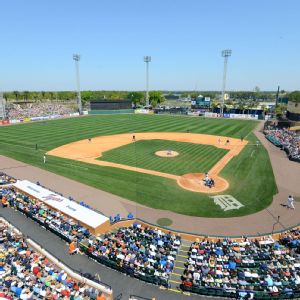 Mark Cunningham/MLB Photos via Getty ImagesNothing beats the look and feel of spring training.
It all begins, as so many spring trainings have before, with the Yankees in Tampa. We will get our first look at
Masahiro Tanaka
, who the Yankees made the fifth-highest paid pitcher in major league history before he ever threw a pitch in the big leagues. Is his splitter as good as everyone says? We will see
Jacoby Ellsbury
,
Brian McCann
and
Carlos Beltran
in Yankee uniforms, and we will see
Derek Jeter
in the final year of his career play shortstop at age 39; only five players in the game's history -- Honus Wagner, Rabbit Maranville, Luke Appling, Luis Aparicio and
Omar Vizquel
-- have played 100 games in a season at shortstop at Jeter's age. He'll turn 40 three weeks before the All-Star break.
The world champion Red Sox mostly will be without their beards this spring, but they will have a new catcher (
A.J. Pierzynski
), a new shortstop (
Xander Bogaerts
) and several candidates to be their new center fielder, including
Grady Sizemore
, who hasn't taken an at-bat in the big leagues since 2011. The Rays will have
David Price
, who hasn't been traded and now, it appears, might not be traded this season. The Orioles might start the season without
Manny Machado
, who is coming back from a serious knee injury. The Blue Jays will open spring training without the hype of last spring, which is good for them.
The Tigers, under new manager Brad Ausmus, will open the spring with a different infield from the one that took the field last spring, including
Ian Kinsler
at second base and rookie
Nick Castellanos
at third. Even more important, they have a real closer this spring in
Joe Nathan
. The Indians have a new closer,
John Axford
, as well. The Royals have a new leadoff batter (
Norichika Aoki
) and second baseman (
Omar Infante
). Meanwhile, the White Sox have a new first baseman (Cuban
Jose Abreu
) and the Twins' new first baseman is their old catcher,
Joe Mauer
.
The A's added to their bullpen, acquiring closer
Jim Johnson
,
Luke Gregerson
and
Eric O'Flaherty
, and welcomed
Scott Kazmir
to their rotation. The Rangers gave
Prince Fielder
a fresh start at first base, found a position (second base) for
Jurickson Profar
and showed
Shin-Soo Choo
what a great country this is, especially when you reach free agency. Great country? The Mariners gave
Robinson Cano
$240 million, but is there protection around him in that lineup? The Angels made significant changes, none of which will really matter if
Albert Pujols
isn't healthy enough to play first base and produce something close to the Pujols of St. Louis. And if the Astros lose 128 games (they are not nearly that bad), they'll tie the Mets (1962-65) for the most losses ever during any four-year period in history.
The Braves have a new catcher in
Evan Gattis
, and they'll have to figure out how to get the batting averages of
B.J. Upton
and
Dan Uggla
back over .200. The Nationals, under rookie manager Matt Williams, need a healthy
Bryce Harper
(knee) if they're going to win the NL East; in mid-January, he sprinted for the first time without pain. We know the Phillies are in Clearwater, but nothing else about them is clear. The Mets have
Curtis Granderson
and
Bartolo Colon
, but not having
Matt Harvey
for perhaps the entire season will be a bummer. The Marlins still have
Giancarlo Stanton
. How long before that situation changes?
The Cardinals have almost an entirely new infield, a new center fielder (
Peter Bourjos
) and maybe a new right fielder if rookie
Oscar Taveras
is healthy and productive. The Pirates have hope again following a playoff appearance in 2013, and with
Gerrit Cole
for a full season. The Reds have a new manager in Bryan Price; now they need to find a center fielder to replace Shin-Soo Choo: Is this the spring that
Billy Hamilton
steals a job? The Brewers have a new right fielder in
Ryan Braun
; no questions about Biogeneis will be taken, however. The Cubs have a new spring training facility and a new manager, Rick Renteria.
[+] Enlarge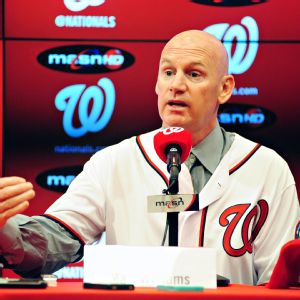 Evan Habeeb/USA TODAY SportsExpectations are once again high for the Nationals, who have a new manager in Matt Williams.
The Dodgers have four outfielders for three spots; one of them,
Matt Kemp
, is coming back from shoulder and ankle injuries -- his health and production will be one of the big stories of the spring. The Diamondbacks have a new left fielder,
Mark Trumbo
, who might hit 40 homers in their ballpark. The Dodgers and Diamondbacks will open the season March 22 in Australia; let's hope there isn't a major brawl Down Under. The Giants added
Tim Hudson
, and
Pablo Sandoval
subtracted 42 pounds. The Padres signed
Josh Johnson
to pitch in a rotation headed by
Ian Kennedy
-- here's hoping they play a doubleheader this year, and go with the Kennedy-Johnson ticket. The Rockies will open camp with
Troy Tulowitzki
, but, for the first time since 1988, they'll begin a season without
Todd Helton
.
There will be lots of stories, questions and sunshine this spring. It is the best time of year. It is a time for optimism: No one has lost a game, the rookies all have promise and the veterans believe it will be their best year. It is baseball in its purest form, a time for wind sprints, fundamentals, split-squad games on a back field where only the scouts are watching. Millionaire players are humanized and humbled in spring training. They are not receiving enormous paychecks every two weeks, and they're getting the same meal money as the rookie in his first big league camp. No one is exempt from the three-hour bus rides, playing on fields that aren't manicured to major league standards, and facing anonymous Class A pitchers who throw really hard, but have no idea where the ball is going. It is the one time of year that
Justin Verlander
and a 20-year-old kid are on equal ground. It is the one time of year that a player gets on the bus in uniform, just like in high school.
Eleven years ago, Indians pitcher
Brian Anderson
boarded the team bus at 8 a.m. for the two-hour drive to Vero Beach, Fla., for a spring training game. Thirty minutes into the trip, Anderson realized he had forgotten his hat, his spikes and his glove back in Winter Haven.
"I was running late that morning because I knew I was going to get to hit in the game, so I was looking for the really important things: batting gloves and a bat," Anderson said. "When we got to Vero, I was in full panic mode. I borrowed a car and went to a mall, but there wasn't one glove in the whole mall, but I found some adidas spikes. On the way back to the ballpark, I saw a WalMart. I thought, 'Hey, WalMart has everything ... tires ... produce ... it must have a baseball glove.' I found one: $29.95, already broken in. It was a softball glove. A Wilson. It was awful. I borrowed someone's hat and pitched in the game. Of course, I got three comebackers to the mound, and I caught them all because my new glove was as big as a butterfly net, it made
[Greg] Maddux
's glove look small. That day reminded me of when I was 17 playing Legion ball. That is spring training to me."
Only in spring training could this story happen. The Twins signed infielder
Tsuyoshi Nishioka
in the spring of 2011. He didn't speak much English, and didn't know anyone on the team. Several teammates convinced Twins outfielder
Denard Span
to introduce himself to Nishioka, to make him feel more a part of the team. Only they tricked Span -- they told him that Ray Chang, another infielder, was Nishioka. So Span, ever respectful, approached Chang, bowed gracefully, introduced himself, and asked him if he spoke English.
"Sure I do," Chang said. "I'm from Kansas City!"
The whole team howled.
[+] Enlarge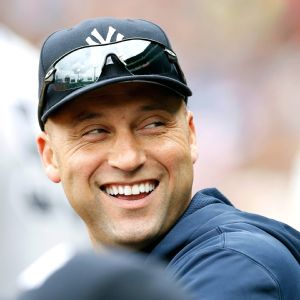 Greg M. Cooper/USA TODAY SportsDerek Jeter, who played only 17 games last season, enters the final year of his career hoping to stay healthy.
Only in spring training could then-Rays first baseman
Carlos Pena
make a mistake in a baserunning drill, then justify it by quoting Dr. Martin Luther King's "I Have A Dream" speech. "My first baseman is quoting Dr. King," said Rays manager Joe Maddon. "I love it."
Only in spring training would pitcher
Jeremy Guthrie
, now with the Royals, ride his bike to work. "It was only five miles," he said of his daily ride two springs ago to the Rockies' facility. Then-teammate
Michael Cuddyer
said of Guthrie, laughing, "He once pitched in a game in Scottsdale, then got on his bike -- still in full uniform, with his glove on the handlebars -- and rode back to our facility. It was like a scene from 'The Sandlot.'"
Only in spring training would then-Padres pitcher
Chris Young
and
Will Venable
pick teams for a free throw shooting tournament because both guys played basketball at Princeton. "That's as nervous as I've ever been for an athletic competition," Young said with a smile, "because I'm not a great free throw shooter, and my team was depending on me to be good." Only in spring training would the Twins hold a bowling tournament behind the KFC in Fort Myers and, said Twins manager Ron Gardenhire, "Joe Mauer would be high-fiving his teammates, guys he's never met in his life, after they rolled a strike." Only in spring training could Jeff Stone get thrown out at all four bases in one game, and only one of them was a forceout (think about that). Only in spring training could Rockies pitcher David Lee, in an emergency, drive the team bus on a night trip, then earn the nickname "Diesel" when he stopped the bus and announced, "We've got to get some diesel!"
Only in spring training is time taken to get in baseball shape. "We're always inventing drills and conditioning programs in spring training," said Rich Donnelly, now the manager of the Mariners' Triple-A team. "Years ago, we'd do 10 jumping jacks, touch our toes twice, then play. Today, these strength and conditioning coaches are always coming up with new stuff: rubber bands, parachutes, cones. I just can't imagine Ted Williams going to spring training and running with a parachute on his back, or Babe Ruth jumping over a bunch of cones."
It is a time for the fans, especially kids. Families take vacations to spring training. Getting a player's autograph is easier because everything and everyone is more relaxed than during the regular season. Well, except for when the Red Sox and Yankees played for the first time in spring training 2004, their first meeting since
Aaron Boone
's home run had sent the Yankees to the World Series, and sent the Red Sox home. Tickets were scalped for $500 for an exhibition game! Before the game, there was a fight in the parking lot at City of Palms Park in Fort Myers between a Yankees fan and a Red Sox fan ... both fans were women!
It's spring training. Finally. We can't wait.
February, 12, 2014
Feb 12
10:30
AM ET
Every year at spring training there is a lot of focus on the star players who switched teams, with
Robinson Cano
being a prime example this year. However, what I am most excited about for this spring is the chance to scout some of the game's top rookies.
It's fun to watch young players develop in real time, and to see if they can do enough to convince their managers and GMs to take them up north. It's a time when the game's best evaluators get a taste of just how good some young players can be.
So here are 10 rookies I am looking forward to scouting during spring training. And trust me, just getting the list down to 10 was not easy.
To continue reading this article you must be an Insider