Spring Training:

Washington Nationals
March, 17, 2014
3/17/14
11:10
AM ET
VIERA, Fla. -- Scan the
Washington Nationals
' lineup card, and it's hard to imagine their offense being such a wasteland of subpar numbers and missed opportunities for so much of the 2013 season. But the statistics bear it out: At the All-Star break, the Nationals were tied with the
Pittsburgh Pirates
for 13th in the National League in runs scored and also ranked 13th with a .686 team on base percentage.
The Nationals were 16 games out of first place on Aug. 19, and the gratification of a 26-12 finish didn't do much for their spirits when they were sitting at home in October.
[+] Enlarge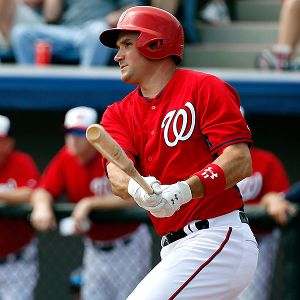 AP Photo/Alex BrandonRyan Zimmerman is entering his 10th season in the majors, all with the Nationals.
"The last two months we played great and scored a ton of runs,"
Ryan Zimmerman
said. "Unfortunately, it took us four months to get to that point. We got off to a slow start and some of us maybe tried to do too much to make up for all the expectations. It was a learning experience for all of us. I think we'll be better this year because of it."
The Nationals should be better primarily because they have too much talent and balance to flounder again. After giving
Danny Espinosa
two months to work his way out of his mega-funk and losing
Jayson Werth
,
Bryce Harper
and catcher
Wilson Ramos
for significant periods because of injury last season, they're also relying on a return to good health.
It all begins with leadoff man
Denard Span
, who went on a second-half tear with the help of new hitting coach Rick Schu and reeled off a 29-game hitting streak in August and September. Span refrained from taking batting practice for the final month and a half, choosing to do cage work with Schu and take it directly into the games.
"Toward the end of the season, I just let it go and started having fun," Span said. "Rick and I definitely have a connection. We're on the same page and eye to eye. He knows my personality and what I like to do."
Ian Desmond
hit 20 homers last season and ranked second to
Troy Tulowitzki
among shortstops with a .453 slugging percentage. Werth finished 13th in National League MVP voting. Harper should be better now that he's recovered from knee and hip injuries, and Zimmerman ranks third among major-league third basemen in hits (1,243) and doubles (266) since 2006. Add Ramos,
Adam LaRoche
and former No. 1 pick
Anthony Rendon
to the equation, and it's a lineup without a noticeable weak spot.
New manager Matt Williams said some elements of the lineup are "flip-floppable." He can plug Rendon into the leadoff spot in place of Span against some left-handed pitchers, and also bat him second, seventh or eighth. Werth can hit anywhere from second through fifth. Harper, Zimmerman, Ramos and LaRoche will also move up or down in the main run-producing spots depending on how they're swinging and the identity of the opposing pitcher on a given day.
Regardless of who hits where, the Nationals expect a drastic improvement over the middle-of-the-pack group that was a drag on their ambitions in 2013.
"I think they all showed at the end of the season what kind of team was here," Williams said. "We expect the same. We've got some really talented guys with a lot of ability, and a potent lineup. I like what I see, for sure."
March, 17, 2014
3/17/14
11:00
AM ET
VIERA, Fla. --
Bryce Harper
is only 21 years old, but he seems exponentially more seasoned and mature than the kid who strode into
Washington Nationals
camp two years ago with that Sports Illustrated cover boy glow. Two hours before a spring training game, he sits at his locker with a growth of beard and his red Nationals cap turned backwards, thoughtfully sifting through a series of questions about his past, present and future in the game.
He's wearing a gray T-shirt with the words "PED Free" blazoned across the chest. You were expecting maybe "That's a clown question, bro"?
The beard grants Harper access to the hirsute brotherhood led by locker mates
Jayson Werth
and
Adam LaRoche
, who've gone full-throttle Zach Galifianakis this spring. And the T-shirt affirms that he will do things according to his own internal compass. If he's going to be anointed as a face of baseball moving forward, he might as well carry the designation with pride and never besmirch the Harper family name.
"Natural is the way to go," Harper says. "I've always said that. I work my butt off and I want to be as clean as I can forever. I pride myself on that. I have a great family and I would never want to put them or this organization through that."
It's been almost two years since Harper and
Mike Trout
arrived on the same momentous day (April 28, 2012) as bookend East and West coast sensations. While Trout recently made news with a pre-arbitration record $1 million contract and is primed for a much more lucrative long-term deal after two straight MVP runner-up finishes in Los Angeles, Harper has been living a relatively serene existence in Florida. The Nationals play about an hour from the nearest Grapefruit League camp and their budding superstar is -- dare we say it? -- under the radar.
[+] Enlarge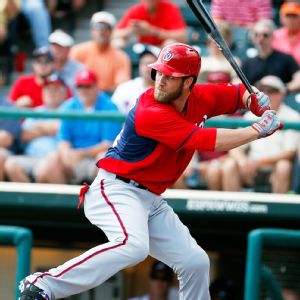 AP Photo/Alex BrandonIn his second year in the majors last season, Bryce Harper played 118 games.
He's coming off a perfectly fine season that in many respects surpassed his Rookie of the Year turn in 2012. Harper's on-base percentage improved significantly (from .340 to .368), and he produced almost identical home run and RBI totals in exactly 100 fewer plate appearances than his first year.
But 2013 was more noteworthy for setbacks, injuries and some teachable moments, all of which coalesced into a YouTube staple during a 6-2 Washington victory at Dodger Stadium on May 13. Harper, pursuing a long fly ball by
A.J. Ellis
, lost his bearings and did a face plant into the wall before emerging groggy and with a cut on his neck. As a student of baseball history, Harper might have appreciated that
the great Vin Scully did the narration
.
The play ensured that Harper would continue to lead the majors in Pete Reiser and
Aaron Rowand
references. It also elicited the standard mix of admiration and concern from scouts, who love ballplayers with big motors but prefer that they remain concussion-free whenever possible.
Learning on the fly
Harper's good and bad experiences are gradually helping him find the right balance between aggressive and reckless. As he's quick to point out, he was a catcher and third baseman before breaking into professional ball as an outfielder with Hagerstown in the South Atlantic League in 2011. Less than 400 career outfield starts later, he knows he still has much to learn.
"I'm sure a lot of people thought, 'Oh, he was playing too hard and he ran into a wall,'" Harper says. "But it wasn't a matter of playing too hard. I had a terrible route and no clue where I was. My feet were messed up and my head was all over the place. It was a freak accident, and I hope it never happens again."
The knee is healthy now after offseason surgery, and Harper is swinging the bat with authority, running with confidence, and always a candidate to spring a surprise. After going hitless in two at-bats against
Justin Verlander
on Sunday, he came to the plate against Detroit lefty reliever
Phil Coke
in the seventh inning and tried unsuccessfully to beat out a bunt. Harper did it with the full blessing of manager Matt Williams, who told reporters, "It's a weapon that he has available to him when he wants to use it. It's an option for him at any time. To have that within his arsenal is good. It doesn't mean he has to do it all the time."
The knee injury -- which came with a side order of hip soreness -- did a major number on Harper's platoon splits last year. He posted a slash line of .214/.327/.321 against lefties, and his inability to push off his back leg put a significant crimp in his power.
"My knee gave out when I swung," he says. "Some days it would feel good and there were others when I couldn't walk to first base. I was in a lot of pain. It wasn't a lot of fun."
Oil changes, anyone?
Harper's belief that he can will his way through hard times with hard work is a family heirloom. Several years ago, when he was playing for the College of Southern Nevada, his father, Ron, told reporters that he still has to do his household chores like any other responsible son when he's living under the family roof. That arrangement remains in place even though young Bryce has graduated from teen to adult. When he went home to Nevada during the offseason, Harper took out the trash, pitched in with the yardwork and even mixed in an oil-and-filter change or two.
"Absolutely," he says with earnestness.
Most days, he's at the park by 7 a.m., so when the games are complete, he collapses on the couch at his spring residence with the TV remote and watches sports. In Viera, Harper spends as much time as he can hanging out with his older brother, Bryan, a minor league pitcher in the Nationals' system.
Harper has always had an excellent rapport with his Washington teammates. When he arrived as a hot-shot rookie, his work ethic and effort helped defuse potential resentment or eye-rolling. But two years ago, the media crush was so pronounced that he was destined to be an island unto himself on occasion. Now the vibe is more relaxed, and Harper is less a curiosity or a precocious little brother than a supremely talented peer. He's fortunate to be in a clubhouse with the likes of
Ryan Zimmerman
, Werth and LaRoche, who've helped round out some of his rough edges without killing his swagger.
"The game has changed a lot since I was 20 years old," Zimmerman says. "I got one-tenth the hype that Bryce or Trout got, deservedly so. Obviously, social interaction is great for the game and the fans, but this new generation also has to deal with a lot more pressure and attention than we ever did.
"People have to remind themselves that Bryce is young. He didn't go to [a major] college or spend a lot of time in the minor leagues, so he's basically learning at this level, which is hard to do. Sometimes this seems kind of unfair, but it doesn't matter if you're 18 or 21 or 30. When you've been in the big leagues for three years, you're expected to take that next step."
In contrast to, say, teammate
Stephen Strasburg
, who is generally friendly and accommodating but seemingly ill at ease with attention, Harper is in his element mingling with the media and the general public. He has an awareness and appreciation for baseball history that are refreshing by modern-day standards, and he understands his place in the big picture.
"I still have people coming up to me and asking me random stuff, and fans going crazy," Harper says. "I enjoy that. It's a blessing to have people ask me for my autograph. When they're not talking to you and asking for your autograph, that's when things go downhill from there."
Even though the expectations might be slightly lower this spring, and the media crunch is less pronounced, and Williams and new arrival
Doug Fister
are the most prominent storylines at Washington's camp, something is quietly churning beneath the surface in Harper's world.
"I think he loves the pressure and the hype, and when that hype goes down a little, he probably takes it personally," LaRoche says. "I can see him having a huge year if he's healthy. He just needs to be consistent and get to where that 0-for-8 or 0-for-10 doesn't turn into a 2-for-40. He'll mentally get strong to where he knows how good he is and it won't even register what he's done in the past week. He'll have that kind of confidence where he's gonna put up some huge years."
After two impressive, productive, formative years in the majors, Bryce Harper's inner competitor tells him that he has something much bigger on the horizon. There's no better time to prove it than now.
February, 14, 2014
2/14/14
10:00
AM ET
As there are every spring, there are great baseball stories everywhere -- from Tampa to Tempe, from Jupiter to Space Coast Stadium, from Goodyear to Surprise.
Which teams will have a good year? Which teams will surprise? The questions are what make spring training so great, so fascinating. They are what define this time of year, along with warm weather, hope and the belief that March 29 will be the last useless evening that we'll have to spend.
[+] Enlarge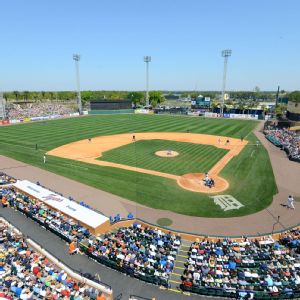 Mark Cunningham/MLB Photos via Getty ImagesNothing beats the look and feel of spring training.
It all begins, as so many spring trainings have before, with the Yankees in Tampa. We will get our first look at
Masahiro Tanaka
, who the Yankees made the fifth-highest paid pitcher in major league history before he ever threw a pitch in the big leagues. Is his splitter as good as everyone says? We will see
Jacoby Ellsbury
,
Brian McCann
and
Carlos Beltran
in Yankee uniforms, and we will see
Derek Jeter
in the final year of his career play shortstop at age 39; only five players in the game's history -- Honus Wagner, Rabbit Maranville, Luke Appling, Luis Aparicio and
Omar Vizquel
-- have played 100 games in a season at shortstop at Jeter's age. He'll turn 40 three weeks before the All-Star break.
The world champion Red Sox mostly will be without their beards this spring, but they will have a new catcher (
A.J. Pierzynski
), a new shortstop (
Xander Bogaerts
) and several candidates to be their new center fielder, including
Grady Sizemore
, who hasn't taken an at-bat in the big leagues since 2011. The Rays will have
David Price
, who hasn't been traded and now, it appears, might not be traded this season. The Orioles might start the season without
Manny Machado
, who is coming back from a serious knee injury. The Blue Jays will open spring training without the hype of last spring, which is good for them.
The Tigers, under new manager Brad Ausmus, will open the spring with a different infield from the one that took the field last spring, including
Ian Kinsler
at second base and rookie
Nick Castellanos
at third. Even more important, they have a real closer this spring in
Joe Nathan
. The Indians have a new closer,
John Axford
, as well. The Royals have a new leadoff batter (
Norichika Aoki
) and second baseman (
Omar Infante
). Meanwhile, the White Sox have a new first baseman (Cuban
Jose Abreu
) and the Twins' new first baseman is their old catcher,
Joe Mauer
.
The A's added to their bullpen, acquiring closer
Jim Johnson
,
Luke Gregerson
and
Eric O'Flaherty
, and welcomed
Scott Kazmir
to their rotation. The Rangers gave
Prince Fielder
a fresh start at first base, found a position (second base) for
Jurickson Profar
and showed
Shin-Soo Choo
what a great country this is, especially when you reach free agency. Great country? The Mariners gave
Robinson Cano
$240 million, but is there protection around him in that lineup? The Angels made significant changes, none of which will really matter if
Albert Pujols
isn't healthy enough to play first base and produce something close to the Pujols of St. Louis. And if the Astros lose 128 games (they are not nearly that bad), they'll tie the Mets (1962-65) for the most losses ever during any four-year period in history.
The Braves have a new catcher in
Evan Gattis
, and they'll have to figure out how to get the batting averages of
B.J. Upton
and
Dan Uggla
back over .200. The Nationals, under rookie manager Matt Williams, need a healthy
Bryce Harper
(knee) if they're going to win the NL East; in mid-January, he sprinted for the first time without pain. We know the Phillies are in Clearwater, but nothing else about them is clear. The Mets have
Curtis Granderson
and
Bartolo Colon
, but not having
Matt Harvey
for perhaps the entire season will be a bummer. The Marlins still have
Giancarlo Stanton
. How long before that situation changes?
The Cardinals have almost an entirely new infield, a new center fielder (
Peter Bourjos
) and maybe a new right fielder if rookie
Oscar Taveras
is healthy and productive. The Pirates have hope again following a playoff appearance in 2013, and with
Gerrit Cole
for a full season. The Reds have a new manager in Bryan Price; now they need to find a center fielder to replace Shin-Soo Choo: Is this the spring that
Billy Hamilton
steals a job? The Brewers have a new right fielder in
Ryan Braun
; no questions about Biogeneis will be taken, however. The Cubs have a new spring training facility and a new manager, Rick Renteria.
[+] Enlarge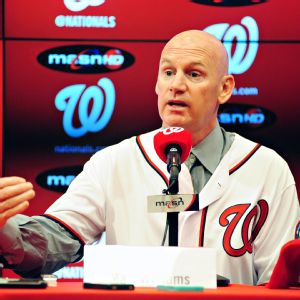 Evan Habeeb/USA TODAY SportsExpectations are once again high for the Nationals, who have a new manager in Matt Williams.
The Dodgers have four outfielders for three spots; one of them,
Matt Kemp
, is coming back from shoulder and ankle injuries -- his health and production will be one of the big stories of the spring. The Diamondbacks have a new left fielder,
Mark Trumbo
, who might hit 40 homers in their ballpark. The Dodgers and Diamondbacks will open the season March 22 in Australia; let's hope there isn't a major brawl Down Under. The Giants added
Tim Hudson
, and
Pablo Sandoval
subtracted 42 pounds. The Padres signed
Josh Johnson
to pitch in a rotation headed by
Ian Kennedy
-- here's hoping they play a doubleheader this year, and go with the Kennedy-Johnson ticket. The Rockies will open camp with
Troy Tulowitzki
, but, for the first time since 1988, they'll begin a season without
Todd Helton
.
There will be lots of stories, questions and sunshine this spring. It is the best time of year. It is a time for optimism: No one has lost a game, the rookies all have promise and the veterans believe it will be their best year. It is baseball in its purest form, a time for wind sprints, fundamentals, split-squad games on a back field where only the scouts are watching. Millionaire players are humanized and humbled in spring training. They are not receiving enormous paychecks every two weeks, and they're getting the same meal money as the rookie in his first big league camp. No one is exempt from the three-hour bus rides, playing on fields that aren't manicured to major league standards, and facing anonymous Class A pitchers who throw really hard, but have no idea where the ball is going. It is the one time of year that
Justin Verlander
and a 20-year-old kid are on equal ground. It is the one time of year that a player gets on the bus in uniform, just like in high school.
Eleven years ago, Indians pitcher
Brian Anderson
boarded the team bus at 8 a.m. for the two-hour drive to Vero Beach, Fla., for a spring training game. Thirty minutes into the trip, Anderson realized he had forgotten his hat, his spikes and his glove back in Winter Haven.
"I was running late that morning because I knew I was going to get to hit in the game, so I was looking for the really important things: batting gloves and a bat," Anderson said. "When we got to Vero, I was in full panic mode. I borrowed a car and went to a mall, but there wasn't one glove in the whole mall, but I found some adidas spikes. On the way back to the ballpark, I saw a WalMart. I thought, 'Hey, WalMart has everything ... tires ... produce ... it must have a baseball glove.' I found one: $29.95, already broken in. It was a softball glove. A Wilson. It was awful. I borrowed someone's hat and pitched in the game. Of course, I got three comebackers to the mound, and I caught them all because my new glove was as big as a butterfly net, it made
[Greg] Maddux
's glove look small. That day reminded me of when I was 17 playing Legion ball. That is spring training to me."
Only in spring training could this story happen. The Twins signed infielder
Tsuyoshi Nishioka
in the spring of 2011. He didn't speak much English, and didn't know anyone on the team. Several teammates convinced Twins outfielder
Denard Span
to introduce himself to Nishioka, to make him feel more a part of the team. Only they tricked Span -- they told him that Ray Chang, another infielder, was Nishioka. So Span, ever respectful, approached Chang, bowed gracefully, introduced himself, and asked him if he spoke English.
"Sure I do," Chang said. "I'm from Kansas City!"
The whole team howled.
[+] Enlarge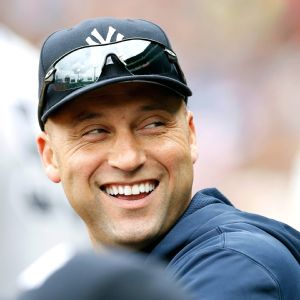 Greg M. Cooper/USA TODAY SportsDerek Jeter, who played only 17 games last season, enters the final year of his career hoping to stay healthy.
Only in spring training could then-Rays first baseman
Carlos Pena
make a mistake in a baserunning drill, then justify it by quoting Dr. Martin Luther King's "I Have A Dream" speech. "My first baseman is quoting Dr. King," said Rays manager Joe Maddon. "I love it."
Only in spring training would pitcher
Jeremy Guthrie
, now with the Royals, ride his bike to work. "It was only five miles," he said of his daily ride two springs ago to the Rockies' facility. Then-teammate
Michael Cuddyer
said of Guthrie, laughing, "He once pitched in a game in Scottsdale, then got on his bike -- still in full uniform, with his glove on the handlebars -- and rode back to our facility. It was like a scene from 'The Sandlot.'"
Only in spring training would then-Padres pitcher
Chris Young
and
Will Venable
pick teams for a free throw shooting tournament because both guys played basketball at Princeton. "That's as nervous as I've ever been for an athletic competition," Young said with a smile, "because I'm not a great free throw shooter, and my team was depending on me to be good." Only in spring training would the Twins hold a bowling tournament behind the KFC in Fort Myers and, said Twins manager Ron Gardenhire, "Joe Mauer would be high-fiving his teammates, guys he's never met in his life, after they rolled a strike." Only in spring training could Jeff Stone get thrown out at all four bases in one game, and only one of them was a forceout (think about that). Only in spring training could Rockies pitcher David Lee, in an emergency, drive the team bus on a night trip, then earn the nickname "Diesel" when he stopped the bus and announced, "We've got to get some diesel!"
Only in spring training is time taken to get in baseball shape. "We're always inventing drills and conditioning programs in spring training," said Rich Donnelly, now the manager of the Mariners' Triple-A team. "Years ago, we'd do 10 jumping jacks, touch our toes twice, then play. Today, these strength and conditioning coaches are always coming up with new stuff: rubber bands, parachutes, cones. I just can't imagine Ted Williams going to spring training and running with a parachute on his back, or Babe Ruth jumping over a bunch of cones."
It is a time for the fans, especially kids. Families take vacations to spring training. Getting a player's autograph is easier because everything and everyone is more relaxed than during the regular season. Well, except for when the Red Sox and Yankees played for the first time in spring training 2004, their first meeting since
Aaron Boone
's home run had sent the Yankees to the World Series, and sent the Red Sox home. Tickets were scalped for $500 for an exhibition game! Before the game, there was a fight in the parking lot at City of Palms Park in Fort Myers between a Yankees fan and a Red Sox fan ... both fans were women!
It's spring training. Finally. We can't wait.
March, 8, 2013
3/08/13
6:15
PM ET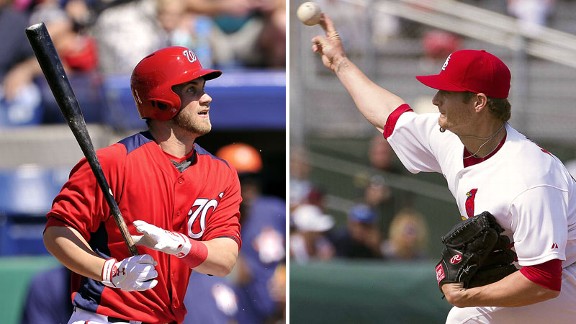 USA TODAY SportsWe can look forward to many Harper-Miller showdowns over the next decade.
VIERA, Fla. -- It was one of those slices of spring training life that looked like and felt like a lot more than two guys just trying to get their work in.
Bryce Harper
versus
Shelby Miller
.
The rookie of the year versus one of the best pitching prospects you'll find occupying anybody's mound this time of year.
Runner on third. One out. First inning of a
Washington Nationals
-
St. Louis Cardinals
Grapefruit League tussle in the first week of March. Nothing much on the line other than the fun of a good old-fashioned mano a mano.
"It's probably fun for you all to watch it," Miller would say later. "But it's even more fun to actually face each other."
And the winner was ... Shelby Miller.
By strikeout. On the 11th pitch of a furious at-bat, by a 20-year-old guy who wouldn't know how to mail in an at-bat if you gave him an envelope and a stamp.
"You know he wants to hit it," Miller said of Harper, after an impressive three-inning stint Friday. "He's up there swinging it, obviously."
Oh yeah. Obviously. So the two of them dug in and went at it, at half past 1 on a Friday afternoon. Can't beat that for spring training chills and thrills.
Miller fell behind, 2-and-0, then got back to 2-and-2. Harper would then foul off the next four pitches, lay off a 94 mph heater that was slightly high, and foul back yet one more fastball, for the sixth foul ball of the at-bat.
"I was wondering," the 22-year-old right-hander said, "if he was ever going to put it in play or if he'd finally swing and miss."
Miller took a deep breath, reared back and fired his fastest pitch of the day -- a 95 mph four-seamer that got Harper's blood flowing and eyes bulging. It wound up sailing out of the strike zone, but Harper chased it for strike three.
"I was definitely going at him with everything I had," Miller said, "whether it was a slide step or [a fastball] up out of the zone. I was trying to fool him with what was coming. I was doing everything to try and get him out. He's a great hitter. He has a lot of talent. It seemed like he was on every fastball, just fouling them straight back. But I finally got him with the high heater."
Miller is locked in a fascinating competition this spring with
Joe Kelly
for the fifth spot in the Cardinals' rotation that opened up when it became clear that
Chris Carpenter
wasn't going to be able to pitch. So Cardinals manager
Mike Matheny
admitted he couldn't help but bear down extra hard himself on that cool little duel with Harper.
Told afterward that Miller had talked about how much fun he'd had facing The Phenom, Matheny smiled: "I thought it was fun, too. Two guys that are highly touted. Bryce is obviously a very impressive talent. It's a great opportunity to bring the best out of somebody. It wouldn't be out of the question to see a young pitcher not perform in a situation like that. But he did a nice job."
The Cardinals didn't bring many regulars on the two-hour bus ride to Viera. But Matheny confessed before the game that he was glad he'd brought Shelby Miller along. He was excited, he said, to see how his top pitching prospect --
and Keith Law's 21st-best prospect in the game
-- would fare against the Nationals' Opening Day lineup.
"I wanted to see Shelby against a tough lineup, to see how he handled himself," the manager said. "And I thought today was as good as he's thrown [all spring]."
Turned out Miller was just as hepped up about it.
"A year ago, I was pretty much intimidated by a team like that," he said. "I was younger, and I had no big league experience. And those guys are obviously very talented. They've obviously got a lot of power, and they're really good at the plate. So [today], my main goal was just to go out there and control the game."
He left an impression by spinning two shutout innings, and by using that whiff of Harper to wriggle out of trouble in the first inning. But then, in the third, Miller was one out away from putting a third zero on the board until he served up a two-run, two-out triple -- to a fellow named Bryce Harper.
"That's the first time I've ever faced Harper," Miller said later. "So I got him, and he got me. So I guess it worked out for everybody."
Right. And that includes the people lucky enough to get to watch a special spring training battle between two guys who could be duking it out in much bigger situations for a long, long time.
March, 6, 2013
3/06/13
6:58
PM ET
CLEARWATER, Fla. -- It's only spring training. The land of waving palm trees. The land of make-believe baseball. The happiest month and a half of the baseball year.
Until a pitch from one team's ace plunks the other team's No. 3 hitter in the shin. …
And then a pitch from the other team's ace sails behind the back of the other team's cleanup man. …
And it becomes clear, right there in the middle of a Grapefruit League game, that rivalries never sleep. Even in spring training.
That was the fascinating turn of events in Clearwater on Wednesday, when the Nationals showed up to play the Phillies in what was supposed to be a fun little spring duel between
Stephen Strasburg
and
Roy Halladay
.
Well, they dueled, all right. But the "fun" was in the eye of the beholder.
In the third inning of this tussle, Strasburg appeared to accidentally nail
Chase Utley
in the left shin with a fastball that slipped away. Utley never said a word, never shot a glance, never did anything to signify an NL East skirmish was about to bust out. But …
A half-inning later, with two outs and nobody on, up stepped
Tyler Moore
, hitting fourth for the Nationals on this day, when most of the regulars were spared the 2½-hour bus tour of central Florida.
Halladay turned, took a stroll to the back of the mound and appeared to say something to Utley. Then, whaddaya know, Halladay's first pitch just happened to fly two feet behind Moore's back and skidded to earth on the warning track behind the plate.
It was quite the what-the-heck-just-happened moment. But considering this was a pitch thrown by Roy Halladay, owner of one of the three best strikeout-walk ratios of the live-ball era, "inadvertent" didn't seem to be the best way to describe it.
Afterward, Halladay did claim on several occasions that the pitch had "slipped a little bit." But then he was asked about something he'd said earlier in this camp, in which he admitted that Utley had "suggested drilling a few guys this year. So I might mix that in."
"No, it slipped," he said at first. "But you know, I mean really, I think that's not necessarily the case, but we do need to protect our guys to an extent. I'm not saying that's what happened. It slipped. But I think that's important. We've had a lot of guys hit over the years. And I think, as a staff, we need to do a good job of protecting those guys.
"In spring training, I don't think you're necessarily trying to do it," he went on, innocently enough -- but then, out of the blue, here it came, the money quote:
"But," he said, purposefully, "it wouldn't have been the worst thing had it got him after [Strasburg] hit one of our good guys."
Oh. Really?
So then it was Strasburg's turn. Asked if he'd just lost his grip on the pitch to Utley, on a chilly, wind-swept afternoon, he replied: "I don't know. I don't have any reason to throw at him, do I?"
So then he was asked if he thought the Phillies were trying to send a message back with Halladay's pitch to Moore. Strasburg seemed perplexed.
"I don't understand why they would think I was throwing at him," he said. "Obviously, you could tell the conditions weren't great. I yanked it in there. It's spring training. If you're going to throw at someone or send a message in spring training, go ahead."
You could almost envision him taking a quick mental note, for future reference.
And now, finally, let's hear from Moore, who looked up at his locker after the game, saw a bunch of reporters march through the door, smiled and asked: "What?"
Asked what went through his mind when a pitch from a control aficionado like Halladay sailed behind his posterior, Moore deadpanned: "He missed a little inside."
When the laughter died down, Moore said, "[Halladay]'s a competitor, man. I don't know if he was protecting his team or what. But he knows that it's spring training. He's a professional, done this for a long time, and maybe it just slipped out of his hand."
Yeah. Maybe. But Moore's best quip came in the dugout, when his manager, Davey Johnson, approached him.
"Is there some kind of history with you and Halladay?" Johnson said he asked.
"There is now," Moore joked.
No kidding. But now that we've allowed all the witnesses to testify, it's still fair to ask if there was any sort of deeper meaning in all this. And let's be honest here:
Of course there is.
How can anyone believe, given the recent history between these two teams, that this was just another day at either of their offices?
This, after all, is a rivalry that's had it all.
Cole Hamels
drilling
Bryce Harper
and admitting he'd done it on purpose. … Nationals GM Mike Rizzo getting fined for ripping Hamels publicly. … The Nationals attempting to ban Phillies fans from their ballpark. … Pointed banter ping-ponging back and forth this spring between
Jimmy Rollins
and his old friend,
Jayson Werth
. … And, of course, the Nationals supplanting the Phillies as the NL East champs and clear-cut Team to Beat in 2013.
So when someone mentioned to Johnson after the game that the Phillies seemed awfully focused on his team these days, the manager enjoyed that thought immensely.
"I hope so," he said. "The Phillies had a great run. It's nice now that they're thinking about us. It's been a while."
And when reporters relayed Halladay's quotes to Johnson and asked if, after hearing them, he
then
was convinced Halladay had launched that pitch to deliver a message, the manager deadpanned: "Maybe Hamels is coaching him. I don't know."
But what both sides know is that they have to play each other 19 times this season. And let the good times roll.
"It's definitely going to be a fun season," Moore said, "playing them so many times."
And across the field, in the other clubhouse,
Laynce Nix
, who has played for both of these teams, made it clear that when Utley got drilled by a guy who "had really good control today, at least with all the pitches he threw to me," that wasn't a development the Phillies could just shrug off as no big whoop. Even on March 6.
"I know it's just spring training," Nix said. "But we can't have our guys getting hurt, whether it's an accident or on purpose. Look, I don't really see those guys doing it on purpose. But it just is what it is. When a guy like Chase gets hit, we don't appreciate it too much."
So Nix had no qualms about declaring this one of the best rivalries in the game.
"I think it is, whether guys want to admit that or not," he said. "It absolutely is.
A couple of things have happened where it could have gotten ugly and it didn't seem to, with Bryce getting hit last year and things like that.
"The Nationals responded by winning games," Nix added. "So the best response for us is to start the season clicking and send the message that we're here to win games."
For the record, they'll have plenty of time to get their on-field messaging in gear. These teams don't play each other until Memorial Day weekend in Washington. So all they can do for the next 2½ months is replay the purpose pitches they threw Wednesday -- and keep talking the talk 'til they meet.
"Talk is cheap," Johnson said. "I don't get too involved in all that. Let it happen on the field."
Excellent idea. We're ready any time they are.
March, 6, 2013
3/06/13
2:30
PM ET
CLEARWATER, Fla. -- Davey Johnson says he figured out his everyday lineup weeks ago. He just isn't saying what it is yet.
"I'm not announcing my Opening Day pitcher yet," the Nationals manager said Wednesday. "[So] I don't have to announce my Opening Day lineup."
But if you have a sneaking suspicion it's going to feature a 20-year-old phenom -- some guy named
Bryce Harper
-- hitting third, well, you appear to be on to something.
[+] Enlarge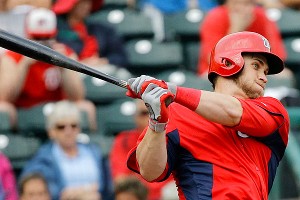 AP Photo/David J. PhillipBryce Harper is raking this spring, batting .474 with a homer and only two strikeouts in 19 at-bats (through Tuesday).
On Tuesday, Johnson taped a lineup to his dugout wall back in Viera that looked like this:
Denard Span
CF
Jayson Werth
RF
Bryce Harper LF
Ryan Zimmerman
DH
Adam LaRoche
1B
Ian Desmond
SS
Danny Espinosa
2B
Wilson Ramos
C
Chad Tracy
3B
"You saw the lineup the other day," the manager said to one member of his beloved Washington media corps. "If you didn't get any glimmer of hope, of what I was thinking …"
All right, so let's say that glimmer is what actually happens. Let's say Harper really does hit third all season, at 20 years old. Here's how rare that is:
• Over the past 97 seasons, according to baseball-reference.com's fabulous Play Index, exactly one player that young
has batted third in 100 or more games in any season
. That would be Al Kaline, who hit third 152 times for the 1955 Tigers.
• And only three other 20-year-olds spent as many as 60-plus games in the three-hole in any season in that span: Arky Vaughn (89 games) in 1932, Cesar Cedeno (88 games) in 1971 and Ken Griffey Jr. (87 games) in 1990.
• Among the short list of young boppers who even did it for as many as 30 games in a season, you'll find these not exactly anonymous names: Mel Ott (58 games), Mickey Mantle (43), Hank Aaron (35) and Willie Mays (34).
So apparently, if you're anointed to do something like this at such a young age, you might turn out to be pretty special. But when Johnson was asked what he's seen in Harper that would make him a candidate to hit third at age 20, the manager reacted with one of his favorite themes.
"Why are you bringing up age?" he said, with a smile. "What does age have to do with it?"
Well, see above. But in the interest of advancing the conversation, we asked Johnson what he saw in Harper, with age factored out of it.
"He proved he can play up here last year," Johnson said, then recapped some of Harper's ups and downs. At which point he concluded:
"So he struggled a little bit up here. He's overcome that. He uses the whole field. He lays off bad pitches. He's a tough out. [But] a lot of it is, I like a lineup that makes it tougher [for the opposing manager] to do matchups."
And that, it's clear, is a big part of this.
"If I hit Bryce second, Zim third, LaRoche fourth, Werth fifth, what's wrong with that lineup?" Johnson asked. "Not as balanced. Makes it easier to control the matchups from the other dugout."
One interesting wrinkle to this lineup, other than the Harper factor, is that it could involve Ryan Zimmerman hitting fourth instead of LaRoche. Last year, LaRoche batted cleanup in 105 of his 148 starts, while Zimmerman hit fourth in zero starts (but batted third in all 144 games he started). So Johnson said he told Zimmerman the other day this might be a possibility.
"He said he didn't care," the manager reported, "just as long as Harper didn't drive in all the runs before he got up."
Hmmm. Sounds like old-age, pre-WAR thinking to us. But whatever. The important thing is that Davey Johnson has thought it through -- not that he isn't open to other options.
"If you come up with a better idea, Jayson," he said with a laugh, "throw it out there."
Oh, we will. Always glad to help.
February, 12, 2013
2/12/13
5:55
PM ET
VIERA, Fla. -- It's time to "move on,"
Gio Gonzalez
said. But the questions kept moving in, not moving on.
"You've got to turn the page already," Gio Gonzalez said. But the pages weren't turning fast enough.
[+] Enlarge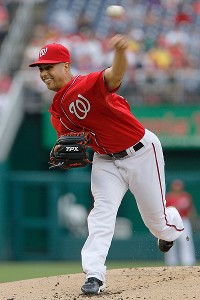 Jonathan Ernst/Getty ImagesA cloud of skepticism hovers over Gio Gonzalez as the Nationals begin spring training.
He stood in the
Washington Nationals
' dugout Tuesday morning, surrounded by a group of media inquisitors with more on their minds than those 21 games he won last year. But that's how fast life can change for a fellow like Gio Gonzalez -- in the snap of the fingers.
Or the posting of a headline.
It was the day pitchers and catchers report at spring training, a day this man said he'd been looking forward to for four long months, since a 6-0 lead began to melt in his hands in the biggest postseason game in Washington Nationals history.
But what unfolded in the dugout of Space Coast Stadium on Tuesday morning wasn't what he had in mind.
He kept trying to steer the conversation toward happier topics -- toward his team's World Series dreams, toward his invitation to pitch for Team USA in the World Baseball Classic, toward his burgeoning Instagram fame.
But evidently, his steering wheel was busted, because the questions kept returning to the same dreaded topics:
Biogenesis … PEDs … and the ongoing investigation into both of them -- and him.
The questions kept coming for five solid minutes, until a Nationals media relations representative cut them off. Gonzalez answered them all affably, comfortably, assuredly. But that doesn't mean he has answered them for the last time, even though his team says he'll be discussing baseball only for the rest of the spring.
Oh, he may be through talking to the media about PEDs. But he has a lot more than five minutes of Q-and-A ahead with baseball's investigators -- who aren't known to have spoken with any of the players whose names showed up in Tony Bosch's Biogenesis notebooks.
So what might those investigators want to know that Gonzalez didn't fully explain Tuesday? Here are two answers he gave in that dugout that are likely to be viewed skeptically by the powers that be:
1. The old proud-father alibi:
So how did Gio's name mysteriously show up in those notebooks? Gonzalez's best guess? You can pin it all on his dad, Max, "the most proud father in baseball," said his son. Always bragging about his kid. To anyone. And everyone.
OK, we're sure he was. But he bragged so often that an alleged PED supplier kept writing the kid's name in his personal notes? Five different times? Including one entry that included Gio's stats and the formula for something known as "pink cream," the ingredients of which included testosterone, which is banned by Major League Baseball?
Heck, you never know. Maybe that's exactly how this went down. But you can bet that when the lawyers and investigators arrive, they'll have a few follow-up questions about that theory.
2. The old I-was-just-as-stunned-as-you-were alibi:
Gonzalez described himself Tuesday as being "stunned" when his name popped up in that Miami New Times story. Showed up "out of nowhere," he said. And then there was this:
How did he learn he'd been linked to this Biogenesis scandal? "Just like you guys [in the media] did," Gonzalez said. "It was just posted out there."
No additional questions were permitted on that topic Tuesday. But baseball's investigators will have some additional questions. You can count on that.
How, for instance, can he claim that he didn't learn of any of this until the New Times story was "posted," when the newspaper has said repeatedly it sought comments and explanations from every player named, prior to the story's publication? And ohbytheway, the newspaper submitted all of those questions in writing.
Maybe that was just a miscommunication. Maybe Gonzalez merely phrased his answer imprecisely Tuesday. But let's just say that people who have been investigating Biogenesis for two years will be slightly skeptical of denials like that one.
As he stood in that dugout Tuesday morning, Gonzalez said he was "confident" he'd be exonerated by this investigation. And for baseball's sake, you hope he's right.
But let's see now. There were six players named in the New Times story, and a seventh big name (
Ryan Braun
) connected to Biogenesis by Yahoo Sports. One of them (
Nelson Cruz
) hasn't addressed this story yet. Three of them (
Melky Cabrera
,
Bartolo Colon
and
Yasmani Grandal
) have already been suspended for PED use. Now let's look at the alibis of the other three:
There's Braun, whose explanation, that Bosch was being used as a "consultant" for his PED hearing last year, has been widely questioned.
There's
Alex Rodriguez
, who has denied ever meeting Bosch even though ESPN's T.J. Quinn and Mike Fish have reported that
Bosch used to inject A-Rod with PEDs in his house
.
And now there's Gio Gonzalez, who has chalked up his own brush with infamy to a proud papa.
Maybe that account will check out just fine. Maybe all of these accounts will check out just fine. But here's what Gio Gonzalez needs to keep in mind as he goes along his merry way this spring:
No matter how hard he'd like to turn the page, the questions didn't end in the dugout of Space Coast Stadium on Tuesday. Oh, no.
They're really just beginning.
February, 12, 2013
2/12/13
5:00
PM ET
VIERA, Fla. -- "World Series or bust."
No, that's not a George Steinbrenner quote from an old "Seinfield" episode. It's a quote from the manager of the
Washington Nationals
, Davey Johnson.
He uttered it at the winter meetings two months ago. And now that spring training has arrived, it's clear those are four words that are going to stick to the feet of the 2013 Nationals like a wad of gum.
But if that's now their official mantra -- "World Series or bust" -- you won't find Davey Johnson's players running from it, even as their National League East rivals tack that snappy little slogan onto bulletin boards all over Florida.
"I like it," said reliever
Drew Storen
. "That's the thing I like about Davey. He just goes for it. And it shows you that for him, what matters is the clubhouse. What matters is this team. We all believe that. He just has that confidence. And he had that confidence in us last year. People get behind that. There isn't one guy in that clubhouse who doesn't think the same thing."
There has always been a fearlessness to Davey Johnson that sets him apart from many of his fellow managers. And always has. There is also an amateur psychologist inside him who understands that managers of a team like this need to raise the bar and send certain messages to the troops about what's possible -- and what's expected.
Johnson did that a year ago by talking playoffs, right out loud. Now he's sending a bigger, bolder message a year later. Heck, of course he is.
"That's all it is," Storen said of his manager's ability to deliver those messages. "And that's what really made us successful last year. We told people in spring training last year that we were going to compete and we were going to do what we did. And people kind of gave it the old, 'That's nice.'
"But we believed it. And we weren't just saying it to say it, because it was the right thing to say. We said it because we believed it. It's not about saying somebody else is not good enough. It's about us saying we ARE good enough."
Not that this sort of talk doesn't make the manager's bosses uncomfortable. Clearly, it does. But they've learned that this is what makes Davey Johnson tick -- and what has made him great at his job for all these years.
"That's typical Davey," said GM Mike Rizzo. "He wouldn't have said it if he didn't think it and didn't mean it.
"Now I have to temper my comments a little bit," Rizzo continued. "I think we have a good team. I like where we're at. And we feel really good about ourselves. But that's Davey being Davey. And that's fine."
Fortunately, it's fine with the people who play for him. And that, ultimately, is what matters most. Right?
"We've got all the pieces of the puzzle," Storen said. "We've got guys with the right mindset. We've got guys with the right experience. And it's going to be a lot of fun. I think we're going to enjoy kind of having a target on our back this year."
Well, they'd better. Because the manager didn't slap that target on their backs in light No. 2 pencil. He splattered it all over them -- in indelible ink.
February, 12, 2013
2/12/13
4:40
PM ET
VIERA, Fla. -- The
Washington Nationals
might have the deepest roster in baseball. And maybe the deepest pitching staff in baseball. But apparently, not deep enough.
They're still shopping for one more starting pitcher. Just in case.
In case
Gio Gonzalez
disappears for 50 games, via a PED suspension.
In case
Dan Haren
's back flares up.
In case the elbows of
Stephen Strasburg
or
Jordan Zimmermann
remind them they're not all that far removed from visits to their friendly neighborhood Tommy John surgeon.
In case of, well, whatever.
So there were rumblings around their camp Tuesday, including one emanating from the Washington Post's dialed in beat writer,
Adam Kilgore
, that there was still a free-agent starter out there who makes way too much sense:
Kyle Lohse
.
After all, he pitches for a living. He's coming off a year in which he went 16-3 for the Cardinals. It's the second week of February, and he's still unemployed. And his agent is a fellow named Scott Boras, who has, shall we say, done a little business with this team over the last few years.
So get out your calculators and do the math. Two plus two equals …
A lot less than Lohse and Boras are still looking for.
Asked Tuesday about the chances of this team reeling in Lohse, one Nationals source replied, succinctly: "I don't see that happening."
Why? Because the Nationals are looking for depth, not a long-term commitment to a guy who would cost them a first-round pick and would expect to supplant a member of the Nationals' current rotation.
So who's a more likely name to fit that bill? It's still free-agent right-hander
Javier Vazquez
, whom the Nationals have scouted extensively this winter in Puerto Rico -- including a firsthand look from GM Mike Rizzo himself.
Vazquez is currently rehabbing from minor knee surgery, but hopes to pitch for Puerto Rico in the World Baseball Classic next month. So stay tuned on that front.