Spring Training:

Albert Pujols
March, 5, 2014
Mar 5
10:30
AM ET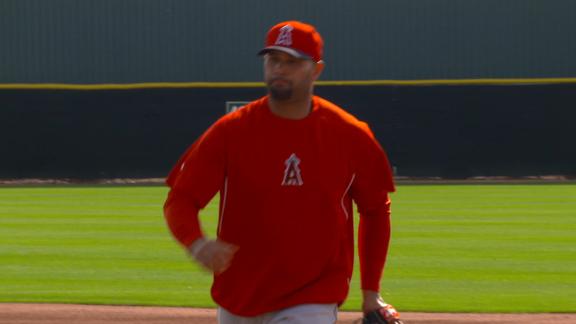 TEMPE, Ariz. --
Albert Pujols
is walking around the
Los Angeles Angels
' training camp with an extra bounce in his step this spring.
Self-confidence plays a part in the transformation, for sure. But it also puts a man's mind at ease when he can slip his foot into a baseball shoe and doesn't feel as if he's sticking it in a pizza oven.
Pujols, ever the stoic, generally kept to himself during a trying 2013 season that resulted in 99 games played and career-low numbers across the board. Now that it's safely compartmentalized in the past, he is free to reveal the extent of his ordeal.
The plantar fasciitis that began tormenting him in 2004 never screamed louder than last summer. Maybe it was just wear and tear over time or, as Pujols suspects, the hard spring training fields in Arizona helped aggravate his condition. Whatever the reason, Pujols was a portrait in teeth-gritting before the injury forced him to shut it down for the season in late July. The word "discomfort" can't even begin to describe what he endured.
"There were times when I got up in the middle of the night and I would put my foot on the ground and I was waiting for it to pop," Pujols said. "That's how tight it was. I've described it to people like somebody is sticking a knife or a needle in your foot, and the needle is on fire. It constantly burns. I wouldn't wish it on anybody to have to go through that."
Life is more comfortable this spring for an abundance of reasons. One cloud lifted shortly before spring training, when Jack Clark publicly retracted his comments from last summer accusing Pujols of using performance-enhancing drugs -- and Pujols accepted Clark's apology and dropped a defamation lawsuit that he had filed against the former big leaguer and St. Louis radio talk show host. Three weeks later, Pujols chooses not to revisit the episode.
All the vibes since Pujols' arrival at Tempe Diablo Stadium have been positive.
He's lockering next to his old St. Louis pal and World Series teammate
David Freese
, who came over from the
Cardinals
in a trade in November. He has quickly struck up a rapport with Don Baylor, who replaced Jim Eppard as the Angels' hitting coach in October. And Los Angeles manager Mike Scioscia is big on family, so Pujols' 13-year-old son, A.J., will spend some time in camp this spring bonding with dad in the workplace.
He needs his space
Each morning, Pujols arrives early and takes 20 to 30 swings off a tee and a few more against soft tosses before the Angels gather in the clubhouse to go over the day's activities. Then he takes part in infield and batting practice before hopping on a bus or returning to the clubhouse for a breather. In a perfect world, he'll appear in 23 or 24 of the Angels' 30 Cactus League and exhibition games and be locked in for the season opener against the
Seattle Mariners
on March 31.
[+] Enlarge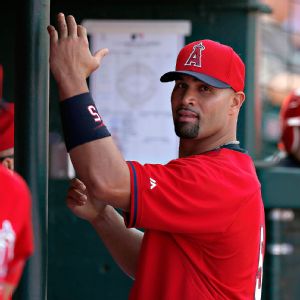 AP Photo/Ross D. FranklinEntering the third season of a 10-year, $240 million deal with the Angels, Albert Pujols says he can "hit in this game until I'm 50 years old."
From what the Angels have seen thus far, it's a good bet Pujols will not finish with a lower OPS than
Coco Crisp
,
James Loney
or
Nate Schierholtz
again this season.
"The game is a lot more fun for him right now because he can do the things he's good at," Scioscia said. "This guy is a special player, and we've only seen the tip of what he can do. He's a Gold Glove first baseman. He runs the bases well. He's going to be a different player this year because his tools have been rebuilt. He's able to move, he's able to run and he's stronger in the box. He's excited about that, as we are."
Pujols' personal history and body clock have taught him that it's best to come to camp at 85 to 90 percent and gradually work his way up to triple digits. "Otherwise, you'll be toasted by April," he said. His résumé includes nine All-Star Games, three MVP awards and the fourth highest OPS in history (1.008) for a right-handed hitter behind Jimmie Foxx, Hank Greenberg and Rogers Hornsby, so it's hard to quibble with his philosophy.
Still, for all the accolades Pujols received leading up to his current 10-year, $240 million deal with the Angels, he's not always the most approachable of stars. On the spectrum of Albert Belle's "don't come near my locker" glower and
Torii Hunter
's 24/7 gregariousness, Pujols can be gracious, accommodating and closer to the Hunter end of things when he's in the mood. But when he's focused on business, he might as well post a "no trespassing sign" on his locker as a public service.
Even his teammates know enough to give him his space. Freese sees Pujols' softer side when his teammate sits beside him in the clubhouse and exchanges text messages or talks on the phone with his wife and children. At other times, Pujols attains a level of concentration that few players can match.
"Albert's an absolute animal," Freese said. "The first day he walks into a clubhouse, he's got one thing on his mind. Or maybe two things: His family and baseball.
"I think Albert sees this as a job. He puts a lot on his plate. He's one of the best players to ever play this game. And when you get to that level, this game changes a little bit. I think he takes it personal. He understands how he can change games when he's in the lineup producing. That's why he works his tail off. Obviously, Albert is a very spiritual guy. God is No. 1 in his life and he's going to put it all out there. He's a guy who lives his life to the fullest, for sure."
Payoff on their investment
The Angels devoted the two winters prior to this one spending to the fullest, signing Pujols and outfielder
Josh Hamilton
to multiyear deals worth a combined $365 million in the effort to win the hearts and minds of Southern California baseball fans. The plan didn't work out so well last summer, when the Angels fell off the map early and finished 18 games behind the
Oakland Athletics
at 78-84.
A lineup with Pujols, Hamilton and
Mike Trout
at its core suffered a 34-run drop-off from 2012 (from 767 to 733) and ranked 10th in the American League with 164 homers -- fewer than the Mariners and those supposedly pitching-and-defense-obsessed
Tampa Bay Rays
.
Hamilton arrived with a new bulked-up look this spring and was raring to go, until a strained calf put him out of commission for a while. Although the Angels expect him to be ready for the season opener, they're going to let him proceed at his own pace.
"

This guy is a special player, and we've only seen the tip of what he can do. He's a Gold Glove first baseman. He runs the bases well. He's going to be a different player this year because his tools have been rebuilt. He's able to move, he's able to run, and he's stronger in the box. He's excited about that, as we are.

"

-- Mike Scioscia, Angels
manager, on Pujols
"If it takes a couple of weeks, it takes a couple of weeks," Scioscia said. "If it takes three weeks, it takes three weeks. It will heal on its own time."
Pujols, meanwhile, is on the verge of achieving a major milestone. He's one home run away from tying Lou Gehrig and Fred McGriff at 493 and needs eight to become the 26th member of MLB's 500-homer club. If he can go deep 30 times this season, Eddie Murray, Gary Sheffield, Mel Ott, Eddie Mathews, Ernie Banks, Ted Williams,
Frank Thomas
and Willie McCovey also will fall by the wayside.
Pujols developed such a sense of reverence for Stan Musial during his time with the Cardinals that he didn't like being called "El Hombre," because there was room for only one "Man" in St. Louis. So he can appreciate the hallowed company he's about to join, and eventually surpass.
"I'm not going to sit here and lie and say, 'I don't care about it,'" he said. "It's nice. It's a great accomplishment."
Yet Pujols is well aware that he'll perform against a backdrop of lowered expectations until he puts together one of his old St. Louis tears. During his time with the Cardinals, Pujols raised the bar so high that his .285, 30-homer, 105-RBI debut in Los Angeles was generally perceived as a disappointment. Now that he's regarded as merely human, most observers would consider those numbers a nice comeback season.
Try wrapping your mind around this nugget: Pujols, who was setting the annual standard for righty hitters before
Miguel Cabrera
came along, hasn't appeared in an All-Star Game since 2010.
"You always want to show you're worth the money that they pay you," Pujols said. "Obviously, it's been tough for me, and it was tough for Josh last year. Hopefully I have eight more years to go here. I always say to people, 'Don't look at my first two years with the Angels. Just look at what I've done at the end of my contract, and you can judge it then.'"
Pujols, intense and quietly defiant, already knows where he stands on the subject of his future.
"To me, it's about being healthy," he said. "I've got that gift and talent. I know I'm going to hit in this game until I'm 50 years old."
February, 20, 2014
Feb 20
6:01
PM ET
TEMPE, Ariz. --
David Freese
is hoping that a change of scenery can help him recover from a disappointing 2013 season and rediscover the form that made him a 20-homer man and a National League All-Star two seasons ago.
A familiar face has already begun helping him with his transition.
Freese, traded from the
St. Louis Cardinals
to the
Los Angeles Angels
in November, received a pleasant surprise when he walked into the clubhouse at Tempe Stadium and found his locker right beside the one inhabited by his former Cardinals teammate
Albert Pujols
.
The two played together in St. Louis from 2009 to 2011 before Pujols signed a 10-year, $240 million contract with the Angels as a free agent. Then, Freese arrived in Anaheim, Calif., in November as part of a four-player trade that sent outfielder
Peter Bourjos
to St. Louis. After Pujols learned about the trade, he immediately sent Freese a welcome-to-California text message.
"When Albert left [St. Louis], it was a tough feeling," Freese said. "We love Albert regardless of what type of player he is. To get reunited with him is great. From the first step I took in the [Angels] clubhouse, he was already here. He's showed me the ropes for the first few days. He's gone out of his way to help me, which is cool."
The Angels are looking for Freese to fill an offensive black hole at third base, where
Alberto Callaspo
,
Chris Nelson
,
Luis Jimenez
and four other players combined for a total of eight home runs last season. Only the
Miami Marlins
, with three homers, received less power from the third-base spot. Los Angeles' third basemen also ranked 27th in the majors with an aggregate .637 OPS.
Freese, similarly, had a season to forget. His home run total dipped from 20 to nine, and his OPS declined from .839 in 2012 to .721 last season. In addition, he hit only .179 (10-for-56) in the postseason.
Freese was limited by a back injury in spring training last season and looked lost early in the season, failing to hit his first home run until May 17. Like his fellow Angels, who posted a 9-17 record in April, he's intent on getting off to a better start.
"It was just a rough year," Freese said. "It was downhill from the beginning, but I grinded through it and we did what we did to get to the postseason. I'm ready to go, and I think people will see it."
March, 19, 2013
3/19/13
7:39
PM ET
By
Christina Kahrl
| ESPN.com
MARYVALE, Ariz. -- For the second consecutive winter the
Los Angeles Angels
made a splash during the offseason, signing the best hitter available as a free agent. Adding
Josh Hamilton
may have commanded this past winter's headlines, but on Tuesday the Angels were worrying about yesterday's news. That's because their big-ticket addition for 2012, first baseman
Albert Pujols
, was finally able to return to first base to show that his recovery from offseason knee surgery was proceeding well.
[+] Enlarge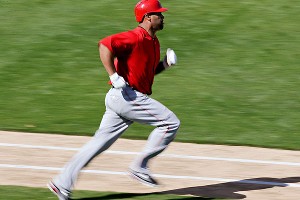 AP Photo/Chris CarlsonThe Angels are hoping that Albert Pujols now has his legs back under him.
The big question might be whether Pujols will be ready in more than enough time to take his position on Opening Day, but he and manager Mike Scioscia both sounded confident after the Angels' 6-1 loss to the Brewers, as Pujols declared himself ready.
Scioscia said of Pujols' five-inning return to fielding, "He looked fine, he was moving to the bag well. He's a terrific first baseman, so he's not that far away from where he needs to be. I think it's an important first step for him to get out there and play a little defense."
Pujols has been working hard to get himself back on the field. "He took an aggressive practice today as far as taking ground balls," Scioscia said.
That said, it isn't entirely smooth sailing. "I think that as long as he feels comfortable out there, I think that what's giving him more trouble now is really his heel, his foot," Scioscia added. "We want to get that under control, but he's looking fine out there; he's got a little bit of plantar fasciitis. His knee is feeling good, so that is not an issue. I think he's going to be fine. Right now, he's in the part of the spring where he's got to get his legs under him for defense. I don't think it's something we're concerned about right now."
But couldn't the plantar fasciitis be a nagging worry? "I think the fact that his knee's OK gives us a little more comfort than anything else."
So the question then is, will Albert return to first base on Wednesday, or will he return to DH? Immediately after the game, Scioscia kept his options open, saying, "We'll see how he comes out of [today]. We'll pretty much go with our core lineup, and we'll get Albert out there at DH or at first base."
Christina Kahrl covers baseball for ESPN.com. You can follow her on Twitter.
February, 14, 2013
2/14/13
7:40
PM ET
TEMPE, Ariz. --
Albert Pujols
and
Josh Hamilton
go back a ways. In the spring of 1999, they met during a pre-draft workout at Tropicana Field in Florida. They were both supreme talents but came equipped with markedly different expectations.
Hamilton, a North Carolina native, was considered a once-in-a-generation prospect, with speed and power to burn and (reporters loved to point out) size-19 feet. Pujols, a native Dominican who played high school ball in the Midwest, showed a knack for swinging the bat at Maple Woods Community College in Missouri. But a lot of scouts wondered which position he would ultimately play, and he fell to St. Louis in the 13th round of the draft.
Pujols overcame the skeptics to win three MVP awards, make nine All-Star teams and emerge as a worthy heir to Stan Musial's legacy in St. Louis. Hamilton, meanwhile, took a more circuitous route to prominence after signing with Tampa Bay as the No. 1 overall pick in '99. His journey was marked by drug and alcohol dependence, multiple tattoos and enough personal setbacks to suggest he might be a lost cause.
[+] Enlarge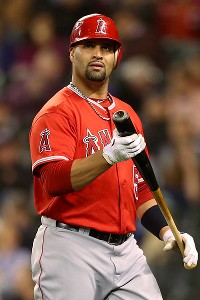 Otto Greule Jr/Getty ImagesAlbert Pujols doesn't want to talk about what happened last April.
In recent years, the two players traded their favorite Bible verses during brief encounters at first base and exchanged hugs at the All-Star Game. Now they're swapping memories as teammates and new running mates in the middle of the Los Angeles Angels' batting order.
"Back then, he was really skinny, and people said, 'This guy is going to be the first pick,'" Pujols recalled Thursday. "I was like, 'Yeah, right.' Then I saw him take batting practice and I was like, 'Are you serious?'"
Replied Hamilton: "I don't remember anything. I took a little different route than Albert did, and I forgot a few things along the way."
Pujols and Hamilton met the media Thursday afternoon in a made-for-TV news conference on the eve of the Angels' first full-squad workout of spring training. They sat on a podium in front of an Angels logo and flanked center fielder
Mike Trout
, the 2012 American League Rookie of the Year and runner-up to
Miguel Cabrera
in the MVP race.
Let the nickname contest begin. The Angels' lineup has enough star power that the team needed to book a conference room at a hotel adjacent to Tempe Diablo Stadium to accommodate it.
Each player brings his own compelling storyline to the table. Hamilton, who signed a five-year, $125 million contract in December, is 20 pounds lighter this spring and eager to show he's the Triple Crown candidate of April, May and June rather than the guy who faded in the second half, botched a fly ball in a pivotal regular-season game against Oakland and left Texas to a torrent of boos after an 0-for-4 performance against Baltimore in the wild-card play-in game.
Pujols, entering the second year of a 10-year, $240 million contract, overcame a dreadful start to hit .285 with 30 homers and 105 RBIs. He underwent a minor arthroscopic procedure in October and plans to ease into his workouts gradually this spring. One thing Pujols won't abide is questions about his excruciating April in 2012. He makes it clear, for all intents and purposes, that he's not here to talk about the past.
[+] Enlarge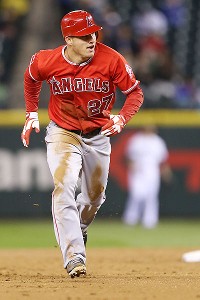 Otto Greule Jr/Getty ImagesWill Mike Trout be in the running for hardware as a sophomore?
Trout, precocious WAR machine and the face of baseball's future along with
Washington Nationals
outfielder
Bryce Harper
, is 10 pounds heavier this spring and braced for the realization that he won't be able to sneak up on anyone this season. He has set the bar exceedingly high.
The Angels, as a team, have reason to believe they've upgraded a lineup that ranked third in the league in runs scored (767) and OPS (.764). But it remains to be seen if they have the pitching to keep pace. Get past
Jered Weaver
and
C.J. Wilson
atop the rotation, and
Tommy Hanson
,
Joe Blanton
and
Jason Vargas
have a lot of convincing to do in the Nos. 3-4-5 spots. In addition,
Ryan Madson
, the team's projected closer, has encountered a speed bump in his comeback from Tommy John surgery: He is experiencing soreness in his right elbow and will not be ready by Opening Day.
But the Angels should be intriguing to watch, both on and off the field. Clubhouse dynamics change from one year to the next, and the Angels are in the midst of a transition with the arrival of Hamilton and the departure of the always loquacious
Torii Hunter
to Detroit through free agency. When a team is burdened with expectations this high, it helps to have a resident "voice of reason" who can court the media and provide perspective. Trout is too young to assume that burden. Hamilton has enough on his plate and Pujols has never shown the patience, temperament or gift of gab to be a media darling.
For those seeking subtle clues on a potential pecking order of the big three, Pujols had three bottles of water in front of him to only two for Hamilton and Trout at the news conference. But Hamilton was clearly the most relaxed and jocular participant. Thirty seconds before the event, which was broadcast live on Fox Sports West, Hamilton turned to Angels public relations man Tim Mead and asked, "Do I have time to go to the bathroom?"
People close to Hamilton said the opportunity to play in a lineup with Pujols and Trout held considerable appeal for him during his free-agent search. Hamilton's history of addiction has created some dicey moments for him, and he'll rely on his family, religious faith and the help of accountability partner Shayne Kelley to craft a positive storyline in Anaheim.
Hamilton's fellow Rangers went to great lengths to look out for him during his time in Texas, and he'll continue to require help from his teammates to stay on the right path in his new, more fast-paced West Coast environs. Hamilton knows Wilson from their time together in Arlington and has a nice rapport established with Pujols. That's a start.
"As you get to know your teammates, you understand what they stand for, how they act and what they do," Hamilton said. "You find guys that you put in your circle who will help hold you accountable. Hopefully, by the way you carry yourself, guys will either want to be in your circle, or they'll respect you enough to not put you in a situation that's going to cause you to stumble and fall.
"Guys like Albert and C.J. get it. They understand. I think everybody will understand when the time comes."
For what it's worth, Pujols and Trout were equally effusive in recalling their reactions to Hamilton's December signing and what it will mean to the Angels in 2013 and beyond.
"I remember last year sitting at the house and all of a sudden Albert's name popped up with the Angels, and it was a shock to me," Trout said. "I was like, 'This is awesome.' The same thing happened this year with Josh. I texted him to congratulate him and he texted me back and said, 'Get your legs loose. That's all that matters.' I just have to get on base and let them hit me in."
The preliminaries are now complete, and it's time to play ball in Tempe. Albert Pujols and Josh Hamilton kicked around a few memories Thursday. With the help of a certain outfield phenom, they'll spend the seven months trying to forge some new ones.