Spring Training:

Atlanta Braves
March, 3, 2013
3/03/13
3:35
PM ET
LAKE BUENA VISTA, Fla. -- April 16. Braves versus Royals. It's a date
Brian McCann
has splattered all over that imaginary billboard in his brain.
Why? Because on April 16, it will be exactly six months since the Braves catcher's shoulder surgery -- and also the date he's been told by doctors it will be safe for him to resume playing baseball games.
But will those games be in the big leagues? Uhhhh, not so fast.
[+] Enlarge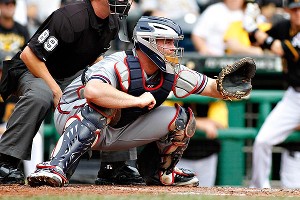 Justin K. Aller/Getty ImagesBrian McCann continues to rehab this spring after undergoing arthroscopic surgery on his right shoulder in October.
The team's original plan was for McCann to play in either extended spring training games on that date or perhaps start a minor league rehab option. But McCann said Sunday he's hoping to accelerate that timetable.
"I'm feeling great. I'm on pace to be ready to go on April 16," said McCann, who had arthroscopic surgery Oct. 16 to repair a torn labrum in his right [throwing] shoulder. "The only thing we're wondering -- or that I'm wondering -- is if I can play before that date down here [in Florida]. So my first game would either be April 16 against Kansas City, or that's when I'm going to start my rehab."
McCann said he's hoping to play in "controlled" minor league exhibition games in which he could get a bunch of at-bats but not necessarily catch. At the same time, he would build up to begin catching by catching bullpen sessions and blocking balls in drills, he said.
It's unclear yet whether the team or his doctors will give him the go-ahead to do any of that. But McCann is already lobbying.
"I'll know when I'm ready," he said, "when I feel like I can get out there and help this team win."
Braves GM Frank Wren has said the team has been told by doctors that they don't want McCann to do any catching before the six-month mark after surgery, because he risks reinjury if he has to dive or block the plate, or if he got hit in the wrong spot by a foul ball. McCann says he's aware of those concerns.
"If I have a setback, that would be pretty awful," he said. "And that's the thing. When I come back, I want to come back and be able to do everything 100 percent and if I get run over at the plate, it's not going to affect me to the point where I have to have surgery again or anything."
Yet he can see himself making headway. He graduated last week from hitting off a tee and in the cage to taking batting practice off coaches. So every other day, he plays long-toss catch from 120 feet and takes batting practice, then takes the next day off.
"I'm not up to that point now where I'm ready to start doing stuff every day," he said. "I'm just going to listen to what they say. … You've just got to find that fine line between not pushing too hard and not pushing hard enough. But every obstacle they've put in front of me, I've done with ease. So I'm anxious to get out there every day and interact with the guys on a daily basis outside."
For now, though, he still spends most of his time interacting with "the trainers and physical therapists. … I'm asking them every day [when I'll be ready]. So I guarantee that THEY'RE ready for me to get outside," he said with a laugh.
McCann's health would be a significant story under any circumstances. But the fact that he also finds himself on the last year of his contract just heightens the importance of his recovery saga.
"I'm just looking at it as, I need to get healthy and get on the field," he said. "And I'm on that track. I'm on the right track. Physically, I feel amazing. So I'm excited about the season.
"I'm just going to play baseball. I know it's a big year. I know all that. I just want to get on the field healthy and get back to the way I play."
February, 18, 2013
2/18/13
5:20
PM ET
LAKE BUENA VISTA, Fla. -- When manager Fredi Gonzalez looks over the lineup of the 2013
Atlanta Braves
, he sees a group that has a chance to lead the league in home runs and top-to-bottom fear factor.
But when a certain guest hitting instructor, some guy named Chipper Jones, looks over the lineup of the 2013 Braves, he has one overriding worry:
"I think this is a ball club that is going to strike out a lot," he said Monday.
Well, he has reason to think that.
The 2012 Braves whiffed 1,289 times, the most in franchise history. And over the winter, they've added three men to their lineup --
Justin Upton
,
B.J. Upton
and
Chris Johnson
-- who have all struck out 130-plus times in a season at least once.
In fact, every member of the Braves' projected Opening Day lineup, with the exception of shortstop
Andrelton Simmons
, has a 100-strikeout big-league season on the back of his baseball card. And five of those hitters --
Jason Heyward
,
Dan Uggla
,
Freddie Freeman
and the Upton brothers -- have whiffed at least 140 times in a season.
[+] Enlarge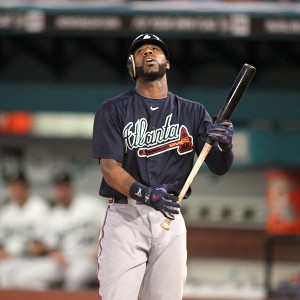 Marc Serota/Getty ImagesJason Heyward struck out 152 times last season, the 10th most in the National League.
So when people talk about how much the Braves will miss Chipper, Chipper himself has another name in mind that he thinks the Braves will miss more than him:
Martin Prado
.
"I think there are at-bats that you have late in games, where you need a big-league at-bat and a big knock, and a guy like Martin Prado helps you win those ball games," said Jones, who's passing through camp briefly as a special spring hitting instructor. "You could always count on him to be prepared. You could always count on him for a big at-bat in a big spot. And sometimes you just need a ground ball to shortstop, or a ground ball to second base. And he was a guy who would provide that.
"So I'll be interested to see what the numbers are for this year's club with guys on base and with guys on third with less than two outs. That's where this team is going to win or lose a lot of ball games. They've lost a guy who could give you a great at-bat in those spots. And they're replacing him with guys who habitually have struck out 100 times."
That's for sure. So how big a problem is that? Let's take a look.
On the one hand, no team that struck out as many times as last year's Braves has ever won a World Series. (The record: 1,189, by the 2004 Red Sox. Record for an NL World Series champ: 1,117, by the 2008 Phillies.) And no team that struck out that many times has ever even played in a World Series. (That record: 1,224, by the 2008 Rays.)
On the other hand, five of the 10 teams that made the postseason last year punched out 1,200 times or more. The team widely viewed as the NL East favorite, the Nationals, whiffed 1,325 times last season. And that's symptomatic of an age in which striking out has never been more common.
Just so you have a little perspective: There were a record 36,426 total K's in the major leagues last year. Not only is that an increase of nearly 5,000 whiffs just since 2006, it was almost 2,000 more than in 2011.
"We know we're going to strike out," said GM Frank Wren on Monday. "That's just a given with guys who have power. And we have a lot of guys who can hit the ball out of the park. And that kind of goes hand in hand. But you look at some of the studies -- and our guys have looked at them -- and there's not a direct correlation with strikeouts and offense.
"It doesn't inhibit your offense if you have guys who get on base. We've got to put up quality at-bats. And I think Greg Walker is a really good hitting coach for a team like this, because he understands swings really well and he understands situational hitting. And I just think he preaches the right things."
So what does the hitting coach preach? Well, he doesn't preach,
We need to strike out less
, if that's what you're wondering. Too negative.
"You can really get yourself in trouble when you start dwelling on that," he said.
What Walker sees is a lineup with plenty of thunder and three outfielders who could all throw a 20-homer, 20-steal season up there. Six of the eight regulars have hit at least 23 home runs in a season. The third-base tandem of Chris Johnson and
Juan Francisco
combined for 26 last year. And the eighth bat in that lineup, Simmons, once won a minor-league batting title. So Walker says he needs to be careful about tinkering with a good thing.
"As a player, you always want to get better, but as a coach, you don't want to over-coach," he said, "and try to fix a problem and end up taking away a positive."
So Walker said he has no plans even to talk about strikeouts. What he does talk about -- often -- is situational hitting.
"We take situational hitting, and we look at it as a team, but we also look at it as individuals," he said. "Are we going to have to be a little more conservative with a man on third and less than two outs? Should we just accept a fly ball in certain situations instead of trying to do too much? That's the one area I have put a lot of thought into."
So he'll preach the virtues of "battling." And "competing." But striking out less? Sorry. Not going there. "And I get asked that question every day now," said a hitting coach who's clearly a lot more concerned with the hitting than the missing.
---
The Braves' likely lineup, as laid out by the manager, when catcher
Brian McCann
is ready to play:
SS Simmons
RF Heyward
LF Justin Upton
1B Freeman
CF B.J. Upton
C McCann
2B Uggla
3B Johnson/Francisco
Gonzalez says he has other options, obviously. But if he can line those names up in that order, he could go right-left, right-left virtually from top to bottom -- a big change from all the left-handed hitters they were running up there last year.
"We're looking to make it more difficult for bullpen guys to come in and match up for five hitters, with one pitcher," Gonzalez said.
---
[+] Enlarge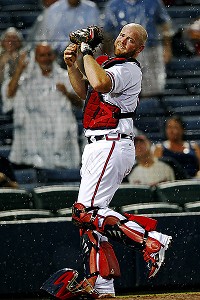 AP Photo/John BazemoreBrian McCann will begin the season on the disabled list after having surgery on his right shoulder in October.
The latest on Brian McCann: Now expected to be ready two to three weeks into the season, Wren said.
"He's doing well," the GM said. "But there's no speeding up the timetable. They don't want him to risk any collisions or diving until the [six-month] anniversary of his [shoulder] surgery, which would be April 15."
So while McCann is easing into hitting, catching and squatting, he won't play any spring-training games before the Braves break camp, in order to avoid any potential for reinjury. He had surgery to repair a torn labrum in his right shoulder after playing through tremendous pain last season.
The Braves also have made no move to talk about extending McCann's contract, even though he can be a free agent in a year.
"Coming off the injury and the surgery, we've agreed we're going to wait until the end of the year to talk about it," Wren said. "But we haven't predetermined anything, nor has he."
---
Spring-training snapshot du jour:
Craig Kimbrel
threw live "batting practice" for 10 minutes Monday. Some fun.
The designated victims: Juan Francisco,
Ramiro Pena
and Evan Gattis.
In 10 minutes of flailing away at baseball's most dominating closer, the ball left the batting cage exactly twice. And even that took seven minutes, before Gattis thunked a broken-bat humpback liner off the pitching screen and then flared a ball into right field a few swings later.
So live "batting practice" wouldn't seem to describe what went on there. Would it? That, said the manager, Fredi Gonzalez, was "pitching practice."