Spring Training:

Baltimore Orioles
February, 27, 2013
2/27/13
11:00
AM ET
SARASOTA, Fla. -- The memories of their 2012 magic show still float in the spring breeze. So it feels as if nothing is quite the same in the world of the
Baltimore Orioles
.
Uh, nothing, that is, except the names over the lockers, the names on the lineup card and the names on the roster sheets the team has been selling for a buck apiece all spring.
[+] Enlarge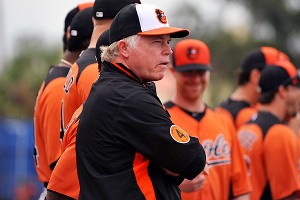 Al Messerschmidt/Getty ImagesBuck Showalter guided the Orioles to the postseason last year in just his second full season with the team.
Well, most of those names, at least.
Remember that trip the Orioles made to baseball's Octoberfest last year? It reignited a baseball love affair in their town, energized an entire franchise and even made it unsafe for
Adam Jones
to walk the streets of New Orleans.
Seriously. The ever-upbeat center fielder hit the bayou for a little Super Bowl action, "and I had people in New Orleans screaming my name down the street," he laughed the other day. "And that never happened to me before, outside of Baltimore."
So that should tell you something about how vastly the Orioles' universe has changed. But there's one thing their trip to October hasn't changed appreciably:
Their roster.
Ready? Here they come, this team's only major-league roster acquisitions this winter from outside the organization:
Trayvon Robinson
Danny Valencia
Alexi Casilla
Russ Canzler
Luis Martinez
Jair Jurrjens
… and Rule 5 pick
T.J. McFarland
.
All fine fellows, with talents that can fit this operation. But haven't been mistaken lately for
Josh Hamilton
,
Zack Greinke
or
Torii Hunter
.
Meanwhile, the only players who got significant playing time last year to hit the exit ramp? That would be
Mark Reynolds
and
Robert Andino
. And that's it. So what you saw last September and October looks almost exactly like what you see now.
But is that a good thing or a bad thing? Depends on whom you ask.
"I didn't understand their offseason," one rival GM was saying recently. "They finally had a winning season, and free agents wouldn't run away from their money anymore. But they never went after any of those guys. I don't get that one."
And he wasn't alone. But here's what he and the many other second-guessers out there need to know: It was all by design. Or mostly by design, anyway.
For way too many years in the Peter Angelos era, the Orioles approached their offseasons by throwing money at whatever free agents were willing to take it. And how'd that work out for them? With 14 straight losing seasons. That's how.
So what happened this winter was kind of the opposite. They didn't see their team as lucky, fluky or broken. So they didn't try to overhaul it, mess with it or fix it.
They saw no reason to spend money just to say they did. Or make a trade they didn't think made them better. Or fill up the transactions column just so somebody could say they "won" the offseason.
"We're on the right track," said their executive vice president for baseball operations, Dan Duquette.
"We stayed true to who we are and what we are and to our players," said their deep-thinking manager, Buck Showalter. "We have a lot of trust in the guys we have. So our players look around and they know why [they didn't sign, say, eight free agents]."
Now it wasn't as if the Orioles didn't at least window-shop in the free-agent market. They kicked the tires on Hamilton but found out fast that he was too pricey. They thought long and hard about
Adam LaRoche
but decided they weren't interested in giving away a No. 1 pick for any free agent.
And it wasn't as if they didn't talk about a bunch of trades that would have involved dealing from their stockpile of young arms to get a bat. They were in on
Justin Upton
, but balked at including the best pitching prospect in baseball,
Dylan Bundy
. They talked to the Diamondbacks for weeks about
Jason Kubel
, but felt as if he wasn't a big enough upgrade.
"

I have a lot of faith and trust in these people. And I think they feed off that.

"

-- Showalter on his players
They actually explored numerous arm-for-bat deals, Duquette admitted. But in the end, he said, "we decided we were going to hold onto the young pitching."
"Some of the bats that we could get would have improved our team," he said. "But it wasn't a huge improvement. And we wanted to hold onto the pitching depth and see if we could utilize the pitching depth to have a competitive team. And we could always take a look at that [later]."
So in the end, after months of talking, they ended up doing None of the Above. But if the message they wanted to send to their clubhouse, by keeping the players they had, was that they believe in a group of men who won 93 games last year, then guess what?
Message received. Loud and clear.
"That's a credit to the guys in this clubhouse, that the front office and management feel like they've already got a winning team," said pitcher
Jason Hammel
. "They don't need to go out and pluck from somebody else's team to make us better. They're going to add certain guys here and there to supply that depth. But we've got the makings of what we want to do, and the goals that we've set to try and achieve them, already here in place."
You might have thought that after the magic carpet these men rode last summer, they would have gone home this winter and waited for their front office to drop at least one major bombshell on them. To sign a thumper like Hamilton or LaRoche. To trade one of their surplus arms for an Upton or even a
Shin-Soo Choo
.
But if they were all bummed out that nothing like that ever happened, you'd never know it to hear them talk this spring about how happy they are to see virtually all the same faces in all the same places.
"I don't mind that we didn't make any quote-unquote 'big' moves," said reliever
Darren O'Day
. "I think we have a good offense. I think we have a great pitching staff. I love the team that we have here. If Babe Ruth was on the waiver wire, maybe we could make a trade. But I don't think he is.
"This clubhouse has got confidence in management," O'Day went on. "We all respect what they do. And we know that when they see something they like, they'll pull the trigger to make this team better. I can tell you for a fact there's no second-guessing in here."
Which isn't the same thing as saying there's no second-guessing in, say, Little Italy or Fell's Point.
"The fans want you, obviously, to go sign this guy, go sign that guy," said Jones. "Go after Greinke. Go after Josh Hamilton. People were blowing my Twitter up, saying, 'Would you move to left if they sign
Michael Bourn
?' 'Uhhh, nooo.' But people were saying, 'Go after him. Try and get Upton.' All that stuff. But just give me 25 guys who want to play the game, 25 selfless men that have one common goal, and I'll be happy.
"And last year," Jones chuckled, "we had 52 [of those selfless men]. We only had 25 at one time, but we had 52 who helped us succeed."
Yeah, good point. The ever-changing Orioles of 2012 are a reminder that the players you see running around Ed Smith Field in February aren't guaranteed to be the same players who show up at Camden Yards in September.
Did you know that 32 of those 52 players this team used last season had never played for the Orioles before? Or that this outfit needed to rip through 178 roster moves just to get through the season? Or that Showalter wrote out 122 different lineups in 162 games and never used the same nine position players in as many as 10 games all season?
All true, ladies and gentlemen. But as Duquette loves to point out, the team they put on the field at the end of last season wasn't merely a lot
different
than they team they fielded early on.
It was also a lot
better
.
Over the final 56 games of last season, guess which team had the best record in baseball? That would be the Orioles (38-18). And not by accident.
They had the second-best run differential in the sport (plus-69) in that span. And they played dramatically better defense after they installed
Manny Machado
at third base and the now-departed Mark Reynolds at first.
So when the skeptics talk about what the Orioles didn't do over the offseason, Duquette likes to remind those folks about all the moves his team DID make during the season. So you can make a case -- and he's happy to make it -- that the Orioles didn't have to do as much this winter as a lot of people seem to think.
"It was a good team at the end of the year," he said. "It was a good defensive team. And it was a team that our fans connected with. They loved it. Work ethic. The determination of the team to compete in the close games and win the extra-inning games. And that's kind of who we are. That's kind of who the city is."
[+] Enlarge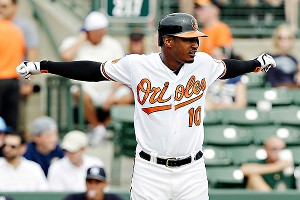 AP Photo/Charlie NeibergallAdam Jones, 27, established career highs in nearly all major offensive categories last season.
But since he brought up all those close games, it's time for this note of caution: History tells us it isn't wise for any team to assume it can duplicate a season in which it went 29-9 in one-run games, 54-23 in games decided by two runs or fewer, and 16-2 in extra-inning games (winning the last 16 of those in a row), as this team did. For instance:
• The 2012 Orioles had a .763 winning percentage in one-run games. The Elias Sports Bureau found nine other teams between 1950 and 2011 that won at least 70 percent of their one-run games. Their winning percentage in those games dropped by -- ready? -- 206 points (to .506) the next year.
• And the Orioles had an .888 winning percentage in extra innings last year. Elias found 24 teams from 1950-2011 that won at least 80 percent of their extra-inning games in a season. The following year, the winning percentage of those teams in those games fell by -- look out below -- 338 points (to .526).
So after perusing those figures, think the Orioles are a good bet to replicate either of those stats again? Even Duquette wouldn't wager on that happening.
"I would concede that," he said. "But I would also say that we won a lot of those one-run games and two-run games and extra-inning games when we had a lesser team. I think we had a better team at the end of the year than we had at the start of the year."
OK, we won't argue that. But those wins all counted. And Elias also found this:
The overall winning percentage of those nine teams from 1950-2011 that won 70 percent of their one-run games dropped by 56 points the next season. In other words, those teams won about nine fewer games than they'd won the year before.
In other words, while it isn't safe to conclude the Orioles can't win again in 2013, it's an excellent bet that they can't win THAT way again.
But if that's the deal, it's OK with them.
Just suppose, Showalter muses, they can keep
Nick Markakis
healthy all year. And
Brian Roberts
. (So far, so good on that front, incidentally.) And
Nolan Reimold
. And Hammel. Every one of those men missed at least a third of the season last year with injuries.
Now start mulling what a full season of Manny Machado might give them. Or what the potential impact of Bundy or last year's No. 1 pick, Kevin Gausman, might mean to this rotation at some point this summer.
"I have a lot of faith and trust in these people," the manager said. "And I think they feed off that."
So feel free to doubt them. There's nothing these Baltimore Orioles seem to enjoy more. Those doubts helped drive them to one trip to October last year. They'd be happy to make it two this year, no matter what the skeptics think.
"You know, I've always said, if you do it once, you're lucky," said O'Day. "And if you do it a couple of times, you're pretty darned good."
February, 19, 2013
2/19/13
6:00
PM ET
SARASOTA, Fla. -- Some teams in this fine land could tell you what their season-opening starting rotation will look like right now. On Feb. 19.
And then there are the Orioles.
[+] Enlarge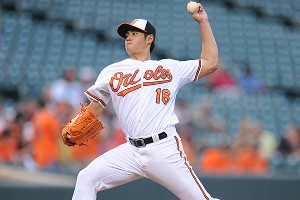 Mitchell Layton/Getty ImagesWei-Yin Chen made 32 starts and led the Orioles in innings pitched (192 2/3) last season.
"I think we could field TWO major-league rotations with the squad we've got," quipped reliever
Darren O'Day
.
Except he wasn't really kidding.
If someone asks you to name the candidates to fill out this team's rotation, the correct response should actually be: "Got an hour?"
There's
Jason Hammel
and
Wei-Yin Chen
. There's
Miguel Gonzalez
and
Chris Tillman
. There's
Zach Britton
and
Jake Arrieta
. And then there's a cast of thousands.
Steve Johnson
Tommy Hunter
Brian Matusz
Jair Jurrjens
… Rule 5 draft pick
T.J. McFarland
… the currently injured
Tsuyoshi Wada
.
And lest we forget, let's not omit two of Keith Law's top 11 pitching prospects in baseball --
Dylan Bundy
(Numero Uno) and Kevin Gausman (No. 11) -- both of whom could show up in the big leagues any minute now.
So that's 14 starters by our count. For five spots. Unless Buck Showalter has figured out a way to unfurl history's first 14-man rotation. And if any manager who ever lived could pull that off, he's the guy. But that's not the plan. Not this week, anyhow.
So on Tuesday, with Opening Day still six weeks away, Showalter was asked how many names he could safely write into his rotation at this very moment.
"In pencil or in pen?" he replied.
"In whatever writing implement you prefer," he was told.
"Well," he said, "I can pencil in four. I can pen in two."
"It probably wouldn't be that hard to guess which four," he was told.
"You're gonna have to," the manager retorted, "because I'm not telling you."
So here goes, even though it's far from official: In pen: Hammel and Chen. In pencil: Gonzalez and Tillman. In limbo: Everybody else.
"To me, it's the same situation as last year," said Johnson. "We've got a lot of pitchers in camp. A lot of guys have a shot. And it's a good competition for everybody."
And one thing they all learned from last year: If they don't make the rotation coming out of spring training, no reason to panic. They could go through 10 or 20 more starters as the season rolls along.
"Last year," said Hammel, "we had more than a dozen guys do something for us in the rotation. So I was joking that when I was injured last year, after I had my surgery, I would look up online to check and see who was throwing tonight, it was always TBA. And we discovered that TBA is a pretty good player."
Well, TBA -- which either stands for To Be Announced or Throwing Bullets Anonymously -- was good enough that this team made the postseason, at any rate. And just so you get a true feel for how difficult it is to make the playoffs in a year in which your team uses 12 different starters, consider this.
Eight other teams also used a dozen starters or more last season. They averaged 91 losses apiece. And only one of them (the White Sox) had a winning record.
But any team can call a pitcher up to make one quick cameo start in an emergency. All 12 men who passed through that Orioles rotation last year, on the other hand, made multiple starts. And according to the Elias Sports Bureau, they're the first playoff team that could make that claim since the 2009 Dodgers -- and just the second AL team to do it over the last decade. (The other: The 2007 Yankees).
And finally, there's this: The Orioles were the 18th team in the wild-card era that had only one starter (Chen) pitch 135 innings or more. How many of the other 17 made the postseason? None, of course.
So it's safe to say the 2012 Orioles don't exactly fit the mold of your traditional contender. Or possibly any other mold. But just because that's the way they did it last year doesn't mean that's the way they prefer to do it again.
It may be true that having 14 viable rotation candidates in one camp signifies this is a team with tremendous pitching depth. But when the Orioles' executive vice president for baseball operations, Dan Duquette, was asked Tuesday if he liked going into camp with all those options, as opposed to having a set rotation, he couldn't help but laugh.
"I'd much rather do it the other way," he confessed. "But we're not quite there yet in the building of our team."
Nevertheless, it's fair to wonder how many teams would ask a guy like Gonzalez -- who went 9-4 with a 3.25 ERA in 15 starts and threw seven brilliant innings (five hits, one run, eight whiffs) in Yankee Stadium last October -- to win a job in spring training.
Or ask a guy like Tillman -- who went 9-3, 2.93, in 15 starts -- to compete for a job. Likewise Johnson, who went 4-0 with a 2.11 ERA, in his four late-season starts. Or Arrieta, who was the Opening Day starter last year. Or Britton, who is 16-14 in two big-league seasons.
But if you know Buck Showalter at all, you know there's nothing he enjoys more than a good, healthy, spring-training free-for-all, that forces all these guys to earn their plane ticket to Baltimore.
"A guy like Tillman isn't getting after it because he's out of options," the manager said. "He's approaching it like that because he wants to be here. … I really like all our depth, between Arrieta and Matusz and Hunter and Johnson and [prospect] Eduardo Rodriguez. These guys are really working at it."
Six weeks from now, we can safely predict this team WILL have a rotation. But as Duquette couldn't help but point out, "at this time last year, we didn't even have Gonzalez in our organization." So you never know who might show up on that mound at Camden Yards between now and October. But if Duquette and Showalter get their wish, the number of starters who take that mound will be fewer than 12. Hopefully, a lot fewer.
"The real question," Duquette said, "is who is going to pitch those innings? Who is going to take their turn 30 times and pitch between 180-200 innings? That's really what this team would like."
---
[+] Enlarge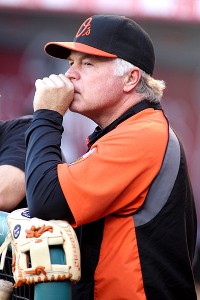 Rob Leiter/Getty ImagesBuck Showalter is entering his third full season as the O's manager.
It wouldn't be spring training if Buck Showalter wasn't hauling out some kind of ingenious new innovation. And here's this year's new gizmo:
A water polo countdown clock.
No, the Orioles aren't performing any PFPs underwater this spring. But after Showalter commissioned some research to determine that the average hitter took 4.5 seconds to run to first base last season, he then took that info to the next level.
As always.
So when Orioles pitchers field their come-backers to the mound in drills this spring, that water polo countdown clock starts ticking. And every 4.5 seconds, its buzzer sounds to let those pitchers know exactly how much time they have to field a ground ball, turn to first, get their feet set and deliver the baseball to first base on time.
"I've talked about this with our infield guys for three or four years," Showalter said, "going, 'How do we teach a clock?' Everybody says, you've got to have that [internal] clock. Well, you don't teach it. You can't say, 'Hey, slow down. You don't have to hurry that much.' You've got to go, 'Here's how much time you've got.'"
So the concept here is to give players a sense of how their internal clock should function by supplying an external clock that pounds the amount of time they actually have into their noggins. The only downside is that, when that water polo clock hits zero, the shrill buzzer it uses to get that message across is also doing wonders for Advil business in the clubhouse.
"I'd say it's not the kind of buzzer you want to hear," Hammel chuckled. "It's kind of like the alarm you get in the morning."
---
Stat of the day:
The Orioles had 19 different pitchers win a game last season (including one position player,
Chris Davis
). Only five playoff teams in history had more different pitchers win at least once. Here they are:
2007: Yankees (22)
2002: Cardinals (21)
2010: Reds (20)
2006: Mets (20)
2000: White Sox (20)