Spring Training:

Bryce Harper
March, 17, 2014
Mar 17
11:00
AM ET
VIERA, Fla. --
Bryce Harper
is only 21 years old, but he seems exponentially more seasoned and mature than the kid who strode into
Washington Nationals
camp two years ago with that Sports Illustrated cover boy glow. Two hours before a spring training game, he sits at his locker with a growth of beard and his red Nationals cap turned backwards, thoughtfully sifting through a series of questions about his past, present and future in the game.
He's wearing a gray T-shirt with the words "PED Free" blazoned across the chest. You were expecting maybe "That's a clown question, bro"?
The beard grants Harper access to the hirsute brotherhood led by locker mates
Jayson Werth
and
Adam LaRoche
, who've gone full-throttle Zach Galifianakis this spring. And the T-shirt affirms that he will do things according to his own internal compass. If he's going to be anointed as a face of baseball moving forward, he might as well carry the designation with pride and never besmirch the Harper family name.
"Natural is the way to go," Harper says. "I've always said that. I work my butt off and I want to be as clean as I can forever. I pride myself on that. I have a great family and I would never want to put them or this organization through that."
It's been almost two years since Harper and
Mike Trout
arrived on the same momentous day (April 28, 2012) as bookend East and West coast sensations. While Trout recently made news with a pre-arbitration record $1 million contract and is primed for a much more lucrative long-term deal after two straight MVP runner-up finishes in Los Angeles, Harper has been living a relatively serene existence in Florida. The Nationals play about an hour from the nearest Grapefruit League camp and their budding superstar is -- dare we say it? -- under the radar.
[+] Enlarge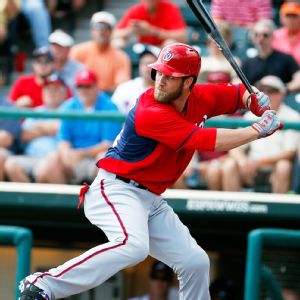 AP Photo/Alex BrandonIn his second year in the majors last season, Bryce Harper played 118 games.
He's coming off a perfectly fine season that in many respects surpassed his Rookie of the Year turn in 2012. Harper's on-base percentage improved significantly (from .340 to .368), and he produced almost identical home run and RBI totals in exactly 100 fewer plate appearances than his first year.
But 2013 was more noteworthy for setbacks, injuries and some teachable moments, all of which coalesced into a YouTube staple during a 6-2 Washington victory at Dodger Stadium on May 13. Harper, pursuing a long fly ball by
A.J. Ellis
, lost his bearings and did a face plant into the wall before emerging groggy and with a cut on his neck. As a student of baseball history, Harper might have appreciated that
the great Vin Scully did the narration
.
The play ensured that Harper would continue to lead the majors in Pete Reiser and
Aaron Rowand
references. It also elicited the standard mix of admiration and concern from scouts, who love ballplayers with big motors but prefer that they remain concussion-free whenever possible.
Learning on the fly
Harper's good and bad experiences are gradually helping him find the right balance between aggressive and reckless. As he's quick to point out, he was a catcher and third baseman before breaking into professional ball as an outfielder with Hagerstown in the South Atlantic League in 2011. Less than 400 career outfield starts later, he knows he still has much to learn.
"I'm sure a lot of people thought, 'Oh, he was playing too hard and he ran into a wall,'" Harper says. "But it wasn't a matter of playing too hard. I had a terrible route and no clue where I was. My feet were messed up and my head was all over the place. It was a freak accident, and I hope it never happens again."
The knee is healthy now after offseason surgery, and Harper is swinging the bat with authority, running with confidence, and always a candidate to spring a surprise. After going hitless in two at-bats against
Justin Verlander
on Sunday, he came to the plate against Detroit lefty reliever
Phil Coke
in the seventh inning and tried unsuccessfully to beat out a bunt. Harper did it with the full blessing of manager Matt Williams, who told reporters, "It's a weapon that he has available to him when he wants to use it. It's an option for him at any time. To have that within his arsenal is good. It doesn't mean he has to do it all the time."
The knee injury -- which came with a side order of hip soreness -- did a major number on Harper's platoon splits last year. He posted a slash line of .214/.327/.321 against lefties, and his inability to push off his back leg put a significant crimp in his power.
"My knee gave out when I swung," he says. "Some days it would feel good and there were others when I couldn't walk to first base. I was in a lot of pain. It wasn't a lot of fun."
Oil changes, anyone?
Harper's belief that he can will his way through hard times with hard work is a family heirloom. Several years ago, when he was playing for the College of Southern Nevada, his father, Ron, told reporters that he still has to do his household chores like any other responsible son when he's living under the family roof. That arrangement remains in place even though young Bryce has graduated from teen to adult. When he went home to Nevada during the offseason, Harper took out the trash, pitched in with the yardwork and even mixed in an oil-and-filter change or two.
"Absolutely," he says with earnestness.
Most days, he's at the park by 7 a.m., so when the games are complete, he collapses on the couch at his spring residence with the TV remote and watches sports. In Viera, Harper spends as much time as he can hanging out with his older brother, Bryan, a minor league pitcher in the Nationals' system.
Harper has always had an excellent rapport with his Washington teammates. When he arrived as a hot-shot rookie, his work ethic and effort helped defuse potential resentment or eye-rolling. But two years ago, the media crush was so pronounced that he was destined to be an island unto himself on occasion. Now the vibe is more relaxed, and Harper is less a curiosity or a precocious little brother than a supremely talented peer. He's fortunate to be in a clubhouse with the likes of
Ryan Zimmerman
, Werth and LaRoche, who've helped round out some of his rough edges without killing his swagger.
"The game has changed a lot since I was 20 years old," Zimmerman says. "I got one-tenth the hype that Bryce or Trout got, deservedly so. Obviously, social interaction is great for the game and the fans, but this new generation also has to deal with a lot more pressure and attention than we ever did.
"People have to remind themselves that Bryce is young. He didn't go to [a major] college or spend a lot of time in the minor leagues, so he's basically learning at this level, which is hard to do. Sometimes this seems kind of unfair, but it doesn't matter if you're 18 or 21 or 30. When you've been in the big leagues for three years, you're expected to take that next step."
In contrast to, say, teammate
Stephen Strasburg
, who is generally friendly and accommodating but seemingly ill at ease with attention, Harper is in his element mingling with the media and the general public. He has an awareness and appreciation for baseball history that are refreshing by modern-day standards, and he understands his place in the big picture.
"I still have people coming up to me and asking me random stuff, and fans going crazy," Harper says. "I enjoy that. It's a blessing to have people ask me for my autograph. When they're not talking to you and asking for your autograph, that's when things go downhill from there."
Even though the expectations might be slightly lower this spring, and the media crunch is less pronounced, and Williams and new arrival
Doug Fister
are the most prominent storylines at Washington's camp, something is quietly churning beneath the surface in Harper's world.
"I think he loves the pressure and the hype, and when that hype goes down a little, he probably takes it personally," LaRoche says. "I can see him having a huge year if he's healthy. He just needs to be consistent and get to where that 0-for-8 or 0-for-10 doesn't turn into a 2-for-40. He'll mentally get strong to where he knows how good he is and it won't even register what he's done in the past week. He'll have that kind of confidence where he's gonna put up some huge years."
After two impressive, productive, formative years in the majors, Bryce Harper's inner competitor tells him that he has something much bigger on the horizon. There's no better time to prove it than now.
March, 20, 2013
3/20/13
6:00
PM ET
JUPITER, Fla. -- If you want some insight into why Davey Johnson has a reputation as a "players' manager," just take a look at the
Washington Nationals
' meager at-bat totals this spring.
Johnson is a firm believer that hitters need only so many swings to get ready, so he doesn't feel a need to herd his lineup mainstays onto the bus every other day for trips to Kissimmee and Lakeland and Port St. Lucie.
[+] Enlarge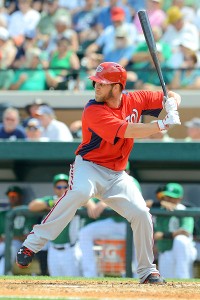 Mark Cunningham/MLB Photos/Getty ImagesBryce Harper is expected to bat third in the Nationals' lineup this season.
Johnson has taken particular care to avoid wearing out his players this year, given that spring training was long to begin with because of the World Baseball Classic. When the Nationals rolled into Roger Dean Stadium for a game against Miami on Wednesday,
Adam LaRoche
and
Ryan Zimmerman
had 28 Grapefruit League at-bats each to their credit.
Jayson Werth
was at 32 and
Denard Span
at 36, while
Ian Desmond
,
Danny Espinosa
and
Bryce Harper
had all logged between 40 and 50 at-bats each.
For sake of comparison,
Ryan Howard
had 60 at-bats and
Michael Young
58 across the state in
Philadelphia Phillies
camp.
"That's the way Davey likes to run his camp," LaRoche said. "He understands the length of the regular season, and the last thing he wants is guys to be physically or mentally tired when you start from day one. He wants guys as fresh as can be. He's been around a long time and he doesn't panic early.
"Usually about now, he'll crank it up and we'll start playing two or three games in a row. He's pretty laid-back. He likes to take care of his guys."
It's unofficially time to start cranking. Johnson fielded his prime-time lineup against Miami, and the Nationals improved their Grapefruit League record to 11-11 with a 7-5 victory over the Marlins. Harper led the way with two hits and four RBIs, and Werth contributed two hits and a sacrifice fly.
The Nationals have no position battles left to unfold and only 33 players left in camp, so Johnson is likely to spend more time running the big boys out there between now and Washington's season opener against the Marlins on April 1. He's confident in his approach, and the players have faith in it, too, after going 14-8 in April a year ago.
"It's not your won-loss record in the spring," Johnson said. "It's about giving young guys the opportunity to get some experience so that you can see them perform and project how they'll help down the road.
"I like the way [the veterans] are taking [batting practice], and most of them will tell you they feel very close. That's the object of the spring. I've been down this road a few times. It's not like it's my first rodeo."
March, 8, 2013
3/08/13
6:15
PM ET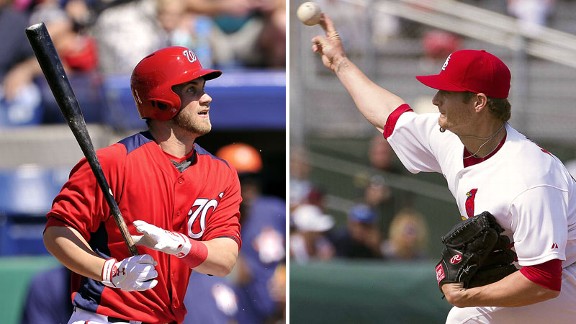 USA TODAY SportsWe can look forward to many Harper-Miller showdowns over the next decade.
VIERA, Fla. -- It was one of those slices of spring training life that looked like and felt like a lot more than two guys just trying to get their work in.
Bryce Harper
versus
Shelby Miller
.
The rookie of the year versus one of the best pitching prospects you'll find occupying anybody's mound this time of year.
Runner on third. One out. First inning of a
Washington Nationals
-
St. Louis Cardinals
Grapefruit League tussle in the first week of March. Nothing much on the line other than the fun of a good old-fashioned mano a mano.
"It's probably fun for you all to watch it," Miller would say later. "But it's even more fun to actually face each other."
And the winner was ... Shelby Miller.
By strikeout. On the 11th pitch of a furious at-bat, by a 20-year-old guy who wouldn't know how to mail in an at-bat if you gave him an envelope and a stamp.
"You know he wants to hit it," Miller said of Harper, after an impressive three-inning stint Friday. "He's up there swinging it, obviously."
Oh yeah. Obviously. So the two of them dug in and went at it, at half past 1 on a Friday afternoon. Can't beat that for spring training chills and thrills.
Miller fell behind, 2-and-0, then got back to 2-and-2. Harper would then foul off the next four pitches, lay off a 94 mph heater that was slightly high, and foul back yet one more fastball, for the sixth foul ball of the at-bat.
"I was wondering," the 22-year-old right-hander said, "if he was ever going to put it in play or if he'd finally swing and miss."
Miller took a deep breath, reared back and fired his fastest pitch of the day -- a 95 mph four-seamer that got Harper's blood flowing and eyes bulging. It wound up sailing out of the strike zone, but Harper chased it for strike three.
"I was definitely going at him with everything I had," Miller said, "whether it was a slide step or [a fastball] up out of the zone. I was trying to fool him with what was coming. I was doing everything to try and get him out. He's a great hitter. He has a lot of talent. It seemed like he was on every fastball, just fouling them straight back. But I finally got him with the high heater."
Miller is locked in a fascinating competition this spring with
Joe Kelly
for the fifth spot in the Cardinals' rotation that opened up when it became clear that
Chris Carpenter
wasn't going to be able to pitch. So Cardinals manager
Mike Matheny
admitted he couldn't help but bear down extra hard himself on that cool little duel with Harper.
Told afterward that Miller had talked about how much fun he'd had facing The Phenom, Matheny smiled: "I thought it was fun, too. Two guys that are highly touted. Bryce is obviously a very impressive talent. It's a great opportunity to bring the best out of somebody. It wouldn't be out of the question to see a young pitcher not perform in a situation like that. But he did a nice job."
The Cardinals didn't bring many regulars on the two-hour bus ride to Viera. But Matheny confessed before the game that he was glad he'd brought Shelby Miller along. He was excited, he said, to see how his top pitching prospect --
and Keith Law's 21st-best prospect in the game
-- would fare against the Nationals' Opening Day lineup.
"I wanted to see Shelby against a tough lineup, to see how he handled himself," the manager said. "And I thought today was as good as he's thrown [all spring]."
Turned out Miller was just as hepped up about it.
"A year ago, I was pretty much intimidated by a team like that," he said. "I was younger, and I had no big league experience. And those guys are obviously very talented. They've obviously got a lot of power, and they're really good at the plate. So [today], my main goal was just to go out there and control the game."
He left an impression by spinning two shutout innings, and by using that whiff of Harper to wriggle out of trouble in the first inning. But then, in the third, Miller was one out away from putting a third zero on the board until he served up a two-run, two-out triple -- to a fellow named Bryce Harper.
"That's the first time I've ever faced Harper," Miller said later. "So I got him, and he got me. So I guess it worked out for everybody."
Right. And that includes the people lucky enough to get to watch a special spring training battle between two guys who could be duking it out in much bigger situations for a long, long time.
March, 6, 2013
3/06/13
2:30
PM ET
CLEARWATER, Fla. -- Davey Johnson says he figured out his everyday lineup weeks ago. He just isn't saying what it is yet.
"I'm not announcing my Opening Day pitcher yet," the Nationals manager said Wednesday. "[So] I don't have to announce my Opening Day lineup."
But if you have a sneaking suspicion it's going to feature a 20-year-old phenom -- some guy named
Bryce Harper
-- hitting third, well, you appear to be on to something.
[+] Enlarge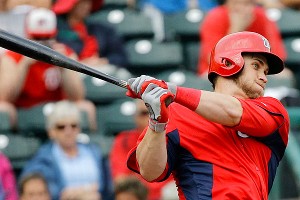 AP Photo/David J. PhillipBryce Harper is raking this spring, batting .474 with a homer and only two strikeouts in 19 at-bats (through Tuesday).
On Tuesday, Johnson taped a lineup to his dugout wall back in Viera that looked like this:
Denard Span
CF
Jayson Werth
RF
Bryce Harper LF
Ryan Zimmerman
DH
Adam LaRoche
1B
Ian Desmond
SS
Danny Espinosa
2B
Wilson Ramos
C
Chad Tracy
3B
"You saw the lineup the other day," the manager said to one member of his beloved Washington media corps. "If you didn't get any glimmer of hope, of what I was thinking …"
All right, so let's say that glimmer is what actually happens. Let's say Harper really does hit third all season, at 20 years old. Here's how rare that is:
• Over the past 97 seasons, according to baseball-reference.com's fabulous Play Index, exactly one player that young
has batted third in 100 or more games in any season
. That would be Al Kaline, who hit third 152 times for the 1955 Tigers.
• And only three other 20-year-olds spent as many as 60-plus games in the three-hole in any season in that span: Arky Vaughn (89 games) in 1932, Cesar Cedeno (88 games) in 1971 and Ken Griffey Jr. (87 games) in 1990.
• Among the short list of young boppers who even did it for as many as 30 games in a season, you'll find these not exactly anonymous names: Mel Ott (58 games), Mickey Mantle (43), Hank Aaron (35) and Willie Mays (34).
So apparently, if you're anointed to do something like this at such a young age, you might turn out to be pretty special. But when Johnson was asked what he's seen in Harper that would make him a candidate to hit third at age 20, the manager reacted with one of his favorite themes.
"Why are you bringing up age?" he said, with a smile. "What does age have to do with it?"
Well, see above. But in the interest of advancing the conversation, we asked Johnson what he saw in Harper, with age factored out of it.
"He proved he can play up here last year," Johnson said, then recapped some of Harper's ups and downs. At which point he concluded:
"So he struggled a little bit up here. He's overcome that. He uses the whole field. He lays off bad pitches. He's a tough out. [But] a lot of it is, I like a lineup that makes it tougher [for the opposing manager] to do matchups."
And that, it's clear, is a big part of this.
"If I hit Bryce second, Zim third, LaRoche fourth, Werth fifth, what's wrong with that lineup?" Johnson asked. "Not as balanced. Makes it easier to control the matchups from the other dugout."
One interesting wrinkle to this lineup, other than the Harper factor, is that it could involve Ryan Zimmerman hitting fourth instead of LaRoche. Last year, LaRoche batted cleanup in 105 of his 148 starts, while Zimmerman hit fourth in zero starts (but batted third in all 144 games he started). So Johnson said he told Zimmerman the other day this might be a possibility.
"He said he didn't care," the manager reported, "just as long as Harper didn't drive in all the runs before he got up."
Hmmm. Sounds like old-age, pre-WAR thinking to us. But whatever. The important thing is that Davey Johnson has thought it through -- not that he isn't open to other options.
"If you come up with a better idea, Jayson," he said with a laugh, "throw it out there."
Oh, we will. Always glad to help.