Spring Training:

Cleveland Indians
March, 3, 2013
3/03/13
11:20
AM ET
GOODYEAR, Ariz. -- Cleveland second baseman
Jason Kipnis
has excellent hand-eye coordination, a compact swing and more pop than you might expect from a guy who is listed at 5-foot-11, 185 pounds. He also lacks an "off" switch, which can be a good or bad thing, depending on the circumstances.
If Kipnis goes 0-for-4 today, his first instinct is to take a few more hacks in the cage and dissect a little more video tomorrow. The longer a slump persists, the harder he's going to work to try to extricate himself. He's just wired that way.
[+] Enlarge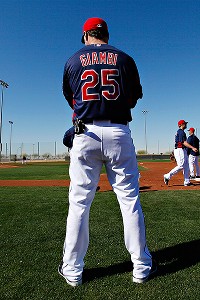 AP Photo/Paul SancyaJason Giambi, 42, has offered a helping hand to younger players in Indians camp this spring.
Everything was rolling along smoothly through June 10, 2012, when Kipnis was hitting .285 with an .805 OPS and generating some buzz as an All-Star candidate. Then he hit the wall. He went two months and 206 plate appearances without a home run, and batted .180 in August before regaining his equilibrium in September. He also hit a mere .215 against left-handed pitching.
Kipnis reflects upon the 2012 season as a challenging yet necessary chapter in his progression. If he can switch to a lighter model bat in the second half this season, or fend off the impulse to take extra batting practice, or come to the park 30 minutes later rather than an hour early in response to a slump, he's keeping an open mind to those alternatives.
"I hold a very high bar for myself,'' Kipnis said. "I have high expectations, and it's always frustrating if you don't meet them. It s---- when you go through a first half like I did and have success doing something, and then you don't change much and you don't have success. You're wondering, 'What happened?' That's part of the grind.
"People can tell you how to handle it, but you're on your own to figure out what works for you. As you get older, you learn there are days when you literally have to get out of the cage, clear your mind and just go up and see the ball and hit the ball. Just simplify it as much as you can.''
If Kipnis strays from that approach and reverts to his old ways, he could have a little voice of reason whispering in his ear to remind him.
It's no accident that when Kipnis and third-base prospect
Lonnie Chisenhall
arrived at spring training, their locker stalls were situated right next to
Jason Giambi
, an 18-year-veteran who signed a minor league deal with Cleveland three weeks ago. Giambi might not make the Opening Day roster, but manager Terry Francona holds him in high esteem as the type of veteran who can throw an arm around the kids and nurture them through the rough patches. Giambi certainly made an impression in Colorado with
Troy Tulowitzki
and the other young Rockies players.
Giambi's early message to Kipnis and Chisenhall: Don't make the game harder than it already is.
"There's that fine line you teach the young kids,'' Giambi said. "I love the fire they have, but let's not overwork ourselves. Get in the cage and work on some key points instead of saying, 'I'm gonna take 500 swings and be 4-for-4 tomorrow.' It usually doesn't happen like that. It seems like the harder you try in this game, the worse you play.
"I try to keep the younger kids on an even keel so they're not on that roller-coaster ride where it's either 'I'm doing great' or 'I'm in the tank.' You'll see guys who are shot at the end of the season because mentally they're so exhausted. I want to help them smooth it out a little bit.''
Giambi's reputation took a hit in 2004 when it was reported that he had admitted to taking steroids and human growth hormone in testimony before a federal grand jury in the BALCO case. He subsequently apologized to the Yankees and their fans, although he did not directly admit to using PEDs.
"

I truly feel like it's an honor that he's in our camp. That's how strongly I feel about him.

"

-- Indians manager Terry
Francona on Giambi
The transgression tarnished Giambi in the public eye, but it didn't prevent him from finding jobs with Oakland and Colorado in recent years even as his power began to wane. In baseball circles, Giambi remains a popular teammate and clubhouse sage. That helps explain why he just turned 42 years old and he's still fighting for a spot in Cleveland's camp -- and the Rockies considered him strongly as a managerial candidate before hiring Walt Weiss in November.
Francona recently said of Giambi, "I truly feel like it's an honor that he's in our camp. That's how strongly I feel about him.'' Reading between the lines, you get the distinct impression that Francona would love to have Giambi on his Opening Day roster, even though Giambi rarely plays in the field now and has only so many at-bats available with
Mark Reynolds
as Cleveland's primary designated hitter.
Francona said Giambi can fill an important role in helping the young Cleveland players provided he still has something to add between the lines. The Mariners were thinking along the same lines when they signed 40-year-old
Raul Ibanez
to a one-year deal in December. He's playing the same mentoring role for
Dustin Ackley
and
Justin Smoak
that Giambi hopes to fill for Kipnis and Chisenhall.
"The fine line is, guys have to be able to contribute to the team,'' Francona said. "When they can contribute to the team in some capacity, what they bring along with it is invaluable. Those two guys are off the charts.''
February, 18, 2013
2/18/13
10:45
AM ET
GOODYEAR, Ariz. -- Cleveland pitcher
Justin Masterson
has the kind of cheery outlook you might expect from a man who was born in the tropical paradise of Jamaica. That sunny disposition is easy to maintain when his sinker is biting and he's strutting off the mound after another tidy 12-pitch inning.
But life threw a few too many obstacles in his path last year, when Masterson kept morphing from Usain Bolt to the Jamaican bobsled team. Each good start begat a terrible one. Mastery turned to calamity, and confidence to confusion. The end result was an 11-15 record, a 4.93 ERA and the nagging feeling that he failed to do his share in a season that went badly awry for the Indians.
Masterson wasn't alone. Although fans in Colorado and Minnesota might beg to differ, Cleveland's starting pitching was about as bad as it can get in 2012. When angry bloggers and talk-show callers ripped him and his rotation mates for their performance, Masterson took the path of least resistance. He threw up his hands and pled guilty.
"I'm my own worst critic, so I'm more disappointed than anybody,'' Masterson said. "No one is going to tell me something I don't already know. My mom is the one who reads everything. She'll call and say, 'I can't believe so-and-so wrote that about you.' I told her from the beginning not to read it. It just makes me laugh now.''
If Masterson's mother happens to be monitoring the sports pages this spring, she'll see a different storyline. People in Cleveland are no longer complaining about how bad the pitching is. They're too busy praying it will be better.
The Indians have made some major modifications to the product after a 68-94 finish. New manager Terry Francona has injected the camp with a sense of confidence and purpose. The team's notoriously thrifty owner, Larry Dolan, spent $104 million on guaranteed deals for free agents
Nick Swisher
and
Michael Bourn
. And new additions
Mark Reynolds
and
Drew Stubbs
bring lots of power, interspersed with lots more swings and misses.
[+] Enlarge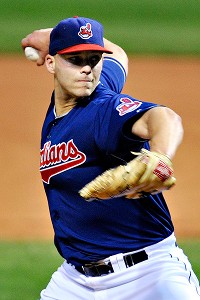 David Richard/USA TODAY SportsJustin Masterson posted a 5.60 ERA in 16 starts after the All-Star break last season.
But the revamped lineup and offensive promise won't count for much if Cleveland's starting pitching fails to improve from last season, when it was bad in every way imaginable.
Cleveland's 10 starters combined to go 48-76 with a 5.25 ERA. The Indians' rotation ranked 27th in the majors in innings pitched (913) and 28th in strikeouts (621) while issuing the second-most walks (351). The Tribe was tied for 24th in the majors with the Cubs and Astros with 73 quality starts.
If the Indians plan to turn things around, they'll need comeback seasons from Masterson and
Ubaldo Jimenez
. Veteran
Brett Myers
, who signed a one-year, $7 million deal, will provide innings and toughness. The Indians expect
Zach McAllister
to take a step forward once he gains better command of his secondary stuff, and
Carlos Carrasco
should be at full strength now that he's almost 18 months removed from Tommy John surgery.
Corey Kluber
,
Trevor Bauer
,
Daisuke Matsuzaka
,
David Huff
and
Scott Kazmir
, who hasn't pitched in the majors since 2011, will all get extensive looks in spring training.
Maybe it's all that sunshine in Arizona, but the folks in charge in Cleveland think the pitching has a chance to be good.
"We've got a lot of potential in the rotation,'' said Indians GM Chris Antonetti. "We just need to get consistent performance. I can very easily see a scenario in a couple of months where we're talking about our starting rotation as a strength.''
The manager is also selling that premise.
"We would be crazy not to be optimistic,'' Francona said.
It all begins with the big guys, Masterson and Jimenez. Masterson looked like a bona fide horse in 2011, when he threw 216 innings and ranked third in the AL with a 3.21 ERA. But he never got in sync after undergoing surgery on his non-pitching shoulder the winter before last season, and his sinker came and went with frustrating regularity.
Casey Kotchman
, Cleveland's first baseman last season, told Masterson that hitters would reach base and remark that Masterson's sinker was "dancing'' in the first couple of innings. Then it mysteriously stopped dancing, and he got crushed.
"I would be feeling good, and I'd try to up my effort level and overthrow,'' Masterson said. "Balls would be up, and the next thing you know I would give up three or four runs. It was one of those trying years. I'd be like, 'What the heck just happened out here?' It felt similar, but I knew I was doing something different.''
Jimenez made a huge splash with Colorado in 2010 when he threw a no-hitter and eased into the All-Star break with a 15-1 record. But things quickly unraveled for him in Denver. When Jimenez sulked over his unsettled contract situation, the Rockies thought he quit on the team and traded him to Cleveland for prospects
Drew Pomeranz
and
Alex White
. Jimenez has a 5.32 ERA as an Indian, with 19 quality starts in 42 outings, so it's an understatement to say he's been a disappointment.
Any discussion of Jimenez's travails inevitably leads to a dissection of his pitching mechanics. He has an unorthodox delivery, and little problems tend to mushroom when he's slightly off kilter. Just ask
Tim Lincecum
how that works.
"We don't want him to change,'' Francona said. "His mechanics are never going to be the textbook stuff you see in a manual. We just want him to throw downhill. If he pounds the zone down, he's going to have a lot of success. That's what he did in Colorado. He could tell you what was coming, and good luck doing something with it.''
Masterson and Jimenez yielded matching .309 batting averages on balls in play last season -- tied for 16th highest in the majors -- so a little better luck would help. Jimenez is more a fly ball pitcher, so he should instantly be helped from Cleveland's revamped outfield alignment. Antonetti said that most advanced metrics ranked Cleveland's outfield as one of the three worst in the game defensively. With Bourn in center field flanked by
Michael Brantley
in left and Stubbs in right, the Indians have a chance to be No. 1 defensively this season.
Kazmir, 29, might be the most compelling story in Cleveland's spring camp. Since his first professional season in 2002, he's gone from hot-shot prospect with the Mets to a two-time All-Star in Tampa Bay to a complete mess in Anaheim to a reclamation project in Goodyear. Kazmir thinks his problems began in 2008, when he hurt his triceps, pitched through a groin injury and messed up his delivery trying to compensate.
"Before you know it, you don't even know who you are out there on the mound,'' Kazmir said.
By June 2011, Kazmir was barely cracking 80 mph when the Angels released him. Rather than scrounge for a Triple-A job, Kazmir signed with the Sugar Land Skeeters in the independent Atlantic League. Manager Gary Gaetti told him he could take his beatings and stay on the mound as long as he wanted in the effort to work through his problems. Kazmir watched hours of video, self-analyzed and tried to rediscover what came naturally.
This offseason, Kazmir pitched for the Gigantes de Carolina in Puerto Rico under former Marlins manager Edwin Rodriguez, who is now a minor league manager in Cleveland's system, and built his velocity back up into the 90s. Rodriguez gave him a positive scouting report, and now Kazmir finds himself in Indians camp trying to craft a new chapter. After hitting such profound depths, he's grateful for the opportunity.
"I spent so much time asking other people for answers,'' Kazmir said. "I knew if I was going to turn it around, it had to be me. I feel like I'm in a good place now. When things aren't going your way and you don't have a clue how to get it back, it's frustrating. There's anxiety coming to the field. Now my mind is clear. I feel good to be with an affiliated organization. It's nice to be here.''
Thank goodness for fresh starts. In Goodyear this spring, a group of comeback candidates, injury rehabbers, reasonably priced veterans and talented kids will be trying to make an impression and help Cleveland field a contender for the first time since 2007. Terry Francona -- and their moms -- will be watching closely.
February, 13, 2013
2/13/13
5:55
PM ET
GOODYEAR, Ariz. -- After hitting a career-low .213 with a .610 OPS in Cincinnati last season, outfielder
Drew Stubbs
went home to Texas looking to make some changes. He spent the winter working with Ronnie Ortegon, the Reds' new assistant hitting coach, and junked his leg kick in favor of a more abbreviated toe tap that he will use as a trigger mechanism in his swing.
Stubbs is hoping to emulate the success of former Arizona Fall League teammate
Austin Jackson
, who took a major step forward as a hitter after jettisoning his leg kick for a toe tap. Jackson raised his batting average from .249 to .300 and cut his strikeout total markedly in 137 games with Detroit.
"When things are going good and you have a leg kick, it's great," Stubbs said. "When you're not, it's a scramble. For a lot of last year, that was the case with me. I said, 'I have to find something to simplify my swing and be able to repeat it.' I kind of rededicated myself after a rough year, trying to get myself back to where I know I should be."
The Indians acquired Stubbs as part of a three-team, nine-player trade with Cincinnati and Arizona in December. Stubbs initially was expected to play center field in Cleveland but will move to right with the arrival of free-agent signee
Michael Bourn
. After striking out a whopping 539 times from 2010-2012, Stubbs is intent on doing a better job of putting the ball in play and taking better advantage of his speed this season.
February, 13, 2013
2/13/13
5:45
PM ET
GOODYEAR, Ariz. --
Chris Perez
, the
Cleveland Indians
' perpetually outspoken closer, made some pointed observations about former manager Manny Acta at the end of last season in October. It's now been four months since the Indians fired Acta and replaced him with Terry Francona, but the passage of time hasn't dulled Perez's ardor on the subject.
Perez said he wondered about his future with the organization after his name had appeared in numerous trade rumors. But his mind was eased after the Indians relieved Acta of his duties with six games to go, hired Francona as a replacement and spent $117 million in guaranteed money on free agents this offseason.
"I was wondering where we were going,'' Perez said. "Stuff wasn't getting better with Manny as our manager. I didn't see the light at the end of the tunnel. He's very stubborn and he doesn't really use input well, so I was getting frustrated. I thought, 'If we have the same guy next year, it's going to be the same stuff.'
"When Francona came on board, that kind of changed the mindset. To me, that signaled that I have a good chance of staying here. Then he came and sat down with me in Tampa [Fla.] and that cemented it even more. With the moves we made, we're not rebuilding. We're here to win this year.''