Spring Training:

Jerry Crasnick
March, 9, 2013
3/09/13
11:00
AM ET
SCOTTSDALE, Ariz. -- When Buster Posey's hometown paper in Albany, Ga., took a poll in November asking readers if he's already a "lock" for the Hall of Fame, 89 percent of survey respondents said yes. That's no surprise given the depth of affection for Posey in Lee County, and the sense of pride among the locals in his achievements.
The more salient question is, what could those 11 percent of dissenters possibly have been thinking?
Something about Posey generates universally positive vibes, in the same wholesome, All-American way that
Joe Mauer
did before that $184 million contract raised the scrutiny and complicated matters a bit. In the San Francisco clubhouse, teammates marvel at how Posey takes his fame and success in stride. Maybe it's the way he goes about his daily regimen with country-boy earnestness and no expectations of favors or special treatment. The word "humility" is invoked time and time again.
Heaven knows, it isn't easy.
Posey's days are filled with more demands, attention and perks than ever in the aftermath of his monster 2012 season, when he recovered from a devastating ankle injury to win a National League batting title, collect Comeback Player of the Year and MVP awards and lead the Giants to their second World Series victory in three seasons.
[+] Enlarge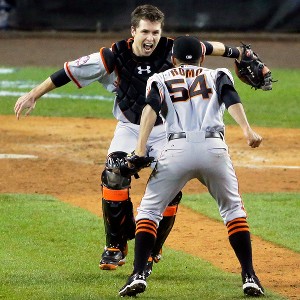 AP Photo/Charlie RiedelAt only 25 years old, Buster Posey has already won rookie of the year and MVP honors -- and a pair of World Series rings.
Posey
filmed a video game commercial over the winter
and experienced another departure from the norm this spring when GQ magazine invited him to a photo shoot in Arizona. If Posey envisioned getting all gussied up in a $3,000 suit with a pocket square, he was quickly disabused of that notion when the crew handed him some tight-fitting sweatpants made of a new-age spandex material. It's not the type of outfit a guy wears when he's grocery shopping in Leesburg, Ga.
"I'm probably going to take some grief for it," Posey says ruefully. "But in 15 or 20 years, my kids can look back on it and it'll be pretty cool for them. Or maybe they'll think I'm a dork."
Posey enjoyed a more meaningful interaction in January. During a trip to New York to collect his MVP award, he visited the Yogi Berra Museum & Learning Center in Little Falls, N.J., with his wife, father and mother. Berra, a living, breathing museum piece in his own right, was gracious enough to give the Poseys a personal tour.
As a former winner of the Johnny Bench Award as college baseball's top catcher, Posey is well-versed in the lineage of great players at his position. He has an enduring respect for the predecessors who incurred arthritic knees and bad backs from all those years of foul tips and endless squatting.
"I think anybody that catches shares a bond," Posey says. "You know what it takes to play the position from a physical and mental standpoint. To me, getting a chance to meet Yogi Berra and knowing how long he played and what he accomplished … I'm a huge fan of it. I'm just as enthralled as anybody else. Maybe a little bit more, because I understand the difficulty of what he accomplished."
A mere three years and 308 games into his big league career, Posey has a legacy of his own to burnish.
Comeback kid
Nearly two years have passed since May 25, 2011, when Posey was writhing in pain after a home plate collision with
Scott Cousins
of the Marlins. He suffered a fractured fibula and three torn ligaments in his left ankle on the play. The damage was so far-reaching and pervasive that it prompted general manager Brian Sabean to rip Cousins and start a dialogue over whether baseball needed to do something to protect defenseless catchers.
Soon after being helped off the field, Posey embarked on his rehab, which is
painstakingly chronicled here
. With help from trainer Dave Groeschner, strength and conditioning coach Carl Kochan and other support people who put in some long hours of their own, he returned to full working order sooner than anyone had a right to expect.
The Giants helped lighten Posey's load by moving him to first base for 29 starts, and he found a different gear down the stretch. Posey led the majors with a .385 batting average and .456 on-base percentage after the All-Star break and hit one of the signature home runs of October, a grand slam off Cincinnati's
Mat Latos
to vault San Francisco over the Reds in the finale of their National League Division Series.
You want precedents? We've got precedents:
• Posey became the first player since Frank Robinson of the 1966 Baltimore Orioles to win a league MVP, batting title and World Series in the same season. The others to complete that rare hat trick: Dick Groat, Mickey Mantle, Willie Mays, Stan Musial and Joe DiMaggio.
• At 25, Posey was the youngest player to win an MVP award since Ryne Sandberg of the 1984 Cubs.
• He joined Bench, Roy Campanella, Ernie Lombardi and Gabby Hartnett as the only catchers to win a National League MVP award.
• As a bonus, Posey joined Jackie Robinson of Cairo as the second Georgia native to win NL MVP.
Run through that list of 12 predecessors and you'll find 11 Hall of Famers (all except Groat). That's 91.6 percent, so maybe the Albany Herald's readers are a little cautious in their projection.
A driven player
In the San Francisco clubhouse, Posey's influence transcends his status as the team's best player. He has an easygoing appeal that resonates across income levels, service time and baseball-reference.com profiles. If he seems too good to be true, he will certainly do until something better comes along.
Posey's "it" factor is readily apparent to former players who work for the Giants in advisory capacities. That group includes
Shawon Dunston
, a spring training instructor and part-time coach with the organization. When Dunston first encountered Posey in spring training of 2009, he was impressed by both the kid's drive and the vehicle he drove.
"He showed up in a little red rent-a-car," Dunston says. "I put myself in that boat. If I came out of college and just signed for $6 million, I'm not driving a rental car. I said, This guy is focused."
[+] Enlarge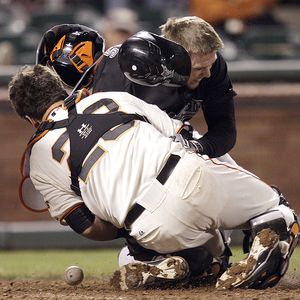 AP Photo/Marcio Jose SanchezYou'd never know that Buster Posey suffered a fractured fibula and three torn ankle ligaments only 22 months ago.
Of all the San Francisco players, Posey and pitcher
Matt Cain
are Dunston's favorites because they're so "boring" and "old school" and oblivious to the concept of self-promotion. Dunston even tells his son, Shawon Jr., an outfielder in the Cubs' minor league system, to watch Posey and Cain and try to emulate the way they play and conduct themselves.
First impressions tend to linger. Pitcher
Jeremy Affeldt
remembers an interview that Posey did shortly after signing out of Florida State as the fifth pick in the 2008 draft. When Posey was asked about the possibility of a September call-up, he said he wanted to join the big club because he had earned the privilege -- not because the Giants were contractually obligated. He displayed no trace of a smidge of an iota of entitlement.
"This is a very humbling game," Affeldt says. "A lot of times people come in with a lot of flash, and the game humbles you and you play a certain way. But Buster came in playing that way. For him, it's not about bat flips or hoopla or loudness or grandstanding. It's about standing in the box and hitting a grand slam in the playoffs and acting like 'that's what I should do with that pitch.'
"When it comes to his accolades, he doesn't live in them. He doesn't get too caught up in it. If he won an award, it's probably because he deserved the award. But then he's on to doing what got him that award in the first place, and that's going out and playing hard and being good at his position.
"Derek Jeter is one of the best at it. He stands out because he plays in a very large market, but you're not going to see him in the media and the tabloids. He just does his thing and goes home. No drama. I think people respect a guy who has quiet confidence, believes in what he can do and goes out and does it. That's what Buster carries and leaders carry, and that's what players look up to."
The players in Posey's peer group certainly view him in that light. Giants shortstop
Brandon Crawford
, a fourth-round pick out of UCLA in 2008, played with Posey in Class A San Jose the following year and says "he hasn't changed at all." Crawford is two months and six days older than Posey, yet smart and attentive enough to regard him as a professional role model.
Along with his offensive contributions, Posey spends a lot of time reading scouting reports and devising game plans to help his pitchers maximize their success. In 2012, Baseball Info Solutions ranked him 12th in defensive runs saved among 20 big league catchers with at least 750 innings played. But the sweat he invests in the process can't be quantified. It's a tribute to his parents, Demp and Traci, and to the folks who taught him to play the game back home in Georgia.
Personal experience plays a role too. That gruesome leg injury forced Posey to confront the possibility that he might return as a lesser player. If he continues to perform at an elite level -- and there's no reason to believe he won't -- the Cousins affair will be a defining moment in his career.
Nearly two years after the collision, Posey uses it as motivational fuel when his bat is dragging or his body is so achy that it's hard for him to roll out of bed in the morning. Posey and his wife, Kristen, have 19-month-old twins, son Lee and daughter Addison, so he rarely has the luxury of dawdling unless the Giants are on the road.
On a quiet morning in Scottsdale, before he hits the field for batting practice, Posey takes a quiet moment to reflect.
"I hate to keep going back to the injury, but it was a blessing in disguise in several different ways," he says. "You see that baseball's not the be-all and end-all. Everybody has a time line on them, no matter how good you are.
"There's no question I want to be able to draw from that experience and remember it. Hopefully I don't have to go through that again. But when it's August and I'm feeling a little bit tired, I know there's probably somebody who's on the shelf with an injury and wants to be out there. That's something I can use to my advantage."
As Posey approaches his 26th birthday later this month, he is grounded in the knowledge that success isn't defined by the clothes he wears, the car he drives, the money he makes or even the circle of friends he keeps. It's about what he represents.
February, 27, 2013
2/27/13
2:25
PM ET
TEMPE, Ariz. -- Ask any veteran player, and he'll tell you the ability to adapt is the key to a lengthy and productive major league career. The pitchers, advance scouting reports and game-planning in the big leagues are unrelenting, and hitters who fail to come to grips with that reality won't be collecting big league meal money very long.
Mark Trumbo
of the Angels knows the drill. Last year he hit .307 with a .988 OPS, 27 homers and 66 RBIs in the team's first 85 games. He made his first All-Star Game at age 26, participated in the Home Run Derby and earned a reputation as a hitter that pitchers had to approach with the utmost care.
Then everything unraveled. The final 2½ months of the regular season, Trumbo hit .213 with a .551 OPS, five homers and 29 RBIs. There were times when he felt as if he had tread marks stamped across his forehead.
[+] Enlarge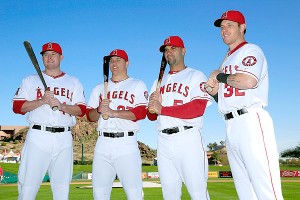 Jamie Squire/Getty ImagesMark Trumbo, left, figures to be part of a new Murderer's Row with Mike Trout, Albert Pujols and Josh Hamilton.
Trumbo is a bright kid, and he spent enough time reflecting on the experience to glean something positive from it. In the midst of his travails, he learned some valuable things about his mechanics, his approach to hitting and his ability to take a punch.
"I understand this is a very tough game," Trumbo said. "I had some mechanical things break down, and the pitchers don't get any better than here. At the big-league level, they're able to locate for the most part. If they do find a glaring weakness or something you're really struggling with, they're probably going to attack that and keep attacking it until you can prove you've made some adjustments.
"I think the biggest thing is to get a good pitch to hit. It's a lot easier to make good solid contact when you get something to work with. Last year I started to chase a little bit, and the combination of a tough pitch to hit with a bad swing is a recipe for disaster."
Trumbo, recharged from a winter of introspection, is ready to reclaim his status as a force in manager Mike Scioscia's batting order. Just where he appears in the field will depend on the day.
When
Josh Hamilton
signed a five-year, $125 million deal with the Angels in December, it ensured that Trumbo will spend a lot more time in the designated hitter spot this season. He can also expect to spell
Albert Pujols
at first base, fill in for Hamilton in right on occasion and log some games in left.
Trumbo is a .306 hitter with a .937 OPS in 23 career games at DH, so he's shown some aptitude for the position. But he knows he'll have to experiment with ways to stay engaged and ready during the lengthy down time between at-bats.
It's early yet, but Trumbo expects to spend more time riding a stationary bike and hitting in the cage working up a sweat than hunkering down in the video room obsessing over his last at-bat. He also plans to spend a lot of time in the dugout to keep his head in the game.
"I'm trying to get away from overanalyzing things, especially on video." Trumbo said. "I would like to get back to trusting what I feel up there and doing it that way. If I do DH, the temptation of sitting in that film room is going to be really high. I'm going to do everything I can to fight that."
February, 27, 2013
2/27/13
10:40
AM ET
SCOTTSDALE, Ariz. -- Colorado shortstop
Troy Tulowitzki
grew up in the San Francisco Bay Area as an
Oakland Athletics
fan, so it's only natural that he remembers Walt Weiss as a tough-minded, sure-handed fixture on the
Mark McGwire
-
Jose Canseco
teams of the early 1990s. Tulowitzki, an elementary schooler at the time, admired Weiss both athletically and aesthetically.
"Defensively, you wanted the ball hit to him," Tulowitzki said. "He always seemed to make the plays. And he was one of the few guys I remember wearing [flip-up sunglasses] and eye black. That's something I continue to this day. It always stood out to me as a kid."
It's a little tougher for Weiss to maintain that aura of cool from the manager's seat rather than the shortstop position, but he's approaching his new career path with his head up and his eyes wide open.
Is the future so bright, he's gotta wear shades? Only time and NL West competition will tell.
A year after the
Chicago White Sox
hired Robin Ventura and St. Louis tabbed Mike Matheny despite their lack of managerial experience, the Rockies continued the trend by bringing back a familiar face. Weiss was a core, respected member of the Colorado Blake Street Bombers teams that clubbed their way to a playoff appearance in 1995 and recorded three straight winning seasons. Now he's returning to the fold in hopes of restoring some pride on the 20th anniversary of the franchise's inception.
To the former teammates who know him best, Weiss was a bold and inspired choice. They see him as a sincere and genuine person with the requisite even temperament, communications skills and baseball knowledge to make a terrific manager. Weiss will have to put those qualities to good use to remedy the pitching-deprived mess that helped spell doom for his predecessor, Jim Tracy.
[+] Enlarge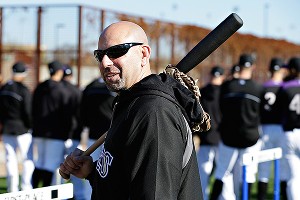 AP Photo/Darron CummingsA one-year contract to manage the Rockies is the least of Walt Weiss' worries.
The circumstances of his hiring merely add to the intrigue. Weiss worked as a special adviser and instructor for the Rockies from 2002 to '08, but his coaching experience consists of one year running the show at Regis Jesuit High School in the Denver suburb of Aurora. In November, the Rockies hired Weiss to a one-year contract. It was a consensual agreement, because Weiss wants to see how he takes to the job while the Rockies are determining if he's cut out for managing. But Don Mattingly has one year left on
his
deal with the Dodgers, and a lot of people are calling him a lame duck. Weiss' arrangement is a rarity, to say the least.
There's also the little matter of elbow room. Last summer, the Rockies moved Bill Geivett, the team's senior vice president of major league operations, to an office adjacent to the clubhouse. Owner Dick Monfort reportedly backed the idea as a way of getting to the root of the team's problems, but it's a little Big Brother-ish for a lot of baseball insiders.
Let's put it this way: Can you imagine Jim Leyland welcoming Dave Dombrowski to his office to rehash whether he made the right move lifting
Max Scherzer
for a reliever in the bottom of the seventh?
If Weiss is the slightest bit uptight about his job security or his freedom to make tough calls, he's doing a great job concealing it. While other people might tiptoe around his situation, he addresses it without a trace of defensiveness.
"As far as the one-year deal, it never came up in our interview," Weiss said. "It was never a factor. Maybe this sounds cheesy, but I couldn't care less what the terms of the contract were. It was an opportunity to manage a club that I played for and worked for, in a place where I live and have good relationships. The terms of the contract were about a 15-second conversation."
Weiss sees Geivett as a resource more than a threat to his autonomy. Geivett was an All-America third baseman at UC Santa Barbara, a minor leaguer in the Angels system, and a college coach, scout and farm director. He's an authority on a lot of players on the Colorado roster because he's been around them since they were minor leaguers. Weiss is hoping to draw on those experiences and speed up his learning curve in the process.
"[Our approach] is different, so it's become a story," Weiss said. "People see what we're doing as unconventional, but Geivo has given me great insight on our team and the individual players. He's been with most of these guys on the player development side and he has relationships with them. It's not like putting a typical front-office guy down into the clubhouse. I don't think it's going to be an issue."
Weiss is soliciting a lot of opinions this spring while learning his talent and putting his imprint on the team. Bench coach Tom Runnells will help him adjust to the speed of the game in the dugout, and several members of the old gang are around to contribute input. Dante Bichette is back in the fold as Colorado hitting coach, and Eric Young is in camp as a special instructor. Vinny Castilla, the old Blake Street Bombers third baseman, has been a special assistant with the organization since 2007.
The pitchers have a new mentor, too. Geivett and general manager Dan O'Dowd were in the Dominican Republic recently and crossed paths with
Pedro Astacio
, one of the most successful pitchers in franchise history. Astacio accepted their invitation to Arizona and is at Salt River Fields dispensing insights to
Jhoulys Chacin
,
Juan Nicasio
and the other kids who'll help determine how much the Rockies improve upon their 64-98 record of a year ago.
"I told him, 'Just walk around the camp and spread some love and some wisdom,'" Weiss said.
When Weiss isn't busy delegating, he'll rely on the instincts that helped him win a Rookie of the Year award in Oakland and amass 1,207 hits over 14 big league seasons. Former teammates remember Weiss lugging around a glove so beaten-up and ugly that he referred to it as the "Creature," and playing the game like a dirt dog even while approaching it from a cerebral perspective.
"He was the only player I saw who would sit there on the bench all nine innings at a spring training game," said Rockies first baseman
Todd Helton
. "Everybody goes and works out and does their extra hitting or whatever once their day is over. Walt would sit there for all nine innings and watch."
That wasn't the only image that lingered with Helton. In August 1997, Helton joined the Rockies as a hotshot prospect two years removed from being drafted in the first round out of Tennessee. Helton was doing an interview at his locker when the conversation turned to his thoughts on replacing Andres Galarraga, a popular player since the franchise's inception.
"The reporter was kind of baiting me into saying something stupid, and of course I was about to," Helton said. "Then Walt came by and told him, 'You're not going to go there. You're not going to get the kid in trouble.' That's something that stuck with me."
The Rockies of the mid-1990s were a close-knit group, and Weiss was at the center of it all. Former Rockies pitcher Jerry Dipoto, now the Los Angeles Angels' general manager, remembers how Weiss, closer Darren Holmes and the other relief pitchers would congregate in the equipment room in the back of the bullpen and hold impromptu wrestling matches amid the spare outfield padding and the Diamond Dry. Weiss was a martial arts devotee with a black belt in taekwondo, but he participated for the camaraderie rather than a desire to crush a few spleens.
Even in those fun-loving, early Coors Field days, Weiss' accountability, attentiveness to detail and professionalism convinced Dipoto that he had managing in his future.
"Walt was the kind of guy who could do whatever he wanted to do," Dipoto said. "He has to be on the short list of the best teammates I ever had. He was a complete teammate, and it was for every one of the 25 guys. There were very few players who could span the room and have easy interaction with all 25. Walt was one of those people."
The eye black, flip-ups and the Creature are no more, but the competitive streak remains. Walt Weiss has only one mandate now, and that's to make winning fashionable again in Colorado.
February, 23, 2013
2/23/13
7:38
PM ET
MARYVALE, Ariz. -- With a .232 batting average and .657 OPS several months behind him, Royals first baseman
Eric Hosmer
is officially ready to wake up from the "bad dream" phase of his career.
Hosmer's 2012 season was a grind from the outset. He hit .188 in April and never truly got on track. Even though the anecdotal evidence and his .255 batting average on balls in play suggest that a lot of balls he hit with authority failed to find holes, it didn't ease the sting of knowing his personal travails played a significant role in the Royals' disappointing 72-90 finish. Among 21 major league first basemen with at least 400 plate appearances last season, only
James Loney
and
Casey Kotchman
posted
a lower OPS
than Hosmer.
[+] Enlarge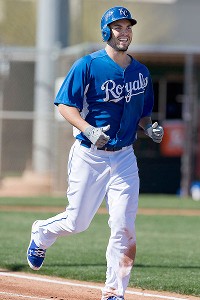 John Sleezer/Kansas City Star/Getty ImagesAfter a terrific rookie season in 2011, Eric Hosmer posted a .663 OPS in 152 games last season.
Hosmer spent the offseason trying to ensure that it doesn't happen again. He built a house in his native Florida, near the Everglades, replete with an outdoor batting cage. He worked extensively with his older brother, Mike, and dutifully sent video of the sessions to new Royals hitting coach Jack Maloof for his personal inspection.
The 23-year-old also paid closer attention to getting ready for the 162-game grind in its entirety. He went home with a detailed nutrition and workout plan devised by strength and conditioning coordinator Ryan Stoneberg and gained about 10 pounds while focusing on eating at regular three-hour intervals rather than two or three times a day.
Before traveling to Arizona for the Cactus League, Hosmer stopped off in Southern California to spend some time at the Scott Boras Sports Training Institute and apply the finishing touches to his offseason fitness regimen.
"I'm going to try [to keep the weight on]," Hosmer said. "It's a little easier in the offseason because you work out and hit, and then you're done and you're sitting on your butt the rest of the day. Out here, you do your baserunning and your early work and you're constantly sweating. You really have to eat well and eat right to keep the weight on. That's why I wanted to come in 5-10 pounds heavier."
Hosmer told the Kansas City Star writer Bob Dutton that many of his problems at the plate last year stemmed from a lack of stability with his back leg. He was slow to catch up to good fastballs and began starting the bat earlier to compensate. The more he "cheated," the more susceptible he became to off-speed pitches.
"I was happy in the offseason to get home and just forget about everything," Hosmer said. "I can take the positives and learn from it. This year, I'll know how to break out of a slump better and do the little things like that. It all comes with experience.
"Last year is going to be a big help for me mentally, because it was almost a season-long slump I went through. Now an 0-for-10 or 0-for-15 is going to seem like nothing."
February, 21, 2013
2/21/13
5:00
PM ET
PEORIA, Ariz. -- Barring a surprise in Seattle's camp,
Felix Hernandez
has a pretty good idea who his running mates will be in the rotation. The depth chart includes
Hisashi Iwakuma
and
Joe Saunders
in the 2-3 spots, with
Blake Beavan
and
Erasmo Ramirez
the front-runners to pitch behind them.
But manager Eric Wedge and pitching coach Carl Willis have some intriguing pitchers to watch this spring. The list includes prospects Taijuan Walker,
Danny Hultzen
, James Paxton and
Brandon Maurer
, who won the Southern League's Outstanding Pitcher award at age 22, and a couple of veterans crafting comeback stories.
Jon Garland
, who hasn't pitched since June 2011 because of a shoulder injury, signed a minor league deal with Seattle last week and is making a quick impression. And
Jeremy Bonderman
is looking to return to the big leagues for the first time since the 2010 season with Detroit.
[+] Enlarge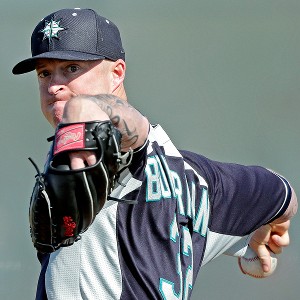 AP Photo/Charlie RiedelJeremy Bonderman (67-77, 4.89) hasn't pitched in the majors since 2010.
Wedge remembers both pitchers from his previous managerial tenure with Cleveland, so he has a feel for what they can contribute if they put their injury issues behind them.
"They've both been very impressive," Wedge said. "It's early in camp, and we have to see how they stand the test of wear and tear and going out there and pitching on a regular basis. But they're both going to get good opportunities to make this ballclub."
Bonderman has faced a daunting run of bad luck in recent years. He dealt with shoulder problems, had a rib removed in 2008 to correct thoracic outlet compression syndrome, and missed the entire 2012 season after undergoing Tommy John surgery on his right elbow in April.
Amid all the setbacks, Bonderman came to grips with the realization that he wasn't ready to quit. He weighs 220 pounds this spring -- about 25 pounds less than his former playing weight in Detroit. He's still only 30 years old, so time is on his side.
"You take a lot of stuff for granted," Bonderman said. "I made it to the big leagues when I was young, and I stuck. I worked hard, but I didn't eat right or go to bed on time. I was just young and having fun. There are a lot of things I wish I would have done different, but you live and learn."
Bonderman is a native of Kennewick, Wash., so it's a fringe benefit that his comeback attempt should come with the home state team.
"I had options in other places," he said, "but this team felt like the best opportunity. They're young, they've got open spots and they weren't going to restrict me. They told me if I'm ready, I can do my own thing, and we'll go from there. We'll see what happens."
Kotsay still plugging away
San Diego outfielder
Mark Kotsay
, selected by the Florida Marlins with the ninth overall pick in the 1996 draft, is about to begin his 17th season in the majors. Since 2007, Kotsay has played for the Athletics, Braves, Red Sox, White Sox, Brewers and Padres. He ranks 28th among active big leaguers (directly between
Michael Young
and
Placido Polanco
) with 1,810 career games played.
Kotsay's name pops up occasionally on the list of active players who might make good managers someday, but he's in no hurry to pursue the next chapter of his life. After signing a one-year contract extension with the Padres last summer, Kotsay plans to continue playing until someone pulls the jersey off his back.
"I still enjoy it," Kotsay said. "If you have a competitive nature, there's no other release for it. A golf game or a pickup basketball game doesn't do it. Then you have the camaraderie of being in the locker room with all the guys, getting to be a boy and be childish.
"I'm not rushing into anything. I'm going to try and do this as long as I'm able to and push off that second career. This is my 17th season. Even if I was to make it to 20, it's still a small window of your life."
Kotsay, 37, hit .259 in 143 at-bats with San Diego last season. The Padres have
Carlos Quentin
in left field,
Cameron Maybin
in center and a likely platoon arrangement of
Will Venable
and
Chris Denorfia
in right. Barring injury, Kotsay will be around to pinch hit, pinch run, play late-inning defense and mix in a start or so each week for manager Bud Black.
February, 16, 2013
2/16/13
7:34
PM ET
GOODYEAR, Ariz. --
Aroldis Chapman
burst through the doors of the Cincinnati Reds' clubhouse into a bright sunny Saturday afternoon. He had an ice pack on his left shoulder and his interpreter, Reds assistant athletic trainer Tomas Vera, by his side.
Chapman was squinting ever so slightly, but that might have been the product of a hazy future rather than a high desert sky.
The 24-year-old is the focus of one of the most intriguing stories of spring training (non-Biogenesis Clinic division). The Reds are planning to move him to the starting rotation from the back end of the bullpen, where he was virtually unhittable last season, and the decision is generating lots of reaction in the baseball world in a very
Joba Chamberlain
-
Neftali Feliz
-
Daniel Bard
way.
General manager Walt Jocketty and pitching coach Bryan Price have endorsed the transition, under the thinking that Chapman has considerable upside as a pitcher and will ultimately be more valuable throwing 200-plus innings a year as a starter rather than 70 in the bullpen. They're convinced that's true even if 140-150 innings might be the best they can hope for this season.
Cincinnati's marketing folks also seem cool with the arrangement, judging from the Chapman Pick 6 ticket plan that the team is pushing and the inclusion of Aroldis Chapman Bobblehead Night on the schedule May 11 versus Milwaukee.
Reds manager Dusty Baker … not so much. Conventional wisdom is that Baker preferred the old system because it was so comforting to hand the ball to Chapman in the ninth inning, watch him flirt with triple digits or surpass it and know that within a matter of minutes, he was almost certain to be shaking hands with catcher
Ryan Hanigan
or
Devin Mesoraco
.
The Reds won 97 games and a division title under the old format, and the if-it-ain't-broke-don't-fix-it crowd wonders if they're courting bad karma by doing something overly drastic.
[+] Enlarge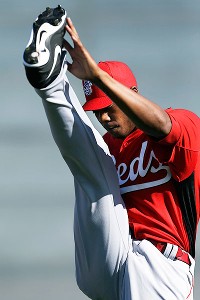 AP Photo/Paul SancyaThe Reds believe it isn't a stretch to think Aroldis Chapman can thrive as a starter.
Chapman saved 38 games, averaged 15.3 strikeouts per nine innings and logged a 1.51 ERA, so he didn't experience a lot of off days as a closer.
Jonathan Broxton
, his successor, made back-to-back All-Star teams with the
Los Angeles Dodgers
in 2009 and 2010 but hasn't performed at nearly the same level since.
Baker's demeanor in a morning bull session with reporters Saturday confirmed that Chapman's shift to the rotation is not his favorite topic of conversation. He made it clear that: A) he's already tired of the topic; and B) it wasn't his call.
"This is an organizational decision," Baker told reporters. "I'm not the whole organization. I'm the one that has to speak about it."
While others in the organization have Chapman's best long-term interests in mind, Baker is more inclined to focus on winning today's game. He is like most managers in that regard, so it's no surprise that there is some division within the Reds hierarchy over whether this is the right thing to do. If this doesn't exactly qualify as a rift, it certainly makes for spirited debate.
One scout told ESPN.com that Chapman is a "thrower, not a pitcher," but Price and Jocketty beg to differ. They point out that Chapman was the Reds' best starter in spring training of 2012, before a run of injuries prompted them to move him to the bullpen out of desperation.
Chapman threw his fastball 88 percent of the time as a closer, according to FanGraphs. He won't have the luxury of blowing fastballs past hitters for five, six or seven innings, so it's imperative that he works on his slider and splitter in spring training and incorporates them into the mix by Opening Day.
He has yet to swing a bat in the big leagues, and Chapman said he's more concerned with his bunting than his offensive contributions at this point. He will also have to spend more time working on his fielding and his pickoff move, which didn't come into play often when he was closing games as hardly anyone reached base. But Jocketty thinks he has the physical gifts to handle the complementary demands of starting.
"He's a great athlete," Jocketty said.
If Chapman has any misgivings or second thoughts about the move, he's in no mood to share them. But when asked which role he would prefer if given a choice -- closer or starter -- he provided some telling insight into his frame of mind.
"If you have to choose, you choose what you've been successful with," he said through his interpreter. "I haven't started in the big leagues. As a closer, it was great. If you have to choose, you choose where you've been great."
Lest someone think that Chapman is quietly resistant to changing job descriptions, Vera quickly set the record straight.
"You have to understand Chapman," Vera said. "He's going to do what they tell him to do. If they tell him tomorrow to go out and take fly balls in center field, he's going to do it. He doesn't question. He's a soldier. He just works. He doesn't create controversy, because he doesn't think that's going to take him anywhere."
In this case, Chapman might wind up in the middle of controversy regardless of his best intentions. The success of Cincinnati's grand experiment will ultimately hinge on his performance, Broxton's performance and the Reds' win total.
That's the great thing about baseball debates: They always play out on the field.
February, 16, 2013
2/16/13
5:10
PM ET
GOODYEAR, Ariz. -- The
Cincinnati Reds
expect to compete for a National League pennant this year despite a roster that's young in several places. It got even younger this week when veteran third baseman
Scott Rolen
declined an invitation to come to spring training camp.
"He brought our average age down," said general manager Walt Jocketty. "I thanked him for that."
Rolen, 37, is the only third baseman in history with at least 2,000 hits, 500 doubles, 300 homers, 1,200 RBIs and six Gold Glove awards. But he's been slowed by back and shoulder injuries in recent years. In a statement this week, Rolen said he wants to leave his options open, "without closing any doors."
The Reds are set up nicely without him.
Todd Frazier
, who finished third in NL Rookie of the Year balloting, slides in at third base, and former MVP
Joey Votto
is hoping to rediscover his old MVP form at first base after having the winter to recover from a knee injury.
The general consensus is that Rolen wants to slide into retirement with a minimum of hoopla or emotion. But Jocketty wouldn't rule out the possibility that Rolen would get the itch and decide he wants to play again.
"He told me he's at a place right now where he's really enjoying the time with his family and he wasn't ready to make the commitment to come in," Jocketty said. "He apologized for dragging it out so long. I told him, 'We're prepared either way. If you come in, great. If you don't, we'll make adjustments.' We'll just have to see where we are at that point.'
"He's had such a great career. I told him no matter what happens, at some point he needs to be recognized. He's not the type of guy who's going to want to go out and tour the country like some guys do. But he ought to be recognized in Cincinnati."
The last time Jocketty spoke to Rolen, about a week ago, he got the impression that Rolen is still in excellent shape. The Reds confirmed that's the case recently when the team's strength and conditioning coach, Matt Krause, conferred by phone with Rolen's personal trainer.
Rolen achieved the bulk of his career success in Philadelphia and St. Louis, and he collected only 36 of his 316 home runs and 304 of his 2,077 hits in Cincinnati. But the Reds remember him warmly for his competitiveness and his wry sense of humor.
According to Baseball-reference.com, Rolen earned about $117 million over 17 seasons. It was Jocketty, then St. Louis' general manager, who signed Rolen to an eight-year, $90 million contract extension after the Cardinals acquired him from Philadelphia by trade in July 2002.
"He's thanked me several times for making him a millionaire," Jocketty said with a laugh.