Spring Training:

Josh Donaldson
March, 16, 2014
Mar 16
2:25
PM ET
PHOENIX -- Here's the thing about
Josh Donaldson
: He
looks
like an athlete. Indeed,
Oakland A's
general manager Billy Beane called him the best athlete on the team; considering
Yoenis Cespedes
is patrolling the outfield, that's praise of a high order.
Watch Donaldson at the plate -- one wrist band just below the right elbow, another on his left wrist, pants legs pulled down loosely over the tops of those white A's cleats, the sandy blonde hair spilling out from underneath the back of his batting helmet, his bat waving in hyperactive motion just above his shoulder as he readies for the pitch -- and he looks all fast-twitch baseball player up there, not like a squatty former catcher moved to third base out of some sense of desperation.
[+] Enlarge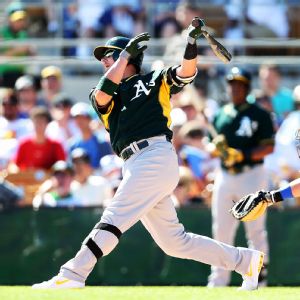 Christian Petersen/Getty ImagesJosh Donaldson was second in the American League with a 8.0 WAR last season.
In the fourth inning of Saturday's Cactus League game against the Texas Rangers, Donaldson flared a hit down the right-field line. It was an easy double, but Donaldson glided into second base with surprising speed. He was a defensive back and wide receiver when he played high school football and he runs effortlessly. He may have been a former catcher, but he doesn't run like one.
That athleticism is one reason his transition from minor league catcher to full-time major league third baseman worked out so well. It comes into play in Oakland, where the third baseman has to run down pop-ups in the immense foul territory at the O.co Coliseum. It's one reason that, after some inconsistent years in the minors and initial struggles in the majors, everything came together for Donaldson in 2013, when he hit .301 with 24 home runs, 93 RBIs and finished a worthy fourth in the American League MVP balloting.
* * * *
Everyone is doing the "Can Josh Donaldson do it again?" story this spring.
"It's been a little different, coming to spring training and being the guy everyone wants to talk to," he admitted. It's a role he understands, however, and is part of being the responsibility of the guy who is now viewed as the best player on the team.
He was apologetic about having to cut short a previous interview when he had to do some stretching work in the trainer's room before a recent game, thanking me for coming back a couple days later. As we talked in front of his locker, he politely turned off the clubhouse stereo nearby.
After last year's big season, he said it was important to take a break from baseball, physically and mentally. He went back home to Alabama, where he finished high school and played college baseball at Auburn. "I have a group of old friends I hang with back home. Outside of that, I don't stray too far," he said.
He started cranking back up with baseball activities at the end of November and started lifting about that time as well. He knows one MVP-caliber season is just that: one MVP-caliber season.
Donaldson's transformation really began at the end of 2012. He had started the season as Oakland's third baseman, but struggled early and was sent back to Triple-A in mid-April. He returned in May, but struggled some more. Through June 13 he was hitting .153 and was returned to Sacramento. But when
Brandon Inge
got injured, Donaldson got another call on Aug. 14. He hit .290 with eight home runs over the final 47 games, a key reason the A's surged to the AL West title.
"It was definitely one of those things where I felt better coming into the year than I had before," he said. "I think what was the biggest confidence booster about finishing strong was there was only one time throughout that stretch where I didn't have a hit within two games, so I knew I was on the right track as far as having a right approach at the plate."
That approach includes a good eye at the plate -- he ranked seventh in the American League with 76 walks -- and, at least in 2013, the ability to raise his game when runners were on base. He hit .252/.326/.444 when the bases were empty, but .364/.454/.572 with runners on. The heat maps below showcase his batting average in different zones in those situations.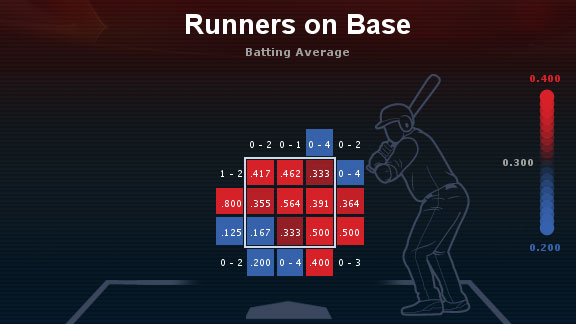 ESPN Stats & InformationDonaldson hit 12 home runs in 250 at-bats with runners on base.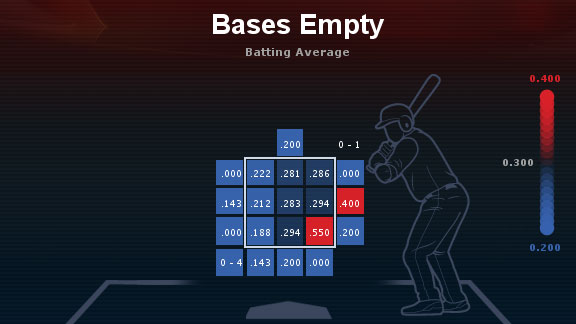 ESPN Stats & InformationDonaldson hit 12 home runs in 329 at-bats with the bases empty.
"I feel like I'm better with guys on the base," Donaldson said. "If you're in the middle of the lineup somewhere, you're going to have guys on base, so I feel that allows me to have success.
"You narrow it down. When guys are on, you're just trying to get that guy in. As a pitcher, he's trying even harder to execute so the run doesn't score and sometimes when you're trying harder they're more apt to make mistakes."
Like 2013, when he started at least 23 times in five different spots in the batting order, expect Donaldson to move around the lineup. He has hit second, third and fourth in spring training so far. "I haven't really talked about it yet with [manager Bob] Melvin. They like to change the lineup around on any given day. As long as I'm in there, I don't mind."
* * * *
Donaldson had originally been drafted by the Chicago Cubs, the 48th overall pick in 2007 after hitting .349 with 11 home runs his junior season at Auburn. The A's were high on him at the time and disappointed when he didn't fall to the 59th pick. Donaldson mashed in rookie ball in 2007, but when he was hitting .217 while catching at Class A Peoria the following season, Beane was able to get Donaldson as part of trade that sent
Rich Harden
to the Cubs.
He mostly remained behind the plate through 2011, although he did mix in some time at third. Donaldson said the permanent move to third base was beneficial to his offensive game. "When you're catching, especially the starting catcher, your focus is more on the pitchers than yourself, so I didn't have the time to space out things and focus on myself like I can now. I can spend 30 or 40 minutes in the cage and not worry about anything else. I don't have to worry about who's throwing, the game plan, or anything like that."
Donaldson is 28 now, but while he may have a few years on some of his teammates, like most of them he still lacks the years in the majors to make huge money. The A's recently renewed his salary for $500,000 this season.
"I think you're going have guys in this locker room who are going to be $20 million ballplayers. They may not be making $20 million right now, but there's definitely potential for guys to make that money," he said. "There's a bunch of guys here with less than three years of service so we have guys still trying to make their mark. That's the great thing about baseball: You get a chance every time you step on the field to prove yourself. And if you prove yourself, you'll get paid."
Maybe that's what makes the A's better collectively than what they may appear on paper. They've won the past two division titles yet many view the Rangers as the favorite to win the AL West. They lost
Bartolo Colon
to the New York Mets as a free agent and starters
Jarrod Parker
and
A.J. Griffin
will miss the start of the season with injuries, but that focus on pitching ignores that the A's have become a team built around their offense. They ranked third in the AL in runs scored last year, and considering some of the defections and likely regression from the Red Sox, and the Tigers losing a couple key offensive players, the A's may have the best offense in the league.
"We know. If nobody else knows, we know we have the ability to put up runs," Donaldson said. "We don't have huge names, the Miggys or the Trouts or Pujols or those guys that have the numbers over a long tenure. But look at a guy like
Brandon Moss
, putting up 30 bombs; hitting in Oakland, that's a lot of home runs. That's a lot of home runs anywhere, but when you're playing in Oakland and doing that, you're doing something."
Maybe the A's don't have huge names. Maybe the average fan doesn't know Donaldson finished fourth in the MVP voting or that Moss hit 30 home runs. That's OK. The A's have been overlooked in the past. Maybe it's time to stop overlooking them.
March, 17, 2013
3/17/13
6:10
PM ET
By
Christina Kahrl
| ESPN.com
GLENDALE, Ariz. -- Two weeks away from the start of the season, most teams have a handle on what they expect to happen. At this point, most clubs are making the obvious decisions for the obvious reasons, and a month and a half hasn't changed anything. Take Saturday's A's-White Sox game:
Jarrod Parker
versus
Chris Sale
will be a marquee matchup in a few short weeks once the games start to count. So, even after the White Sox's 11-5 win over the Athletics in a sloppy slugfest, an ugly outing from his ace did not stop Sox manager Robin Ventura from making the non-controversial announcement that Sale was his Opening Day starter.
[+] Enlarge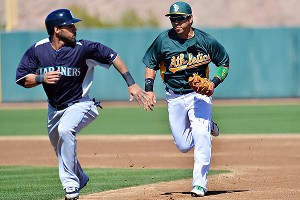 Atsushi Tomura/Getty ImagesThe A's signed Hiroyuki Nakajima, right, to a two-year deal in the offseason to be their shortstop. To this point, he's struggled to impress.
"We feel very confident with him going forward and giving him the ball for the first start. … It's something for him to be motivated [during] the last two weeks and get out there and go. He's ready to do that," Ventura said.
Well, of course Sale is going to start on Opening Day. That's what you do when a guy just won 17 games for you, a year good enough to finish sixth in the American League Cy Young voting. That isn't a decision, that's belatedly announcing the obvious.
A's manager Bob Melvin was similarly sanguine about Parker after his young hurler got knocked around for seven runs in three-plus innings.
"It certainly was as bad as the numbers would have indicated," Melvin said. "I think that we had some defensive issues that added to that. That's the difficult thing about spring; for some guys numbers do play out, for some they don't. Based on what he accomplished last year, he's not going to be evaluated on numbers."
Generally, performance in spring training isn't usually going to determine who wins a job, a new role, or the honor of an Opening Day start. But performance is going to wind up influencing those rare instances where there
are
decisions left to make, decisions that weren't already made in December or January as a function of who a team has signed and why. Welcome to the A's world, where with just two weeks left, they don't know for sure who will be getting playing time at second, short and third.
As Melvin observed about sorting out his muddled infield picture, "There's a good chance it won't play out until the very end," he said. Now
that's
a decision.
The A's came into camp with no established answer for who would be their starter at second or third, and with a question mark at shortstop. They got little in terms of offensive performance from those slots last year: a .671 OPS from their third basemen, .620 from their second basemen and .585 from their shortstops. Winning the AL West last year,
incredible as it was
, was done despite their infield's production, not because of it.
Getting
Jed Lowrie
from the Astros in a trade was the big step to address some part of the problem, and signing Japanese league veteran
Hiroyuki Nakajima
was supposed to give them a shortstop. At second base, the hope was that getting
Scott Sizemore
back from missing all of 2012 with an injury might give
Jemile Weeks
some competition at second.
Then Weeks missed almost two weeks with a bone bruise on his shoulder, while Sizemore injured his hand and has struggled with that over almost the exact same stretch. With two weeks to go, it's still an open question whether the A's have an answer at second base, or perhaps any of the three positions.
Because of Lowrie's positional flexibility, you could see this as a case where several players are in direct competition for playing time and roster spots, albeit not for the exact same job. It isn't like Melvin has any slam-dunk obvious choices. It's a situation where a dark-horse candidate can enter the race, expanding rather than narrowing his options. Focusing on Sunday's game, Melvin said, "
Eric Sogard
will start at second today, and some other guys are doing well, making it tougher to actually narrow it down. Sogard has sneaky pop at times, depending on the ballpark. We've seen him hit a few home runs in the last couple of years, but he's more a gap-to-gap guy, and does get the head of the bat out a little down the line for some doubles."
So things are already getting interesting. Unfortunately, Lowrie can't play everywhere at once simultaneously -- he can only plug one hole at a time (assuming he's healthy). And that could be an even bigger problem because on defense Nakajima is far from a sure thing at shortstop, which might force Lowrie into some time there.
The nicest thing you could say for Nakajima on Saturday is that he followed up a first-inning error with doing a good job on an inning-ending double play, taking the feed from Sizemore with the bases loaded to get Parker out of the inning. Nakajima also blew the tag on a sacrifice bunt in the second, although a sailing throw from catcher
Derek Norris
didn't help (Norris got the error).
Melvin came to his likely starting shortstop's defense, but he has to -- it's his job. Melvin observed, "It's been a tough time for him. Whether it's the culture shock, being with a new team, playing in a new league, all these things play into it. Each guy takes that at his own speed. There's something to be said about getting acclimated, and maybe he's not all the way there yet, getting comfortable out on the field."
Questions about Nakajima's defense are unavoidable considering that
all of the other, more highly regarded defenders at short who have come over from Japan have failed
. Add in that Nakajima hasn't looked good at the plate in Cactus League action, and the assumption that he was going to be their regular shortstop might be revisited by the end of the month.
Melvin focused on the positives about Nakajima's resilience as he tries to adapt, saying "He's very personable, he's always in a good mood. He works very hard, but I think to an extent, he still has to kind of find his way and get comfortable, both offensively and defensively."
Keeping things upbeat makes sense, but there again, that's Melvin's job. But in another couple weeks, he'll have to make a series of tough overlapping decisions. While obvious calls like Sale getting tabbed for an Opening Day assignment get headlines. Two weeks of performance might seem an irrational basis to make a decision when teams know everything there is to know about their players' histories, but that's what the A's have left to work with.
Christina Kahrl covers baseball for ESPN.com. You can follow her on Twitter.