Spring Training:

Josh Hamilton
March, 18, 2014
Mar 18
2:27
PM ET
TEMPE, Ariz. --
Josh Hamilton
takes batting practice like it's the last time he'll ever step in the cage. Every swing is ferocious and lightning quick, and he's apparently trying to crush every pitch 500 feet. This isn't Wade Boggs up there, hitting so many balls to left field, so many to center, so many to right and so many over the fence. For Hamilton, every BP is the Home Run Derby.
[+] Enlarge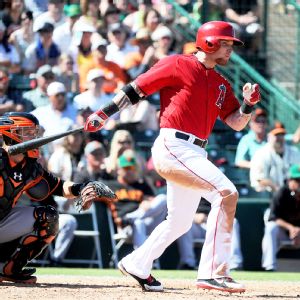 Lisa Blumenfeld/Getty ImagesJosh Hamilton batted just .250 with 21 home runs in 151 games last season in his first year with the Angels.
But hey, I doubt Babe Ruth worked on hitting singles to the opposite field.
After nursing a calf injury, Hamilton made his first spring training appearance on Monday and went 1-for-3, singling sharply off the glove of diving Giants first baseman Mark Minicozzi. Hamilton didn't show any effects of the injury, beating out a potential double play ball in the first inning and attempting a steal on a 3-2 pitch to
David Freese
in the fourth inning.
"He was running well and that's great to see," Angels manager Mike Scioscia told reporters after the game. "He's got to get out and play the outfield. We'll see how it goes, then. There are still some hurdles. We're not going to work too far ahead right now."
Hamilton had said on Sunday that he feels like he needs 45 to 55 at-bats to get ready for the season opener and that beginning the season on the disabled list isn't an option. After Monday's game he told reporters, "I got on base and I tried to steal and did the things I'm supposed to be doing." He's going to take Tuesday off.
Hamilton turns 33 in May, at that precarious age when skills often start to erode, when a player's ability to adapt and adjust become more important than ever. Even natural talent as explosive as Hamilton's fades at some point. As Angels pitcher
C.J. Wilson
told me on Monday, "You're always making adjustments. Adjust or you'll be out of the game."
Wilson was talking about himself and how spring training isn't just merely about getting his innings in, but the comment applies to Hamilton: Is he going to make adjustments? Is he willing to change his approach at the plate? Is that easy to say, harder to do?

The knock against Hamilton, especially as his average dipped in the second half in 2012 and during his first season with the Angels, has been his overly aggressive approach and expanding the strike zone. After striking out 95 times in 2010 and 93 times in 2011, his strikeouts ramped up to 162 and 158 the past two seasons. He went from striking out once every 5.3 at-bats to once every 3.6 at-bats. That was undoubtedly one reason Hamilton hit a disappointing .250/.307/.432 for the Angels last season, numbers well below his career totals of .304/.363/.549 entering the season.
Against the Giants, Hamilton faced
Tim Lincecum
, who struggled all day with his fastball command and was constantly falling behind hitters. In the first, Hamilton took a fastball away and a pitch low before grounding out softly to second. Leading off the fourth, he swung at the first pitch and singled. In the fifth, he again swung at the first pitch and flew out on a high line drive to right field.
Obviously, it's one spring training game and you can't and shouldn't read anything into those swings. But swinging at first pitches -- especially first pitches that weren't over the plate -- is what hurt Hamilton in 2013.
He swung at the first pitch in 267 of his 636 plate appearances -- that's 42 percent of the time -- and put 90 of them in play. Swinging at the first pitch isn't necessarily a bad thing; the four players with more total swings on first pitches than Hamilton were
Carlos Gomez
,
Freddie Freeman
,
Miguel Cabrera
and
Adam Jones
, four hitters you may have heard of. Thing is, however, those four players did much more damage when putting a first pitch into play:
Hamilton: .281, 528 slugging, 6 HR in 89 at-bats
Gomez: .402, .738 slugging, 8 HR in 107 at-bats
Freeman: .455, .747 slugging, 6 HR in 99 at-bats
Cabrera: .448, .917 slugging, 14 HR in 96 at-bats
Jones: .385, .702 slugging, 8 HR in 104 at-bats
Here's a heat map that shows Hamilton's swings on the first pitch -- look how far outside the strike zone he's expanding his coverage. He's not going to do much damage on those pitches way off the plate.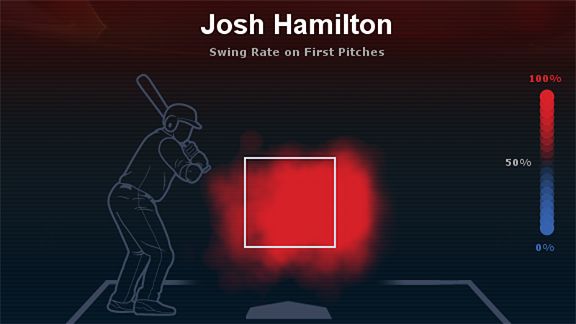 ESPN Stats & InfoJosh Hamilton likes to swing at first pitches ... even those way off the plate.
Also, the other guys hit better after falling into an 0-1 count:
Hamilton: .210/.233/.357
Gomez: .238/.289/.447
Freeman: .267/.335/.403
Cabrera: .290/.349/.513
Jones: .243/.267/.394
Cabrera can get away with swinging at so many first pitches because his hand-eye coordination is freakishly off-the-charts and he has the ability to recover from 0-1 counts. Hamilton isn't Cabrera, at least not any longer, not when pitchers know they don't have to throw him strikes.
One player doesn't make a team, but there's no denying Hamilton's importance to the Angels (along with a healthy
Albert Pujols
). With the concerns over the starting rotation, the Angels' offense is going to have score runs to get the team back in the postseason for the first time since 2009. It makes Hamilton one of the most important and most intriguing players of 2014.
Will Hamilton bounce back with a stronger year? If it's all about adjustments, until the games begin for real, we won't know the answer.
February, 25, 2013
2/25/13
6:00
PM ET
Torii Hunter
is still a Twitter fan. But a funny thing happened to him this winter on his way to a better life through Twitter.
He fired out a now-famous tweet, which he's still trying to explain, the day his old team, the Angels, signed
Josh Hamilton
. It went kinda like this:
"I was told money was tight but I guess the Arte had money hidden under a Mattress. Business is business but don't lie."
[+] Enlarge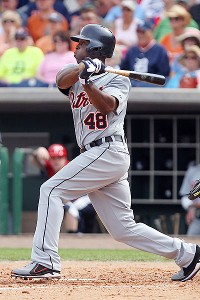 Kim Klement/USA TODAY SportsTorii Hunter is already enjoying being in the Tigers' lineup.
Half the planet took that as an indication that the Tigers' new right fielder wasn't exactly thrilled that the Angels (and owner Arte Moreno) said they didn't have the bucks to sign him, but found $125 million to give Hamilton over the next five years.
But Hunter said Monday he's over whatever frustration welled up in him that day.
"I'm over it," he told ESPN.com. "It was just a joke that went bad. I said he found money under the mattress, but I don't know what happened. I can't even explain that one. I've always said I had a great time in the Angels' organization, my best five years of my career. That organization has done a lot of great things for me, so I have no hard feelings. Trust me. I understand.
"I understood I was getting older for them," Hunter went on. "I had a great season for them last year, but they didn't want to fall in the trap of me getting older. I understood that. That's the business side of it. I always understood how hard it is to be a GM, because some day I would like to be one. We'll see."
---
More from Torii Hunter:
On what it's been like to be around Prince Fielder: "He's got a great freaking attitude, man. He loves sitting around, looking around, cracking jokes in the clubhouse. Gets out on the field, he's having so much fun. He hits, and hair is flying everywhere. He just loves it. He's just this big kid at the ballpark. When he was 13, 14, 15 and he was hitting in Lakeland when his dad came here in big league camp, just watching that little guy hit, it was impressive. I still remember him."
On what it's like to take batting practice with Fielder and Miguel Cabrera: "He and Prince, it's sick. They're hitting it like 450 feet in batting practice. Me, I can't do that. It would take me like 100 swings to get loose just to hit them there."
On how his lineup in Detroit compares to the lineup he left in Anaheim: "It's up there. It's definitely up there. The thing about our [lineup] with the Angels was, we just didn't jell. We didn't jell 'til June, 'til the end of May. But these guys have already played together. All they added was a piece like me. And I'm just a little piece of the puzzle. I'm not a guy who comes and changes everything. I just try to fit in."
On why he's hedging slightly on his statement earlier this month that this Tigers staff is the best he's ever played behind: "In '09 with the Angels, we had a great staff and we showed it on the field. Right now, we haven't done anything yet. But … if everything goes right, guys stay healthy and do what they're capable of, I definitely think this could be one of the best pitching staffs of my career that I played with. Right now, on paper, it's THE best. But we'll just have to see the results. … I say that because last year, I looked at that lineup with the Angels and said, 'Wow, we've got a great lineup.' And a month and a half went by, and we hadn't done anything. So now, I'm kind of a believer like, just play."
February, 14, 2013
2/14/13
7:40
PM ET
TEMPE, Ariz. --
Albert Pujols
and
Josh Hamilton
go back a ways. In the spring of 1999, they met during a pre-draft workout at Tropicana Field in Florida. They were both supreme talents but came equipped with markedly different expectations.
Hamilton, a North Carolina native, was considered a once-in-a-generation prospect, with speed and power to burn and (reporters loved to point out) size-19 feet. Pujols, a native Dominican who played high school ball in the Midwest, showed a knack for swinging the bat at Maple Woods Community College in Missouri. But a lot of scouts wondered which position he would ultimately play, and he fell to St. Louis in the 13th round of the draft.
Pujols overcame the skeptics to win three MVP awards, make nine All-Star teams and emerge as a worthy heir to Stan Musial's legacy in St. Louis. Hamilton, meanwhile, took a more circuitous route to prominence after signing with Tampa Bay as the No. 1 overall pick in '99. His journey was marked by drug and alcohol dependence, multiple tattoos and enough personal setbacks to suggest he might be a lost cause.
[+] Enlarge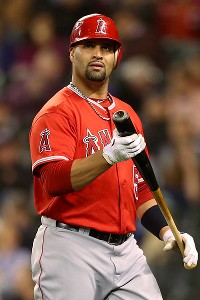 Otto Greule Jr/Getty ImagesAlbert Pujols doesn't want to talk about what happened last April.
In recent years, the two players traded their favorite Bible verses during brief encounters at first base and exchanged hugs at the All-Star Game. Now they're swapping memories as teammates and new running mates in the middle of the Los Angeles Angels' batting order.
"Back then, he was really skinny, and people said, 'This guy is going to be the first pick,'" Pujols recalled Thursday. "I was like, 'Yeah, right.' Then I saw him take batting practice and I was like, 'Are you serious?'"
Replied Hamilton: "I don't remember anything. I took a little different route than Albert did, and I forgot a few things along the way."
Pujols and Hamilton met the media Thursday afternoon in a made-for-TV news conference on the eve of the Angels' first full-squad workout of spring training. They sat on a podium in front of an Angels logo and flanked center fielder
Mike Trout
, the 2012 American League Rookie of the Year and runner-up to
Miguel Cabrera
in the MVP race.
Let the nickname contest begin. The Angels' lineup has enough star power that the team needed to book a conference room at a hotel adjacent to Tempe Diablo Stadium to accommodate it.
Each player brings his own compelling storyline to the table. Hamilton, who signed a five-year, $125 million contract in December, is 20 pounds lighter this spring and eager to show he's the Triple Crown candidate of April, May and June rather than the guy who faded in the second half, botched a fly ball in a pivotal regular-season game against Oakland and left Texas to a torrent of boos after an 0-for-4 performance against Baltimore in the wild-card play-in game.
Pujols, entering the second year of a 10-year, $240 million contract, overcame a dreadful start to hit .285 with 30 homers and 105 RBIs. He underwent a minor arthroscopic procedure in October and plans to ease into his workouts gradually this spring. One thing Pujols won't abide is questions about his excruciating April in 2012. He makes it clear, for all intents and purposes, that he's not here to talk about the past.
[+] Enlarge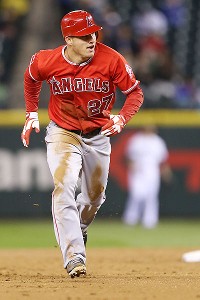 Otto Greule Jr/Getty ImagesWill Mike Trout be in the running for hardware as a sophomore?
Trout, precocious WAR machine and the face of baseball's future along with
Washington Nationals
outfielder
Bryce Harper
, is 10 pounds heavier this spring and braced for the realization that he won't be able to sneak up on anyone this season. He has set the bar exceedingly high.
The Angels, as a team, have reason to believe they've upgraded a lineup that ranked third in the league in runs scored (767) and OPS (.764). But it remains to be seen if they have the pitching to keep pace. Get past
Jered Weaver
and
C.J. Wilson
atop the rotation, and
Tommy Hanson
,
Joe Blanton
and
Jason Vargas
have a lot of convincing to do in the Nos. 3-4-5 spots. In addition,
Ryan Madson
, the team's projected closer, has encountered a speed bump in his comeback from Tommy John surgery: He is experiencing soreness in his right elbow and will not be ready by Opening Day.
But the Angels should be intriguing to watch, both on and off the field. Clubhouse dynamics change from one year to the next, and the Angels are in the midst of a transition with the arrival of Hamilton and the departure of the always loquacious
Torii Hunter
to Detroit through free agency. When a team is burdened with expectations this high, it helps to have a resident "voice of reason" who can court the media and provide perspective. Trout is too young to assume that burden. Hamilton has enough on his plate and Pujols has never shown the patience, temperament or gift of gab to be a media darling.
For those seeking subtle clues on a potential pecking order of the big three, Pujols had three bottles of water in front of him to only two for Hamilton and Trout at the news conference. But Hamilton was clearly the most relaxed and jocular participant. Thirty seconds before the event, which was broadcast live on Fox Sports West, Hamilton turned to Angels public relations man Tim Mead and asked, "Do I have time to go to the bathroom?"
People close to Hamilton said the opportunity to play in a lineup with Pujols and Trout held considerable appeal for him during his free-agent search. Hamilton's history of addiction has created some dicey moments for him, and he'll rely on his family, religious faith and the help of accountability partner Shayne Kelley to craft a positive storyline in Anaheim.
Hamilton's fellow Rangers went to great lengths to look out for him during his time in Texas, and he'll continue to require help from his teammates to stay on the right path in his new, more fast-paced West Coast environs. Hamilton knows Wilson from their time together in Arlington and has a nice rapport established with Pujols. That's a start.
"As you get to know your teammates, you understand what they stand for, how they act and what they do," Hamilton said. "You find guys that you put in your circle who will help hold you accountable. Hopefully, by the way you carry yourself, guys will either want to be in your circle, or they'll respect you enough to not put you in a situation that's going to cause you to stumble and fall.
"Guys like Albert and C.J. get it. They understand. I think everybody will understand when the time comes."
For what it's worth, Pujols and Trout were equally effusive in recalling their reactions to Hamilton's December signing and what it will mean to the Angels in 2013 and beyond.
"I remember last year sitting at the house and all of a sudden Albert's name popped up with the Angels, and it was a shock to me," Trout said. "I was like, 'This is awesome.' The same thing happened this year with Josh. I texted him to congratulate him and he texted me back and said, 'Get your legs loose. That's all that matters.' I just have to get on base and let them hit me in."
The preliminaries are now complete, and it's time to play ball in Tempe. Albert Pujols and Josh Hamilton kicked around a few memories Thursday. With the help of a certain outfield phenom, they'll spend the seven months trying to forge some new ones.