Spring Training:

Justin Verlander
March, 26, 2014
Mar 26
6:39
PM ET
CLEARWATER, Fla. -- It's hard to remember now that when spring training started, we actually doubted
Justin Verlander
.
Bad idea.
He was coming off the dreaded "core surgery." He was behind the rest of the pitching staff. We wondered if he'd be ready for Opening Day. We wondered if he'd be the same guy.
Bad idea.
How could we ever have doubted? How could we ever have wondered? What were we thinking?
The Tigers' ace went to the mound Wednesday for his fourth start of spring training. It looked a lot like the other three. By which we mean: domination.
One soft hit allowed in 6 1/3 innings. Zero runs. One walk. Seven strikeouts. What else is new?
So in those four starts he made this spring, he never did get around to allowing a run. Not a one. In only one of the four starts did he even give up more than
one hit
.
[+] Enlarge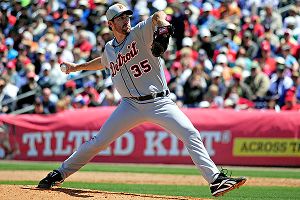 David Manning/USA TODAY SportsJustin Verlander, Detroit's Opening Day starter, didn't allow a single run in 20 innings this spring.
All told, he pitched 20 innings. He gave up eight hits. He struck out 17. Those poor, defenseless humans who had to bat against him hit .127.
So what would he have said, we asked him, if we'd told him going into spring training that he'd do all that this spring?
"Good," he said with a laugh.
So that was really what he expected of himself, even coming off surgery?
"It's what I always expect," he said simply.
Even after surgery, he never, ever doubted he could be the same guy?
"I don't think you can allow yourself to doubt," he said. "When doubt creeps in your mind, that leads to failure. You have to look on the optimistic side of things."
Do those words sum up the greatness of Justin Verlander, or what? Doubt and failure are incomprehensible to him. And unacceptable. It's what he is. It's who he is.
He's 31 now. He has a Cy Young award and MVP trophy in his hardware shop. He is in the second year of the second-largest contract ever awarded to a major league pitcher (seven years, $180 million). And he's determined to live up to it. This year. Every year.
When someone suggested Wednesday that for the Tigers to be great, he has to be what he's always been, Verlander made it obvious he never considered not being what he's always been.
"I don't think you go into the season with doubt," he said. "That's why I worked so hard. After surgery, I worked my butt off to get back. And this spring has been encouraging."
Encouraging? It's been amazing. He may not be whooshing the baseball up there at 100 mph anymore. But his command of everything in his repertoire has been ridiculous. He rolled up five of his seven strikeouts on off-speed stuff Wednesday. And he's been a strike-throwing machine all spring.
So if there were questions six weeks ago about whether surgery would limit him in any way, you don't hear those questions anymore. Not from Verlander. Not from his manager, Brad Ausmus, either.
"I don't think the surgery is going to have a major impact on his ability to pitch," Ausmus said. "I know I've spoken to him about it, and he's completely comfortable about it. He says he doesn't even think about it anymore. At one point, I was concerned about him making a pickoff throw to second. And I asked him about it. And he said, 'Oh, I'm fine.' He said, 'I don't even think about it.' ... Just the way he had to turn, I was concerned. But my concerns were immediately laid to rest."
A month ago, Ausmus had said he was convinced that if Verlander could just build up his pitch count this spring, he could "will himself to be Justin Verlander." And now, it's clear. That's exactly what he did.
Asked Wednesday about the strength of that will, Verlander smiled.
"I'm very competitive," he said. "I'm determined to pitch to my capability."
Well, 20 scoreless spring innings later, it's time to ask ourselves again: Why did we ever doubt him?
March, 16, 2014
Mar 16
4:16
PM ET
VIERA, Fla. -- The last time someone other than
Justin Verlander
started on Opening Day for Detroit, Gary Sheffield was the Tigers' designated hitter, Sean "The Mayor" Casey was the first baseman and
Chad Durbin
was a member of the starting rotation. The year was 2007, and
Kenny Rogers
did the honors.
Verlander has started the Tigers' six season openers since then. If there were any doubt, he would like to make it seven.
[+] Enlarge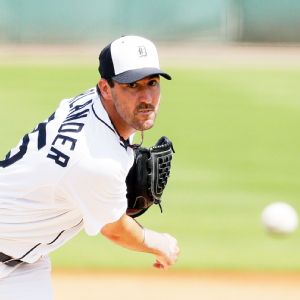 AP Photo/Carlos OsorioJustin Verlander is aiming to be the Tigers' starting pitcher on Opening Day for the seventh straight season.
Any questions about Verlander's readiness to begin the season on time after offseason core muscle surgery have quickly faded. He was on top of his game Sunday against Washington, throwing five one-hit, shutout innings in Detroit's 2-1 victory over the Nationals at Space Coast Stadium.
Verlander has now pitched 8 2/3 two-hit, shutout innings in the Grapefruit League. How sharp was he against the Nats? With 49 pitches in five innings, he was 16 short of his pregame target of 65. So he walked out to the bullpen after his outing and threw 16 pitches to reach his allotment for the day.
Verlander good-naturedly kidded pitching coach Jeff Jones about his postgame assignment.
"I told Jeff, 'This is messed up. I get punished for throwing too well,'" Verlander said.
Even more encouraging, Verlander dominated a Washington lineup that featured
Denard Span
,
Ian Desmond
,
Jayson Werth
,
Bryce Harper
,
Ryan Zimmerman
and
Adam LaRoche
in the first six spots. He was particularly effective with his off-speed stuff, striking out Werth and Harper in consecutive at-bats with his changeup.
Detroit manager Brad Ausmus has yet to name his Opening Day starter, but he has three worthy candidates.
Anibal Sanchez
led the American League with a 2.57 ERA last season, and
Max Scherzer
went 21-3 with a 2.90 ERA and won the American League Cy Young Award.
Verlander's 2013 numbers (13-12, 3.46 with a 1.31 WHIP) weren't quite up to his career standards. But he still struck out 217 batters in 218 1/3 innings and was lights-out in the postseason, allowing one earned run in 23 innings against Oakland and Boston in the playoffs.
"I'm not going to campaign," Verlander said. "That's Brad's decision. Do I want to start Opening Day? Absolutely. I think if you ask any of our five starters if they wanted to start Opening Day, the answer would be yes. But we're in a pretty unique and envious position. I think any manager would like to make the tough decision that we have here."
February, 14, 2013
2/14/13
4:20
PM ET
The Tigers' new right fielder showed up in camp on Thursday. Perhaps you've heard of him: Some guy named
Torii Hunter
.
He had a few thoughts. Asked where his lineup would rank among the best in baseball, Hunter deadpanned: "If I had to make a pick, I'm not going to tell you who I'd pick -- but it would be us."
Asked to assess how much the Royals and Indians had improved compared to the Tigers in the AL Central, Hunter heaped praise on both clubs but said: "But I can't tell you they're going to beat us. That don't make sense. I work for the
Detroit Tigers
."
[+] Enlarge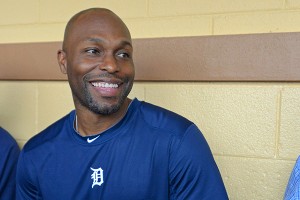 Mark Cunningham/MLB Photos/Getty ImagesTorii Hunter's happier yakking it up than getting yacked up.
And asked what he'd miss most about facing
Justin Verlander
, Hunter laughed and said: "That yack-ey."
That yackey? OK, loosely translated, that's Torii-ese for a "yacker," which is baseball slang for a man-eating curveball, which Verlander has been known to unfurl a few thousand times. Especially when Hunter is up there.
"I don't like that yack-ey," Hunter ranted. "I'm going, 'You throw 101. Why you throwing me yack? Don't throw me the yack.' I'll ask him that during the at-bat. He'll throw the yack, and I'll look at him, and he'll go . . . [Imitates Verlander grinning and shrugging.] He'd just make that face."
Hunter shook his head. Then, a few minutes later, he headed for the clubhouse to ask Verlander in person, now that they're teammates, how come he kept feeding him those yackeys.
"Payback," Verlander told him, chuckling heartily. "My rookie year, I threw you a fastball and you hit a broken-bat double off me. So for like the next four years, I had to show you I remembered.
"If you noticed," he went on, "I'd start the game throwing 93-94. Then you'd come up and whooomp, I'd have to throw 100. I don't know if you noticed."
"Noticed?" Hunter gulped. "I'd be watching in the dugout and I'd be saying, 'Verlander don't have it today. He's only throwing 93.' Then I'd get up there, and I'd get 98. And I'd say, 'What was THAT?'"
Well, there's beautiful news for him: We can guarantee that Justin Verlander won't throw him a single yackey all season -- he's a Tiger now. So those yackeys? They're now somebody else's problem.