Spring Training:

Mark Trumbo
February, 28, 2014
Feb 28
11:09
AM ET
SCOTTSDALE, Ariz. -- At 6-foot-4, 235 pounds,
Mark Trumbo
fits the physical profile of a first base masher more than a corner outfielder. But the
Arizona Diamondbacks
already have an elite first baseman in
Paul Goldschmidt
, so they've reached an informal accommodation with Trumbo: If he can keep hitting 30 homers a season, they'll gladly give him time to find his comfort zone.
Trumbo, acquired by Arizona from the
Los Angeles Angels
by trade in December, has spent a lot of time in individual instruction with Diamondbacks coach Dave McKay this spring. He has been particularly attentive to making adjustments with his footwork to improve his throwing from left field.
[+] Enlarge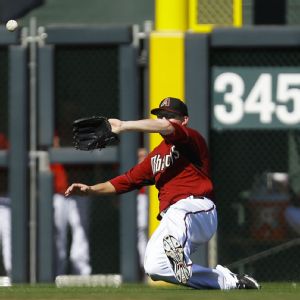 Mike McGinnis/Getty ImagesMark Trumbo is already showing some leather as he adjusts to life in left field.
"I probably broke a few habits that need to be broken for me to be an everyday outfielder," Trumbo said. "More repetitions is going to equal more comfort."
Trumbo, 28, hit 95 homers to tie
Giancarlo Stanton
and
Edwin Encarnacion
for fifth in the majors from 2011-13. But the Angels needed pitching, and they shipped him to Arizona in a three-team, six-player trade that sent left-handed pitchers
Tyler Skaggs
and
Hector Santiago
to Anaheim and center fielder
Adam Eaton
to the White Sox. Until the Diamondbacks jumped into the fray, most of the hot stove rumors listed Pittsburgh, Cleveland and Seattle as Trumbo's most ardent suitors.
While Goldschmidt will bat third for Arizona this season, Trumbo is expected to slot somewhere into the 4-5-6 mix with third baseman
Martin Prado
and catcher
Miguel Montero
. Logic says Trumbo might benefit from the move to Chase Field, which has a reputation as a launching pad, but it was only the 16th-most generous home run venue in the majors last season according to
ESPN.com's ballpark factors
. Angel Stadium of Anaheim ranked 20th.
Not that it matters much to Trumbo. ESPN's Home Run Tracker listed his 475-foot shot off Oakland's
Dan Straily
in April as the third-longest homer in the majors last season, and he ranked fourth behind
Mike Trout
,
Justin Upton
and Stanton with an average home run distance of 413.2 feet.
Trumbo has made 122 big league starts in the outfield compared to 276 at first, so it's not as if he's a complete stranger to his new environs. In the first inning of Arizona's Cactus League opener, he ran in and made a nice diving catch on a sinking liner by the Dodgers'
Chone Figgins
.
Once the regular season begins, Trumbo's efforts to adjust to playing left field full time will be complicated by the spacious outfields in the National League West. But if the Diamondbacks thought he lacked the attributes to handle the transition, general manager Kevin Towers never would have acquired him.
"He's a very good athlete, and he's very coachable," Diamondbacks manager Kirk Gibson said. "You see something and talk to him, and two days later you don't have to retell him. He gets it."
February, 27, 2013
2/27/13
2:25
PM ET
TEMPE, Ariz. -- Ask any veteran player, and he'll tell you the ability to adapt is the key to a lengthy and productive major league career. The pitchers, advance scouting reports and game-planning in the big leagues are unrelenting, and hitters who fail to come to grips with that reality won't be collecting big league meal money very long.
Mark Trumbo
of the Angels knows the drill. Last year he hit .307 with a .988 OPS, 27 homers and 66 RBIs in the team's first 85 games. He made his first All-Star Game at age 26, participated in the Home Run Derby and earned a reputation as a hitter that pitchers had to approach with the utmost care.
Then everything unraveled. The final 2½ months of the regular season, Trumbo hit .213 with a .551 OPS, five homers and 29 RBIs. There were times when he felt as if he had tread marks stamped across his forehead.
[+] Enlarge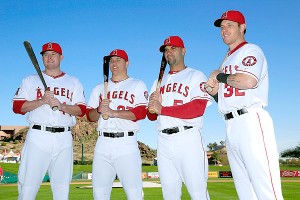 Jamie Squire/Getty ImagesMark Trumbo, left, figures to be part of a new Murderer's Row with Mike Trout, Albert Pujols and Josh Hamilton.
Trumbo is a bright kid, and he spent enough time reflecting on the experience to glean something positive from it. In the midst of his travails, he learned some valuable things about his mechanics, his approach to hitting and his ability to take a punch.
"I understand this is a very tough game," Trumbo said. "I had some mechanical things break down, and the pitchers don't get any better than here. At the big-league level, they're able to locate for the most part. If they do find a glaring weakness or something you're really struggling with, they're probably going to attack that and keep attacking it until you can prove you've made some adjustments.
"I think the biggest thing is to get a good pitch to hit. It's a lot easier to make good solid contact when you get something to work with. Last year I started to chase a little bit, and the combination of a tough pitch to hit with a bad swing is a recipe for disaster."
Trumbo, recharged from a winter of introspection, is ready to reclaim his status as a force in manager Mike Scioscia's batting order. Just where he appears in the field will depend on the day.
When
Josh Hamilton
signed a five-year, $125 million deal with the Angels in December, it ensured that Trumbo will spend a lot more time in the designated hitter spot this season. He can also expect to spell
Albert Pujols
at first base, fill in for Hamilton in right on occasion and log some games in left.
Trumbo is a .306 hitter with a .937 OPS in 23 career games at DH, so he's shown some aptitude for the position. But he knows he'll have to experiment with ways to stay engaged and ready during the lengthy down time between at-bats.
It's early yet, but Trumbo expects to spend more time riding a stationary bike and hitting in the cage working up a sweat than hunkering down in the video room obsessing over his last at-bat. He also plans to spend a lot of time in the dugout to keep his head in the game.
"I'm trying to get away from overanalyzing things, especially on video." Trumbo said. "I would like to get back to trusting what I feel up there and doing it that way. If I do DH, the temptation of sitting in that film room is going to be really high. I'm going to do everything I can to fight that."