Spring Training:

Miguel Cabrera
February, 24, 2014
Feb 24
10:15
AM ET
LAKELAND, Fla. --
Prince Fielder
is 2,000 miles away now. Being the observant guy he is,
Miguel Cabrera
has shrewdly noticed that.
And for the record, Cabrera says he has also noticed Prince's helpful contributions to his ever-growing trophy collection. And even to
Ryan Braun
's trophy collection, for that matter.
[+] Enlarge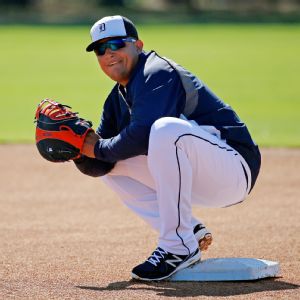 AP Photo/Gene J. PuskarWith the departure of Prince Fielder, Miguel Cabrera is back at first base after being the Tigers' regular third baseman the past two seasons.
So what does it say about the mammoth presence of Prince Fielder that the men hitting directly in front of him -- Cabrera in 2012 and '13 in Detroit, Braun in 2011 in Milwaukee -- all won MVP awards?
"He's got three MVPs," said Miguel Cabrera, with a soft laugh, of the man who spent the past two seasons cleaning up behind him. "Three MVPs … and a Triple Crown … and two batting championships."
Then Cabrera looked across his locker room and eyeballed the man who hit behind him before Fielder showed up in Motown, and who will hit fourth again this year now that Prince is no longer a crouching Tiger --
Victor Martinez
.
"And Victor," Cabrera added, with an even bigger laugh, "he's got one [batting title]."
In truth, of course, if you want to get all technical on us, Prince and Victor have combined for zero MVPs, zero Triple Crowns and zero batting titles. You can look that up. That math was merely a product of their amigo, Miggy, just being his usual magnanimous self.
But with Fielder gone -- traded to Texas over the winter in an eyeball-rattling deal for
Ian Kinsler
-- the issue of OMG, Who Hits Behind Cabrera Now hangs over the Tigers this spring, as Cabrera's first season of the post-Prince era approaches.
Fortunately, the new manager in town, Brad Ausmus, pretty much cleared up part of that question over the weekend. Ausmus said he's "95 percent" certain that Martinez would return to hitting cleanup behind Cabrera this season, just the way they lined up in 2011, in the final year of the pre-Prince era. So there ya go.
But now here's the bigger question:
How much does it even matter?
Maybe not so much. Or certainly not so much as you might think.
As my esteemed colleague, ESPN.com's Dave Schoenfield,
wrote recently
, there "just isn't evidence," in almost any of the really significant numbers in Cabrera's stats column, "that Prince Fielder made Miguel Cabrera a better hitter."
Wait. There isn't
any
evidence? Really?
That's a statement that seems impossible on the surface, even to the Tigers themselves. After all …
• In the two seasons in which Fielder hit behind Cabrera, their man Miggy won back-to-back MVPs and back-to-back batting titles.
• Cabrera's on-base percentage also went up 14 points (from .403 to .417) in those two seasons, compared to his previous years with the Tigers.
• Meanwhile, his slugging percentage zoomed upward nearly 50 points (from .571 to .620).
• His home runs per season (from 35 to 44) and RBIs per season (115 to 138) also were way up.
• And his intentional walks (54 over the two seasons before Prince, 36 in the two seasons with Prince) were down.
So if you attend that school where they teach the course, Lineup Protection Is a Myth 101, you should not be expecting any guest lectures any time soon from visiting professor David Dombrowski.
"I do not think it's a myth," said Dombrowski, the Tigers' president, general manager and CEO who understood all the ramifications of trading Fielder for Ian Kinsler this winter. "I'll tell you. I think sometimes, you can get too overly analytical.
"The reality is," Dombrowski went on, "when they're doing whatever [studies] they're doing, if you don't have a bat behind him that is at least a threat, the way they approach that guy -- even though they may pitch to him -- is significantly different."
You probably don't need us to survey the occupants of locker rooms from coast to coast to know that that belief is one that's shared by pretty much every player alive. But just to give you a sampling of what you'd find if you did survey those locker rooms, here's the take of always-thoughtful Tigers right fielder
Torii Hunter
:
"Now you can ask Miggy," Hunter said. "Miggy's going to hit .320 or .330, and he's going to hit 30 or 40-plus [homers] no matter what. So don't get it twisted. Even without Prince, he's a hitter. But there's gotta be something said for that, that three years in a row, Prince has hit behind three MVPs and one Triple Crown winner.
"

When Miguel comes up to hit, I guarantee you there are pitchers who are looking to see who's hitting behind him in situations. There are going to be times you pitch around him. There are going to be times when you can pitch to him. But there's never a game, or an at-bat, for Miguel that the pitcher doesn't look on deck to see who's coming up.

"

-- Wally Joyner, Tigers' hitting coach
"Now if anybody can get the Triple Crown [all by himself], it's going to be Miggy," Hunter said. "So I know you've got to be careful saying that Prince had a lot to do with Miggy, because Miggy's from another planet. But I still think it plays a little bit. I don't know what percentage, but it plays into it some."
OK then. Get the picture? Even players who are at least remotely skeptical of the concept of lineup protection still think there's
something
to it. But if you look past the circumstantial evidence in Cabrera's trophy case, there are really persuasive facts that say otherwise.
You'd think, for instance, that with a feared presence like Fielder behind him, Cabrera would have seen a lot more strikes over the past two years. Right?
Wrong. FanGraphs' Dave Cameron ran those numbers for us and found this:
Pitches in the strike zone to Cabrera from 2007-11: 46 percent.
Pitches in the strike zone to Cabrera in 2012-13: 46 percent.
You would also think, we're guessing, that Cabrera saw many more fastballs with Fielder hulking it up behind him. Nope. Not really, according to FanGraphs.
Fastballs thrown to Cabrera over his career: 59 percent.
Fastballs thrown to Cabrera in 2012-13: 59 percent.
OK, how about first-pitch strikes? They must have gone up in The Prince Years, correct? Sorry. Here's more from FanGraphs:
Cabrera's career first-pitch strike percentage: 58.6 percent.
Cabrera's first-pitch strike percentage in 2012-13: 58.9 percent.
So where's the evidence? It sure is difficult to find. But here's Torii Hunter's argument. It's one you'll never find on any stat sheet.
"The numbers don't lie, right? That's what they say," Hunter said. "But the numbers don't have a heart, or feelings, or adrenaline."
What he means by that is that the heart, the feelings and the mind are also part of this equation. And Torii Hunter should know, because he's the guy who hits in front of Miguel Cabrera, in the 2-hole.
"When I'm hitting in front of Miggy," Hunter said, "it gives me so much confidence that these guys have got to pitch to me, that I'm going to be able to hit. … There's a mental side of the game. And me hitting second [with Cabrera third] is more mental than anything.
"I can almost bet you that they're pitching me the same as when I was hitting fourth, fifth and sixth in Minnesota, and early on with the Angels. But now it's more mental, because I'm not trying to hit home runs. I'm just poking the ball to right, because I'm hitting second, because I know who's hitting behind me."
And that mental and psychological side of this story also applies to the pitcher, says Cabrera's new hitting coach, Wally Joyner.
"When Miguel comes up to hit, I guarantee you there are pitchers who are looking to see who's hitting behind him in situations," Joyner said. "There are going to be times you pitch around him. There are going to be times when you can pitch to him. But there's never a game, or an at-bat, for Miguel that the pitcher doesn't look on deck to see who's coming up."
But that's where Victor Martinez comes in. To the outside world, the idea of the gargantuan Fielder lurking on deck would seem far more intimidating than the presence of Martinez on deck. The Tigers, though, don't see it that way.
"I have no problem with Victor being behind him," Ausmus said. "And it gives you the advantage of Victor being a switch-hitter. … My guess is that last year, if there was a lefty on the mound, they would not want to give Miggy anything to hit and just pitch to Fielder, and go lefty-on-lefty. But you can't really do that with Victor."
The Tigers actually have all the data they need to know Martinez's "protection factor" is just as formidable as Fielder's -- because they tried it that way for a year, in 2011. And while it may have seemed as if Fielder had a major impact in 2012 -- seeing as how Cabrera won the Triple Crown and all -- in fact Cabrera's on-base percentage went
down
55 points that year (from .448 to .393) with Martinez no longer behind him.
"So people think they're not going to pitch to me with somebody else [besides Fielder] behind me, but it's not going to happen," Cabrera said, "because Victor is a great hitter with men in scoring position. He can drive in runs, too. So I think we don't have to worry about it."
Well, just so he knows, his bosses aren't worrying.
"Maybe if he had, let's just say, a .190 hitter hitting behind him on a consistent basis," Dombrowski mused, "Miggy would probably get to the point where he'd get a little frustrated. But that's not going to happen."
While he may not subscribe to the Lineup Protection Is Fiction newsletter, Dombrowski has thought about this a lot. And he's come to a conclusion that all of us, no matter where we stand on this issue, can't help but agree with.
Prince Fielder and Victor Martinez are excellent hitters, in any spot in any lineup -- "but they're not as good as Miggy," Dombrowski chuckled. "No offense to either one of them, but he's the best hitter in baseball."
So we can debate this question for the next six months. But Dave Dombrowski has it figured out better than anyone.
"In reality," he said, "the only person who could protect Miggy … is Miggy."
March, 8, 2013
3/08/13
10:30
AM ET
LAKELAND, Fla. -- The MVP is in San Juan, Puerto Rico, these days, working his special baseball magic for Team Venezuela. But it tells you something about
Miguel Cabrera
that the
Detroit Tigers
are as acutely aware of his absence as they are of his presence.
Asked what he would miss most about his Triple Crown winner over the next week or two or three, while Cabrera is off at the World Baseball Classic, his manager, Jim Leyland, got that inimitable twinkle in his eye and quipped:
[+] Enlarge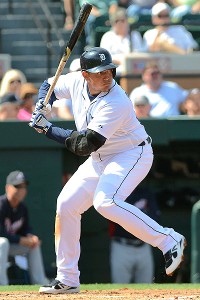 Mark Cunningham/MLB/Getty ImagesMiguel Cabrera has won the American League batting title in each of the past two seasons.
"You miss those three-run homers. I'll tell you that."
But in truth, of course, it isn't those homers he'll miss at all. Not in the Grapefruit League. What the manager admits he'll really miss is a guy who "lights up the room" every morning, just by walking into his own clubhouse.
"He's got a good face," Leyland said of Cabrera. "He's always fun to be around. He lights up the room when he comes in. And he's the best offensive force in baseball. That's not so bad, either."
The funny thing is, the outside world doesn't know that Miguel Cabrera. The world sees the hulking figure who hits in front of
Prince Fielder
. The world sees a gifted hitter who has already done things with a bat, at age 29, that very few men have ever done.
But the upbeat vibe the MVP gives off these days has been a shockingly well-kept secret, even within the sport he plays and conquers.
Just one example: Asked the other day what surprised him most about his first spring training with the Tigers,
Torii Hunter
gave a shocking answer:
"How Miguel Cabrera is so freaking happy," Hunter said, laughing uproariously.
When you cover sports long enough, you learn to anticipate many of the answers you get back when you ask a question. But I didn't see that answer coming.
And it's an answer you certainly wouldn't have heard a mere two years ago, when Cabrera arrived in spring training under very different circumstances.
Days earlier, he'd been found by police on the side of a road in a broken-down 2005 Range Rover, a bottle of scotch on the front seat, according to the police report. He'd been arrested on a DUI charge, placed in what Major League Baseball categorized as "a multifaceted, professionally administered program" to address the "misuse of alcohol."
And there is no better word to describe Miguel Cabrera at that time than "embarrassed." Embarrassed by all the good he'd undone with a painful, public lapse that left his future hanging precariously over a ledge he'd chiseled all by himself.
That wasn't five years or 10 years ago, friends. That was just two years ago. Spring training, 2011. The lowest of all of this man's lows.
And now here he is, not even 800 days later, riding about as large a wave as any man in his sport could possibly ride:
Winner of the first Triple Crown in almost half a century. The first Tiger to win back-to-back batting titles since Ty Cobb. A man the great Al Kaline described this week as "the No. 1 right-handed hitter I've ever seen."
From that to this in two years. What a journey. What an incredible journey.
In most years, if Cabrera had won an MVP award with that remarkable plotline lurking in the background, that would have been the story. Wouldn't it?
Instead, the nation became so consumed with the Cabrera-versus-
Mike Trout
new-age/old-age MVP debate/civil war, we seemed to forget all about the amazing journey of the man who won. So let's take a few minutes to consider it now.
"You almost can't describe it," said Dave Dombrowski, the Tigers' president and general manager who has watched, and overseen, every step of that journey. "I think it just shows the growth of human beings. It's sort of an explanation of life in many ways, because life's not easy at times. People have difficulties and have problems. And it's how you deal with those issues that's important."
Dombrowski isn't permitted to speak about the specifics of how Cabrera dealt with his demons. No one in baseball is. It involved entering a program that included counseling and constant supervision. It involved doctors, baseball people and folks who spend their lives helping others battle various addictions.
"

You have to tip your cap to him because he's dealt with those [alcohol] issues, full speed ahead and head on. And I tip my cap to him because again, to me, it really does symbolize life, and what life is about.

"

-- Tigers president and GM Dave Dombrowski on Cabrera
But more than any of that, the success of the program depends on the commitment of the troubled human being involved. And for two years, Miguel Cabrera has been true to that commitment, not just to following the rules but to changing his life.
"You have to tip your cap to him because he's dealt with those issues, full speed ahead and head on," Dombrowski said. "And I tip my cap to him because again, to me, it really does symbolize life, and what life is about."
So regardless of whether you thought Trout should have won that MVP election or Cabrera should have won it, wouldn't this be an excellent time to take a step back from that debate, just for one moment, and consider the journey of one man's life?
It's not for any of us to say that it was that national embarrassment two years ago that served as the turning point in Miguel Cabrera's life or career. We barely know a single detail of anything that has happened to him off the field since.
But that shouldn't stop any of us from being able to utter these three words: What … a … story.
It was only a little more than five years ago that Cabrera got traded from the Marlins to the Tigers. It was an astonishing trade at the time. But looking back on it, it appears that Miguel Cabrera couldn't have landed in a more optimal situation, for every reason.
"It's been unbelievable, man," Cabrera said last weekend, on his final day in camp before departing for the WBC. "When I was in Miami, I didn't want to go from Miami when they traded me. But I got traded to a great organization. They've been great to me. I fit perfect on this team for the last five years."
He finds himself surrounded now by other players with big personalities and bigger names, men whose profiles somehow remain much larger than his:
Justin Verlander
, Fielder and Hunter, just to name three. So there has been very little pressure on Cabrera to be something he's not.
He is also surrounded by one of baseball's most diverse group of teammates. More than 25 percent of the Tigers' 40-man roster comes from his native Venezuela. Nearly half is of Latino heritage. So there's a comfort level to be found, for a man like this, that exists in few other clubhouses.
But Dombrowski and one of his top assistants, Al Avila, also go so far back in time with Cabrera, well before his trade to Detroit, that they have known him now for almost half his life. Both worked for the Marlins when Cabrera was first signed, back in 1999, at age 16. So there's a special affection and appreciation for him within this franchise that's unlike anything he would have experienced just about anywhere else.
So in many ways, Cabrera has been lucky to find himself in this place, at this time in his career. But over the past two years, he has been especially fortunate to be working for people who care about him in such a meaningful way.
Dombrowski says, though, that the support Cabrera has received has nothing to do with either his talent or their history together.
"As an organization, you have a responsibility to help someone under any circumstances," Dombrowski said. "But also you have it particularly if they're willing to help themselves. You try to help them. And it doesn't matter if they're a superstar or a utility infielder. I think that's just a responsibility that you have."
Well, however it has worked, and for whatever reasons, the bottom line is, it's hard to imagine it could possibly have worked any better for Miguel Cabrera.
How important was that journey in leading this man to the season he had last year? Again, that's for none of us to say. But Cabrera could not be more appreciative to have experienced all he has experienced -- and where.
Asked whether he could possibly have achieved what he has achieved anywhere else, he found no reason even to contemplate it.
"I never think like that," he said. "I believe I'm with the right people, in the right organization. So why do I have to think about what would have happened if I played somewhere else? I don't have time for that."
He is also past the point of rolling back the clock to reflect on last season anymore. If he's still thinking about that, he said, "I'm going to do nothing this year." So it's time to look forward, he said, to think about what he and his team will do next.
OK. Let's do that then. When his GM was asked where he thinks Miguel Cabrera goes from here, Dave Dombrowski summed it up in one word: "Cooperstown."
And there's no reason to think he's wrong.
Cabrera won't even turn 30 until next month. But he has already spun off nine seasons in a row with more than 25 home runs, a slugging percentage north of .500, a batting average north of .290, with more than 175 hits and at least 65 extra-base hits. Only one other player has had nine straight seasons like that at any age:
Albert Pujols
.
Cabrera also is working on nine consecutive seasons with an adjusted OPS-plus of 130 or better. Here are the names of the only other players to do that before age 30:
Cobb (11), Mel Ott (11), Mickey Mantle (10), Rogers Hornsby (10), Hank Aaron (9), Jimmie Foxx (9), Tris Speaker (9) and Pujols (9).
That phrase, "Cooperstown-bound," describes every one of them.
"He's a much better hitter than I ever was," said Kaline, a 15-time All-Star, former batting champ and Hall of Famer himself. "He's a much stronger hitter than I ever was. … You don't ever see him have a really bad at-bat. He might make outs or not hit the ball hard. But it's not like he ever gets fooled."
"He's a pleasure to watch," Dombrowski said, the admiration oozing out of him. "It's almost like an honor to watch him play. You just hope people don't take him for granted as they watch him."
For the next week or two or three, while he's away at the WBC, the folks around the Tigers won't have that pleasure. But as they've come to learn about their favorite MVP, that isn't all they'll miss.
February, 25, 2013
2/25/13
6:00
PM ET
Torii Hunter
is still a Twitter fan. But a funny thing happened to him this winter on his way to a better life through Twitter.
He fired out a now-famous tweet, which he's still trying to explain, the day his old team, the Angels, signed
Josh Hamilton
. It went kinda like this:
"I was told money was tight but I guess the Arte had money hidden under a Mattress. Business is business but don't lie."
[+] Enlarge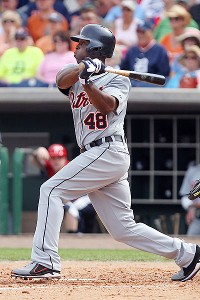 Kim Klement/USA TODAY SportsTorii Hunter is already enjoying being in the Tigers' lineup.
Half the planet took that as an indication that the Tigers' new right fielder wasn't exactly thrilled that the Angels (and owner Arte Moreno) said they didn't have the bucks to sign him, but found $125 million to give Hamilton over the next five years.
But Hunter said Monday he's over whatever frustration welled up in him that day.
"I'm over it," he told ESPN.com. "It was just a joke that went bad. I said he found money under the mattress, but I don't know what happened. I can't even explain that one. I've always said I had a great time in the Angels' organization, my best five years of my career. That organization has done a lot of great things for me, so I have no hard feelings. Trust me. I understand.
"I understood I was getting older for them," Hunter went on. "I had a great season for them last year, but they didn't want to fall in the trap of me getting older. I understood that. That's the business side of it. I always understood how hard it is to be a GM, because some day I would like to be one. We'll see."
---
More from Torii Hunter:
On what it's been like to be around Prince Fielder: "He's got a great freaking attitude, man. He loves sitting around, looking around, cracking jokes in the clubhouse. Gets out on the field, he's having so much fun. He hits, and hair is flying everywhere. He just loves it. He's just this big kid at the ballpark. When he was 13, 14, 15 and he was hitting in Lakeland when his dad came here in big league camp, just watching that little guy hit, it was impressive. I still remember him."
On what it's like to take batting practice with Fielder and Miguel Cabrera: "He and Prince, it's sick. They're hitting it like 450 feet in batting practice. Me, I can't do that. It would take me like 100 swings to get loose just to hit them there."
On how his lineup in Detroit compares to the lineup he left in Anaheim: "It's up there. It's definitely up there. The thing about our [lineup] with the Angels was, we just didn't jell. We didn't jell 'til June, 'til the end of May. But these guys have already played together. All they added was a piece like me. And I'm just a little piece of the puzzle. I'm not a guy who comes and changes everything. I just try to fit in."
On why he's hedging slightly on his statement earlier this month that this Tigers staff is the best he's ever played behind: "In '09 with the Angels, we had a great staff and we showed it on the field. Right now, we haven't done anything yet. But … if everything goes right, guys stay healthy and do what they're capable of, I definitely think this could be one of the best pitching staffs of my career that I played with. Right now, on paper, it's THE best. But we'll just have to see the results. … I say that because last year, I looked at that lineup with the Angels and said, 'Wow, we've got a great lineup.' And a month and a half went by, and we hadn't done anything. So now, I'm kind of a believer like, just play."