Spring Training:

Milwaukee Brewers
February, 25, 2013
2/25/13
4:00
PM ET
MARYVALE, Ariz. -- Milwaukee center fielder
Carlos Gomez
can elicit some gasps when he lets it fly in batting practice. During a BP session at Maryvale Baseball Park on Saturday, Gomez launched a series of home runs high and far over the left-field fence through a stiff wind. It was an impressive enough display to make everybody stop and watch.
Through his first five big league seasons, Gomez never hit more than eight home runs (in 2011). But last year, he hit a career-high 19 to go along with 37 stolen bases; and teammate
Ryan Braun
said he won't be surprised to see Gomez take a bigger step forward this season. Can you say "fantasy sleeper?"
[+] Enlarge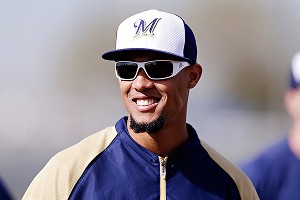 AP Photo/Morry GashCarlos Gomez hit a career-high 19 home runs for the Brewers last season.
"Tools-wise, he's the most impressive athlete I've seen," Braun said. "He runs a 6.3 60 [yard dash]. He could throw 95 [mph] off the mound as a pitcher. He's 6-3 and 225 pounds, and he has huge power. And he leads the league in energy. He's really impressive to watch on a daily basis."
It's taken a while. Gomez broke into pro ball as an amateur free agent with the Mets in 2002, but he just turned 27. New York sent him to Minnesota in the
Johan Santana
trade in 2008, and the Twins dealt him to Milwaukee for shortstop
J.J. Hardy
the following year.
Gomez has a terrific glove and defensive instincts to go along with his power and speed. His biggest problem, to this point, has been an inability to make contact with any degree of consistency. He has a .294 on-base percentage in the majors, with a mere 107 walks in 2,130 plate appearances. But Braun sees subtle indications that Gomez is improving. Bad as it was, his .305 OBP last year was his best in six seasons.
"If he ever puts it together with any consistency, he's as good as anybody in baseball," Braun said. "He really is. He's actually gotten a little bit better every year, which shows that the aptitude is there. He's slowly making adjustments, and he's still young. He's certainly heading in the right direction. He loves baseball. He plays with a lot of passion every day."
Braun nevertheless expressed doubt recently when Gomez told him he ran a 3.7-second 40-yard dash on a track over the winter.
"I told him I didn't believe it, and he said he wanted to bet me a significant amount of money," Braun said, laughing. "We're going to have to find a way to confirm that one."
First-base turnstile
With
Corey Hart
out until late May because of a knee injury and
Mat Gamel
done for the season with a torn ACL, the Brewers are looking at anyone and everyone at first base.
Third-base prospect
Taylor Green
will see time at the position before he heads for the World Baseball Classic with Team Canada. Career shortstop
Alex Gonzalez
made his spring debut at first base on Sunday, and former AL Rookie of the Year
Bobby Crosby
will get some at-bats in the Cactus League.
The Brewers also are intrigued by former Auburn standout Hunter Morris, who hit 28 home runs and slugged .563 to win the Southern League MVP award in 2012. He'll probably begin the season with Triple-A Nashville, but the Brewers have been impressed with his maturity and even temperament during the development process.
"He's a hitter, so we'll try to see if he's ready for it," manager Ron Roenicke said of Morris. "He's good mentally. He's a pretty solid kid, so that helps."
General manager Doug Melvin said last week that he's keeping an open mind about upgrades. He's more likely to wait and troll the waiver wire at the end of spring training than go out and sign an unemployed free agent in the
Carlos Lee
category.
The Brewers checked in on
Juan Rivera
and
Lyle Overbay
over the winter before the two veterans signed minor league deals with the Yankees and Red Sox, respectively. If Melvin concludes that the Brewers need to make a move at first, it's probably going to be something modest.
"We'll look at our own guys for the first 10-12 games," Melvin said, "and then we'll re-evaluate and see whether we can stay internally or if we need to go out and get somebody."
February, 24, 2013
2/24/13
2:40
PM ET
MARYVALE, Ariz. --
Milwaukee Brewers
closer
John Axford
isn't making any predictions on the 2013 National League Central race or the upcoming World Baseball Classic (he's pitching for his native Canada). But if you're interested in Academy Award insights from the vantage point of a ballplayer/film aficionado, he's your man.
[+] Enlarge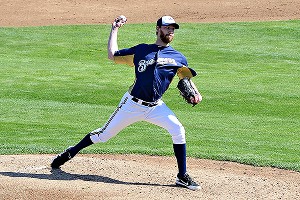 Jennifer Stewart/Getty ImagesBrewers closer John Axford is well-versed on the best films of 2012.
Axford, who studied film at the University of Notre Dame, began making Oscar predictions to his friends in 2010 because he was passionate that the Iraq War drama "The Hurt Locker'' was far superior to the science-fiction epic "Avatar.'' His instincts were borne out when "The Hurt Locker'' won the Oscar for best picture and Kathryn Bigelow captured the best director award.
"I really, really wanted 'The Hurt Locker' to win and 'Avatar' to lose,'' Axford said. "But 'Avatar' was picking up so many other wins, I made sure I watched. I told everybody, 'No, the "Hurt Locker" is going to win and it better win, and if it doesn't, I'm going to be really upset.'"
Axford planned to share his Oscar predictions via Twitter on Sunday at @JohnAxford and give his 60,000 followers a chance to see how savvy he is. He will try to improve upon his 11-for-15 success rate last year, when he correctly picked "The Artist'' for best picture, but whiffed on his choice of Viola Davis over Meryl Streep for best actress.
As of Saturday afternoon, Axford had yet to settle on many of his picks. But he took a few minutes to share some observations on this year's Oscar field after pitching a scoreless inning for the Brewers against Oakland in the Cactus League opener.
• Axford's favorite films of 2012 were "Argo'' and "Django Unchained,'' with "Silver Linings Playbook'' next in line. Like many observers, he thinks "Argo'' will and should win the best picture award.
"It's the best one I've seen,'' Axford said. "It's the most put together. It's suspenseful, it's dramatic and it pulls you in right away. I remember sitting in the theater watching it, and immediately my wife was grabbing the side of the seat. I said, 'Do you want to go watch something else?' And she said, 'No, I'm committed.' We had to stay."
• Axford is a big Quentin Tarantino fan and would like to vote for him for best director, but Tarantino wasn't even nominated for "Django Unchained.'' Axford is leaning toward picking Tarantino for best original screenplay as a consolation prize.
Axford is even more emphatic in his support for Ben Affleck, who failed to make the list of best director nominees despite widespread praise for his work on "Argo.''
"He's been winning every other award so far,'' Axford said. "Hopefully he'll get the last laugh at the Academy when he picks up best picture at the end.''
• Axford picks Christoph Waltz of "Django Unchained" for best supporting actor. As of Saturday, he had yet to decide on best supporting actress or best actress, even though he thinks Jessica Chastain is "incredible'' in "Zero Dark Thirty.''
In the best actor category, Axford is going with the prohibitive favorite, Daniel Day-Lewis, for his performance in "Lincoln.'' During his brief tenure as an Oscar prognosticator, he's found that it usually pays not to fight the inevitable.
"I've always had a thing for Daniel Day-Lewis,'' Axford said. "One of my favorite roles he's ever played was in 'There Will Be Blood.' It's unbelievable how mean he was -- what a p---- he was in that movie. His 'Lincoln' is far and away the best of anything that's been done out there this year.''