Spring Training:

Roy Halladay
March, 23, 2013
3/23/13
4:40
PM ET
CLEARWATER, Fla. -- He headed for the mound at 10:59 on a gloomy Saturday morning, that inimitable all-business
Roy Halladay
look in his eye.
If you just gazed at the scene around him, without knowing the backstory, you never would have suspected the most important start of the spring, for a two-time Cy Young winner, was about to unfold on a back field at the Carpenter Complex.
A couple of hundred curious fans leaned against the fence along both lines. A dozen minor leaguers jockeyed for position behind home plate, to watch one of their favorite artists at work. No music played. No refreshments were served.
No bells. No whistles. No fanfare. Just Roy Halladay, standing atop a rain-soaked minor league mound, trying to recapture the magic.
The fate of the Philadelphia Phillies' season wasn't exactly riding on the 81 pitches Halladay was about to unfurl, against the Toronto Blue Jays' Triple-A lineup, on this Saturday morning. But that's just the little picture. If you widen your viewfinder, you know what's at stake:
Where this man goes from here and where his team goes from here are as connected as every stitch on the baseballs he'll spend the next six months delivering.
[+] Enlarge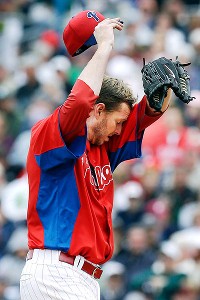 AP Photo/Kathy WillensRoy Halladay, who turns 36 on May 14, has 199 career wins and a pair of Cy Young Awards.
And once again Saturday, after the sixth start of his puzzling spring, it remained impossible to say what kind of pitcher the great Roy Halladay can be anymore.
The results? They were nothing he'll tell his grandkids about someday. You can book that.
He faced 18 hitters. He retired seven of them. Seven.
He allowed three doubles, four singles, two walks and a hit batter. Another hitter reached when Halladay made an errant throw to first after fielding a bunt.
The Phillies announced afterward that he had pitched four "innings" and allowed three runs (two earned). But his pitching coach, Rich Dubee, pulled the plug on one of those innings with two outs and the bases loaded. And four of the remaining 11 outs came on a caught-stealing and three double-play balls.
So only seven hitters actually headed back to the bench without reaching base. Just one of them struck out -- looking, on a fourth-inning changeup, on Halladay's 76th pitch of the day.
More messy details: Halladay threw first-pitch strikes to only eight of 18 hitters. ("That," muttered one bystander, after another ball one, "isn't him.") He induced three swings and misses out of 81 pitches – none on his fastball.
He touched 90 miles per hour on the radar gun once, on his seventh pitch of the day. But mostly, when he delivered his fastball, the guns lit with numbers ranging from 86 to 89.
Aroldis Chapman
, it wasn't.
Even more to the point, Roy Halladay -- circa 2002-11 -- it wasn't.
So it was hard to say what was more uncomfortable -- watching him pitch, knowing what he used to be, or listening to him try to make it sound afterward like a fabulous day at the office.
Among his upbeat quotes were these: "Armwise, I felt really good." … "My arm slot felt good." … "I felt strong. I was surprised." … "Arm felt great. No soreness. I don't think I'm going to feel sore tomorrow. And I felt like my stamina was there."
So if he felt so good, you ask, why did he give up all those hits? Blame the game plan, Halladay said. In his efforts to evolve, change patterns and confuse hitters, he went out there with the idea of throwing more "hard stuff" in counts where he used to throw soft stuff.
In retrospect, he said later, "trying to go as hard as we could, as much as we could, against a minor league team, probably isn't the best plan. But that's kind of what we needed to do. … It's something we had to work on. And if I'm going to go pitch and try to win, I'm going to throw as much soft [stuff] as I can. That wasn't the goal today."
And about those radar-gun readings? He knows he isn't putting up those 93s and 94s the way he used to. But "I think there's more there," Halladay said. "I really do."
He blamed a "mushy mound" that kept him from using his legs to drive the ball. But he made it a point to draw an emphatic distinction between the 87-88 mph he's been throwing this spring with the 87-88 he was throwing last spring, on his way to the disabled list -- and one of the toughest seasons of his distinguished career.
"That was the great thing about today," Halladay said. "I felt like it wasn't a lot of effort, where last year it was everything I had and it's 87-88, and it's everything I had. And now I feel like I can repeat it, nice and fluid. And it's coming out of there easy. And I felt like if I needed to add to it, I could."
But the more he talked, the more he began to sound like the aging pitcher he knows he is now.
"


It's not about the strength, and throwing harder, and overpowering guys. It's about outsmarting and being more prepared and being more consistent. That, to me, is a challenge.



"

-- Roy Halladay
When he was 26, he had laser-beam command and an arsenal full of out pitches, and good luck hitting any of them. Now, though, he's seven weeks from turning 36. And he finally has conceded that he can't do it the way he used to. Not anymore.
"I don't know of any guys throwing harder as they got older," he said. "A lot of the guys I've played with, I've watched. I've watched the adjustment they've made. I've watched
Pat Hentgen
. I've watched
Roger Clemens
. He started throwing a split. I've watched all those guys. I've watched them all evolve and do different things. I've never seen a guy that threw harder as he got older.
"And if he did," Halladay said, grinning as he searched for a way to finish this soliloquy, "he probably needed to be tested."
But the big test, for this man, won't be administered by any guys wearing lab coats. The test now is how he goes about finding the limits of his own baseball mortality, after 403 trips to the mound, after 2,687 1/3 innings, after launching nearly 40,000 pitches in the past decade and a half.
Asked whether it was difficult on him mentally, knowing he couldn't throw a baseball as hard as he used to, Halladay grew as reflective as we've ever heard him on this topic.
"No, to me, it's a competition," he said. "It's not a boxing match. It's not strength versus strength. It's a chess match. It's competition of the mind, and execution, and being smarter and being more prepared. To me, that's what I've enjoyed. That's what I've liked about baseball.
"You look at a
Jamie Moyer
," he went on. "He could compete with the best of them. He would have gotten knocked out in the first round if he was a boxer."
Now this wouldn't be the first time we've heard a pitcher use that Jamie Moyer analogy to prove it's possible to pitch and win no matter how hard you throw. But hold on. This wasn't some veteran junk-balling left-hander talking. This was Roy Halladay.
This was a man who, as recently as two years ago, was carving up hitters with 40 fastballs a game. And now he's talking about changing patterns, messing with different counts to throw his offspeed stuff, trying to find a different grip with his cutter, invoking those analogies to Jamie Moyer.
So … any more questions about where this man is at these days, or how he thinks he needs to pitch to win?
"It's just a different mentality," he said. "It's not about the strength, and throwing harder, and overpowering guys. It's about outsmarting and being more prepared and being more consistent. That, to me, is a challenge."
Well, he's right about that. If this is who he is, if this is how hard he throws, if this is how he has to go about it, he's in for arguably the biggest challenge of his pitching life. Possibly even bigger than that trip he took back to the Florida State League 13 years ago to reinvent himself.
So it was ironic that, on an overcast Saturday morning in March, he found himself trying to write yet one more new script, on a soggy mound just a few miles up the road from that ballpark in Dunedin, Fla., where he scripted his first baseball reincarnation.
Maybe he has another rebirth ahead of him. But if he does, it would come as quite a shock to the couple of hundred people who watched him get hit around on this day, on a back field at the Carpenter Complex.
March, 6, 2013
3/06/13
6:58
PM ET
CLEARWATER, Fla. -- It's only spring training. The land of waving palm trees. The land of make-believe baseball. The happiest month and a half of the baseball year.
Until a pitch from one team's ace plunks the other team's No. 3 hitter in the shin. …
And then a pitch from the other team's ace sails behind the back of the other team's cleanup man. …
And it becomes clear, right there in the middle of a Grapefruit League game, that rivalries never sleep. Even in spring training.
That was the fascinating turn of events in Clearwater on Wednesday, when the Nationals showed up to play the Phillies in what was supposed to be a fun little spring duel between
Stephen Strasburg
and
Roy Halladay
.
Well, they dueled, all right. But the "fun" was in the eye of the beholder.
In the third inning of this tussle, Strasburg appeared to accidentally nail
Chase Utley
in the left shin with a fastball that slipped away. Utley never said a word, never shot a glance, never did anything to signify an NL East skirmish was about to bust out. But …
A half-inning later, with two outs and nobody on, up stepped
Tyler Moore
, hitting fourth for the Nationals on this day, when most of the regulars were spared the 2½-hour bus tour of central Florida.
Halladay turned, took a stroll to the back of the mound and appeared to say something to Utley. Then, whaddaya know, Halladay's first pitch just happened to fly two feet behind Moore's back and skidded to earth on the warning track behind the plate.
It was quite the what-the-heck-just-happened moment. But considering this was a pitch thrown by Roy Halladay, owner of one of the three best strikeout-walk ratios of the live-ball era, "inadvertent" didn't seem to be the best way to describe it.
Afterward, Halladay did claim on several occasions that the pitch had "slipped a little bit." But then he was asked about something he'd said earlier in this camp, in which he admitted that Utley had "suggested drilling a few guys this year. So I might mix that in."
"No, it slipped," he said at first. "But you know, I mean really, I think that's not necessarily the case, but we do need to protect our guys to an extent. I'm not saying that's what happened. It slipped. But I think that's important. We've had a lot of guys hit over the years. And I think, as a staff, we need to do a good job of protecting those guys.
"In spring training, I don't think you're necessarily trying to do it," he went on, innocently enough -- but then, out of the blue, here it came, the money quote:
"But," he said, purposefully, "it wouldn't have been the worst thing had it got him after [Strasburg] hit one of our good guys."
Oh. Really?
So then it was Strasburg's turn. Asked if he'd just lost his grip on the pitch to Utley, on a chilly, wind-swept afternoon, he replied: "I don't know. I don't have any reason to throw at him, do I?"
So then he was asked if he thought the Phillies were trying to send a message back with Halladay's pitch to Moore. Strasburg seemed perplexed.
"I don't understand why they would think I was throwing at him," he said. "Obviously, you could tell the conditions weren't great. I yanked it in there. It's spring training. If you're going to throw at someone or send a message in spring training, go ahead."
You could almost envision him taking a quick mental note, for future reference.
And now, finally, let's hear from Moore, who looked up at his locker after the game, saw a bunch of reporters march through the door, smiled and asked: "What?"
Asked what went through his mind when a pitch from a control aficionado like Halladay sailed behind his posterior, Moore deadpanned: "He missed a little inside."
When the laughter died down, Moore said, "[Halladay]'s a competitor, man. I don't know if he was protecting his team or what. But he knows that it's spring training. He's a professional, done this for a long time, and maybe it just slipped out of his hand."
Yeah. Maybe. But Moore's best quip came in the dugout, when his manager, Davey Johnson, approached him.
"Is there some kind of history with you and Halladay?" Johnson said he asked.
"There is now," Moore joked.
No kidding. But now that we've allowed all the witnesses to testify, it's still fair to ask if there was any sort of deeper meaning in all this. And let's be honest here:
Of course there is.
How can anyone believe, given the recent history between these two teams, that this was just another day at either of their offices?
This, after all, is a rivalry that's had it all.
Cole Hamels
drilling
Bryce Harper
and admitting he'd done it on purpose. … Nationals GM Mike Rizzo getting fined for ripping Hamels publicly. … The Nationals attempting to ban Phillies fans from their ballpark. … Pointed banter ping-ponging back and forth this spring between
Jimmy Rollins
and his old friend,
Jayson Werth
. … And, of course, the Nationals supplanting the Phillies as the NL East champs and clear-cut Team to Beat in 2013.
So when someone mentioned to Johnson after the game that the Phillies seemed awfully focused on his team these days, the manager enjoyed that thought immensely.
"I hope so," he said. "The Phillies had a great run. It's nice now that they're thinking about us. It's been a while."
And when reporters relayed Halladay's quotes to Johnson and asked if, after hearing them, he
then
was convinced Halladay had launched that pitch to deliver a message, the manager deadpanned: "Maybe Hamels is coaching him. I don't know."
But what both sides know is that they have to play each other 19 times this season. And let the good times roll.
"It's definitely going to be a fun season," Moore said, "playing them so many times."
And across the field, in the other clubhouse,
Laynce Nix
, who has played for both of these teams, made it clear that when Utley got drilled by a guy who "had really good control today, at least with all the pitches he threw to me," that wasn't a development the Phillies could just shrug off as no big whoop. Even on March 6.
"I know it's just spring training," Nix said. "But we can't have our guys getting hurt, whether it's an accident or on purpose. Look, I don't really see those guys doing it on purpose. But it just is what it is. When a guy like Chase gets hit, we don't appreciate it too much."
So Nix had no qualms about declaring this one of the best rivalries in the game.
"I think it is, whether guys want to admit that or not," he said. "It absolutely is.
A couple of things have happened where it could have gotten ugly and it didn't seem to, with Bryce getting hit last year and things like that.
"The Nationals responded by winning games," Nix added. "So the best response for us is to start the season clicking and send the message that we're here to win games."
For the record, they'll have plenty of time to get their on-field messaging in gear. These teams don't play each other until Memorial Day weekend in Washington. So all they can do for the next 2½ months is replay the purpose pitches they threw Wednesday -- and keep talking the talk 'til they meet.
"Talk is cheap," Johnson said. "I don't get too involved in all that. Let it happen on the field."
Excellent idea. We're ready any time they are.
February, 13, 2013
2/13/13
6:30
PM ET
CLEARWATER, Fla. -- For every baseball player who ever lived, there has been a spring like this, a year like this.
You look up and you're about to turn 36, not 26. Your body aches in places it has never ached before. Your contract is a year from its expiration date, and no one has made a move to extend it. The numbers on your ESPN player card look so odd, you'd be half-tempted to suspect they were typed in there by some devious hacker in the middle of the night.
[+] Enlarge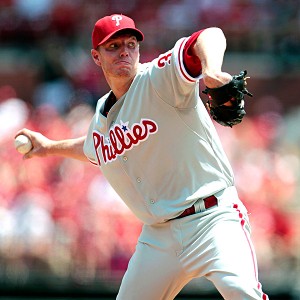 AP Photo/Jeff RobersonRoy Halladay pitched fewer than 200 innings last season for the first time since 2005.
This is baseball. This is life. Even when you've gotten used to being The Indestructible Man.
Even when you're
Roy Halladay
.
Maybe he's about to win the Comeback Player of the Year award. Maybe he's about to stagger through another year in which his back hurts, his shoulder barks and his fastball forgets to hop the way it used to.
But this is it, a defining year in his Hall of Fame career. And he's well-aware of all that's at stake.
No matter how early he rolls into the ballpark parking lot, no matter how methodically he's worked with the
Philadelphia Phillies
' medical and training staff to redesign his delivery, his workout program and his throwing program, he has no idea what's ahead.
And on Wednesday, the first day of a pivotal spring training, he had no trouble admitting that.
"I think any player would honestly tell you, 'You never know,'" Halladay said, on Day 1 of his fourth (and possibly final) spring training with the Phillies. "Every year, you come into spring training, and you come in hoping that you're going to feel good and you'll be able to pick up where you left off. But there's no guarantees. … I know that. And I've known that my whole career."
It's now 13 years since a funny thing happened to Roy Halladay on his cruise to stardom: He turned himself into such a mechanical mess, he wound up all the way back in the Florida State League. That was 2000. He hasn't taken anything for granted since.
"I got my wake-up call a long time ago," he said Wednesday. "So I know it's always a battle to try and stay ahead of the curve."
But even he never saw his 2012 nightmare coming. He'd come to believe that if he worked hard enough, prepared long enough and ran far enough, he could withstand all those pitches, all those innings, all those extra miles on his odometer.
And he couldn't have been more wrong.
So now, after a season in which his ERA nearly doubled (from 2.35 to 4.49), in which he spent a month and a half on the disabled list, in which his moments of once-standard brilliance were few and far between, he has blown up the blueprint and started over.
You know those predawn runs through the Clearwater blackness? That's a wrap. He's an intervals runner now, not a half-marathoner.
"I think those 4 a.m. runs, for him, might be done," said his spring workout partner,
Kyle Kendrick
.
Halladay also has tweaked his delivery to take the strain off his back and shoulder. He's blown up his longtime workout program and substituted a whole new regimen. And he's convinced he has found answers to questions he had trouble solving all last season.
"I feel good all the way around," he said. "I'm not here to predict anything, but if I can feel the way I feel right now and maintain it and get stronger through the course of spring training like I normally do, I feel very confident that I can get back to [where he was]."
Where he was, of course, was at a place that almost no one else of his generation has occupied. A place where he won Cy Youngs in each league, racked up five top-three Cy Young finishes and threw 220 innings or more eight times in a span of 10 seasons.
And with the way he did it, the look in his eye as he did it, he constructed an aura of indestructibility around himself that seemed like something out of 1969, not 2009.
"It was something," said his manager, Charlie Manuel. "It was absolutely unreal. But he's thrown a lot of bullets, man. When you stop and think about it, he's thrown a lot of bullets."
So now, will all those bullets add up to the beginning of the end for this man? We're about to find out.
Just not yet.
For what it's worth, Halladay was the first Phillies pitcher to take the mound this spring, grunting through a turbo-driven bullpen session at 8:30 Wednesday morning, with GM Ruben Amaro Jr. and eight members of the major league and minor league coaching staff looking on intently.
But the plan is to ease him into the spring, with shorter outings early on and a gradual buildup as they go along. So it won't be until late in the spring, Manuel said, that any of them will know, really know, whether the old Doc Halladay is back.
Make no mistake, though. They can't wait to start finding out -- because two key things are riding on it: (A) their season and (B) Halladay's future. That's all.
The Phillies' only ticket to October is built around their aces -- Halladay,
Cliff Lee
and
Cole Hamels
. And they need all three of them, the manager admitted. But there are more doubts swirling around Halladay than the other two combined. So no wonder all those eyeballs were focused on him Wednesday morning.
"He doesn't have to throw no-hitters and things like that," Manuel said. "But he's got to pitch something similar to what he used to. And I think he will."
The manager is talking about Halladay, Lee and Hamels combining for "50 to 60 wins." Which comes to 17 to 20 apiece, if you're calculating along at home. Just for the record, no National League team in this millennium has had three 17-game winners (or better) on the same staff. But for the 2013 Phillies, that's not just the mission. It might be a necessity.
Meanwhile, if Doc Halladay wins 17 to 20, he would be setting himself up for an enjoyable journey into free agency next winter -- except for one thing:
He said Wednesday he doesn't particularly want to journey into free agency.
"I really don't," he said Wednesday. "I think if I had my druthers, I would be here until I'm done. And as good as they've been to me, I think they realize I'd be as good to them as I could be. So going forward, I really don't see myself playing anywhere else. And I don't want to play anywhere else."
Of course, a year ago this time, neither did the Phillies. But then came last season, when both sides decided to stop thinking about Halladay's next contract until they could figure out what he'd be at the end of this contract.
And the end of this contract is now just eight months away. So the time has come for The Ace to define exactly what he is and prove exactly what he can be. Again.
This is baseball. This is life. Even when you're Roy Halladay.
February, 13, 2013
2/13/13
11:00
AM ET
CLEARWATER, Fla. -– He stepped onto the mound at 8:30 on a blustery spring-training morning. Apparently, it was a pretty big deal.
Any time
Roy Halladay
does anything in
Philadelphia Phillies
camp this spring, after an injury-plagued season that leaves his future (and present) in doubt, people will be paying attention. But it will be tough to match the throng he drew for this session.
His general manager (Ruben Amaro Jr.) was there, peering at his ace intently from several angles. So were eight members of the major-league and minor-league coaching staff, led by pitching coach Rich Dubee and minor-league pitching coordinator Gorman Heimueller.
That's 18 eyeballs all trained on one bullpen session, on the first official morning of spring training. The Elias Sports Bureau can't tell us if that's a record. But it's definitely a sign of how important Roy Halladay is to the 2013 Phillies.