Spring Training:

spring training
March, 25, 2014
3/25/14
11:01
AM ET
JUPITER, Fla. -- The
Miami Marlins
' spring training camp began on a rough note when team president David Samson was the first contestant to be voted off the island on "Survivor." It's been all uphill from there.
The Marlins have a National League-best 16-10 record in spring training. Although Grapefruit and Cactus League records are deceptive and are meaningless in the overall scheme of things, the vibe is decidedly positive at the complex the Marlins share with the
St. Louis Cardinals
.
Giancarlo Stanton
, the Marlins' best player, is relaxed, healthy and hitting rockets all over Roger Dean Stadium. Outfielder
Christian Yelich
and shortstop
Adeiny Hechavarria
seem ready to assert themselves, and the Marlins assembled a more competent support system for their young players with the addition of veterans
Jarrod Saltalamacchia
,
Garrett Jones
,
Rafael Furcal
,
Casey McGehee
and
Reed Johnson
in the offseason.
[+] Enlarge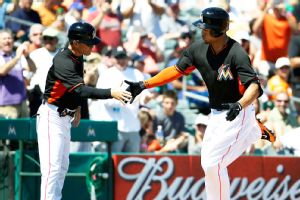 AP Photo/David GoldmanA healthy Giancarlo Stanton could be a real difference-maker for the Marlins.
And, oh, that pitching. Throughout the starting rotation and the bullpen, the Marlins are stacked with hard throwers who are going to produce some very uncomfortable at-bats.
"I heard a lot of things about the pitching staff before I got here," said Saltalamacchia, the catcher on the
Boston Red Sox
's 2013 championship club. "I was expecting some good arms, but you never really know until you see for yourself. When I got into camp and caught these guys, it was definitely as advertised."
It all begins with
Jose Fernandez
, the 2013 National League Rookie of the Year and third-place finisher in Cy Young Award balloting.
Nate Eovaldi
, acquired from the
Dodgers
in the
Hanley Ramirez
trade, averaged 96.2 mph on the radar gun last season, and
Henderson Alvarez
threw a no-hitter against Detroit on the final day of the season.
No. 4 starter
Jacob Turner
has something to prove after an awful second half (0-7, 4.92 ERA, and a 1.11 strikeout-to-walk ratio), but he's only 22 years old. The Marlins also have options:
Brad Hand
and
Tom Koehler
, who arrived in camp as likely competitors for the No. 5 spot in the rotation, have a combined 2.38 ERA in 34 Grapefruit League innings. The Marlins have another future-ace-in-the-making in lefty Andrew Heaney, who will begin the season in the minors, and some other pitching prospects (Justin Nicolino and Anthony DeSclafani, to name two) who aren't far from contributing.
"Pure stuff wise, I haven't seen anything like this," McGehee said. "You do the math and see some guys who aren't going to make the team and you say, 'Oh my goodness.'"
The Marlins went 24-35 in one-run games last season and lost 55 games by two or fewer runs, and they're hoping attentiveness to detail can make a difference this season. They were a dreadful baserunning team in 2013, so they added Brett Butler to the coaching staff to work with the players on bunting and running the bases more efficiently. They also added Seattle's
Carter Capps
to a bullpen filled with power arms in front of closer
Steve Cishek
.
In light of how this spring has gone for the rest of the NL East, a team can make positive strides just by avoiding bad news. At Atlanta's camp,
Kris Medlen
and
Brandon Beachy
have gone down with elbow reconstructions.
Cole Hamels
will begin the season on the disabled list in Philadelphia, and the Phillies' camp has been dominated by news of discord between manager Ryne Sandberg and shortstop
Jimmy Rollins
. It hasn't been much better at Mets camp, where Jon Niese gave the team a scare with some elbow discomfort,
Matt Harvey
is questioning the course of his rehab,
Ruben Tejada
is hitting .216 with four errors and the
Ike Davis
-
Lucas Duda
competition at first base was slow to materialize because of injuries.
Miami's setbacks, in contrast, have been relatively minor. Furcal has missed time with a hamstring injury; infielder
Derek Dietrich
suffered a fractured nose on a bad-hop ground ball; and it's been a tough spring for
Marcell Ozuna
, the team's projected center fielder. Scouts are also withholding judgment on whether Jones, Saltalamacchia and McGehee will significantly upgrade Miami's 2013 batting order. Given that
Placido Polanco
hit cleanup on Opening Day and the Marlins ranked last in the majors in runs (513) and OPS (.627), it won't take much.
Put it all together, and it's no wonder talent evaluators, writers, opponents, front-office people and the Miami players think this team has dark-horse/sleeper potential. Although the Marlins are probably a year from playoff contention, they can take heart in the examples set by the 2012 Baltimore Orioles, 2013 Cleveland Indians and Kansas City Royals and other recent clubs that made a pronounced jump in the standings ahead of expectations.
"They're trending upwards. With the pitching they already have and what's on the way, I'd be very encouraged," said an American League scout who has followed the Marlins throughout spring training.
"It reminds me a lot of the San Francisco days when they weren't scoring too many runs but they were pretty strong from the starting pitchers down to the back end of the bullpen," Johnson said. "If a team like that is winning the World Series with the offensive production they had, I don't see why we can't be that team. If we can figure out a way to average more than four runs a game, I think our pitching can definitely hold up."
The big question for the players is this: How wholeheartedly should they embrace the "sleeper" designation? The Marlins have gone 72-90, 69-93 and 62-100 in Stanton's first three full seasons, so he's not buying into the spring training euphoria just yet.
"We're better together here [in camp]," Stanton said. "We're playing solid on the field, but we need to bring it into the season, too. There's no sleeper or Cinderella stuff. Save it. If we want to do it, we're going to do it. That's it."
Saltalamacchia, the starting catcher on a Boston team that began the season with modest expectations and then won a World Series, is a bit less reticent about sharing his expectations for public consumption.
"I've been a part of those teams where they count you out and put you third or fifth [place in your division]," he said. "That's just projections, and we all know how projections go. We're going to turn some heads this year."
February, 14, 2014
2/14/14
9:00
AM ET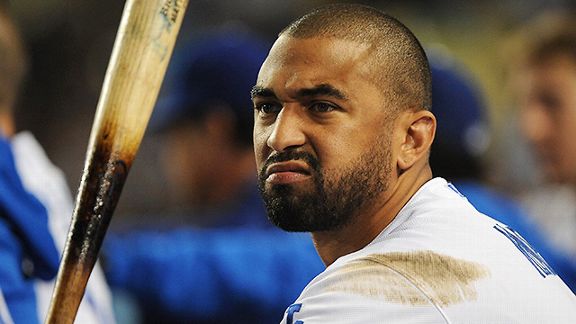 Lisa Blumenfeld/Getty ImagesIs it possible Matt Kemp might miss all of spring training? Could be.
It was in March 2013
that I predicted
that some time during the season,
Yasiel Puig
would become a star on the level of past star rookies such as Fernando Valenzuela and
Hideo Nomo
and create his own mania -- "Puigmania."
Well, it's time for more bold predictions, and I'm beginning with spring training. Let's take a look at my 10 bold predictions for 2014 spring training. (Don't worry, I'll make more bold predictions for the regular season.)
1. Matt Kemp doesn't play in a single major league spring training game.

Kemp is still recovering from microfracture surgery on his left talus bone (a major weight-bearing bone in his ankle), and I think he will begin the season on the disabled list.
February, 12, 2014
2/12/14
10:30
AM ET
Every year at spring training there is a lot of focus on the star players who switched teams, with
Robinson Cano
being a prime example this year. However, what I am most excited about for this spring is the chance to scout some of the game's top rookies.
It's fun to watch young players develop in real time, and to see if they can do enough to convince their managers and GMs to take them up north. It's a time when the game's best evaluators get a taste of just how good some young players can be.
So here are 10 rookies I am looking forward to scouting during spring training. And trust me, just getting the list down to 10 was not easy.
To continue reading this article you must be an Insider
February, 23, 2013
2/23/13
7:38
PM ET
MARYVALE, Ariz. -- With a .232 batting average and .657 OPS several months behind him, Royals first baseman
Eric Hosmer
is officially ready to wake up from the "bad dream" phase of his career.
Hosmer's 2012 season was a grind from the outset. He hit .188 in April and never truly got on track. Even though the anecdotal evidence and his .255 batting average on balls in play suggest that a lot of balls he hit with authority failed to find holes, it didn't ease the sting of knowing his personal travails played a significant role in the Royals' disappointing 72-90 finish. Among 21 major league first basemen with at least 400 plate appearances last season, only
James Loney
and
Casey Kotchman
posted
a lower OPS
than Hosmer.
[+] Enlarge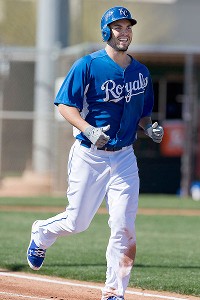 John Sleezer/Kansas City Star/Getty ImagesAfter a terrific rookie season in 2011, Eric Hosmer posted a .663 OPS in 152 games last season.
Hosmer spent the offseason trying to ensure that it doesn't happen again. He built a house in his native Florida, near the Everglades, replete with an outdoor batting cage. He worked extensively with his older brother, Mike, and dutifully sent video of the sessions to new Royals hitting coach Jack Maloof for his personal inspection.
The 23-year-old also paid closer attention to getting ready for the 162-game grind in its entirety. He went home with a detailed nutrition and workout plan devised by strength and conditioning coordinator Ryan Stoneberg and gained about 10 pounds while focusing on eating at regular three-hour intervals rather than two or three times a day.
Before traveling to Arizona for the Cactus League, Hosmer stopped off in Southern California to spend some time at the Scott Boras Sports Training Institute and apply the finishing touches to his offseason fitness regimen.
"I'm going to try [to keep the weight on]," Hosmer said. "It's a little easier in the offseason because you work out and hit, and then you're done and you're sitting on your butt the rest of the day. Out here, you do your baserunning and your early work and you're constantly sweating. You really have to eat well and eat right to keep the weight on. That's why I wanted to come in 5-10 pounds heavier."
Hosmer told the Kansas City Star writer Bob Dutton that many of his problems at the plate last year stemmed from a lack of stability with his back leg. He was slow to catch up to good fastballs and began starting the bat earlier to compensate. The more he "cheated," the more susceptible he became to off-speed pitches.
"I was happy in the offseason to get home and just forget about everything," Hosmer said. "I can take the positives and learn from it. This year, I'll know how to break out of a slump better and do the little things like that. It all comes with experience.
"Last year is going to be a big help for me mentally, because it was almost a season-long slump I went through. Now an 0-for-10 or 0-for-15 is going to seem like nothing."