Spring Training:

Starlin Castro
March, 20, 2015
Mar 20
4:55
PM ET
GLENDALE, Ariz. – After a rough night in the field on Thursday, questions about Chicago Cubs shortstop Starlin Castro's defense have come up again. Sometimes he's spectacular; other times the routine play can get the best of him. He didn't look sharp against the Diamondbacks -- committing an error and bobbling several other balls. The error led to two unearned runs.
"Those things are going to happen sometimes," Castro said on Friday. "It's not going to happen every time. [It's] less time than it used to be happening."
Castro might be right; he is getting better at eliminating some mental mistakes, at least, and maybe he'll elevate his game on a better team. But juxtaposed with the smoother Addison Russell in camp, Castro looks like the second-best defender at shortstop despite being a three-time All-Star. Plus, he's bigger than when he first broke into the league and maybe not as quick at the most important defensive position on the field. And yes, he's scrutinized for that reason. All shortstops are.
[+] Enlarge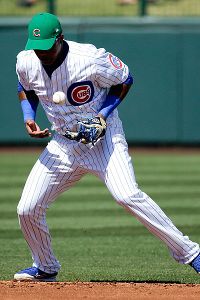 AP Photo/Chris CarlsonCubs shortstop Starlin Castro tries to get a glove on a ball hit Tuesday against the Royals.
"I like boring," manager Joe Maddon stated. "I like a very boring defense, meaning they make the routine play consistently and then if you make the big play on occasion, that's wonderful."
Maybe Castro can be likened to a goalie in hockey who makes spectacular saves throughout a game but then lets an easy goal in. It's the goal everyone will remember. According to ESPN Stats & Information, Castro ranked 16th of 22 shortstops in the league in defensive runs saved with a minus-7 last season. He did have the best fielding percentage (.973) of his career but had the fewest amount of chances because of games missed. Castro was visibly upset with himself when he booted the ball on Thursday not long before two runners came across to score.
Castro was visibly upset with himself when he booted the ball on Thursday not long before two runners came across to score.
"If you play defense, you can win the game," Castro said simply. "That's really a routine ball. I want to make that play every time."
Maddon wants those routine ones made every time as well. So do all managers. He opined on the positive vibe a manager gets when he looks out on the field before the game and knows he's covered defensively. He also knows the opposite feeling.
"Our toughest years in Tampa Bay are when we did not make routine plays, period," Maddon said.
What's the answer? For Maddon, it's about the routine of drill work. Even into the regular season.
"I love drill work," Maddon said. "I think drill work done properly pays dividends. Drill work done improperly does not. What does that mean? You have to put something into it. You cannot let bad techniques slide. You have to correct it. All those things are in-process with Starlin right now."
Maddon was quick to point out that Castro has been working hard and is hopeful it pays off. The goal, according to Castro, is simple.
"Win a Gold Glove," he said.
Let's start with making all the routine plays.
March, 20, 2015
Mar 20
12:37
PM ET
MESA, Ariz. -- A day after striking out four times in a spring game -- and after his manager said he's no lock to make the team -- Chicago Cubs infielder Javier Baez answered questions as best he could while trying to stay upbeat about his situation.
"I had good at-bats, but I didn't make any contact," Baez said Friday morning. "I need to get into the rhythm again."
The latest batch of strikeouts came against the Arizona Diamondbacks on Thursday night, which dropped his spring batting average to .100. But he did earn his first free pass of the spring. With a couple weeks to go, Baez was asked if he's concerned about not making the team out of camp.
"Anything can happen," he responded. "I'm ready for whatever."
Across the locker room, Starlin Castro, a man who knows something about trying to make adjustments, discussed Baez' woes.
"I tell him to try and get his confidence," Castro said. "Look for your confidence. No matter if you strike out everyday. If you find your confidence something good is going to happen because you trust yourself. I think he's a little lost at the plate right now. I tell him to get his confidence back, and he'll be alright. And don't think too much."
Baez is in the middle of a well-documented swing-and-approach change at the plate after striking out 225 times between Triple-A and the majors last season. He's attempting some mechanical adjustments while simply hoping to swing at more pitches in the strike zone. The progress has been slow. Teammates like Castro have tried to give advice.
"You're really late" Castro has told him. "You're not going to hit a ball like that. Start early. We'll keep talking, keep working."
Baez doesn't show any frustration publicly, but Castro didn't disagree with the notion that being sent down to the minors has to weigh on him -- as does not having the success he's used to having. He's still young so there's time to figure it all out, but it may just not be at the major-league level.
"I'm just trying to do my job and do my best," Baez said. "I'm being patient. I know what I can [do], and they know what I can do."
March, 27, 2014
3/27/14
9:30
AM ET
By
Christina Kahrl
| ESPN.com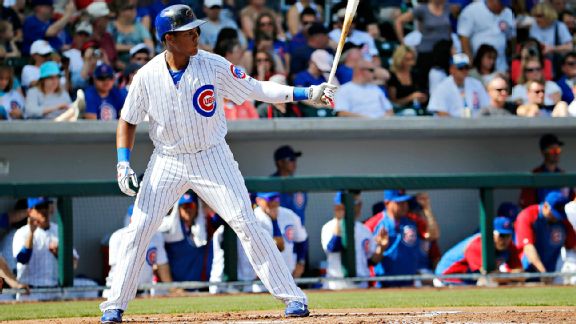 AP Photo/Matt YorkStarlin Castro is working his way back from a right hamstring strain.
MESA, Ariz. -- The single biggest question the Cubs confront isn't where they're going. Expectations have already been set appropriately low at the same time that anticipation grows as their bumper crop of blue-chip talent down on the farm nears readiness. But until that harvest comes in, the question for them is who among the current Cubs is someone they'll be able to build around. And that question is more important to ask about shortstop
Starlin Castro
than anyone else.
That's because the Cubs are fully invested in Castro. Sometimes the algorithm-and-formula set can get a bit formulaic. Take the Cubs locking in Castro for $60 million through 2019 (with a 2020 option for $16 million) back in August 2012. You want to lock in your young star talent long-term. Castro is young, he's talented, he was a two-time All-Star and he was nearing arbitration. Of course you sign him to a multiyear deal, using the same relentless, reductionist logic that informed
the underpants gnomes of "South Park"
: Use the leverage of club control to sign talent to below-market prices … which equals profit.
Profit,
if
the guy keeps his value or gets better up through the age of 29, the way that young players do. And that's where last year comes in, because Castro didn't get better, and his value didn't go up. He tumbled, from a .761 OPS in his first three seasons down to .631 in 2013. It was the sort of epic collapse that might recall those of other touted shortstop prospects, such as
Angel Berroa
with the Royals a decade ago (falling from a .789 OPS as AL Rookie of the Year in 2003 to out of a job in 2007). Tom Tresh of the '60s Yankees and
Wil Cordero
of the '90s Expos rank high among the guys Baseball Prospectus' PECOTA projection system identifies as similar talents to Castro, which is a bit ominous. Both were considered can't-miss young stars, and like Berroa they didn't live up to the billing. Is Castro the latest model, a shortstop prospect who peaks in his early 20s and turns into something less than advertised?
A big part of the problem was that the Cubs tried very directly to make Castro into something he is not and
consciously mold him into a more patient hitter
. In the abstract, it's easy to understand why:
Sure, Castro's great as-is, but imagine how much better he would be if he drew 60 walks instead of 30!
It's classic and aspirational, a case of not accepting who the player is, but wish-casting who you want him to be.
Castro tried to comply in 2013. He watched a lot more first pitches go by, and he reached a career-high 3.9 pitches per plate appearance. The problem is that he became a much more passive hitter. As the heat map from Stats & Info's Mark Simon reflects, this increased focus on waiting for his pitch made him
less
effective hitting balls in the zone last year.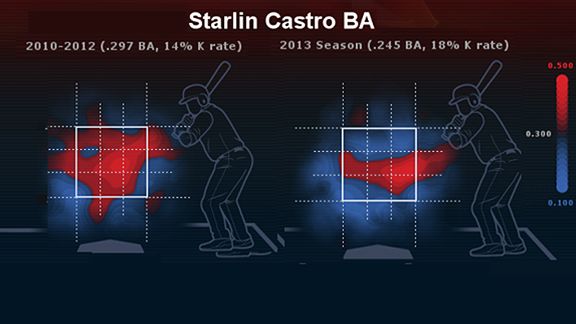 Mark Simon, ESPN Stats & InfoWith a more patient approach, Castro's ability to do damage got worse inside the zone as well as out.
This attempt to make him that much more zone-conscious also cost him his ability to cream the occasional bad ball, one of the side benefits of his ability to make good contact as an all-fields spray hitter. Castro wasn't George Bell or
Vladimir Guerrero
, but if you look at
his previous-season PitchF/X data over at Baseball Prospectus
, you had a guy who could cover the outside of the plate effectively; in 2013,
he lost that
. And getting into deeper counts just meant he wound up striking out swinging a career-high 110 times.
That isn't who Castro was supposed to be. It isn't the player the Cubs handed $60 million to. And it wasn't who he wanted to be, either.
"That's what I try to be -- be me," Castro said. "The kind of player that I was when I made the big leagues the first time, that's the thing I don't want to change. That's the kind of player that I am."
So this year, the Cubs have pointedly decided to accentuate the positive and start with a clean slate, easier to do with new manager Rick Renteria, new batting coach Bill Mueller, and seemingly a new willingness to let Starlin Castro be Starlin Castro. As Renteria observed last week, "I'm not too worried about Starlin, to be honest with you. His demeanor is pretty positive, pretty upbeat."
Castro adds, "It's completely positive. The only thing that we talk about in here is how we're going to prepare, and how we're going to compete."
Getting Castro back on track figures to be one of Mueller's most important responsibilities in 2014, something he took on aggressively with his new charge. "We've rehashed the past," he said, "but [Starlin] is just a gifted guy who can make some really good contact and do a lot of things well. We just want to make sure we can get consistency across a full major league season."
But what's been critical in achieving that consistency has been putting in time in the cage with Mueller, and keeping it personal instead of diagnostic. "We're working a lot. In the very beginning, he came out the first day, he worked me out pretty good," Castro said.
<!—poll1-->Mueller observed, "It's about establishing a relationship [with Castro] in the cage. He's more about feel in the cage than anything videowise. That could change as we get into the season. Sometimes, we might have to pinpoint something in a still photo or stop-motion video, just so that he can see it, but that all evolves. But right now, it's about the cage and the relationship. Hopefully some of the things we're talking about with him with his hitting setup, that could help him too with seeing and reading pitches, evolving in that way so that he's not getting out of his zone as much. And just cleaning up minor little things with him, because he is so talented."
Which suits Castro just fine: "I'm more natural. Working and thinking, I know when I'm good, and I know when I'm not good. The only thing that I think is to try to keep my mind clean. I don't want to try and put pressure on myself -- I know that I can be a good hitter, and I don't want to mess up an at-bat, I don't want to get frustrated with myself or something like that, that can happen to anybody. I just want to keep my mind, my approach clean, and get it consistent."
Will the power of positive thinking get Castro back into that consistency, and make him so solid a part of the Cubs' future that top prospect Javier Baez has to get used to this spring's
experimental move to second base
? If the Cubs can accept Castro for what he was, you can still see the possibility for what he'll be, the same possibility that made him a $60 million man. If a positive approach is what it takes, then, yes, profit.
Christina Kahrl writes about MLB for ESPN. You can follow her on Twitter.