Spring Training:

Tampa Bay Rays
February, 28, 2013
2/28/13
10:50
AM ET
PORT CHARLOTTE, Fla. -- He's a man with a brand-new Cy Young trophy. He's a face of one of baseball's most innovative franchises. He's the proud owner of a French bulldog with both a key to the city and its very own canine bobblehead.
So in many ways,
David Price
is truly a man who has it all.
Except for one thing.
He definitely doesn't have an answer to that increasingly persistent question: How much longer will he be employed by those
Tampa Bay Rays
?
"I do think about it from time to time," Price admits as he basks in the laid-back spring vibe of the only franchise he's ever played for. "But as of right now, I'm a Ray. And I love being a part of this group."
But he's also a perceptive human with a firm grip on reality. His close amigo,
James Shields
, used to occupy the locker next door every spring. And if the banter that emanated from those two lockers didn't make it the most entertaining chunk of clubhouse real estate in America, it was right up there.
[+] Enlarge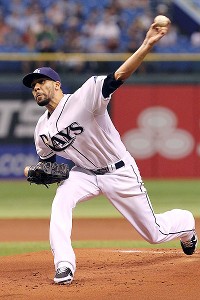 Kim Klement/USA TODAY SportsDavid Price won the American League Cy Young Award last season after going 20-5 with a 2.56 ERA in 31 starts.
These days, though, Shields is hanging out in exotic Surprise, Ariz., where the Royals train, thanks to another one of those roster-churning mega-trades the Rays have become famous for. David Price has astutely noticed that.
So he doesn't need to watch every episode of "Elementary" to deduce that the next ace to call the moving vans just might be him. Heck, of course it could.
The Mariners shoveled $175 million ($25 million a year) at
Felix Hernandez
to make sure he never stops admiring the view of Mount Rainier. The Giants forked over $127.5 million ($21.25 million per year) to keep
Matt Cain
hanging out by McCovey Cove. The Phillies located $144 million ($24 million per year) to fund Cole Hamels' cheesesteak budget for the next six years.
But in Tampa Bay, well, let's just say they graduate a lot of seniors. And while there's no cap and gown hanging in David Price's locker, he knows his graduation day could very well be approaching. And frankly, the whole idea is bumming him out royally.
"In a perfect world, I could be here for the rest of my career," Price says, with total sincerity. "That would be awesome. I've gotten multiple phone calls from ex-teammates, who say, 'Aw, it's not the same. I'd give anything to be back in Port Charlotte.' … So the grass is not always greener on the other side. It doesn't matter how much more you're making if you're not happy where you are."
That's a fascinating statement if you're into taking it literally. It certainly implies that contentment and comfort level will weigh significantly into the momentous contract decision that Price will be confronted with one of these days, weeks, months or years.
And if that's the case, it's hard to imagine, from listening to Price talk, that he could possibly achieve a higher state of bliss anywhere than what he's found here on the euphoric grounds of Joe Maddon Gardens.
"We all enjoy being here," Price says. "We do things differently here. So if that day ever did come where I go somewhere else, I know it's probably going to be night and day, compared to the way we do things over here, and it would definitely take some adjustment period.
"I try not to think about it," Price confesses, with the tone of a guy who's getting increasingly nostalgic the longer he talks, "because I love being here. Honestly, I think that would just put me in a bad mood."
Uh-oh. If David Price were to turn grumpy on us, it would pound a serious dent into the well-being of this inspirational piece of literature. So to cheer him up, we can pass along this important tidbit:
His team loves him, too.
Asked to appraise where this situation might be heading, Price's favorite executive vice president of baseball operations, Andrew Friedman, puts it this way:
"In a vacuum," Friedman says, "the starting point is that we'd like David to be here for a long time, and David would like to be here for a long time. So at least that's a good starting point. And it remains to be seen whether that's feasible."
Oh, it remains to be seen, all right. So let's frame this big picture for you:
Price, 27, can't be a free agent for three more years. He's working on a one-year deal for this season, at about $10.1 million. And that's the most money the Rays have ever paid any pitcher, in any season, in their 15-year history.
It's also the most any second-time arbitration-eligible pitcher has ever earned in one season. The previous record holder,
Jered Weaver
, signed a five-year, $85 million contract with the Angels before the next season. And the fact that Weaver's deal is now viewed as (ahem) a "bargain" tells you where the market for stud starters has gone since.
Now let's look at how the Rays have handled their most marketable starters under Friedman's watch.
They traded
Matt Garza
in January 2011, when he was three years away from free agency. They dealt away Shields this winter when he was two years from reaching free agency.
So now here's Price, three years away, countdown clock ticking. Despite what you may hear, it's incredibly unlikely his team will entertain trading him this July. Too talented a roster. Too carefully built to contend. But next winter? Whole 'nother story.
"Obviously," Friedman says, "at the end of this year, that's a topic that will be debated publicly, but at this point, it's premature to speculate on."
Not that that's stopped half the population of Tampa Bay from speculating away pretty much 24/7. But the fact is, Friedman says, even eight months from now, you never know how either side will feel.
"This season could play itself out in too many different ways," he says. "There are too many things that could play out to have a good feel for how things are going to evolve."
"

In a vacuum, the starting point is that we'd like David to be here for a long time, and David would like to be here for a long time. So at least that's a good starting point. And it remains to be seen whether that's feasible.

"

-- Andrew Friedman, the Rays' executive vice president of baseball operations
Despite the Rays' history with Garza and Shields, remember, this is also a franchise that held on to both
Carl Crawford
and
B.J. Upton
until the end of their deals, in the name of trying to win. So is it poured into the cement mixer that Price
has
to get traded at some point in the next year or so? Not 100 percent, it's not.
We should also remember that the Rays are constructed to contend for years to come -- especially if Price is still fronting the rotation. So they're sending signals they're in no rush to move him unless they're getting back a franchise-altering package.
But then there's the other half of this equation. By which we mean:
$$$$$$$$$$$$$$$$$$$$$$$$$$
No matter how long and hard Price professes his love for life as a Ray, one word he always forgets to include in his love letters is that magic word: "discount." And if the Rays are going to be forced to pay a state-of-the-market Price tag, then it's tough to imagine that, eventually, they won't be forced to do what they have to do.
A mere three months ago, they did find another $100 million to add to
Evan Longoria
's deal, which swelled their commitment to their third baseman to $136.6 million over the next 10 years. But that, Friedman says, was kind of "the perfect storm."
In Longoria's case, they had a 27-year-old position player whose work ethic and makeup made him the kind of player who could be projected, reasonably safely, to hold up physically and serve as the ideal centerpiece player to build a franchise around.
"And he loves being here and wants to be here, and was willing to make some sacrifices that others haven't," Friedman says of Longoria. "Now there's no right or wrong answer. It's a personal decision. For him personally, that's what made the most sense for him, and it also lined up with what made sense for us, so we were able to do a deal. But it's hard for all of those things to line up."
Of course, there are lots of people hanging around the grouper-sandwich emporiums of Tampa Bay who would love to see Longoria convince Price to "make some sacrifices" himself and stick around. But Longoria says that as much as he loves the guy, "that's not my job."
"This is a great place to play," Longoria says. "And we've got a great team and a great manager, and we've got a lot of good things going for us. So if I had my way, of course I would love to have Price here for a long time. But that's not my call. All I can do is enjoy every day with him."
So with all those Stu Sternberg dollars committed to Longoria, could a money-challenged franchise like this possibly afford another nine-figure deal?
"As I said at the time we signed Evan," Friedman says, "we could sign another player to the same contract. The question is: If our resources don't increase, then it's going to be really difficult to compete. And at the end of the day, that's what's most important, is our ability to compete. We could easily afford another [contract] like it. The problem is the other 23 guys and what you have left to spend on them."
But the Ace can't sit around this spring and piece together that jigsaw puzzle. He's too busy trying to win another Cy Young and a World Series. In the meantime, though, while others are all but printing his boarding pass out of town, David Price continues to believe there's "absolutely" a chance they can find a way for him to stay.
"I hear we have a new TV deal coming up," he says. "Hopefully, there's a new stadium in the works. And that all increases revenues. So I know there's a way. There absolutely is a way. So if we can figure that way out, that would be great."
Ah, but if they can't? Well, it's hard not to notice that his dog's bobblehead day is scheduled for April 21 … and not July 31.
February, 26, 2013
2/26/13
4:05
PM ET
PORT CHARLOTTE, Fla. -- The Wil Myers question people seem to keep asking in the camp of those
Tampa Bay Rays
is this:
Is there any chance he starts the season on their big league roster?
But in reality, there's about as much chance of that as there is of Rocco Baldelli starting the season on their big league roster. So the Wil Myers question we should really be asking is probably this:
What are the chances this guy makes an impact in the big leagues this season?
That, however, is a prediction the Rays aren't ready to make. But let's just say this: Betting against it isn't a real good idea.
"We're very sensitive to putting big expectations on young players," the Rays' executive vice president of baseball operations, Andrew Friedman, said Tuesday before his team's Grapefruit League game against the Astros. "He's certainly capable of helping us win games in 2013. And I'm confident he WILL help us win games in 2013. But we're still very early on in the process of getting to know him, being around him, watching the way he works, observing the way he goes about the process of getting better in every facet of the game.
[+] Enlarge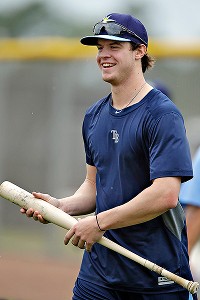 AP Photo/Chris O'MearaExpectations are high for 22-year-old Rays outfielder Wil Myers.
"To this point, everything's been very positive," Friedman went on. "The first impression has been very strong. So we're anxious to spend the next four or five weeks around him and continue his development."
Even with players they drafted and developed on their own, the Rays have long been cautious about rushing their future stars to the big leagues, for both baseball and economic reasons. But in a case like this, where almost no one in their camp had even laid eyes on Myers before the past two weeks, it's safe to assume they'll be even more cautious.
"We've obviously read a lot of scouting reports, watched a lot of video, talked to a lot of guys who have seen him play," Friedman said. "And that's great. That's obviously a very important part of the process of acquiring players. But I think you end up knowing more about a guy after you've been around him for a week or two than you do from watching a guy play for three games. So we're anxious to learn all of the different things about him and how he goes about his work, etc., that you can't possibly know without being around him."
Myers' offensive talents have pretty much jumped off the field at his new team in a short time. (For what it's worth, he's 3-for-7 this spring, with a walk and a double, in three games.) But because the Rays were well aware he started his career as a catcher and has played only 93 minor league games in right field, they have devoted as much extra time and effort as possible to accelerating his progress as an outfielder.
"He hasn't played the position for that long," Friedman said. "So just [to help him with] the nuances of the position, [coaches] George Hendrick and Dave Martinez have been working with him a lot out there. And that's an attempt just to expedite that learning curve. It's not like this guy has played the outfield all his life. So we're spending a lot of time with him on that aspect."
You can bet the mortgage to the beach house that work will continue in exotic Durham, N.C., for a couple of months this season. But at some point, this man is coming to a St. Petersburg dome near you. And that's when the Wil Myers questions will really get fun.
February, 17, 2013
2/17/13
4:30
PM ET
PORT CHARLOTTE, Fla. --
Yunel Escobar
knows some people will never forgive. And some people will never forget. And some people will never be willing to accept a guy who etched a homophobic slur into his eye black last September.
There's nothing he can do to change that. There's nothing he can do to win them over.
[+] Enlarge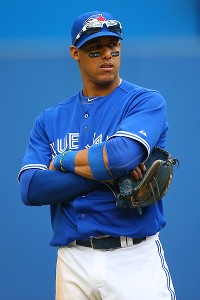 Tom Szczerbowski/Getty ImagesYunel Escobar created controversy for himself last season when he wrote a homophobic slur into his eye black.
But for those who at least have an open mind, here is his message:
He's a "different" Yunel Escobar. And he's willing to prove it.
The "mistake" he made, Escobar said Sunday, on his first day as a Tampa Bay Ray, "that was last year."
"This," he said, through interpreter
Jose Molina
, "is a new year, new team, new colors."
And, especially, a new start, for a player who desperately needs one.
On Sept. 15, 2012, Escobar paved the way for his exit from Toronto by playing a game against the Red Sox with a homophobic slur embedded in his eye black in Spanish. The Blue Jays promptly suspended him for three games, then traded him in November to the Marlins, who turned around and dealt him to the Rays in December.
On the day they made that deal, Rays executive vice president for baseball operations Andrew Friedman told the media his team was convinced Escobar had "definitely learned a lesson" and that "he feels remorse about it."
From "the digging that we did," Friedman said, "we believe that it was an isolated incident and that nothing of that nature will be a concern going forward, or we wouldn't have acquired him."
Well, part of that digging involved a long conversation with Molina, their regular catcher, who once played with Escobar in Toronto. And they were surprised by what they heard.
"I said, 'He's a great teammate,'" Molina recalled Sunday. "And they said, 'What are you talking about? Everybody says the opposite.'"
Molina then told them about the Yunel Escobar he knows. He painted that picture again for ESPN.com on Sunday.
"The people who say that don't understand the guy we know in the clubhouse," Molina said, "a guy who came here from Cuba and nobody knows what he's been through.
"A lot of people see themselves, but they don't want to see the other side of the guy," Molina added. "It's always bad-bad-bad-bad. … The only things you hear about this guy are bad. It's nothing good. But [those people] don't spend 182 days a season plus spring training, with this guy, to know what the good things are.
"He cares. I was surprised last year by what happened. But he's a caring person. He cares for his teammates. He cares for a lot of people. And I'm not just talking about baseball, because he's an awesome baseball player. But away from that, he's an amazing guy."
And one reason the outside world hasn't figured that out, Molina said, is the giant wall that the language barrier has built around him.
"He's quiet," Molina said. "He doesn't know the language to express how he feels in there. I know here, he's going to have a lot of success, because [manager] Joe [Maddon] is so positive in all the stuff that he does."
Because of their economic, um, limitations, Escobar is the kind of player the Rays have no choice but to take chances on. Troubled. Talented. Now on his fourth team in 32 months. Makes $5 million a year, with no guaranteed money coming beyond this season. That's their kind of guy.
But this is also the perfect Last Chance Saloon for a player like this, because Maddon allows more freedom than just about any other manager on earth -- unless a player later proves he no longer merits it.
"With Joe, this is a positive place," Molina said. "In this sport, there's a lot of negativity. And with a guy like that, who doesn't know the language, if you just talk negative with him, the guy is going to get down and you don't know how he's going to react. But not everybody is the same. Not everybody has the same mindset. Not everybody comes from the same background. Not everybody comes from the same wealth.
"And that's the different part about him. You've got to understand that part of him. And I did when I was in Toronto. He listened to me a lot. He still listens to me a lot. I'm a guy who, if he did [something] bad, I told him he did bad. But I'm going to tell him, too, when he does [something] good. And I tried to pass that to Joe, too, so it's not always negative stuff."
So maybe it will be Maddon who unlocks both the talent and the "amazing guy" that's often been hidden inside Yunel Escobar. Or maybe not.
We are talking, after all, about a fellow who couldn't play for Bobby Cox or John Farrell, two men with reputations as players' managers, not intolerant dictators. But we'll find out. And Escobar is fine with allowing the world to watch and judge him by what it sees -- from this day forward.
At the end of this year, Escobar told a group of reporters on Sunday, "you guys … are going to have your own opinion on that. And you will see what [I'm] talking about, about the difference in Yunel Escobar."
Not everyone will even want to take the time to see, of course. But for those who will, the jury on Yunel Escobar is now seated. And court is in session.