Spring Training:

Texas Rangers
March, 6, 2013
3/06/13
11:00
AM ET
SURPRISE, Ariz. -- This might seem hard to believe, but
A.J. Pierzynski
is about to begin his 20th season in professional ball. The journey began in 1994, when Pierzynski signed as a 17-year-old out of Dr. Phillips High in Orlando, Fla., and headed to Minnesota's rookie club in the Gulf Coast League.
[+] Enlarge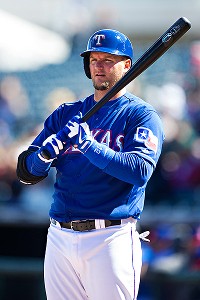 Rob Tringali/Getty ImagesA.J. Pierzynski, 36, is in his first season with the Rangers after spending the past eight years with the White Sox.
Pierzynski has since accumulated 1,645 career hits, made two All-Star teams and won a World Series ring, but he can't outlast his image. The conversation might be about Ozzie Guillen's best all-time rants, the state of the American League West race or the ins and outs of sequestration, and it's always destined to veer back to Pierzynski's reputation as an agitator or
"the guy everyone loves to hate."
Baseball writers, as a group, are contractually obligated to mention his status as the anti-Sean Casey at least once every story.
"It bothers you, but I'm so used to the questions I've kind of become numb to them," Pierzynski says. "In the last 10 years, I've probably done less than five interviews where someone hasn't asked that question. I could be talking to somebody from outer space, and that's always going to come up.
"There are a lot of perceptions about me that I don't like, but you can only worry about what you can control. Whatever people write, they're going to write. Whatever they say, they're going to say. There's nothing you can do as long as you know you've given everything you've got at the end of the day."
Although the carping by media outlets is tiresome to Pierzynski, the old "reputation" angle has spawned an alternate storyline this spring. The
Texas Rangers
-- looking to bring toughness, leadership and a competitive streak to a team that lost two straight World Series and faded down the stretch last year -- signed Pierzynski to a one-year, $7.5 million contract in December. Three weeks into spring training, Pierzynski's teammates are putting a new spin on the classic Dennis Green line.
He's not who we thought he was.
A random sampling of players in the clubhouse reveals that Pierzynski is blending nicely into the fabric of the Rangers. He is already engaging in some lively banter with head clubhouse manager Richard "Hoggy" Price, and pitchers Joe Nathan and Derek Holland have invited him to play golf.
Lance Berkman
, the other new veteran in Rangers camp, routinely holds court at the card table in the middle of the clubhouse and tells stories that leave the other players convulsed with laughter. To this point, Pierzynski has been more content to ease into the team dynamic and let the world come to him.
"I still don't feel like I've really gotten to know him," says outfielder
David Murphy
. "He's kind of quiet and hasn't really talked a whole lot."
That said, Pierzynski has done his part to reach out to the pitchers and take a crash course in their personalities and repertoires. The same ultracompetitive bent that irked Holland from the opposing dugout is winning Pierzynski a lot of points now that they're teammates.
"I'll never forget my rookie year. I was backing up third base and he was right in my ear from the dugout just laying into me," Holland says. "I was like, 'I really hate this guy.' I think we all hated him. But I didn't know him then.
"He's one of those guys who isn't trying to be friends with the opponent. He's got a lot of fight to him. He's very passionate about it. He fits right in here. He gives us that vibe we need to win."
The Rangers had their eye on Pierzynski in late 2004 after he was non-tendered by San Francisco. As Texas general manager Jon Daniels recalls, his predecessor, John Hart, had previously coached Pierzynski at a youth baseball camp and was an unabashed fan. But Pierzynski signed a one-year, $3.5 million deal with the White Sox that winter, and it led to four more contracts of varying durations.
While Pierzynski was enjoying a successful eight-year run in Chicago,
Rod Barajas
,
Gerald Laird
,
Jarrod Saltalamacchia
,
Matt Treanor
,
Bengie Molina
,
Yorvit Torrealba
and
Mike Napoli
were throwing down fingers in Arlington.
Pierzynski's biggest selling points are stamina and reliability. He has caught at least 100 games in 12 straight seasons -- tied for the fourth-longest streak in major league history -- and ranks 18th all-time with 13,167 innings caught. Pierzynski has been on the disabled list only once in the big leagues, when Kansas City's
Bruce Chen
fractured his wrist with a pitch in August 2011.
Last year Pierzynski set career highs with 27 homers, 68 runs scored, 77 RBIs, a .501 slugging percentage and an .827 OPS. His production was impressive enough for a 35-year-old that a bogus Internet rumor surfaced that MLB was about to suspend him for PED use. Pierzynski
angrily denied it
, and it quickly faded into oblivion.
Pierzynski might have a harder time outlasting his reputation as a subpar defender. Each year, Baseball Info Solutions compiles defensive runs saved rankings based on four categories: (1) effectiveness in shutting down the running game; (2) success in defending bunts; (3) staff ERA, with comparisons to other catchers on the same team assuming major weight; and (4) misplays, which consist primarily of wild pitches, passed balls and errors. Over the past three seasons, Pierzynski's minus-14 ranking ties him with
John Buck
for third worst in baseball behind
Ramon Hernandez
and
Ryan Doumit
.
Now for the silver lining: Pierzynski's .995 fielding percentage is the highest ever for a catcher with a minimum of 1,500 games caught. The evidence suggests that he is
an above-average framer of pitches
, and his actions and words reflect his emotional investment in cultivating a pitching staff. Holland has already praised Pierzynski for his ability to take charge and make pitchers feel more relaxed on the mound.
It's going to be a challenge for Pierzynski to survive a season in the stifling Texas heat at age 36, so he has already consulted Jim Sundberg, a longtime Rangers catcher and now a member of the team's front office. Sundberg tied an American League record with 155 games caught in 1975, and went on to average 142 starts a season in the Metroplex blast furnace during a six-year period. His main advice to Pierzynski: Pay heed to the trainers and the strength and conditioning guys, and stay hydrated. Above all, stay hydrated.
"Bring it on," Pierzynski says. "I grew up in Florida catching two or three games a day in the summer. I would rather have it be hot than cold any day of the week."
The Rangers have a relatively young and evolving staff led by
Yu Darvish
,
Matt Harrison
, Holland and
Alexi Ogando
, so they're counting on Pierzynski and backup catcher
Geovany Soto
for guidance. If Pierzynski rankles anyone with his directness along the way, so be it. They play big boy baseball in the majors, and there's not much room for sensitivity in the universal quest to win.
"You don't need 25 guys running for class president," Daniels says. "It's OK to have guys with a little bit of an edge."
Just as White Sox fans and the organization needed time to wrap their minds around the idea that
Tyler Flowers
is their new catcher, Pierzynski and his wife, Lisa, had to acclimate to the idea of leaving the city and the franchise they had come to know and love. When it became apparent that Pierzynski wouldn't be returning to Chicago, he and Lisa prepped their young children,
Ava and Austin
, on the idea of rooting for another team.
The White Sox will always be special to Pierzynski. He and the family recently hung out with former teammate Paul Konerko's clan in Arizona, and he still stays in touch with Guillen,
Mark Buehrle
,
Gordon Beckham
and a bunch of his old Chicago buddies. But he's with Texas now, so the time has come to cut the cord -- both mentally and emotionally.
"Once it happened, there was a little bit of disbelief," Pierzynski says. "In the back of your mind you always hope, 'Hey, they'll come in and get it done.' But they never did. As soon as I signed here I was like, 'OK, I'm a Texas Ranger and I'm proud of it. I look forward to the challenge. I look forward to meeting new guys and trying to win in the American League West.'"
Spoken like a true diplomat -- or an aspiring class president. Imagine that.
February, 28, 2013
2/28/13
5:10
PM ET
SURPRISE, Ariz. -- In a world where
Angel Pagan
signs for four years and $40 million with San Francisco and
Shane Victorino
lands a three-year, $39 million deal with Boston, Texas outfielder
David Murphy
has a chance to do very well in free agency next winter. But he is both realistic and candid about his place in the market.
Murphy, 31, is trending in the right direction after six major league seasons. He ranked 10th in the American League with a .304 batting average last year, and established career highs with 65 runs, 29 doubles and a .380 on-base percentage. Murphy recorded a higher slugging percentage (.479) than
Mark Teixeira
,
Nick Swisher
,
Adrian Gonzalez
,
Adam Dunn
and teammate
Nelson Cruz
, among others.
[+] Enlarge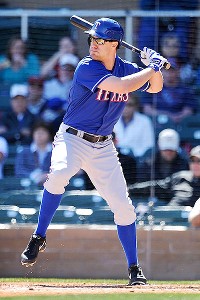 Norm Hall/Getty ImagesIn his fifth full season in the majors last year, David Murphy had a career high 139 hits.
Although Murphy's career pedigree probably puts him behind
Curtis Granderson
,
Jacoby Ellsbury
,
Shin-Soo Choo
, Cruz and
Hunter Pence
in next winter's free-agent outfield pecking order, he appears to settle nicely in the next tier of outfielders with
Corey Hart
,
Carlos Gomez
,
Michael Morse
and 37-year-old
Carlos Beltran
.
Murphy has the same agent, Michael Moye, who negotiated
Josh Hamilton
's $125 million contract with the
Los Angeles Angels
in December. After watching the frenzy surrounding Hamilton last summer in Arlington, Murphy is looking forward to something a lot more orderly and restrained.
"There's no point in blowing it up to be bigger than it really is," Murphy said. "It's not like I'm a $100 million player and I'm going to be getting that type of attention. I have no idea how many teams would be interested. I have no idea what type of deal I would get. But there's no reason in thinking or worrying about that right now. I love being here and I want to win a championship with this team. There's no reason to focus on anything else other than 2013.
"There's Josh Hamilton and there's me. I'm not going to get a $125 million contract. I'm not going to be the horse on a team. I can contribute in some different ways. But I guess I'm more of a complementary player."
If anything could put a drag on Murphy's market, it's his home-road splits and the perception that he's a platoon player. But those perceptions aren't necessarily slam dunks. Murphy logged a respectable .803 OPS on the road last year compared to .917 at Rangers Ballpark in Arlington. He also hit .347 (26-for-75) against left-handed pitching, although those 26 hits failed to include a home run.
From a personal standpoint, Murphy would naturally prefer to have things work out with the Rangers. He was born in Houston and played college ball at Baylor in Waco, Texas. But he knows his future will hinge in large part on the Rangers' finances and long-range plan and his ability to stay healthy and productive this season.
"It makes a lot of sense for me to be here," Murphy said. "I was born and raised in Texas. I went to college in Texas, and I make Dallas-Fort Worth my home. It makes perfect sense for me to be here for a long time. That being said, I just want the best possible opportunity for my family and my career."