Spring Training:

Torii Hunter
February, 22, 2014
Feb 22
1:23
PM ET
LAKELAND, Fla. -- What people know, what people remember, is the October freeze frame that will live on forever:
Torii Hunter
, upside down in the Fenway Park bullpen, feet pointed toward the stars, as the most famous bullpen cop in history celebrates a
David Ortiz
grand slam.
What people don't know is the price the Detroit Tigers' right fielder paid for taking that tumble.
"It took me two months to get right from that," Hunter said Saturday. "Two months. That's something a lot of people don't know about. It hurt. I went to rehab. Did everything. Muscle tension. I had a lot of stuff going on.
"My lower back was locked up," he said. "I had to get soft tissue work for two months. Getting out of bed was tough."
Not all of those aches and pains were the result of just that one play, Hunter said. He already had laid the groundwork for that agony in the ALDS against Oakland, where "I beat myself up."
[+] Enlarge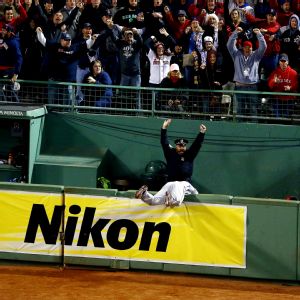 Al Bello/Getty ImagesTorii Hunter is fine with being remembered for flipping over Fenway Park's right-field wall on David Ortiz's grand slam, but don't ask him to autograph a photograph of that particular moment.
"But that play there, wow," he said, of his Fenway adventure. "I had a concussion. I had all kinds of pain. I got a cortisone shot. It was tough."
Hunter is fine now, he said, as he enters his second season with the Tigers and his 18th in the big leagues, at age 38. But hard as he tries, he can't seem to escape the world's fascination with his upside-down journey into the lore of October.
He's cool with the people who remember it as a spectacular effort to rob Big Papi of a game-tying grand slam. It's the people who think that was some sort of comedy show that get to him sometimes.
So, when fans shove photos of that play in front of him, hoping he'll autograph it, what they get back is a polite: "No thanks."
"I ain't going to sign that," Hunter said, affably but firmly. "A couple of people have tried. They said, 'Would you sign this?' I said, 'No. That ain't even me. That's my feet.' They think it's funny. It's funny to them. It's not funny to me. I was trying to win."
And most of all, that's what Hunter wants people to remember about that dramatic moment in postseason time. Yeah, Ortiz was the hero. But the man who toppled into the bullpen almost made an amazing play, one that might have changed the entire course of October events.
"Most people, the majority of people, people who know the game, they were like, 'Wow, that was a great effort,'" Hunter said. "A lot of guys don't even go for that ball. They just [pull] up.
"And a lot of people don't know I lost the ball. It was in the lights. The whole time, it was in the lights. And that's why I kind of overran it. Well, I don't know if I exactly overran it. Just, it was behind me, while it was in the lights. And I had to try and make an adjustment really quick with my body. I didn't pick it up until it was like five feet in front of me."
So, when it came time to make an instantaneous decision, Hunter never thought twice. He risked those two months of pain and rehab because a World Series trip was on the line. It was the only choice, he said.
"I could have just [given] up," he said, "because it was going over the fence regardless. But what the heck, man. I'm trying to win. I'm going to go all out."
Hunter knows there was one other byproduct of that play, though. It turned Steve Horgan, the bullpen cop, into an official, autograph-signing, picture-posing New England celebrity. And that's the one part of the Boston celebration Hunter says he has no problem with.
"That was awesome, man," Hunter said of Horgan. "You know, he's a fan. He's just rooting for his team. And it so happens, you get a snapshot of him, with the excitement, with my feet right next to him. But he's a good man. He's always smiling in the bullpen. You know, Steve, I'd met him before. But I had a chance to talk with him after that incident and really get to know him. I thought he was a great guy."
And now they're bonded forever, by one wild and crazy October moment, frozen in time by a click of a camera. And that click stands as a reminder that, when postseason paths collide, one man's jubilation can be another man's painful struggle just to get out of bed in the morning.
February, 25, 2013
2/25/13
6:00
PM ET
Torii Hunter
is still a Twitter fan. But a funny thing happened to him this winter on his way to a better life through Twitter.
He fired out a now-famous tweet, which he's still trying to explain, the day his old team, the Angels, signed
Josh Hamilton
. It went kinda like this:
"I was told money was tight but I guess the Arte had money hidden under a Mattress. Business is business but don't lie."
[+] Enlarge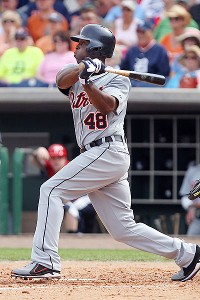 Kim Klement/USA TODAY SportsTorii Hunter is already enjoying being in the Tigers' lineup.
Half the planet took that as an indication that the Tigers' new right fielder wasn't exactly thrilled that the Angels (and owner Arte Moreno) said they didn't have the bucks to sign him, but found $125 million to give Hamilton over the next five years.
But Hunter said Monday he's over whatever frustration welled up in him that day.
"I'm over it," he told ESPN.com. "It was just a joke that went bad. I said he found money under the mattress, but I don't know what happened. I can't even explain that one. I've always said I had a great time in the Angels' organization, my best five years of my career. That organization has done a lot of great things for me, so I have no hard feelings. Trust me. I understand.
"I understood I was getting older for them," Hunter went on. "I had a great season for them last year, but they didn't want to fall in the trap of me getting older. I understood that. That's the business side of it. I always understood how hard it is to be a GM, because some day I would like to be one. We'll see."
---
More from Torii Hunter:
On what it's been like to be around Prince Fielder: "He's got a great freaking attitude, man. He loves sitting around, looking around, cracking jokes in the clubhouse. Gets out on the field, he's having so much fun. He hits, and hair is flying everywhere. He just loves it. He's just this big kid at the ballpark. When he was 13, 14, 15 and he was hitting in Lakeland when his dad came here in big league camp, just watching that little guy hit, it was impressive. I still remember him."
On what it's like to take batting practice with Fielder and Miguel Cabrera: "He and Prince, it's sick. They're hitting it like 450 feet in batting practice. Me, I can't do that. It would take me like 100 swings to get loose just to hit them there."
On how his lineup in Detroit compares to the lineup he left in Anaheim: "It's up there. It's definitely up there. The thing about our [lineup] with the Angels was, we just didn't jell. We didn't jell 'til June, 'til the end of May. But these guys have already played together. All they added was a piece like me. And I'm just a little piece of the puzzle. I'm not a guy who comes and changes everything. I just try to fit in."
On why he's hedging slightly on his statement earlier this month that this Tigers staff is the best he's ever played behind: "In '09 with the Angels, we had a great staff and we showed it on the field. Right now, we haven't done anything yet. But … if everything goes right, guys stay healthy and do what they're capable of, I definitely think this could be one of the best pitching staffs of my career that I played with. Right now, on paper, it's THE best. But we'll just have to see the results. … I say that because last year, I looked at that lineup with the Angels and said, 'Wow, we've got a great lineup.' And a month and a half went by, and we hadn't done anything. So now, I'm kind of a believer like, just play."
February, 14, 2013
2/14/13
4:20
PM ET
The Tigers' new right fielder showed up in camp on Thursday. Perhaps you've heard of him: Some guy named
Torii Hunter
.
He had a few thoughts. Asked where his lineup would rank among the best in baseball, Hunter deadpanned: "If I had to make a pick, I'm not going to tell you who I'd pick -- but it would be us."
Asked to assess how much the Royals and Indians had improved compared to the Tigers in the AL Central, Hunter heaped praise on both clubs but said: "But I can't tell you they're going to beat us. That don't make sense. I work for the
Detroit Tigers
."
[+] Enlarge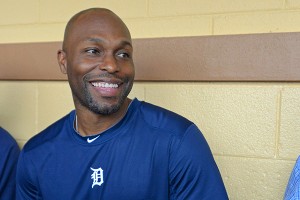 Mark Cunningham/MLB Photos/Getty ImagesTorii Hunter's happier yakking it up than getting yacked up.
And asked what he'd miss most about facing
Justin Verlander
, Hunter laughed and said: "That yack-ey."
That yackey? OK, loosely translated, that's Torii-ese for a "yacker," which is baseball slang for a man-eating curveball, which Verlander has been known to unfurl a few thousand times. Especially when Hunter is up there.
"I don't like that yack-ey," Hunter ranted. "I'm going, 'You throw 101. Why you throwing me yack? Don't throw me the yack.' I'll ask him that during the at-bat. He'll throw the yack, and I'll look at him, and he'll go . . . [Imitates Verlander grinning and shrugging.] He'd just make that face."
Hunter shook his head. Then, a few minutes later, he headed for the clubhouse to ask Verlander in person, now that they're teammates, how come he kept feeding him those yackeys.
"Payback," Verlander told him, chuckling heartily. "My rookie year, I threw you a fastball and you hit a broken-bat double off me. So for like the next four years, I had to show you I remembered.
"If you noticed," he went on, "I'd start the game throwing 93-94. Then you'd come up and whooomp, I'd have to throw 100. I don't know if you noticed."
"Noticed?" Hunter gulped. "I'd be watching in the dugout and I'd be saying, 'Verlander don't have it today. He's only throwing 93.' Then I'd get up there, and I'd get 98. And I'd say, 'What was THAT?'"
Well, there's beautiful news for him: We can guarantee that Justin Verlander won't throw him a single yackey all season -- he's a Tiger now. So those yackeys? They're now somebody else's problem.