St. Louis Rams:

Dallas Cowboys
September, 18, 2014
9/18/14
8:00
AM ET
The
St. Louis Rams
and
Dallas Cowboys
put together two of the league's most dubious Week 1 performances, but both teams rebounded with road victories last week.
This week, the teams meet for the second consecutive season in search of their second win. The Cowboys thrashed the Rams
31-7
in Dallas in 2013.
ESPN Cowboys reporter Todd Archer and Rams reporter Nick Wagoner preview Sunday's matchup.
Wagoner:
Todd, if
DeMarco Murray
ever goes into the Hall of Fame, he should probably say thank you to the Rams in his speech. He has shredded them in the past and it looks like he's off to a good start in 2014.
Does he look better now than he has in the past? And what is it that has made Dallas' running game so effective so far?
Archer:
He really turned a corner late last season well after he ran for 175 yards on 26 carries against the Rams. He ran with more conviction and had a better feel for the scheme and what the linemen were doing in front of him. But it's more than that. It's understanding where the defensive fronts can give him some trouble before the snap. He has run with power but he's shown the ability to bounce plays and get more positive yards so far. The offensive line helps. The Cowboys have three first-rounders up front in
Tyron Smith
,
Travis Frederick
and
Zack Martin
. After years of talking about wanting to be a physical team but not actually doing it, the Cowboys are actually doing it and it's because they believe more in the line than they have since making the playoffs in 2009.
Not to get too carried away here, but did
Austin Davis
work at a grocery store after toiling in the Arena Football League? I thought the Rams were in trouble when they had to go to
Shaun Hill
after
Sam Bradford
's injury, but how is Davis getting it done?
Wagoner:
Does serving a few weeks as a quarterbacks coach at the Westminster Christian Academy here come close enough to stocking shelves at the grocery store? A year ago at this time, that's exactly what Davis was doing. Seriously, though, Davis took most of us by surprise with his performance last week against Tampa Bay. He didn't put up any jaw-dropping numbers, and a rash of injuries limited Tampa's defense, but the most impressive thing about his performance was how cool he was under pressure. Time and again he faced pressure, stood tall in the pocket and delivered the ball.
For Davis, that has been the biggest change. When the Rams released him in 2013, it was in no small part because he struggled to recognize coverage and was too quick to take off running without keeping his eyes downfield. He was much improved in that area against the Bucs. Whether he starts remains to be seen because coach Jeff Fisher says Hill is the starter so long as he's healthy. But Hill hasn't proved he's back to 100 percent and the Rams have a bye next week, which would allow Davis another go.
The Cowboys' defense took a lot of heat before the season started but seemed like it found some answers against the Titans last week. What do you make of that group so far? And what are some areas of weakness we should be watching for?
Archer:
I still have my doubts. It has been better than I or many thought. But I need more visual evidence. Maybe it's just not wanting to be fooled so much. In Week 1, I believe San Francisco really shut it down in the second half and just wanted to avoid the big mistakes with a 28-3 lead. Last week at Tennessee,
Jake Locker
was terrible. Now some of that was the Cowboys' making. They got a good rush on him at times and the coverage was solid, but he also missed some throws. If they have another good game this week against Davis (or Hill), I'm still not sure I would get carried away. But it would give the Cowboys confidence and that's more important than anything I would say.
One of the matchups I want to see this weekend is
Robert Quinn
vs.
Tyron Smith
. Both guys received giant contracts recently. What kind of start is Quinn off to, and how is
Chris Long
's absence affecting him?
Wagoner:
Quinn doesn't have any sacks yet but that single stat is really a disservice to the work he has done. Tampa Bay and Minnesota made it a point to get rid of the ball quick and both teams used screens, slants and other short routes as a way to help negate Quinn and the Rams' pass rush as a whole. Vikings quarterback
Matt Cassel
had the fewest air yards per attempt of any quarterback in the league in Week 1 and the Rams had no sacks.
But Quinn is still wrecking offensive lines and creating pressure despite the lack of sacks. Teams are throwing multiple blockers at him on every play and linemen are desperately clutching and grabbing him to keep him from getting to quarterbacks. He's not always getting the calls but the attention going to him should open things up for others. Of course, he also hasn't seen a tackle as good as Smith in the first two weeks, either.
Tony Romo
has also had some big games against the Rams in the past. What have you seen from him, coming off his injury? And do you expect him to return to his usual levels of production?
Archer:
Romo has not looked the same, despite what he, Jerry Jones and Jason Garrett say. I think he's working his way back into game speed after being limited so much in the offseason and in four preseason games because of back surgery last December. He has not had the same zip on passes. He has not moved around as well as he has in the past. It's all intermittent right now. The back can be a tricky thing and it takes some time to heal. Romo has been sacked seven times and had only 73 pass attempts, so clearly the line isn't protecting him as well. He needs to play better. I think he will get there eventually this season -- maybe even this week -- but it's a good thing the Cowboys look to have a ground game they can rely on.
Michael Sam
spent the summer with the Rams and had a productive preseason. Cowboys fans have asked me about how Sam has done since joining the practice squad, but it's hard to judge development there. You saw him in the preseason. What kind of player can he be?
Wagoner:
Sam really just kind of is what he is -- a high-energy, all-out effort player who has a motor that constantly runs. He's never going to wow anyone with an array of pass-rush moves or overwhelming power to win with a bull rush. He has to win by getting to the edge with his speed and/or by chasing down quarterbacks or ball carriers, because he simply never quits on a play. Because of that, his upside is limited but it's also a quality that should eventually earn him a chance to play in the league.
Dallas once added a former highly touted college performer who was a seventh-round pick of the Rams in
George Selvie
, and he turned into a pretty decent NFL player. I see no reason Sam couldn't eventually follow a similar but slightly lessened trajectory.
September, 21, 2013
9/21/13
1:00
PM ET
IRVING, Texas --
St. Louis Rams
cornerback
Cortland Finnegan
has been known to trash talk. There was a famous scrap with
Houston Texans
wide receiver
Andre Johnson
in 2010 that would have been a good co-feature on a Floyd Mayweather fight.
Bryant

Finnegan
On Sunday, Finnegan and his trash talk come to AT&T Stadium to face the Cowboys, and he will defend Cowboys wide receiver
Dez Bryant
.
"He's a great player," Bryant said. "He's got great instincts. He's very quick. Great player. I think he's kind of different now. I don't really see him talk that much. You can tell if somebody is talking. You can see it on the film. It doesn't look like he does it that much. He seems more focused on his business."
In the preseason, Finnegan said he doesn't trash talk as much but once the regular season begins, he picks it up.
"It's good to get them off their game," Finnegan said in a preseason interview on WXOS-FM in St Louis. "When it's all said and done, people want to be cut and dry in what they want to do. When you get them thinking about them tussling with you instead of running a route, it helps our football team."
Bryant has been known to do some trash talking himself, but after games he normally hugs it out with the opposing cornerback as a sign of respect. Bryant is well aware of the Johnson incident, but sees a different Finnegan than most people.
"He seems different," Bryant said. "Like he's focused and just wants to play some good football."
September, 19, 2013
9/19/13
12:00
PM ET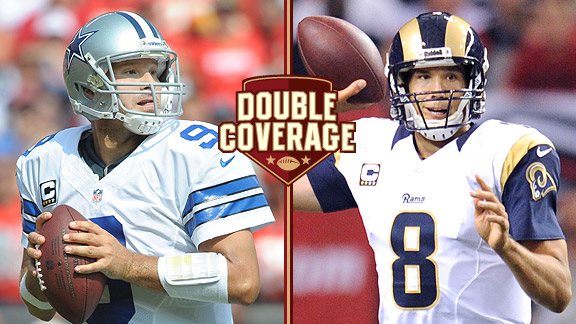 USA TODAY SportsLike Tony Romo in Dallas, QB Sam Bradford has become the clear leader in St. Louis.
The
Dallas Cowboys
and
St. Louis Rams
will meet for the second time in three seasons at AT&T Stadium. The Cowboys won convincingly, 34-7, in 2011, but this Rams team is different. ESPN Rams reporter Nick Wagoner and Cowboys reporter Todd Archer bring you their Double Coverage preview.
Archer:
It's always about the quarterback here with the Cowboys and
Tony Romo
, but I'm curious about
Sam Bradford
. Where is he in his development and is there any doubt he is their answer at the game's most important spot?
Wagoner:
The Rams have made every effort to turn this into Bradford's team, and, through two weeks, it's absolutely become that. Bradford has had two strong statistical weeks to start the season, led a comeback win against Arizona in the opener and nearly did it again last week in Atlanta. He's clearly more comfortable in his second season with the same offensive coordinator in Brian Schottenheimer and surrounded by better skill position players such as tight end
Jared Cook
and receiver
Tavon Austin
. Bradford is showing signs of having the breakthrough season many have long expected. For the Rams' part, there's no doubt he's the guy moving forward and the decision-makers have repeatedly and publicly said as much.
Speaking of quarterbacks and committing, the Cowboys made their move to lock up Romo already. How has he responded to that financial vote of confidence?
Archer:
I think it goes beyond the financial commitment, although we'd all like to be guaranteed $55 million at some point in our lives. The bigger vote of confidence came from Jerry Jones wanting him in on the game planning with the coaches. Romo has more say now than he has ever had as the starting quarterback. It's his offense in a lot of respects. The Cowboys are doing more no-huddle work than ever before, and that's where Romo has complete control. Now there could be some drawbacks, too, because they're not running the ball. The Cowboys talked about running the ball more and better in 2013 than they did in 2012, and they have 39 carries for 124 yards in two games. Romo has dropped back to pass nearly 100 times in two games. There is even more of a burden on him now, and he's already had to do so many things here lately to win games.
One guy I can't wait to see Sunday is Austin. Everybody had him pegged for greatness this summer, and he's coming off his first two-touchdown game. How have the Rams tailored their offense for him?
Wagoner:
Well, it's been a bit of a mixed bag for Austin so far. Yes, he had a couple of touchdowns last week, but he also had some issues with drops. The Rams have used him as a receiver, lined him up at running back and used him as the primary punt returner, and those will all be ways they'll continue to use him moving forward. Through two weeks, they haven't been able to get him out in space where he can operate at his best. That's why he has yet to hit any of the big plays many are expecting from him. On the flip side, he's been better in short areas moving the chains than expected. His first touchdown catch against Atlanta was particularly encouraging because he showed a knack for being able to make a tough grab in a congested area.
Not to keep piggybacking off your questions, but let's talk a little about Dallas' most exciting wideout,
Dez Bryant
. Clearly he's not too banged up given his performance last week, but what is his status? The Rams have really struggled against the pass the first two weeks and Bryant could have a monster game if he's up to full strength.
Archer:
He should be fine, but this is something that has cropped up the past couple of seasons. He missed a handful of plays against the Chiefs because of back spasms, but it wasn't nearly as bad as last year's finale at Washington, where he could barely move. I think it's a matter of keeping loose for him because they say it's not a structural issue. He is just a nightmare matchup because he can overpower corners in man-to-man. The Chiefs'
Brandon Flowers
wasn't in bad position on a couple of those plays, but Bryant just ripped the ball away from him. And the best pass Romo threw to Bryant all day was the one the receiver dropped on what would've been a big gain. Unfortunately for the Rams corners, I think he'll be fine for this one.
The Cowboys haven't been able to run the ball early in the season and the Rams look to be pretty good against the run (but maybe that's because the pass defense has been shaky). How good is the front seven?
Wagoner:
Yeah, it's hard to get a read on just how good the Rams' run defense is right now because they've played pretty anemic run teams in the first two weeks. I do think they'll be pretty good in that regard over the course of the season, but let's see how they do when they face the likes of San Francisco, Seattle and Houston. The front four is the strength of this team as a whole, and the linebackers are solid, too. The front four generates a pass rush on a consistent basis. Ends
Chris Long
and
Robert Quinn
have been as good as ever so far this season.
The Rams haven't given up a sack in the first two games and four in a row dating back to last season. How are the Cowboys adjusting to a new defensive scheme and what kind of challenges do they pose in regard to the pass rush? And how are they using
DeMarcus Ware
?
Archer:
Last week against the Chiefs, the Cowboys used Ware on both sides in part so he could go against rookie tackle
Eric Fisher
. He had two sacks in the game and was a constant source of pressure on quarterback
Alex Smith
. I wonder if the Cowboys continue to do that this week with Rams tackle
Rodger Saffold
looking like he will miss the game with an injury. Ware has predominantly lined up against the left tackle for his career, but with
George Selvie
showing he can play both sides and
Anthony Spencer
rounding into shape after missing so much time with a knee injury, I think the smart thing is to move Ware around.
September, 18, 2013
9/18/13
2:32
PM ET
IRVING, Texas -- Count Jeff Fisher among those surprised that the center-hung digital board at AT&T Stadium has not been hit more.
On Sunday, Fisher will make his third appearance at the $1.2 billion stadium in Arlington and his first as head coach of the
St. Louis Rams
. He coached in the first game at the stadium on Aug. 21, 2009, in the preseason when he was with the
Tennessee Titans
and returned for a regular-season matchup in 2010.
Titans punter A.J. Trappasso hit the board in the preseason meeting, which prompted Fisher to raise concerns with the league about its height. Eventually the NFL passed a "do-over," rule that has been used only once since. In the Aug. 24 preseason game this year against the
Cincinnati Bengals
, Cowboys punter
Chris Jones
hit the board and
Brandon Tate
returned the ensuing punt 75 yards for a touchdown.
"Well, if it happens in the first game, you think it's probably going to happen again, so I guess I would probably say, 'Yes, I probably am surprised,'" Fisher said. "I think it's good that it's been both preseason games."