St. Louis Rams:

Houston Texans
September, 2, 2014
Sep 2
2:00
PM ET
The
St. Louis Rams
waited patiently to make an addition at quarterback after losing starter
Sam Bradford
for the season. On Monday, they made their move by claiming quarterback
Case Keenum
off waivers from the
Houston Texans
.
ESPN.com Rams reporter Nick Wagoner and Texans reporter Tania Ganguli discuss what the Rams are getting in Keenum and what Keenum's role will be in St. Louis.
Wagoner
: Tania, I remember chatting with you before the Rams and Texans played last year and you mentioned the local push for hometown favorite Case Keenum to be the starter. Coincidentally, he took over that job after the Rams beat up on the Texans and went on to start eight more games. Now he's a Ram after they claimed him on waivers Monday afternoon. You saw every one of Keenum's starts. What are the Rams getting in their new backup quarterback?
[+] Enlarge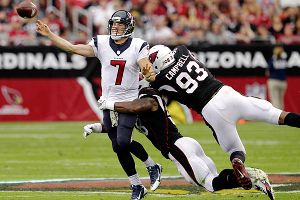 AP Photo/Rick ScuteriCase Keenum has had problems facing defensive pressure as an NFL quarterback.
Ganguli
: They are getting a quarterback who knows what he needs to do but struggles to do it.
Keenum's remarkable college career made him a lot of fans locally, but he spent all of his rookie year on the Texans' practice squad before making the roster last season. The Texans' quarterback situation was incredibly strange last season. By the time Keenum became the starter, the Texans' season was in such a spiral then-coach Gary Kubiak wanted something to spark his team.
That's the positive with Keenum. He has moxie (Wade Phillips' word, and I liked it). He was probably the best natural leader in the Texans' quarterback room last season. He can lift a team emotionally. The problem is a lot of the rest of the responsibilities. In his early starts, it took opposing defensive coordinators until halftime to decipher Keenum. In his second start, he threw three touchdown passes to
Andre Johnson
to give the Texans an astonishing 21-3 lead over the
Indianapolis Colts
at halftime. They lost that game 27-24. By his later starts, opponents had enough film to shut him down from the start.
His main issue is handling pressure. His first instinct is to run away from it. He went backward for sacks more than any other quarterback in the NFL last season. In college he was very successful improvising and using his legs, but he hasn't adjusted to the idea that it doesn't work the same way in the pros. Don't get me wrong -- every so often his improvisation led to a terrific play. He just expects it too often.
He doesn't have trouble reading defenses; he has trouble reacting and making the right decisions once he has. A few times last season, a dejected Keenum noted that he knew what he was supposed to do, he just didn't think to do it in time. His internal clock also needs work and he holds on to the ball too long when he tries to make plays.
Keenum's fan base in Houston still exists, though it has begun to acknowledge that he's struggled. The Rams' situation is an interesting one for him, with starter Sam Bradford out with a torn ACL. What kind of situation do you see this being for him?
NW
: The Rams mean it when they say they are committed to
Shaun Hill
as the starter. I think it would take something pretty drastic in terms of his performance or an injury for that to change. That means Keenum is coming in to serve in a backup role behind Hill. The Rams are keeping
Austin Davis
on the roster as well, bringing the total quarterbacks on the 53 to three. Davis has been around for three years and knows the system, so there's no reason to rush Keenum into trying to become the primary backup right away. After Keenum settles in, perhaps he pushes Davis for the No. 2 job behind Hill. But that's unlikely to happen right away. The Rams don't view Keenum as any sort of long-term replacement for Bradford, but they'd certainly welcome a young quarterback who could provide some depth beyond just this season.
October, 13, 2013
10/13/13
10:00
AM ET
By
ESPN.com staff
| ESPN.com
Join our ESPN.com NFL experts as they break down the St. Louis Rams' visit to the Houston Texans. Contribute your thoughts and questions beginning at 1 p.m. ET. And, be sure to visit our
NFL Nation Blitz page
for commentary from every game, as well as fan photos and the latest buzz from Twitter. See you there.
October, 10, 2013
10/10/13
12:00
PM ET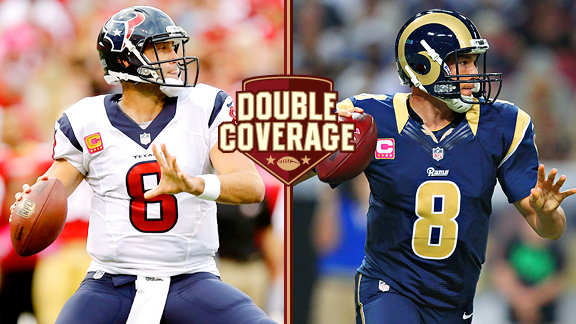 Getty ImagesMatt Schaub and Sam Bradford have combined to throw a pick-six in every week this season.
.
While neither the
St. Louis Rams
nor the
Houston Texans
have had especially inspiring seasons, for Houston, the start has seemed more dramatic given preseason Super Bowl expectations.
There have been no concessions in Houston, though. The Texans still believe they can do it, and they believe quarterback
Matt Schaub
can recover from his slump.
ESPN.com Rams team reporter Nick Wagoner and Texans reporter Tania Ganguli discuss the Texans' matchup against St. Louis this weekend.
Is the Rams' defense a good one for Schaub to recover against? Or will it pose more of a challenge than its statistical rankings suggest?
Wagoner:
If you'd asked me before the season, I would have said it certainly wouldn't be the right week for Schaub to get back on track. As we sit here today, it's hard not to think the opposite. For all the Rams' struggles this season, I believe the defensive performance is the greatest disappointment. It was a group that had aspirations of being among the top 10 but has been far from that. The run defense has been gouged lately (save last week against Jacksonville), and it seems the secondary is good to give up a handful of big plays in the air each week. The front four's pass rush is still pretty good, but there are a lot of questions in the secondary right now.
Speaking of defense, obviously the Texans are playing really well right now. Do you see any obvious weaknesses the Rams might be able to attack?
Ganguli:
A lot of people point to their red zone statistics and points allowed, which are among the worst in the NFL. But those are misleading numbers that have more to do with the Texans' offense sticking the defense in difficult positions. Three of San Francisco's touchdowns resulted from interceptions thrown by Schaub. A fourth came after a 65-yard drive following a Texans missed field goal. If an opponent can get into a rhythm on a drive against the Texans, it often finds success. Houston has given up drives of 99 and 98 yards in its first five games.
The Texans' defense did give up 177 rushing yards last weekend, 81 of which were to 49ers running back
Frank Gore
. How has the Rams' running game changed with the departure of
Steven Jackson
. Do you see someone emerging as the starter?
Wagoner:
To be blunt, the Rams' running game was nothing short of awful before last week against Jacksonville. As has been the case elsewhere, playing the Jaguars served as a tonic for that, and the Rams ran for 143 yards. They switched to rookie
Zac Stacy
for that game, and he showed the ability to hit the hole and get some yards after contact. His performance was better than any of the other backs through the first five weeks. He's a little banged up and missed the end of the Jacksonville game because of it, but the Rams expect him to be ready to go this week. Stacy, with
Daryl Richardson
as a change of pace, is probably the team's best option right now, but Richardson has been banged up, too, and because of it has not been as effective as he was last season.
Obviously, the hot topic down there right now is Schaub. Not to ask you to play Dr. Melfi, but where is his confidence right now, and what do you think is at the root of the problem?
Ganguli:
Against the
Seattle Seahawks
he threw a pick-six that tied the game. That was his third in three consecutive games, and it was a costly one. I believe he got past it during a week of practice and regained his confidence, but the pick-six he threw on his first pass against the
San Francisco 49ers
sent him back down the rabbit hole. I can't answer whether or not his confidence is back, but he'll start again against the Rams and his play will make it clear. The situation in which he finds himself is most certainly mental, though. He's shown the ability to be much more productive in the past.
Schaub has had some success this season throwing to his new toy, rookie receiver
DeAndre Hopkins
, who, having been drafted 27th overall, is looking like a steal. Hopkins actually thought the Rams were going to pick him, given their pre-draft interest. Of course, the Rams instead took receiver
Tavon Austin
with the eighth pick. What is your assessment of him so far?
Wagoner:
Austin's impact has been limited for multiple reasons, some of which are out of his control. First, he's been victimized by an astounding number of special-teams penalties that have wiped out some impressive punt returns. He had 81 return yards wiped out last week alone, and the Rams' 17 special-teams penalties have cost them 306 yards in field position. Second, the Rams have not found creative ways to get Austin open in space as a receiver and let him do what he does. He catches short passes and gets swallowed up. Third, he's had some issues with drops. He had two more last week to bring his total for the season to six. He seems to be pressing a little bit. The talent is there, and I think it will surface at some point, but there's a lot that needs to happen before we see it.
Unfortunately, we may not get the opportunity to see a
Cortland Finnegan
-
Andre Johnson
rematch this week because Finnegan has been dealing with a thigh injury. Still, Johnson looks like he's playing at a high level. The Rams have struggled to defend the pass, particularly against elite receivers. Is Johnson still in that category, and what have you seen from him this season?
Ganguli:
He's definitely still in that category when he's fully healthy, but he wasn't last weekend. Johnson suffered a shin injury in the second quarter against Baltimore in Week 3 and since then has been managing it.
Overall, the Texans have had to throw the ball a lot more than they'd like to because they've been behind so much. It's affected their play-action passing game, which used to be one of the best in the league.
.