Rams-Bears study session: Defense
November, 26, 2013
11/26/13
4:00
PM ET
ST. LOUIS -- A look back at the St. Louis Rams' 42-21 win against the
Chicago Bears
after reviewing the All-22 film.
Big play:
Rams linebacker
Jo-Lonn Dunbar
dropped Bears running back
Michael Bush
for a loss of 4 yards from the Rams' 1 on fourth and goal with 8:21 to go in the third and the Rams leading 24-14.
[+] Enlarge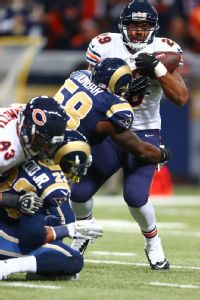 Dilip Vishwanat/Getty ImagesJo-Lonn Dunbar's tackle of Michael Bush on fourth and goal capped the Rams' third-quarter goal-line stand.
The Rams and Bears came out in goal-line formations. The Rams had eight defenders at the line of scrimmage, including safety
Rodney McLeod
and linebacker
Alec Ogletree
. Linebackers
James Laurinaitis
and Dunbar lined up behind the line with safety
T.J. McDonald
. Each lined up a step or two inside the other.
The Bears came out with seven blockers on the line, including an extra lineman and two blockers in front of Bush, one directly in front and the other offset right. Quarterback
Josh McCown
came out under center.
At the snap, the Bears blocked down to the left with right guard
Kyle Long
pulling to the left and both fullbacks flowing the same direction with Bush behind. Tight end
Dante Rosario
, who was the extra blocker in the backfield offset to the right, was supposed to get to Dunbar after the snap. But Dunbar read the play immediately, and Rosario got stuck in traffic, actually running into Long as Dunbar shot the gap.
Dunbar was on Bush before Rosario ever sniffed contact and dropped the running back almost immediately after he got the ball to complete the goal-line stand.
Hidden play:
Two plays earlier, Rams cornerback
Janoris Jenkins
offered textbook coverage against
Alshon Jeffery
and broke up a second-and-goal pass from the 4 to help set up the stop.
The Rams lined up with four down linemen, three linebackers and two safeties in the slot in a normal alignment with the two corners playing about 3 yards off the line of scrimmage.
The Bears had Jeffery split left with tight end
Martellus Bennett
attached to the line standing outside right tackle and two receivers, including
Brandon Marshall
split right. Bush lined up at running back with McCown in the shotgun.
At the snap, the Rams rushed four, but McLeod appeared indecisive in the slot, leaving Jenkins one on one with Jeffery. McCown wasted no time throwing the jump ball to the bigger Jeffery but Jenkins was ready for it. He turned immediately to look and timed his jump just right. Jenkins got his left arm in the way to deflect the pass away as it fell incomplete.
Other observations:
This is the part of the exercise where we offer weekly praise for defensive end Robert Quinn. Quinn didn't have but one sack -- one that turned into a fumble forced, recovered and returned for a touchdown -- but he was every bit as dominating as the games where he's posted three sacks. He beat Jermon Bushrod all day and though he didn't have the sacks to show for it, this might have been his best game. There's nothing fancy to Quinn's approach. He doesn't have a wide array of moves, but he doesn't need them. He's as dominant as any defensive player in the league right now.
It was a nice day for Ogletree, who was around the ball a lot and made a lot of tackles, including a nice play in space on third down between the two plays mentioned above.
The Rams have had their share of trouble stopping the run but at least in recent weeks, tackling hadn't really been an issue. It was in this one. The defense really struggled to tackle consistently, and it wasn't any one area. Missed tackles across the board. That has to be corrected with the Niners up next.
End Chris Long also had a strong outing, not quite to the level of Quinn, but he created consistent pressure most of the day. Really, every lineman the Rams threw out there seemed to have his share of success. McCown came under fire most of the game.
Speaking of McCown, he deserves a tip of the cap. While the Rams came crashing down on him repeatedly throughout the day, he stood tall in the pocket, bought time with his legs and delivered accurate pass after accurate pass. Very impressive.
Not to beat this to death but it was a rough game for rookie cornerback Brandon McGee, who split his time between the slot and playing on the outside. He had three costly penalties, and the Bears had great success targeting him. It was his first time playing defense extensively, so nowhere to go but up from here.
McDonald had some obvious rust as well. McDonald missed a couple of tackles and struggled in coverage, especially against Bennett.
Yes, Jenkins got beat for a touchdown early in the game but Brandon Marshall ran a terrific route to do it. Otherwise, it was a good performance from Jenkins, who showed a real knack for taking on bigger receivers and winning at the top of the route. His interception, which was nullified by a penalty, was a clinic in how to cover a bigger wideout.
Laurinaitis was active in this one as well, having particular success against the run and recovering a fumble. Bennett gave Rams linebackers some problems, but otherwise it was another in a line of solid performances.
In another area worth mentioning here, which is now becoming a weekly thing: once again, the Rams were nothing short of outstanding on special teams, especially in coverage. Rookie linebackers Daren Bates and Ray-Ray Armstrong are rapidly developing into special teams aces.