August, 26, 2014
Aug 26
6:13
PM ET
August, 26, 2014
Aug 26
5:05
PM ET

Most significant move:
None of the Rams' moves really registered much of a blip on the radar, though parting with defensive end
Sammy Brown
and safety
Matt Daniels
in this round might qualify as something of a surprise. Brown and Daniels have spent time on the active roster over the past two years, but both have had similar problems staying healthy. Daniels was once a core special-teams player, but he suffered season-ending injuries in each of his two seasons. Brown has shuttled between the practice squad and active roster but spent most of this camp watching from the sideline. It was seemingly inevitable that both would be released but maybe a mild surprise for it to happen during the first round of cuts.
Sam still here:
It's no surprise that defensive end
Michael Sam
made it past the first round of cuts given his draft status and production in the team's first three preseason games. Sam and undrafted rookie lineman
Ethan Westbrooks
continue to wage one of the more intriguing battles for a roster spot. Both have made strong cases that they belong in the NFL. The question becomes whether the Rams have room to keep both or if they will have to make a difficult decision. At this point, it wouldn't surprise to see another team claim either of them should they be exposed to the waiver wire. The Rams could theoretically keep 10 defensive linemen but would have to sacrifice at other spots. Injuries at cornerback and quarterback could also keep the Rams from going heavy elsewhere. Certainly, Sam and Westbrooks should get plenty of opportunities to make closing arguments Thursday night in Miami.
Rams' cuts:
CB
Jarrid Bryant
, P
Bobby Cowan
, OT R.J. Dill, WR
Jordan Harris
, LS
Jorgen Hus
, FB
Kadeem Jones
, LB
Johnny Millard
, WR T.J. Moe; OT D.J. Morrell, LB Pat Schiller (waived injured), S Matt Daniels, DE Sammy Brown
Quarterback
Sam Bradford
(knee) and center
Demetrius Rhaney
(knee) were placed on injured reserve. Last week, the Rams placed running back
Isaiah Pead
on injured reserve and did not replace him on the roster. That brings the total to 75.
August, 26, 2014
Aug 26
4:55
PM ET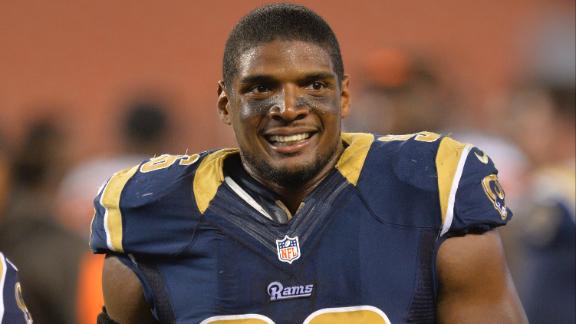 EARTH CITY, Mo. -- Michael Sam remains on the St. Louis Rams' roster after the team made the necessary moves to get to the league maximum of 75 players.
To reach that number, the Rams made four moves Tuesday afternoon, including placing quarterback Sam Bradford and center Demetrius Rhaney on injured reserve. St. Louis also released safety Matt Daniels and defensive end Sammy Brown.
That Sam made it through the first round of cuts is of little surprise after he posted two sacks against the Cleveland Browns on Saturday night.
Through three preseason games, Sam -- the first openly gay active player in NFL history -- has five tackles and three sacks. Rams coaches' film review also credits the rookie defensive end with two quarterback pressures and a quarterback hit.
Although Sam has done some work on special teams as a blocker, Rams coach Jeff Fisher emphasized Tuesday that Sam will be judged solely on his work on defense. Anything else would be considered a bonus.
"It's rare that you get a defensive end that's going to go out and contribute on all four of your core special teams," Fisher said. "So special teams is not part of the equation for Mike.
"We're giving him every opportunity to do so, and he's participated in special-teams practices and everything, but that's not going to be part of the criteria for the evaluations."
As for how Sam is stacking up against others vying for roster spots, namely fellow lineman Ethan Westbrooks
August, 26, 2014
Aug 26
4:30
PM ET
EARTH CITY, Mo. -- Rookie offensive lineman
Greg Robinson
has been very open about the difficulties of adjusting to the NFL.
The
St. Louis Rams
haven't made that adjustment any easier on him as they've tried to balance getting him plenty of work at his projected long-term spot (left tackle) and where they initially projected him for 2014 (left guard).
With one preseason game remaining and the start of the regular season coming next week, Robinson's status as the projected starter at left guard appears uncertain.
Robinson
After starting the first two preseason games, one at each position, Robinson didn't start against Cleveland last week. He did play a team-high 58 snaps at left guard. Robinson said Tuesday he doesn't have a "steady position."
"They said I've been making too many mistakes and the real bullets are about to start flying," Robinson said. "What I think about that is it's not how you start, it's about how you finish. You never know what happens and when my opportunity presents itself I pray that I'm going to be ready."
Beyond prayer, it would probably benefit Robinson to get a chance to work more exclusively at one spot or the other, particularly at guard. But that has been a process made more complicated by various injuries to others on the offensive line.
Left tackle
Jake Long
is still working his way back from knee surgery and clearly has plenty of rust to knock off before the season starts.
Rodger Saffold
dealt with a stinger in his shoulder that kept him out for a spell. Those ailments have left Robinson working in a sort of de facto utility man role for most of camp.
According to Robinson, moving between the two positions is no longer a struggle in terms of understanding the offense so much as it is about fundamentals. Offensive line coach Paul Boudreau points to hand usage, in particular, as the biggest change in technique, something he's seen before including with former Rams (then 49ers) lineman
Harvey Dahl
before he coached him in Atlanta.
"If you put a tackle in at guard, they learn to use their hands a lot better than when they play tackle," Boudreau said. "Tackle you can leave your hands down by your side for a while. Orlando (Pace) used to come out and never use his left hand until he had to. At guard, they're on you right now, you better use your hands so in the long run it's going to help him use his hands faster, a lot better and more efficient."
Beyond his hands and growing accustomed to the phone booth sized space that accompanies playing guard, Robinson has other areas he's working to adjust.
"It's all about alignment and assignment, getting off on the snap count and taking proper steps so you really can't miss a beat, no false steps," Robinson said. "Those guys are trying to prepare me for the up-tempo and just helping me understand it's a little bit faster and I have to think faster and on my feet."
Earlier in camp, Boudreau related a story of Rams lineman
Barrett Jones
stopping Robinson and telling him that nothing comes easy in adjusting to the NFL. Jones essentially took a redshirt as a rookie while recovering from a foot injury and trying to catch up with all that goes into the NFL.
"He told Greg that last year was the worst year of his career," Boudreau said. "It's new, you're in the NFL, it's a different speed, whole different deal. You're coming in and you're a freshman all over again so the one thing about him is day to day you see something a little bit better than the day before. That's all I'm looking for right now. It's baby steps."
Coach Jeff Fisher has downplayed Robinson's coming off the bench but for now Saffold is handling left guard duties with
Davin Joseph
on the right while Robinson works to catch up. Whether that will happen in time to reach opening day as the starter remains to be seen.
In the meantime, Robinson acknowledges that it would be beneficial to settle in at one spot but understands why he hasn't.
"It would be in my opinion but I'm just doing whatever the coaches ask of me because who says I'm going to just playing tackle?" Robinson said. "What if a guard goes down and I have to play guard and if a tackle goes down, I'd have to play tackle. So I'm just playing my role and just being there for the team."
August, 26, 2014
Aug 26
3:30
PM ET
EARTH CITY, Mo. -- For a coach who has yet to take the
St. Louis Rams
to the playoffs and hasn't won a postseason game since 2003, Jeff Fisher commands plenty of respect in
the latest in-depth project
from ESPN Insider Mike Sando.

Sando spoke to 30 NFL people -- eight current general managers, four former GMs, four personnel directors, four executives, six coordinators and four position coaches -- in an effort to put the league's current head coaches into tiers. Each panelist was asked to grade each coach on a scale of one to five with one being the best and five the worst.
When all was said and done, Fisher came in at an average of 2.10. That put him squarely in the second tier of coaches and ranked at No. 11 overall. For what it's worth, Fisher received six first-tier votes, 15 second-tier votes and nine third-tier votes. By way of comparison, New England's Bill Belichick finished first with 28 first-tier votes and two second-tier votes.
As you might expect based on his votes, the positive support for Fisher came from those who see him as a master motivator and strong delegator capable of getting his teams to play hard enough to be competitive regardless of talent.
An excerpt from Sando's piece:
A former GM lauded Fisher as an outstanding in-game manager. "You know what you're getting with Fisher and the message stays the same," a personnel evaluator said. "He's got an identity for his teams. Whether it is Gregg Williams' or his, you know they are going to be coached up and play their a--es off."
On the other side of the coin, Fisher was downgraded by some voters for a somewhat middling record for a coach who has been around as long as Fisher. One criticism of Fisher was that he was better off strictly coaching with a general manager making all the roster decisions like he once had with Floyd Reese in Tennessee.
Another excerpt offering some criticism of Fisher.
A coordinator put it this way: "Fisher has been a head coach a long time and won games, and there has been more positive than negative, but they treat him like he has 10 Super Bowls."
Still, for whatever reasons voters had to downgrade Fisher, they weren't too harsh about it considering he still comfortable checked in on the second tier and at No. 11 amongst the 32 coaches. In my view, he deserves credit for elevating the Rams from awful to mediocre but the next step for him will be to take the Rams beyond that mediocrity and into prominence. If he can do that in the league's best division without his starting quarterback, he'll probably rise in these rankings should Sando revisit them next year.
August, 26, 2014
Aug 26
1:30
PM ET
EARTH CITY, Mo. -- The annual #NFLRank project got underway last week as a panel of 85 NFL analysts across ESPN's many platforms went through the process of ranking the top 100 players in the league on each side of the ball.
As of Monday, two
St. Louis Rams
-- linebacker
James Laurinaitis
(No. 93 defense) and left tackle
Jake Long
(No. 63 offense) -- had cracked the list. On Tuesday morning, another Ram made the cut, this time in the form of defensive end
Chris Long
. Long moved up three spots from his spot at No. 40 on last year's list.
Defense, No. 37, Chris Long
Stats & Info:
Long has 33 sacks in the past three seasons, the eighth-most in the NFL, after he had only 17.5 sacks during his first three seasons. Long has never missed a game in his NFL career.
My take:
The former No. 2 overall pick has been surpassed by teammate
Robert Quinn
as this team's premiere pass-rusher, but Long remains one of the better defensive ends in the league. He had just 8.5 sacks in 2013 but he also has 39 quarterback pressures and 20 quarterback hits according to coaches' review. There were plenty of times when Long missed a sack by a split second because Quinn simply beat him to the punch. At this point in his career, it's unlikely to expect Long, 29, to transform into a 15- to 17-sack per season player, but his consistency and durability make him a valuable piece of this defense and team. With Quinn garnering more attention than ever following his breakthrough 2013 season, don't be surprised if Long's sack total gets a bit of a bump this year.
August, 26, 2014
Aug 26
11:00
AM ET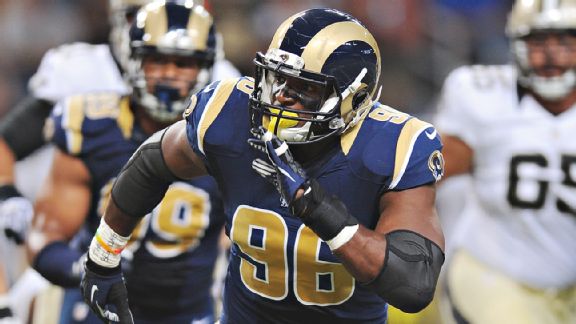 Michael B. Thomas/Getty ImagesRookie Michael Sam will have a final chance to impress the St. Louis Rams on Thursday night.
ST. LOUIS -- As if from an assembly line, the labels have been thrown at
Michael Sam
.
Since Sam announced publicly that he's gay in an interview with ESPN in February, he's heard them all. He has been called a pioneer and trailblazer. He has been compared to Jackie Robinson, Rosa Parks and Kenny Washington.
But the
St. Louis Rams
rookie defensive end isn't as interested in living up to a label as he is attaining an occupation. Every time he has been asked about helping current or future gay athletes or his legacy, his response is the same.
"I'm a football player," Sam has said again and again.
The refrain has remained the same since before Sam, who started playing football in seventh grade, and was drafted by St. Louis in May. His natural intensity, chance to develop by playing linebacker in high school and college choice all factored into his development. Sam hopes to take the next step, impressing the Rams enough to make the roster.
Sam remains on the roster after the team made the necessary moves to get to the league maximum of 75 players Tuesday afternoon. He will get his final chance to make an impression against the Dolphins on Thursday.
"Michael is making plays," Rams coach Jeff Fisher said. "We've moved people around and because of the flow of the game we played guys a little bit long so he didn't get as many reps as we would have liked. He'll probably get plenty of time to play this week."
Football beginnings
Before Sam knew he was going to play football, the head coach and defensive coordinator at Hitchcock (Texas) High were well aware. By the time Sam was in seventh grade, coach Craig Smith and defensive coordinator Morris Tuck had made plans for his arrival.
[+] Enlarge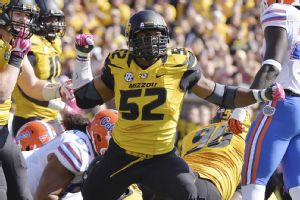 Zumapress/Icon SMIMichael Sam was far from a ballyhooed recruit, ranking as the nation's No. 75 defensive end by ESPN.
According to Smith, Sam was a head taller than the rest of his classmates, not to mention a few steps faster. Tuck also knew Sam came from good athletic genes after seeing two of Sam's older brothers play sports before him.
"Obviously Michael stood out," Smith said. "He was a big kid, super friendly, kind of loud, fun-loving kind of kid and he just stuck out."
When Sam arrived at the high school, bigger than most of his 300-plus classmates, he only had a couple of years of junior high football under his belt but there was little doubt he'd start on varsity. After some experimenting with Sam as a ball carrier, the coaching staff settled on defensive tackle, adding offensive tackle duties as a sophomore.
"A huge part of it was effort and intensity," Tuck said. "Michael is a guy that turns on a different switch on Friday nights. The intensity was just what really made him stand out early on."
Sam was also faster, regularly outrunning skill position players in drills. For the better part of his first two seasons, he got by on speed and effort.
During his sophomore season, Tuck experimented with using Sam as an inside linebacker during summer seven-on-seven tournaments around the state. He was athletic enough to get by at inside linebacker but coaches decided it wasn't where he was best suited. Still, it offered the chance to see the game from a different perspective. Sam got a better understanding of gap control and other mental aspects of diagnosing plays. When he moved back to defensive tackle, Sam carried those lessons.
Opening eyes
Any doubt about Sam's talent was erased on Oct. 4, 2008. That was the night Class 2A Hitchcock hosted 5A Houston power Chavez High. A defensive lineman by the name of
Michael Brockers
, who was one of the top-rated players in the state and headed to LSU, led Chavez.
Brockers hadn't grown to the 6-foot-5, 326-pound behemoth he is now -- as Sam's Rams teammate. But he had 15 pounds and a couple of inches on Sam at the time.
Playing offensive tackle, Sam was charged with blocking Brockers, who played defensive end. Brockers managed a sack against Sam, but for the most part, the future teammates played to a draw.
[+] Enlarge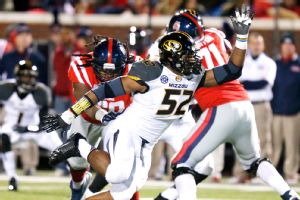 AP Photo/Rogelio V. SolisMissouri's Gary Pinkel said Michael Sam's focus and work ethic are the key reasons why he's achieved.
"He was clearly the main guy and they kept me at bay with just him following me," Brockers said. "He would switch the line before the play and follow me wherever I go. For the most part, he did a great job. Everywhere I went there was Michael Sam, right there."
Sam's performance led to early interest from schools such as Houston, Colorado State and Iowa State. Soon enough, Arizona State, Baylor and Missouri began calling.
"That night left little doubt that either he could play big-time college football or Michael Brockers was way overrated, one of the two," Smith said. "Obviously the second part of that wasn't true."
Though the Tigers got into the bidding late, Sam chose Missouri. And with the move from Texas to Columbia, Missouri, his maturation process began.
Growing up
For all the progress Sam had made on the field, his high school coaches believed college would help him grow as a player and a man. College would provide stability and a support system to help him thrive.
"As you get him up here, you get into a little bit more of the day-to-day things going on in his life," Missouri defensive line coach Craig Kuligowski said. "So to help him continue to grow and mature not only physically but emotionally and mentally. That was a big process for Mike and it is for a lot of guys in terms of trusting people and doing the right things and being responsible and accountable."
Kuligowski is known for getting the most out of underrated players with upside. Sam was rated as the nation's No. 75 defensive end by ESPN's recruiting nation and Rivals.com gave him two out of five stars.
The Tigers have made a habit of molding those kinds of recruits into NFL players, especially defensive linemen. Eight former Missouri defensive linemen are currently in the NFL and most haven't been highly touted prospects like reigning NFL defensive rookie of the year
Sheldon Richardson
. Defensive tackle
Ziggy Hood
, a three-star recruit in 2004, became a first-round pick in 2009.
Sam was raw when he arrived in Columbia but wasted little time making an impression. The first order of business was moving Sam to defensive end, which meant a crash course on technique.
[+] Enlarge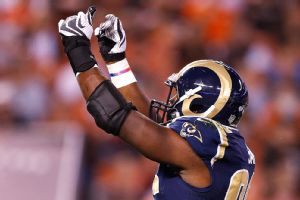 Joe Robbins/Getty ImagesMichael Sam has been money this preseason, registering three sacks.
"It was just constant, probably tiring work on fundamentals and hand movement and working coming off the corner and all the different things that a well-coached defensive end does," Missouri coach Gary Pinkel said. "Because he has great work ethic, he just kept working and working and working and gotten better and better."
After a redshirt season spent in the weight room, Sam had seven tackles for loss, 3.5 sacks, two forced fumbles, an interception, a safety and a blocked kick in his first season. He followed with solid sophomore and junior seasons, in which he developed a knack for coming up with big plays at opportune moments, including a last-minute interception to preserve a win against Texas Tech.
Sam burst onto the scene his senior season. He put on the weight and muscle his upper body lacked and weighed in at 255 pounds, important gains for a player transitioning to the more physical Southeastern Conference. Still, nobody predicted Sam would become an All-American and co-SEC Defensive Player of the Year in 2013, when he racked up 11.5 sacks and 19 tackles for loss.
"Would I have ever guessed after his junior year that he could play at that level? I would have questioned that," Pinkel said. "I thought he could be a really, really good player. Could he be a great player? I thought he could be, but I think he was a pleasant surprise for everybody. But his focus that last year was at a whole different level than I had ever seen."
NFL ready?
Through three preseason games, Sam has five tackles, including three sacks. Two of those sacks came against Browns rookie
Johnny Manziel
on Saturday. Sam mimicked Manziel's "money sign" after the first play.
"If you're going to sack Johnny, you've got to do that once," Sam said.
But unlike Manziel, Sam isn't guaranteed to make the 53-man roster when final cuts are made on Saturday. While Sam hasn't been overwhelmed by the players across from him and has made enough plays to at least raise some eyebrows, it's a numbers game with the Rams.
The top eight defensive linemen for the Rams --
Chris Long
,
Robert Quinn
,
William Hayes
,
Eugene Sims
, Michael Brockers,
Kendall Langford
,
Aaron Donald
and
Alex Carrington
-- are virtually locked in. Undrafted free agent
Ethan Westbrooks
is competing with Sam for a ninth spot if the Rams decide to go deeper.
"The roster may look a little bit different than years past because we may have more depth at one position," Fisher said. "We may go a little heavier at one position versus another position. So [players] can't waste their time trying to figure out what's going to happen because things can change on a daily basis."
No longer the biggest, strongest or fastest, Sam's biggest task is refining his pass-rush moves. One NFC scout referred to Sam as a "chase player," explaining he can get by on guile and effort but doesn't have much in the way of pass-rush moves or counters.
Sam has worked with defensive line coach Mike Waufle to develop those moves in training camp. He is also attempting to contribute on special teams after playing a little early in college. Both transitions are challenging but it's the mix of Sam's ability to do both that will determine his fate with the Rams.
"Michael is a defensive end," Rams coach Jeff Fisher said. "He plays defensive end with his hand down. It's rare to find a defensive end playing special teams in the National Football League. They don't do it.
"If Michael can find a way into the core group of special teams, and we're going to give him every opportunity to do that, then that's going to help his chances of making this team."
"I'm a football player," Sam said. "This is football. It feels natural."
Being a football player has come easy for Sam. Staying one is his next challenge.
August, 26, 2014
Aug 26
9:15
AM ET
EARTH CITY, Mo. -- The
St. Louis Rams
have but a few hours to reach the NFL-mandated maximum of 75 players after releasing 10 players Monday.
The Rams cut 10 players Monday afternoon with nary a surprise in the bunch. The moves, combined with running back
Isaiah Pead
going to injured reserve last week, brought the roster total down to 79.
The players released Monday include wide receivers T.J. Moe and
Jordan Harris
, offensive linemen R.J. Dill and D.J. Morrell, fullback
Kadeem Jones
, cornerback
Jarrid Bryant
, linebacker
Johnny Millard
, long snapper
Jorgen Hus
, kicker/punter
Bobby Cowan
and linebacker Pat Schiller, who was let go with the waived/injured designation.
The Rams have until 4 p.m. ET Tuesday to make four more moves to get the roster down to 75. They could make additional cuts or, perhaps, shuffle the roster with other injury-related moves such as sending quarterback
Sam Bradford
(knee) to injured reserve. They might also make a determination on the status of offensive lineman
Barrett Jones
, who is battling a back injury.
August, 26, 2014
Aug 26
8:00
AM ET
EARTH CITY, Mo. -- There has been plenty of discussion about the
St. Louis Rams
adding help at the quarterback position after
Sam Bradford
's season ending injury.
As coach Jeff Fisher is quick to point out, those conversations have not taken place within the confines of Rams Park, at least not yet. While Fisher says the team wants to be patient to see if any potential backup options to starter
Shaun Hill
become available, our man Field Yates
took the time
Monday to offer some possibilities.
Yates went into further
detail in this Insider piece

, providing some names and the thought process that would go into each one.
Clearly, there are many opinions on this topic from fans and media alike but the only one that really matters is Fisher's. He's serious about Hill being the starter so it's probably best to move on from the idea the team will be looking for anything but a possible backup as cuts are made.
I.C.Y.M.I.
A roundup of Monday's Rams stories appearing on ESPN.com. ... We began a busy day with this week's
projected 53-man roster
. ... Next, we got to the Ram-blings by trying to offer
something to cheer fans up
. ... From there, we took a closer look at the
dark cloud that seems to be hovering
over the Rams since 2002 or so. ... Lost in the Bradford news was
some actual good injury news
on four key starters. ... This
week's rookie review
looked at snaps and production for the rookies against Cleveland. ... We closed the day with Fisher's
strong words
emphasizing Hill is the guy.
Elsewhere:
Grantland's Bill Barnwell
wonders where
the Rams go from here.
Ron Jaworski
discusses what he thinks
the Rams should do at quarterback.
At stltoday.com, columnist Bryan Burwell writes that the Rams season
isn't doomed
by Bradford's loss.
In this video, Bernie Miklasz
agrees
.
Jeff Gordon writes that there's
no easy answers
for the Rams at quarterback.