St. Louis Rams:

2013 Week 15 NO at STL
December, 15, 2013
12/15/13
11:15
PM ET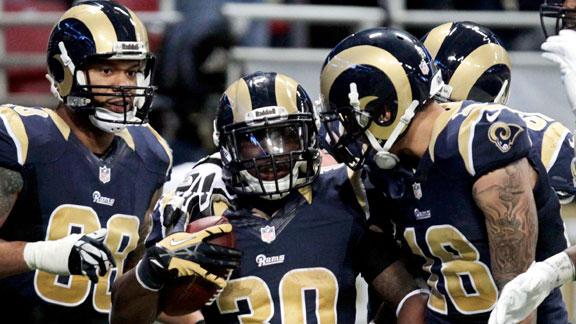 ST. LOUIS – Fourteen games into an NFL season, the task of trying to determine what, exactly, the
St. Louis Rams
' identity is has been an exercise in futility.
One week the Rams can do what they did Sunday, taking it to the
New Orleans Saints
-- a legitimate Super Bowl contender -- for a
27-16 win
. Another week they find themselves barely competitive against a division foe such as Arizona.
The highs can be extremely high; the lows can be exceedingly low. But perhaps now in the wake of another upset sprung on the Saints, we can all embrace the idea that the hard-to-peg personality of the Rams actually is what this team is all about.
At 6-8, the Rams have had more downs than ups on the roller-coaster ride that is their 2013 season. The inconsistent play from week to week has left them searching for answers in both winning and losing locker rooms on a regular basis.
"I don't know," linebacker
James Laurinaitis
said. "I really don't. I can't put my finger on it. I wish I had an answer. I don't know what it is. Today we were able to come and make some plays early and get some bounces our way. Some of the other games it just seems like things landslide fast. So I don't know why it's been like that. Hopefully we can reflect and find a way to figure that out."
Of course, when pressed on the reason for the ups and downs, the Rams refuse to acknowledge the elephant in the room: For the second year in a row, the Rams are the youngest team in the league.
Ask about it and you'll get a steady chorus of how that isn't an excuse. But it's also a stone-cold truth that the Rams are as green as any team in the league, and with that youth comes a learning curve.
"It is what it is, it's factual," offensive lineman
Rodger Saffold
said. "We are a young team, that's factual. As long as we're not using it as excuses, it's not a problem. This team is growing, they're learning. This is going to be exciting. I said last week I thought we would come out here and try to get better, and I think we did."
General manager Les Snead calls it a "grit" year, the year in which you have to suffer disappointing defeats but not get too high when things go as well, as they did Sunday against the Saints.
When a team is as inconsistent as the Rams, it can be easy to play armchair psychologist, to try to figure out why things are one way one week and on the opposite end of the spectrum the next.
For the Rams, though, the blueprint for success has actually been pretty easy to understand, particularly in their more dominant performances against the Saints, Indianapolis, Chicago and Houston.
"Sometimes it's simpler than people think," end
Chris Long
said. "You run the football, you don't turn the ball over, you force turnovers and you stop the run and things are going to go pretty well for you. Follow that blueprint which coach does a great job of pushing on us and trying to make sure we do and we execute and we can be pretty good. We don't execute and we're not going to be as good. It's simple. If we do our jobs and everybody plays hard, which they do every week here, we've got the right guys in the locker room for that, we can be as good as anybody."
In the Rams' six wins, they have rushed for an average of 141.8 yards per game on 4.6 yards per carry, while allowing just 82.3 rushing yards per game and 3.5 yards per carry. They're also plus-17 in turnover margin, taking it away 20 times and giving it away just three. The result has been six wins in which they've outscored opponents by 104 points.
Duplicating that blueprint from week to week has been a task a little too big for the young Rams. Turnovers can be a product of luck, which makes them hard to count on, but the point remains that the Rams at least know what needs to be done to get victories.
"It's a game of up and downs," Saffold said. "We also need to continue to learn how to win. This is definitely big for us. We can play like we don't have anything to lose because, honestly, we don't."
The franchise has been in rebuilding mode for much of the past decade, and the fan base deserves copious respect for its patience. Until things turn all the way around and the team returns to the playoffs, the cynicism that goes with so much losing will be warranted and continue. In the meantime, there is solace to be taken from winning games nobody expects them to win. Games like Sunday's, when the growth of a team is far more evident than in the losing weeks.
"They're playing beyond their years, they really are," quarterback
Kellen Clemens
said. "To see how they have progressed the last few months and even the last few weeks for those guys who are getting opportunities. It's been great to watch. This is going to be a good football team for a lot of years because we have a lot of young talent that is really starting to hit their stride."
You'll know that to be true when Sunday's stride becomes the same one you see on a weekly basis.
December, 15, 2013
12/15/13
10:00
PM ET
ST. LOUIS -- After spending the bulk of the first three quarters watching Rams defensive end
Robert Quinn
almost single-handedly wreck his offensive game plan, Saints coach Sean Payton reached his breaking point.
"I saw enough," Payton said. "I saw enough, period. It was enough; penalties, pressures, sacks, it was enough. At some point you just can't keep watching it. Feelings get hurt, it is tough."
When Payton says he'd seen enough, he's referring to the futile attempts of left tackle
Charles Brown
to block Quinn. By the time Payton pulled the plug on Brown and moved right tackle
Zach Strief
from the right side to the left, Quinn's damage had already been done.
In unofficial pressbox statistics, Quinn had five tackles, two sacks, a tackle for loss, two quarterback hits, two forced fumbles and a fumble recovery. He also drew penalties for holding and illegal hands to the face and those were just the ones that were called.
[+] Enlarge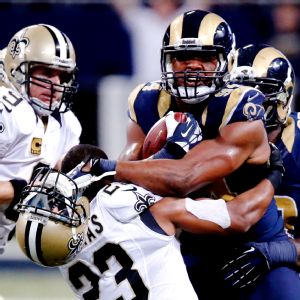 AP Photo/Charles Rex ArbogastThe Saints were just the latest offense to be abused by Rams defensive end Robert Quinn.
In unofficial Payton stats, Quinn also racked up about 297 pounds worth of hurt feelings.
Not that Brown should feel too bad, Quinn's made a habit of hurting feelings all over the league in this, his breakout season. Quinn's dominance has been so thorough that his teammates are ready to make the case that the trail of tears left in his wake should lead directly to some of the league's most prized awards.
"If there were any justice in the world, he'd be defensive player of the tear," Rams end
Chris Long
said. "There are guys on teams that are constantly playing with leads and a ton more opportunities than he has and are not doing the numbers that he does. He's just flat out dominant. Understanding what we've done record wise and maybe a little bit of the market issue, when it comes to awards like that, you are not always going to get the right people."
"It's hard not to have him in the conversation at least because to us, he's the defensive player of the year," defensive tackle
Kendall Langford
said.
Quinn's totals for the season certainly place him among the heady company required to garner consideration for that accolade. Through 14 games, he has 15 sacks, just two shy of the Rams' franchise record for a season and the most in the NFC.
Perhaps more meaningful, Quinn has eight forced fumbles, the most in the NFL and a pair of fumble recoveries, one he returned for a touchdown.
Even when Quinn isn't getting home for a sack or a forced fumble, he's finding ways to destroy opposing offenses. On New Orleans' first offensive play from scrimmage, Quinn fought through every tactic in the book to get to quarterback
Drew Brees
just as he delivered the ball.
Safety
T.J. McDonald
came up with the interception, the Rams scored a touchdown on the next play and never looked back.
"I don't think I've ever seen a better pure pass-rusher," end
William Hayes
said. "If you're talking about a 4-3 pass-rusher, I don't think so. I played with
Jevon Kearse
towards the tail end of his career. I wasn't able to see him in his early days. But, for now, like the D-ends in the NFL, I don't think there's a better one."
Against opponents such as New Orleans, a team boasting one of the most dominant passing attacks in the league, having a player like Quinn is invaluable. For all of the matchup discussions you can have about this corner versus that receiver or this linebacker versus that tight end, the game is still won and lost at the line of scrimmage.
Put simply, a player of Quinn's ability should be in contention for defensive player of the year because he has the ability to significantly alter what an offense does. Countless hours of preparation can be tossed aside in the precious seconds it takes Quinn to bend the edge, dip his shoulder under a tackle and drop the quarterback.
"I think he had a big part in altering the game plan," Long said. "I don't want to say wrecking it but altering it heavily before it even started. I think our whole D-line did. Obviously he's the guy, but they kept in seven, eight people a lot today. If you watch the tape, they weren't going to let us beat them upfront. That helps the team out and in effect, just changing that game plan, yeah, it matters."
Quinn has also made himself more of a force against the run this season, the area his game needed to improve the most. That's helped him stay on the field all three downs and increased his opportunities.
Against Arizona and San Francisco the past two weeks, Quinn went without a sack but he made up for lost time against the Saints.
"When you go sackless it's frustrating but you just continue to chip away at the offensive lineman, try to get the quarterback," Quinn said. "They're not always going to let you get there, I went two games without one. I was just kind of focused on today. I have just got to keep on going and finish the year strong."
Perhaps a strong finish won't be enough to garner Quinn the defensive player's ultimate prize but his due is coming. For now, he may have to settle for leaving more hurt feelings in his wake.
December, 15, 2013
12/15/13
7:33
PM ET
ST. LOUIS -- A few thoughts on the
St. Louis Rams
'
27-16 win
against the
New Orleans Saints
.

What it means:
Trying to figure out the Rams in 2013 is a task that people much smarter than me would probably struggle with. But after 14 games, perhaps the easiest way to look at it is that this team's personality is found in its inconsistency. The Rams are the youngest team in the league for the second consecutive year, a fact that most fans don't want to hear as an excuse. But it's instructive to know that when looking at their performance.
The Rams now have impressive, convincing wins against Indianapolis, Chicago and New Orleans, at least two of whom are playoff-bound. When things click, St. Louis can play with anyone in the league. When they don't, the Rams can be manhandled. At 6-8, there's been more of the former than the latter, but there's been enough of the former to at least provide tangible hope for 2014.
Stock watch -- up:
Defensive end
Robert Quinn
. The Rams had plenty of strong performances to pick from, but nobody completely wrecked a game plan like Quinn. On the Saints' first offensive play, he hit quarterback
Drew Brees
as he was about to throw, forcing an interception. That set the tone for yet another dominant performance. He spent most of the rest of the day in Brees' face, racking up two sacks, a forced fumble and a fumble recovery. Quinn so thoroughly dominated left tackle
Charles Brown
that the Saints benched Brown in the third quarter.
Stock watch -- down:
Nobody. Yes, the cop-out method. The Rams thoroughly dominated a team near the top of the NFC playoff race, and nobody really had a glaringly awful day. Instead of nitpicking after a game like this, we'll give credit where due.
Run game rolls:
In losses to San Francisco and Arizona the past two weeks, Rams running back
Zac Stacy
has struggled to gain traction, particularly early in games. He combined for 97 yards in those two games. He had 106 in the first half against the Saints and finished with 133 yards and a touchdown on 28 carries. It's no coincidence that when the Rams play well and win, they have that type of success in the run game, with Stacy leading the charge.
What's next:
The Rams get to stay home for the holidays with a second consecutive matchup against an NFC South opponent. This time it's Tampa Bay, a team the Rams throttled in south Florida last year. For whatever reason, the Rams have played well outside of the NFC West, and Tampa represents a chance to match last year's win total of seven.
December, 15, 2013
12/15/13
3:38
PM ET
ST. LOUIS -- There was ample evidence all week that
St. Louis Rams
receiver
Tavon Austin
would be unavailable for Sunday's game against the
New Orleans Saints
. That evidence became a conclusion before Sunday's game as the team declared Austin officially inactive.
Austin
Austin suffered an ankle injury last week against Arizona and did not practice during the week. On Thursday and Friday, Austin observed practice with a walking boot on his left foot. The biggest clue of all came late Saturday afternoon when the Rams released defensive end
Gerald Rivers
and called up receiver/returner
Justin Veltung
from the practice squad.
Veltung spent the preseason and training camp as the primary backup returner to Austin. He's active against the Saints and likely to handle Austin's return duties in his absence.
At the NFL scouting combine in February, Austin said he had never missed a game or practice from high school through college. This is his first missed contest at the NFL level.