St. Louis Rams:

2013 Week 6 STL at HOU
October, 13, 2013
10/13/13
9:30
PM ET
HOUSTON -- If anyone still needed a case study to prove that there's no statistic more important in the NFL than turnover margin, the
St. Louis Rams
' 38-13
win
over the Texans on Sunday should provide ample evidence.
For the second week in a row, the Rams not only created multiple turnovers but turned them into instant points and didn't have any giveaways of their own. They even went one better than last week's plus-three output and added a special teams touchdown for good measure.
The Rams' plus-four takeaway margin was the first time they've hit that mark since a Week 8 game against Carolina in 2010.
"That was a big thing and we did not turn the football over," coach Jeff Fisher said. "Keeping the penalties down and protecting the football and not turning it over for us has been very helpful for us the last two weeks."
[+] Enlarge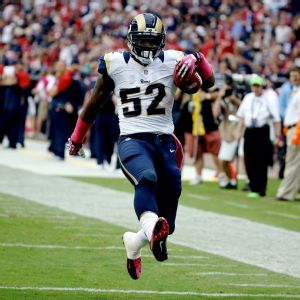 Scott Halleran/Getty ImagesAlec Ogletree returns an interception 98 yards for a touchdown against the Texans.
That's probably putting it mildly.
During the Rams' three-game losing streak earlier this season, they weren't awful in turnover margin, netting a minus-one for those three games, but it's quite clear the difference it makes when there's a plus at the beginning of the construction.
Houston outgained the Rams 420 to 216 in total yards while running 73 plays to the Rams' 41, gaining a dozen more first downs and holding a time of possession edge of 11 minutes and 20 seconds. By all accounts, those numbers would portend a blowout victory. They did, but not in the direction you'd expect.
That's because of the 98-yard interception return for a touchdown by linebacker
Alec Ogletree
, the interception in his own end zone by cornerback
Janoris Jenkins
, Ogletree's forced fumble and recovery by
James Laurinaitis
and the 11-yard fumble recovery for a touchdown by linebacker
Daren Bates
while covering a kick.
Those four plays resulted in 17 Rams points and provided enough to give the Rams a victory.
"When you can score defensive touchdowns, those are game changers," Laurinaitis said. "Those don't come a whole lot. So when you get them, that can change the whole outcome of the game. It's detrimental for them when you give them up."
On the other side of the ball, the Rams have showed a penchant for taking care of the ball and did so with a balanced offensive game plan that was effective in the short bursts when it was actually on the field.
Quarterback
Sam Bradford
attempted only 16 passes but he threw no interceptions. His offensive line allowed no sacks and thus, no opportunities for strip sacks. Running back
Zac Stacy
protected the ball at all costs despite regularly finding himself in heavy traffic with opponents ripping at the ball.
Before the end of Week 6, the Rams' six turnovers put them in a tie for fourth fewest in the league.
Even as yards might accumulate against the defense or the offense continues to search for some consistency, the takeaway formula remains tried and true.
After the Rams scored on a 4-yard touchdown pass from Bradford to
Brian Quick
with 7:46 remaining in the third quarter, the offense didn't get back on the field until there was 11:56 to go in the game, a span of 10 minutes and 48 seconds without the ball.
But because of the touchdowns from Bates and Ogletree, the Rams' lead increased from 24-6 to an insurmountable 38-6. And with that, any hope the Texans entertained of a comeback was gone.
"They're huge," Bradford said. "Anytime our defense creates a turnover, it just gives us a spark on offense and then in the second half today, the one on special teams and then the pick-6, we come off the field and we're up 24-6 and the next time we come on the field we're up 38-6. Those are two huge plays in the game and they just gave us a lot of momentum and kind of sealed the deal."
October, 13, 2013
10/13/13
7:38
PM ET
HOUSTON – It was only 18 days ago that the
St. Louis Rams
were coming off two blowout losses and searching for anything that could remotely be defined as a team identity.
The minimum expectation for any team under the tutelage of coach Jeff Fisher is an innate toughness, the ability to deal with problems head on. Such toughness -- which seemed to build over the course of the 2012 season -- appeared to have vanished after the Sept. 26 drubbing at the hands of San Francisco.
A win against Jacksonville the following week showed that the Rams could do what they needed to against an inferior opponent. But a team personality that the Rams could lean on when times were tough still had not bubbled to the surface.
They aren't there yet, the personality is still in the developmental stages, but for the first time in the 2013 season, the Rams gave a glimpse of what they hope the finished product will become with a resounding
38-13 win
against the
Houston Texans
on Sunday.
[+] Enlarge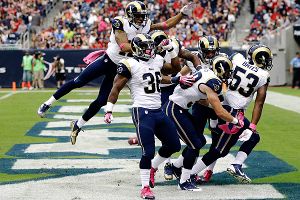 AP Photo/Eric GayThe Rams have come together since a pair of big losses and are showing a newfound toughness.
Now sitting at 3-3, the Rams seem to have dug themselves out of their early-season hole, and all things remain possible.
"It was important to us to speak life into our team, after the Thursday game [against the 49ers]," Fisher said. "I think we did that. We sent them off and gave them a little break and brought them back and just started over."
On Sunday, the Rams showed plenty of signs that their toughness was back, that they could stand toe-to-toe with a physical team such as Houston and not back down. It served them well in 2012 against division foes Seattle and San Francisco, and it did again against the Texans.
Whether it was hard-nosed rookie running back
Zac Stacy
pushing the pile and picking up yards after contact or quarterback
Sam Bradford
standing tall in the pocket to take a hard hit from Houston linebacker
Brooks Reed
as he delivered a strike to tight end
Jared Cook
for 34 yards to set up a touchdown, the Rams refused to let Houston pummel them.
There was no better example of the attitude the Rams are looking to engender than the reaction of guard
Harvey Dahl
when Texans linebacker
Brian Cushing
jumped on Bradford after he slid for a 4-yard gain in the second quarter. Dahl immediately popped up and got in Cushing's face, with not-so-pure intentions clearly on his mind, before tackle
Jake Long
restrained him from acquiring offsetting penalties.
It was a small thing in a game of big plays, but when forming an identity, it can be the small things that count the most.
"That's what I love about Harvey, that's what I love about all those guys upfront," Bradford said. "I know they've got my back. To see something like that happen, I think that's a big step for this team, a big step for this offense, and I couldn't be happier or more proud to play for those guys up front."
That same mentality was evident in the other phases of the game as well.
On special teams, the penalties mostly evaporated and the unit found a way to score one of the rarer touchdowns in football: a fumble return while covering a kickoff. The play happened because safety
Rodney McLeod
hit returner
Keshawn Martin
with reckless abandon and linebacker
Daren Bates
– fresh off running over a would-be blocker – was simply looking for something else to hit.
The Rams' defense struggled to stop Houston running back
Arian Foster
from ripping off big chunks of yards, but they managed to find ways to keep the Texans out of the end zone and hold them to field goals. They also created three more takeaways after grabbing three last week.
"We knew the key to this game was holding them out of the end zone and finding ways to get turnovers," middle linebacker
James Laurinaitis
said. "We knew they were going to get yards. They are tough to defend. We just needed to find ways to keep them out of the end zone and get the ball back for our offense."
The fact that the Rams are the league's youngest team is not lost on anyone; they were last year as well. They don't and won't use it as an excuse for any failures, but after their successes they can point to it and realize there's still plenty of growth to come.
After the loss to San Francisco, it was fair to wonder if the Rams' season would be lost by the time they started to progress again. Fisher told his team that it was starting fresh, that the first four games of the season were nothing more than an extended preseason.
The message was received loud and clear, and now, though the team's identity is still far from formed, that personality is starting to peek from behind the curtain.
"I believe if you want a head coach in a fistfight, I've got Jeff Fisher," defensive end
Chris Long
said. "Even in a really tough time, and the last couple weeks have been really tough trying to find an identity as a team to try to fall back on like we thought we were building last year, having him as our head coach and knowing the guys that he's brought in, the right type of people to help you dig out of this hole and to get to .500, the sky is the limit for us. It's one game. Now, we've got to duplicate this next week."
October, 13, 2013
10/13/13
6:00
PM ET
HOUSTON -- Looking back at three things worth watching from the
St. Louis Rams
' 38-13 win over the
Houston Texans
on Sunday.
1. Getting an easy one
For the fifth consecutive week, Houston threw an interception that was returned for a touchdown. This time it was Rams rookie linebacker
Alec Ogletree
doing the damage, bringing it back 98 yards for the score.
Of course, it wasn't Houston quarterback
Matt Schaub
throwing it this time. It was
T.J. Yates
and the result remained the same. The Rams' defense came up with three takeaways: Ogletree's touchdown, an interception by cornerback
Janoris Jenkins
and a fumble recovery by middle linebacker
James Laurinaitis
. Those takeaways turned into 10 points.
2. Every yard counts
It was a day of across-the-board improvement for the Rams' special teams as they were hit with just one penalty -- kicker
Greg Zuerlein
's illegal procedure infraction for kicking the ball out of bounds.
More impressive was the touchdown produced by the kickoff coverage unit of all groups. Safety
Rodney McLeod
hit returner
Keshawn Martin
on the return, jarring the ball loose and into the waiting arms of linebacker
Daren Bates
. Bates promptly returned it 11 yards for a touchdown.
Field position is nice but points are better and the Rams made strides in both areas against Houston.
3. Building on the run
The numbers weren't as eye-popping as last week but that's likely due mostly to lack of opportunities offensively as the Rams' running game again provided a much-needed second dimension to the offense.
Leading the charge again was hard-running
Zac Stacy
, who earned his second start and likely a third with another solid performance. Stacy found holes, evaded tacklers and picked up yards after contact again. He finished with 79 yards on 18 carries and the Rams picked up 99 yards on 25 carries.
Daryl Richardson
and
Benny Cunningham
got three carries apiece in relief.
October, 13, 2013
10/13/13
5:15
PM ET
HOUSTON -- Observed in the locker room after the
St. Louis Rams
'
38-13 win
over the
Houston Texans
.
A fresh start:
Coach Jeff Fisher's message to his team after a disappointing performance against San Francisco in Week 4 was that the first four games didn't happen and they were starting anew. The message seemed a little ridiculous from the outside, but it's clear his team has bought into it. After the game, the team started a "2 and 0, 2 and 0" chant in the locker room. The Rams followed back-to-back 24-point losses with two wins averaging 19.5 points. To a man, every player in the locker room approved of and endorsed the fresh-start idea. Now, the Rams sit at 3-3.
Bates
Bates' big day:
Rookie linebacker
Daren Bates
heard his name for all the wrong reasons after last week's holding penalty wiped out a long punt return. That changed Sunday when he recovered a fumble on a kick return and took it 11 yards for a touchdown. Bates held on to the ball from his first score but plans to give it to special teams coach John Fassel. For the record, Bates said his hip injury didn't occur when he was celebrating the touchdown.
Fisher disappointed in Schaub reaction:
When Rams defensive end
Chris Long
dropped Houston quarterback
Matt Schaub
for a sack in the third quarter, Schaub stayed down with an apparent leg injury. A smattering of Houston fans, already disenchanted with Schaub's recent performances, cheered when Schaub didn't get up. The cheers grew louder when
T.J. Yates
entered in his place. Asked about it after the game, Fisher expressed disappointment in the reaction, saying Schaub has earned more respect for what he's done in Houston.