St. Louis Rams:

Aldon Smith
September, 26, 2013
Sep 26
12:00
PM ET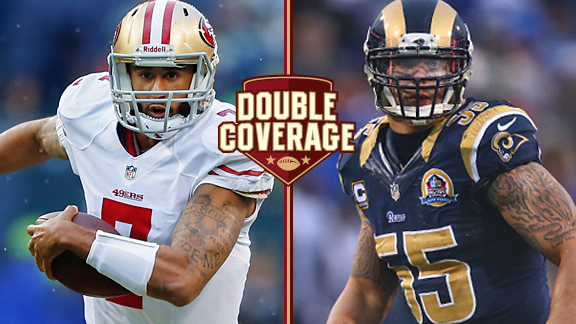 Getty ImagesThe 49ers' Colin Kaepernick and the Rams' James Laurinaitis will try to help their respective squads avoid a 1-3 start.
No NFL division rivals were more evenly matched than the
St. Louis Rams
and
San Francisco 49ers
in 2012. It took almost 10 full quarters to determine a winner after the teams tied in San Francisco and went late into overtime in the meeting in St. Louis.
The Rams and 49ers renew acquaintances in front of a national audience at 8:25 p.m. ET Thursday night at the Edward Jones Dome. ESPN Rams reporter Nick Wagoner and 49ers reporter Bill Williamson kick around some important topics heading into the game in this edition of Double Coverage.
Wagoner:
These two teams couldn't possibly have played a pair of closer games in one season than they did last year. That came as something of a surprise given the way San Francisco was bullying opponents from week to week. Somehow, the Rams seemed to have the 49ers' number last year. How much does that bother 49ers coach Jim Harbaugh & Co. entering this one?
Williamson:
I am sure the 49ers are not thrilled to be playing at St. Louis on a short week right now. Times are tough in San Francisco. They are under .500 and have lost two games in a row for the first time under Jim Harbaugh. They are having issues on both sides of the ball, dealing with
Aldon Smith
going to rehab and experiencing many injuries. To top it all off, the Rams, as you said, had success against the 49ers last year when they were playing at a high level. I think the 49ers are focusing this week on getting themselves fixed and not worrying about their recent past with the Rams. But if the Rams strike first, it could get in the 49ers' heads.
Wagoner:
Well, on the bright side for San Francisco, the Rams are going through some troubles of their own after getting decimated in Dallas last weekend. That the Rams are 1-2 at this point isn't a huge surprise, but the way the Cowboys manhandled them has caused some to push the panic button already. Playing a division rival at home on short rest should serve as a quick way to snap out of whatever funk it was that plagued them in Dallas. On the flip side of that equation, it also doesn't provide much time to fix all the problems that have been evident not just against the Cowboys but in the first three weeks as a whole.
You mention the loss of Aldon Smith; how does that affect the Niners on the field and perhaps in the locker room?
Williamson:
Moving forward, I think the biggest effect is on the field. The team has had time to allow this to hit them. If anything, it might have been a distraction Sunday against the Colts. Now, they are worried about being without Smith on the field. He has 37 sacks since he came into the league in 2011, the most in the NFL during that span. The 49ers are going to use rookie
Corey Lemonier
, a third-round pick, and
Dan Skuta
, mostly a special-teamer, in Smith's absence. The 49ers' entire defense is going to have to respond well as it begins to play without Smith. Suffice to say, it won't be easy.
Wagoner:
The 49ers playing without Smith bodes well for the Rams given the fact that he's had so much success against them in previous meetings. Smith had five sacks in four games against the Rams, so his absence is a good thing for an offensive line that gave up six sacks last week in Dallas. Before that game, the Rams had a four-game streak dating to last season of not allowing a sack, but it appeared to be a bit of smoke and mirrors this season given the Rams' penchant for short passes and not having faced a team with a top pass-rusher. Perhaps more important for the Rams' offensive line this week will be establishing the line of scrimmage and trying to get the running game going. It's an area where the Rams have yet to show much life but one they'll absolutely need against the 49ers.
Speaking of areas that haven't revved up yet, 49ers quarterback
Colin Kaepernick
isn't off to the best start. What have you seen from him so far and what type of changes (if any) have the 49ers made schematically since last year?
Williamson:
It's weird, Nick. Kaepernick was brilliant -- basically flawless -- against the Packers in Week 1. But he has really struggled in the past two games as the 49ers have scored a combined 10 points. Frankly, this offense has been incapable of playing winning football the past two weeks. But it's not all on Kaepernick. The receivers (other than
Anquan Boldin
) have not gotten open and the offensive line, which has been great in the past, has slid back. Kaepernick seems flustered. He has to rise above it and become the leader. I wouldn't be surprised if we see more of the read-option (it has been used sparingly this season) against the Rams to give the offense a spark.
Wagoner:
That's an interesting thought given the Rams' relative success against the read-option last year. The Rams seemed to be on to the basic keys to slowing it down and that played a big part in their win against the 49ers in St. Louis. They had it defended well enough to score a game-changing touchdown on a missed pitch late in that one. One thing that could play in San Francisco's favor is the knee injury to defensive end
William Hayes
. It's unlikely Hayes will play this week and he's the best the Rams have at setting the edge and blowing up run plays. That's a big loss for the Rams going into this one.
August, 31, 2013
Aug 31
1:40
PM ET
San Francisco 49ers
and 13
Seattle Seahawks
helped the NFC West account for a disproportionate number of players listed in the #NFLRank project from ESPN.
Sixty-three voters helped rank 100 top players on each side of the ball. NFC West teams accounted for 20 players on defense and 16 on offense. The 36-player total works out to 18 percent representation for the NFC West, above the 12.5 percent expectation for any division.
The chart shows where NFC West players ranked on each list. I shaded offensive players in gray to better distinguish the rankings.
The 49ers' Patrick Willis and the
Arizona Cardinals
' Larry Fitzgerald have long been perceived as the best players in the division. They've got additional competition, but those two ranked higher than anyone else in the NFC West.
There were sure to be oversights in a project of this scope. Defensive end
Calais Campbell
of the Cardinals stands out to me as the most glaring one. I might have placed him between Patrick Peterson and Chris Long in defensive rankings as they stood for this project.
Three Seahawks cornerbacks earned spots on the list even though one of them, Antoine Winfield,
reportedly could be released by the team
Saturday in the reduction to 53 players Saturday.
A quick look at ranked players by team:
San Francisco 49ers:
Patrick Willis (3), Aldon Smith (10), Justin Smith (11), Vernon Davis (18), NaVorro Bowman (18), Joe Staley (25), Mike Iupati (32), Frank Gore (37), Colin Kaepernick (42), Ahmad Brooks (56), Anthony Davis (60), Donte Whitner (64), Michael Crabtree (78), Anquan Boldin (83) and Jonathan Goodwin (92).
Seattle Seahawks:
Richard Sherman (8), Earl Thomas (17), Percy Harvin (26), Marshawn Lynch (27), Brandon Browner (46), Russell Wilson (47), Russell Okung (49), Kam Chancellor (49), Max Unger (57), Bobby Wagner (67), Winfield (70), Cliff Avril (74) and Chris Clemons (85).
St. Louis Rams:
Long (40), James Laurinaitis (57), Jake Long (61), Cortland Finnegan (63).
Arizona Cardinals:
Larry Fitzgerald (7), Patrick Peterson (19), Daryl Washington (59) and Darnell Dockett (79).
Fifteen